Day 26 Thursday June 16, 2005, 43 miles (69 km) – Total so far: 1,395 miles (2,245 km)
3:37 Pedal time and 43.1 Miles
Click Here to Visit The Table of Contents
Click Here to Visit Previous Page: Day 25: Chester IL  to  Farmington MO
Click Here to Visit The Next Page: Day 27: Johnsons Shut In MO to  Eminence MO
It was a late night drinking beer and writing these damn journal entries. Writing this journal is a ton of homework, a lot goes into this. I should be resting, but instead I'm drinking a lot of beer and doing a ton of computer work. I hope someone somewhere is reading this. If so please leave a comment and let me know you're alive.
All morning I rushed getting ready. When I was packing up my tent a man who was walking his dog in the park came by to say hello. He told me he remembers the summer of '76 and for a couple of days groups of 20-50 cyclists would roll into town and all camp out in this park. He told me he was looking forward to riding Transam after he retired but his knees weren't in good shape, so he never got to. He showed me where the library was on my town map told me that Farmington is very proud to be a part of our bicycle route.
I couldn't find a place to get some breakfast so I picked up a muffin and a cup of Joe at a gas station. A father and son asked if I was riding the Trans am. They were planning on riding in a few years after the son graduated high school. I gave them my card so they could check out my journal.
I went over to the library. The librarian was a complete jerk. She made me sign 5 different pieces of paper that said I wouldn't look at pornography or go into a chat room. Then she asked me for my social security number and I thought she was joking, but she wasn't. I told her I'm not giving her my social security number, just so I can spend 5 minutes to check my emails in a public library. So she took my driver's license number instead. When I plugged in my USB disk drive that had all my journal entries, she flipped out on me and made a big scene. After I got her to calm down I was able to upload a few days of blog posts. Ugh…
I rushed through doing all my internet stuff. When I was looking at my maps getting ready to take off. A guy stopped me to tell me he owns the bike shop in town asking if I needed anything. There was a detour in the agenda for today's map and he told me to take it. He told me the local government hates touring cyclists and I should be careful because "there's a lot of confederate flag types of people."
When the bike shop guy left I put my leg over the bike and was about to leave and some guy rode up carrying gear. He was riding eastbound and apparently had ridden the Transam several times. He asked me some questions then proceeded to tell me about every campground, place to swim and eat and all the people that worked at all these places. I rushed through my conversation with him because I was anxious to get on the road but we ended up talking for 40 minutes.
I left Farmington around 11am, I got lost briefly. I had no maps for the detour I was taking only directions. The roads were pretty flat, but there were a lot of turns. It gets boring when it's flat and straight and the scenery doesn't change. I had a light tailwind most of the day. All day I ate the cookies the waiter gave me last night. They were absolutely delicious.  They tasted homemade.
I read tomorrow is going to be a rough day. My plan is to crash through the Ozarks pretty hard and plow through Kansas pretty fast. They say the Ozarks are harder for the people traveling eastbound cause they are entering them from Kansas and hadn't seen hills since the Rockies. Westbound riders have only had a short break after leaving the Appalachians.
I got to Johnsons Shut In state park around 4pm. The lady working at the gate told me she puts all the cyclists in the scout area, so camping for the night will only be $1. Awesome! I rode through the campsite and found the scout area. It was a pretty nice place to camp. I dropped off the trailer and rode over to the swimming area.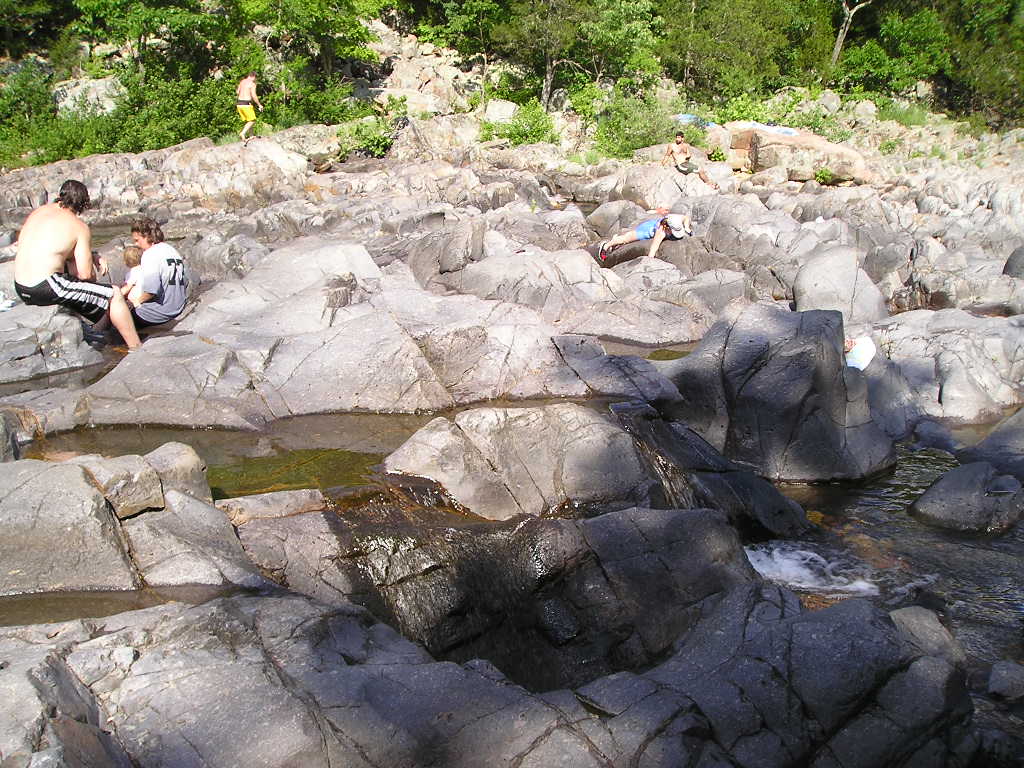 The swimming was remarkable. I laid for a while in a shallow pool of water paralyzed because it felt so good. It amazes me how clear the water is. It reminds me of the water in the Caribbean. I stood on a cliff 30′ overlooking the water and I could see all the fishing swimming below. The sounds of the water crashing against all these rocks was beautiful.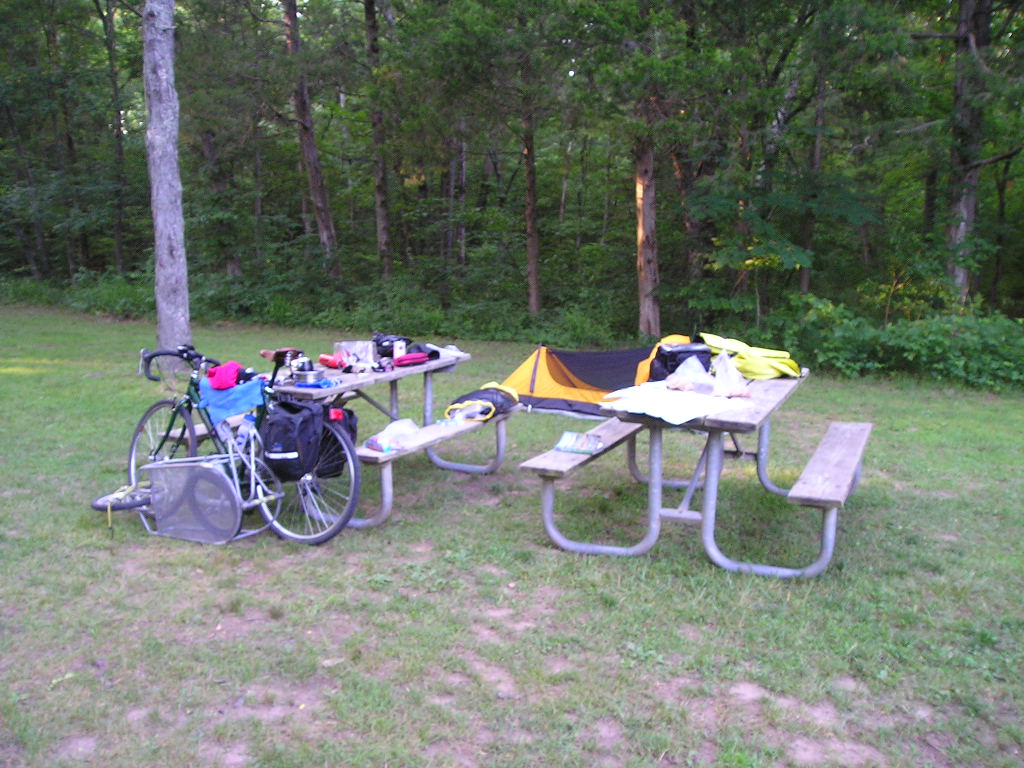 I was getting kind of sleepy so I Went back to the campsite and setup my tent and took a nap. In the middle of my nap 2 giant vans drove up, one of them was pulling a trailer and about 20 young boys came running out of the vans.  They made a lot noise but it didn't bother me. They were setting up their tents very far from where I was. While the kids freaked out about setting up tents I went over to say hello to the camp counselors. The Counselors were all about my age and from St. Louis. They apologized for the wild kids and noise, but I said "Dude, don't worry about it, I have headphones." Shortly before I went to sleep one of the counselors came by and brought me over a cheeseburger and it was delicious.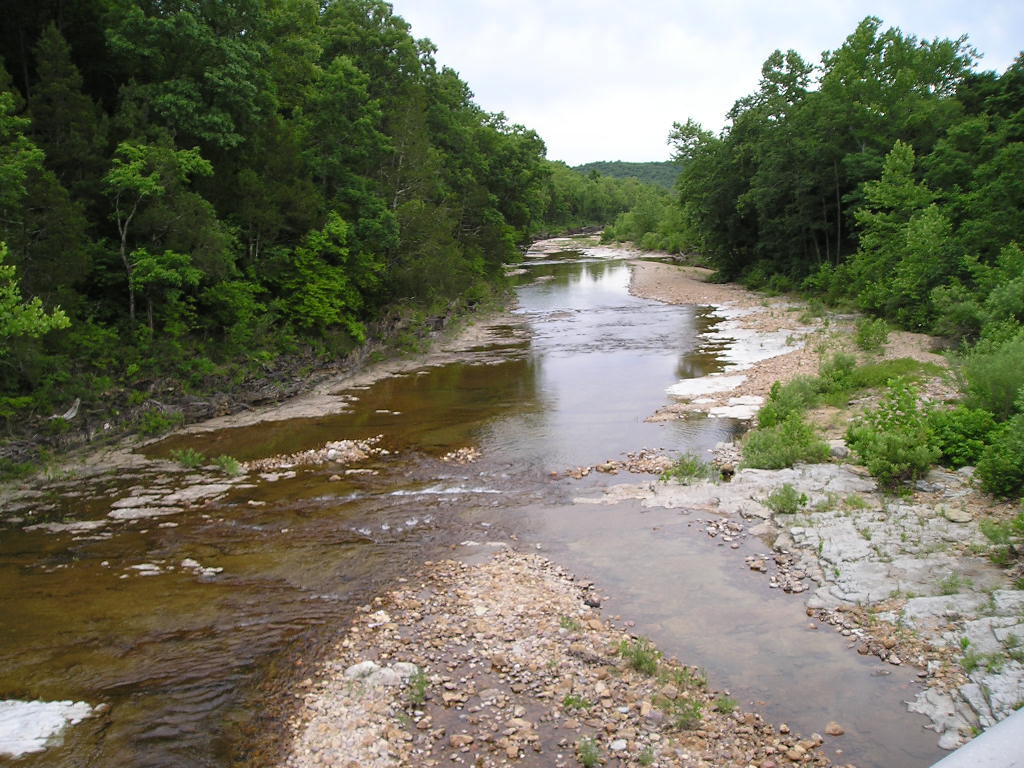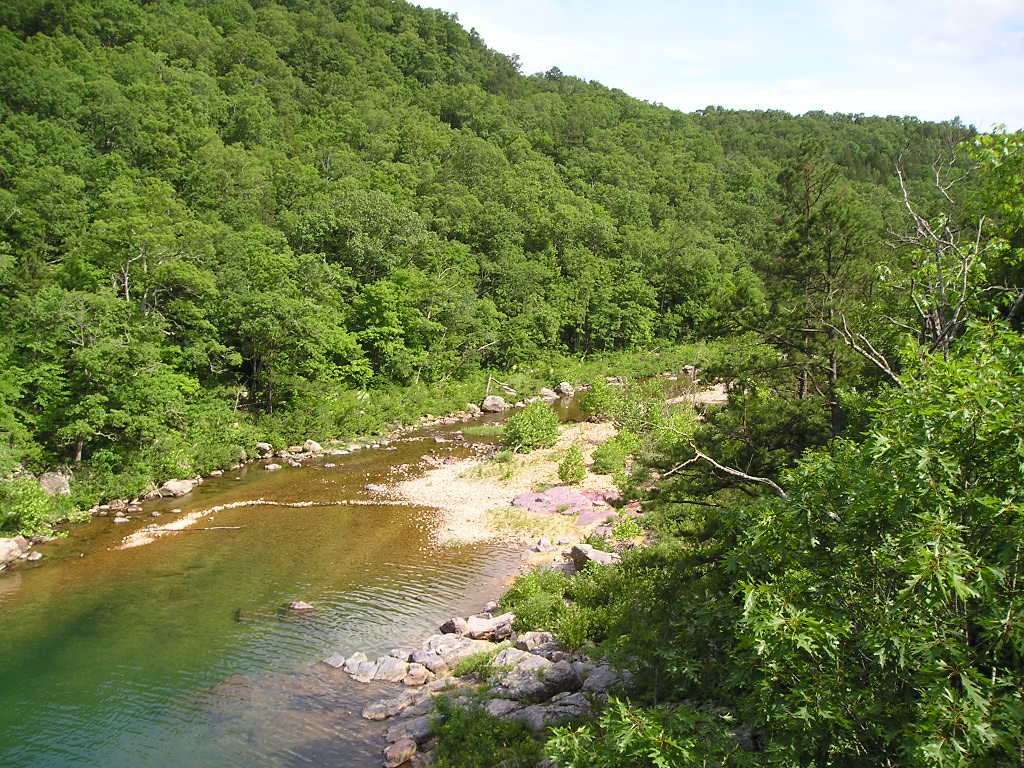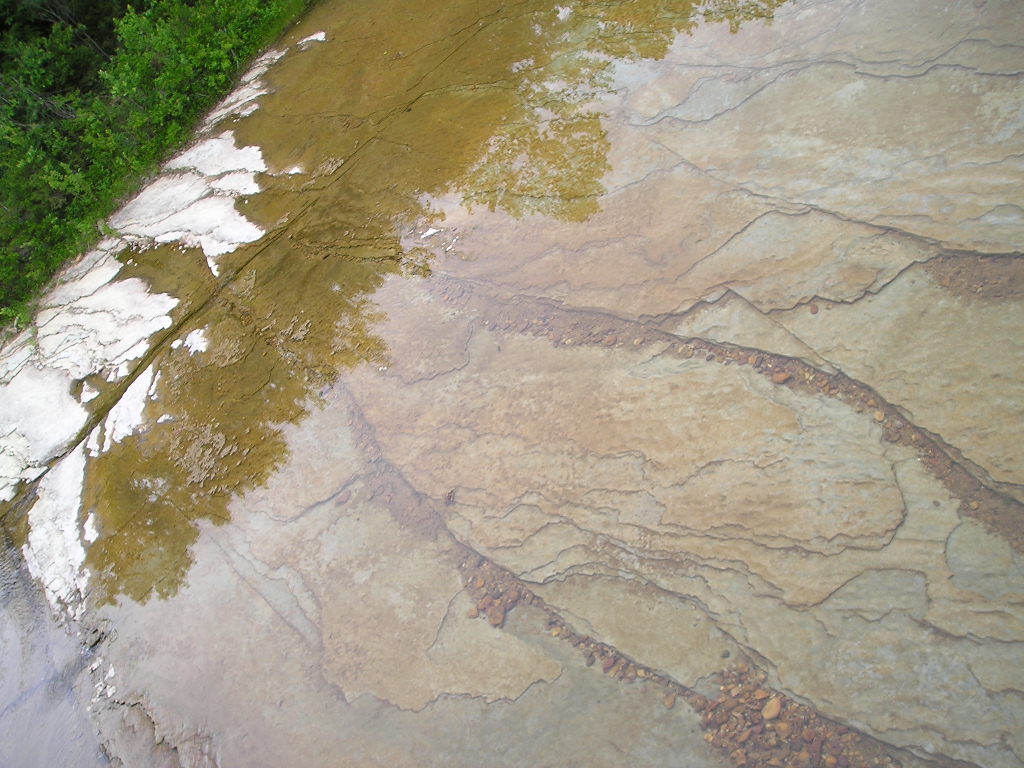 Click Here to Visit The Table of Contents
Click Here to Visit Previous Page: Day 25: Chester IL  to  Farmington MO
Click Here to Visit The Next Page: Day 27: Johnsons Shut In MO to  Eminence MO