Monday June 20, 2005, 85 miles (137 km) – Total so far: 1,655 miles (2,663 km)
85.4 Miles and  6:59 Pedal Time
Click Here to Visit The Table of Contents
Click Here to Visit Previous Page: Day 29: Houston MO  to  Marshfield MO
Click Here to Visit The Next Page: Day 31: Golden City MO–> Chanute KS
I woke up at 5:30 and made it to breakfast at the restaurant next to the motel at 6am. I wrote up some postcards while I ate breakfast. I left the motel at 7:45 and had to stop at Walmart to get some soap and sun screen. I still haven't figured out why Missouri is called the 'Show me state'. What the hell is that supposed to mean?
The first 20 miles of today might have been the fastest 20 miles of this trip so far. All the hills were placed so close to each other that if I pedaled really hard on the downhills I could get 75% through the uphill that was waiting for me. I loved it. My average speed after the first 20 miles was like 15 mph. I was getting my bike up to about 45 mph at the peak of some of the downhills.  After those first 20 miles the hills spread out a little more. I am officially done with those Ozark Mountains. It was a pleasure.
Finally I ordered the new tent poles today, it cost me $20 but the new poles are aluminum. They are going to get sent to me in Newton Kansas. Hopefully I won't pass through Newton before my poles arrive. But I have this gut feeling that is going to happen. The poles are getting shipped from Binghamton NY. If I miss them I'll have to ask the postmaster to send them to the next town on the route, I'm definitely not going to wait around for stupid tent poles.
While I was on the phone with the tent company I was stopped at a gas station for a while. When I was there 3 different men came up to me at 3 different times all about 20 minutes apart. Each one of them looked at my bike and said Y'all should try to put a motor on that thing. Har Har Har' I'm so sick of hearing this joke and I have a feeling it's going to haunt me all the way to Oregon. I don't even laugh to be polite. It was funny 3 weeks ago.
I stopped in a small town for lunch and went to this gas station that had a deli. They had a delicious looking sandwich under the glass and I told the girl working that I would like that sandwich and she got all excited and said 'I have been waiting for someone to come in here and buy that sandwich.' It must have been about a pound and a half of meat. All roast beef, ham, turkey and thick piece of cheese. No lettuce, tomatoes or any of that fluffy stuff. I've was the best sandwich I've had so far.
Later in the day the grades flattened out I had a light tailwind working in my favor for almost the entire day.  When I got closer to Golden City I kept seeing these huge fires in the farmland. They were at least a mile or 2 from where I was. I figured they were probably just some more trailer homes being set ablaze all the anarchy. I think when I trailer home catches on fire no one cares and bothers to even put it out. I've seen hundreds of burned out trailers on this trip. Every time a trailer home catches on fire, an Angel gets its wings!
When I got to Golden City I got in touch with the guy running the hostel. He met me at the post office and then showed me where the hostel is. The hostel is in a cute stone building that used to be a dentist office. The dentist got old and retired and they bought the building and opened the hostel for Trans am cyclists.
I asked the guy from the hostel what's the deal with all the fires in the farmland. He explained to me that after the farms harvest their wheat. They burn the land to get rid of all the excess wheat and then they throw down cucumber seeds so they can grow pickles.
I went to the store to buy some food and a cyclist walked in, he was riding eastbound. He asked me about the hostel and I told him to come with me, because I have the key. So we both came back to the hostel and cooked up some pasta. His name is Thom and he is riding eastbound at a super-fast pace. He actually also has a journal on here that exists at: http://www.crazyguyonabike.com/doc/twmiller
Thom and I sat down for quite a while and he gave me of good tips and detours about Kansas. He seems to think the winds are going to be working in my favor. In a perfect world I would like to ride 100 mile days through Kansas.
I tuned up my bike a little; it seems even with the new wheel I have a loose spoke or 2 every day. It's okay I haven't popped anything yet, everything's been going pretty smooth with that new wheel. :: knocking on wood::  But I'm going to buy a new tire tomorrow at the ONLY bike shop in Kansas. My rear tire is donezo; I can see the threads in the tire.
Not many pictures today.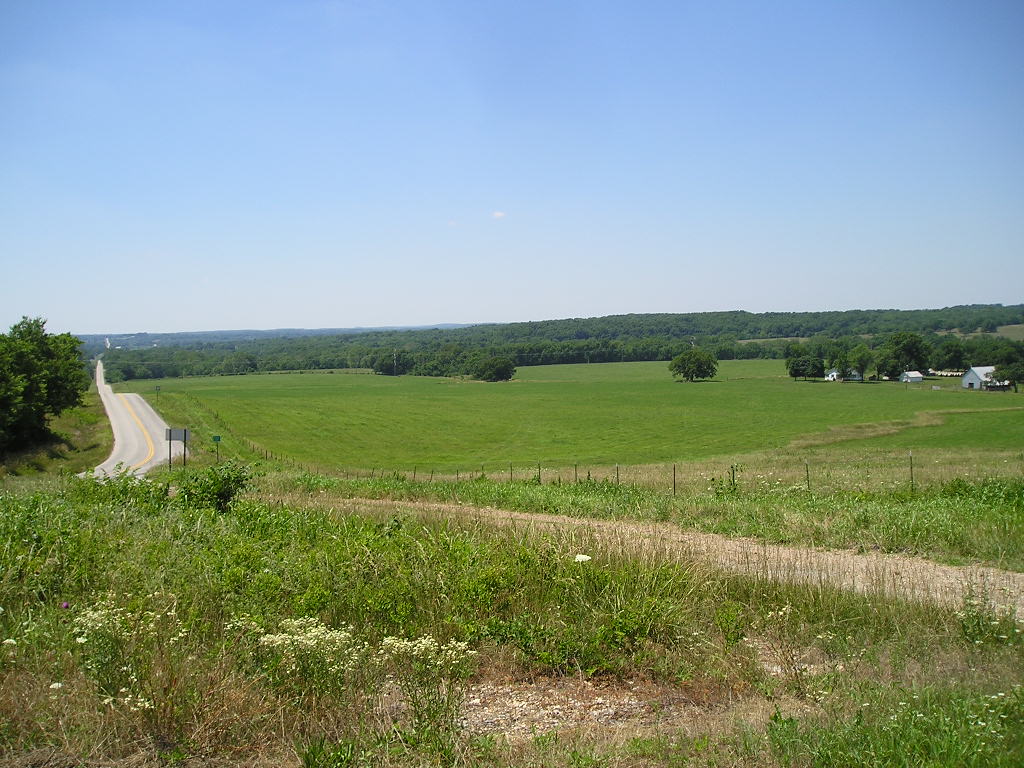 Click Here to Visit The Table of Contents
Click Here to Visit Previous Page: Day 29: Houston MO  to  Marshfield MO
Click Here to Visit The Next Page: Day 31: Golden City MO–> Chanute KS