Day 31 Tuesday June 21, 2005, 100 miles (161 km) – Total so far: 1,755 miles (2,824 km)
8:29 Pedal time and 99.9 Miles
Click Here to Visit The Table of Contents
Click Here to Visit Previous Page: Day 30: Marshfield MO  to Golden City, MO
Click Here to Visit The Next Page: Day 32: Chanute KS  to  Eureka KS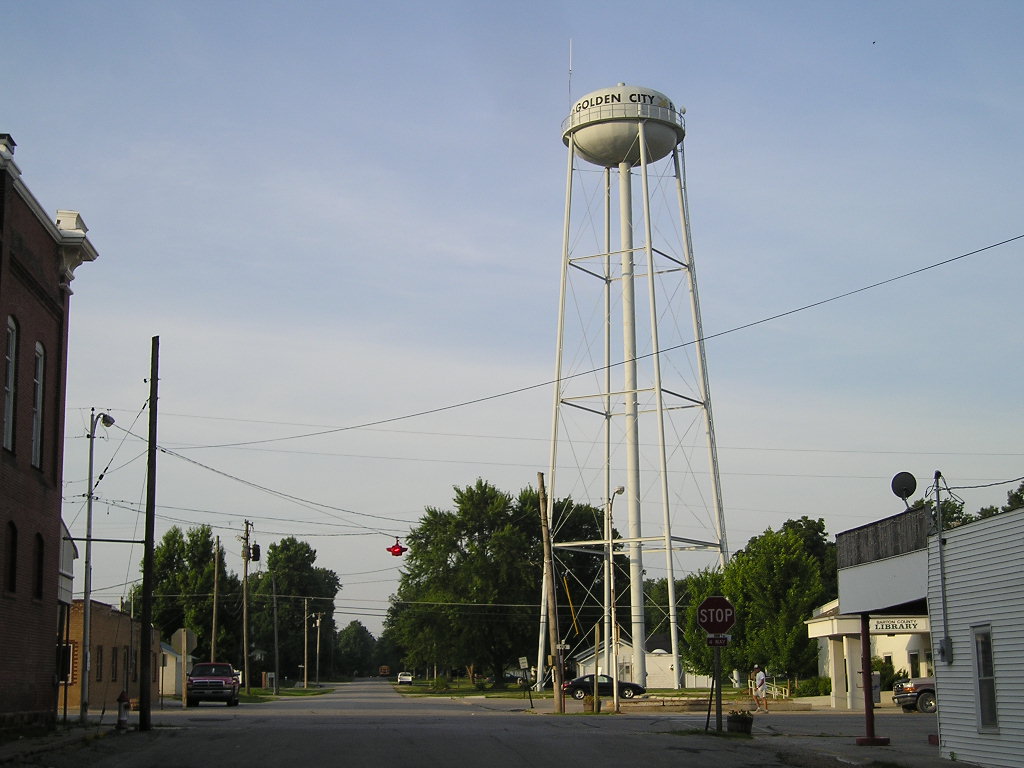 I was up at 5:30, at the diner at 6:10 and riding by 7am. It was sunny and beautiful out. The morning was mostly wind-less. But as it started to come out it was blowing in my face, luckily it wasn't too strong. I rode like a maniac mad max mutherfucker out of Missouri and into Kansas.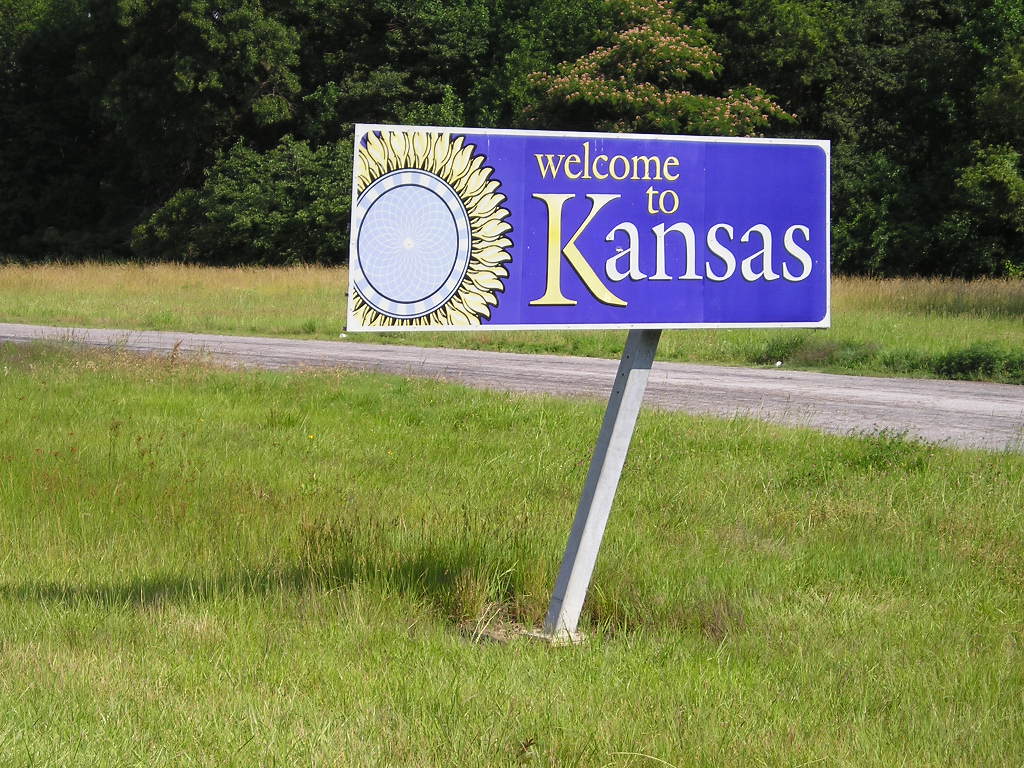 When I crossed into Kansas I found the Munchkinland sequence on my IPod, and sang 'Come out, come out wherever you are and meet the young man that fell from a star!' I drank way too much coffee this morning so I actually listened to it 3 times, while singing and riding as fast as I could to Pittsburgh, Kansas.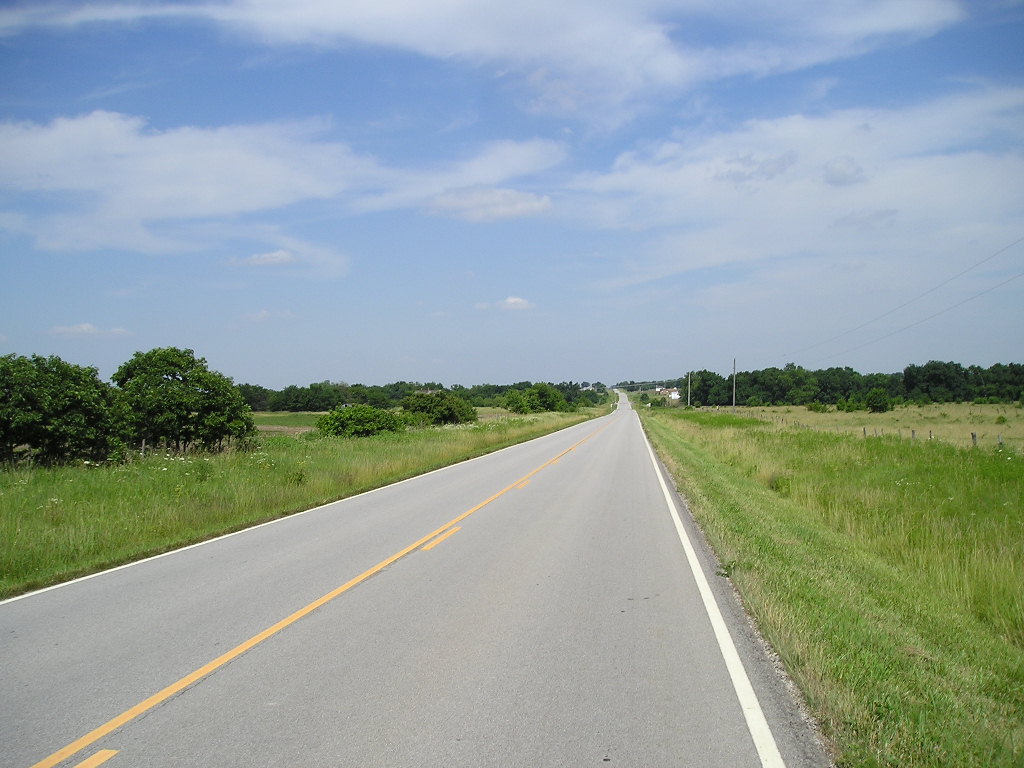 When I got into Pittsburgh I went to 2 bike shops and rode all over town before I found the continental top touring tire. At the bike shop cute little old man with a beard rode up with front and rear panniers. I asked him if he was riding cross country and he said 'Well no, not today.' Turns out he lives in town. He hung out with me at the bike shop while I worked on my bike. He's ridden most of the Transam over the past 20 years. He gave me some good tips on places to stay in Colorado and Wyoming.
I saw an AAA office next to the bike shop so I stopped in and got free maps galore of all the remaining states of my trip. I was spending about $4 a piece for a state map. My AAA card has saved me a few bucks on this trip. I'm getting 10% discounts at most motels and campsites.
From here on out the roads are completely flat and paved with yellow bricks. I didn't come out of my middle chain ring all day long. It reminds me of long island. And the quality of road significantly changed when I got to Kansas. There are quite a few pot holes and sloppy paving jobs.  Luckily the wind wasn't blowing too hard.
I made the mistake of asking a cashier at a gas station how far it was to Chanute. She told me it was like 70 miles, when it was really more like 40. Then she proceeded to tell me I'm not going to make it and the hills are going to kill me. I said 'Huh?!, there's no hills out here.' Then the cashier and a customer both laughed at me. I think they mess with all the cyclists.
Several small birds, butterflies and giant bumble bees crossed my path today while I was riding. A small bird kept me company today for about 10 minutes. He would fly ahead of me then sit on the wire until I rode past then he would fly ahead again.
Most of the day I was singing pretty loud to my iPod, cursing the heat and thanking the winds for not destroying me on my first day in Kansas. I think I'm getting addicted to Coca-Cola. I crave it in the middle of the day.
I met an east bounder in the center of large stretch of nothing. He was riding a recumbent and he told me he was from Boston. He and I got talking about Boston and it turns out he lives like 3 houses down the street from my best friend Jamie O'Brien. It was so weird.
When I got to Chanute I checked into the $26 a night motel that has high speed internet. I took a nap then went over to the taco place and ate like 37 tacos. I read my Transam book and figured because I rode so hard for the past 2 days, I'm a day ahead of where I should be. I'm hoping I can pull off 100 mile days through Kansas.
After taco's I went to Walmart City and bought some supplies and food. I'm calling it Walmart City from now on. Then I came back to my motel room, ate a pint of ice cream as a nightcap and now I'm going to sleep. I want to pal around Chanute before I rocket outta here. Chanute is a pretty cute place; it's an old railroad city.
Goodnight Friends.
Can ya believe we made it to Kansas?
Click Here to Visit The Table of Contents
Click Here to Visit Previous Page: Day 30: Marshfield MO  to Golden City, MO
Click Here to Visit The Next Page: Day 32: Chanute KS  to  Eureka KS