Day 33 Thursday June 23, 2005, 105 miles (169 km) – Total so far: 1,936 miles (3,116 km)
105 Miles and 8:48 Pedal Time
Click Here to Visit The Table of Contents
Click Here to Visit Previous Page: Day 32: Chanute KS  to  Eureka KS
Click Here to Visit The Next Page: Day 34: Buhler KS to  Great Bend KS
The alarm went off at 5:30. I packed up my gear and was on my bike riding by 7am. Those other 2 guys I camped with were out cold. The wind came out around 8:30 and it was blowing to the north pretty hard. I was riding west for the first part of the morning and the wind wasn't bothering me too much. Several tumbleweeds crossed my path early in the morning. It was exactly how you would imagine it.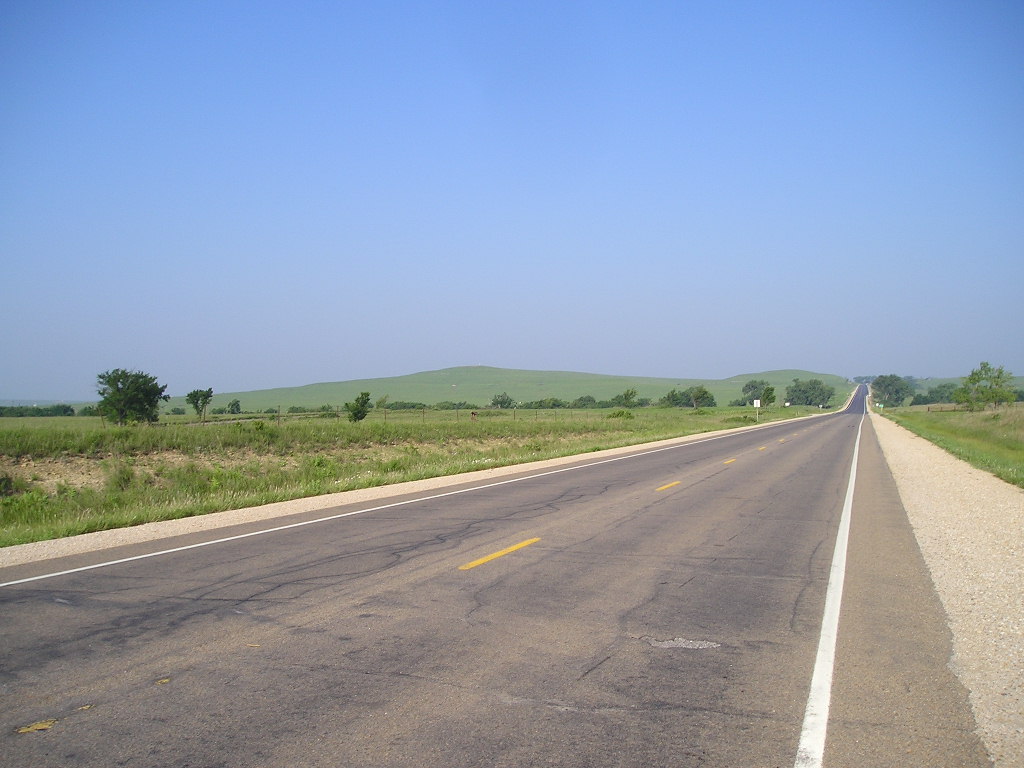 After my first 15 miles I stopped at a little diner called 'the old hat' for breakfast. A cute little old lady named Millie came in and kept me company while I ate my breakfast; her husband was busy reading his newspaper. She was in love with my northern accent and I'm sure if her husband wasn't there she would have tried to marry me. When I leaving she gave me a big hug and stood on the porch waving as I rode away.
After I left "the old hat" I rode north for about 15 miles. The wind was working in my favor but the piece of road I was riding on was a disaster. There were potholes everywhere and it was paved like crap. Luckily no cars drove past so I was able to ride all over the place.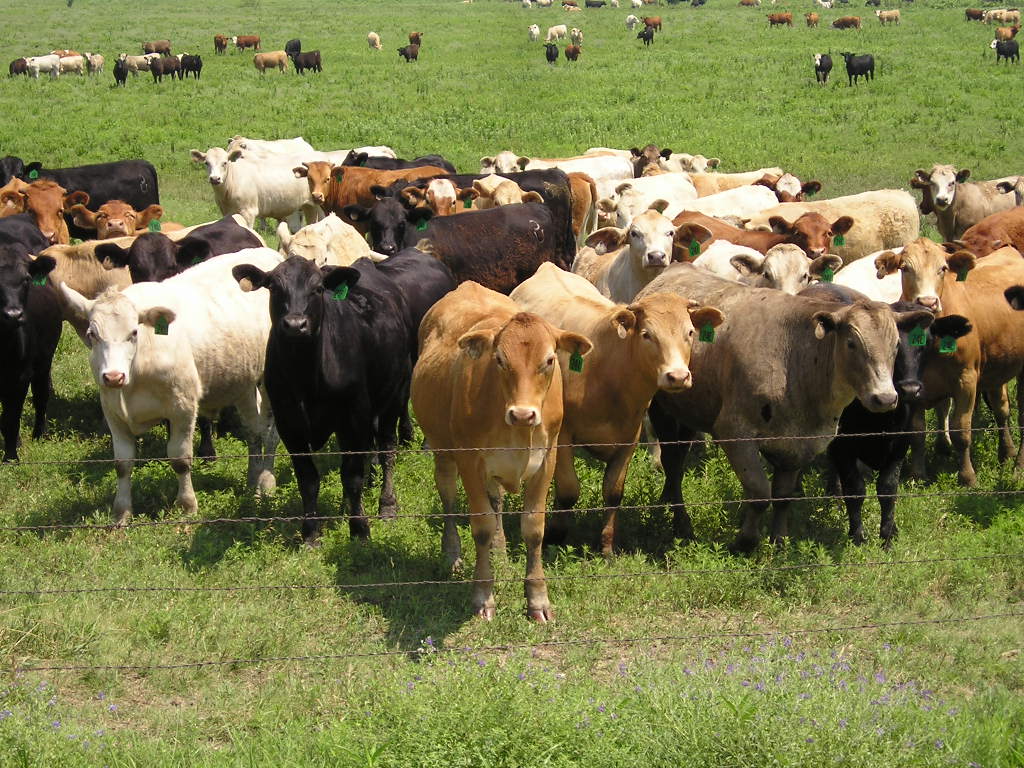 Lots and lots of angry cows most of them gave me foul looks as I rode past. I stopped to take a picture and hundreds of cows suddenly came over to where I was to stare me down. If it wasn't for that little barbed wire fence they definitely would have attacked me.
I met 2 guys named Josh who were riding eastbound. They were from Pennsylvania and they were young guys. They left out of Florence, Organ the same day I started riding out of Virginia. They are the first east bounders I've met who left out of Oregon.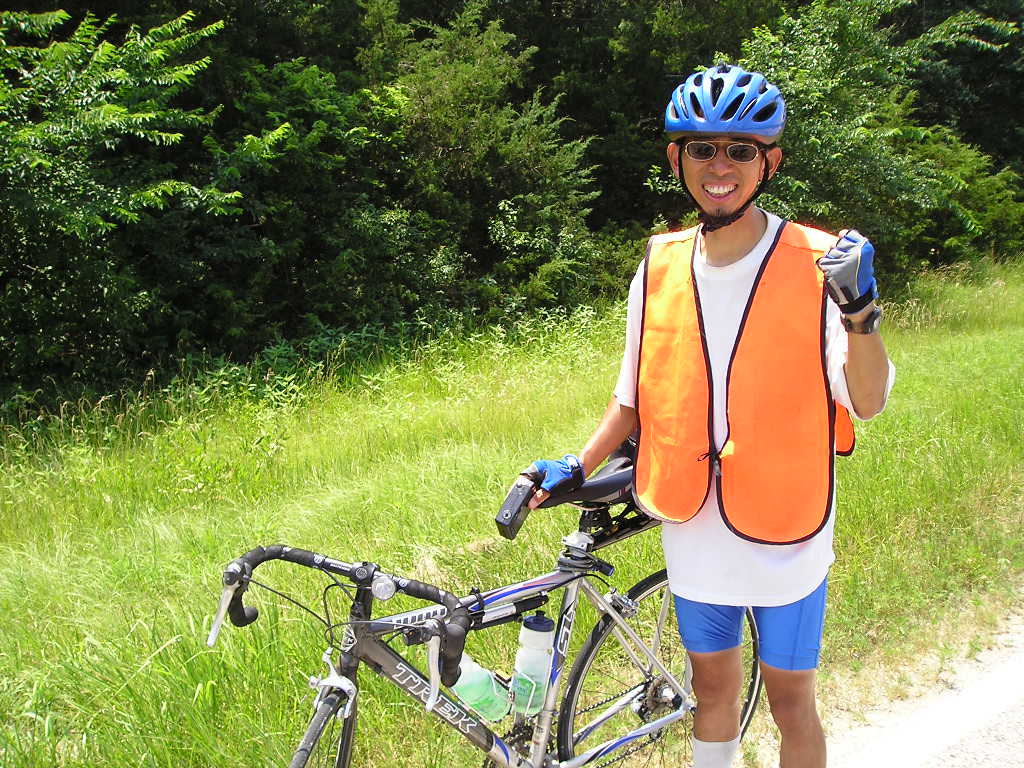 About 2 hours after I met the Joshs I saw another east bounder ahead. Long before I rolled up to him he was off his bike with his camera and was ready to shake my hand and take my picture. I forgot his name but he was Chinese man who had been living in Texas for a few years. He was really happy to meet me. I asked him where all his gear is and he told me he didn't need much because he was staying in motels the whole way. We talked for about 15 minutes and he gave me a huge hug before I rode off. That Chinese guy was so cool. I bet he is a riot to travel with. He told me that had been riding with the Joshs since day 7.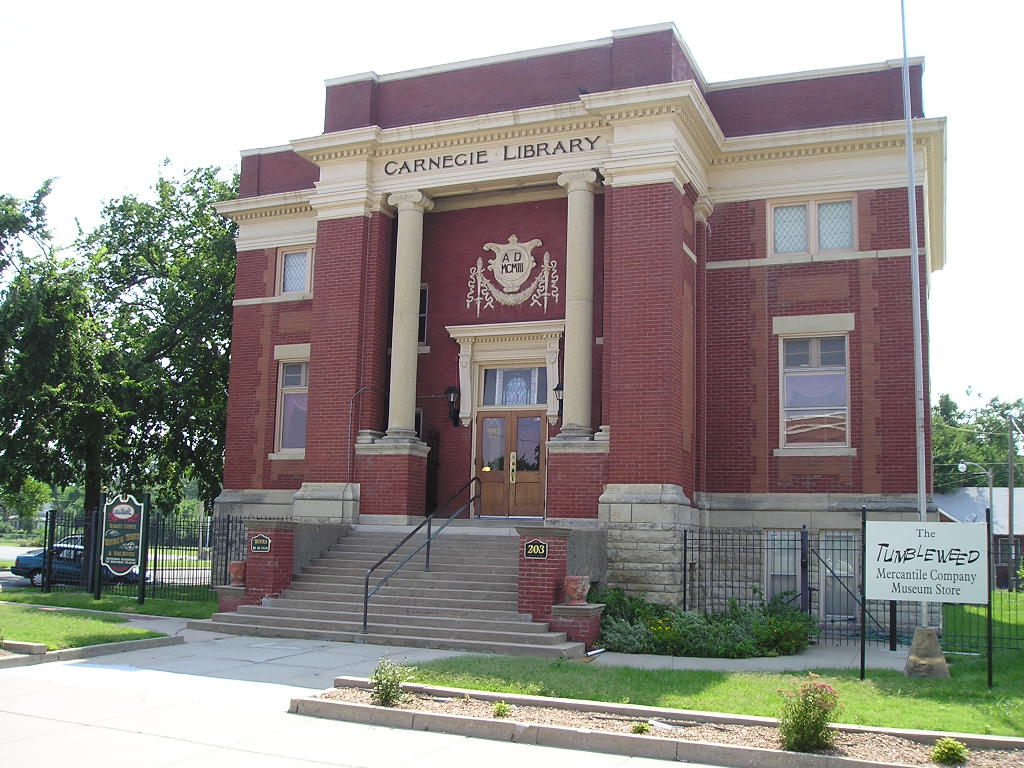 The closer I got to Newton Kansas the faster I rode. The thought of new tent poles got me really excited. I flew into town and found the post office and my poles were there. I ripped open the box and setup my tent in the lobby of the post office to make sure they worked. And they did.
I sat on the steps of the post office talking to a local construction worker about my trip. He gave me all the logistics about Newton. He told me where the library was and the all you can eat buffets. I ate like a pig and hung out at the library for quite a while.
I left Newton around 6:30pm. Caught a nice tailwind to a town called Hesston and stopped for an ice cream. When I walked out of the ice cream shop a girl in a car drove up asking if needed anything. She said she was a cyclist and said she has every bike tool there is. But I was fine, I thanked her for stopping.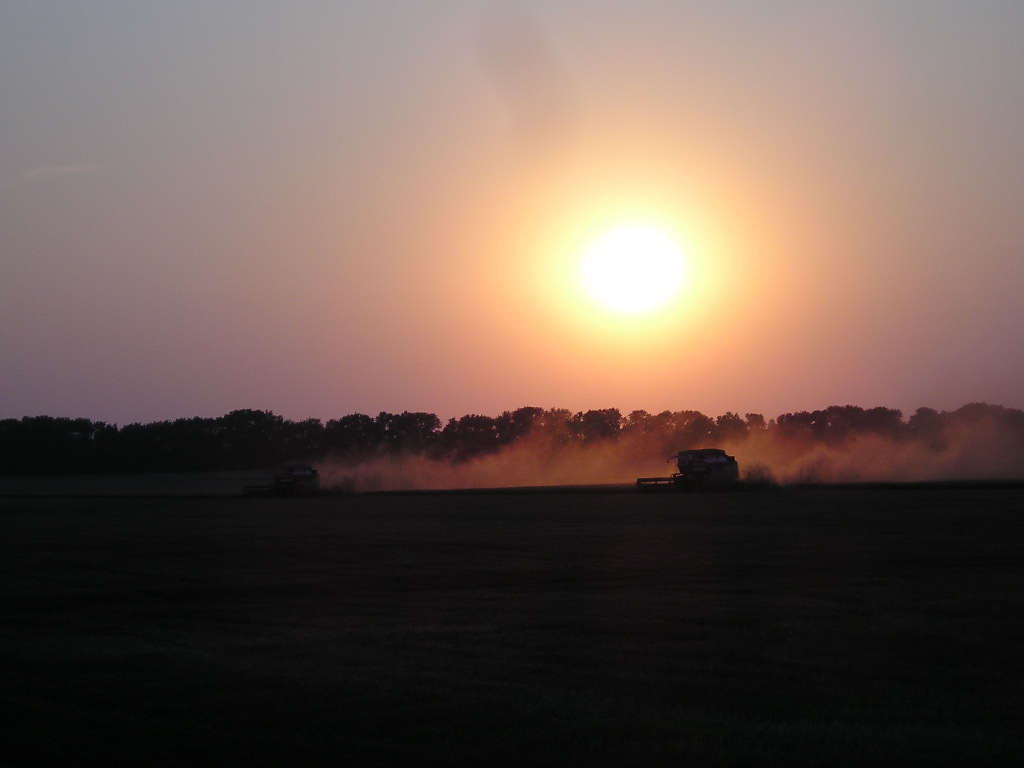 After I left Hesston I was racing against the sun. It was setting very fast. The sunset was gorgeous; it looked more like a giant peach that was quickly rolling away from me.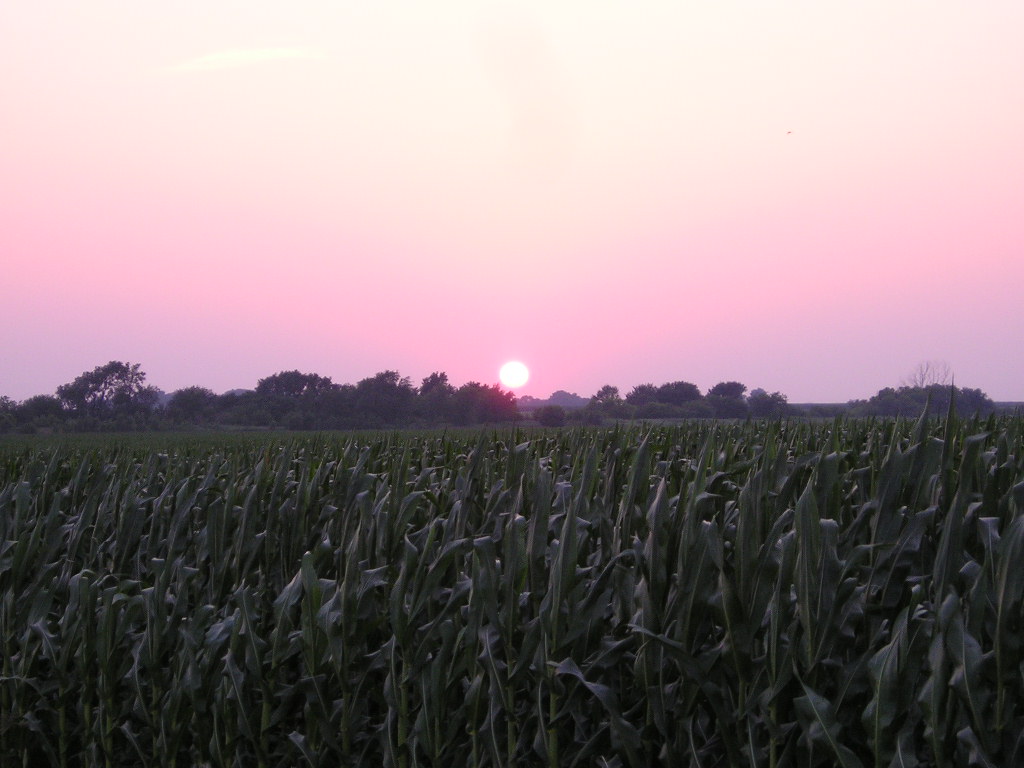 There were still a lot of people out there harvesting their wheat at 9pm. It was officially dark when I found the park in Buhler.
There was an intense little league game going on. I called the police to check in and they sent a car over to talk to me. The police man was really cool. All my experiences with the police officers on this trip have been amazing. I love those guys. He said he saw a couple of cyclists early in the day riding west and I could camp wherever I want and to make myself at home.
I camped under the gazebo. I couldn't find any good level grass. And there was electric so I could charge my phone and crap. Using twine and duct tape I rigged together a system of getting my non-freestanding tent to stand up on the concrete floor.
All night I was attacked by mosquitos. And the situation wasn't any better inside my tent.
I was really happy I cranked out 105 miles today. It was a great ride. Its fun racing against the sun at the end of the day. When I'm home riding my bike during sunset is always my favorite. I try to always get outta the architecture building during sunset to go for a little ride.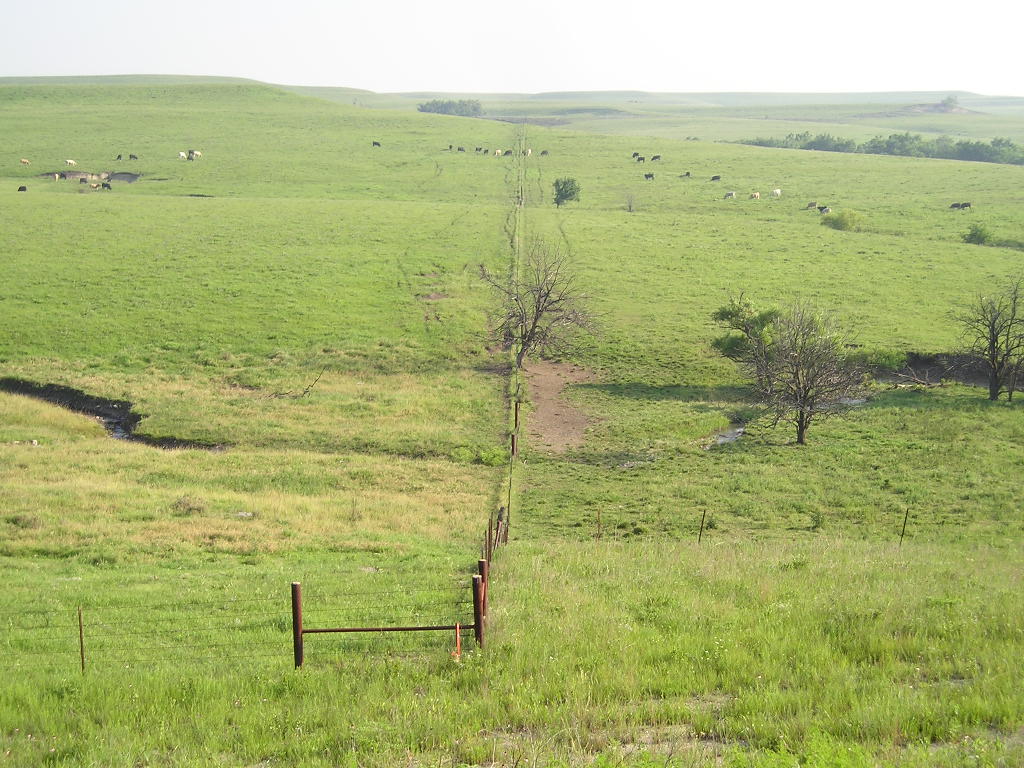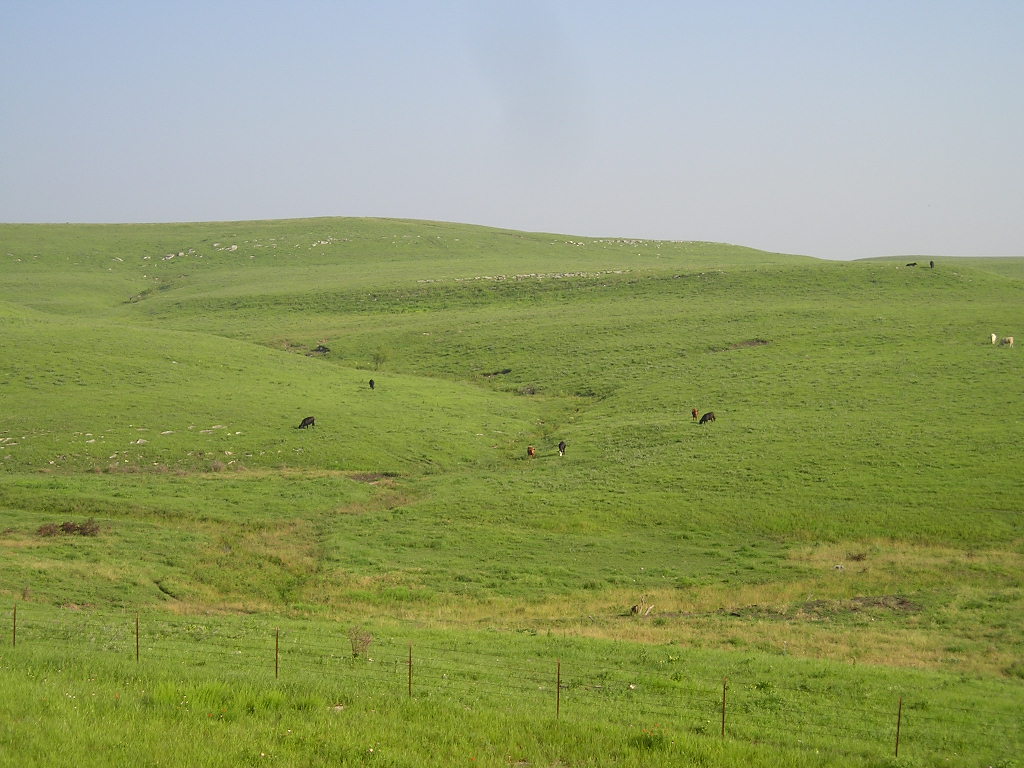 Click Here to Visit The Table of Contents
Click Here to Visit Previous Page: Day 32: Chanute KS  to  Eureka KS
Click Here to Visit The Next Page: Day 34: Buhler KS to  Great Bend KS