Day 40 Thursday June 30, 2005, 62 miles (99 km) – Total so far: 2,452 miles (3,947 km)
61.8 Miles and 5:58 Pedal time
Click Here to Visit The Table of Contents
Click Here to Visit Previous Page: Day 39: Pueblo CO to  Pueblo CO
Click Here to Visit The Next Page: Day 41: Royal Gorge CO  to  Guffey CO
I woke this morning at 7am and Paul and Anne were packing and getting ready to ride. I was in no rush. I think for the next couple of days I'm going to take it easy in the mornings. I sat and chatted with everyone for a while then started organizing myself. While I was disassembling my tent one of the parks maintenance workers came over and handed me a newspaper article.
It was an obituary for a Trans am cyclist. Last Saturday a cyclist riding the Transam was struck by a car and killed. The article didn't say where it exactly happened, it just said in the mountains of Colorado. The article went on to talk about how the man was a big cycling advocate and actually was an original Transam cyclists from 1976. I showed the article to everyone else but they knew all about it. They said he had been traveling with the adventure cycling group.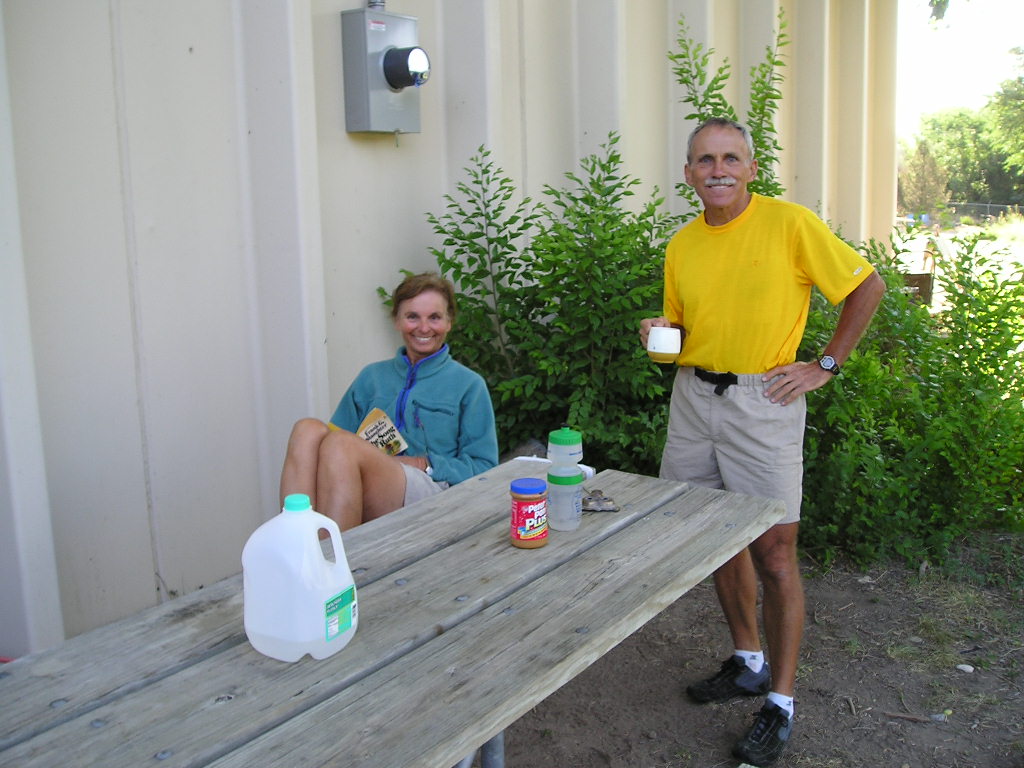 I watched Paul and Anne leave and I shortly left after them. I waved farewell to Linda and Sidney. Linda was ending her trip in Pueblo and Sidney was taking a day off. I wanted to use the internet at the library before I started riding for the day but the library didn't open until 9, so I hung out in a coffee shop chatting with the local hippies.
I whipped out a ton of internet stuff and I didn't realize this until I was on the road but I left my little notebook with all my daily mileages and notes for the day in the library. Hopefully they didn't toss it. If I don't get recovered it's not the end of the world. Most of the information inside actually exists on this journal. It just sucks losing stuff. And I'm pretty neurotic about making sure I don't leave anything behind.
When I was packing my tent, Anne came over and told me that they weren't riding the Trans am to Cannon City, they got a tip about a detour on route 50 and that avoided where they accident happened last week. I looked at my map and saw if I took their detour it would avoid the mountains. I was anxious to get back into the mountains so I decided to stay on the trail.
Around mile 20, I popped a spoke. After I fixed it my wheel is as straight as an arrow. I fixed it pretty damn quick. I keep my spokes in my panniers now instead of the trailer. I can change a broken spoke and true a wheel faster than you can say L.L. Cool J.
Jamie O'Brien called me after I finished changing my spoke, to tell me his car that was stolen 2 days ago in Boston has been recovered by the police. He hates his car and considered it a blessing when it was stolen. But I knew this wasn't the end, it never is. Somehow he managed to get his bike stolen and returned to him 3 or 4 times.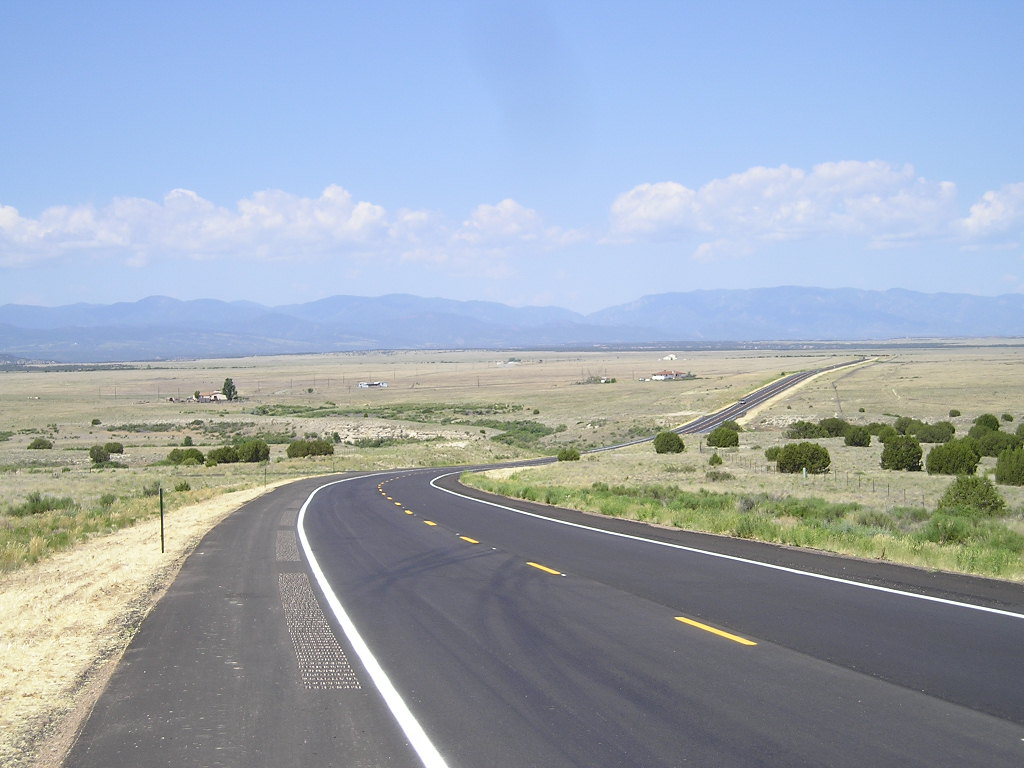 The first 25 miles was a lot of easy uphill and some nice downhill. I got to a point on my map where it said the Trans am intersects with the Western Express. (The western express is the route that goes directly from San Francisco to Pueblo. It's through the desert and I keep hearing it's a very challenging route) while I just around the corner from the intersection where the trails intersect I saw an east bounder coming off of the western express. He was happy to see me; he said he hadn't seen many other cyclists.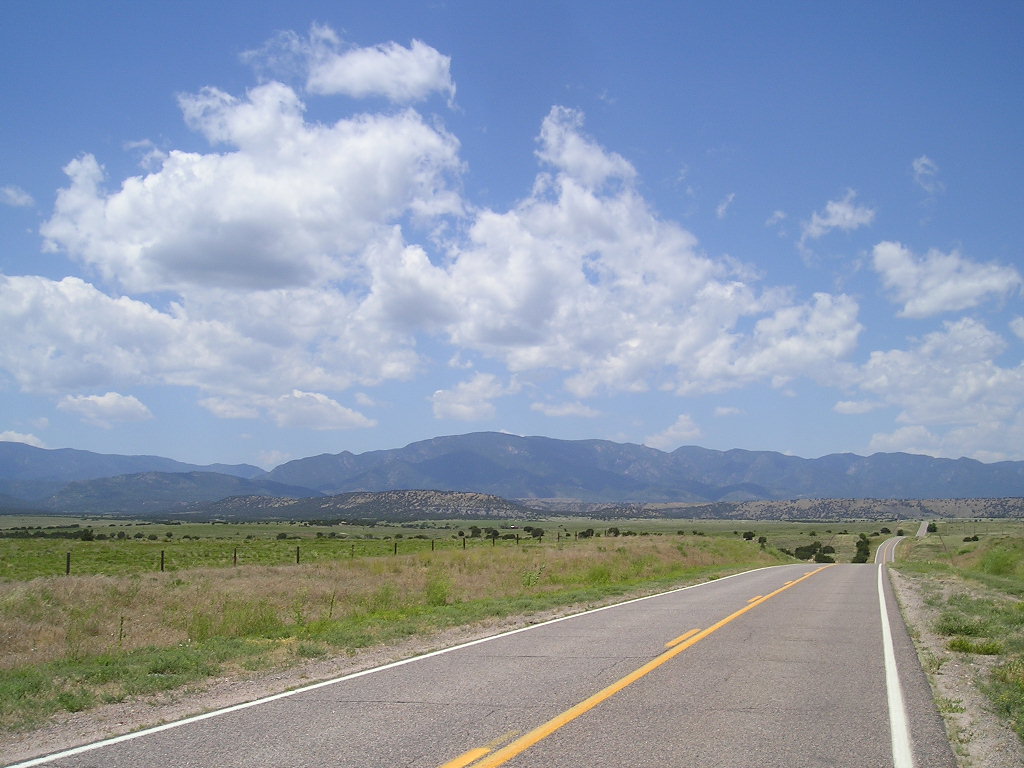 I rode into the town of Wetmore and there wasn't much there except this steak house that looked closed. I noticed the door was unlocked so I went inside and a man came over. He told me the restaurant was closed but he still sold me a cold glass of Coca-Cola. He and I sat outside on the porch talking for a while. I asked him if he knew anything about the cyclist that was killed the other day; he told me that he actually chatted with the guy and a couple other cyclists, a few hours prior to the accident. He was furious because people have been driving like maniacs on these mountain roads. I rode up to where the accident was and saw the skid marks on the road and sat there for a while.
After Wetmore most of the day was downhill and the time flew. I kept thinking to myself 'I can't possibly be in this town already.' I stopped for lunch at a cute little mom and pop place. I had a salad, a huge plate of pasta, garlic bread and a dessert for $6. My waitress asked me a million questions about the Trans am and cycling across the country.
I rode a few more miles and stopped in canon city. I found a bike shop and the guy working there gave me all the necessary information and that is: where's the library? Where's the campsite? Is there a Walmart here? Are there any all you can eat buffets? Where is this highway?
I stayed at the library for a while looking stuff up. I called some campsites and they were kind of far in the opposite direction. I heard a rumor that the Methodist church was putting cyclists up for the night. But I rode by and had no idea how to get in on that deal. I hung out at the library for a bit then decided to move on to Royal Gorge which was 10 miles away uphill.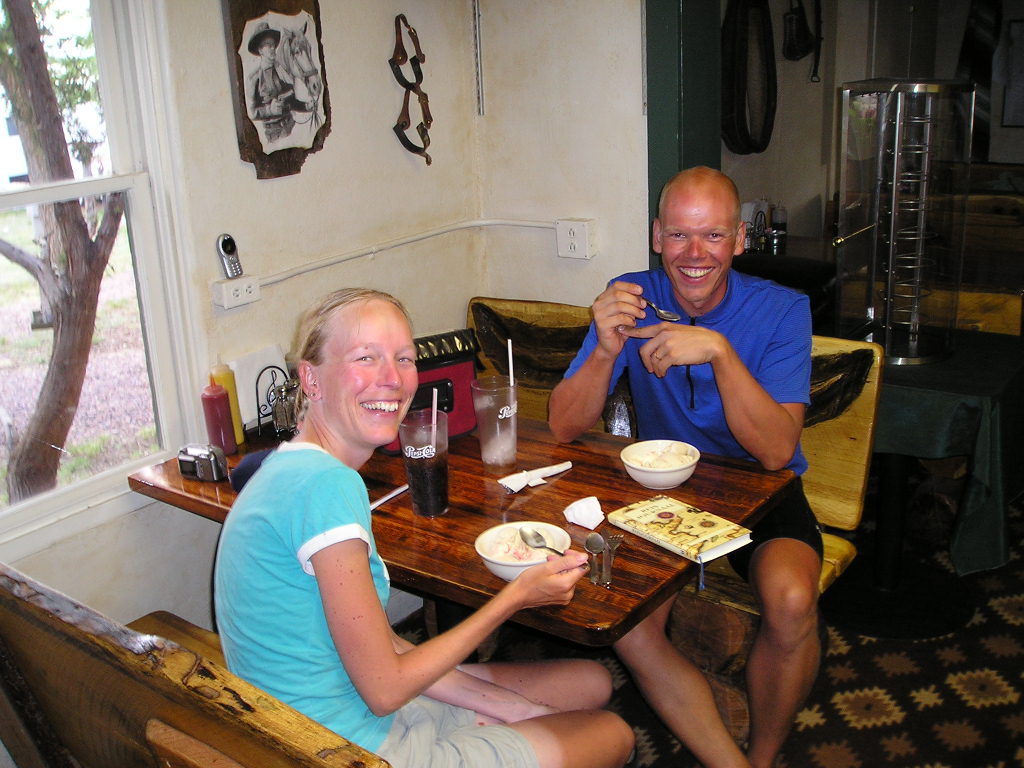 But it was a pretty gentle climb. I didn't even stop in the middle of the hill like I usually do.  At the top of the hill there was a campsite and I saw Anne and Paul's tandem so I stopped in. They were sitting in the café eating heaping bowls of ice cream. I decided I was going to camp here for the night and even though the kitchen was closed the cook did me a favor and cooked me up a giant Philly cheese steak for dinner.
I took a shower, had some coffee with Anne and Paul. The lady that cooked me my dinner came by to chat for a while and we all sat talking and laughing until the sun went down. All the stars were out tonight it looked like a planetarium. Colorado is beautiful.
It feels great to be back in the mountains. I moved pretty slow today because I kept stopping to look at the mountains and take pictures. I took 46 pictures today. Every time I got closer to the mountains I took a picture, a lot of them are redundant so I'm only going to post the good ones.
Click Here to Visit The Table of Contents
Click Here to Visit Previous Page: Day 39: Pueblo CO to  Pueblo CO
Click Here to Visit The Next Page: Day 41: Royal Gorge CO  to  Guffey CO