Day 44 Monday July 4, 2005, 25 miles (41 km) – Total so far: 2,601 miles (4,186 km)
25.4 Miles and 2:21 Pedal
Click Here to Visit The Table of Contents
Click Here to Visit Previous Page: Day 43: Fairplay CO to  Breckinridge CO
Click Here to Visit The Next Page: Day 45: Breckenridge CO to  Kremmling CO
I woke around 7 and quickly got my act together so I could go down to Walmart City. Chris and Tina had a busy day going to pancake breakfasts, parades and hanging out in town. But in the evening a bunch friends are coming over for a 4th of July get together.
I got on the bike trail to Frisco. It was so cold my fingers were starting to get frostbitten. I rode in a pack with 5 other cyclists into Frisco. The bike path cuts through the woods and it's all windy and hilly for a little while I felt like I was alpine skiing.
First stop was at a gourmet coffee place for a cup of Joe. I paid $2 for a 16 oz. cup of coffee but it was the best hazelnut coffee I have ever had. I quickly found Walmart and stopped in the bike shop right next door. The kids working there were really cool and couldn't seem to figure out what kind of tube to sell me for my Continental top touring tire that is 37 wide and reads (28 x 1 3/8 x 1 5/8). I don't know anything about bicycle tubes. But I bought a new pair of old school mesh bicycle gloves. Those pearl izumi gel gloves I had were garbage, I threw them out.
In Walmart I found the newer version of the same camera I broke. My old Olympus digital camera had served me well so I'm not switching brands. The new camera has 4 mega pixel and my old was 3.2. A new digital camera was about 200 bones. Money I do not have, but I MUST have a camera. If I don't photograph it, then I wasn't there. I'll have to eat oatmeal and rice for a couple of days instead of cheeseburgers.
After Walmart I poked around downtown Frisco for a little while. They were getting ready for their parade. I ate 1 giant spare rib for lunch from one of those street BBQ guys. I stopped into the bike shop the kids at the last bike shop told me to go to for my tube. I asked the mechanic and he was a real jerk. He knew the answer to my tube question but I was so annoyed with the way he was talking to me I forgot what he said and ended up not buying a tube.
I remember when I was talking to the bike surgeon in Carbondale I asked him why he retired from bikes and he said he didn't want to be one of those crotchedy old men who has been fixing bike for a couple years too long. I think was the guy the bike surgeon was thinking of.
Riding back to Breckenridge I was able to catch a great tailwind and I rode like a maniac even though it is a slight uphill. I rode around Main Street for a while. Then went back to the condo to reorganize myself and take a nap.
Around 3pm I decided to go for a walk and to get a cup of coffee. I walked into all the book shops looking for any architectural theory/history books but only found books with home floor plans. When I was going through the used book store I found the lonely planet travel guide book for the USA. I bought for $3. Chris and Tina told me all about the lonely planet travel books, that's what they used when they backpacked around the world.
I walked around Breckenridge for about an hour looking at sunglasses and clothes I can't afford.  I'm kind of glad I can't afford any of that stuff. One thing this trip is teaching is what little I need to get by day to day. I have gotten into that Hiker mentality of obsessing over weight and bulge of anything that I want to carry.
::: ::giving a dirty look to this 10 pound laptop:::: just kidding.
While I was walking around Breckenridge I saw a lot of people dressed up in expensive cycling clothes walking around with full suspension mountain bikes while drinking caramel Macchiato from Starbucks. Breckenridge reminds me a lot of the Hamptons, but I like Breckenridge better.
I sat around talking with Chris and Tina while they were getting ready before all the company came over. Chris introduced me to everyone when they arrived and I had a lot of fun meeting all their friends. They were all very interesting people.
The food was phenomenal I ate 3 or 4 full plates. One of Chris's friends cooked some amazing brisket. Definitely some of the best BBQ I've had in weeks.  I sat at the kids table and we all just laughed and laughed.
Around 8:30 everyone jumped in the car and we drove up the hill to this spot that overlooked the city to watch the fireworks. It was a great place to watch and the fireworks show was spectacular. The best part about being on that hill was there were no crowds of people.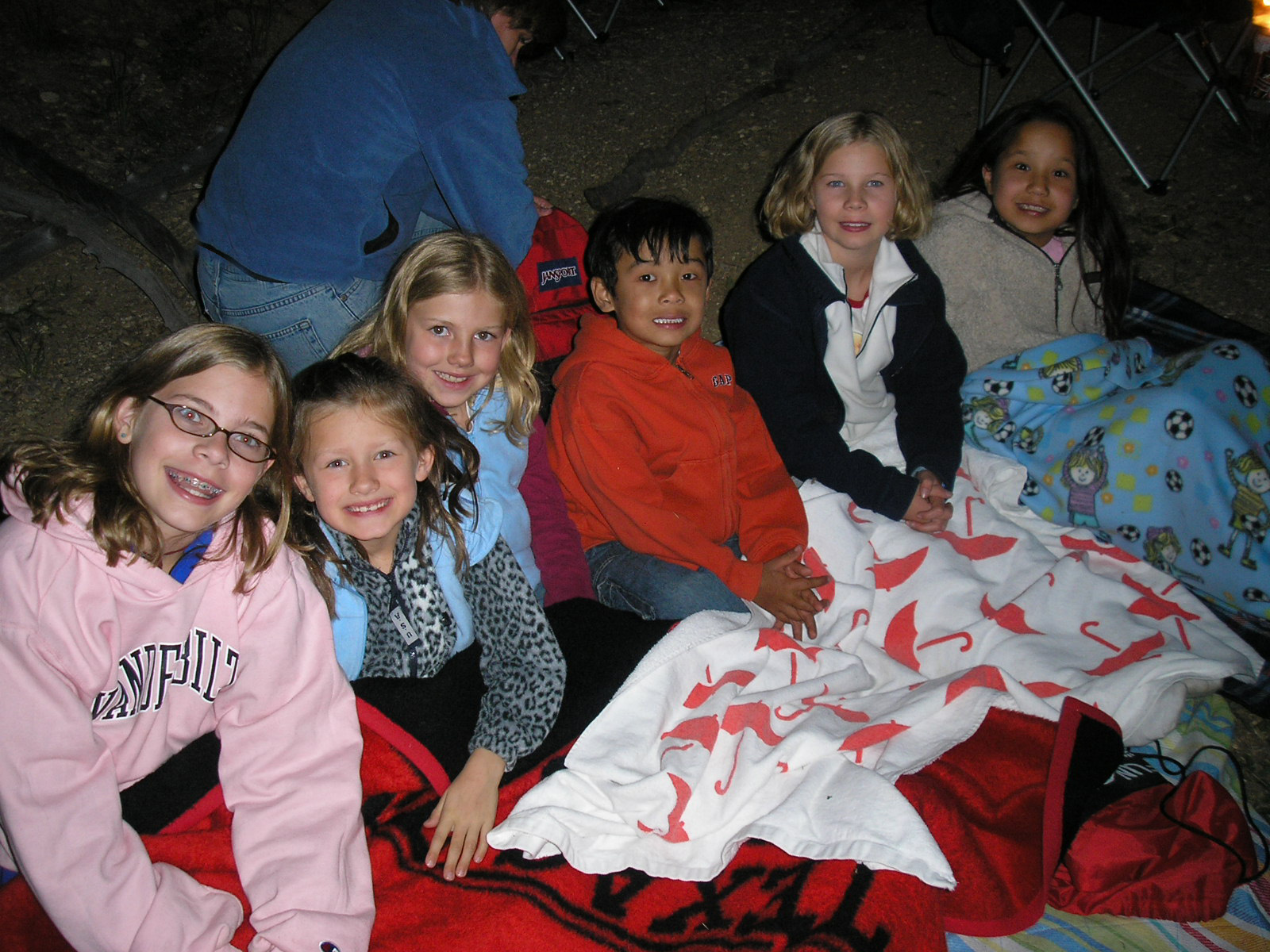 Before the fireworks began I took a great picture of all the kids. When I showed it to the parents they got all excited and wanted a copy.  After the it was all over we went over to Chris's friend Tom's house that lived a short walk away. We all hung out at Toms for a while then everyone went home.
I had a great 4th of July. One of the best decisions of my trip was to spend the 4th in Breckenridge. It was the right place to be and I was with all the right people. I'm really lucky I found such great people to spend the holiday with.
Click Here to Visit The Table of Contents
Click Here to Visit Previous Page: Day 43: Fairplay CO to  Breckinridge CO
Click Here to Visit The Next Page: Day 45: Breckenridge CO to  Kremmling CO