Day 53 Wednesday July 13, 2005, 46 miles (74 km) – Total so far: 3,172 miles (5,105 km)
46.2 Miles and 4:09 pedal time
Click Here to Visit The Table of Contents
Click Here to Visit Previous Page: Day 52: Dubois WY  to  Grand Teton National Park WY
Click Here to Visit The Next Page: Day 54: Jackson Hole WY to  Grant Villiage, Yellowstone National Park WY
Last night I woke up to go to the bathroom in the middle of the night and every star in the sky was out. It looked like a planetarium. I was up late setting up camp and cooking up some food so I wasn't able to get to sleep till around midnight. I rolled out of the tent around 8:30 this morning. I slowly packed up and wrote some journal entries. I deleted all the pictures off my camera so I have room on my card (except the pictures of my friends and good people I have met on this trip) I stopped at a $10 all you can eat buffet for breakfast. My breakfast was twice as much as my campsite. The guy at the restaurant told me all the other cyclists came in today around 8am but since I was young I could probably catch them.

Yesterday I decided I was going to spend the day riding to Jackson Hole, even though it is 30 miles out of the way from where I was. I knew it was a beautiful ride and riding along side of these Tetons is just too therapeutic to not take advantage of that opportunity.
I ate so much breakfast I wasn't moving too fast when I started the day. I stopped at a scenic lookout and made some phone calls. While I was talking to my friend chuck, a guy came over with his wife and handed me $2. He told me that he rode the Trans am a few years ago and to go buy myself an ice cream today. Then he jumped into a car and drove away.
It felt weird riding south to Jackson. This whole trip I have been reading my maps right to left. I wasn't used to riding south or reading my maps in opposite direction.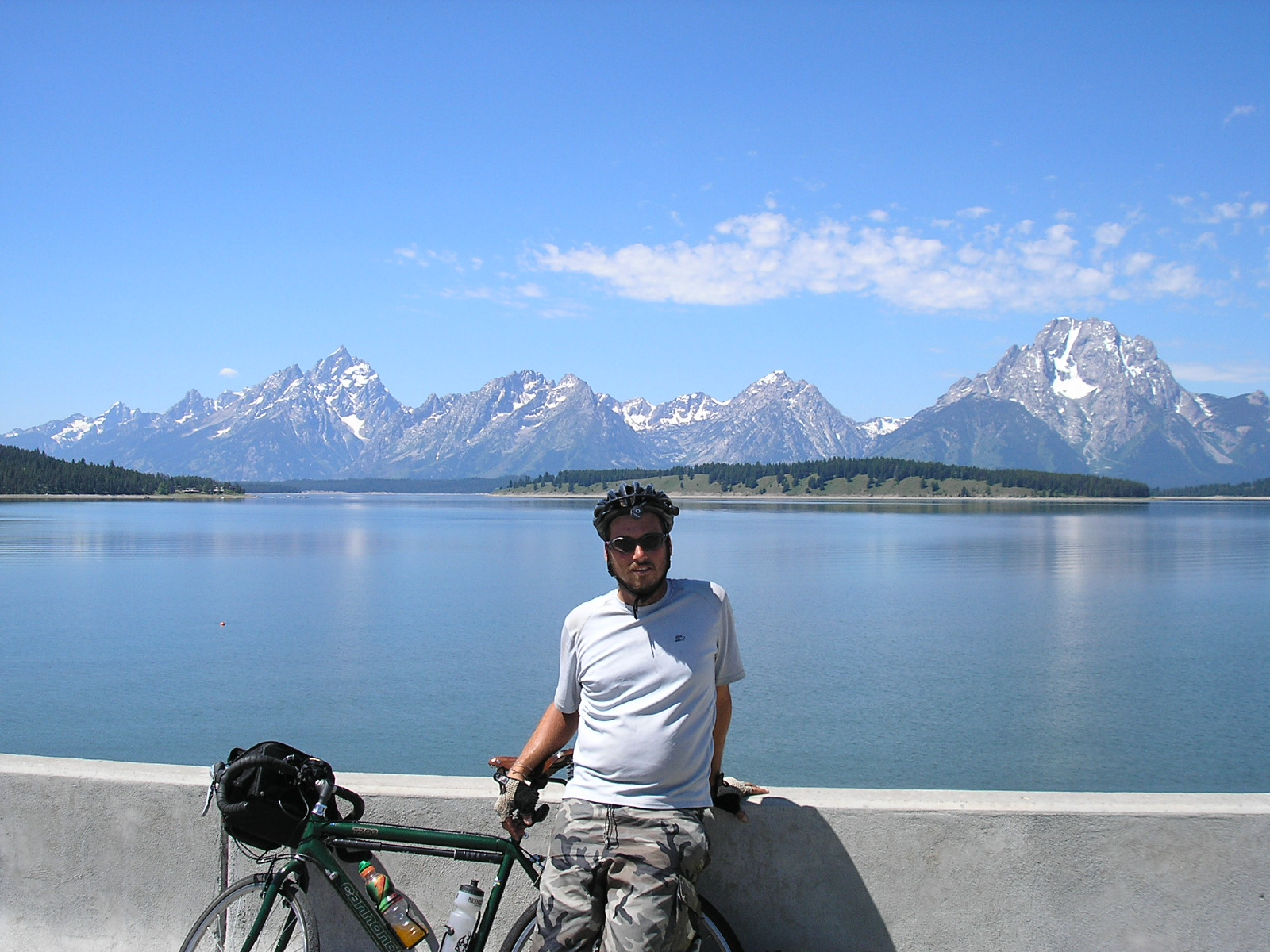 I stopped at the dam and talked with a nice family from Virginia. I got them to take a picture of me. I told them what happened on top of the Hoosier Pass and they were extra careful with my camera.
Shortly after I left the dam chuck called. He said my bike journal was back up. This put me in a good mood. The wind was starting to pick up and it was hitting me in the face. Several times I questioned myself why I was riding to Jackson into headwinds. I was tempted to turn around but a little voice inside my head told me I had to go to Jackson. None of the other Transam riders bother to go Jackson, and technically I am ahead of schedule.
I stopped in a town called Moose and bought my ice cream. While I was there I saw some women sitting on a laptop outside of a bar. She told me I could get a wireless connection so I pulled out my machine and sat there for an hour putting up my old journal entries. I was excited to get some messages in my guestbook and that put me in a good mood for the rest of the day.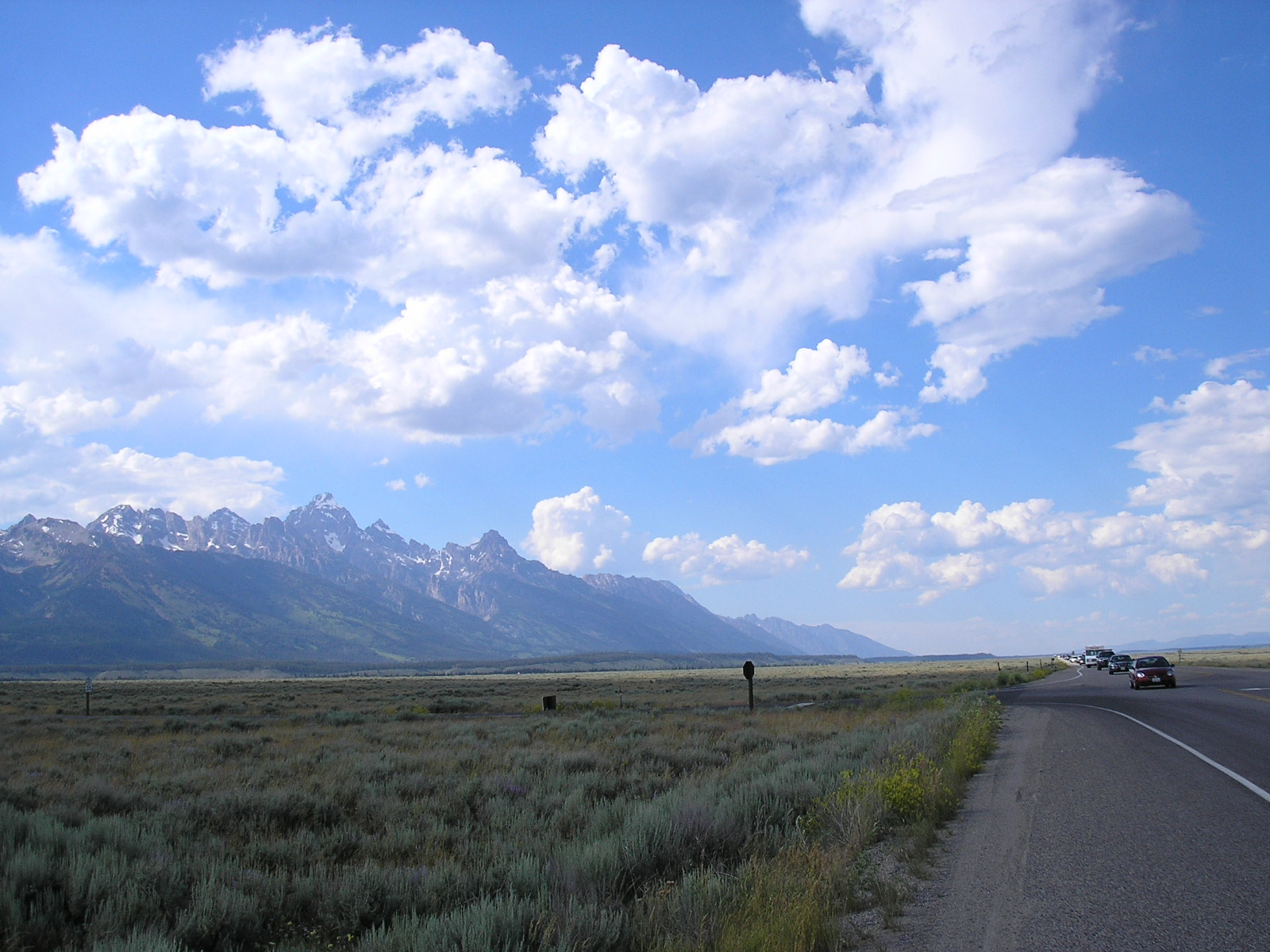 I was in such a good mood (because of the journal) I charged through those headwinds for the next 13 miles till and made some really good time. I stopped at the visitor center and they drew me a map of everything I need to know. The campsite wanted $25, so I just went to the hostel which was also $25.
The hostel was in the basement of some motel. There were about 20 beds in one room. I met a young man from St. Louis who was traveling the country in his car. He told me that he has been in Jackson for about a week now working as a day laborer and camping at a cheap campsite out of town. He said he'll probably work another week then get back on the road. We talked about Missouri for a while and all the places I had been through. Eventually I pulled out a map of Missouri.
I took a much needed shower and scrubbed the dirt off my skin. Some guy came into the hostel all pissed off because he left his yellow backpack there a few days ago. I kind of believed his story, but he was going through everyone's stuff looking for it and that wasn't cool. I put my lock on the door my little closet.
I walked around Jackson with my laptop looking for an internet café. I found one but I was really hungry. I asked the kid where I could get a good burger. He told me to go to Billy's Burger.
When I got to Billy's burger there was loud music playing and everyone was screaming and yelling. It felt like I was in a scene from a Muppet movie. I ordered my burger and sat next to some guy who I thought was Billy Joel at first. He was really drunk hanging out with some pretty girls and was yelling the whole time he was there. Eventually he left and it suddenly it got quiet.
I went back to the internet café and told the kid working there, 'that burger place is insane' he said 'I know, it's the best!' I sat in the back of the café updating my journal. I was surrounded by high school kids swearing like sailors, while they battled each other on some computer video game.
I walked my computer back to the hostel then grabbed my bike and rode all over Jackson. I stopped at some Tiki bar and got and Ice cream and talked to my girlfriend. She is traveling to Charlottesville, Virginia tomorrow. Then going white water rafting tomorrow in Tennessee.
I went back to the hostel. A big fat old man was sleeping in the same area I was. He burped and farted all night long. Eventually I moved to another bed across the room and got some sleep.
Click Here to Visit The Table of Contents
Click Here to Visit Previous Page: Day 52: Dubois WY  to  Grand Teton National Park WY
Click Here to Visit The Next Page: Day 54: Jackson Hole WY to  Grant Villiage, Yellowstone National Park WY