Day 55 Friday July 15, 2005, 56 miles (90 km) – Total so far: 3,309 miles (5,325 km)
55.8 Miles and 5:01 Pedal time
Click Here to Visit The Table of Contents
Click Here to Visit Previous Page: Day 54: Jackson Hole WY to  Grant Villiage, Yellowstone National Park WY
Click Here to Visit The Next Page: Day 56: West Yellowstone MT to  Cameron MT
I woke up at 6:30 but went back to sleep until 7. Last night Jim told me that a Grizzly likes to take an early morning stroll through the campsite. I was hoping and ready to see him but unfortunately it never happened.
When I got out of my tent Jim was talking to some guy about riding cross country. He asked us if any of us were writing a book about our trip. I piped up and said 'I Am.' but was too tired and sore to give him the card to my website.
Matt was still sleeping so I sat in my tent and wrote out the journal entry for day 54 pretty quickly. I drafted it out last night so it went pretty quick. While we were packing up getting ready to get on the road another cyclist came over to our site. His name was Shaun, he was riding west. Dale told me about him the other day. He left way before us this morning.
Jim matt and I went to the grill for some breakfast before we got on the road. While we were eating a women came over to us all excited. She was actually very good friends with the man that manufactures Jim's trailer. The little girl she was with said she actually laced up the wheels in a bunch of the trailers. I thought that was pretty cool.
The plan for today was to finish our ride through Yellowstone. Visit Old Faithful and end the day at West Yellowstone in Montana. We had a 1000′ climb in the first 10 miles. Then the rest of the day was mostly downhill.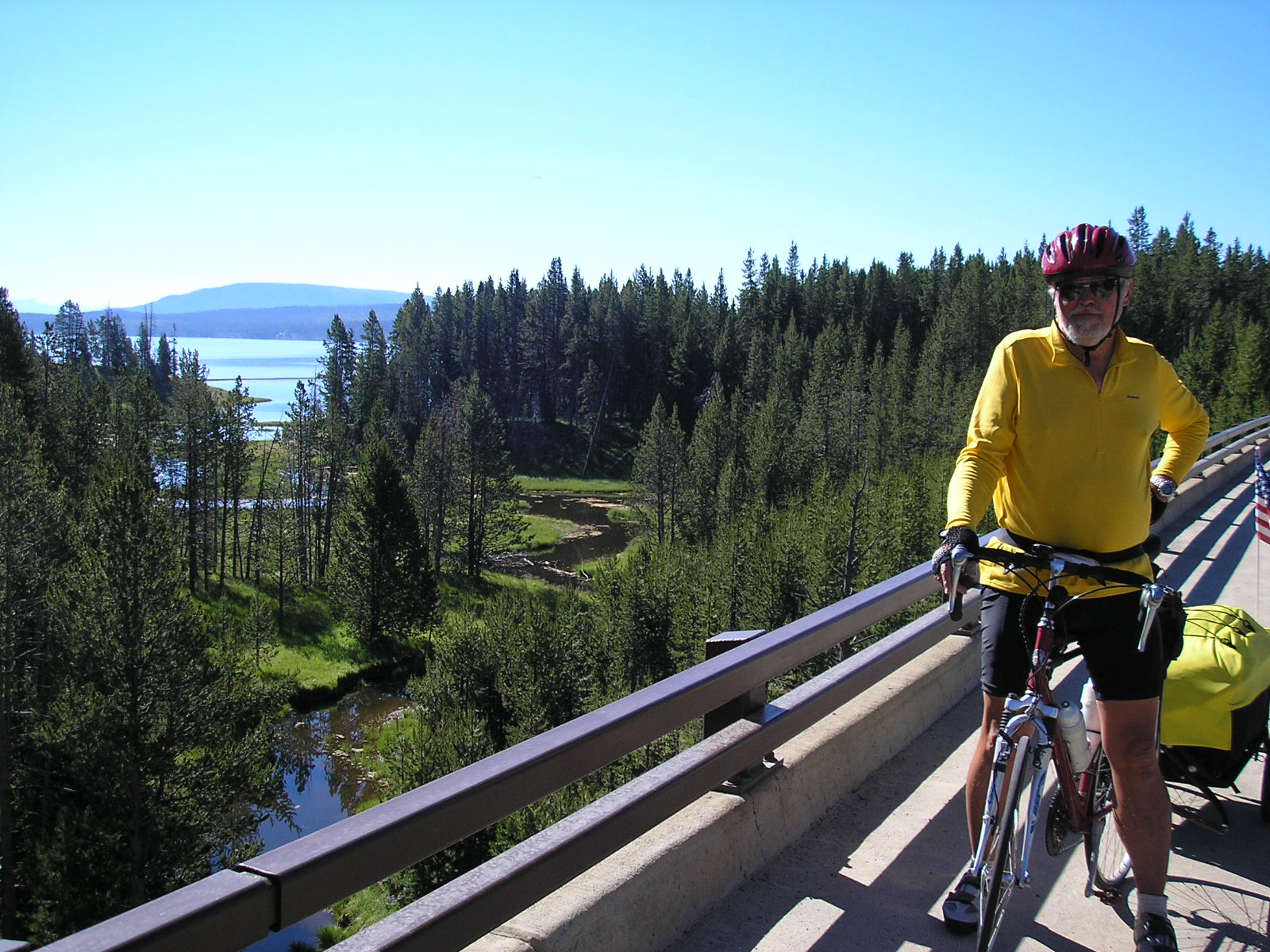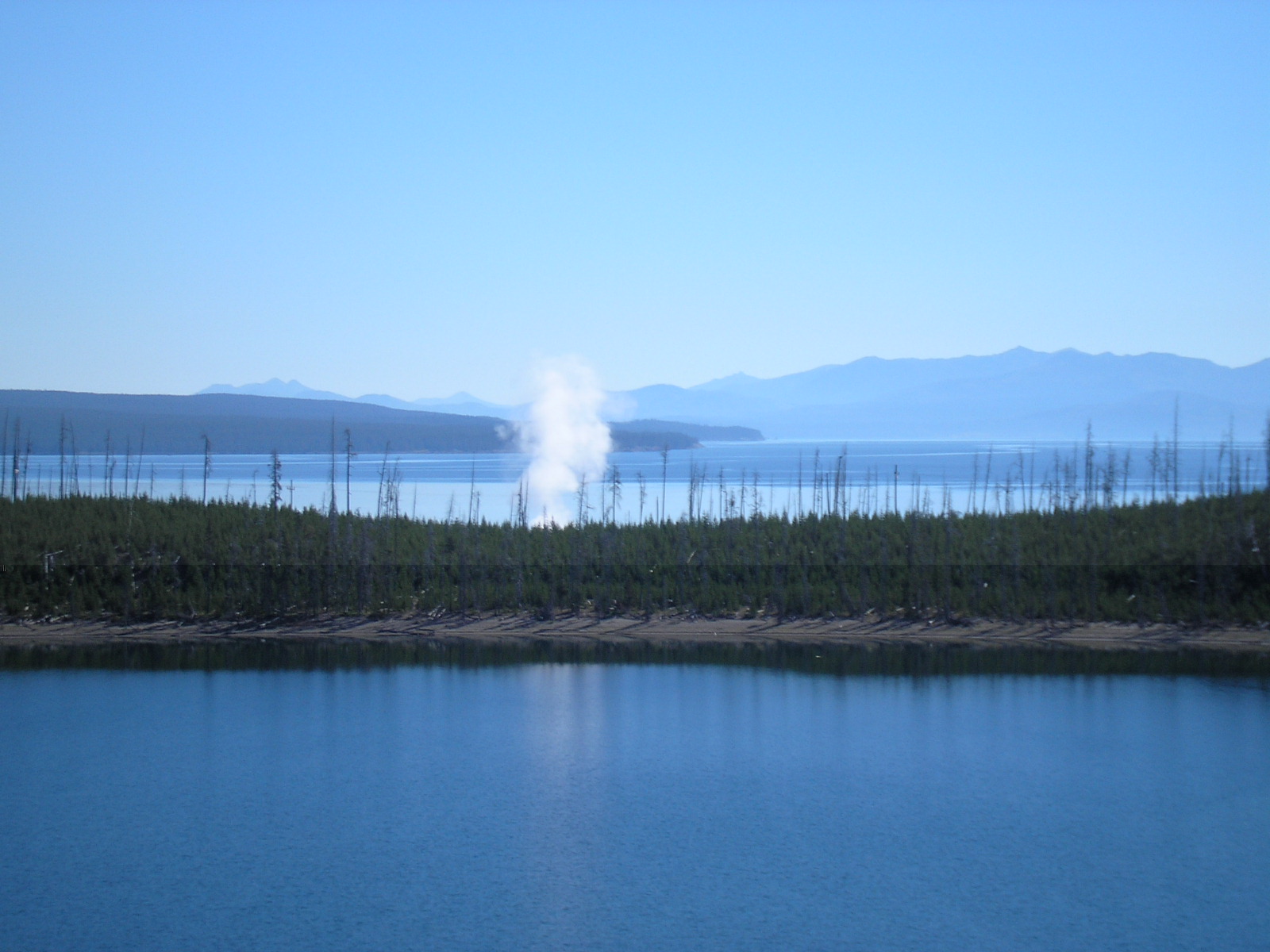 Shortly after we got on the road we saw a Geyser off in the distance, after I saw that I had a good feeling about the rest of the day. The climb wasn't too bad I got through it fairly fast. I popped a spoke on the hill and changed it pretty quick. Haven't popped a spoke since Breckenridge.  I hoping to make it through Wyoming without popping any spokes, but I broke my good luck streak.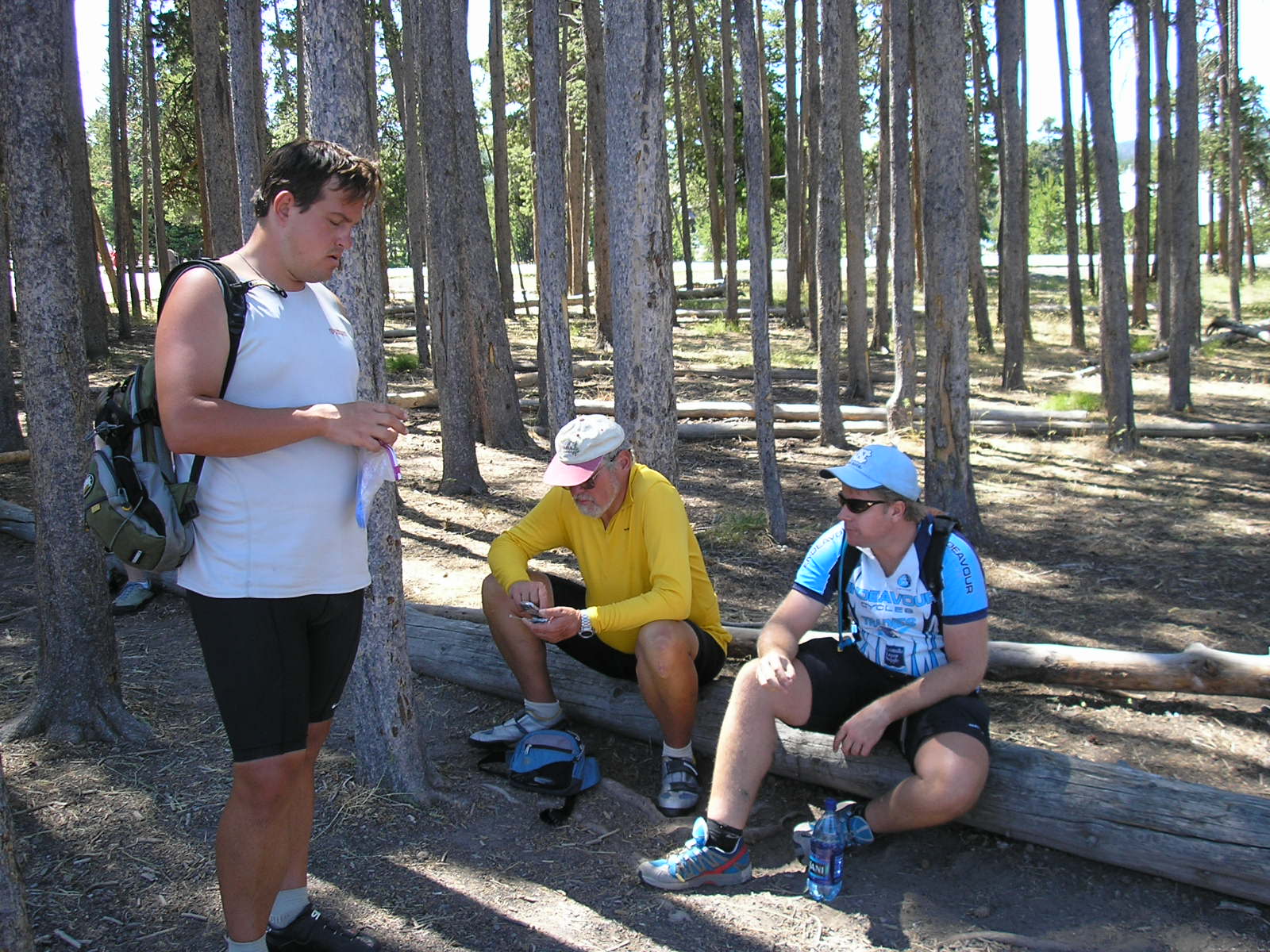 We went to old faithful and everyone was standing around waiting for it to erupt. Karen and Andy were already there. They were working on finding a place to stay in West Yellowstone. I walked around old faithful with my camera ready. I saw some cyclists and tried to start a conversation with them but they weren't too friendly. I don't think they were real cyclists, just ordinary people. Awkward city people in expensive cycling clothes that's what they are.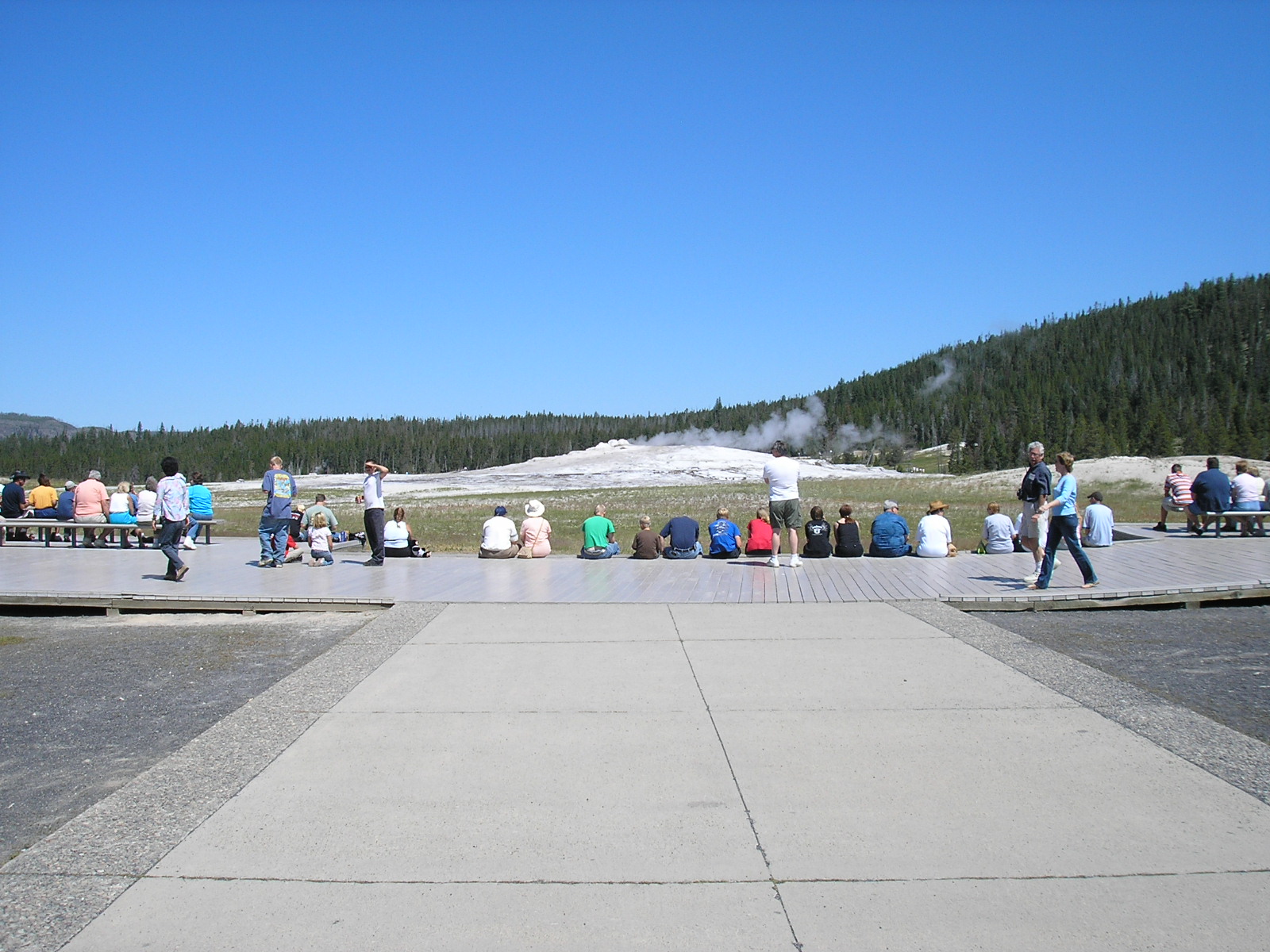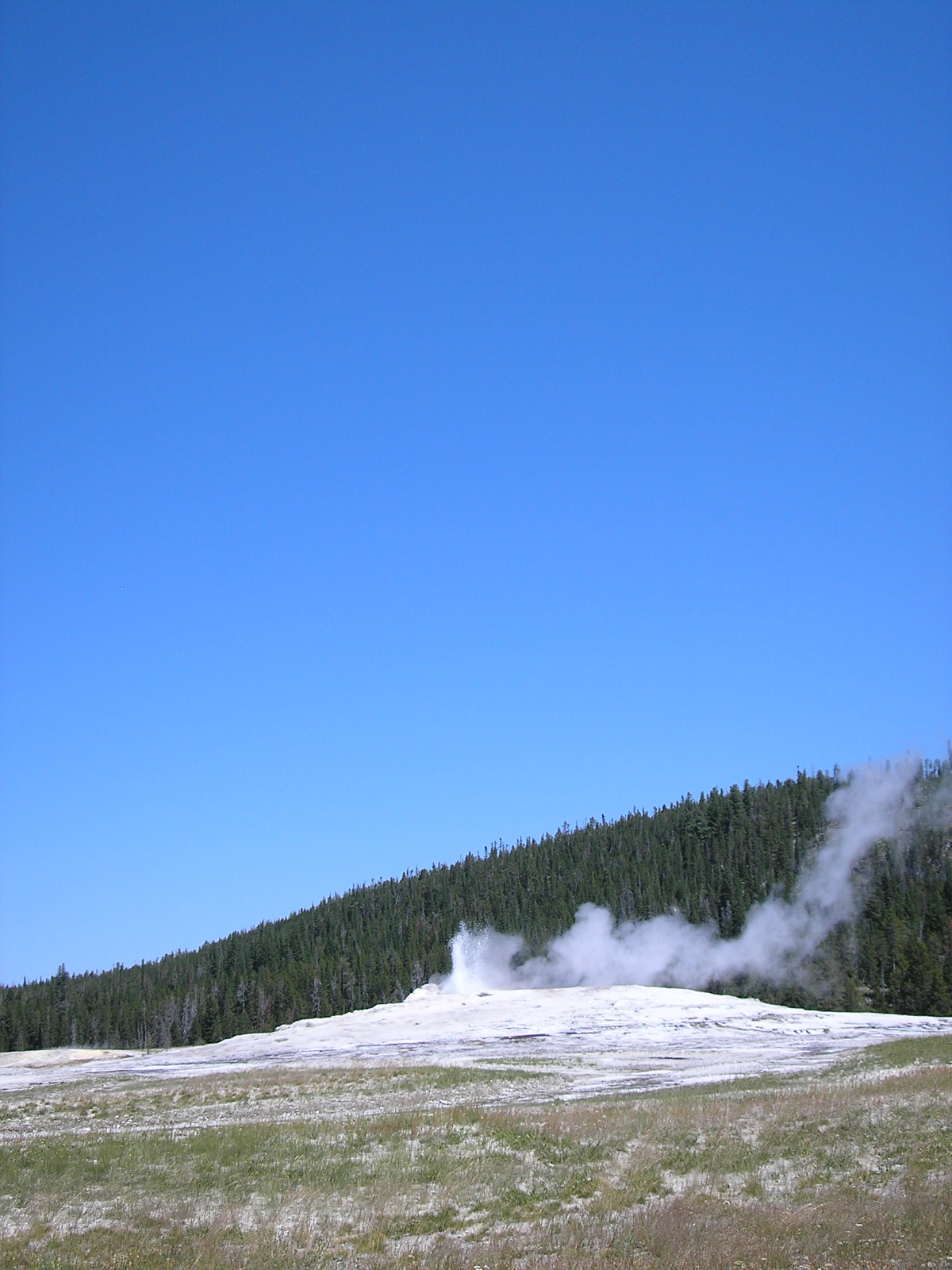 I found myself a nice spot away from all the maniacal tourists. The suspense was killing me. I took about 12 great pictures of Old Faithful sequence going off. When I get some time I will create an animated .gif but I have never been so ready to take a picture my entire life.
After the show as over I went back to where everyone else was. Matt Jim and I went over to the Old Faithful Inn to investigate getting lunch there. I really wanted to go to the cafeteria for lunch. When we rode up to the building it an absolutely beautiful log building. We parked our bikes and went inside. The interior lobby space reminded me of an M.C. Escher drawing with the stairs. Staring up I got lost within the logs and the stairs. I tried to take a picture, but it's just one of those spaces you can't capture in a photograph.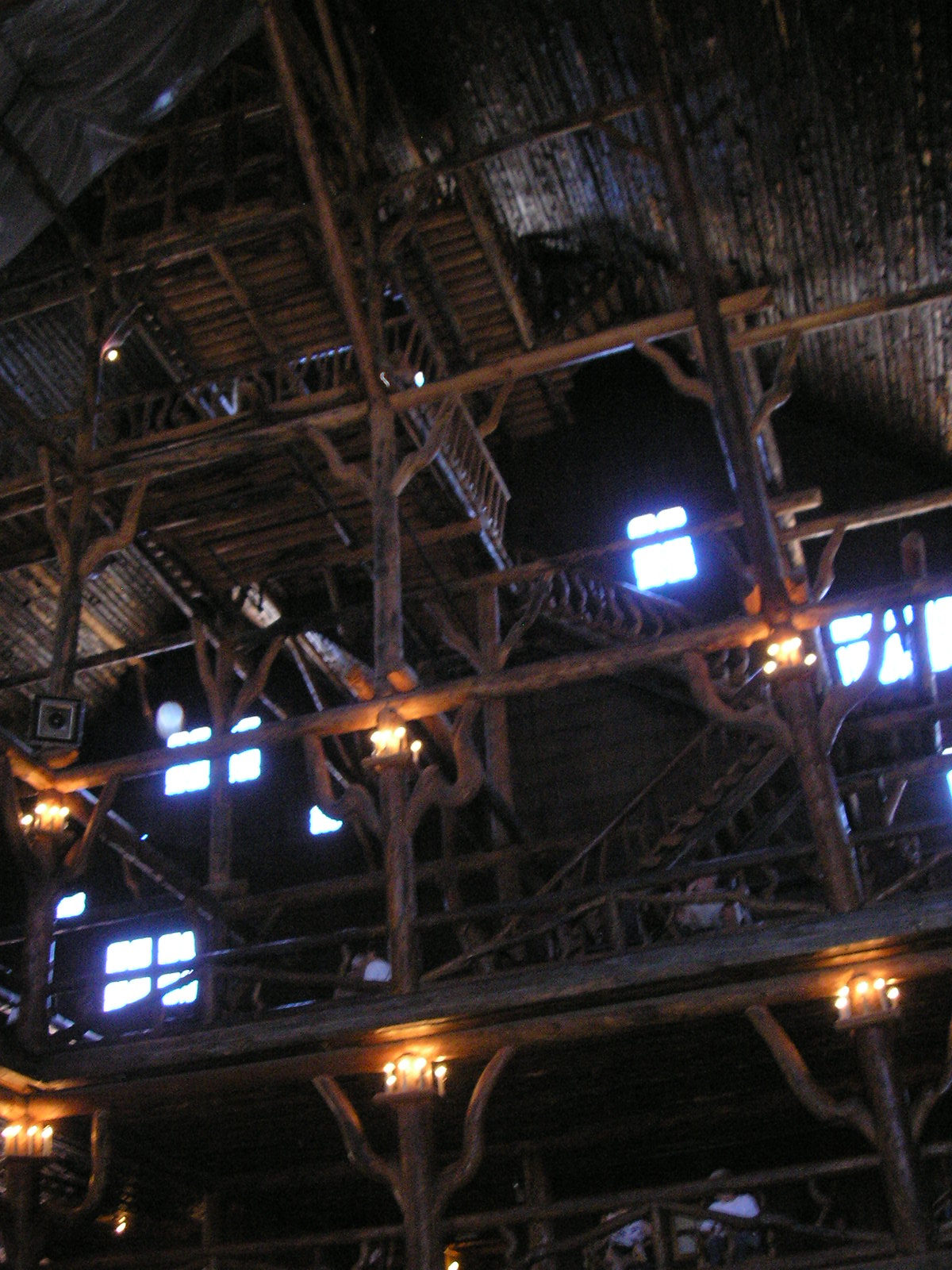 We sat down in the dining room. There was an all you can buffet going on and we all decided to have it. They had trout and it was very good. We all ate a lot and I just kept saying "I need to get my $11 worth of breakfast", with a mouth full of food.
I was really impressed with the building; I went into the gift shop and bought a small book about the building and its history. It has some spectacular images of the Inn and Yellowstone Park. It was the only souvenir I had bought on this trip. I'm going to mail it to my friend chuck d so he can read it until I get home.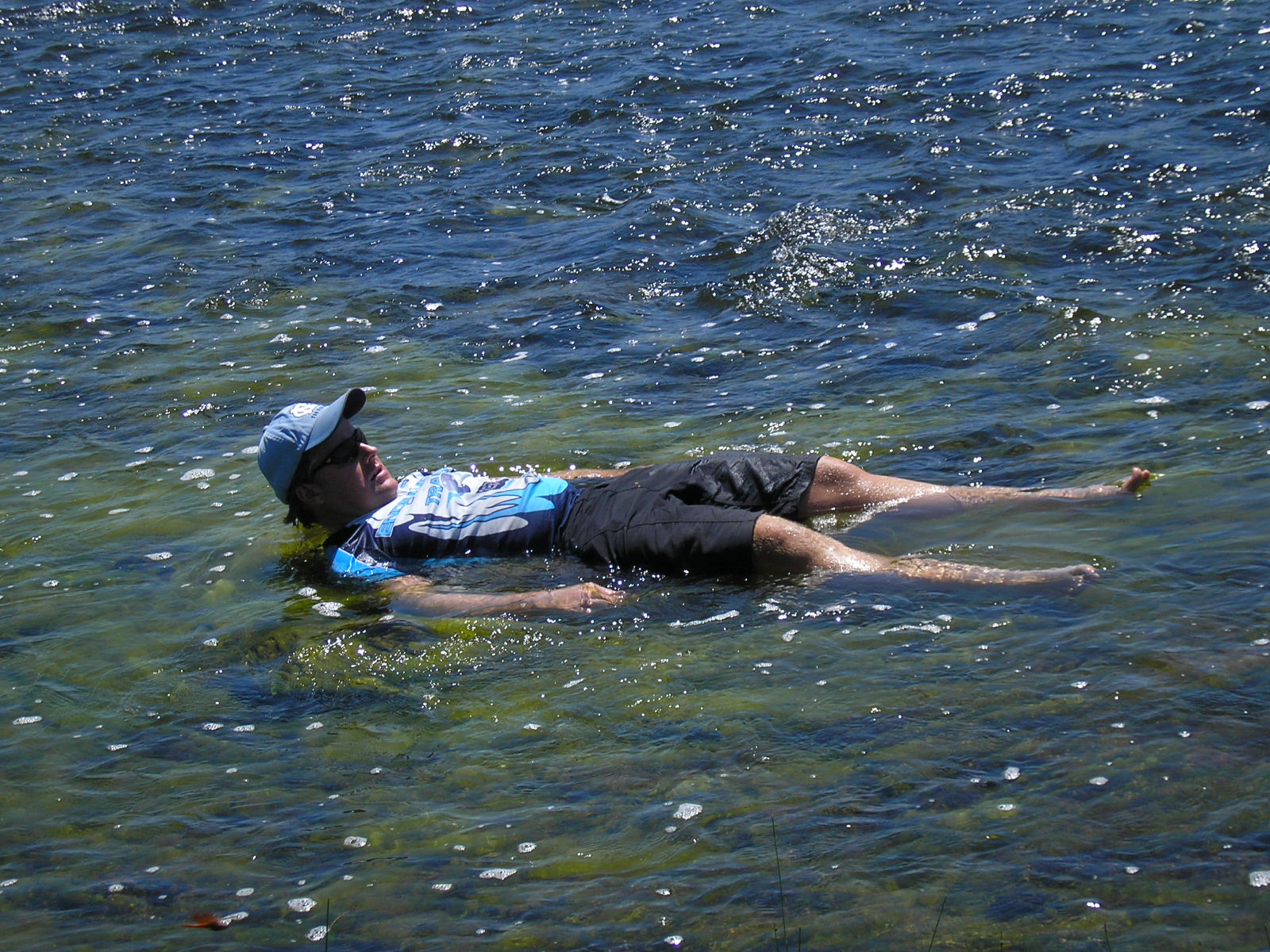 After lunch the winds weren't really working in our favor but it was mostly downhill anyway. We had been talking about swimming all day long and when we got to the Firehole River we all jumped in. the water wasn't deep so we just laid in the rocks. It was starting to get hot and lying in the river felt so good. I regret not jumping into Jackson Lake yesterday when I was in Teton Park. Karen and Andy told me that they did.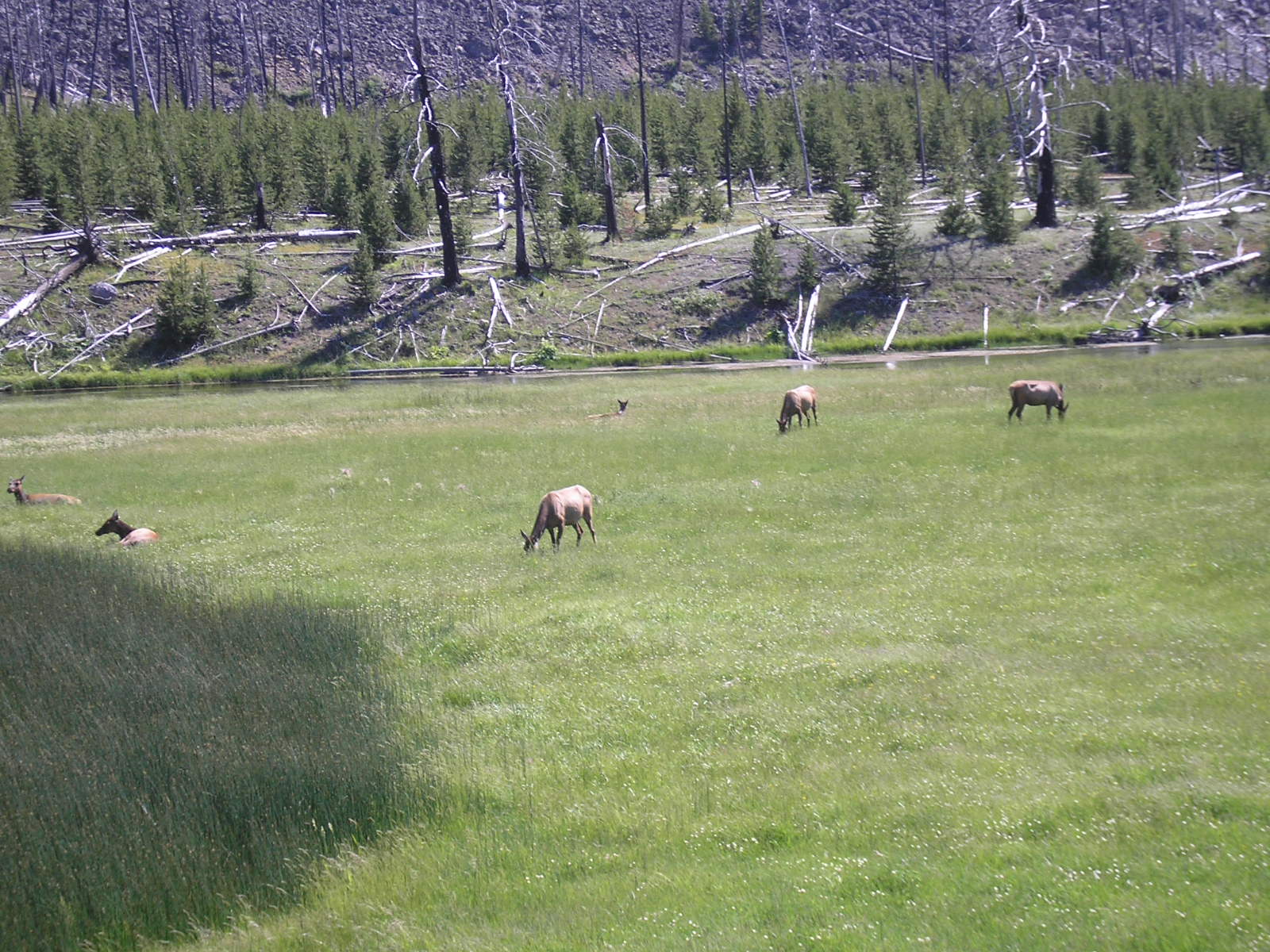 We rode about another 15 Miles then jumped into the Madison River. While we were leaving there was a bunch of elk grazing alongside of the river. After we were back on the bike Jim popped a spoke. While we were stopped looking at Jim's spoke 2 cyclists who were riding the same way stopped asking about our trips. We talked to them briefly. And got back on the road.
I fell behind and I rode up to Matt and Jim hanging out with the cyclists we met earlier they gave a cold soda that was really delicious. While we were talking to them they told us about this giant eagle they saw earlier in the day. A couple miles from where we were talking to them we saw the giant eagle nest. It was huge.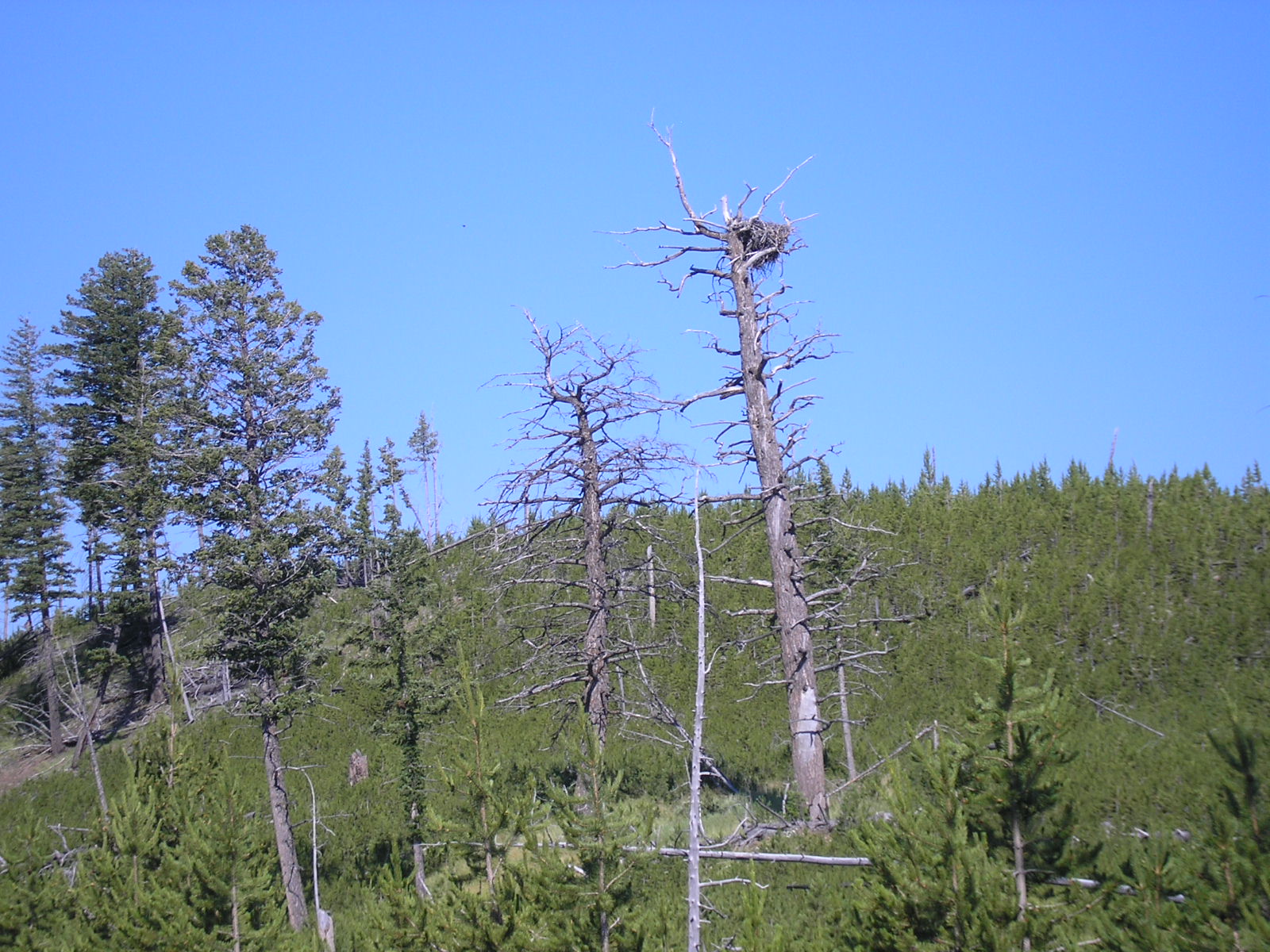 Across from the huge nest everyone was watching a Bald Eagle that was sitting on the banks of the river. It was really far away and I could barely see it. 5 minutes down the road from the eagle there was lots of traffic. When rode up there was this beautiful moose grazing alongside of the river. I was really excited because I hadn't really seen any good wildlife lately.
After the moose it was about 5 or 6 miles downhill into West Yellowstone. The winds weren't working in my favor but that was alright. West Yellowstone is actually outside of the park and about 2 miles from the state line in Montana.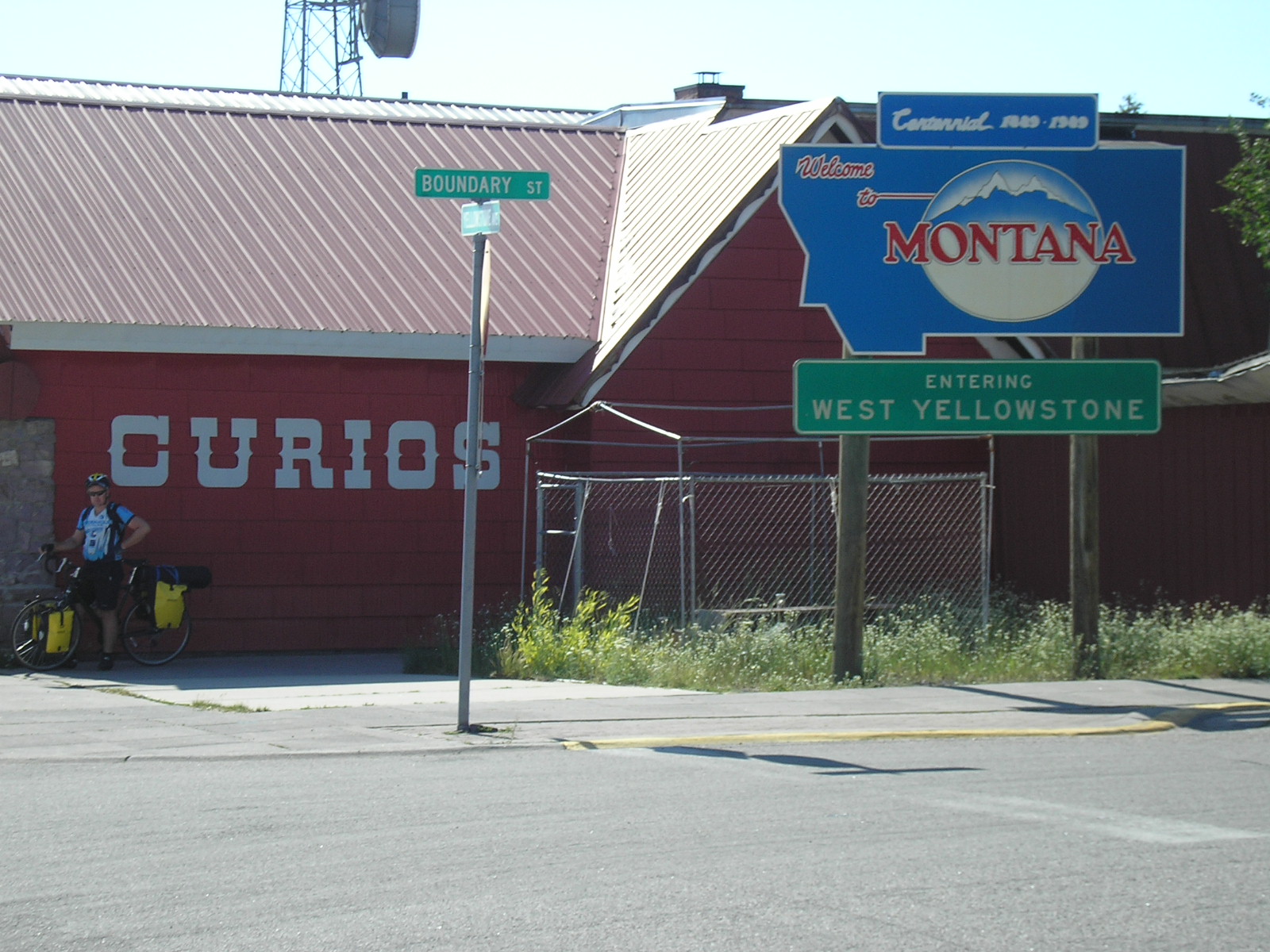 I took a picture of Matt in front of the Montana sign. For as long as I have been riding with him, he keeps saying 'I'm really looking forward to Montana.' Karen found us a cabin that we can all stay in and split 5 ways, it's just as cheap as camping.
At the cabin a 7 year old boy named Jack came up to me and introduced himself. He was from Seattle and is living/working at this motel for the summer with his family.
I found the internet café and it was slow. The old man said it was Satellite internet and he flipped out when he saw I was trying to batch upload pictures into to my bike journal. It was $8 an hour. I spent an hour doing what I do on the internet. Those hikers emailed me the picture atop Hoosier Pass. I was really excited.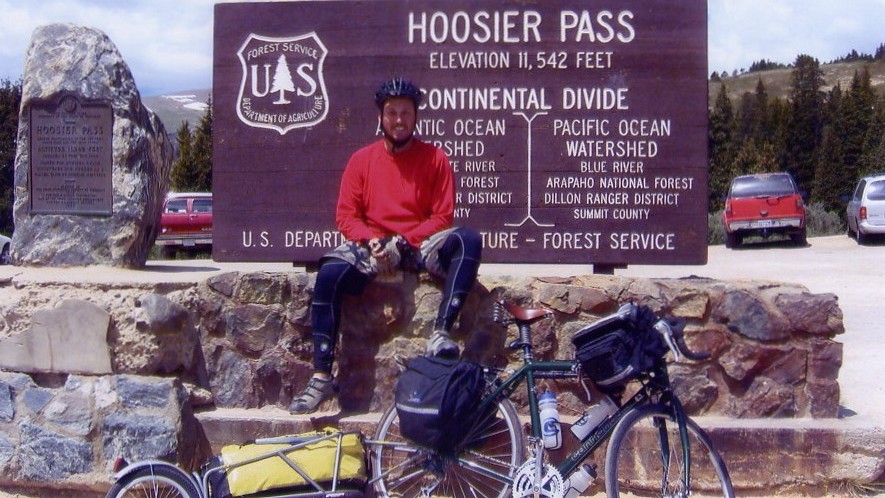 When I went back to the cabin Andy was riding bikes around the parking lot with Jack and his Sister. Andy had to go do something so I took over and the 3 of us had bike races around the parking lot. Jack won every time.
We all went out for dinner and some beer. After dinner Matt Jim and I went for an ice cream then we all came back to the cabin. They played an aggressive game of cards and I wrote out this journal entry for the day.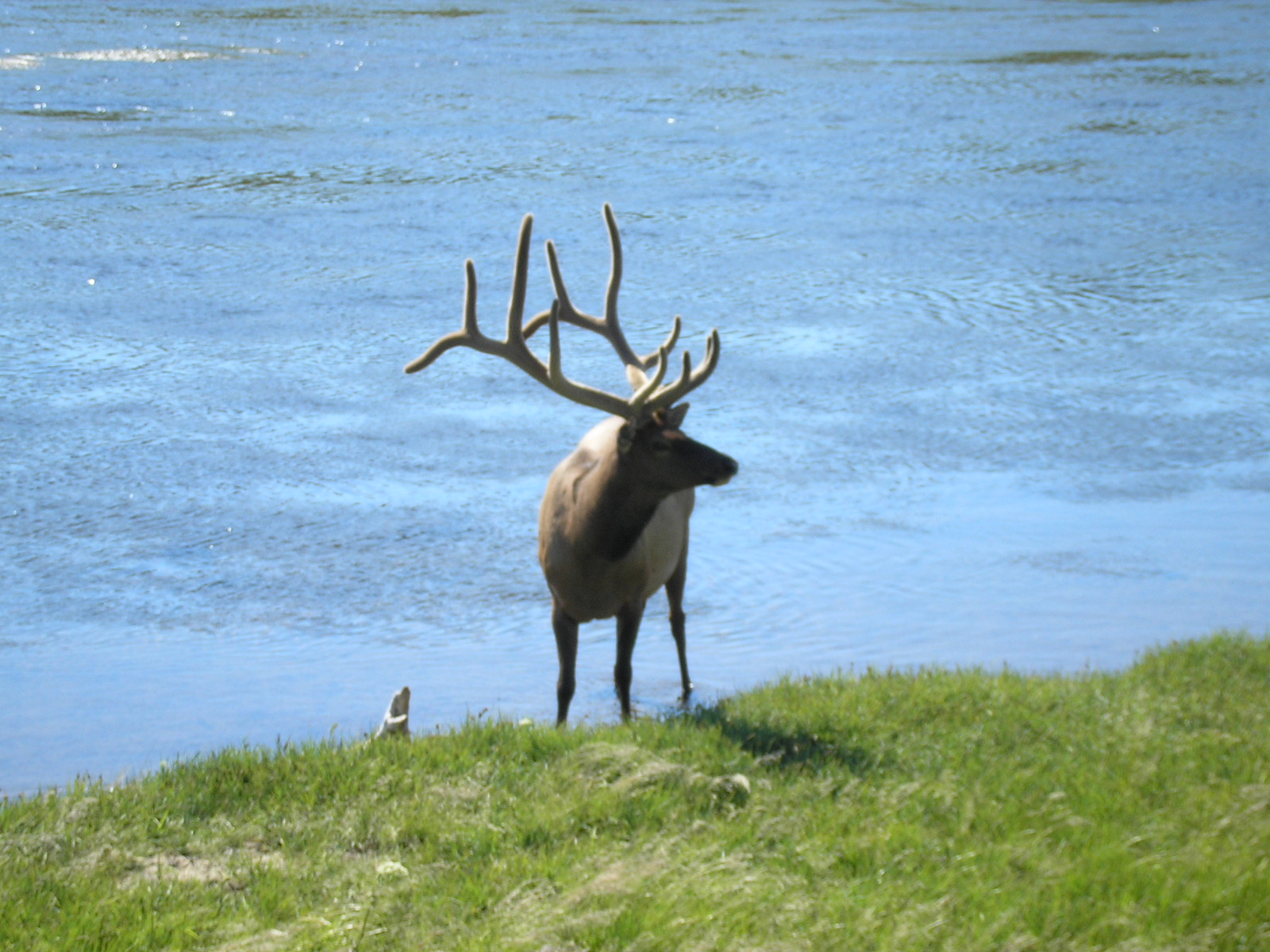 Click Here to Visit The Table of Contents
Click Here to Visit Previous Page: Day 54: Jackson Hole WY to  Grant Villiage, Yellowstone National Park WY
Click Here to Visit The Next Page: Day 56: West Yellowstone MT to  Cameron MT