Day 59 Tuesday July 19, 2005, 13 miles (22 km) – Total so far: 3,472 miles (5,587 km)
13.4 Miles and 1:22
Click Here to Visit The Table of Contents
Click Here to Visit Previous Page: Day 58: Virginia City MT to  Dillion MT
Click Here to Visit The Next Page: Day 60: Dillon MT  to  Jackson MT
I was up around 7:30. It seemed like Jim had been up for hours screwing with his bike. He fixed his 2 broken spokes and had to use a Kevlar spoke on the drive train side. Looks like he did a good job. I went over to breakfast at the campsite dining hall. My eggs, coffee, toast and hashbrowns all cost $2.50. While they were cooking my food I went back to get my computer and told Jim about my cheap breakfast. He came back with me and ordered the same exact breakfast but the girl that rang up my food was cooking so Jim got charged $5 for the same meal.
While I was working on my computer the lady at the campsite asked me if I got the wireless to work in the dining hall. I was unaware there was a wireless network. I went over to the campsite store and uploaded all my journal entries and pictures. I talked to Mike Polombi on AIM and he told me that he rode the Bike Across Montana, Adventure cycling group ride a few years and really enjoyed it.
When I went back to the campsite Jim told me that we are going to ride past all the Adventure Bike Across Montana group. I told him someone was just telling me about that ride. I was the last to leave the campsite. I took a while repacking all my gear. I'm carrying a lot of gear that I no longer need, hopefully I can send a few pounds home in the next couple of days. I would like to end this trip with the bare minimum. Maybe I can lose my Panniers.
The plan for today was to ride to Jackson that was about 47 miles away. There were 2 giant hills to climb. It was about 3000′ of elevation gain and after the second hill the rest of the day was an 11 mile downhill to Jackson. There's a really nice hot spring and place to camp in Jackson.
Some old man at the campsite gave me really confusing directions about getting back on route. I was riding about 8 mph through town looking at my map wondering how to get back on route. I was paying more attention to the map, and then the road and I rode my bicycle right into the back of a parked car. It scared the crap out of me and I felt so dumb.
My front wheel was a little funky so I unloaded the bike, flipped it over and adjusted some spokes and the brakes. It wasn't that bad. When I put my bike back together and started riding It felt like it was steering itself to the right. I figured it was the trailer because it was loaded a little higher on the right.
I tried to ignore the fact my bike wants to ride to the right and just started riding. All the Bike Montana people rode past me. None of them were carrying gear or stopped to talk. The headwinds were really strong in town maybe 25 mph wind. When I got out of town the wind was a lot stronger. Maybe 35, I was struggling to keep moving.
An Eastbound Transam rider stopped me I asked him how far my friends are. He told me that he just spoke with Karen and Andy a few miles up and the headwinds for us over the 2 pass's was about 45 mph. Karen and Andy were considering turning around and going back to Dillon and waiting out the wind. I said if they go back, I'll go back. I hate hate hate riding into absurd headwinds. I would rather ride in the rain, hail, snow or dark.
I looked at my cellphone and got a message from Karen that they are considering turning around. 2 minutes after I got her message they came back riding towards me. They said Matt was taking a day off and Jim was ahead. The Sag Van with a giant adventure cycling logo pulled up alongside us. The driver asked how we were doing, Andy spoke with him and asked him to drive up the road and tell Jim that we are going back to Dillon to wait out the wind.
We turned around and rode back to Dillon, the wind was so strong I was cruising around, 25 mph and barely pedaling. 2 minutes after we made the decision to turn around women riding a carbon fiber bike passed us on the road and all excited told us 'YOU GUYS ARE HARDCORE!' I chuckled to myself and thought 'yeah ok, we're supposed to riding the other direction'.
We went to the lunch buffet at pizza hut. It was $5 and tasted like crap. During lunch we debated all our options. We went over to the library. On the way there Karen saw Matt on the road; he was riding out and didn't care about the wind. It was around 1:30 when we saw him.
Eventually we split a cheap motel room. I fiddled with the bike. I switched the direction of the wheel and it still leaned to the right. I might have bent the fork or the headset. I called Jamie and rode clockwise circles around the parking lot while I was on the phone. I have to find a knowledgeable bike mechanic. The next bike shop is in 200 miles, I'll make it, but it's just annoying.
Willy Wonka was playing at 4:15 so I got myself together and bought my popcorn at the grocery store. I brought my eyeglasses, for the sole purpose of seeing this movie. I ran out the door so fast I forgot them and didn't realize until it was too late. I guess I can send them home have carried them for the past 8 weeks for no reason. Once again I feel so dumb. Maybe I'll send them home now.
Willy Wonka was great. I loved it. The squirrel scene was my favorite and I giggled like a little girl for that whole scene. I was telling Bonnie, I like the new movie and I like the old movie. But most of all it's just a brilliant story. In my high school special ed program we read almost all the Roald Dahl books, while everyone else read Shakespeare. I loved it!
After the movie I sat around talking with Karen and Andy for the rest of the night. I went to the grocery store bought some beer and food. I devoured a rotisserie chicken like I was a hungry wolf. Jim called around 9:30; he made it to Jackson through the wind but had a really awful day. He hadn't seen or heard from Matt.
We were planning on getting up super early tomorrow and riding out. Probably wake up at 5am. I drank too many beers and talked on the phone until around midnight.
Today was my 4th day off on this trip. When I told Karen and Andy that they were shocked, it was their 24th day off. Their goal is to drag this trip out for as long as possible to avoid going back to the office.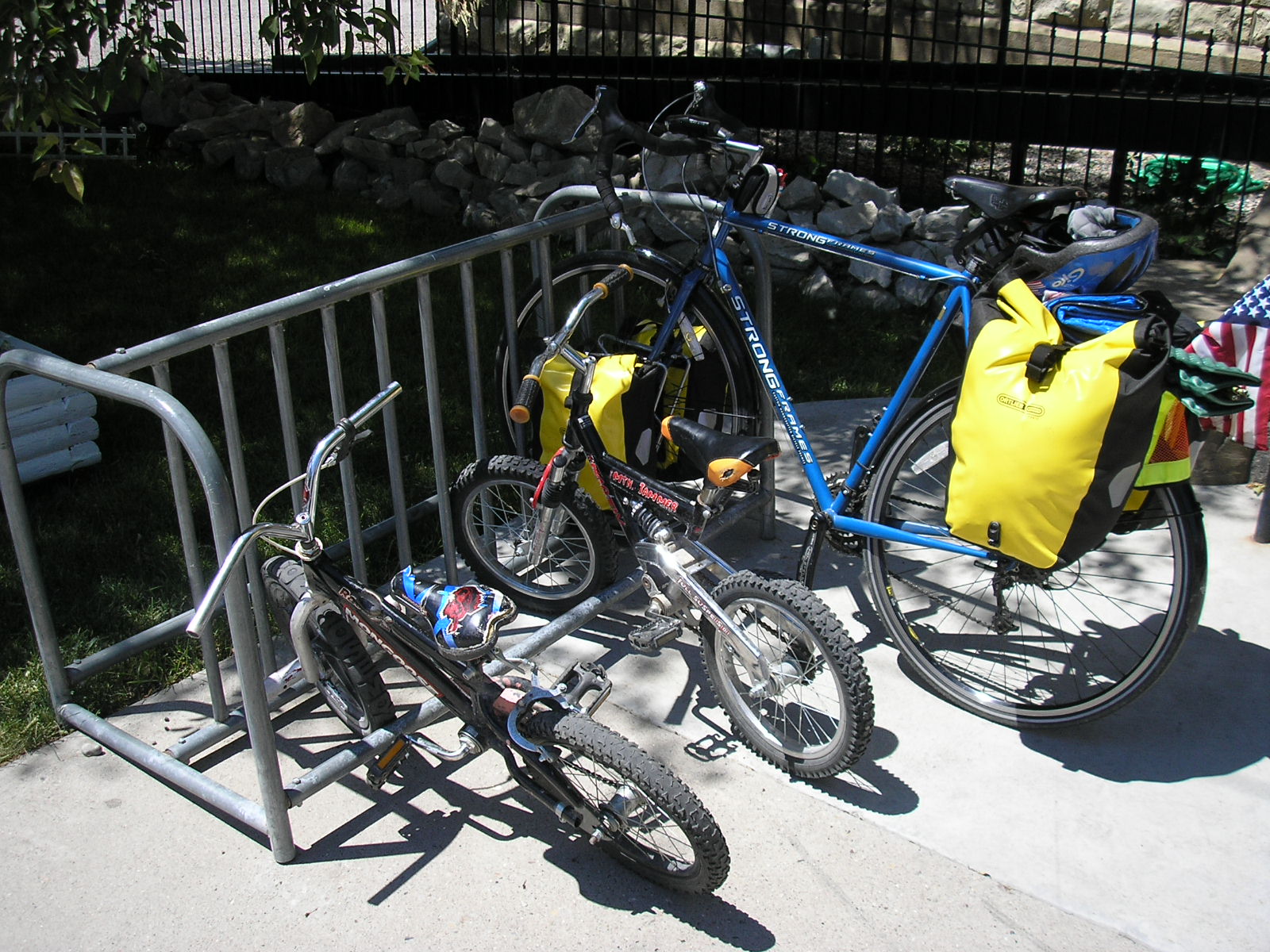 Click Here to Visit The Table of Contents
Click Here to Visit Previous Page: Day 58: Virginia City MT to  Dillion MT
Click Here to Visit The Next Page: Day 60: Dillon MT  to  Jackson MT