Day 61 Thursday July 21, 2005, 78 miles (125 km) – Total so far: 3,598 miles (5,790 km)
77.5 Miles and 6:04 Pedal time
Click Here to Visit The Table of Contents
Click Here to Visit Previous Page: Day 60: Dillon MT  to  Jackson MT
Click Here to Visit The Next Page: Day 62: Darby MT to  Missoula MT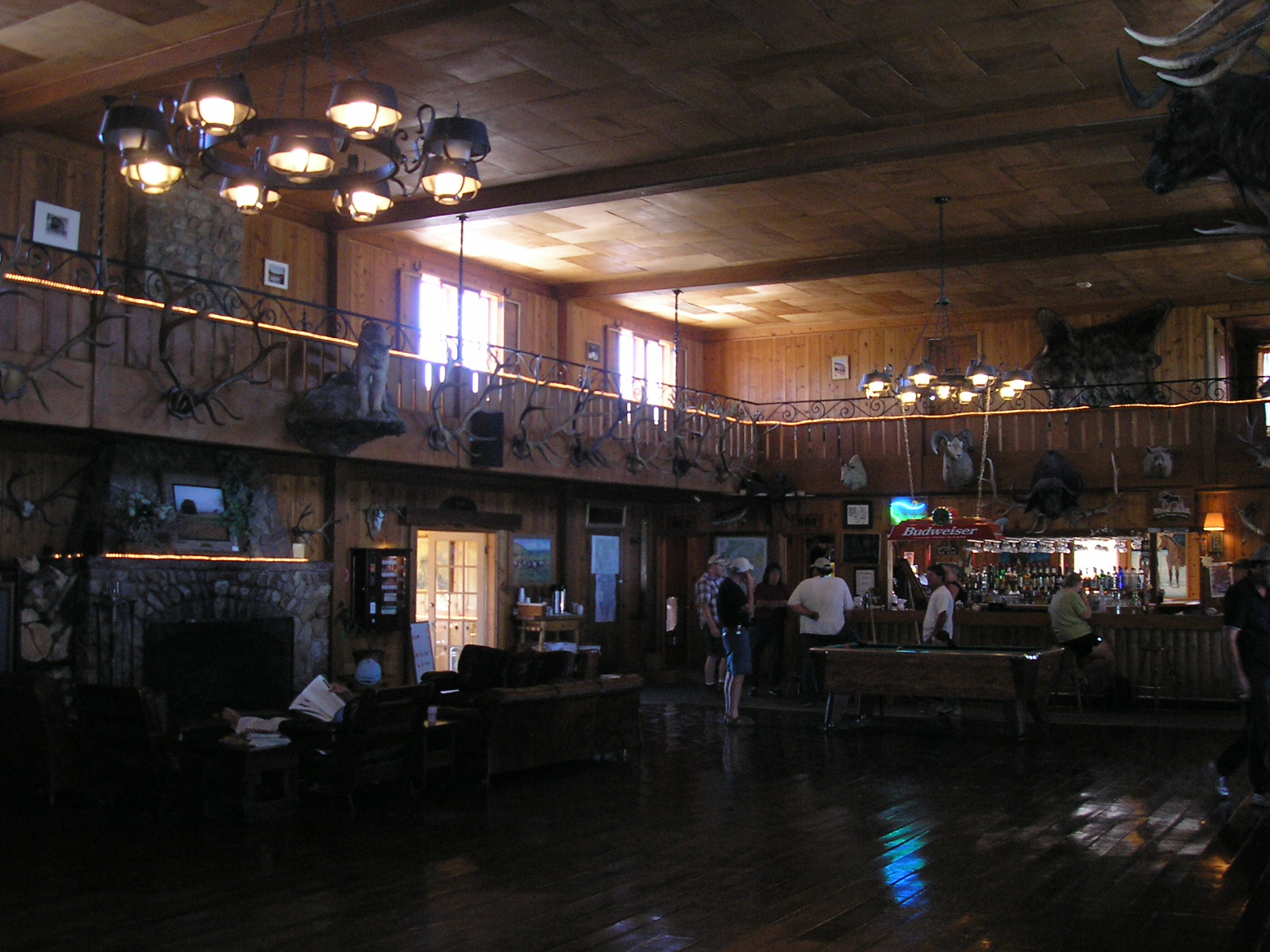 Around 5am the my tent was shaking violently cause of the wind, I got really worried that the day was going to be a disaster, like it was in Dillon but went back to sleep. I got out of the tent around 7. Matt was cowboy camping (sleeping without a tent) outside our tents. It was a good night to do that. I asked the lady who runs the lodge to put on the weather channel for me.
Jackson is one of those places that the weather channel chooses to ignore. The lady at the Lodge asked me where I was going today and said she would get the weather off the internet for me. I told her to lookup Darby.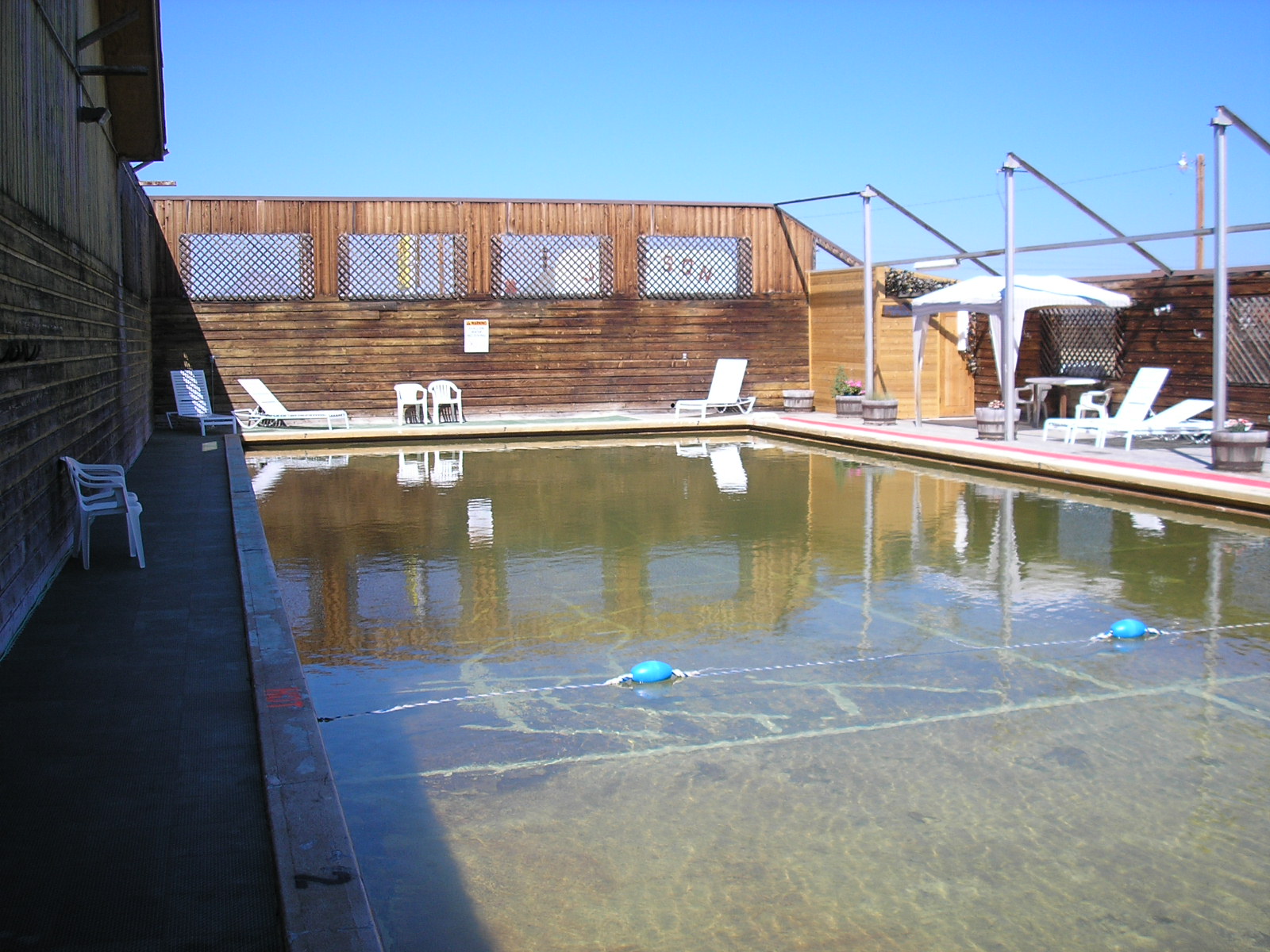 I was up too early for breakfast so I jumped into the hot spring pool. It felt great. I didn't get to go last night because the temperature was like 115 degrees. They were cleaning it and when they refill the pool it's super-hot. But I was fine when I jumped in.
Everyone was up after I got out of the pool. I ate breakfast with Matt, Andy and Karen.  Andy wasn't feeling well. Matt was taking another day off at the lodge and Karen was content to take the day off if Andy wasn't feeling well.
After breakfast they were all going to jump in the pool. I packed up my gear and got ready to ride out before I left I jumped into the spring one more time. It felt so good swimming in that hot pool. After my swim I felt great. Andy and Karen had decided to take the day off. I didn't blame them. The Jackson hot springs lodge might be the most relaxing place I've come across on this entire trip.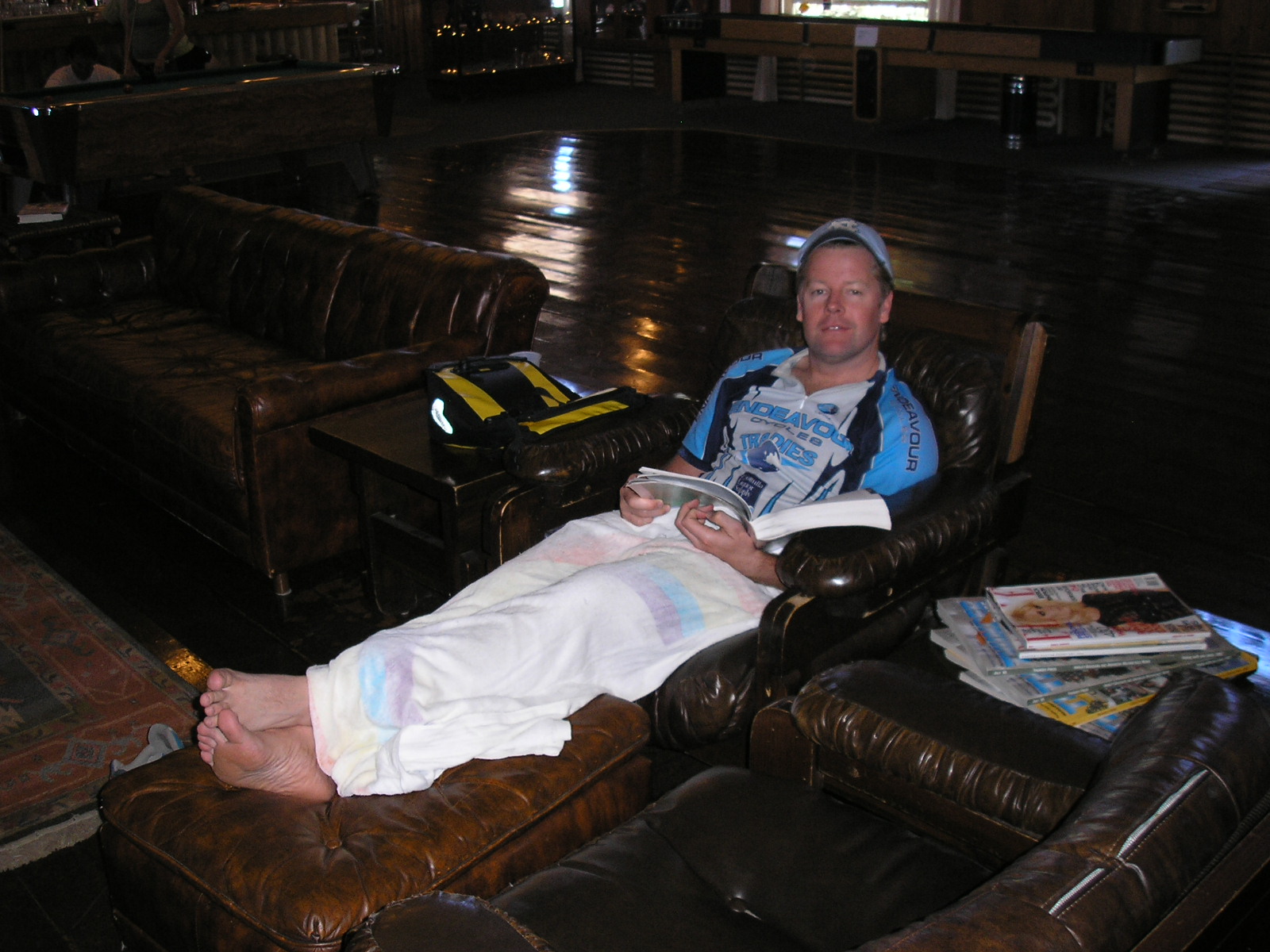 After our swim I sat at the bar and drank a beer with Matt. I was riding out and I wasn't sure if I was going to see these guys again. I chatted with everyone while I stretched my legs and they sat on the cozy leather couches. I was jealous of their day off. Jackson was the perfect place for it.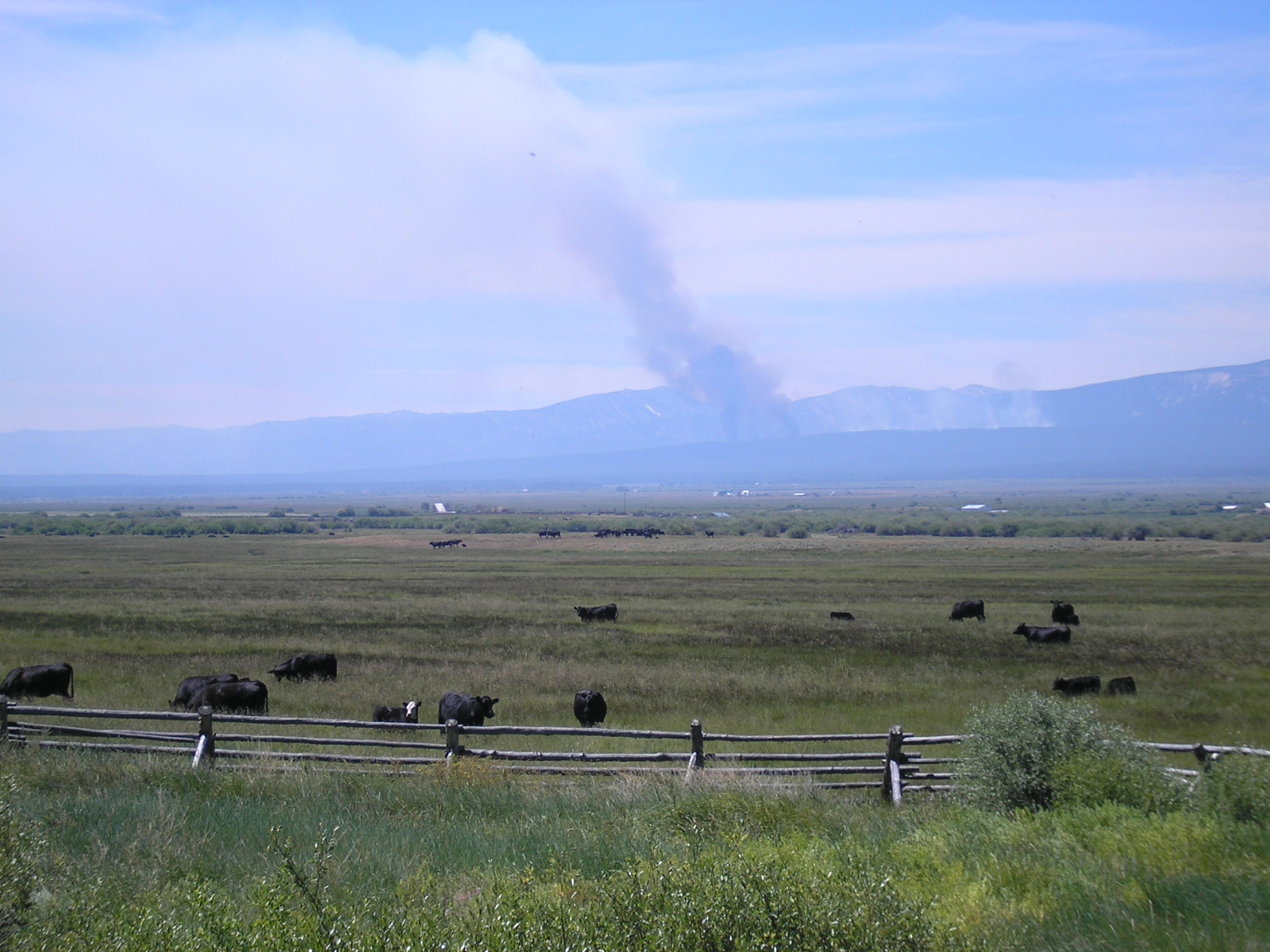 I gave handshakes and hugs and rode out of Jackson. The first 18 miles to a town called wisdom was easy. It was all downhill and the wind was working I'm my favor.  When I left Jackson that fire was still burning.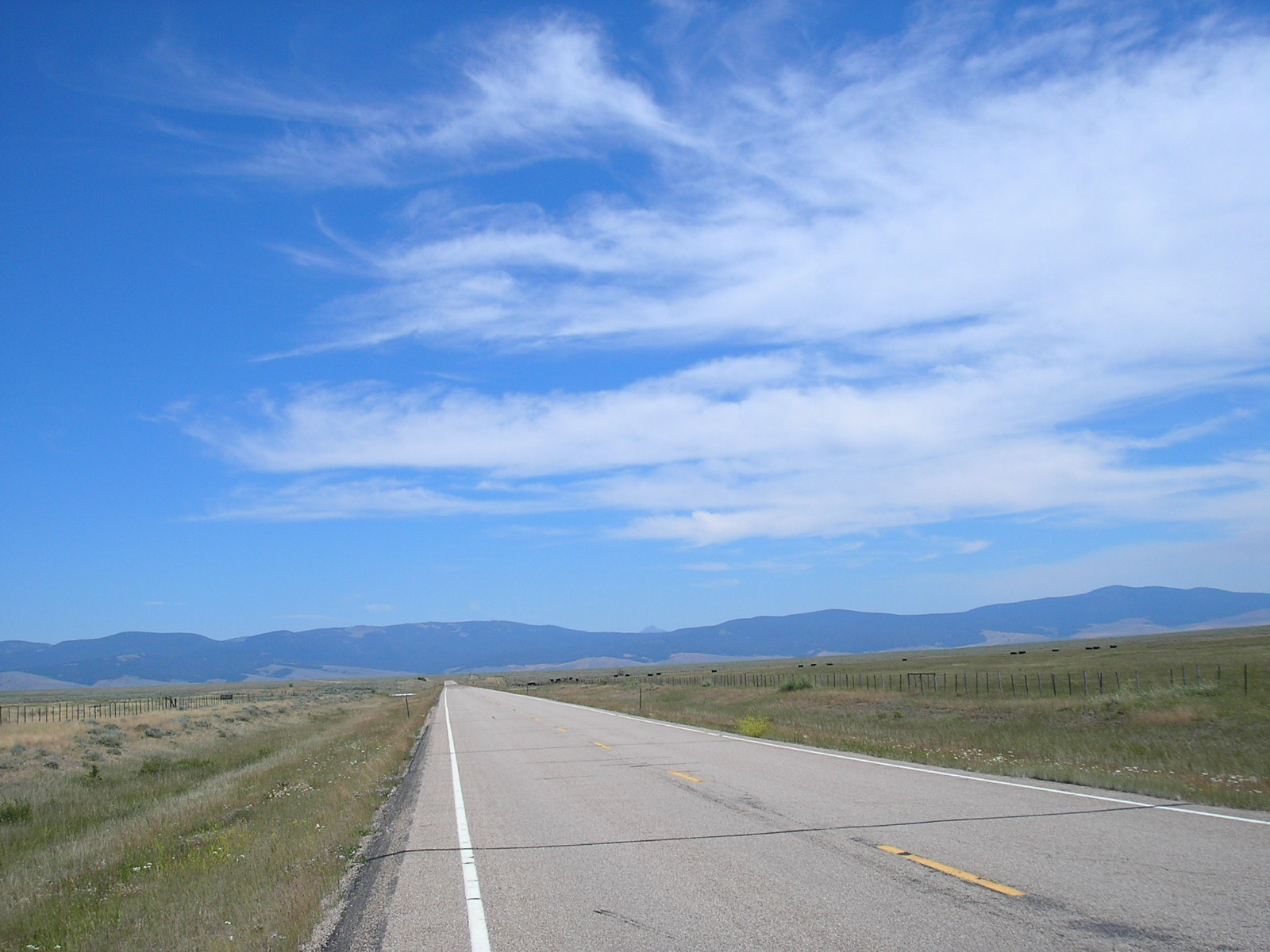 I made it to wisdom in no time. While was riding to wisdom the mosquitos were attacking me, I was scared to stop moving so I sprayed myself while riding 20 mph.
I grabbed a burger in wisdom then stopped at the store. The lady working at the store gave me a hard time then warned me about the hill that was ahead of me. I told her that by now I feel like I've encountered a lot of hills and I no longer get scared of what's ahead. It seems like all the locals I meet are always trying to scare me.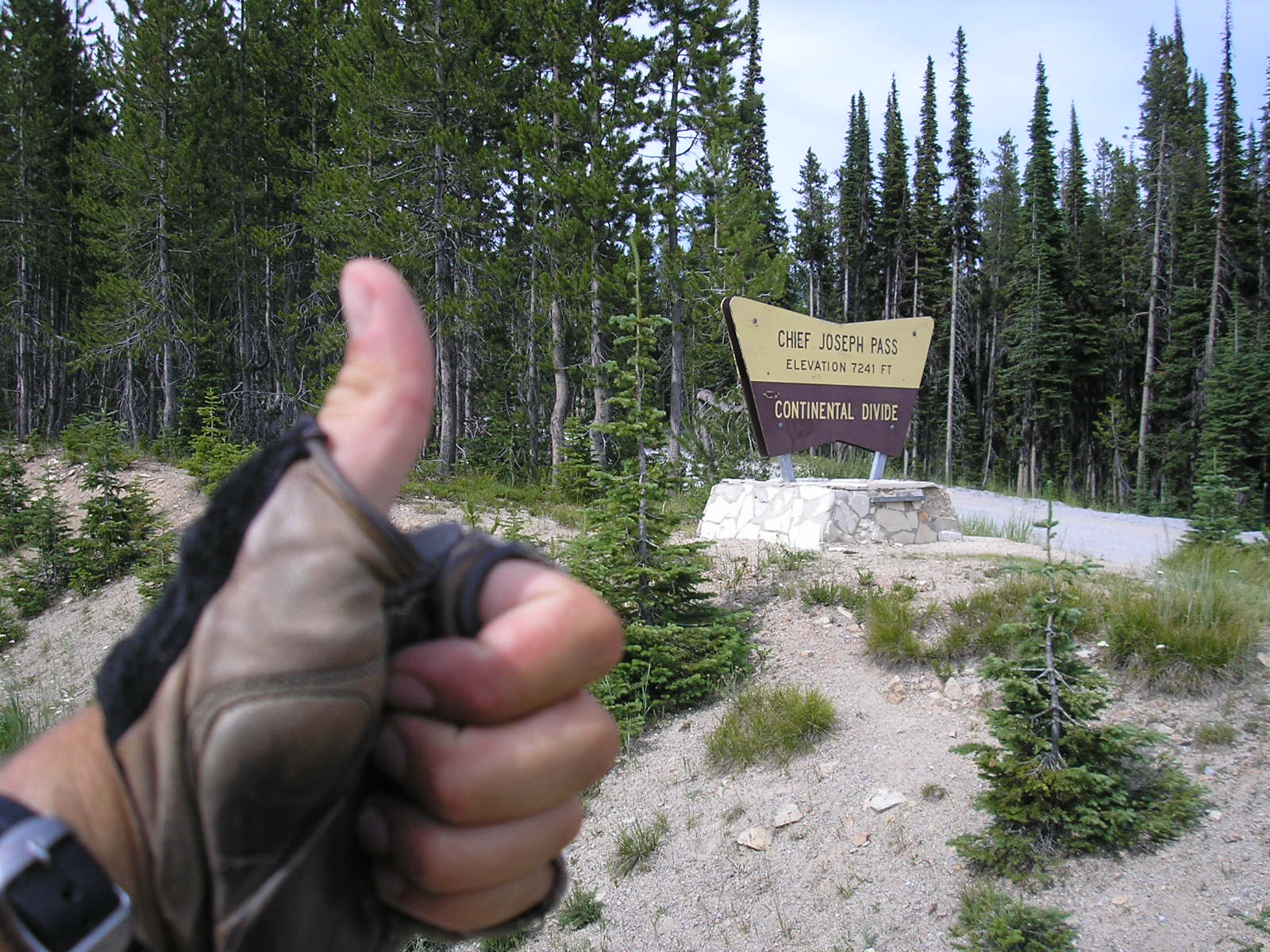 Wisdom was kind of a dump. Any wise person wouldn't live there. Riding out of wisdom I turned west and the wind was slowing me down. It took me awhile to get over the pass. The wind stopped and it was all downhill for the rest of the day. My brakes needed to be tightened; biting black flies attacked me while I made my adjustments.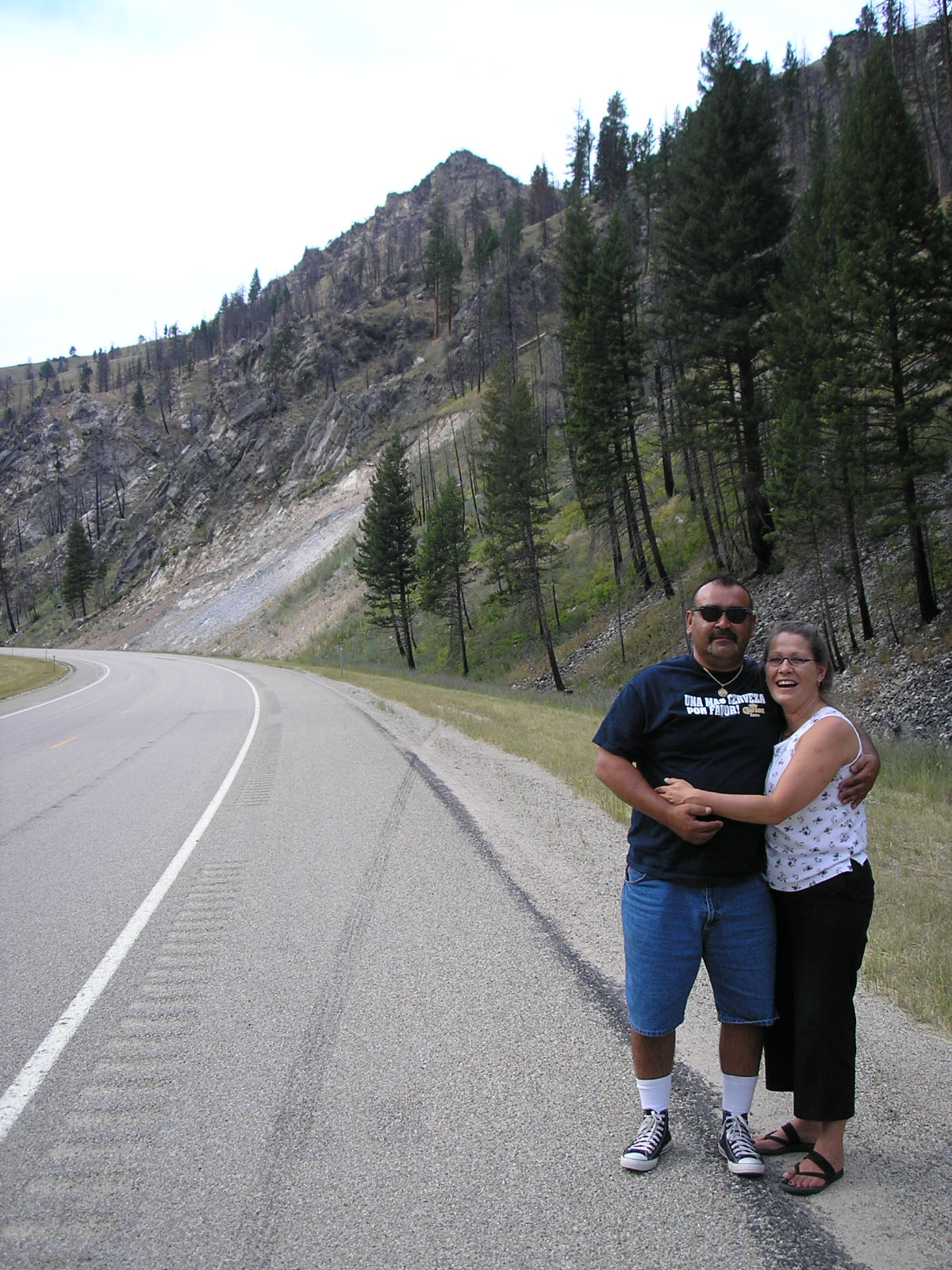 I talked to an east bounder briefly and warned him about those damn flies.  Then decided to stop at a store in a town called Sula to get a cup of Joe. I sat down on the porch next to a couple who was enjoying a few beers. Danny and Anita were from Sacramento California. They were visit Montana because they are opening a chain pizza in Sacramento of a company that is based out of Montana. I told them about my trip and they were really excited for me. I chatted with them for a while. After I left they stopped me on the road and said they wanted to take my picture, so I took a picture of them too.
The downhill was so long I just kept stopping to take pictures. While I was stopped 2 eastbound guys rode up. They were from Oregon and gave me the details about how to finish my trip and get home. They even told me what jetty to sleep on when I get to Florence.
Riding into Darby, I kept seeing deer all over; it was like the owned the place. They were all scared me and made these spectacular leaps over the barbed wire fences. When I got to Darby I grabbed a burger. My waitress looked like the identical twin of my old roommate in Boston.  I called around the campsites then head over to the cheaper one.
The lady at the campsite let me check my email on her personal computer. I took a shower, talked on the phone for a while and went to bed around 10.
Tomorrow I'm going to try to get to Missoula. It should be fairly flat/downhill.
Click Here to Visit The Table of Contents
Click Here to Visit Previous Page: Day 60: Dillon MT  to  Jackson MT
Click Here to Visit The Next Page: Day 62: Darby MT to  Missoula MT