Day 64 Sunday July 24, 2005, 88 miles (142 km) – Total so far: 3,793 miles (6,104 km)
88.3 Miles and 7:21 Pedal
Click Here to Visit The Table of Contents
Click Here to Visit Previous Page: Day 63: Missoula MT to  Lolo Hot Springs MT
Click Here to Visit The Next Page: Day 65: Lowell ID  to  Grangeville ID
I was up at 7am. I ran to the breakfast place and ate something. I was starving. The breakfast place was filled with loud annoying people. I did my thing and got the hell outta there.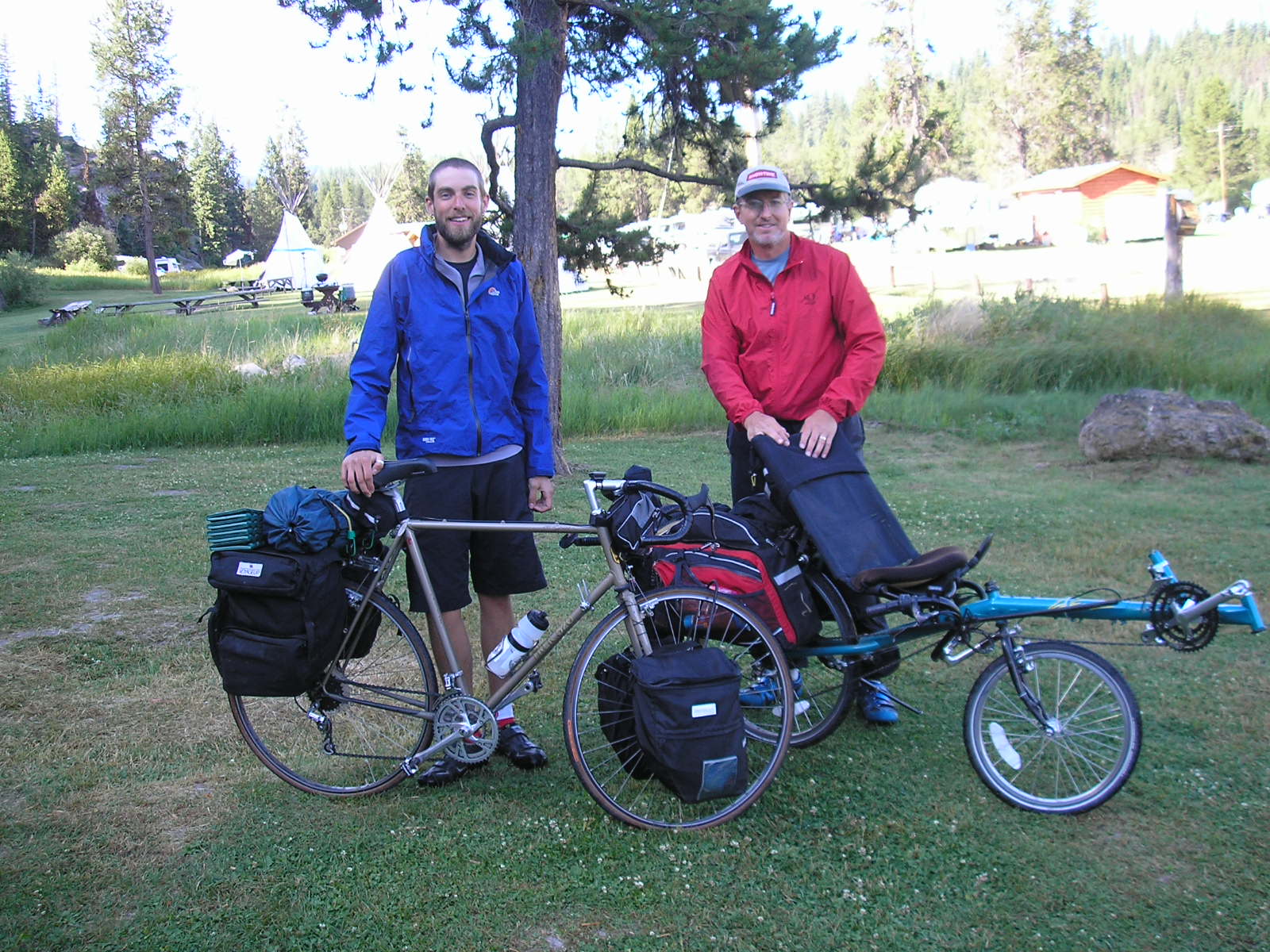 Back at the campsite and Aaron and Kevin were getting ready. We all seemed to finish packing our gear at the same time. I said farewell and took their picture and they took mine. Aaron's really interested in starting a online journal. I hope he does.
When I got on the road it was all uphill for 8 miles. I cruised right up it at the top of the hill was the Idaho border and the Lolo Pass visitor center. Aaron told me they had a high-speed internet connection in there. I went in and the computer was being hogged by a 14 year old, but I saw they had a Wireless connection. I asked the Native American Indian guy working at the visitor center if I could use my laptop and their internet he had no problem with it. So I spent an hour working on my journal while I half paid attention to a movie about the Nez Perce Indian war.  I wish the adventure cycling maps had information about internet access information on them. I should have told the adventure cycling people that.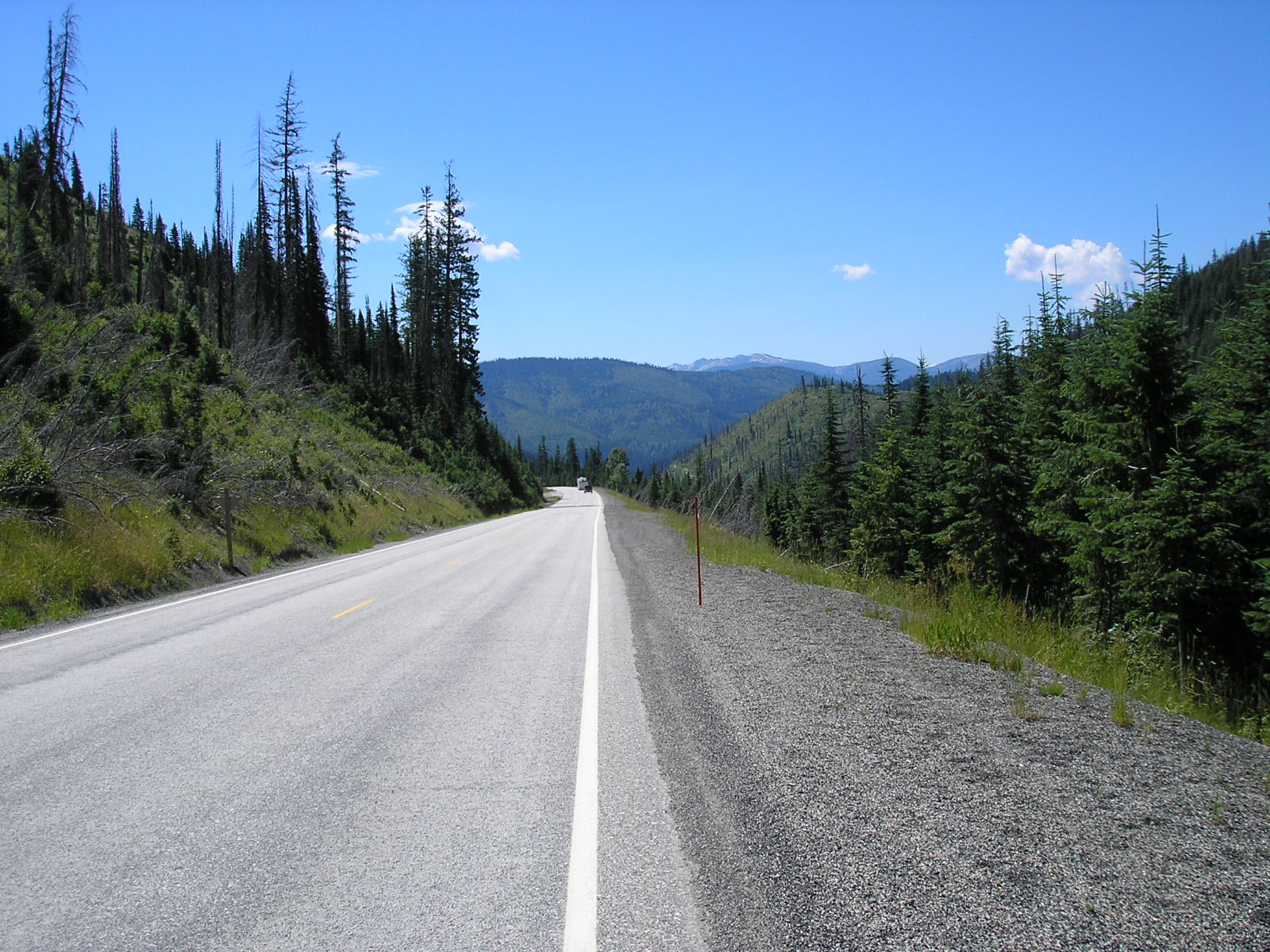 After I was done I shook the Indians hand and he told me that its 100 miles to Kooskia (my goal for the day) and the grades level out at about 9 miles down the hill. It is downhill all day long. I already knew this, but I pretended I didn't, just so I could hear it again.
I jumped on the saddle and started descending down the hill. It was a lot of switchbacks. I stopped in a town called Powell and ate a crappy sandwich from the grocery store for lunch. After Powell there was a big sign on my map that said 'No services for the next 66 Miles'
Shortly after Powell I started riding alongside the Lochsa River. The road zig-zagged next to the river all day long. A few times I got scared cause trucks would come plowing around the turns and there wasn't much shoulder. It felt so good riding down the hill. There was a headwind so I never really got faster than 15 mph going down the hill but I'm not complaining. It was an easy day of riding.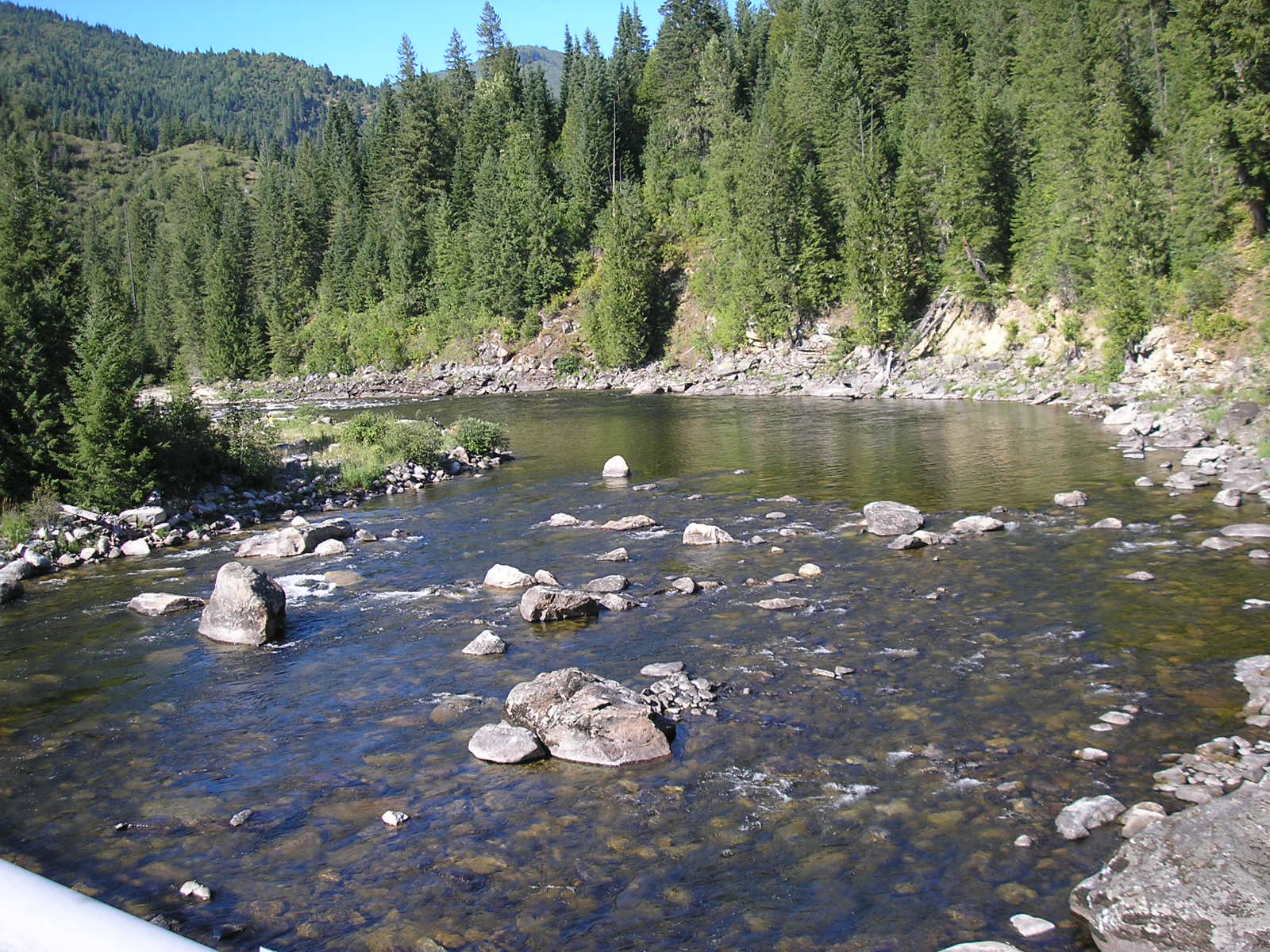 I saw a few east bounders and stopped to talk to them briefly. They were all cool.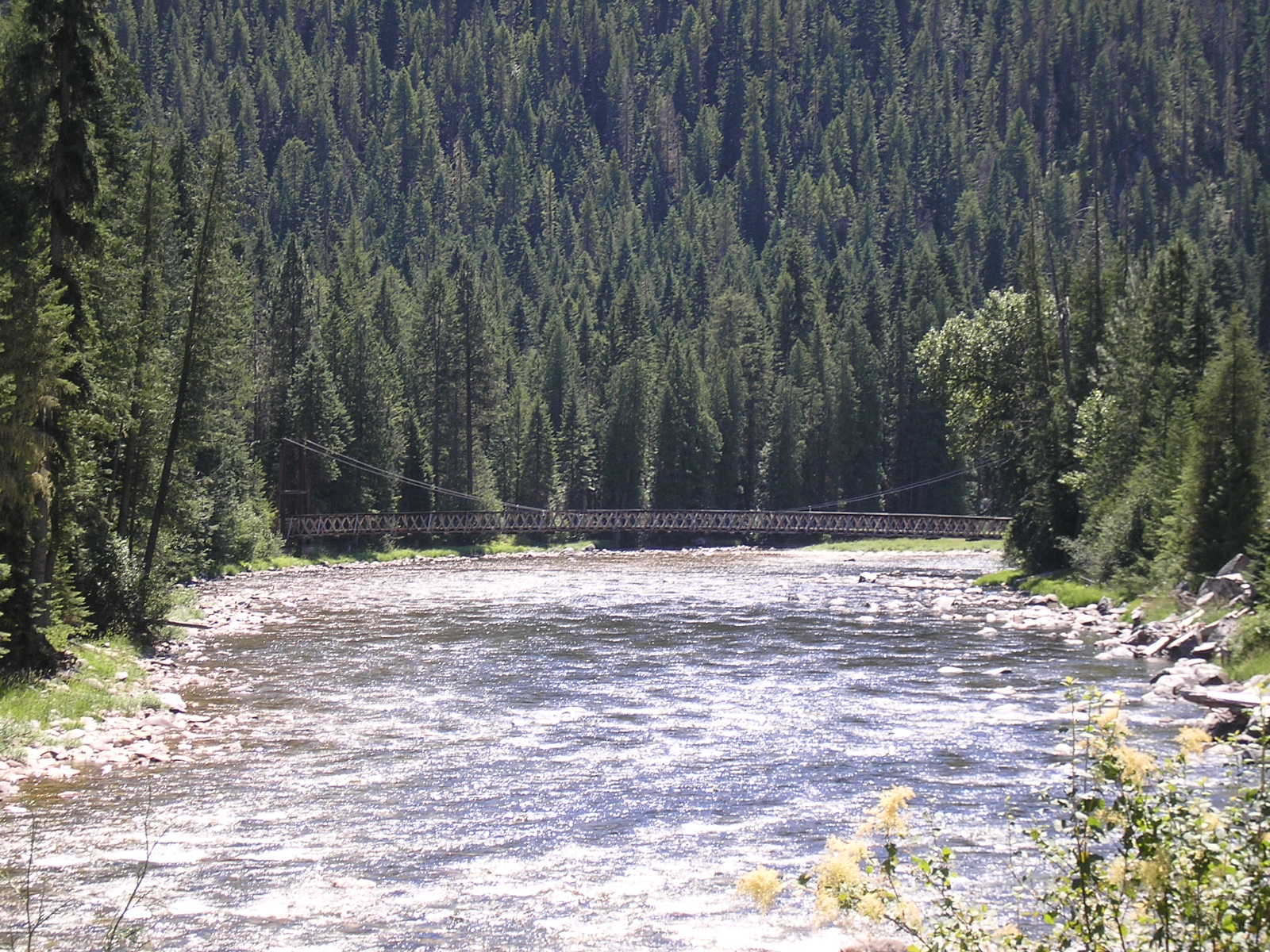 All day I just rode next to this river working my way down this windy little road. The scenery didn't change much, luckily it was absolutely beautiful.
When I got to the first town Lowell I stopped and grabbed a bite to eat. It was getting late and since the time zones changed I had no idea how much longer the sun would be out. I was also deep in a valley of the mountains so it gets dark and cold fast and Kooskia wasn't for another 23 miles.
Over at the campsite they only charged me $7, I got the cyclists discount and it was a pretty nice place. While I was setting up my tent, the ladies who were camping next to me asked me how many miles I rode today. Their names were Sharon and Angela.  We got talking and Sharon told me that she rode my trail the summer of 76. She was actually one of the leaders. I was impressed. We talked for a while about bicycle touring. She used to lead a lot of bicycle tours back in the day and she was very familiar with all the places I had been on this trip. I love hearing these stories about the summer of 76. I saw a lot of great photographs from that summer, when I was at the adventure cycling office.
I did a big cannonball into the swimming pool and splashed all the kids. Then sat in the Jacuzzi until I couldn't take it anymore. Some shabby girl in the other Jacuzzi was going on and on about why she didn't like Willy Wonka. None of her reasons were valid and I didn't have to listen to her so I left.
I went back to my campsite and an old man came over to talk about my trip. He was from Oregon and told me about some cool places to checkout when (or if) I ever get there. Sharon came over because she was worried about my comfort and wanted to see what kind of pad I've been sleeping on.
I read the 10 books on architecture and almost immediately fell asleep because it was soo exciting. I was tired. It's a lot of hard work riding downhill for 80 miles.
Click Here to Visit The Table of Contents
Click Here to Visit Previous Page: Day 63: Missoula MT to  Lolo Hot Springs MT
Click Here to Visit The Next Page: Day 65: Lowell ID  to  Grangeville ID