Day 66 Tuesday July 26, 2005, 54 miles (87 km) – Total so far: 3,898 miles (6,273 km)
53.9 miles and 5:18 Pedal Time
Click Here to Visit The Table of Contents
Click Here to Visit Previous Page: Day 65: Lowell ID  to  Grangeville ID
Click Here to Visit The Next Page: Day 67: Riggins ID  to  Cambridge ID
Last night I went to bed around 10pm I was out cold. At 1am all the sprinklers went off in the park. I threw garbage cans on top of all of them and wrapped plastic bags around some of them. I was pissed. The girl on the phone told me to camp where I wanted in the park, when I called to check in. She said nothing about the sprinklers. Everything got soaked. I went to extremes to make sure my book and computer stayed dry.
After I dealt with the sprinkler situation I crawled back into my wet sleeping bag and tried to sleep.
I got up around 8am the sun was beating pretty hard. Lately I have been positioning my tent to the east so I get blasted with light in the mornings. It just makes getting up easier. I laid out all my stuff to dry and talked on the phone for about 2 hours while eating sunflower seeds and leftover fried chicken for breakfast.
I stopped in town to get a cup of coffee. I saw several cyclists they were riding to Missoula and all their gear was sagged. I chatted with the lady driving the sag van.
While I was heading out of town I was adjusting my mirror, putting on my sunglasses and looking at my map. All of sudden this car comes up behind me, he almost hits me, leans on the horn and the guy starts yelling. He scares the crap out of me. I got so flustured I threw my sunglasses against the front passenger window. The guy got out of the car telling me I'm not allowed to be on the road, I'm blocking traffic and I should basically go to hell. I yelled at him to get back in car and drive away. Eventually he was blocking traffic so he left.
I sat on the side of the road for few minutes. Lots of people saw this whole incident. A women came over and said she saw the whole thing and wrote down that guys license plate and would be willing to go down to the police station with me. I thanked her but told her I was more interested in just getting out of here. She said she was going to call the police anyways.
Riding out of Grangeville I caught a tailwind and rode up that mountain in a record time. When I got to the top I wasn't ready for how beautiful the view was across the land. I sat there for about 30 minutes just looking out.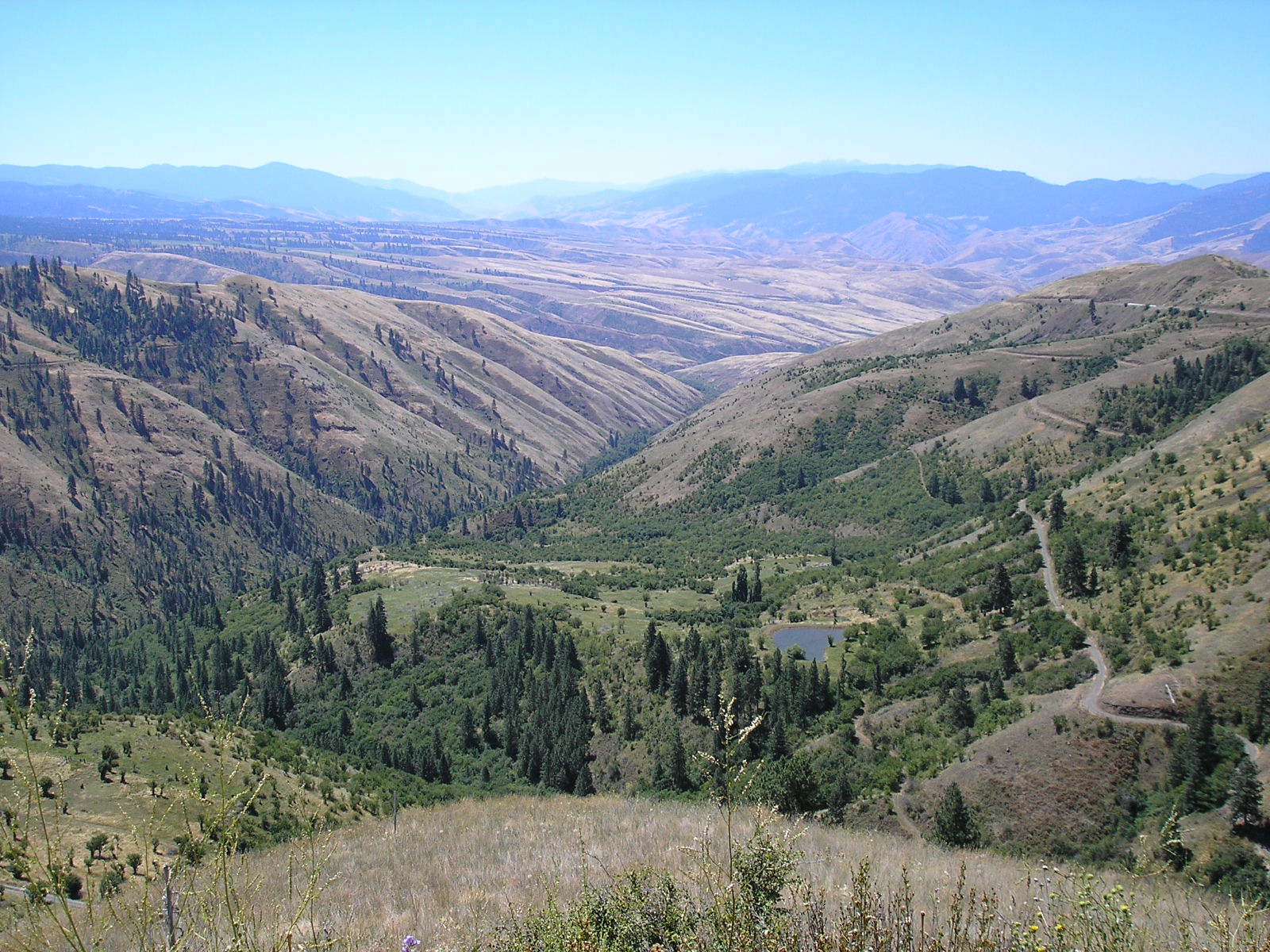 Riding off the top of the pass I got lost for about 20 minutes. Luckily my compass screamed at me before I went any further. I didn't care the views were so beautiful. I slowly descended down the mountain the road was covered with grasshoppers and wild flowers.
At the bottom of the hill was a small town called White Bird, I found the library but it was closed a few hours ago. When was about to ride away a women walking by asked me if I wanted to use the internet. Then she pulled out her keys and opened the library and got me on the internet.
I learned about the earthquake last night. It was between Dillon and Jackson Montana. Apparently it caused a lot of damage in Dillon. I'm glad I'm still not in Dillon. I chatted with the librarian about the earthquake. She said a lot of people in Idaho felt it. Maybe the earthquake had something to do with those sprinklers last night.
Leaving white Bird the trail started to ride along the Salmon River. As I was riding along the Salmon River I stopped to take a break and I saw cyclists coming up behind me. I stopped and waited and it was Shawn who I met in Grant Village back in Yellowstone. I was happy to see him I thought he was way ahead of me but he took some time off in Missoula. Shawn and I rode together for the rest of the day we were both staying in the same town tonight.
The views riding along the Salmon River were great. I'm surprised I didn't see any local cyclists out here. It was such a therapeutic ride. When I got to Riggins a couple of guys saw Shaun and me riding up. When I got close one of them ran up and handed me a drink as I rode by, after I grabbed the cup he yelled 'it's a margarita!' I drank the whole margarita as fast as I could and threw the cup high into the air. I put my fist up in the air and the 2 guys behind cheered and picked up the cup. Shawn saw the whole thing happen and laughed his head off.
Our campsite was alongside the river. The sound of the river was beautiful. It cost $7.50 apiece to camp. Shaun and I got something to eat then grabbed some cheap bear and sat down by the campsite talking about the trail.
Click Here to Visit The Table of Contents
Click Here to Visit Previous Page: Day 65: Lowell ID  to  Grangeville ID
Click Here to Visit The Next Page: Day 67: Riggins ID  to  Cambridge ID