Day 69 Friday July 29, 2005, 11 miles (18 km) – Total so far: 4,096 miles (6,592 km)
11.4 Miles and 1:16 Pedal
Click Here to Visit The Table of Contents
Click Here to Visit Previous Page: Day 68: Cambridge ID to  Baker City OR
Click Here to Visit The Next Page: Day 70: Baker City OR to  Prairie City OR
It got pretty cold in the middle of the night, but there were plenty of warm blankets to keep me warm. My sleeping bag is only 50 degree's so I've gotten used to freezing on this trip. I woke up at 6am but it felt like 7am.  Janie and Kim were up and about getting ready for the day.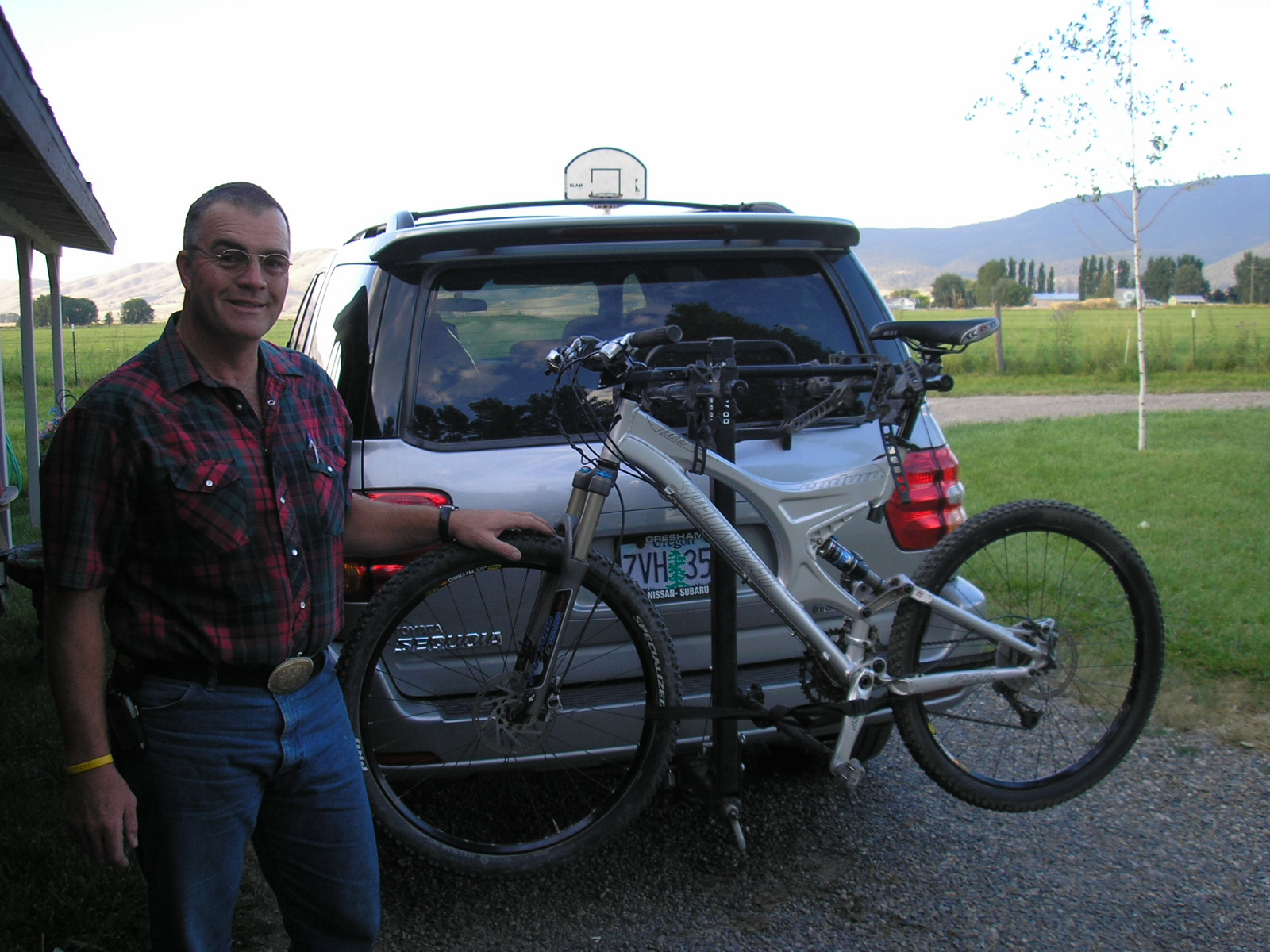 I sat at the kitchen table talking with them while I drank a cup of Joe. They invited me to their wedding in August; unfortunately it's the day before I leave for Berlin.   Before Kim went to work I got a picture of him with his mountain bike. I slowly packed up my gear and Janie and I went out for breakfast. We stopped in at the Veterinary Clinic where Kim works. He was getting ready to operate on a kitty cat.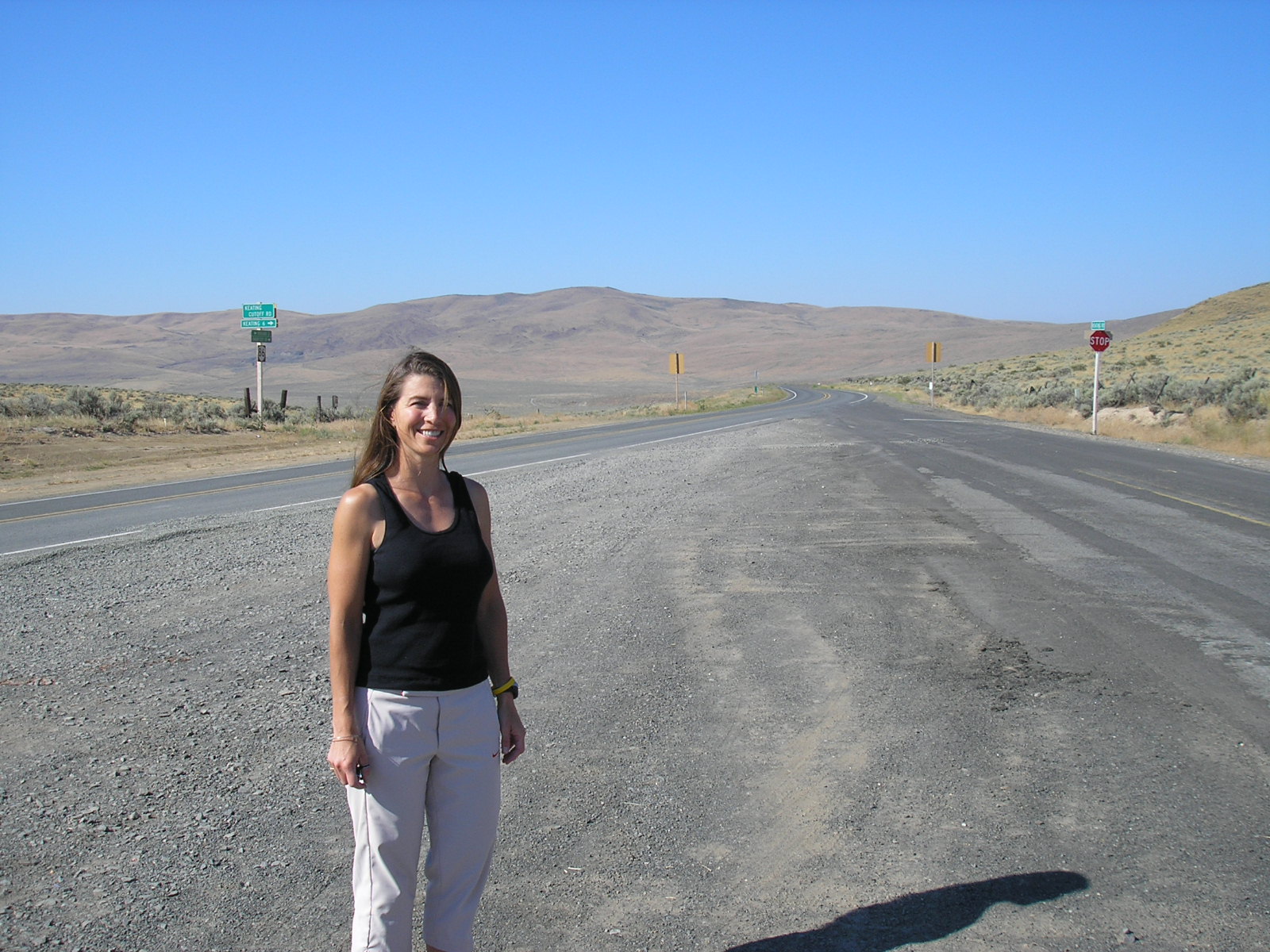 At breakfast Janie and I had a great talk. She told me all about her 3 teenage boys and how she works at high school and we talked a lot about cycling. I ate a ridiculous amount of food and Janie even gave me some of her breakfast. After breakfast she showed me the necessities of downtown baker city then drove me 10 miles out of town where her and Kim picked me up last night so I don't skip any of the trail.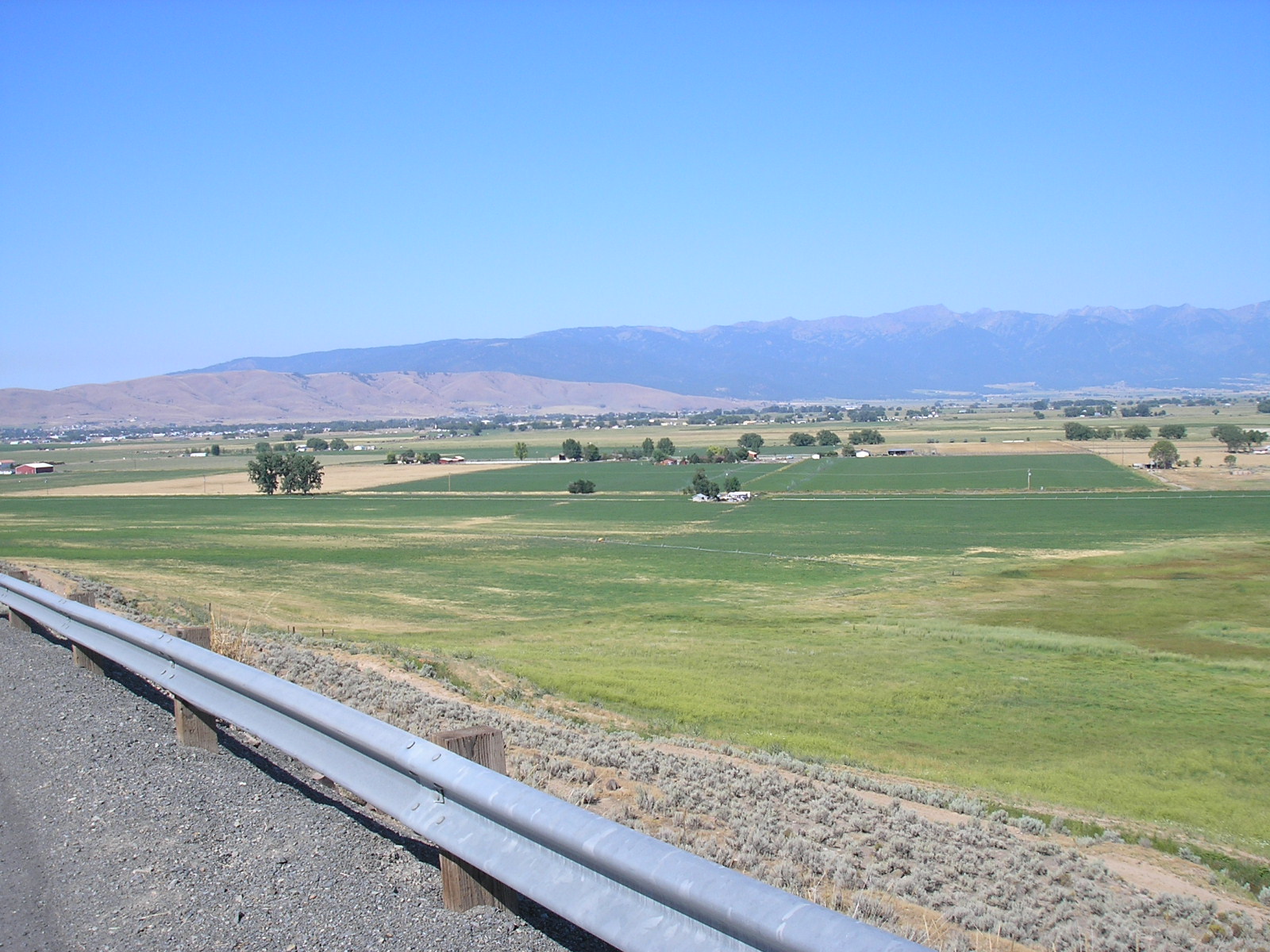 It was such a beautiful day to be in baker city. Before I rode off I gave Janie one of those bicycle spoke bracelets that I made. She was pretty stoked. She gave me a big hug and took off in the pickup truck.
Riding into Baker City I stopped at all the Oregon Trail Historical signs. Since I was on the Oregon Trail, I started looking for gold on the side of the road while I was riding. I didn't find any.
When I got into town I went straight for the library. My plan was to get my journal up to date and then ride out. But the journal was priority.  At the library the place was packed with all these inmates wearing yellow vests, doing odd jobs around the library.  Some of them looked shady so I made sure my bike was in sight while I cranked out a lot of work on my journal. The last thing I need is an inmate getting a hold of my bottle of white gas.  I must have been at the library for a few hours. For some reason I couldn't get the wireless to connect. That's alright, I got my typing done. I felt a lot better that the everything was written.
I found the bike shop. I hesitated about going in at first. I don't want to spend any more money on my bicycle. But yesterday my handlebar tape basically melted while I was riding through the heat like a madman. My mesh bicycle gloves are also done. Luckily I still had those pearl gloves I started this tour with. I'm going to finish the ride wearing those.
When I walked into the bike shop 2 guys in the back were talking about riding cross country. One of the guys said he wants to ride to New York. The other guy said 'screw New York I wanna go somewhere cool like Connecticut.' Being from both of those states I found it pretty funny.
While I was getting my new tape I talked to kid who was saying he wanted to ride cross country. He got really excited when he found out, that I actually am riding cross country and it was pretty coincidental that I walked into that conversation they were having. He and I sat outside talking for a while, His name was Ryan I told him all about my bicycle trip. He mentioned that he just spent a semester in Italy. Turns out him and I went to a lot of the same obscure towns and He knew all about some of my favorite buildings. On his way out of the bike shop I gave him my card and hung out in the bike shop waiting for my new handlebar tape.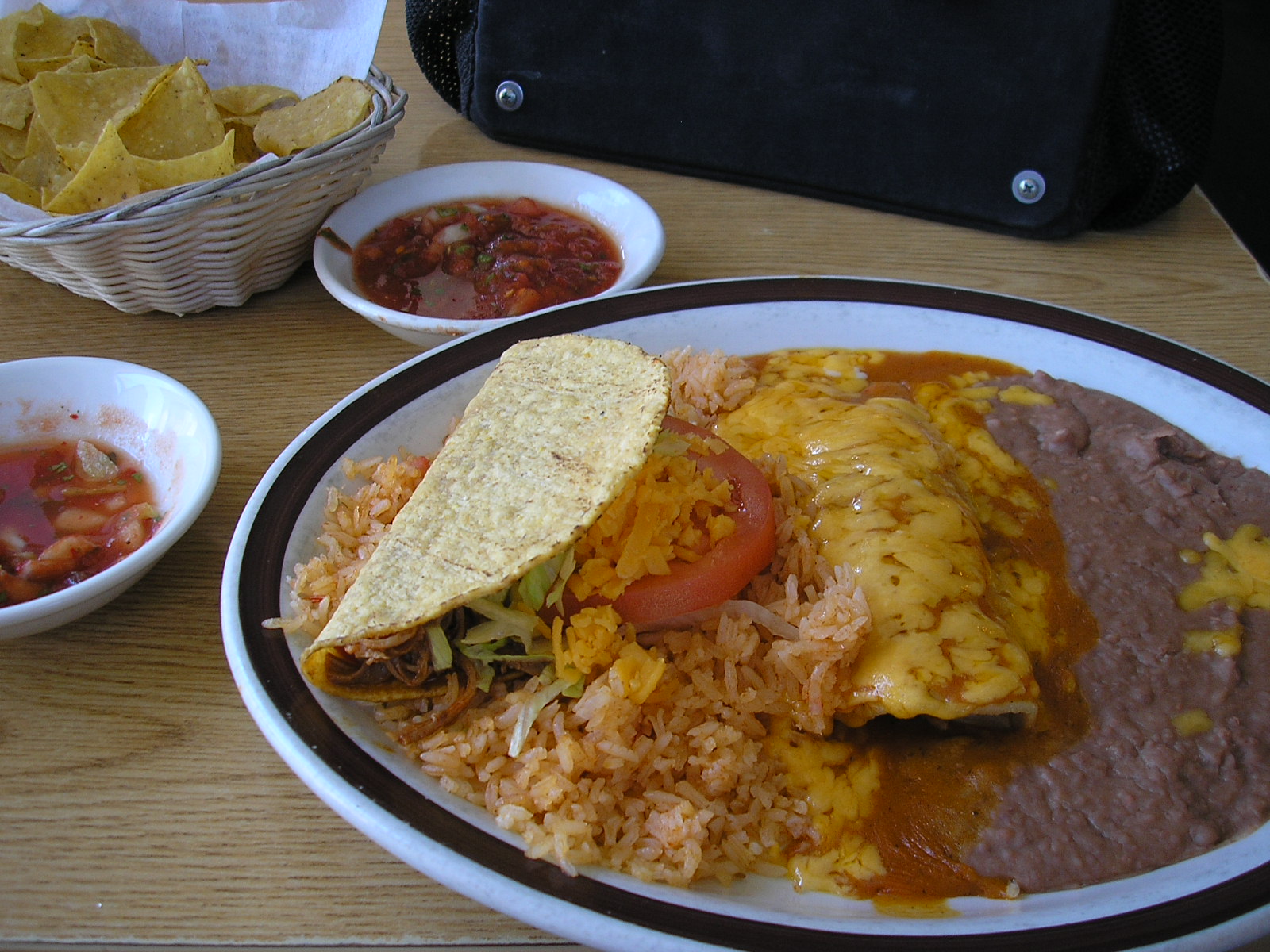 I was really hungry and the bike mechanic told me about this great Mexican place where I can get a boatload of food for real cheap. So I went there. They had a big sign that said '#1 lunch special $4.99' I sat down and just ordered the #1 lunch special without even looking at what it was. While I ate I called everyone that I call. They are all doing great.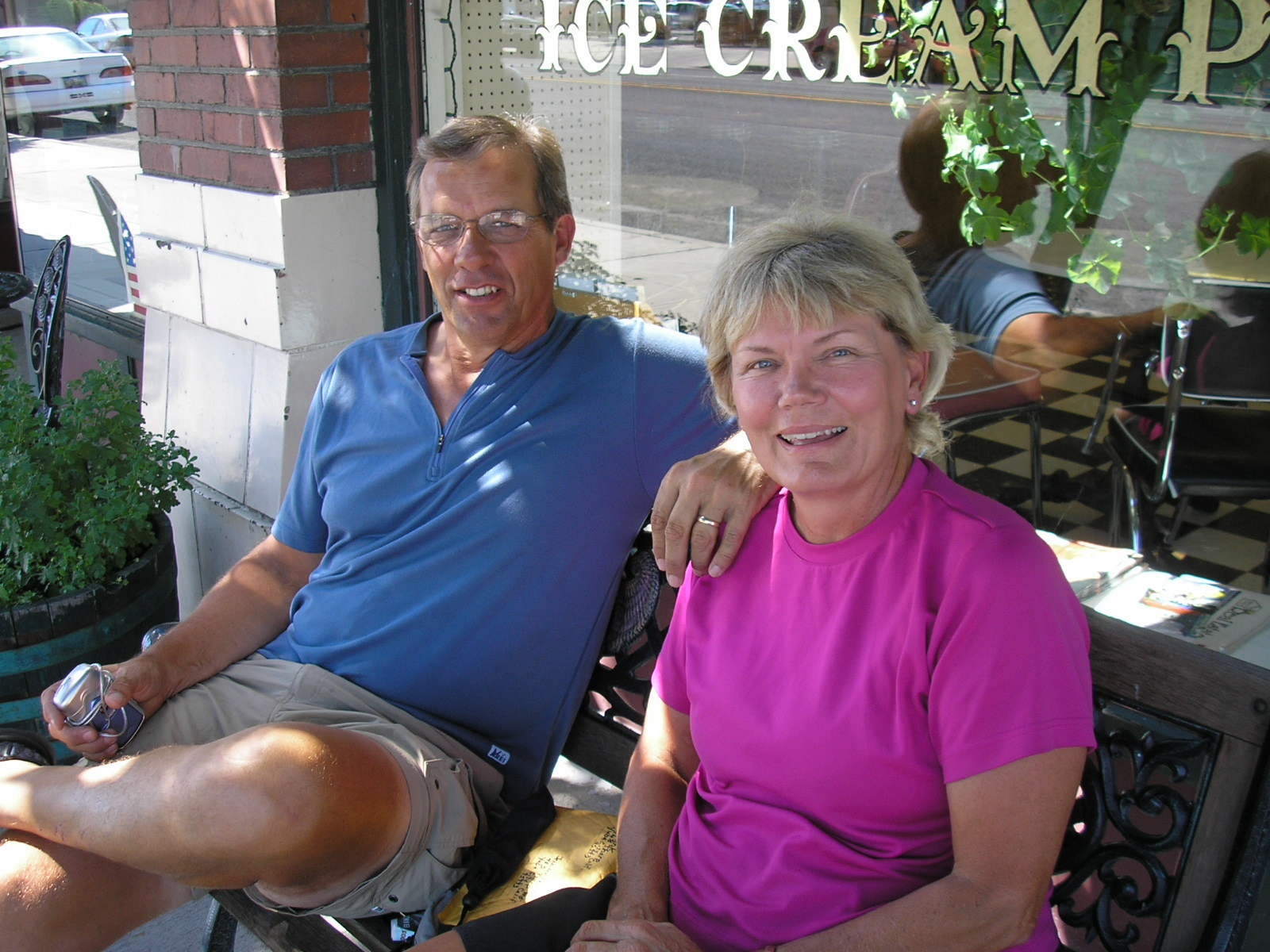 After I ate I saw Rick and Sharon from the 'Because we can tour' sitting on a bench enjoying an ice cream. We talked for quite a while; I was having such a great time hearing all their stories. Before we left they invited me to leap into the swimming pool at the motel where they are staying and told me they are going for dinner at 5 o'clock over at the brew pub.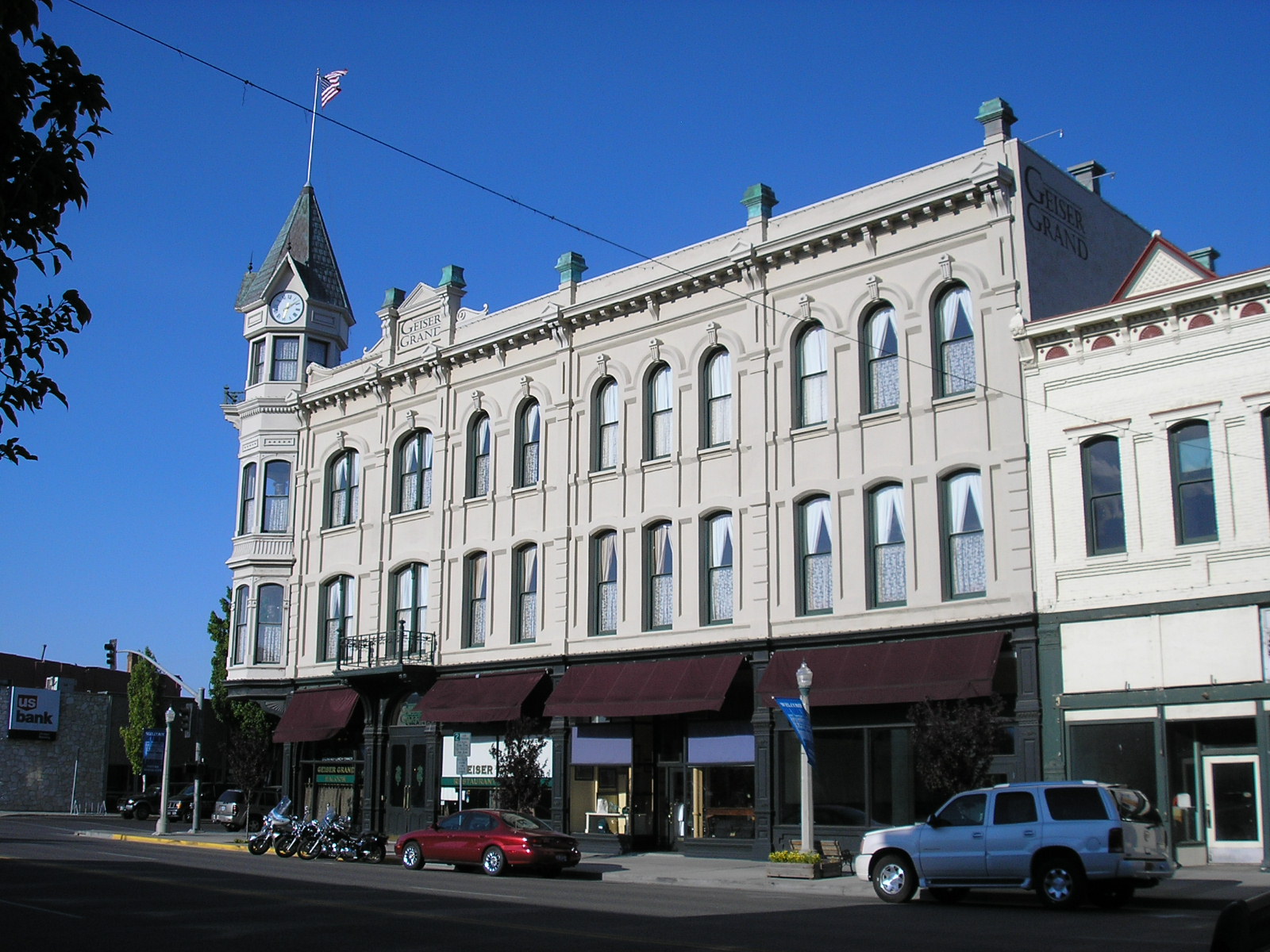 I rode around Baker City looking for this coffee shop that had internet. While I was at the edge of town some punk 14 year old kid on a BMX bike stopped me. He asked 'Does that bike go fast?' I told him 'Nope, its actually pretty slow' He said 'Well, My bike can go 100 mph' I told him 'You're a lucky man!'  I think he wanted to race me.
I found the coffee shop. I uploaded all my entries and pictures that took an hour and a half. After my journal was up to date I felt great. This had been hanging over me for quite a while. It was my goal of the day and I accomplished it. I'm such a sucker for keeping such a detailed journal. On this trip, I've spent too much time writing this obnoxious journal when I could be drinking beer reclaiming all my lost calories.
It was 5:30 so I went over to the brewpub to see if I could find Rick and Sharon. When I parked my bike out front a group of people eating there immediately offered me to sit and hang out with them. I said thanks but said I was looking for my friends. I went in and found Rick and Sharon. Then went back outside to thank those nice people for the invitation but I found my friends. Immediately after I sat down I noticed Ryan from the bike shop was working as a waiter at the brew pub. We said hi.
I ordered a burger and a beer and continued the great conversation I had earlier with Rick and Sharon. I have a big feeling that Matt, Karen and Andy are going to catch up with them.  We sat talking for quite a while. It was getting late, Rick paid for my dinner and I thanked them and said farewell.
After they left I went back into the Brewpub to wash myself up. Before I left I went over to talk to Ryan. He asked where I was going for the night. I told him I had a list of places to camp and I was going to start calling them. He said if I want I can camp in his yard and I can save some money. But he was going to be working for the next couple of hours. We exchanged cell numbers and I went outside.
My cell phone was going crazy so I left my bike in front of the brew pub and walked all over Baker city talking to chuck and bonnie. After I got off the phone I wanted to get another one of those Espresso stouts I was drinking, so I head back to the brew pub.
On my way into the bar I saw Shawn who was with his brother, sister-in-law and his nephew. I sat at their table talking with them while they ate. Shawn's brother bought me a beer. He's really into bicycle racing so told us all about his racing and we told him all about riding the Transam. I had a great time talking with them. After then left I went inside and sat at the bar.
I drafted out my journal entry for the day and while I was writing this guy sat down next to me. We got talking, his name was Jay. I told him about my trip and eventually busted out my map. He looked over it pretty hard and gave me some cool tips about places to check out. I wrote down a lot of the stuff that he told me.
While Jay was looking at my maps some drunken guy came over and wanted to know what was going on. His name was Bingem, he told me he was originally from Hartford, Connecticut. I told him I was originally from Fairfield Connecticut and we both just laughed and never mentioned Connecticut again. He yelled a lot at jay and I and I don't even think, he knew what he was talking about. He was mad because I wasn't riding up to Seattle. Eventually he left.
Around 10:30 Ryan got off of work. We walked back to his house and he introduced me to his dad. His dad's name is M.L. He was pretty excited to hear that I was riding cross country. He asked 'are you having a good time in baker city?' then said 'Of course you are if you're out drinking beers with Ryan!'
Eventually Jay came over and the 3 of us sat on Ryan's front porch drinking Keystone light and talking for the rest of the night. We talked about traveling for most of the night.  Ryan is thinking he might want to do a cross country bike trip sometime in the future.  Jay had to work in the morning so he left around 11:30. He works at the Oregon Trail interpretive center so I told him to keep an eye out for Rick and Sharon who were going up there tomorrow.
I had a lot of fun today. I'm glad I didn't ride out and hung out with everyone. I feel like I was with all the right people all day long. I couldn't have asked for a better day in Baker City, Oregon.
Click Here to Visit The Table of Contents
Click Here to Visit Previous Page: Day 68: Cambridge ID to  Baker City OR
Click Here to Visit The Next Page: Day 70: Baker City OR to  Prairie City OR