Day 74 Wednesday August 3, 2005, 51 miles (83 km) – Total so far: 4,396 miles (7,075 km)
51.3 Miles and 4:42 Pedal time
Click Here to Visit The Table of Contents
Click Here to Visit Previous Page: Day 73: Ochoko Lake OR to  Bend OR
Click Here to Visit The Next Page: Day 75: Mckenzie Bridge OR  to  Springfield OR
I was up at 7am sharp. Jim and Carolyn were already up. I had some coffee and Jim cooked up Shawn and I a breakfast for champions. They kept Shawn and I company while we packed our bags and got ready to hit the road. Today is the day where Shawn and I part ways. We had been riding on the same schedule since Riggins, Idaho.  I'll be going over the McKenzie pass and he is taking the Santiam Alternate. He is on his way to Corvallis to meet up with his sister who will ride the last couple of days with him
Before we got on the road we all went in front of the house to take some pictures. My first stop was the Sisters library and they didn't open till 10 so I hung out at Jim's house a little longer then hit the road.
I rode to sisters in 20 minutes. Before I left, I asked Jim if I could make it there and 15 and he said I would have to have a great tailwind. There was a line of people waiting for the library to unlock the doors. I setup shop in the middle of the library updating my journal. After 2.5 hours, I got sick of working on this stupid journal and tried to ride out.
While I was leaving the library I almost got hit by a car. It was completely my fault. I thought the lady had a stop sign. She was mad and I apologized and told her "I'm sorry. It's my fault. I'm a jerk."
Since it was 12:30 and I hadn't gotten anywhere I just decided that SINCE I'm in a town I might as well just have lunch. So I went to the local pizzeria and got some slices of Joe. The pizza was magnificent; it had been so long since I've had good pizza. In fact I have barely eaten any pizza on this whole trip. When I am home it is the backbone of my diet.
Finally at 1pm I hit the road riding like a maniac out of Sisters, but then 2 miles out of town I got a flat tire right in front of Sisters High School. I rolled my bike in front of the high school where I found this nice shady spot with a picnic table. I patched the wheel, no big deal.
While I was loading all my gear back onto the bike all these kids came running out of the high school. Apparently summer school just got out.  I ended up hanging out with a couple of stoned high school kids for awhile while they smoked more pot. They were amazed that I rode all the way here from Virginia and one of them was a bit skeptical about my story and kept asking if anyone has given me a ride along the way.
I left Sisters high school around 1:45 and was still feeling really good so I climbed McKenzie Pass like a champ. While I was climbing a very steep part of the mountain I was standing up on the pedals. A car came around a turn pretty slow going the opposite way down the mountain. Suddenly a guy driving a junky car came flying around that turn and didn't see that other guy in front. He slammed on the brakes and went into a skid going straight for me. Luckily he got control and just stopped short from pushing me off the mountain. He turned back into his lane and drove away. I yelled a lot of profanity at him as he drove down the mountain. He's lucky he didn't stop because I would have pushed his stupid ass off that mountain, I was so mad.
Second time I almost died today. Luckily I'm a NYC Cyclist so I'm a little too comfortable with almost dying every time I get on the bike.
5 minutes after my 'almost freak accident' happened, I reached the first overlook. It was a beautiful view of all the mountains sitting in a foreground of about 20 square miles of solidified lava. It felt like I was on mars and had no idea the top of McKenzie Pass would be this dramatic.  While I stood on the overlook a gentleman came over who was in a car with his family. He told me that he rode the trail 5 years ago and it was the most amazing experience in his life. I believe him. I gave him my card and got back on the bike. I put on some creepy classical music on the iPod while I finished climbing.
At the top of the hill I crossed the Pacific Crest Trail. Hoping to see some hikers I hung out on the side of the road waiting for someone to come out of the woods. But no one came through.
When I got to the top of the hill it felt so good knowing this was my last major climb of this cross country trip.  At the top of the pass there is a beautiful structure built from the volcanic rocks. I climbed to the top and sat up there for quite a while thinking about the trip and all the places I had been.
There was a nice cool breeze blowing on top of that mountain and I wasn't getting down anytime soon. I talked with these nice people who lived just outside Eugene. Their names were Sandy & Kelly. Their niece Lauren was visiting them from Arizona and they were out hiking and camping for a few days. We chatted for a while and they gave me their address and phone number and told me to call them when I pass through tomorrow. I wasn't sure of my plans for Eugene but knowing I had this option put me in a really good mood.
After Sandy, Kelly and Lauren left I met 2 gentlemen from Virginia. One of their Sons rode the Trans am a few years ago and they knew a lot about the trail. I explained to them how much fun I had riding in Virginia and we talked a lot about Virginia and I told them how my ideal Virginia bike tour would start from DC  go down skyline drive and then all the way down the blue ridge parkway. Someday I'll do it. I was a bit disappointed the Transam only did about 30 miles on the Blue Ridge.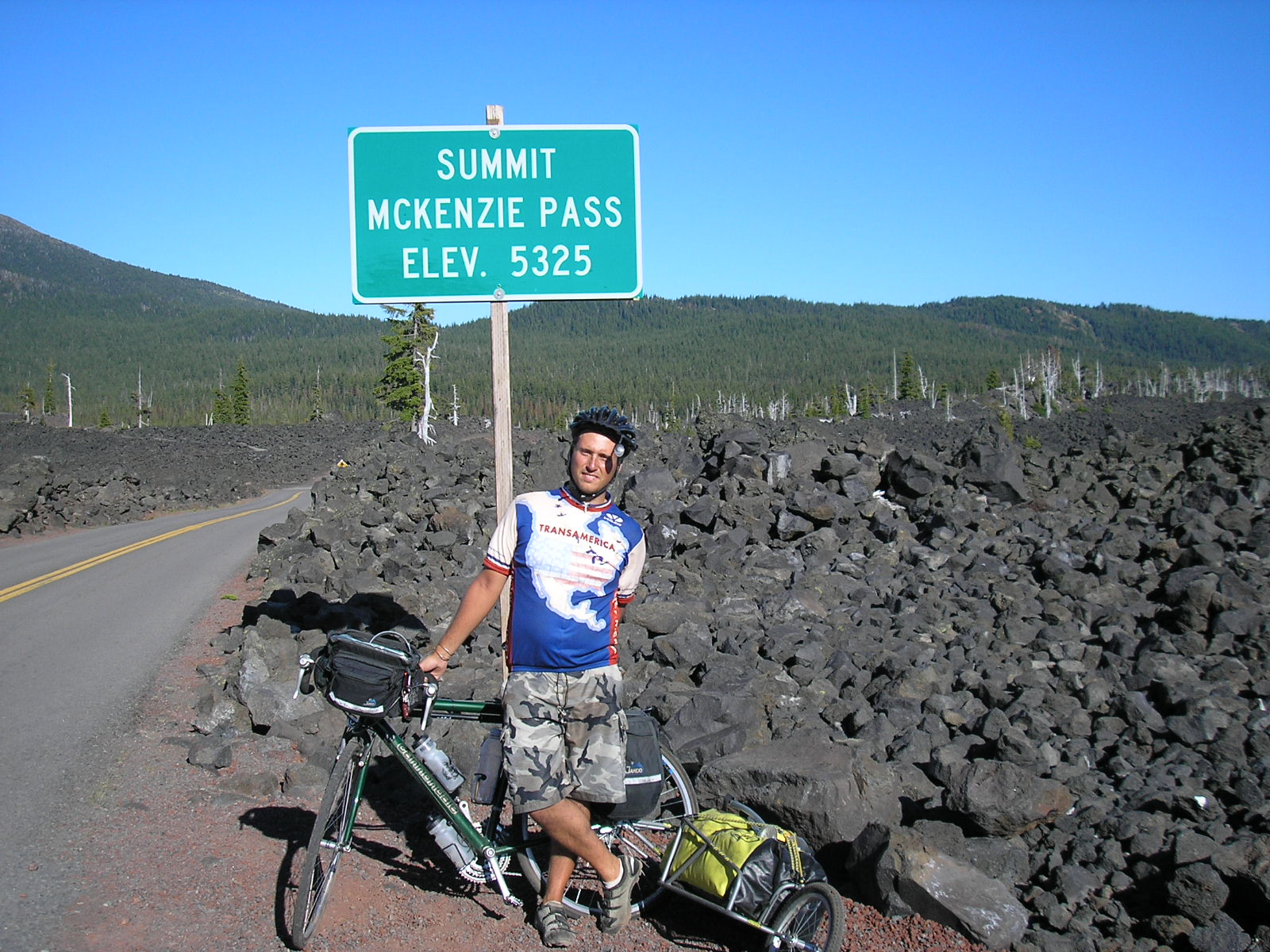 After spending almost an hour and half on top of McKenzie pass I decided it was time to get down. I asked one of the gentlemen to take a picture of me in front of the McKenzie pass sign. He was honored and then had his friend take a picture of him taking a picture of me in front of the sign. So he could show his son who rode the Transam. I thought that was awesome.
I rode pretty slow coming off the stop of the pass. The trees looked like something right out of a Tim Burton movie. I stopped several times to just absorb the scenery. McKenzie Pass is just an unreal place; I'm looking forward to coming back here again someday.
The temperature got about 20 degrees warmer at the bottom of the mountain. I saw some hiker on the side of the road. He was done hiking the McKenzie River Trail and catching a bus back to Eugene.  I asked the punk kid at the general store where I can get a decent burger. He pointed to the fancy restaurant across the street. I told him 'I can't afford to eat there' and he said 'Listen, The cheeseburger is $10 bucks and it's the best damn cheeseburger I ever had.' For some reason I trusted this kid, so I went over.
I sat at the bar and talked with the 2 gentleman on either side of me. I told them about my trip. The burger was good but it wasn't the best burger I ever had. I called some campsites from inside the bar and had no luck. The bartender gave me a T shirt that had a cool drawing of the building on it
Shortly before I left Steve, one of the gentlemen I was talking with told me that I could camp on his property if I wanted to. So he gave me directions back to his cabin. Steve had a nice little log cabin right alongside of the McKenzie River. The sound of the river was roaring. Steve told me I can camp anywhere I want or he had a cute little bunkhouse that I could stay in. I checked out the bunkhouse and it was great, so I stayed there for the night.
Steve told me to come back to the cabin later for a beer after I got settled. So we sat around talking mostly about traveling. We were both exhausted so we didn't hang out to long. I went back to the bunkhouse and crashed immediately. The sound of that river knocked me right out. This cabin is awesome!
Click Here to Visit The Table of Contents
Click Here to Visit Previous Page: Day 73: Ochoko Lake OR to  Bend OR
Click Here to Visit The Next Page: Day 75: Mckenzie Bridge OR  to  Springfield OR