Day 77 Saturday August 6, 2005, 9 miles (15 km) – Total so far: 4,547 miles (7,318 km)
Click Here to Visit The Table of Contents
Click Here to Visit Previous Page: Day 76: Springfield OR  to  Florence OR

After a night of drinking, I always abruptly wake up and immediately say "Holy shit, where am I?". It happened today at 8am and when I got up, there were a retired couple setting up on the dock to catch some crabs. The woman looked at me and asked me if I was alright. I said "I think so." I talked to them for a while and told them about my cross country adventure. The weather was beautiful.
I went to breakfast and my waitress took forever and I was getting furious. I had such a busy schedule today the last thing I need is for this woman screwing up the timing
After breakfast I rode back up the hill to the South Jetty and went right back to where I was yesterday. The ocean looked spectacular as I carried my bicycle onto the beach. I found a kid who was flying a kite and had him take a picture of me in front of the ocean.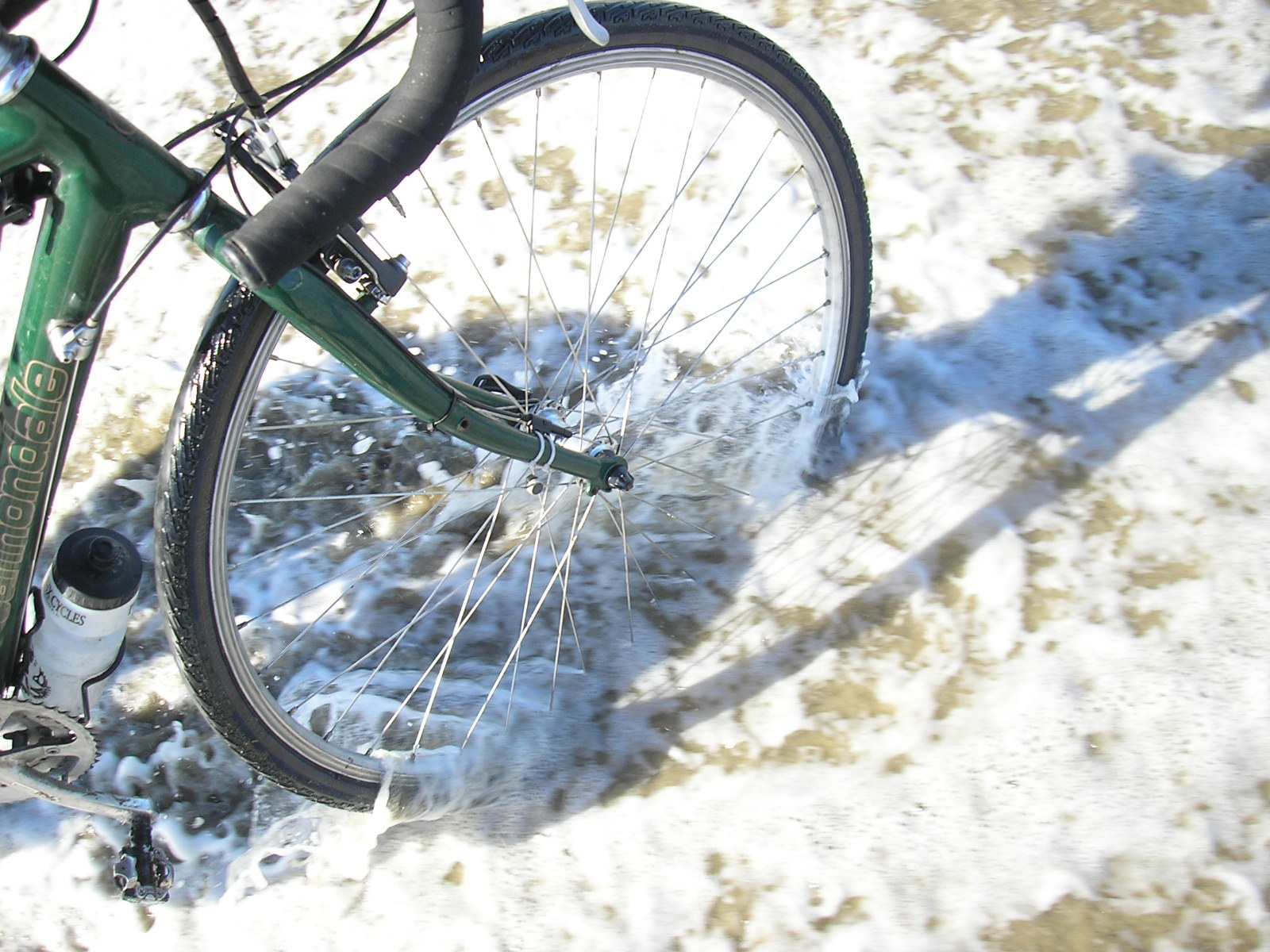 Without a care in the world I walked right into the ocean with my cycling shoes on and dipped my front wheel into the water.  The family of the young man who took my picture came over talk. I chatted with them for a while.  It felt amazing standing on that beach with my shoes soaking wet.
I hung out, and then went back into town over to the bike shop. The guy at the bike shop wanted $40 to box my bike for me. I told him I would think about it because it was still unclear how I was getting back to Eugene. Terry the guy I met at the bar last night said he would give me a ride, but I couldn't get in contact with him. I rode all over Florence looking for someone I could possibly hitch a ride from then I saw Terry's car in front of the bike shop.
Terry was going to go to the lake for a while with his kids then around 3:30 was going to drive back to Eugene. That gave me plenty of time to catch the bus. So I purchased a cardboard box from the bike for $10. The owner of the bike shop seemed pretty annoyed that I didn't want to pay the $40 for him to box my bike. But I just don't have money to throw around.
It took me 2 hours to disassemble the bike and pack it into the box. I also stuffed a lot of my camping gear into the box so it won't be confiscated at the airport. I stuffed the arm and the wheel from the bob trailer into the box and just decided to check the bob as a piece of luggage. It felt really great disassembling the bicycle that brought me across the country and putting it into this tiny box. After it was all packed I paid the bike shop guy about $60 for ups to ship it back to Long Island for me.
I had 2 hours to kill so I sat in a coffee shop fiddling on my laptop. Then Terry showed up and we were headed back to Eugene. It immediately felt strange to be away from the bicycle. I really appreciated Terry giving me a ride back to Eugene. He would have stayed in Florence until the evening if it wasn't for me.
Terry dropped me off at Sandy's restaurant. I quickly ran in to say hello and he wrapped me up a quick slice of Joe for the road. I was glad to see Sandy one last time and thank him again for everything Kelly and he did for me.
I ran with all my heavy bags over to the bus stop. The kid working at the bus stop told me the 5:25 bus was full and I can't get on it. I freaked out because that was the ONLY bus that could get me to Portland in time for my flight at midnight. They called around Amtrak and some taxi companies for me but I had no options under $180 to get me to the airport.
I got all upset and started to walk back to the pizza place. Some kid who was standing at the ticket counter and heard my whole story stopped me on the sidewalk. He told me I shouldn't give up and I should wait until that bus comes in and talk to the driver. We talked for about 10 minutes. I told him about my trip and he told me a long story about traveling up and down the Pacific coast. He ended his story with saying he needed $5 to buy his next bus ticket home, but he knew someone in town who might lend it to him.
I looked at him and said 'all you need is $5 to get home; I'll give you $5.' He was an honest looking young man and he didn't even want to take my $5 at first, but I insisted and he did. He was very thankful. A few minutes later the bus came and the guy I was talking with, talked to the bus driver for me, the he went back into the greyhound office with the driver. All of a sudden the bus driver came out and told me to go buy a ticket. I was going home.
Too many strangers have helped me over the past 11 weeks; it just wouldn't make sense for me not to help that guy with 5 bucks. Shit, I'd buy him a few beers if I had the time.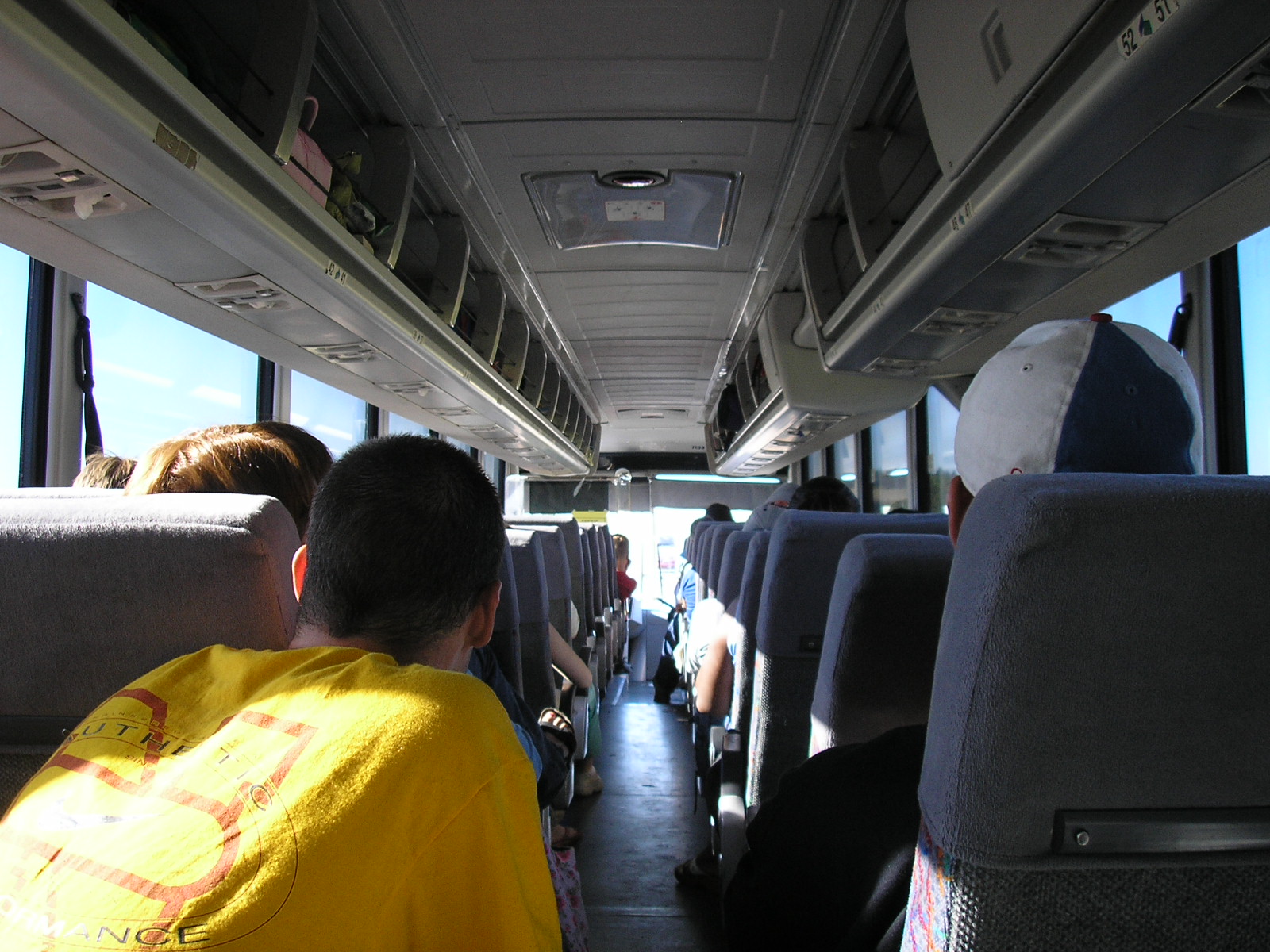 There was nowhere to sit on the bus except the back seat. It quickly hit me that my trip was over I got pretty emotional as we drove down the highway towards Portland. I thought a lot about the bus ride I took at the beginning of this journey. While we were on the road I watched some teenagers roll a large amount of marijuana into a cigar shell.
The nice man at the information booth explained to me I could get to the airport for just a few dollars but that would mean taking several trains and buses. I was burnt out and very cranky. So I just got into a yellow taxi cab and sucked up the $30. On the way to the airport I had the taxi driver go through the McDonalds drive-thru. The food tasted like crap, but that was no surprise.
I got to the airport at 9pm and the flight wasn't until midnight. I checked in and sat by the gate with my laptop using the free wireless internet. I had no interest in working on my journal, so I just got caught up on everyone else's bike journals.
When I sat down in my seat on the airplane these 2 gay guys sitting behind me started flipping out because, yours truly didn't smell so pretty. They made a big deal and tried to get their seats moved but the stewardess couldn't do anything for them.  For the entire 5 hour the flight they aburptly kicked the back of my chair, making sure I was constantly disturbed and they bitched on and on about how gross I am. I didn't care; I am gross. I just crossed the United States on a bicycle and I hadn't taken off my cycling shorts in 2 days. Fuck them. Sure, I didn't smell like roses, but they were taking it to the extreme.  I shoulda puked on them.
My flight got into JFK at 8am. The weather was beautiful and I got a spectacular view of New York City as the plane landed. Getting off the airplane the 2 homosexual men both gave me the stink eye as they walked past. I just stared at them with a blank face.
My beautiful girlfriend was patiently waiting for me at the airport. She was glowing and very happy to see back in New York. We went back to her place, I cleaned myself up, she cooked me some food and we spent the rest of the day hanging out on the beach. It felt so great to finally be home. The last few weeks have been really intense.
The end.
Goodbye.
Nice knowin ya.
….Ok not really.
It feels like I was gone for 3 years. My head is still spinning. It's going to take me some time to digest what I have just been through. I can't believe I just rode my bike across the country and now to get ready to go to Germany to work on a design competition for my architecture school.
I'm really impressed with myself. This bike trip started as a pipe dream 3 years ago and has been my greatest distraction ever since. Bike touring is such an amazing way to see the country. So much of the beauty of this trip could have never happened without the bicycle.
It also amazes how accessible bike touring is to soo many people. Many of the people I met cycling cross country aren't hardcore cyclists (like myself) and almost all the other cyclists I met were older than me. Everyone was a lot older than me. Our buddy Jim Hammond is 63 and cycling across the country! What an inspiration!
If you're thinking about taking a cross country bike trip, I really hope you do. This bike trip has been my proudest accomplishment of my little 25 year old life. Lots of people told me I couldn't do it or this bike trip was a silly idea. Boy were they wrong. Infact I feel sorry for everyone who got in the way of trying to let this trip happen. They had no idea what an amazing life changing experience they were tampering with. Contrary to popular belief, the New York City metropolitan area is NOT the center of the universe.  I am humbled by all the amazing people I met along the way. My mind is blown with how beautiful the landscape of America is. I have never seen mountains, sunsets and forrests like that in my entire life.
Amen.
Not sure when I'll post on here again. It's been a lot of work keeping this journal and I must admit, I'm really looking forward to disengaging it.
Thanks for reading. I wrote this journal to give back to this community that has been the biggest source of inspiration to me over the past few years. If there is anything I can do to support you on your bike adventures, feel free to email me or leave a comment. Lots of people have emailed who have been reading and it's been a pleasure chatting with each and every one of you.
I love you guys.
Click Here to Visit The Table of Contents
Click Here to Visit Previous Page: Day 76: Springfield OR  to  Florence OR