Day 7 Saturday May 28, 2005, 43 miles (70 km) – Total so far: 333 miles (536 km)
43.3 Miles and 4 hours 35 minutes pedal time
Click Here to Visit The Table of Contents
Click Here to Visit Previous Page: Day 6: Charlottesville, VA to  Afton, VA
Click Here to Visit The Next Page: Day 8: Lexington VA to  Buchanan VA
My alarm went off at 8am I didn't want to get up I was sleeping so comfortably on the couch in the bike house. I got up cooked up some grits and coffee. Being the klutz that I am, I mixed up the salt and the sugar and couldn't figure out why the coffee tasted so weird. I slowly packed up my gear and a lunch for today because June said there aren't many places to stop and eat.  I went outside and I trued up my back wheel. A couple of spokes were very loose. I'm going to have to obsessively check my wheels  every day to make sure they are straight. June sat on her front porch and watched me work on my bicycle.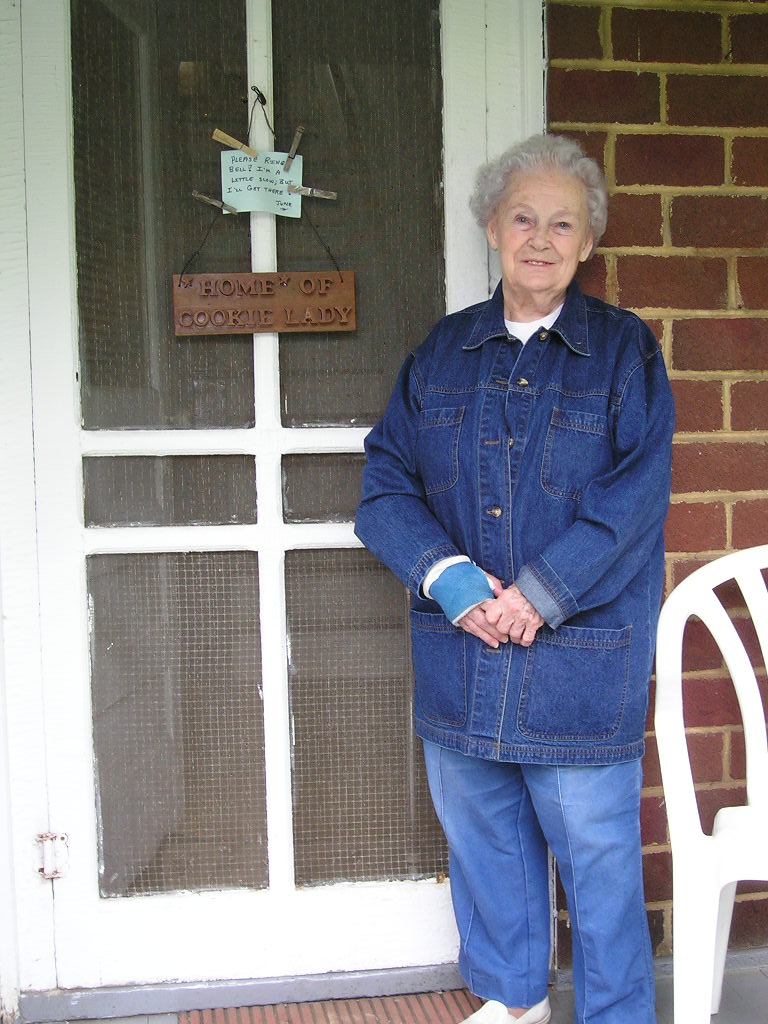 I put some mail in the box for her, looked in the garage for her cat and brought her the paper. We talked for a little while I stretched me legs. I took her picture next to her wood carved sign. She explained to me that a cyclist whom she had been in contact with for some time got into an accident and suffers from dementia and working with wood is something she can do with great ease so she made June that sign for the 20th anniversary. I gave the cookie lady a great big hug and finished riding up that monster hill that she lives on. Started riding today at about 10am. It was cloudy and cold. I listened to the blues all morning. Mostly Robert Johnson and some RL Burnside that James Obrien gave me.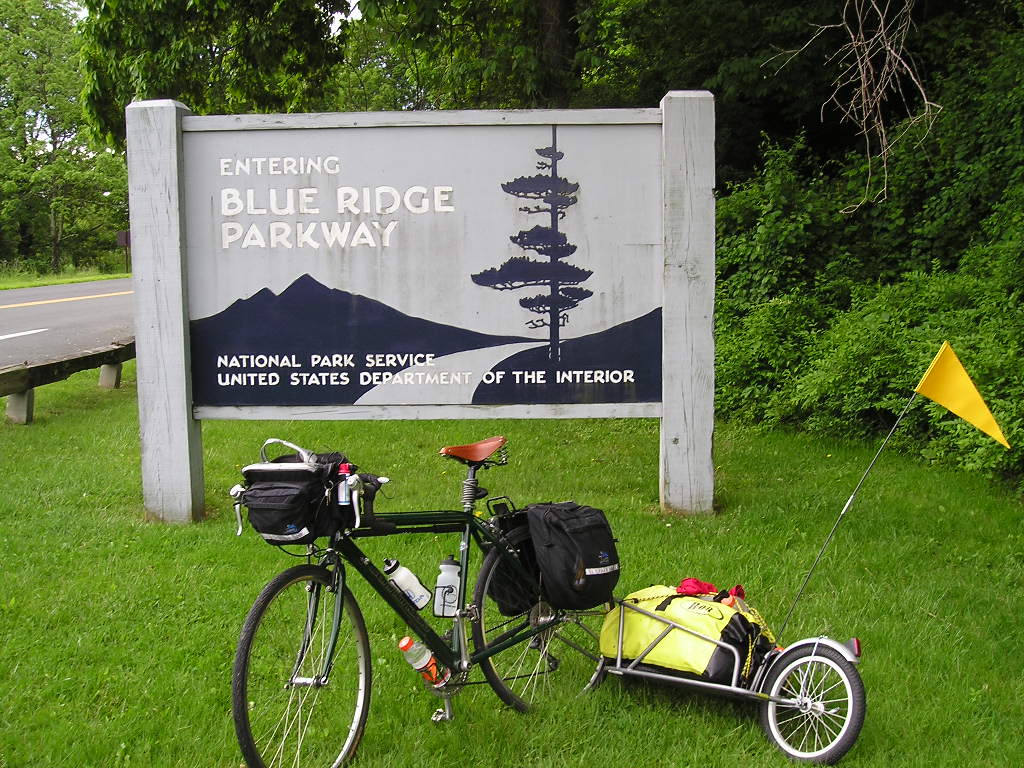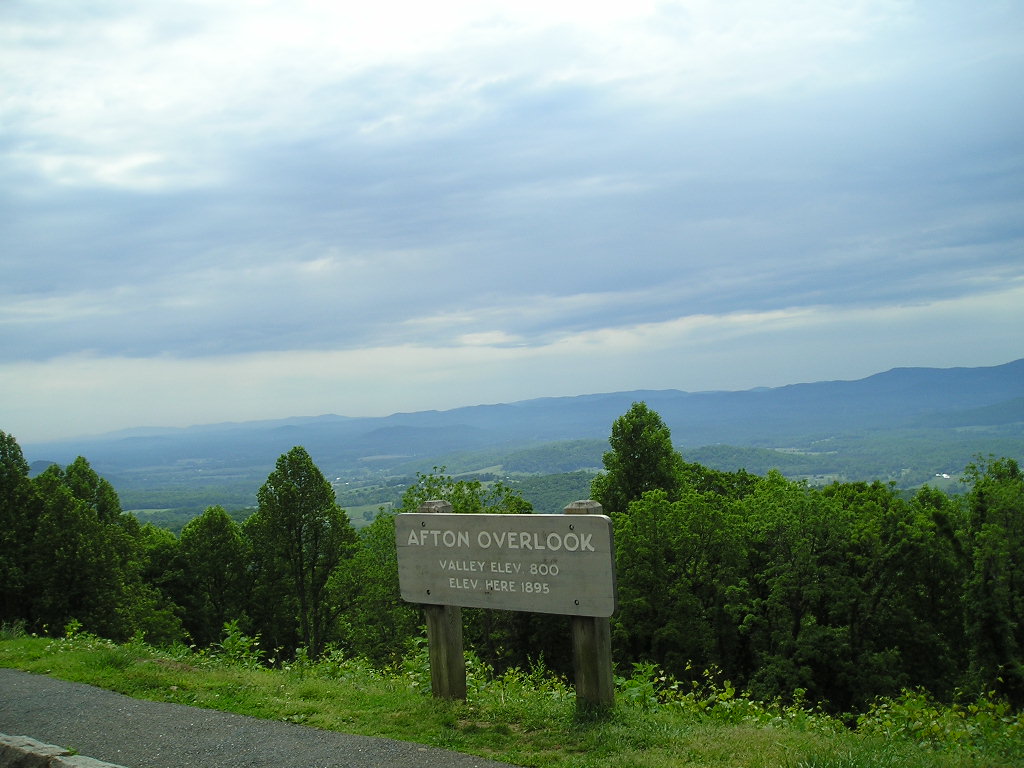 I got onto the Blue RidgeParkway very early in the day. It's such a beautiful piece of road. The scenery is unbelievable. I took a handful of pictures of the mountains. I started to wish for a moment I had a real camera so I could capture some of these spaces.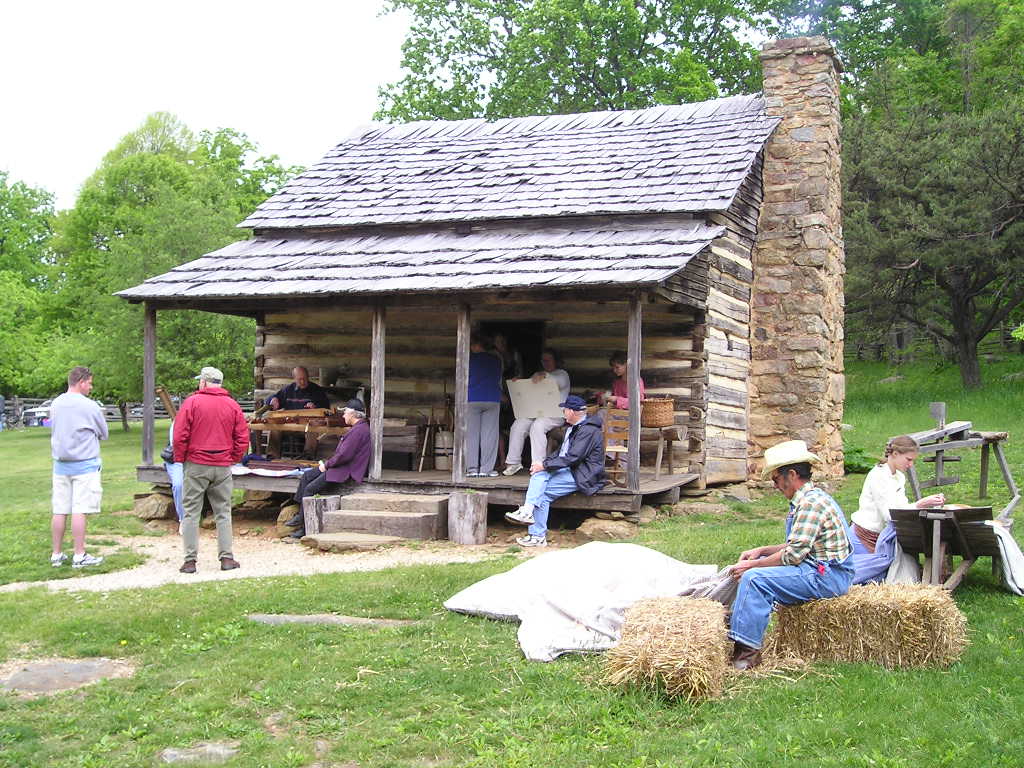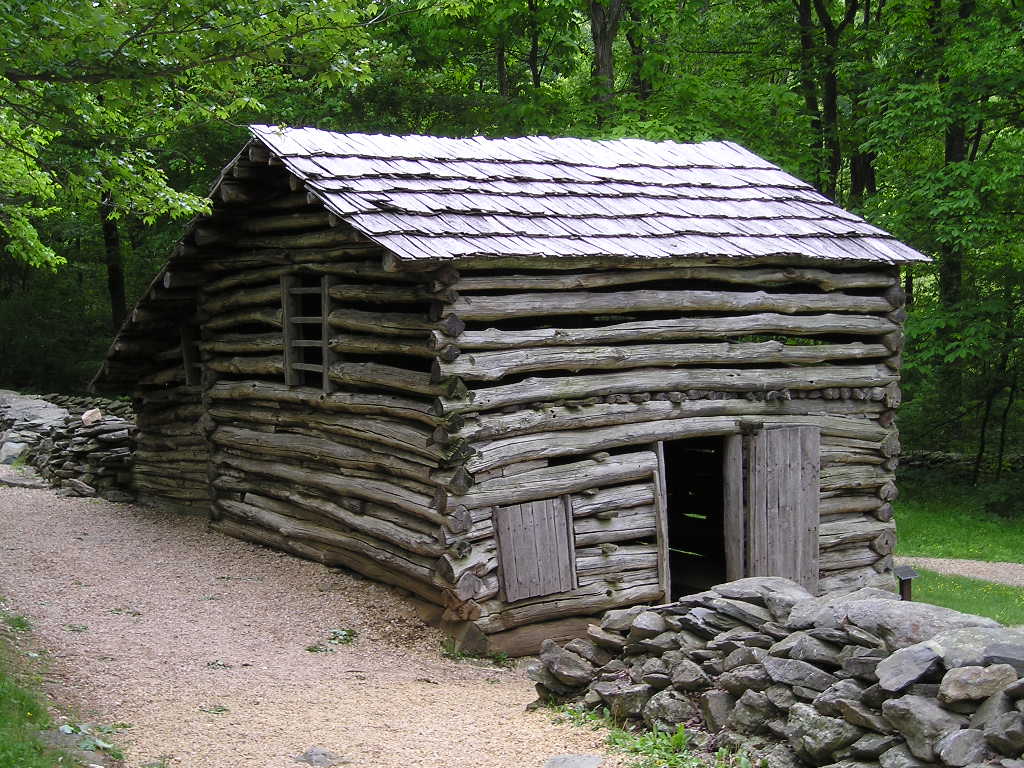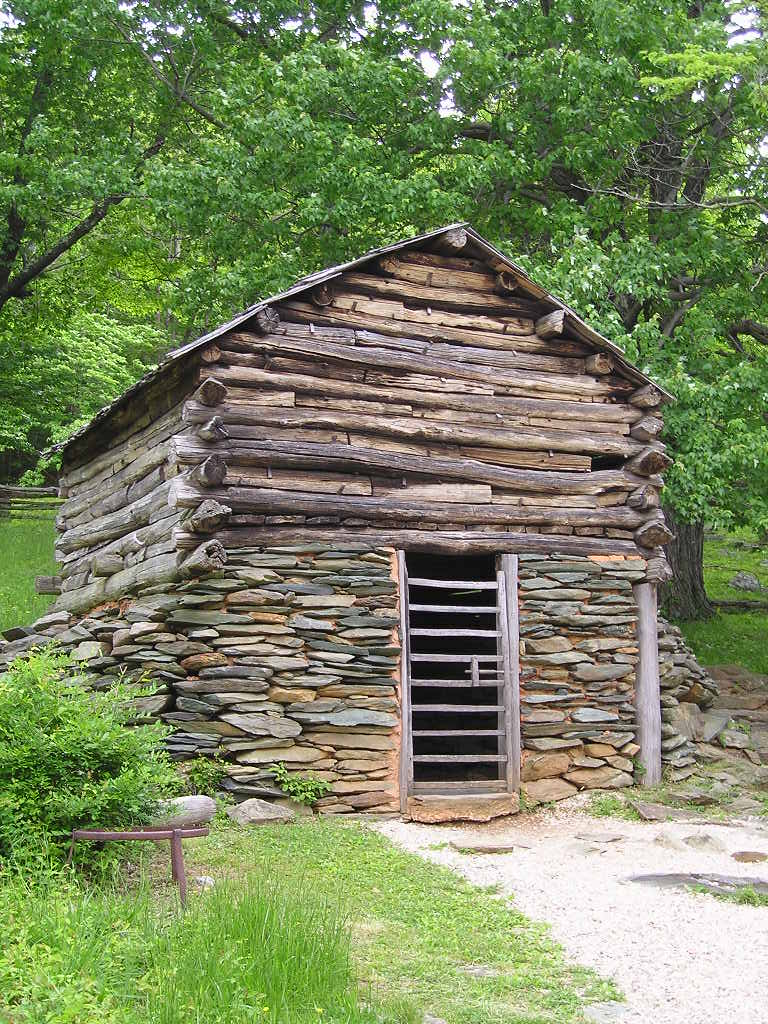 I stopped at the humpback rock visitor center that June told me about. I got into a conversation with one of the Park Rrangers about snakes. I told him about the black snake I saw yesterday. He assured me they aren't poisonous they just eat mice. He told me to check out the world's largest rattlesnake that lives in Lexington when I get there.
There was a festival going on with live music, people making quilts and straw mattresses I hung out and listened to the music and took some pictures of the cool log cabins. I didn't stay very long cause it was starting to rain and I was getting chilly.
When I left visitor center I rode past a cycling team who was sitting on the side of the road relaxing and talking with each other. The entire cycling team clapped and cheered for me as I rode by. It was pretty funny.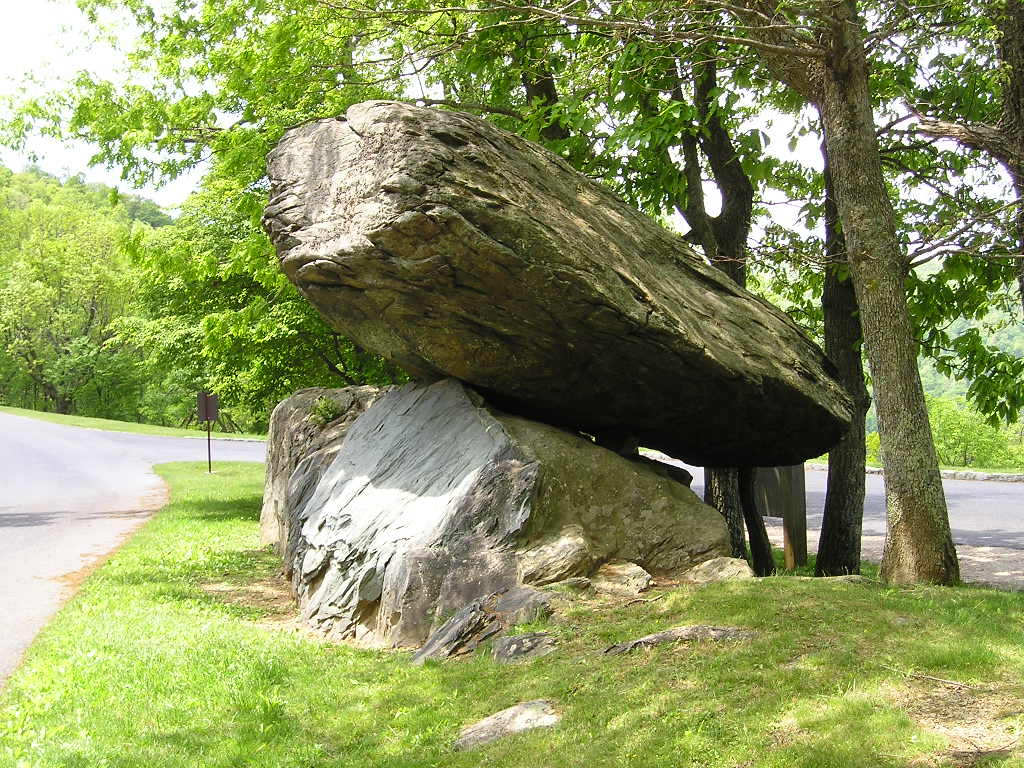 I pulled off at one of the lookout spots and a girl on a bicycle rode up asking if I was riding the Trans Am. She told me she had ridden it last year and she had the time of her life. We chatted for a few minutes then she rode off on her trek 520. I caught up to her again several miles later at another lookout spot and she was with 2 other friends who had also ridden the Transam last summer. They told me all about their ride and gave me a couple of tips on places to stay. They had the greatest time riding and wished me luck.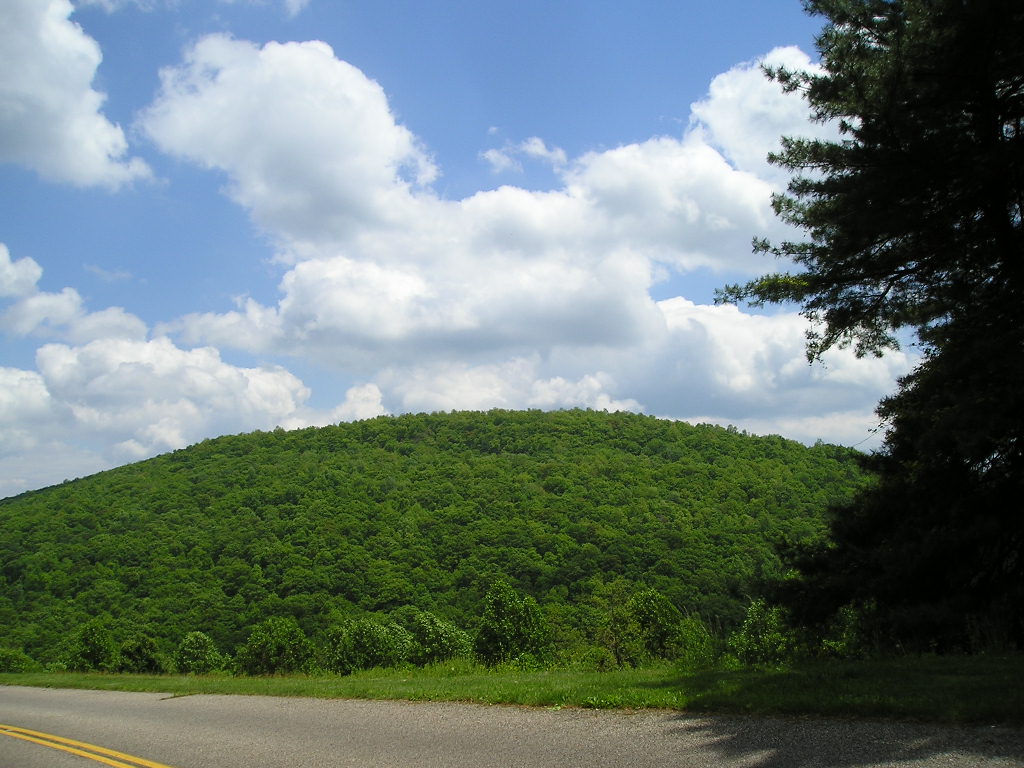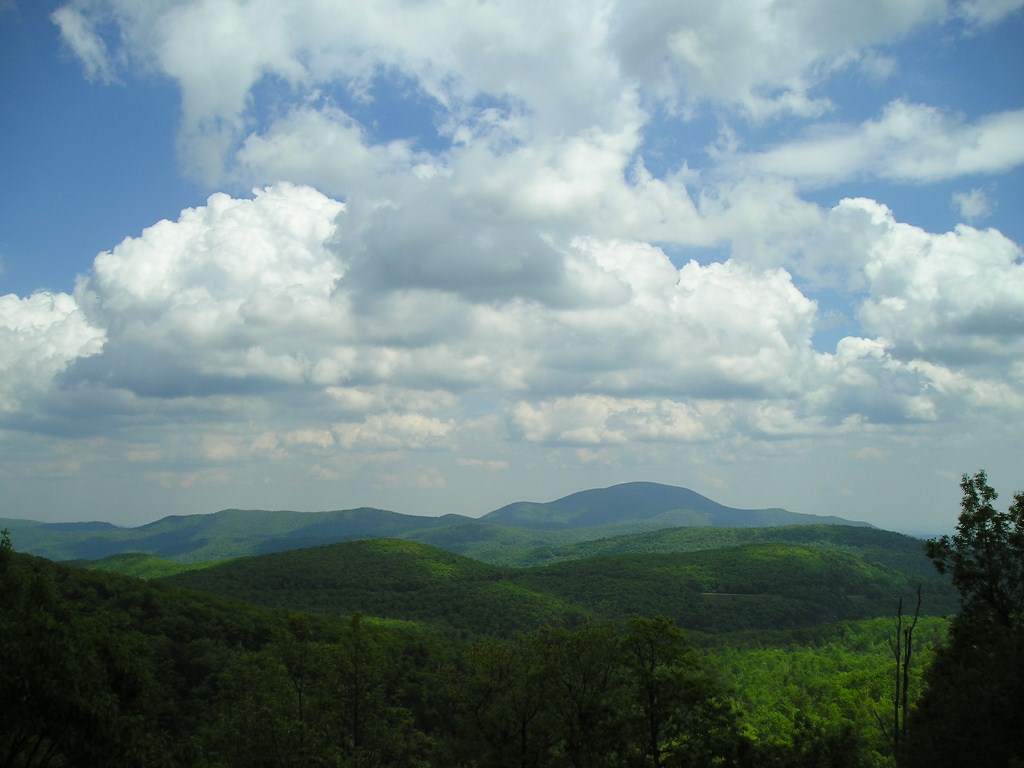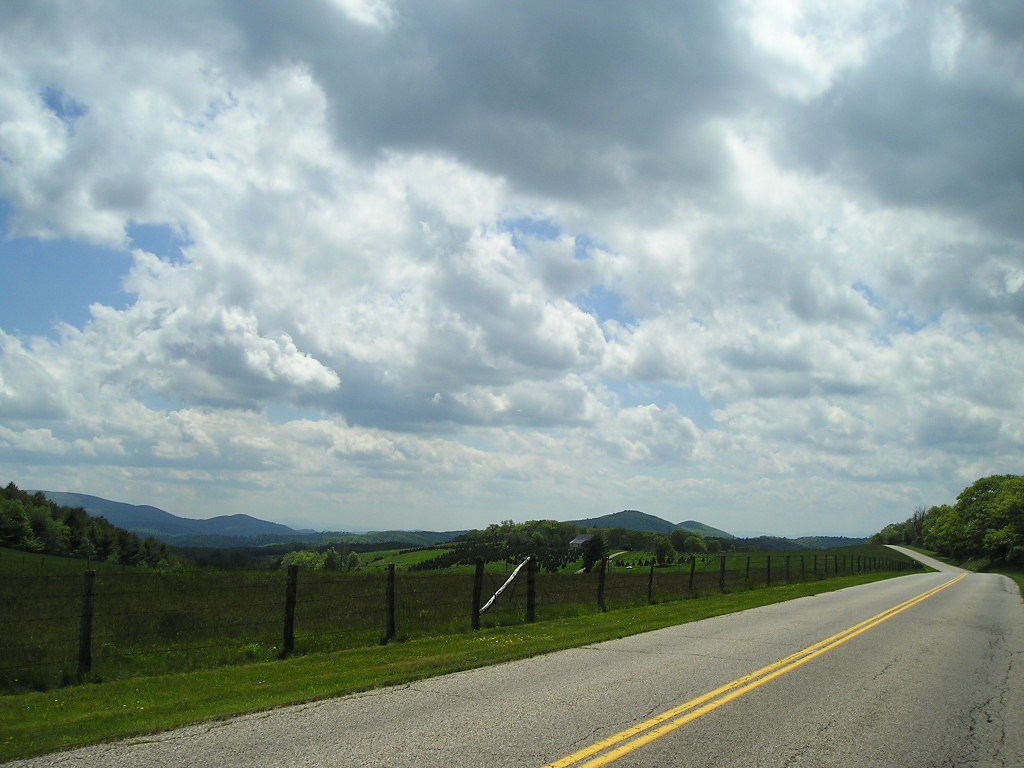 The weather started to clear up and the clouds were stunning. It felt so good riding along the parkway, looking down at all the farmland.  I finally got my altimeter working properly and watched it go up and down all day. Most of the day I was riding between 1500-3500′. I listened to mostly heavy metal all afternoon. The Blue Ridget Parkway has tons of cool insects creeping along the road. I saw a dead bat on the side of the road.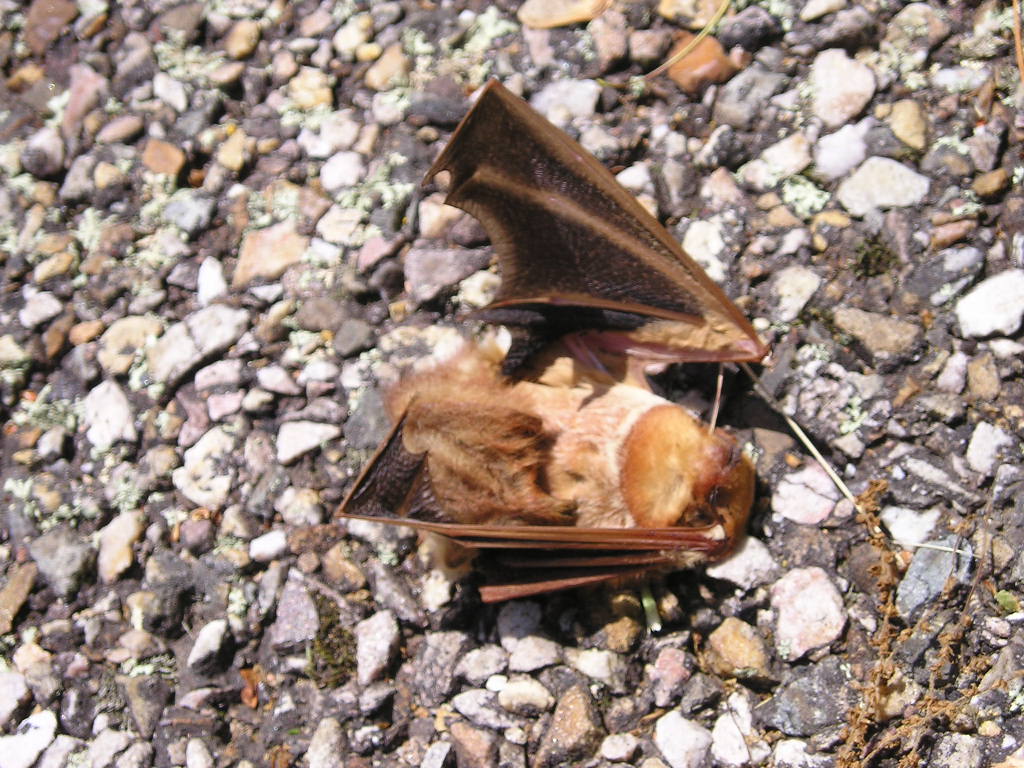 Leaving the Blue Ridge I left on route 53 and it was very steep downhill for about 40 minutes. Thanks to the advice of June Curry, I had to stop in the middle of it because my rims were wicked hot and I was worried about melting my brake pads. I hung out for 10 minutes and ate a peanut butter and jelly sandwich. While I was flying down route 53 I managed to lose that cool flag my girlfriend made me for the trailer. I love her very much, but I'm not climbing back up the hill looking for it.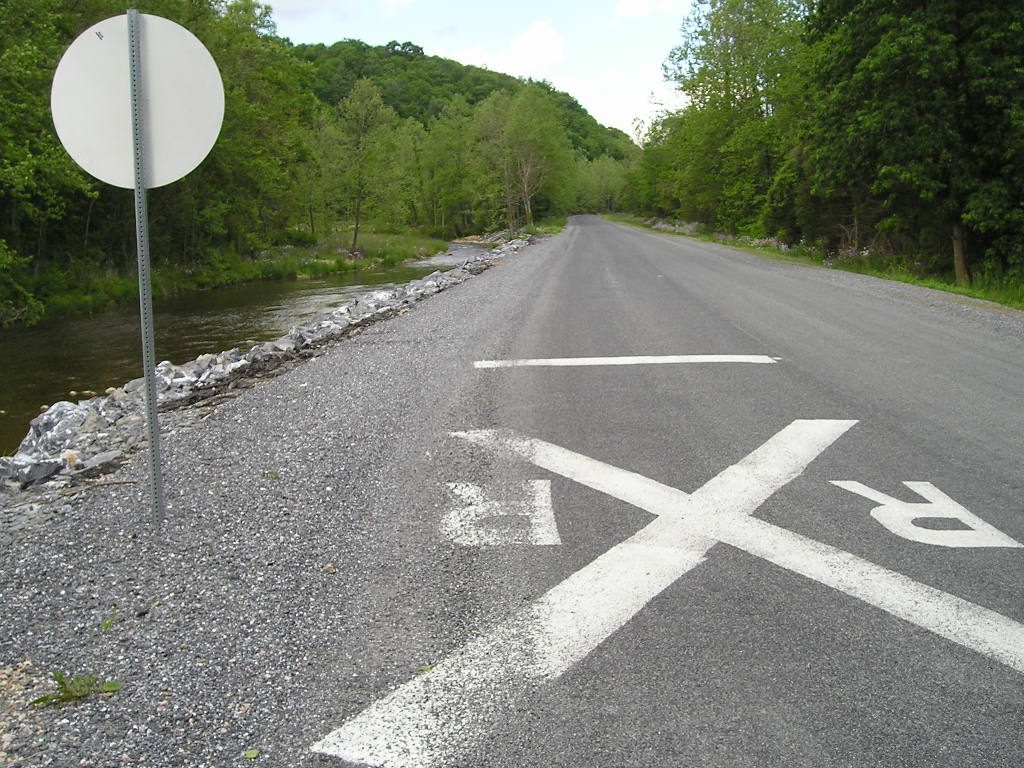 At the bottom of 53 I rode along the flatland for several miles next to a beautiful river that brought me to the campsite. It was an excellent way to end a day of cycling through the Appalachian Mountains.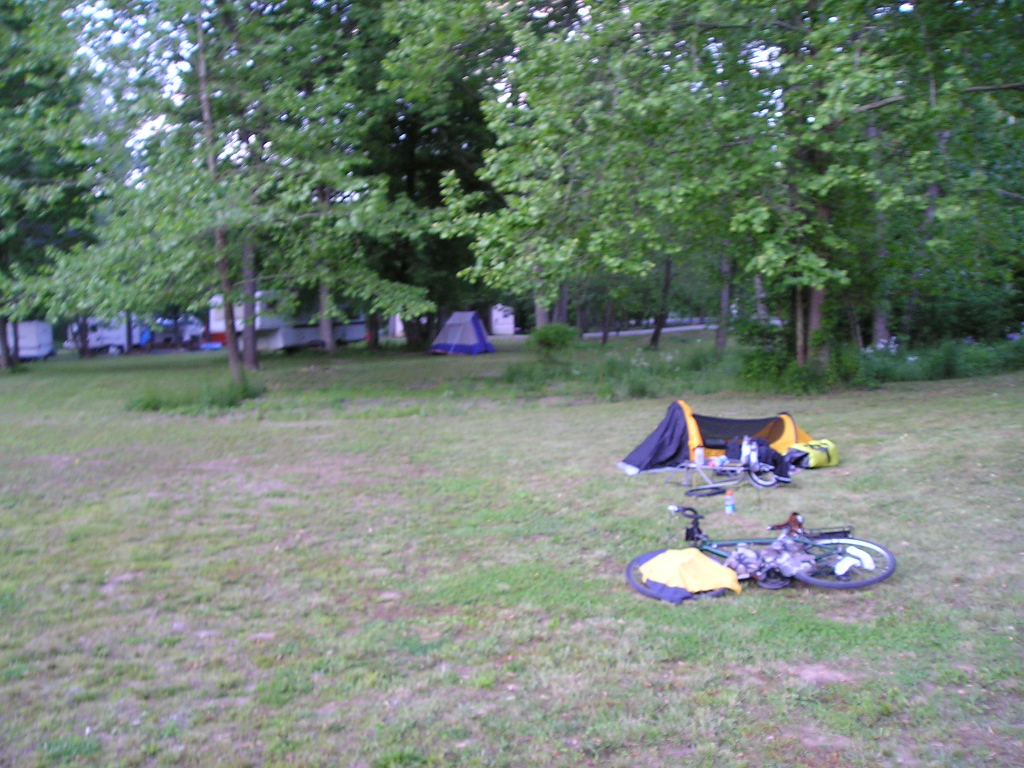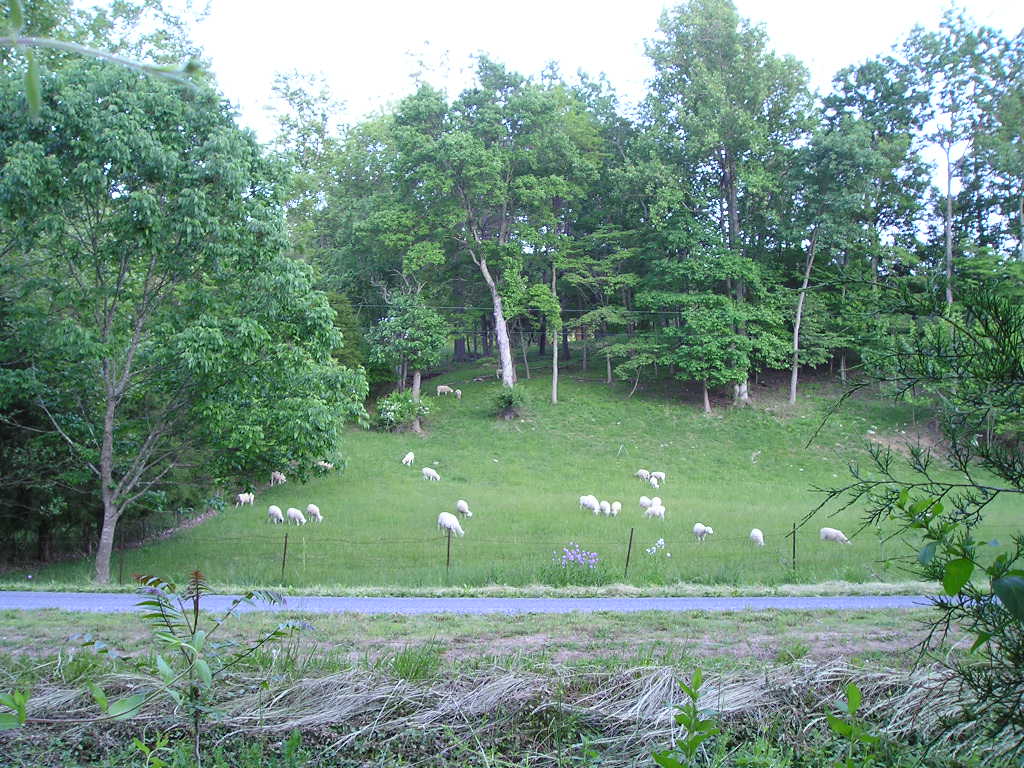 While I was setting up my tent, 2 ladies came over to invite me to come eat over at their RV. They fed me quite well. I talked with one of their husbands who work for a pre-cast concrete company. He told me that "Southern women love to cook and they are damn good at it." They gave me some banana pudding for dessert it was delicious and I don't think I ever had banana pudding before.
After dinner I tuned up my bike a little bit. So I won't have to do it tomorrow. I cleaned all the gunk off it. I put some lube on my brake cables. They were pretty gross. A woman who was staying in campsite next to mine came over to say hello. She told me about her cross country traveling in the 60's. The man that owns the campsite came over to talk; he wanted to know about the cookie lady. He asked me about the donation I left her and then he cut me a deal on the campsite for the night.
Since I left Yorktown I have seen hawks flying in the sky everyday almost all day long. It feels like they are traveling with me. Today when I was high in the mountains they flew pretty low over the road. They are so big I get worried one of themgoing to try to take a bite out of my ear or something. I'm just a small fry compared to them.
Off to sleep. Hopefully I can get out early and if I'm lucky find a library to put all this crap on the internet. Maybe I'll find something in Lexington.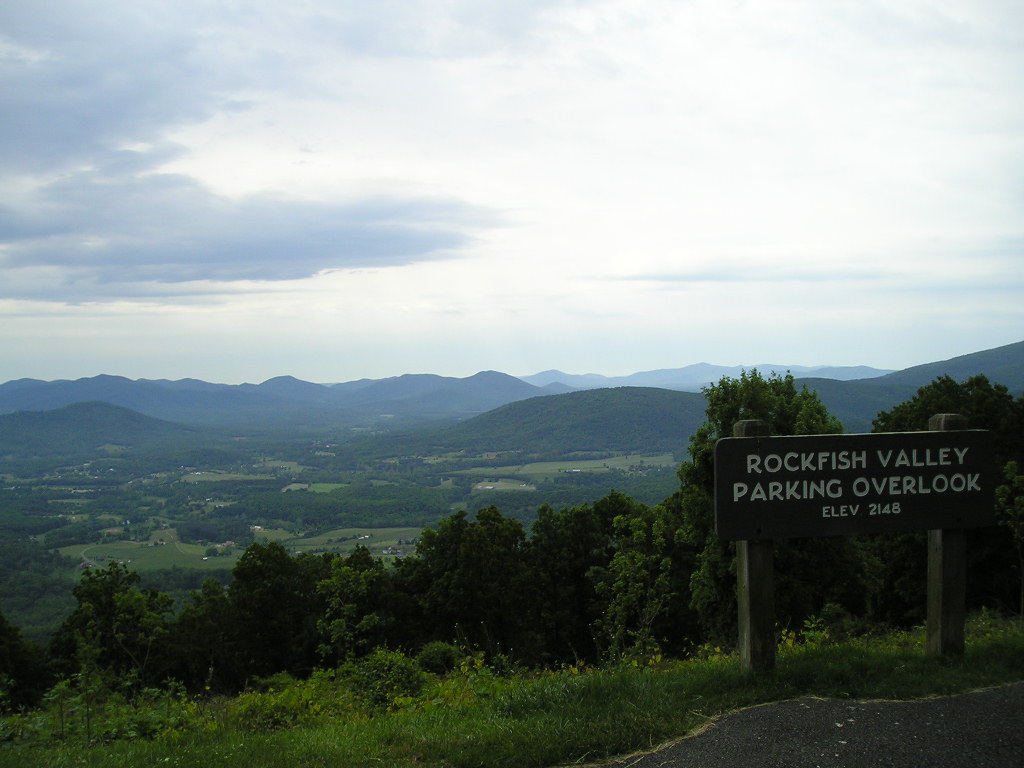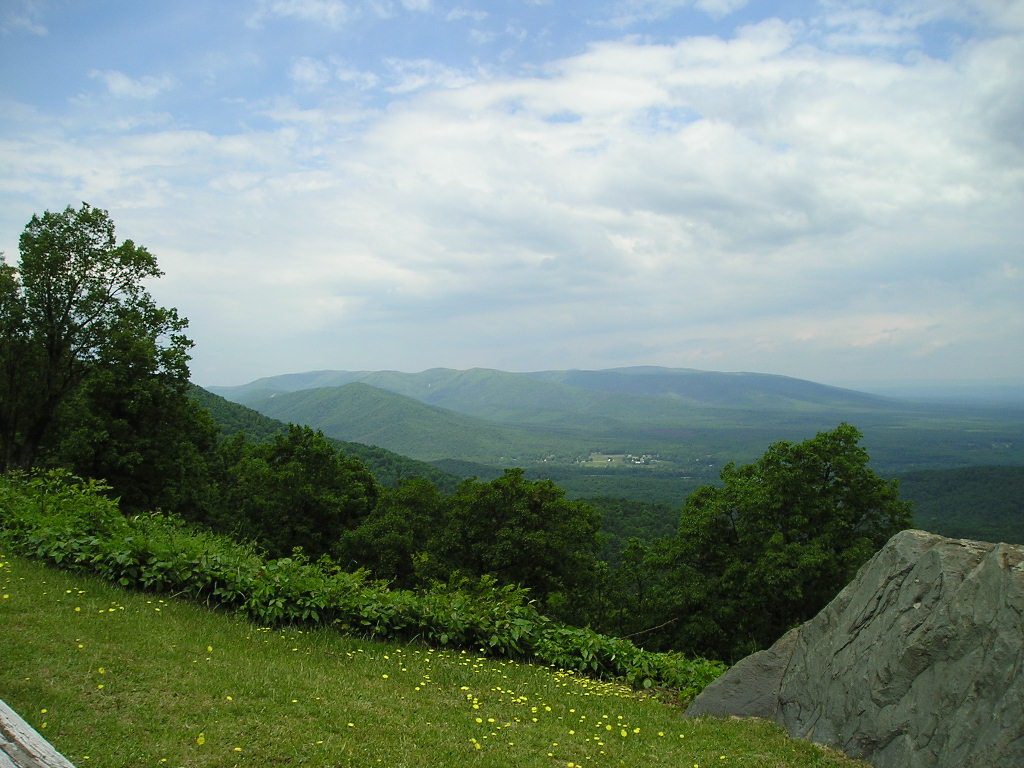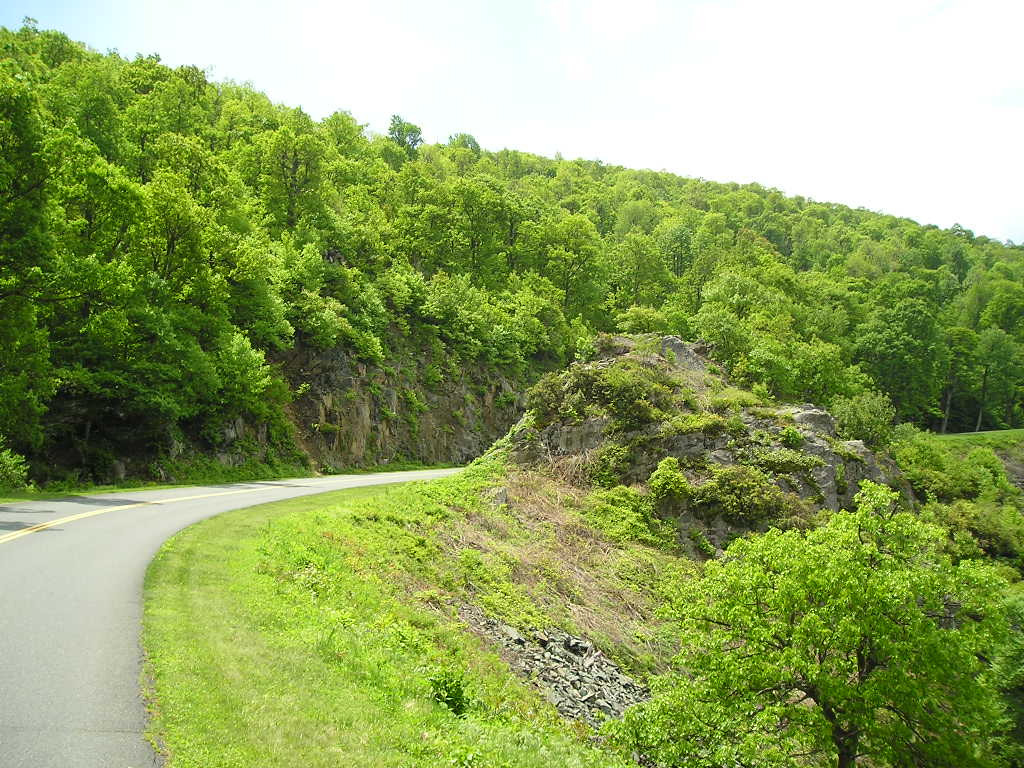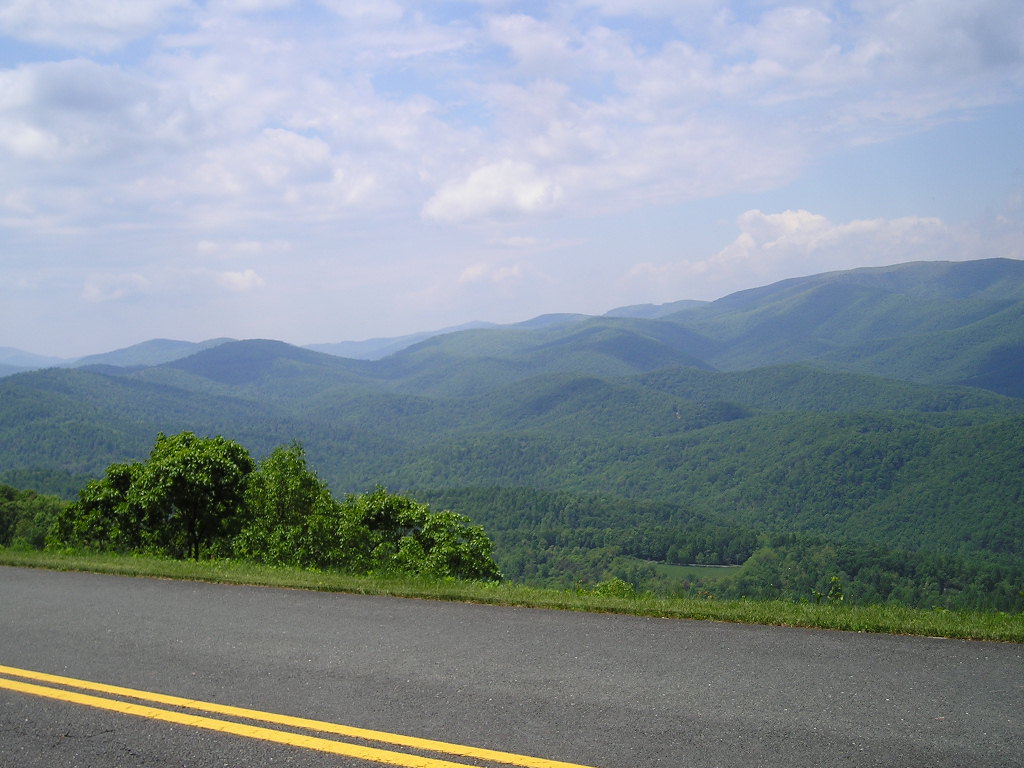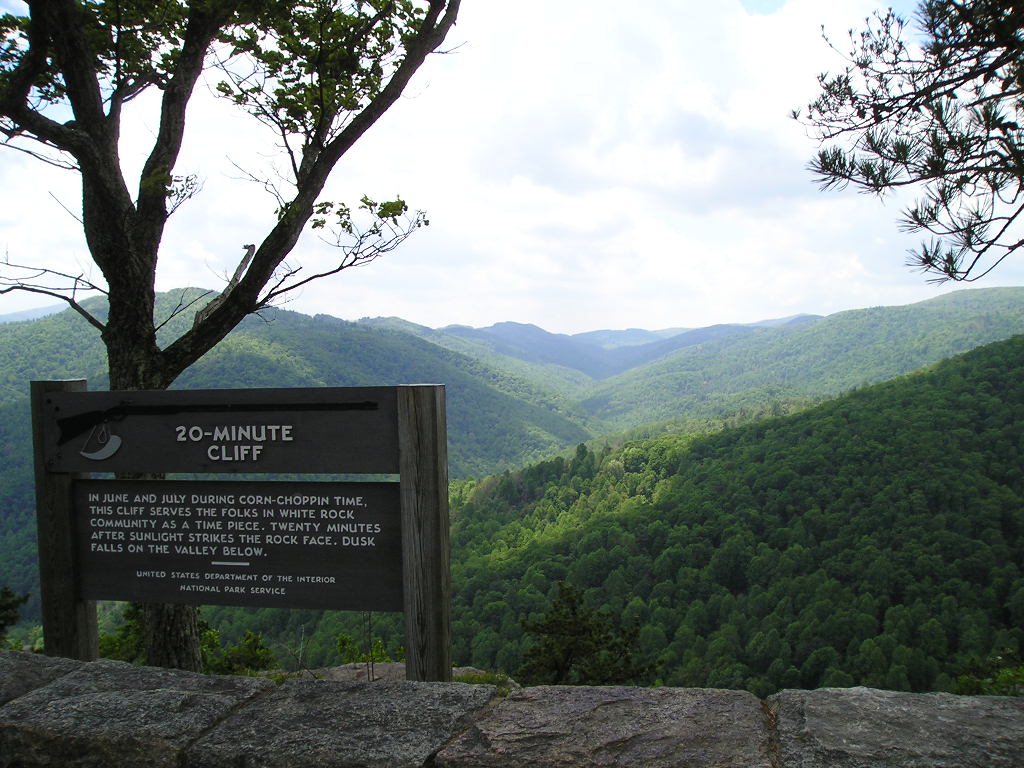 Click Here to Visit The Table of Contents
Click Here to Visit Previous Page: Day 6: Charlottesville, VA to  Afton, VA
Click Here to Visit The Next Page: Day 8: Lexington VA to  Buchanan VA