Day 28 Saturday June 18, 2005, 46 miles (75 km) – Total so far: 1,500 miles (2,415 km)
46.5 Miles and 4:24 Pedal Time.
Click Here to Visit The Table of Contents
Click Here to Visit Previous Page: Day 27: Johnsons Shut In MO to  Eminence MO
Click Here to Visit The Next Page: Day 29: Houston MO  to  Marshfield MO
The alarm went off at 5:30 but I didn't get outta the tent till 6am. It was kind of chilly out and I was nice and cozy in my sleeping bag. Getting packed up went pretty quick this morning and I left the campsite at 7am. I walked my bike ½ mile up the dirt road. I've had enough wheel problems already I'm not cool with any unpaved roads.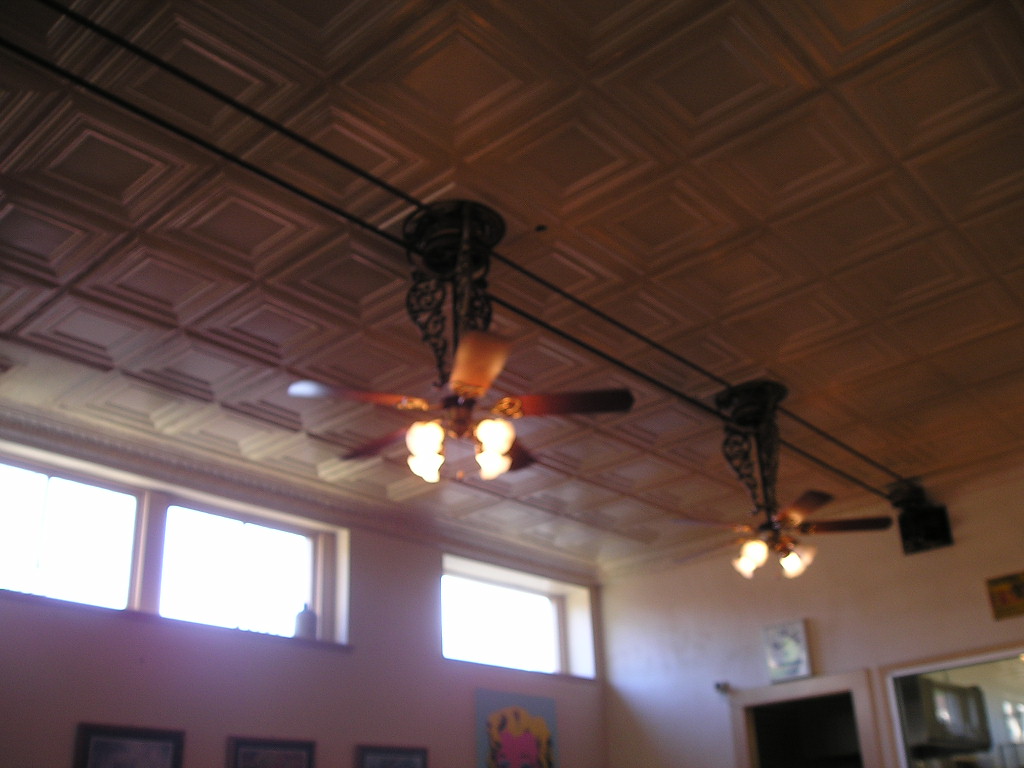 Went into town and found an all you can eat breakfast buffet for $5. It was in a really handsome building and I sat hypnotized by the ceiling fans. They were all tied together with belts and about 5 ceiling fans ran off 1 motor at the corner of the room. I have never seen anything like that. Thomas Jefferson would have loved it.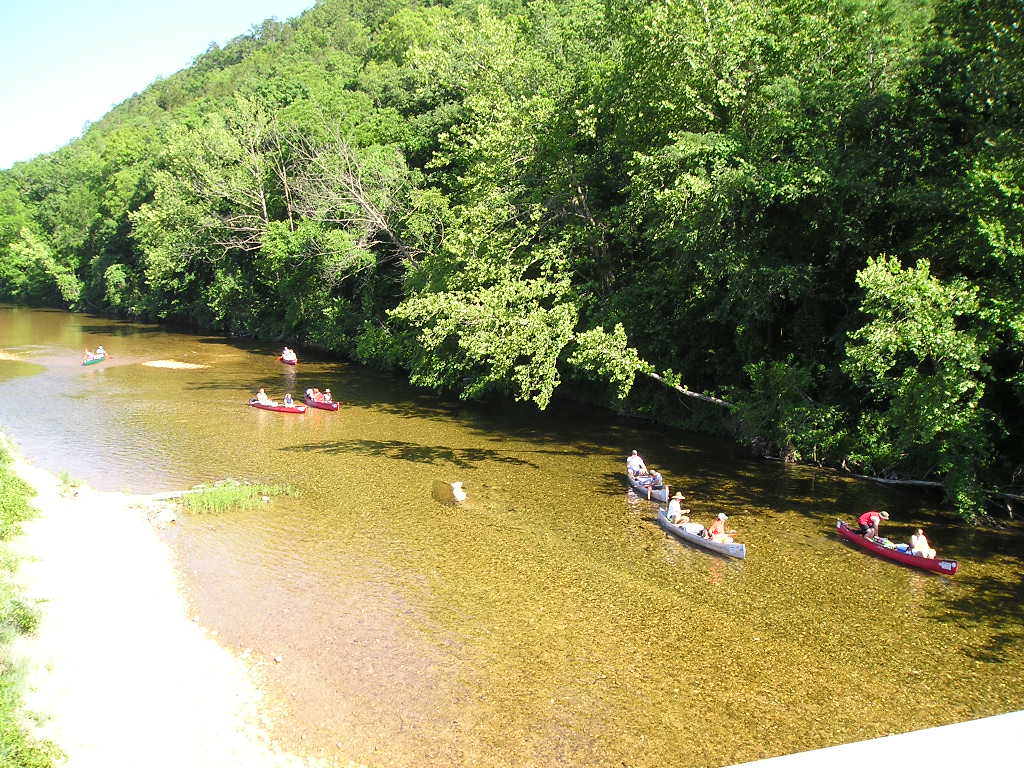 I would like to come back here someday and ride the rivers in a canoe. It seems like they have a very organized canoeing operation in Eminence. The water is so clear and beautiful. Sometimes I'll stop on a bridge and watch all the fish swim below.
I knew today was going to be a short day so I didn't really ride too hard. I had a nice tailwind for most of the day. There were a couple of hills but nothing too bad. I saw another dead armadillo on the side of the road so now I know I'm not crazy. I wouldn't mind buying a taxidermy armadillo as a souvenir. I'm sure I can find one when I get to Colorado.
Around lunch I stopped at a small town to eat and use the library. Their computers wouldn't let me access my USB drive to get my journal entries. So I just got caught up on emails and internet stuff. Craig from Chester started a journal on here so he can write about all the cyclists he meets. That's pretty cool. He wrote about when I was in Chester, that entry exists here:  http://www.crazyguyonabike.com/doc/page/?o=as&page_id=22569
When I got to Houston I found the library here but they were closed. I found the park where I will be camping and there is a pretty nice swimming pool. All these small towns I'm stopping at let traveling cyclists swim for free in their town pools. I splashed around in the pool with the kids for a while.
After my swim I took a nap on a picnic table and suddenly all these cars pulled up into the parking lot.  They were all from a church, they told me they were going to have a picnic and I am welcome to join them. I had to go to the store to get a coffee and a map of Missouri, but I came back and ate a ton of food and talked to all the good people from the church.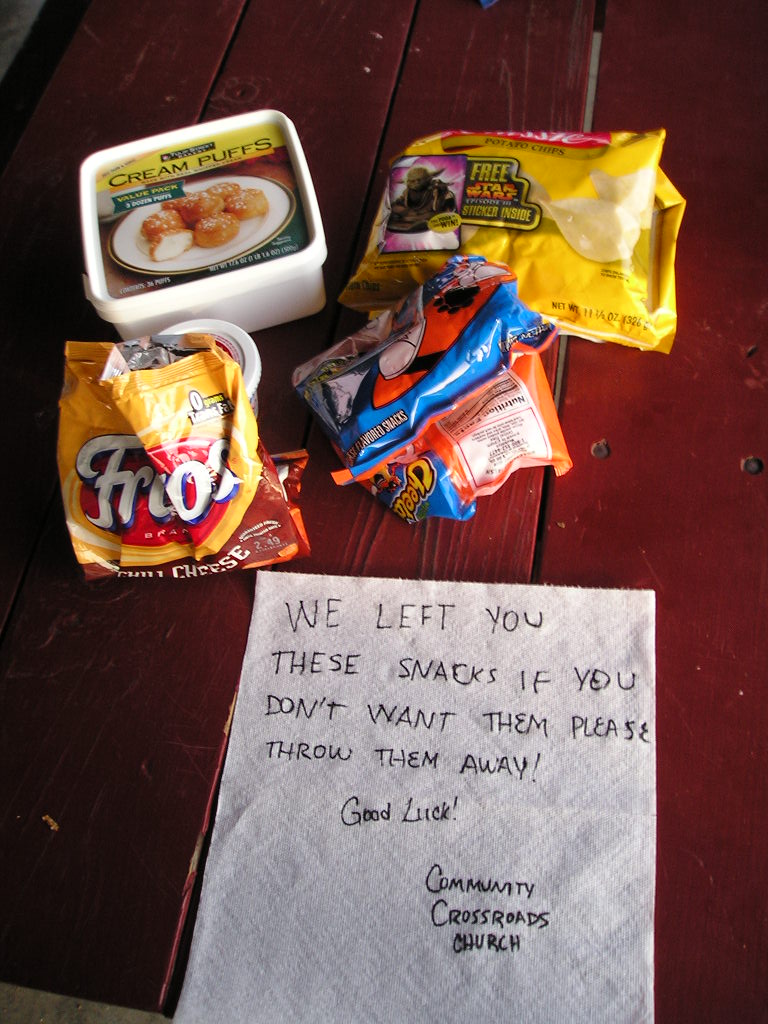 I was on my cell phone when everyone left but when I came back they left me a bunch of snacks that I'm eating right now.  Houston is another good wholesome American town.
Today was a pretty mellow day. I rode kind of slow and relaxed. I also didn't take many pictures. I am really excited for the next couple days of riding.  I should be in Kansas very soon. I keep hearing if you get on the road at like 4am the wind or the heat isn't out yet in Kansas and it's a lot easier to get in your mileage in for the day. That is something I'm going to definitely try to explore.
Click Here to Visit The Table of Contents
Click Here to Visit Previous Page: Day 27: Johnsons Shut In MO to  Eminence MO
Click Here to Visit The Next Page: Day 29: Houston MO  to  Marshfield MO