Day 38 Tuesday June 28, 2005, 100 miles (161 km) – Total so far: 2,365 miles (3,807 km)
8:50 Pedal time and 99.8 Miles
Click Here to Visit The Table of Contents
Click Here to Visit Previous Page: Day 37: Leoti KS to  Haswell CO
Click Here to Visit The Next Page: Day 39: Pueblo CO to  Pueblo CO
I woke up at 6am and packed up as quickly as possible. I head over to the gas station where I got a cup of coffee and caught the morning news. None of the farmers at the gas station were very friendly to me.  On the news everyone in these small Colorado towns is fighting about putting super Walmart Cities all over the place. They argue that a super Walmart ruins the integrity of their small towns. As convenient as Walmart is, I don't think middle of America should be one big Walmart City. There is too many Walmarts in this world already.
I rode around Haswell looking at all the run down houses. Apparently they have the smallest jail cell in the country there but I couldn't find it. Maybe its for midgets or garden gnomes.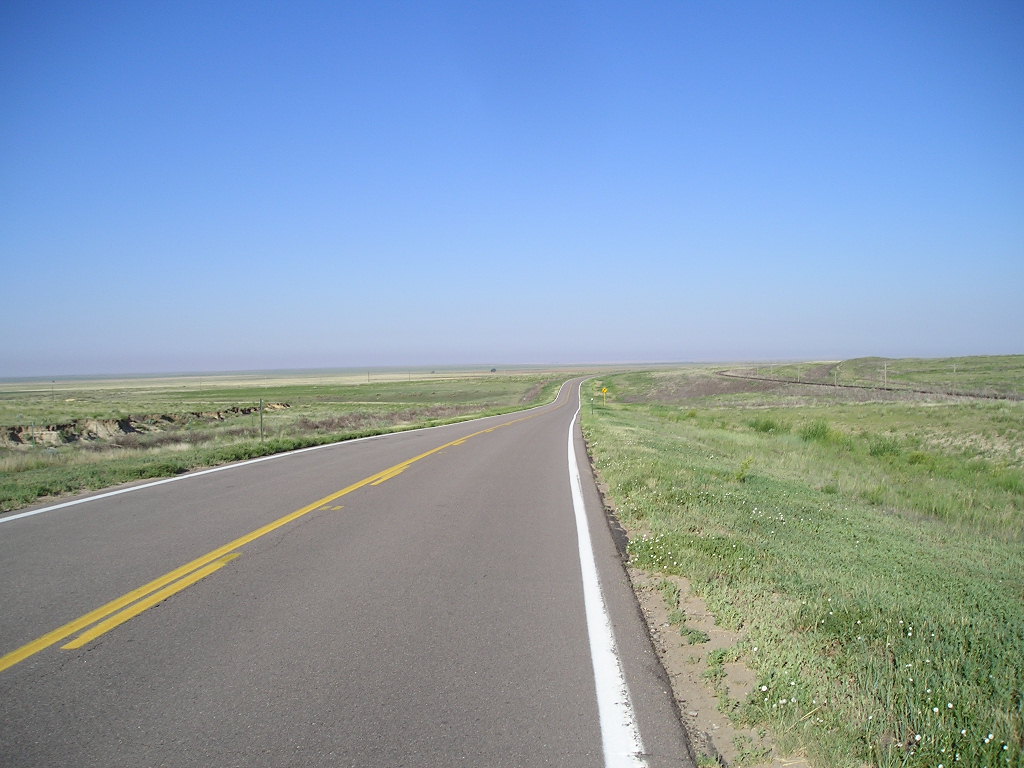 The wind was non-existent for most of the day. I was able to whip out some big mileage pretty fast. There were no stops for the first 34 miles until I got to a town called Sugar City. Sugar City used to be the home of 'Colorado Sugar'. The company closed down about 30 years ago and now there isn't much going on there.
When I got into Sugar City I popped a spoke. I stopped at the diner in sugar city. A 7 year old boy was my waiter and he did a really good job. My huge breakfast cost me $4. The lady that owns the diner said he's been bugging her for a job and I was his first customer. So I left him a $2.50 tip. After my breakfast I repaired my spoke while talking to a local man. He told me how much he loves meeting all these cross country cyclists.
I called the city park in Pueblo and they told me if I want to camp there I have be at the park by 5pm. There was no way that was happening.
I rode for another 20 miles or so and the wind started to blow. It was hitting me in the face pretty hard. A couple in a pickup truck saw me struggling riding against the wind and stopped to tell me how amazing I am and to offer me a cigarette. I didn't take his cigarette. However the lady got out of the car and gave me a big hug and I was all sweaty and dirty.
The landscape was quickly starting to change and this was making me very excited. It felt so good watching these little foothills while the wind was beating me down.
I stopped at a convenience store in a town called Boone and I sat talking with a couple of old men for a while. They told me that 4 other cyclists were in their earlier in the day, that were headed to the city park in Pueblo. This was kind of surprising to hear because I had no idea there were people in front of me. I only knew about Dave and Patty. And I passed them 2 days ago. But the man at the store told me there was a couple on a tandem from the Netherlands and 2 other cyclists.
A lot of the locals I have met are so proud to talk about the bike tourists that have come from another country to ride the Trans am. I think it makes them feel special to know someone has come from another country to ride their bicycle through their neighborhood.
The last 25 miles to get into pueblo was a real struggle with the wind and it was starting to rain. It was hard not to obsessively watch the odometer and think 'Am I there yet?' about 13 miles before I hit pueblo I got my first view of the Rocky Mountains. I screamed and yelled. The closer I got to Pueblo the more they came into sight.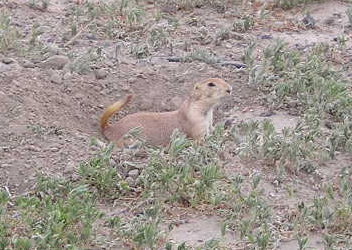 Riding into Pueblo I didn't see any of the prairie dogs I heard about and started to feel ripped off. Eventually I rode up to the prairie dog colony. One little guy waited for me to snap a picture before he jumped back into his little hole.
When I got into the city of Pueblo I stopped at a Chinese food restaurant and ate a gigantic meal for $7. Everything was delicious and I'm not a big fan of Chinese food. Several people gave me bad directions to the park and I ended up getting very lost.
When I rode past the Pueblo public library I gawked. It caught me by surprise. I said to myself some crazy architect has lost his mind. I walked around the library for 5 minutes asking everyone who the architect was and eventually someone told me that it was a man named Antoine Predock. I laughed really hard. Antoine Predock gave a lecture at my school at the beginning of last semester, to talk about some of his past projects. Suddenly I remembered seeing this building in his lecture and thinking to myself how I was going to Pueblo this summer. I really like this library, the interior spaces are excellent.
A nice lady that works at the library printed me out a map of pueblo to help me get to the park. On the way to the park I saw 2 people riding a tandem bicycle the opposite direction. I stopped on the side of the road and the girl came over to quickly tell me how to get to where they are camping. I rode all over the park but eventually I found their tents. No one was there.
I setup my tent and finished me Chinese food. About an hour later 2 people arrived. Their names were Linda and Sid (I think). I knew about Linda because I read some of her journal entries in the books they have us sign on the road. I was surprised to see her because I thought she was a lot of farther ahead of me. The couple on the tandem came back shortly their names are Paul and Anne. We stood around talking for a while. Everyone is taking tomorrow off, and then riding out of pueblo on Thursday morning. It started to rain pretty hard so we all jumped in our tents and went to sleep.
I'm happy I met up with some west bounders. It feels even better to be out of the Great Plains and off Highway 96. I spent 370 miles on Highway 96, it was so boring.  Pueblo is the halfway mark of my trip. Even though the wind was kicking my ass for part of the day I didn't let it ruin my good time.
My favorite days are when I'm on the bicycle early in the morning, I ride all day taking a few lengthy rest stops in the middle of the day and I'm still riding at the end of the day while the sun is setting.
Click Here to Visit The Table of Contents
Click Here to Visit Previous Page: Day 37: Leoti KS to  Haswell CO
Click Here to Visit The Next Page: Day 39: Pueblo CO to  Pueblo CO