Day 49 Saturday July 9, 2005, 72 miles (115 km) – Total so far: 2,916 miles (4,692 km)
71.7 miles and 5:15 Pedal Time
Click Here to Visit The Table of Contents
Click Here to Visit Previous Page: Day 48: Saratoga WY  to  Rawlins WY
Click Here to Visit The Next Page: Day 50: Jeffrey City WY to  Lander WY
It was a rough morning. It started when I woke up at at 6:30am. When I brought my bike outside and when I went to put on my sunglasses and gloves they weren't in my handlebar bag. I went back into the motel and ripped apart the room looking for my sunglasses and gloves and they were nowhere to be found. I retraced all my steps from the day before and they were either in the library or the diner both of which are closed until Monday. After wasting a lot too much time I sucked it up and bought a new pair of sunglasses.
I was in a foul mood all morning and I hadn't eaten much. I didn't start riding until about 11am and then I got lost for 2 miles. I saw an east bounder and he were surprised by my late start.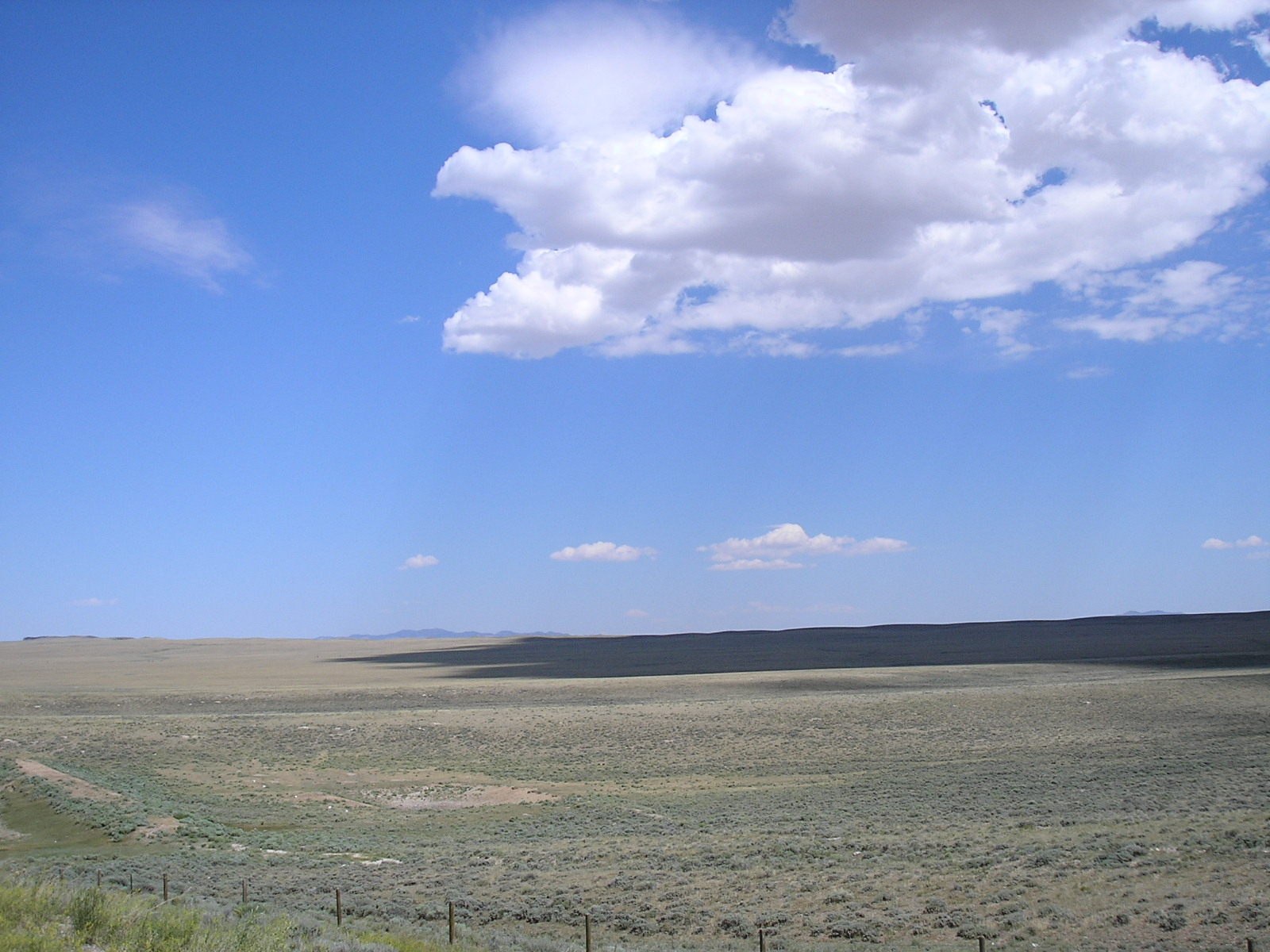 Luckily all morning I had probably the best tailwinds of the entire trip. The wind was blowing very hard to the north and that's just where I was going.
I stopped at a cafe called Grandma's for lunch. I sat next to a bunch of cowboys and all they talked about was how much they hate police officers and how many guns they have.
Shortly after lunch I not noticed my rear tire pressure was low. So I stopped and put on a new tube. I realized why I keep getting flat tires. The valve is rubbing on the rim in an uncomfortable way and after enough riding it breaks the rubber. Im real good at changing flats but it sure is tough doing it in the wind.
The last 22 miles I had to ride west. The cross-winds weren't that bad. I kept telling myself that I survived Kansas so this is kind of easy. I was ending my day in a town called Jeffery City. A sign told me Jeffery City was in 5 miles and when I had ridden 5 miles it wasn't there.
While I was standing on the side of the road wondering where Jeffrey City is, the wind picked up really strong. It was too strong to ride so I got off my bike and sat on the side of the road listening to my iPod. I sat there for 2 or 3 songs until then wind slowed down and cruised another 2 miles at 14mph into Jeffrey City.
Only about 100 people live in Jeffrey City. Back in the day, it used to be old Uranium mine and several thousand people lived there at one time. But they closed the mines and everyone left Jeffrey City. I found an east bounder named Bruce. He showed me where he was camping next to an abandoned Lions Club building under a picnic shelter.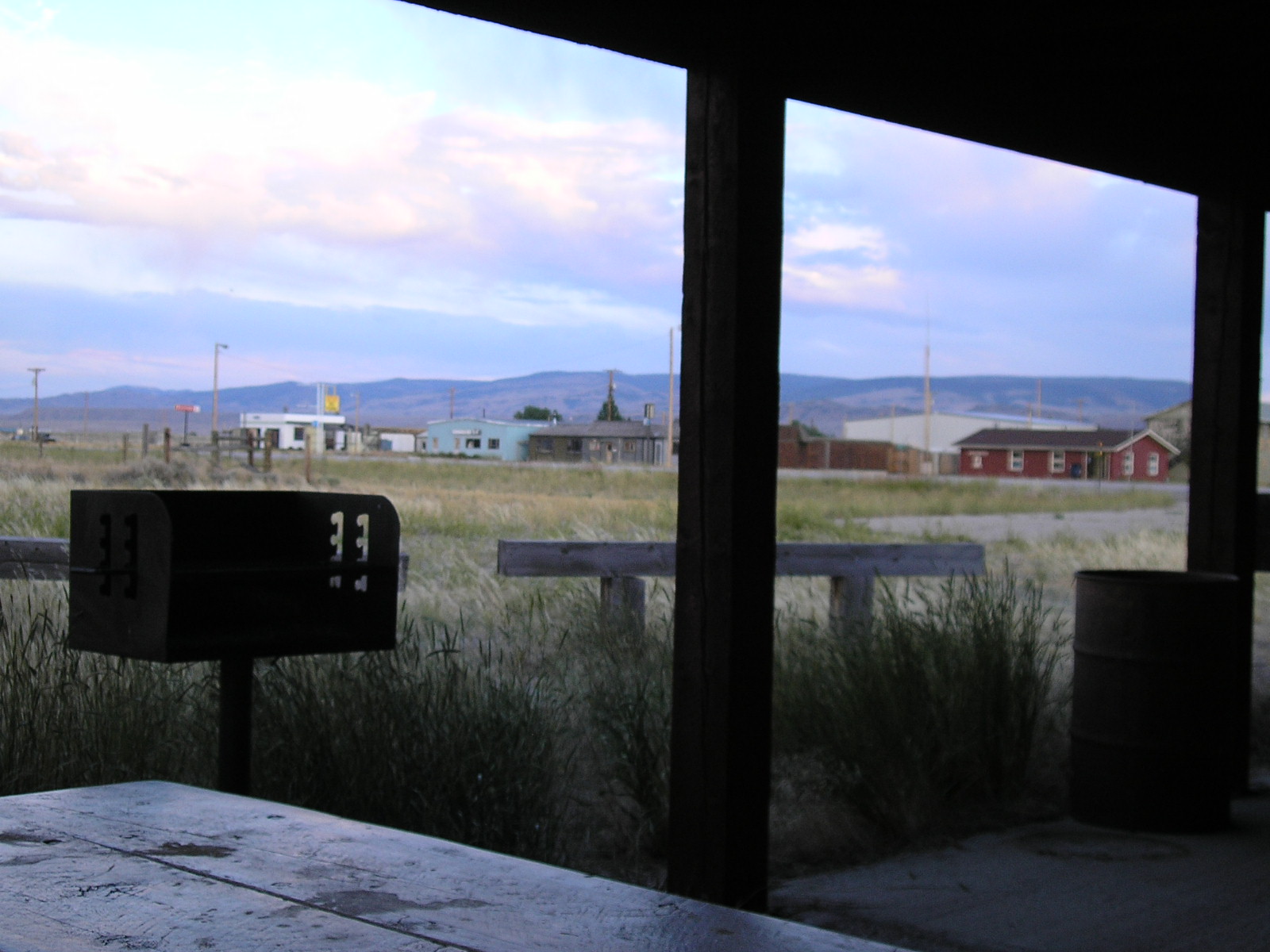 I went over setup my tent, cooked some food, then went back to the bar/cafe to drink some beer and talk with Bruce. I talked with Bruce for a while. My goal was to drink enough beer so I could just fall asleep real easy and get back on the road asap; I had no interest in Jeffrey City.
Jeffrey City is a very depressed place. All the abandoned buildings make it so creepy. I went through a lot of Ghost towns in Kansas but this is literally a city abandoned buildings.  Tomorrow I'm riding to a town called Lander. It's a pretty big place. I need to hit the bike shop. My chain keeps slipping, I think I might need a new cassette. Hopefully im just paranoid. Having bike problems out here is one of biggest fears.
Click Here to Visit The Table of Contents
Click Here to Visit Previous Page: Day 48: Saratoga WY  to  Rawlins WY
Click Here to Visit The Next Page: Day 50: Jeffrey City WY to  Lander WY