Day 50 Sunday July 10, 2005, 64 miles (103 km) – Total so far: 2,980 miles (4,796 km)
64.3 Miles and 5:36 Pedal time
Click Here to Visit The Table of Contents
Click Here to Visit Previous Page: Day 49: Rawlins WY  to  Jeffrey City WY
Click Here to Visit The Next Page: Day 51: Lander WY  to  Dubois WY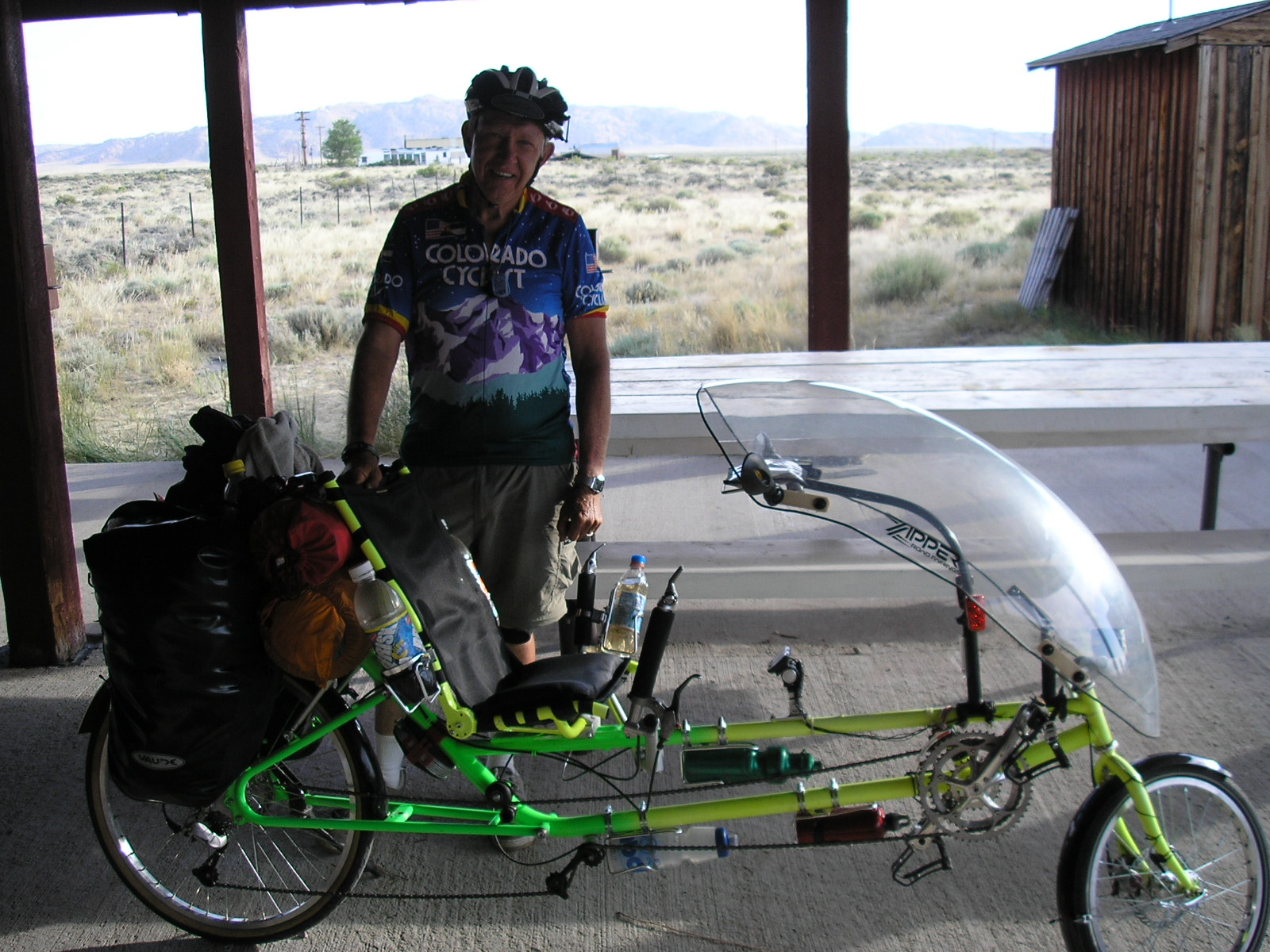 I got outta the tent around 7am. Bruce was all packed. He cooked me up some oatmeal and hot chocolate. What a guy! It felt so great to get out of the tent and have something ready to eat waiting for me.  Bruce and I talked while I packed up my gear. We went over to the grocery store and got some coffee and water. The people that own the Grocery store knew that we were in town so they opened up early just for us. Bruce and I said goodbye and he rode east and I rode west.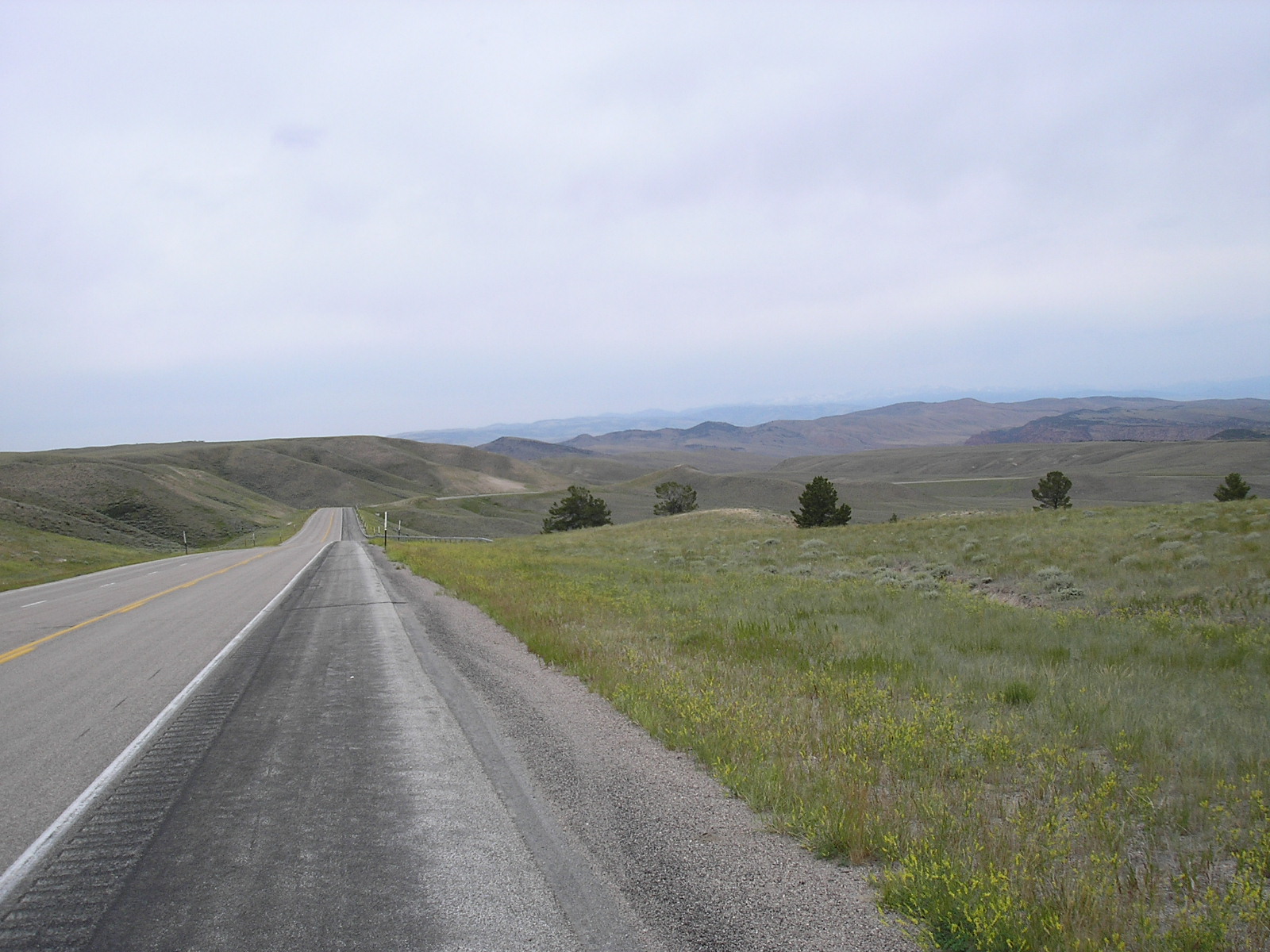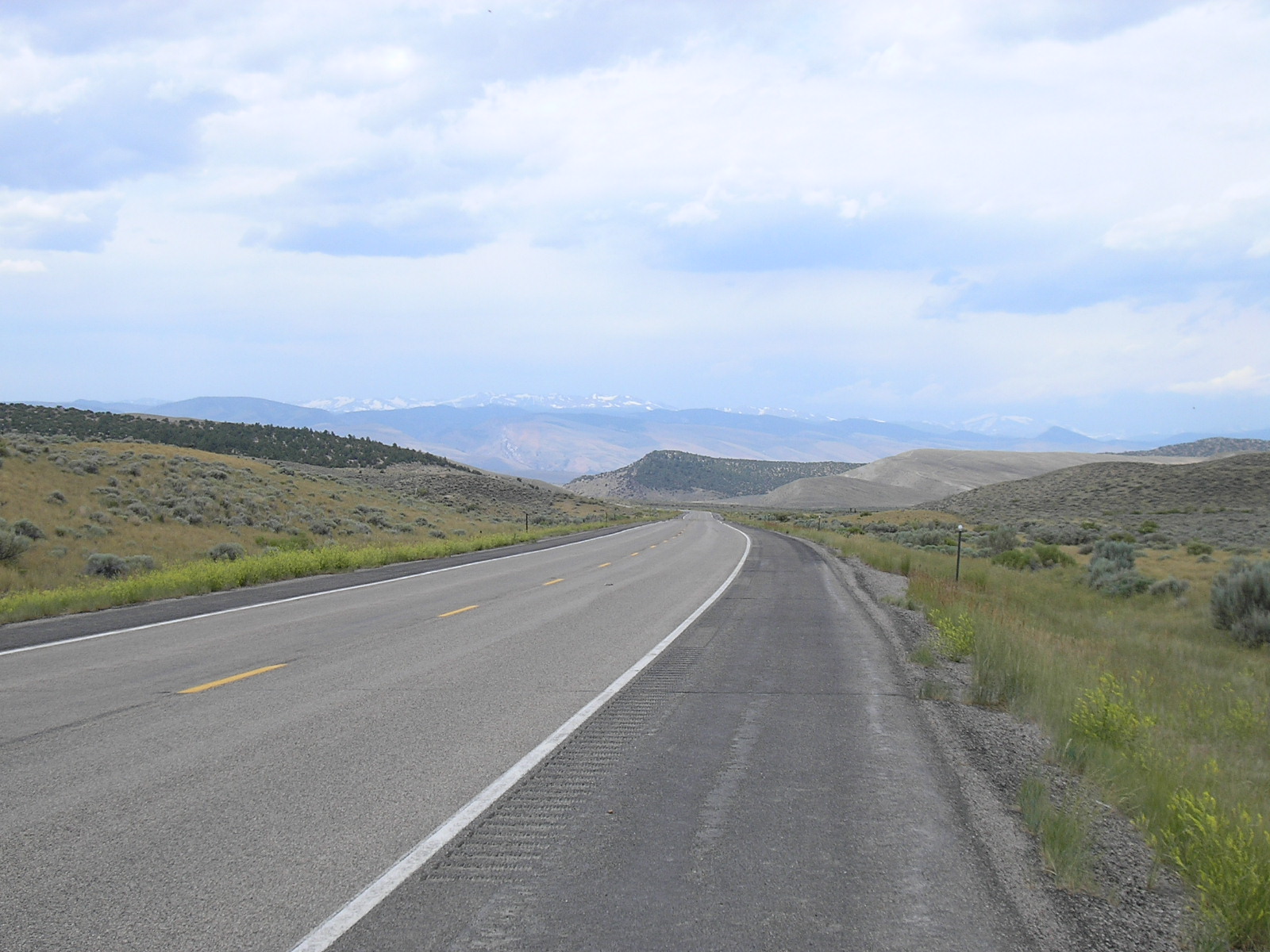 Headwinds all morning. I stopped at the first stop in 19 miles. I got a coffee and a lousy microwave chicken sandwich. Ugh. It looked like it was going to rain and I was feeling sluggish. There was a rest stop with picnic shelters so I put on my jacket and just slept on top of a picnic table for a half hour.
Shortly after I was back on my bike battling the headwinds, a guy on a motorcycle pulled up alongside of me to ask me about my trip. We talked for about 20 minutes on the side of the road. He was really interested in my trailer and was planning on doing a cross country bicycle trip in the near future.
I rode for another 35 miles and stopped at a campsite/ranch for lunch. I had a BBQ pork sandwich for lunch. I sat talking with the people that live on that ranch for a while. One of the guys told me all about how he traveled through Germany and Sweden working for the oil companies.
When I got to Lander I found the bike shop, they didn't open until 10:30am tomorrow morning. Guess getting on the road early isn't happening.  I found a really nice camping store, they had a lot of good stuff, but I didn't need anything. They told me I needed to go camp at the City Park.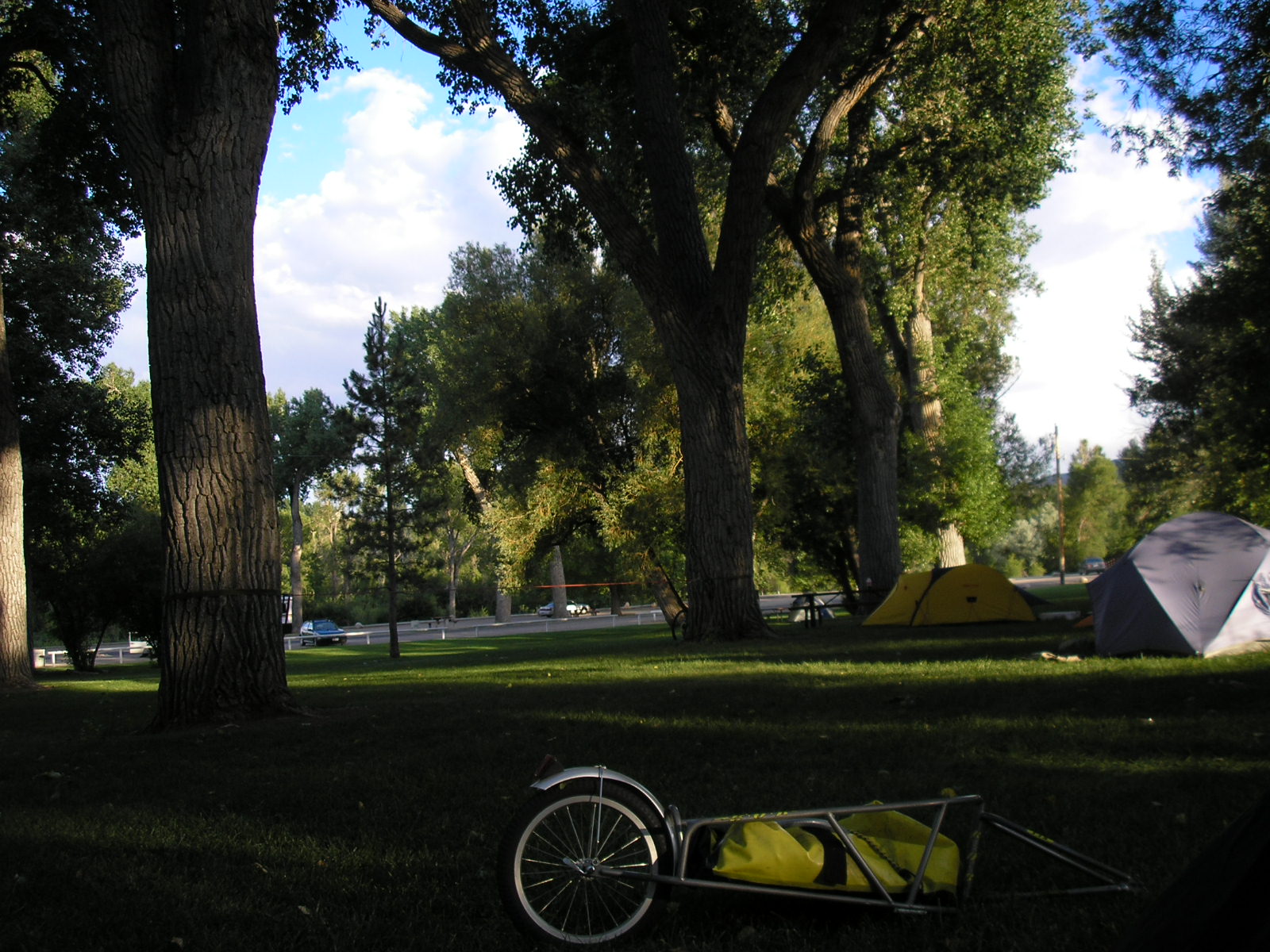 When I got to the city park I asked the lady working at the snack bar where the camping was. She told me and then gave me a free hot dog. There was a mountain climbing festival going on in Lander so there were about 20-30 tents setup in the park. The park was really nice it had these beautiful trees shading the whole area. I found a little spot and setup my tent and talked on the phone for a while. Lander may be one of the nicest city parks I've been to.
I went to some burger joint for dinner. While I was eating a woman came over to introduce herself and ask if I was riding cross country. Her name was Jen, I talked to her for a little while and then her husband Matt came over to say hello. I was leaving the same time they were so I talked to everyone in their group for a while in front of the restaurant. They had 2 beautiful yellow Labrador retrievers they introduced me to Jenn's cousins Kate and Justin and their father Steve.
I bought some beer, went back to the campsite and talked on the phone for awhile. I hadn't had cell coverage in a couple of days. While I was on the phone all the people I met at the restaurant happened to be camping right next to me. After I got off the phone I went over to say hello.
They were all playing cards and invited me to play which is how I spent the rest of the night. Playing cards, talking and laughing. I had a great time. They were really interested in my trip. They have a friend who has circled the US and is now cycling around Europe. They were all very interesting people and they seem to know a lot about camping and hiking.  Around 10:30 I went back to my tent and slept like a dream.
Click Here to Visit The Table of Contents
Click Here to Visit Previous Page: Day 49: Rawlins WY  to  Jeffrey City WY
Click Here to Visit The Next Page: Day 51: Lander WY  to  Dubois WY