Day 54 Thursday July 14, 2005, 81 miles (131 km) – Total so far: 3,253 miles (5,236 km)
81.1 Miles and 7 hours
Click Here to Visit The Table of Contents
Click Here to Visit Previous Page: Day 53: Grand Teton National Park WY to  Jackson Hole W
Click Here to Visit The Next Page: Day 55: Grant Villiage, Yellowstone National Park WY to  West Yellowstone, MT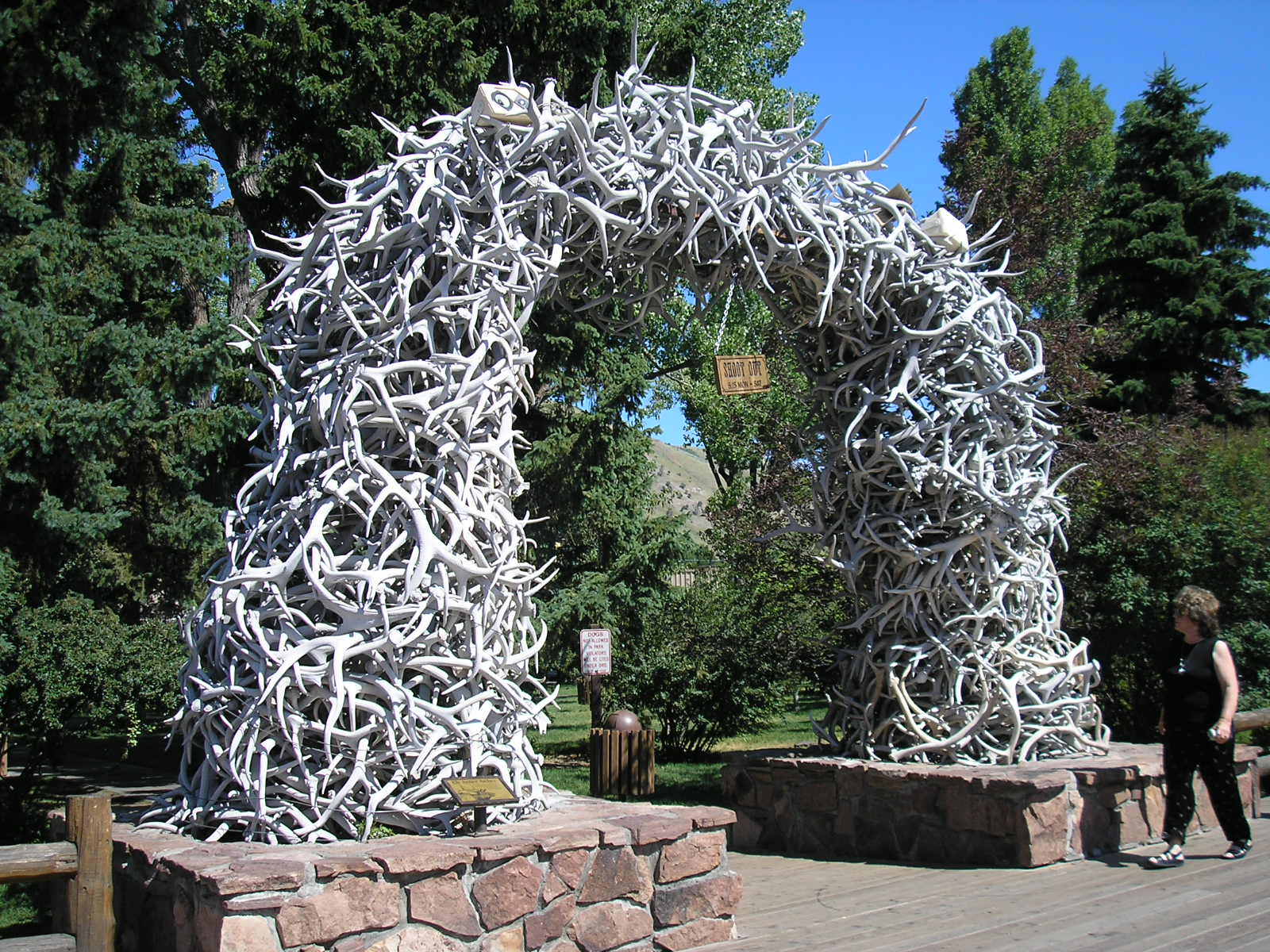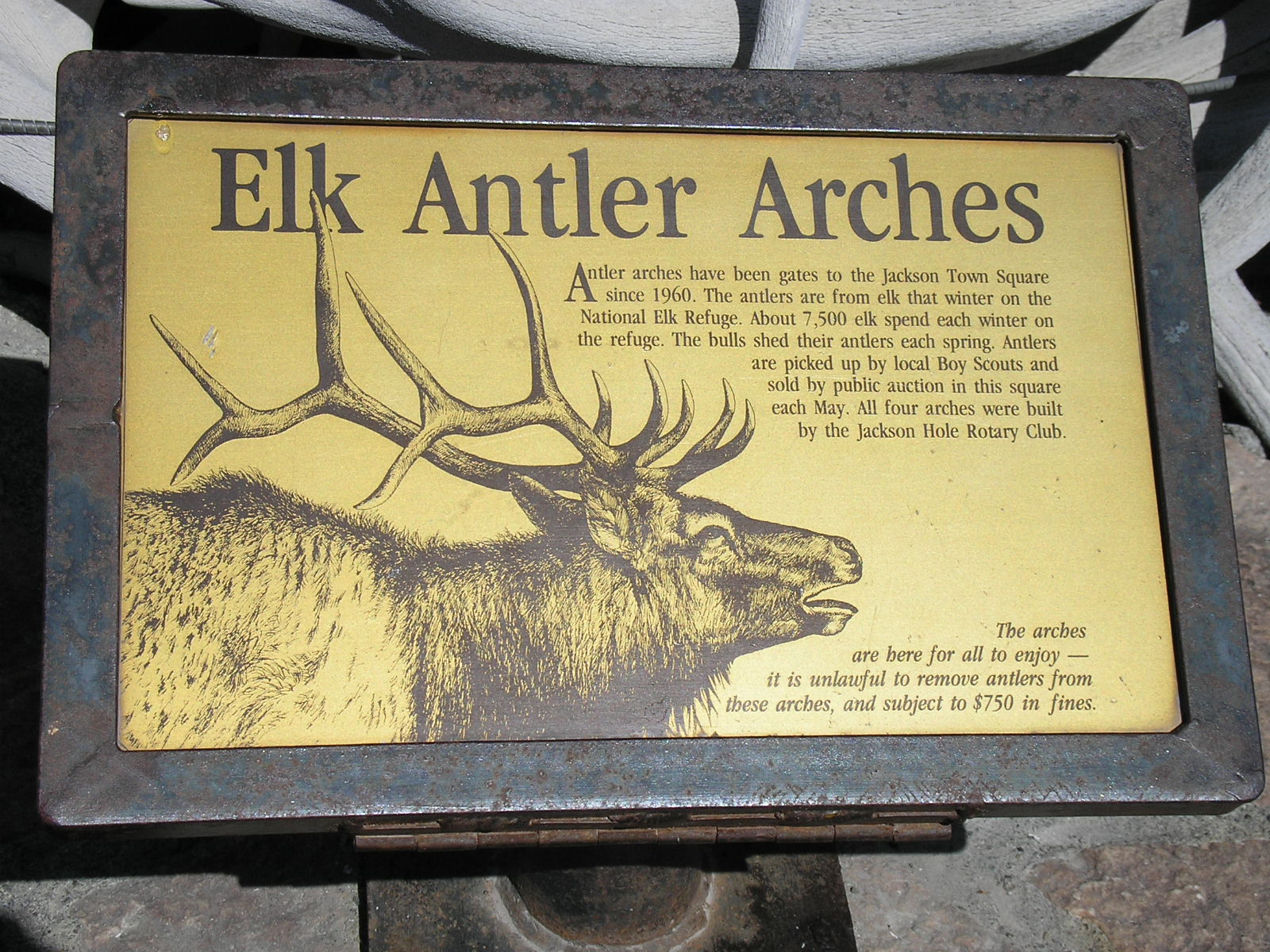 I woke up at 7:30 and walked across the street to have breakfast. The hostel was in the basement of a motel so there were no windows and it was hard to tell it was morning. I quickly packed up my gear and was at the Internet café at 9 when they opened. I sent out a few emails and did some stuff I didn't get to do the day before.
I left the internet place around 10:30 and rode through Jackson for a little while, taking pictures. I stopped into a bike shop because my headset was making a crunching sound when I turned my handlebars. They told me it was actually the housing on my cables that was making that noise. I might replace the housing next time I get a tune up, which will probably be in Missoula.
On my way out of Jackson I met Dale who was also riding west but going to Jackson for the day. I had heard about Dale from some other people and had seen his journal on this website. We talked on the side of the road for a while, he's a nice guy.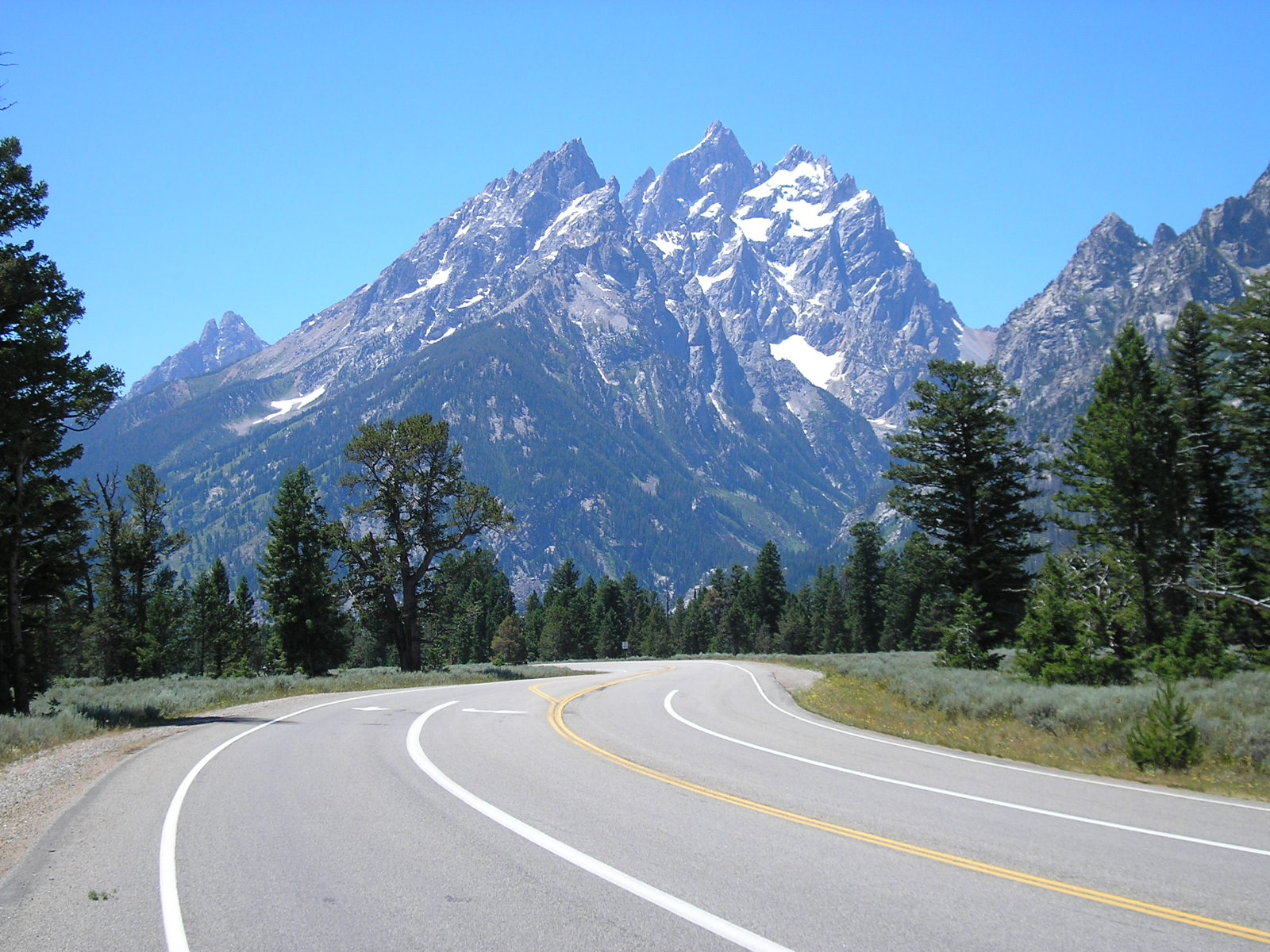 I rode back through Teton National Park and got back on the Transam my little side trip to Jackson Hole cost me 80 miles roundtrip. Its ok I'm glad I went. I stopped at the Grocery store in the little village where I stayed in 2 nights ago. I grabbed a sandwich and talked with a German man while I ate lunch. He was really excited about my trip and that I would actually take the time to see this country by bicycle.

As I was riding alongside Jackson Lake I wanted to go swimming so bad. I'm not even much of a swimmer but I was craving to jump into that lake. An east bounder told me that I'll have a lot of swimming opportunities on the transam at a lot of hot springs.
Around mile 54 I stopped at a rest area. It was my last rest stop for the day and I still had another 22 miles. They had this beautiful 3D topographic map of Wyoming hanging on the wall. I stared at it for about ½ hour retracing my trail.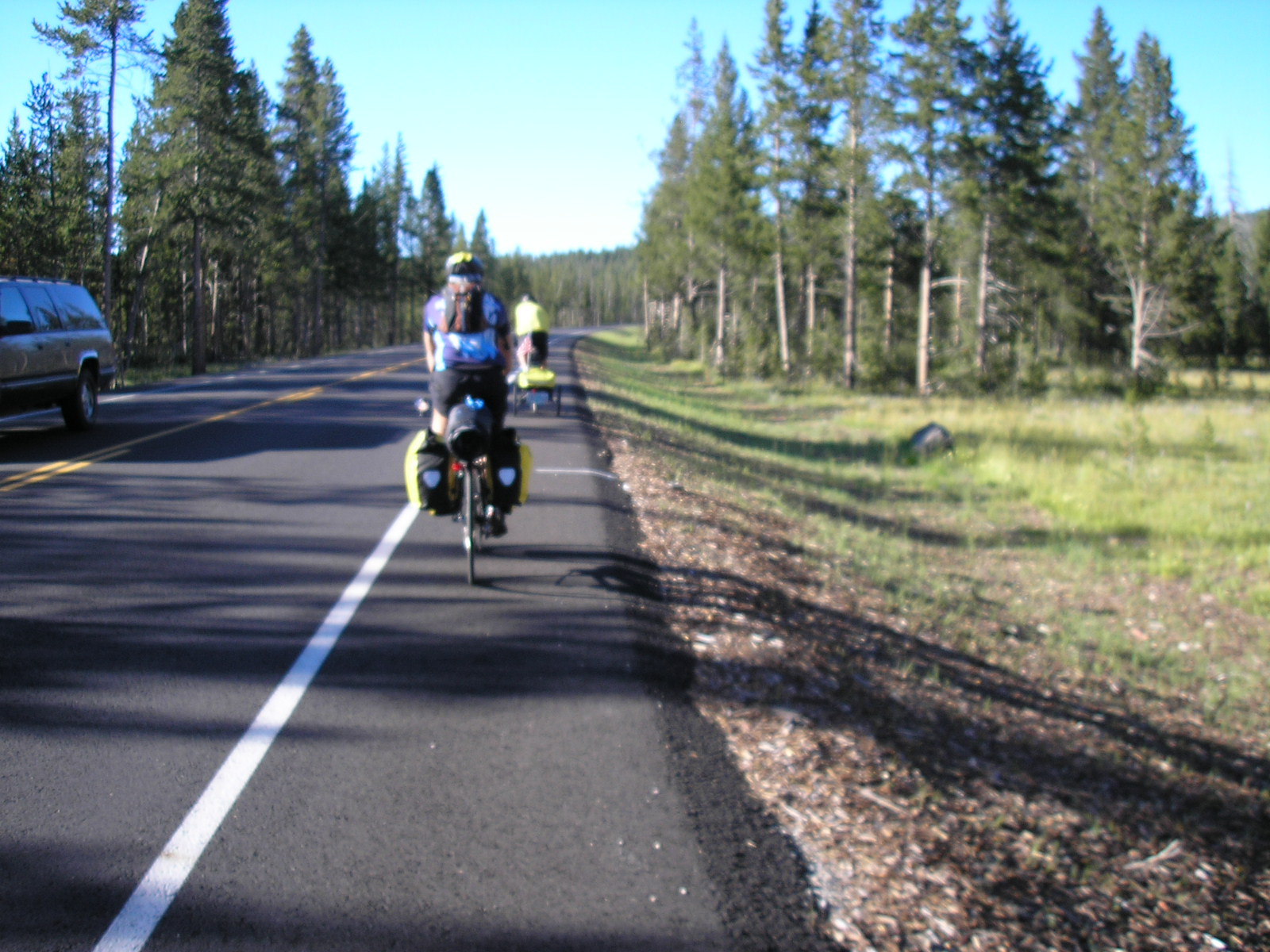 While I was coming out of the rest area I was 2 other cyclists climbing up the hill. It was Matt from Australia and Jim Hammond. I went with them back into the rest area and the 3 of us grabbed dinner there. While we were leaving Karen and Andy the 2 west bounders I saw the day I was leaving lander rode up.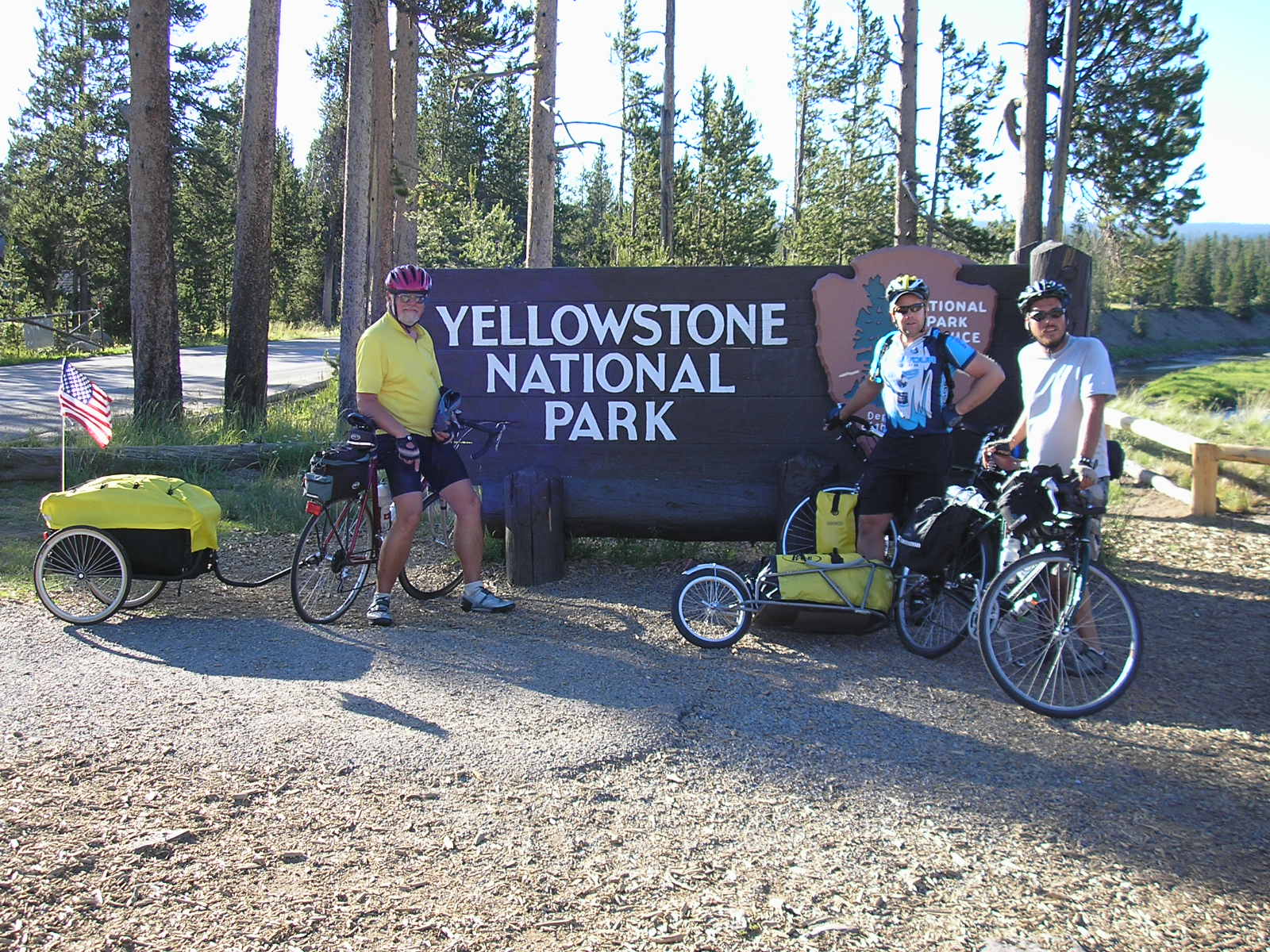 2 miles from the rest area we were in Yellowstone. We climbed uphill for almost 10 miles but it wasn't that bad. I actually flew up it pretty fast. A lot of the area we were riding through was destroyed by wild fires. It was pretty sad. Matt and Jim flew past me and I kept stopping to take pictures.
The mosquitos were so bad it was getting dark and I had to put on my sunglasses so I could keep them out of my eyes. That wasn't fun.
The last couple miles I rode like hell so I could make it to the store before 9:30. I got there with 10 minutes to spare and was able to buy my beer. I checked into the campsite and it only cost $5. Matt and Jim were already here all setup. Matt also picked up some beer. For the rest of the night we sat around drinking beer and talking about the day.
Click Here to Visit The Table of Contents
Click Here to Visit Previous Page: Day 53: Grand Teton National Park WY to  Jackson Hole W
Click Here to Visit The Next Page: Day 55: Grant Villiage, Yellowstone National Park WY to  West Yellowstone, MT