Day 60 Wednesday July 20, 2005, 49 miles (79 km) – Total so far: 3,521 miles (5,666 km)
49.0 Miles and 5:14 Pedal
Click Here to Visit The Table of Contents
Click Here to Visit Previous Page: Day 59: Dillon MT to  Dillon MT
Click Here to Visit The Next Page: Day 61: Jackson MT to  Darby MT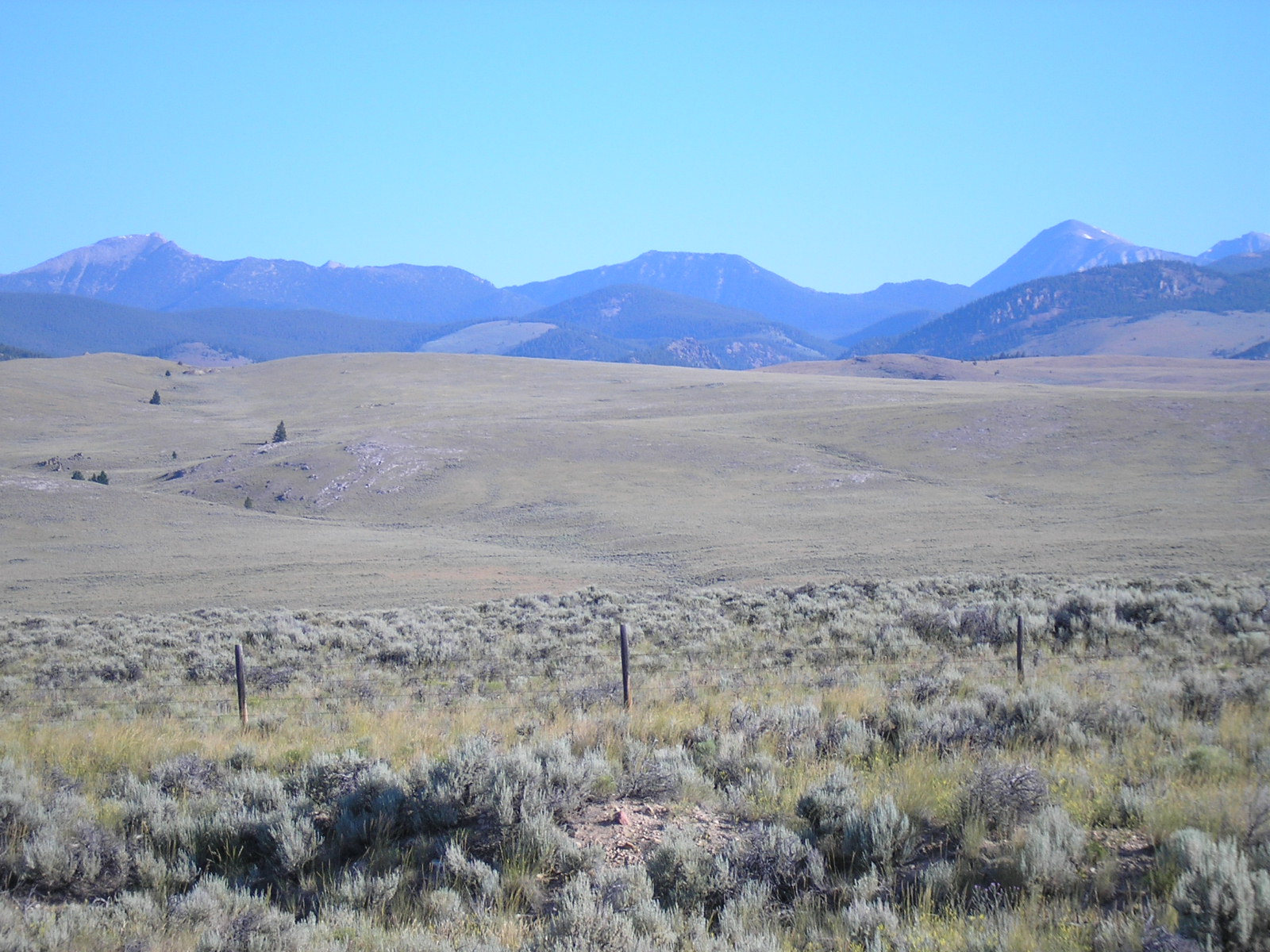 I was up at 5:15, I had a bottle of starbucks Frappuccino waiting for me when I woke up. It was chilly but the wind was minimal. I ate a few pathetic pop tarts for breakfast. Andy paid me back the multi-vitamin he borrowed from me the other day. Karen left around 5:45, Andy at 6am and I was on the bike around 6:15. Riding out of town my didn't feel as bad as it did yesterday, but it was feeling very sluggish, or maybe I was feeling sluggish. I checked the wheels and they were fine.

I quickly got back to where I turned around yesterday. It was a slight uphill most of the day. I didn't eat enough food to absorb that vitamin so I had a stomach ache all day. The day began at 5250′, first pass was at 6,760′ then I dropped down to 6000′ and the second pass was at 7360′.
I saw Andy and Karen taking a snack break after the first pass. Shortly after we got back on the road we saw an east bounder who camped with Jim and Matt last night. After we saw him Matt rode up. He hitchhiked the end of the day and was making up the lost route that he didn't get to ride. Then the 3 of us climbed up the second pass.
The hill was deceiving because it kept turning and you couldn't see the top. While I was climbing the shadows of the clouds were moving really fast across the landscape changing all the colors, it felt like I was hallucinating. After the second hill it was 11 miles downhill to Jackson. The wind picked up and ruined the downhill.
I pushed my bike downhill until I got to Jackson. The last ½ I had a strong tailwind because I changed direction. I stopped at the Jackson hot spring lodge. All the east bounders have been telling us about this place for a couple of days now. I walked into a giant space. I asked the bartender where the cyclists are and he pointed me in the right direction. Everyone was wiped out. And this was a pretty nice place. The hot spring is being cleaned and I can't get a swim in until 8pm.
After lunch I passed out on the leather couch in the lodge. Must have slept for about 1 ½ hours. I put on my headphones to diffuse all the bar conversation.  When I woke up I felt great.  The next town is called Wisdom its 15 miles away, they have free camping, but from what I've heard Wisdom is a real dump. I figured ill just hang out in Jackson and ride out to wisdom tonight to camp.
I drank some coffee and started drinking some of that Montana microbrewery. All these microbrews are pretty cheap here and good. We looked at a room here that we could all split fairly cheap and decided just to camp. I would rather spend my money on beer then a bed.  This lodge is a great hang out place and I was getting too cozy with the cheap beer and the atmosphere.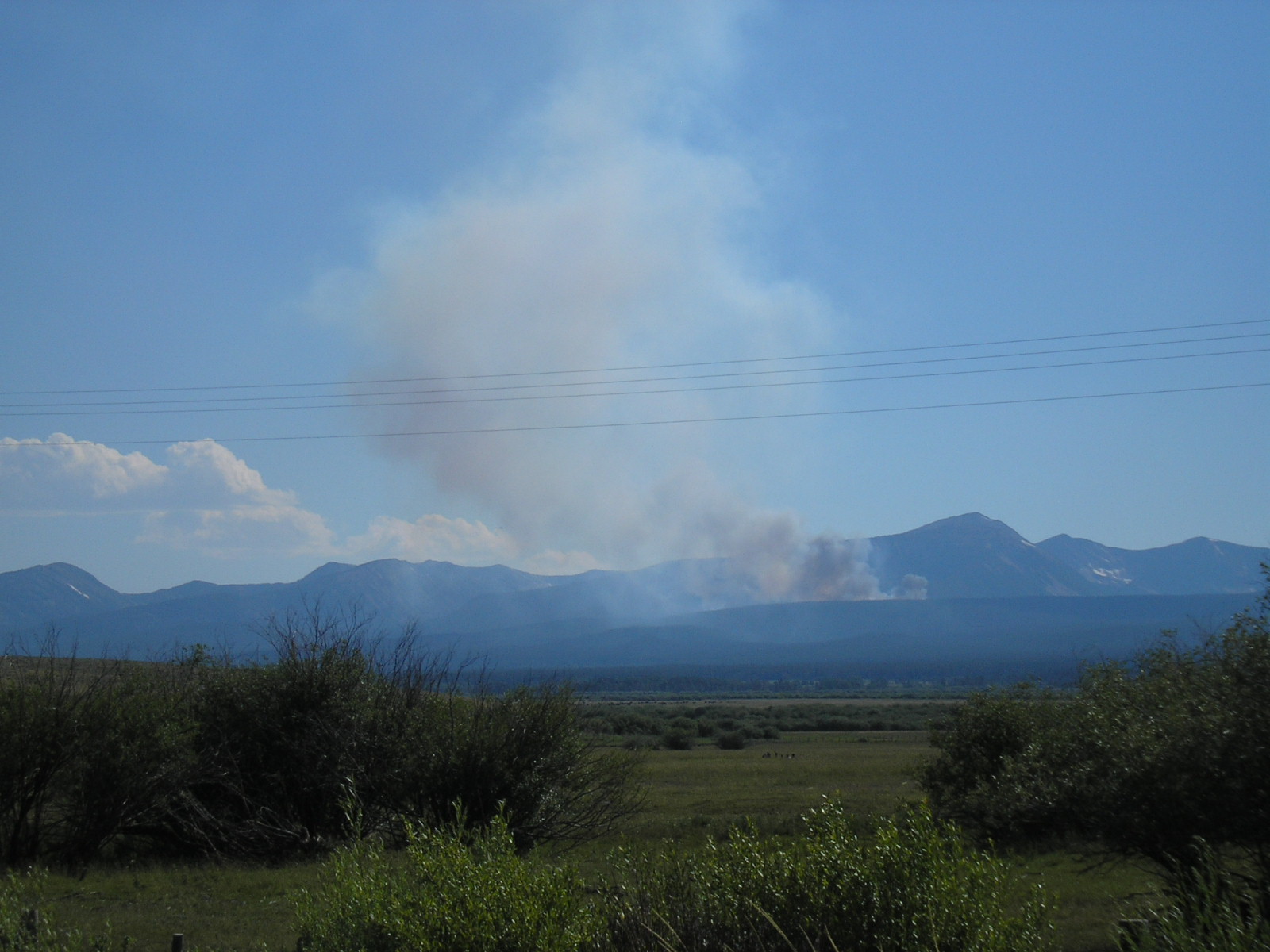 I unpacked all my gear and found about 5 pounds worth of stuff I can mail home. In a week I'm going to send the Panniers home. While I was fiddling with my gear Andy came over and said there was a fire in the mountains. The bartender called and they said they knew about it.
They all ate at the lodge, I'm going to cook up some pasta. Tomorrow I'll take some pictures of the lodge before I head out.
Click Here to Visit The Table of Contents
Click Here to Visit Previous Page: Day 59: Dillon MT to  Dillon MT
Click Here to Visit The Next Page: Day 61: Jackson MT to  Darby MT