Saturday July 23, 2005, 43 miles (69 km) – Total so far: 3,705 miles (5,962 km)
4:29 pedal and 42.9 Miles
Click Here to Visit The Table of Contents
Click Here to Visit Previous Page: Day 62: Darby MT to  Missoula MT
Click Here to Visit The Next Page: Day 64: Lolo Hot Springs MT to  Lowell ID
I was up at 6:30, edited some journal entries then went for breakfast. I brought my computer and worked on my journal while eating breakfast. Breakfast was $3 and everyone gave me and the computer dirty looks.
Back at the motel room I cleaned up my mess. I left the room around 9:30 and went through the Missoula Farmers Market quickly. The bike shop opened at 10 so I sat outside the shop until they opened the door. I talked to women with a baby in a trailer while I waited.
I handed over my bike and they told me it will be about 2 hours. At the bike shop some old man walked in and said he had an old Schwinn he didn't want anymore. I went out and took a look and it was a beauty. He said I could have it. But I turned it down. I regret not taking it and mailing it home. My grandmother would kill me if I bring home another bicycle.
I stopped at the skate shop next to the bike shop. I hung out with the kid working there for a while. He told me all about his 5 year battle to get Missoula to open a skateboard park. But he said it's finally happening and in a few months they are going to break ground. He showed me some drawings of the proposed skate park.
I walked back into downtown Missoula and hung out at the Farmers Market with the locals. I saw tons of cyclists and some of them were carrying a lot of gear. It seems like Missoula is sort of a Mecca for touring cyclists.
I grabbed a burrito at the Mexican place Greg told me about it was so big I felt like I was going to puke. After my burrito I walked around downtown Missoula. I stopped into a used book shop. I found the architecture books they had nothing good. But I kept looking and found a used copy of 'The 10 Books of Architecture' by Vitruvius the price tag said $7.50 but I convinced the guy to just give it to me for $5. Ha. One of the greatest architecture books ever written and I got it for $5.
Back at the bike shop they gave me a new Rear Derailer, a new chain and a pretty good tune up. My little visit to the bike shop cost a pretty penny but this is my last tune up on this trip. Then next time I got to a bike shop I want to tell them to disassemble and box my bike.
I got my bike back around 1:30. I rode out to Barnes and Noble. I wanted to get a cd on how to speak German. But I got frustrated in the bookstore and didn't buy anything and just got annoyed. I stopped into REI; I had never been to REI before. It's a good store. I didn't buy or want anything. All the annoying shoppers and consumerism was putting me in a bad mood.
Riding outta Missoula I had a bad headwind and I was riding south, it seems like I always have a headwind no matter what direction I am riding.
When I got to Lolo I went into some Casino/bar and grabbed a burger. Then I sat at a gas station talking with a couple of motorcycle guys about traveling the country.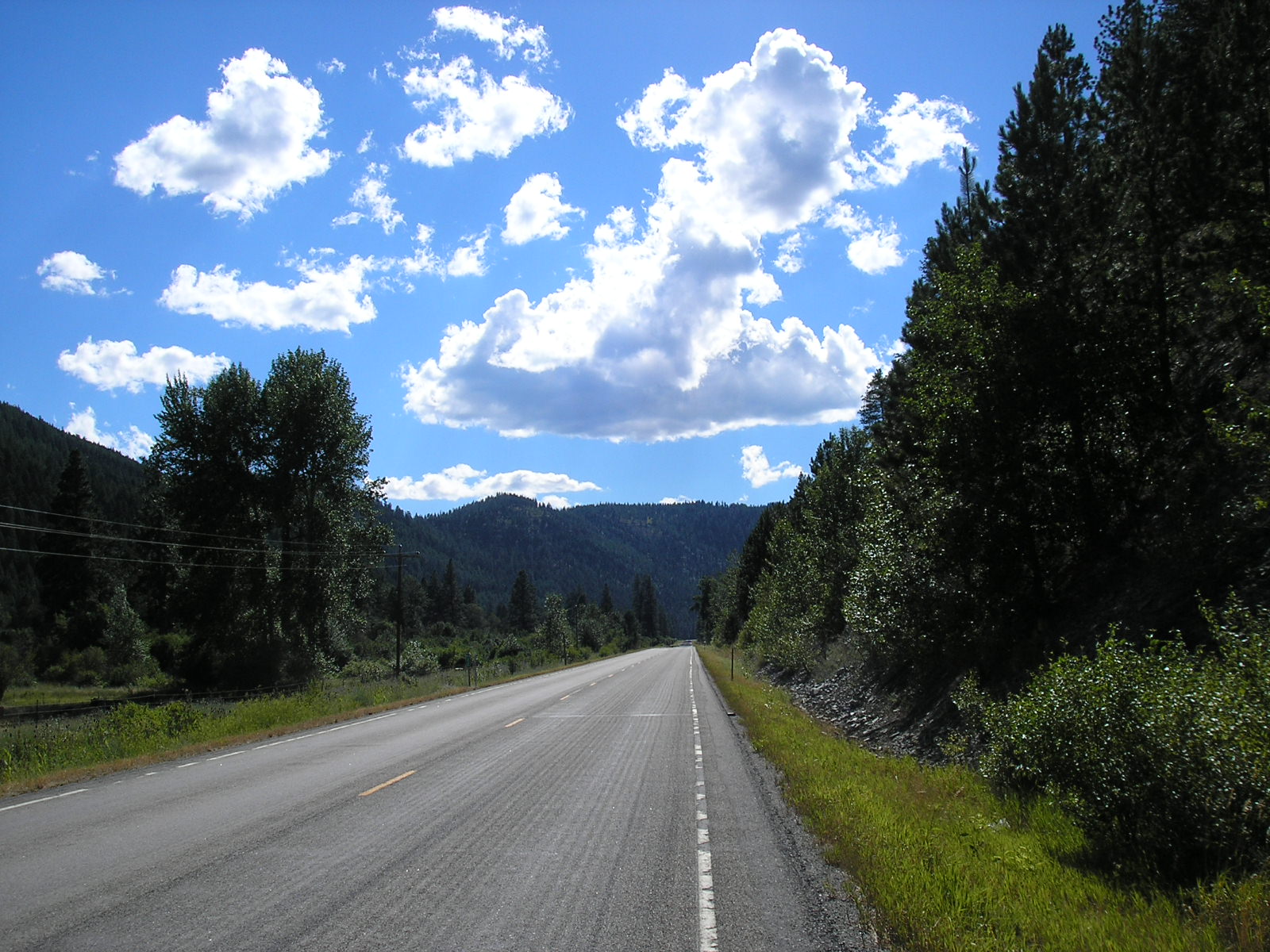 It was 32 miles from Lolo to the Lolo pass. After the Lolo pass I'll be in Idaho. My goal for the day was to make it over the pass and stop for the day at the first town.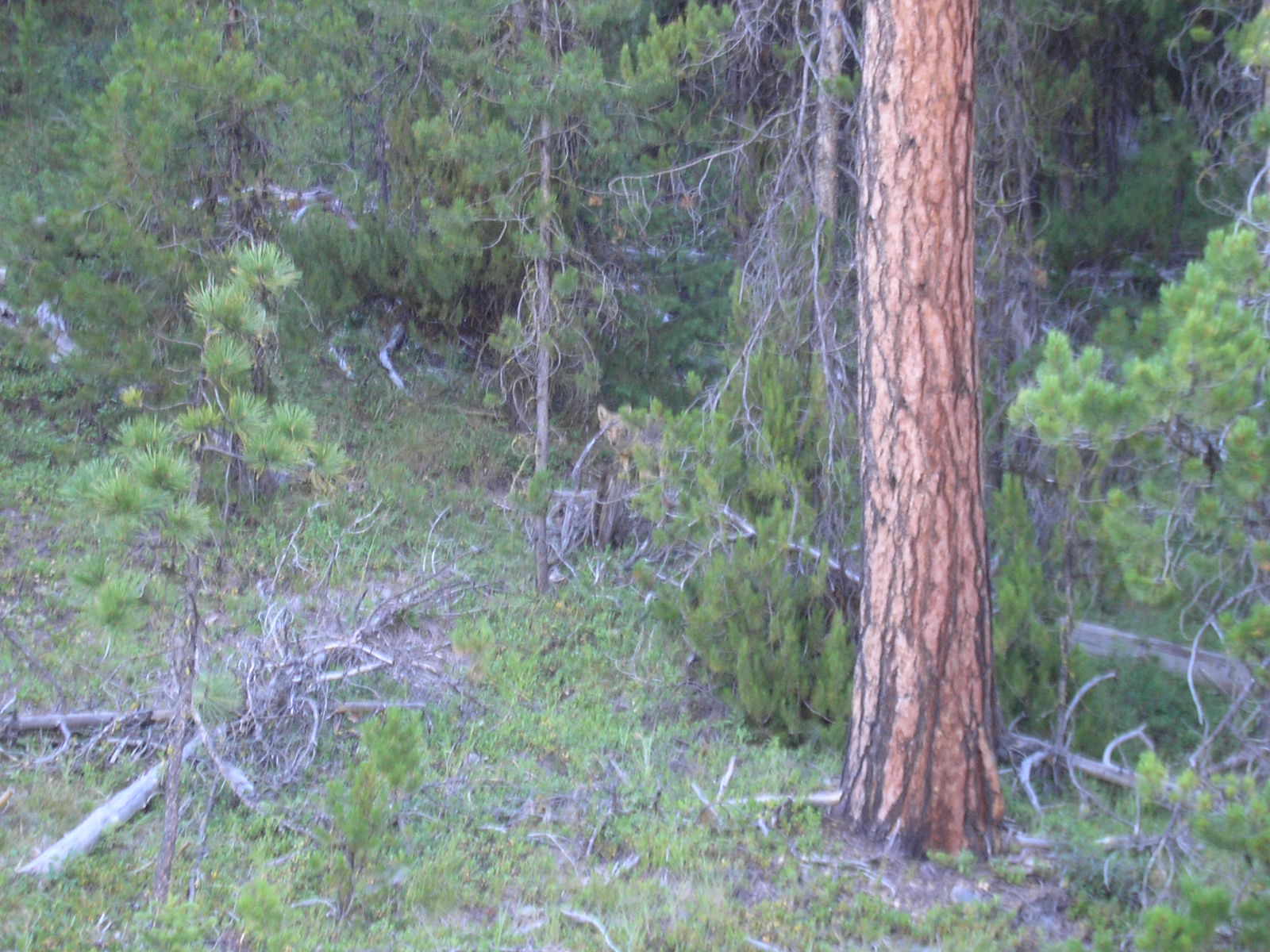 When I got to Lolo I turned west and I still had terrible headwind. I was averaging around 10mph but life could have been worse. When I got to Lolo Hot Springs which was 8 miles before the pass I decided to stop. Shortly before Lolo Hot springs, I saw a wolf hanging out on the side of the road when he saw me he ran up into the mountains I tried to take a picture but it didn't come out that great.
At the campsite I asked the man if he had seen any cyclists? He said 2 guys came in earlier. I walked all over the campsite and couldn't find them. I went to the lodge and got something to eat and while I was eating I saw 2 guys looking at my bike. I went out and they said I could split their campsite with them.
After my dinner I went back to the campsite and talked to the east bounders. They gave me a lot of great tips about the trail ahead. Their names were Aaron and Kevin. They were on the Trans am but considering taking a different route out of Missoula. They told me some great stories about their trip and Aaron built a fire. It was the first camp fire I have seen on this entire trip. We all sat around the fire and talked until around 11:30pm.
I have about 2 weeks left of riding.
Click Here to Visit The Table of Contents
Click Here to Visit Previous Page: Day 62: Darby MT to  Missoula MT
Click Here to Visit The Next Page: Day 64: Lolo Hot Springs MT to  Lowell ID