Day 68 Thursday July 28, 2005, 100 miles (161 km) – Total so far: 4,085 miles (6,574 km)
99.9 Miles and 9:27 Pedal time
Click Here to Visit The Table of Contents
Click Here to Visit Previous Page: Day 67: Riggins ID  to  Cambridge ID
Click Here to Visit The Next Page: Day 69: Baker City OR to  Baker City OR
I got up around 8am. The sky was filled with depressing clouds and it started to rain a little bit. I was really bummed about the morning. I went over to breakfast and it rained a little while I was eating. It felt like there was going be a big storm. I cranked out some work on the journal while I ate my breakfast.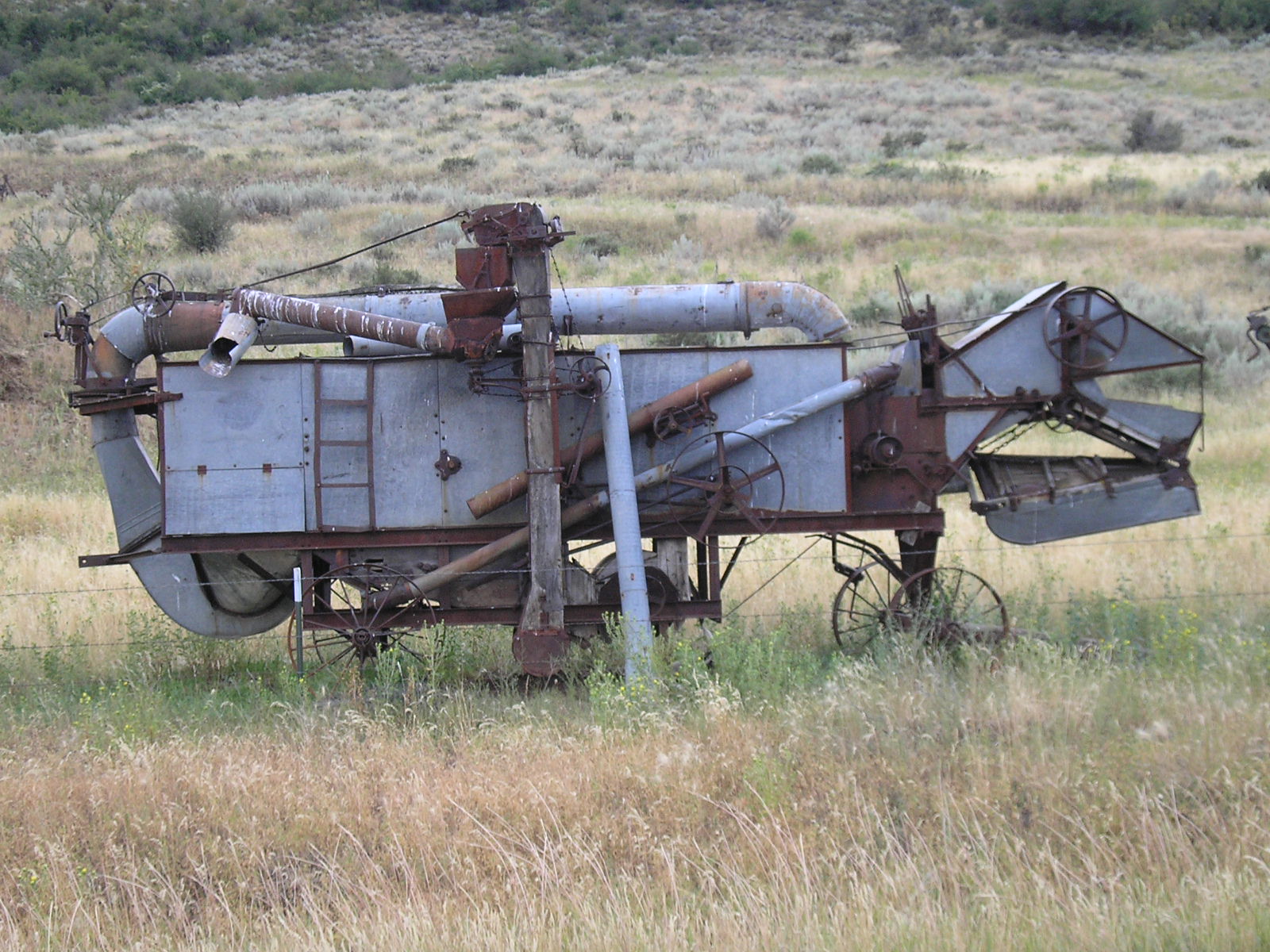 After breakfast I found the library in Cambridge but they didn't open until 2pm. There had to be somewhere else in Cambridge that had internet (there usually is) I rode all over town but couldn't find anywhere. One of the guys who were working on the road construction came over to talk. His name was Kip and he was a cyclist. We talked about riding for a while.
There was a coffee shop/motel close by. I went in figuring I would just hang out there for a while and work on my computer and wait out the storm. I got talking with the nice lady working there and she made me feel better about the weather. She said I could hang out if I want to, but I just decided to ride out. Kip happened to be staying at that motel so I went over and checked out his bike.  Before I left the motel the lady warned me about the rattlesnakes in Hells Canyon and told me to stay on the road and not walk off into the terrain.
Riding out of Cambridge it was cold and windy. The wind was hitting me on the side but didn't bother me much. I had to climb 1500′ in the first 17 miles over the first pass of the day. I got blasted with rain and wind while it thundered and lightning. The rain was very scattered and my rain jacket was on and off all morning long.
I noticed the grasshoppers grew to be about 2 inches long and changed from white to black.  They were making this horrendous sound as I rode by, but I figured out they were fighting off the bad weather for me as I rode through. Approaching the pass I went around a turn and there were 2 cows standing on the side of the road. They scared me and I screamed like a girl. I rode as fast as I could while looking behind to make sure they didn't chase me.
After I got over the first pass it was a pretty long descent down into the Brownlee Reservoir and this is where I entered Hells Canyon. The mountains were out of the ordinary it felt like they were from another planet. I crossed the Snake River and that was the border between Idaho and Oregon. There was no sign Welcoming sign into Oregon. The sky cleared up and the sun was beating at about 100 degrees.
While I was riding alongside the Snake River I saw a cyclist coming up behind me. It was Shawn, how does this guy keep passing me in the middle of the day? He told me he stayed in council last night at the free spot. He asked me where I was riding to tonight; I told him I would like to try to make it to Baker City. If I made it to baker city it would be a 114 mile day and would most likely do a motel room. But I doubt ill make it to baker city. Shawn was going to stay in the next town that was 10 miles away. He stopped for lunch and I kept riding.
After Shawn left I went over to a motorcyclist who got stung by a bee. She was fine. We talked for a while. She asked me where I was riding to and I said 'Virginia to Oregon' she put her arms up and said 'Well ya made It.' and I explained I have to still get to the coast. I guess now that I'm in Oregon I guess now I'll need to be a little more specific about where im going. I told her I was bummed about there being no sign and she said 'C'mon man you don't need no sign when you got that bitchin river to welcome you.'
I stopped and talked to an east bounder he was really excited to see me. He was here from England and only had 5 weeks to ride as much as he could of the trail. I recommended to him it might be worth skipping Eastern Colorado and Kansas and getting into the Ozarks if he had a limited time schedule. He thanked me for telling him this.
As I stopped to get more water a police officer came over and told me he hopes I had enough water. A sign told me Baker City was 60 miles away; the sun was beating pretty hard. It was so hot the sky was foggy. I didn't take as many pictures as I hoped because of the fog.
I started climbing the second pass it was about 1800′ over 18 miles and the last few miles were really steep. I climbed like a champ. While I was climbing that hill I thought I might just be able to make it to baker city.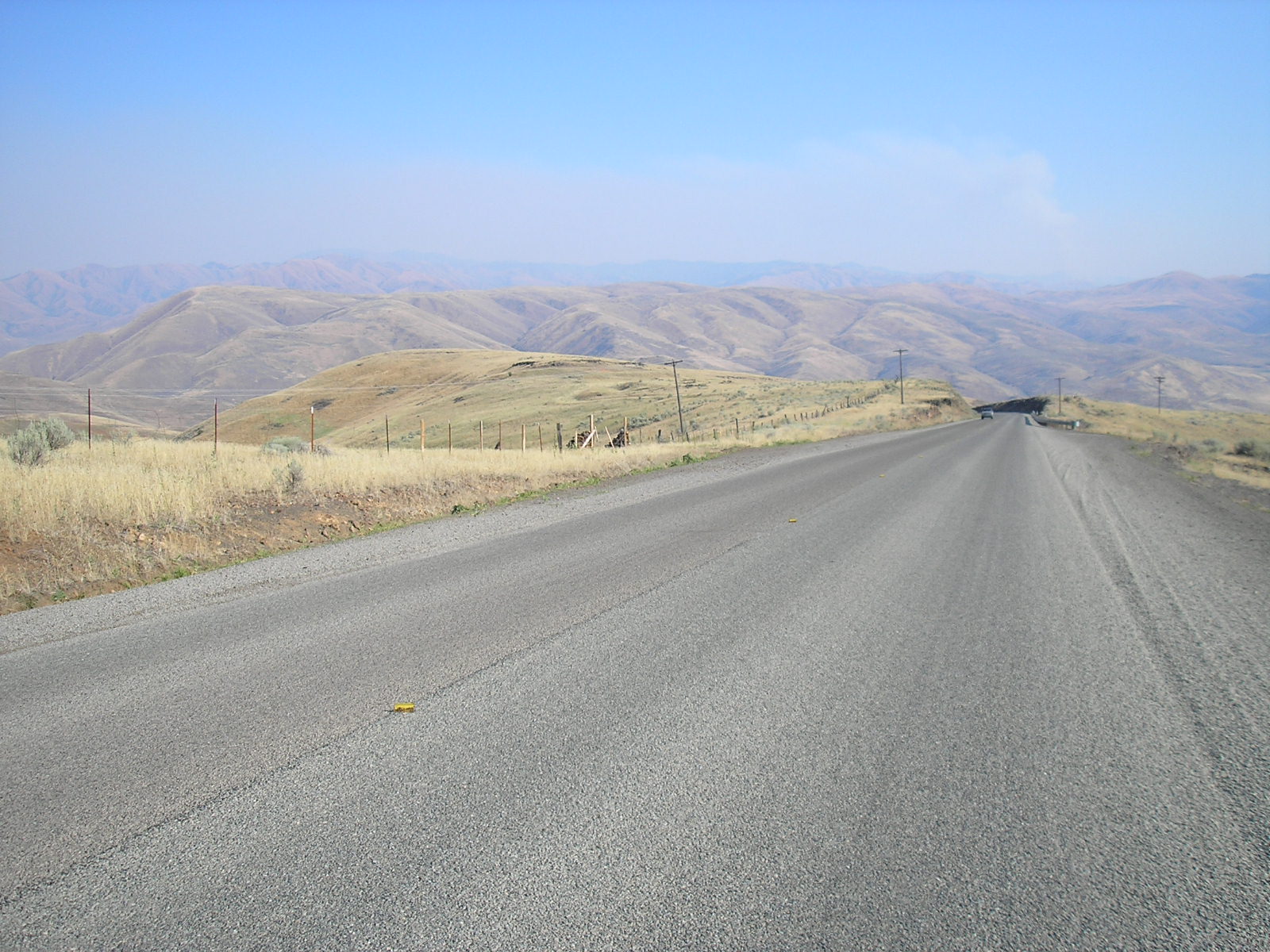 At the top of the mountain I saw there was fire far off in the distance. It was a steep downhill on the other side of the mountain; I stopped several times to let my rims cool down. June Curry got me neurotic about melting my brakes. Biting black flies attacked me while I waited for my rims to cool down. At the bottom of the hill was a small town called Richland. I stopped to get something to eat.
While I was eating Rick from the 'Because we can tour' stopped in to say hello. He was staying the night in Richland we talked for a little while. I told him I had checked out his journal when I was in Dillon Montana.
I rocketed out of Richland. I had 40 miles to Baker City and I knew I wasn't going to beat the sun. I'm not a fan of riding at night, but I could ride 10 miles in the dark. There were barely any cars on the road and I could just use my blinking light.
Riding into the sunset was kind of a pain. I was making great time. After the sun went down I went to put on my blinking light and it didn't work. I changed the batteries and it still didn't work. Great. Luckily there were barely any cars on this road. I just kept pushing.
Eventually I hit a part of the road where they just laid new oil and gravel. There was such a thick layer of gravel on the road it was almost unrideable. I rode pretty hard and never got my bike past 6 mph. I did several miles on it, and then a construction worker came over and offered me a ride to the end of the fresh gravel. I threw my bike in the back of the pickup truck.  She explained to me they lay this thick layer down and around midnight trucks are going to come and sweep it up. She brought me 3 miles down the road to the end of the construction and dropped me off and told me I was 10 miles from Baker City.
While I was unloading my bike a nice couple in a pickup truck stopped and asked if I wanted a ride into town. They didn't have to twist my arm very hard. I threw my bike in the back and jumped in the truck. Their names were Janie and Kim. (Kim's real name is mike, but his nickname is Kim) They asked if I would like a soda, Gatorade or a beer. I had a beer and we drove into town. They were both cyclists and Kim had a big mountain bike race this weekend.
They were going to bring me to a motel, but invited me to stay at their house. So I went back home with them. They told me all about their interesting lives and we talked bikes for a while. I was really happy to have such great company. Back at the house Janie cooked me up some food and made sure I was comfortable in one of the spare rooms.
Kim told me about the mountain bike races he's been riding in. Right now he is currently at the top of his division. I was pretty excited to hear all about this. They also told me about how Kim has a bad ankle and he struggles with walking and his ankles always bothered him. But for some reason he can cycle and ski beautifully, that's amazing.
They went to sleep; I used the internet for a while then crashed pretty hard. I was exhausted I rode really hard all day long. I can't believe I rode 100 miles through Hells Canyon when it was 100+ degrees out all day long. Thinking back, some of the best days in my career as cyclist have been when the heat is unbearable. For some reason the heat gets my adrenaline going and I can ride like a hero while everyone else is crying about the heat.
'It's not the heat, it's the humanity.'  The Bouncing Souls and I have been saying it for years.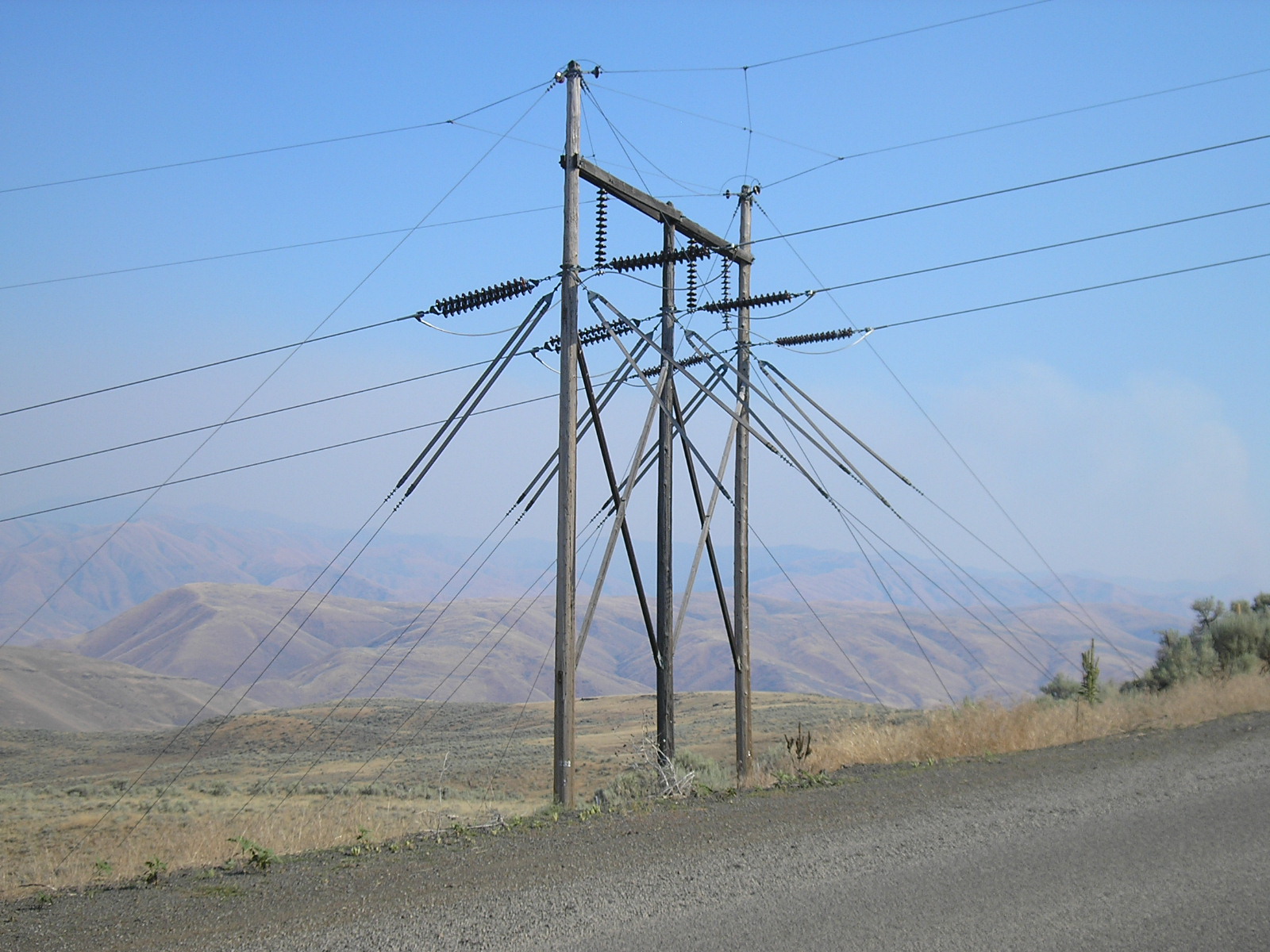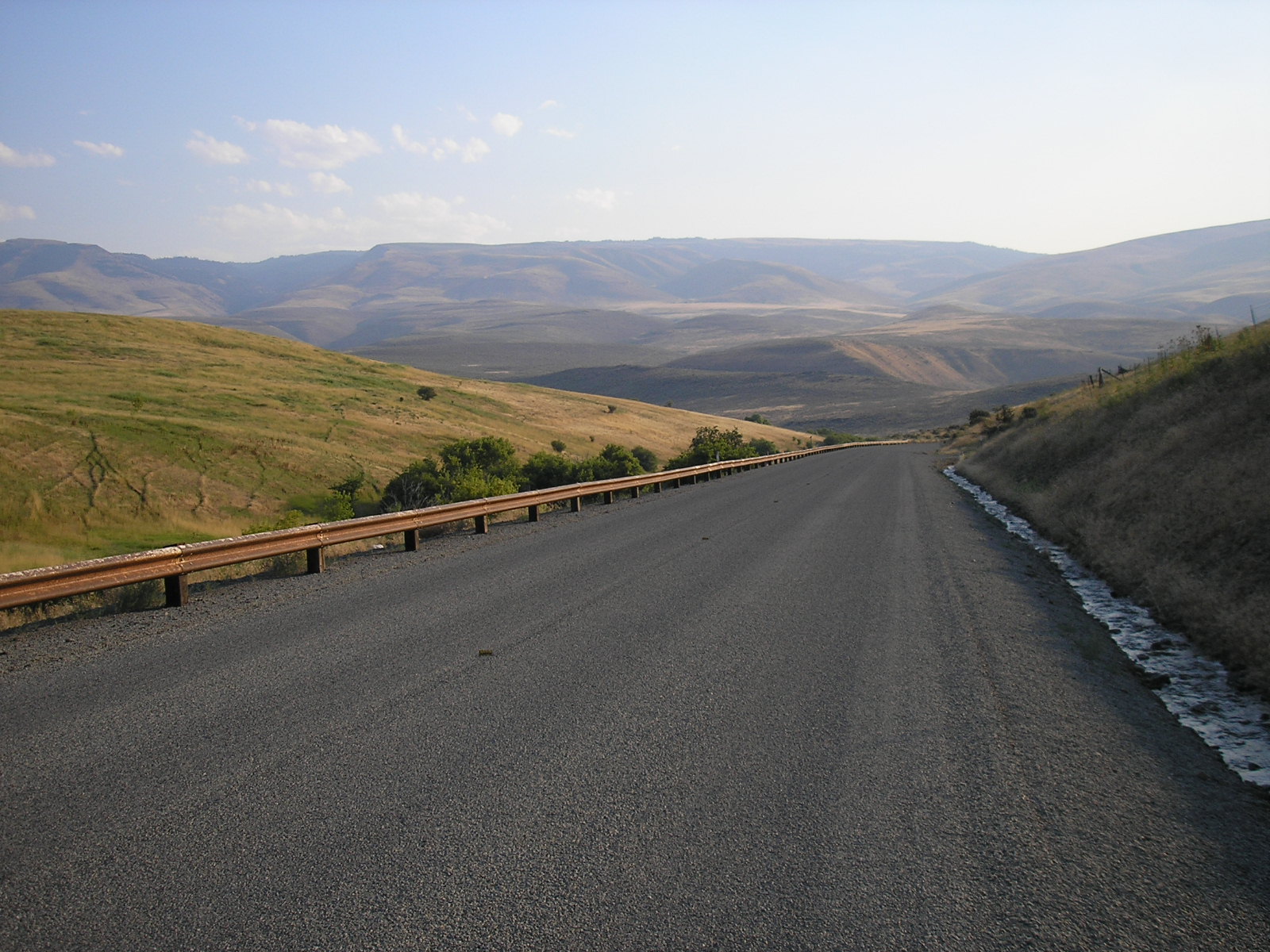 Click Here to Visit The Table of Contents
Click Here to Visit Previous Page: Day 67: Riggins ID  to  Cambridge ID
Click Here to Visit The Next Page: Day 69: Baker City OR to  Baker City OR