Day 72 Monday August 1, 2005, 80 miles (129 km) – Total so far: 4,295 miles (6,912 km)
8:05 Pedal and 80.0 Miles
Click Here to Visit The Table of Contents
Click Here to Visit Previous Page: Day 71: Prairie City OR to  Dayville OR
Click Here to Visit The Next Page: Day 73: Ochoko Lake OR to  Bend OR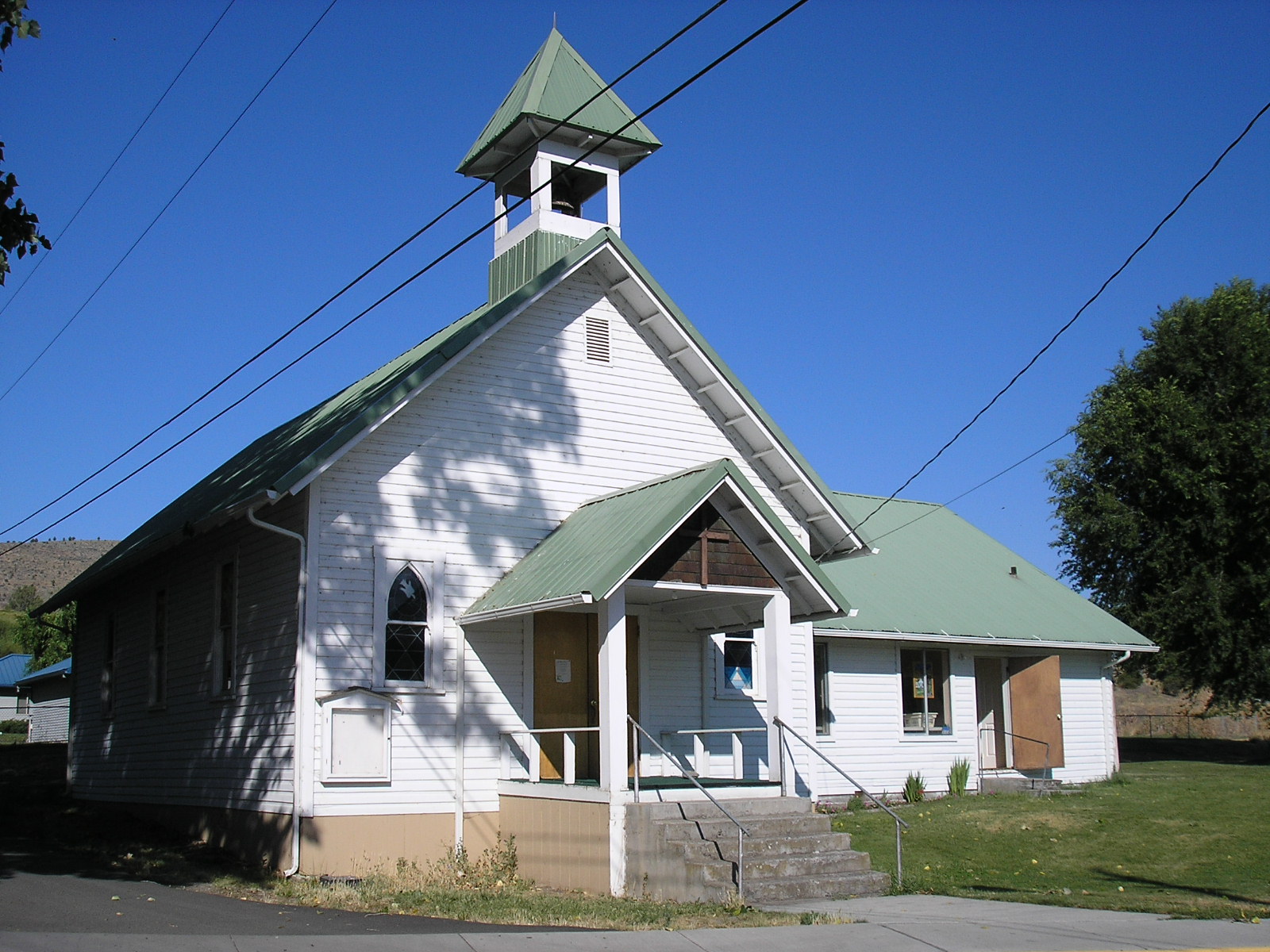 It was really muggy all night. I moved from sleeping in front of the alter to the middle of the church aisle. When I woke I immediately yelled "Rabbit, Rabbit!". Shawn was up way before me, packed and ready to go. I took my time with getting ready. While I was in the bathroom brushing my teeth I heard someone come into the building. I went out there and introduced myself, it was an older gentleman named Darren. He was waiting for the nurse so he could get his blood pressure checked.  While I packed my gear Darren told me how famous this church is for letting cyclists stay here, apparently this has been going on for a long time.
On my way out I stopped at the Dayville Mercantile to get some breakfast and to chat more with Steve Cookingham. They didn't have much as far as breakfast goes, so I just ate a roast beef sandwich. We talked bikes and touring while he helped his customers in the store. After hanging out and having a lot of fun talking to everyone I hit the road.
Leaving Dayville the trail passed right through the John Day Fossil beds. The fossil beds are a geological wonder containing rocks and fossils from millions of years ago. I felt like an ant traveling through these massive rocks. After exiting the fossil beds the climbing began.
Today was a tough day. There were 2 major climbs. The first climb was 33 miles long and gained about 2000′ of altitude.  Then it was a quick downhill for about 10 miles. Then it was back uphill for the second climb. The second climb was 15 miles long and gained about 2500′.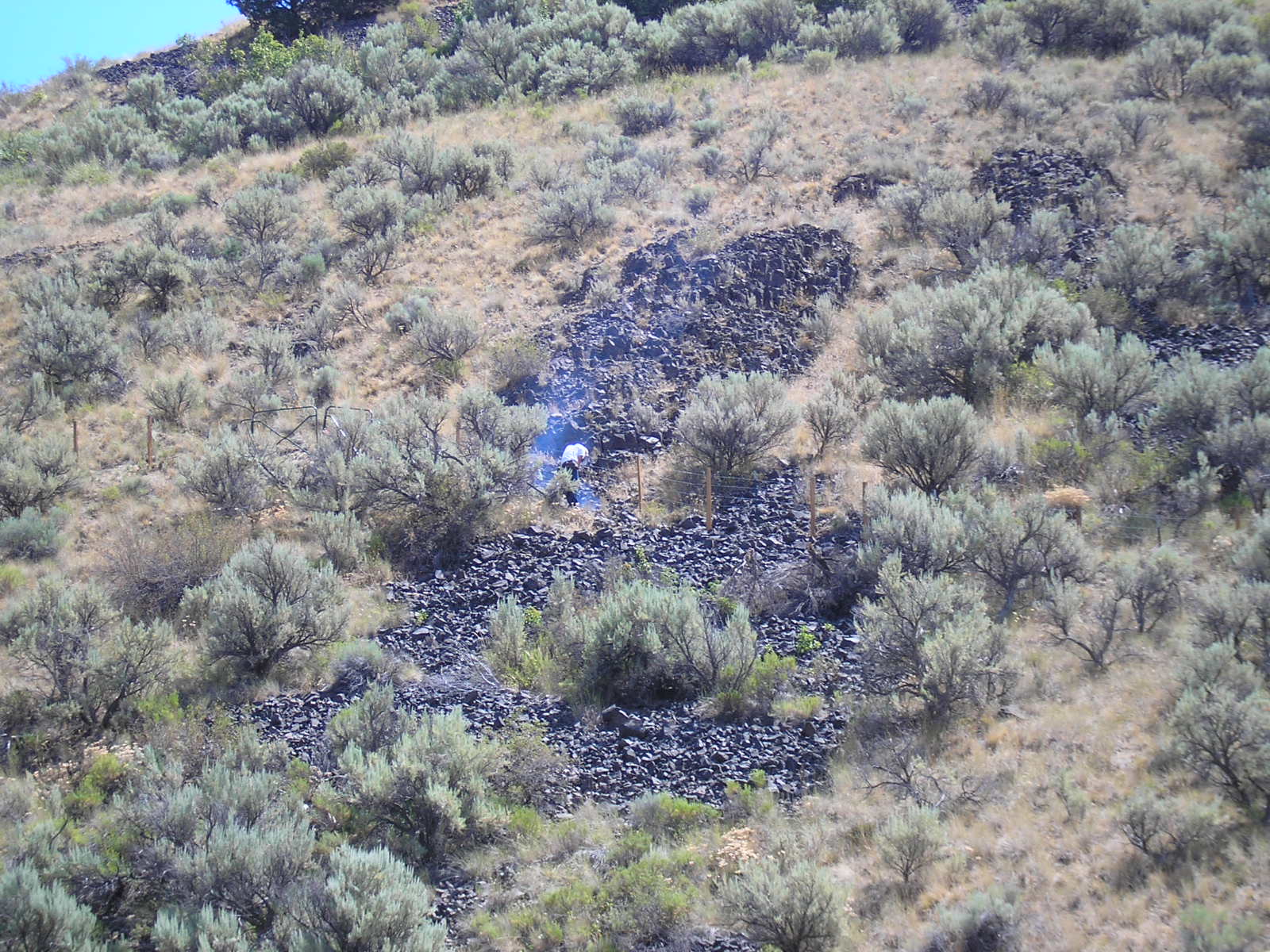 As I was exiting the fossil beds I kept hearing this weird noise. I looked up in the mountains and saw some mysterious guy chopping away at the side of the mountain. It was kind of hard to see him. I think he was either looking for gold or hiding a dead body. There wasn't any car parked on the road so I had no idea how he even got up there.
I made it over the first pass pretty quick. If it wasn't for that roast beef sandwich I ate for breakfast I might have bombed it. I had a headwind climbing the mountain but it didn't bother me much. While I was riding I found a purse on the side of the road, expecting to find a $100 bill it was nothing more than just a pair of ear plugs. I just put the back in the purse threw them back on the side of the road for the next cyclist to pick up.
I came off the first pass at some insane speed riding down the hill like a madman until I got to the town called Mitchell. As soon as I got into Mitchell I met some weirdo Hitchhiker guy, he had a very long beard and creepy looking eyes. I asked him if he was a hiker and he told me 'No, I'm just out taking a walk.' He creeped me out so I avoided him for the rest of the time I was in town.
I grabbed a soda from the store then went over to hang out with Henry the bear. I remember an east bounder telling all about Henry. The guy that takes care of Henry lets cyclists go in the cage with him to hang out. I looked all over for the guy but couldn't seem to find him. I climbed on top of this bale of hay so I could get a better picture of Henry and he didn't like that. He leaped up and swatted the fence where I was standing, scaring the crap out of me. I decided im not getting in the cage with this bear so I left.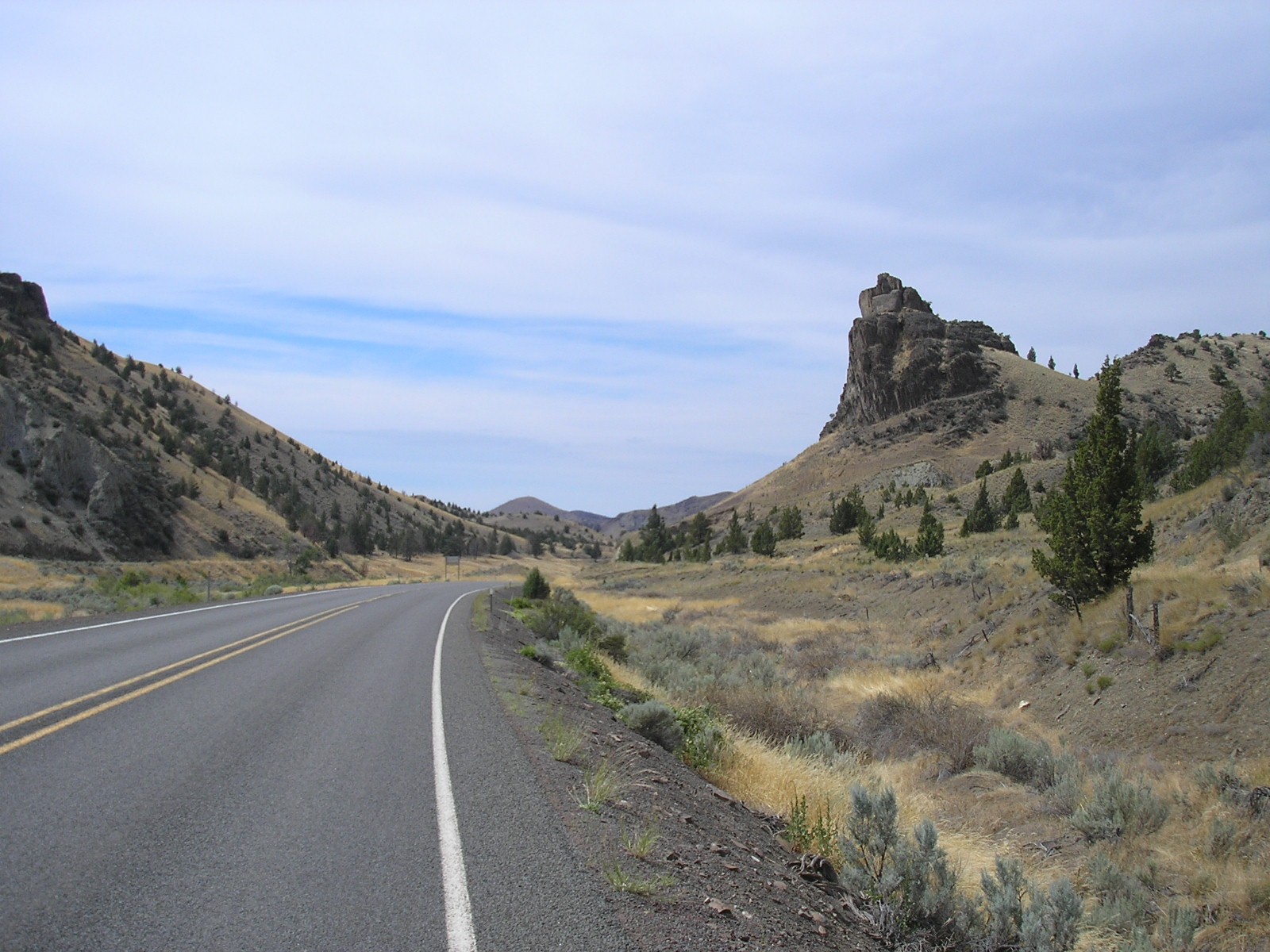 Leaving Mitchell I had a horrible headwind but then it went away and became a tailwind. I love how in the mountains the winds can change direction as you pass through the mountains. In Kansas the wind was blowing north for weeks and wasn't stopping anytime soon.
The second climb was tough but I eventually got over it. There was a campground at the top of the mountain. I considered it for about 3 seconds then just kept going. I don't wanna climb hills all day and not get any downhill. And besides its will be a lot colder camping on top of the mountain.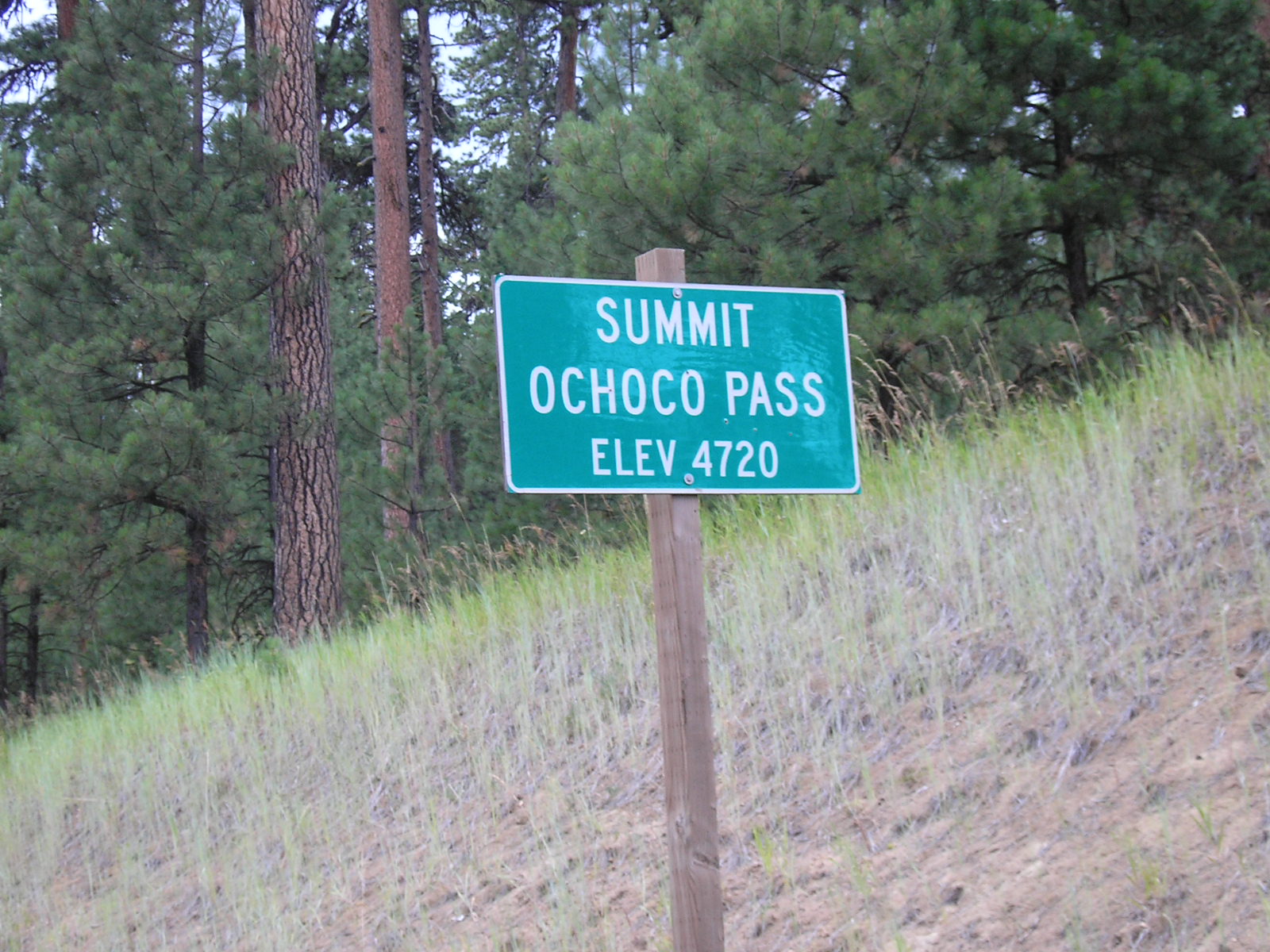 I rode off the second pass pretty fast. My plan was to go all the way to next town Prineville and find a place to camp. But while I was riding alongside of Ochoko Lake I saw Shawn's gigantic floorless tent setup on a campsite. I rode off the side of the road to Shawn's site.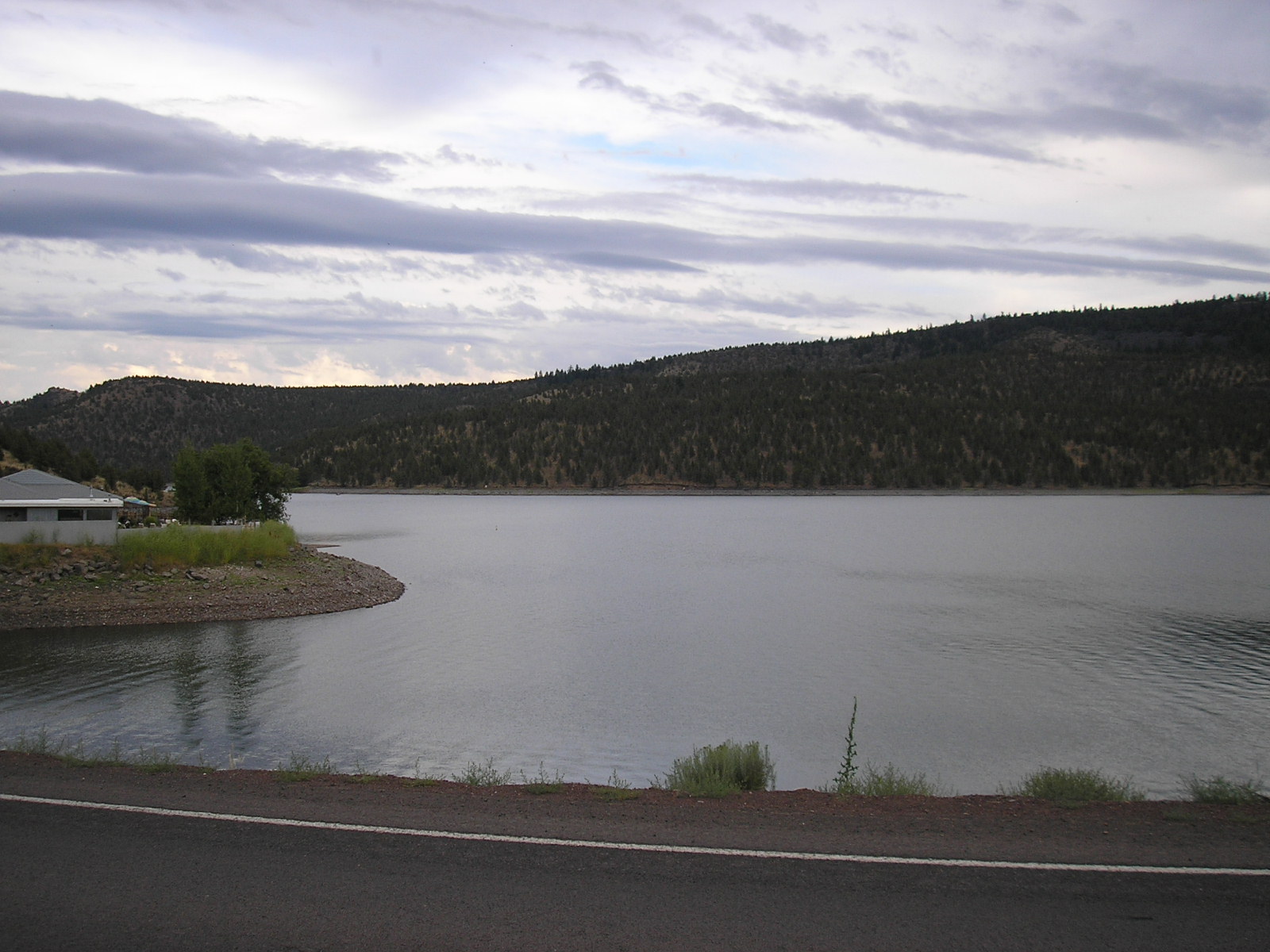 I talked to Shawn for a few minutes and saw I had cell phone coverage so I got on the phone for awhile. When I came back Shawn was talking to an old guy. He gave me one of those fancy Oregon bicycle maps that I have been meaning to get. He kept telling Shawn and me these horror stories about people dying, then he started talking about 3 cyclists that got killed on the road and I had enough and walked away leaving Shawn there talking with him.
I was tired and it was an early night. Setup my tent and went to bed around 10 pm. Mitchell, Oregon was a weird town. I dunno about that bear.
Click Here to Visit The Table of Contents
Click Here to Visit Previous Page: Day 71: Prairie City OR to  Dayville OR
Click Here to Visit The Next Page: Day 73: Ochoko Lake OR to  Bend OR