Day 75 Thursday August 4, 2005, 61 miles (99 km) – Total so far: 4,458 miles (7,174 km)
61.3 Miles and 5:16 Pedal Time
Click Here to Visit The Table of Contents
Click Here to Visit Previous Page: Day 74: Bend OR to  Mckenzie Bridge OR
Click Here to Visit The Next Page: Day 76: Springfield OR  to  Florence OR
I woke up pretty hard at 8am I remember telling Steve last night that I'm usually up around 7am. The sound of that river knocked me right out last night and I just kept sleeping. I packed up my some gear then went over to the house and had some coffee with Steve. We chatted for a while over a cup of Joe.  I filled up my water bottles with some of that delicious river water, said farewell and thank you to Steve. After I left I realized I never got a picture of him.
I stopped at this organic coffee place for some coffee and breakfast. They only had pastries and I wasn't really interested. So just got an organic coffee that had an organic price.  It was just alright.  While I was drinking my coffee I watched these 2 cyclists fumble with their bikes and panniers. I was watched them with a couple of locals across the parking lot as we drank our coffee. Soon I finished my cup and rode over to where they were to see what was going on.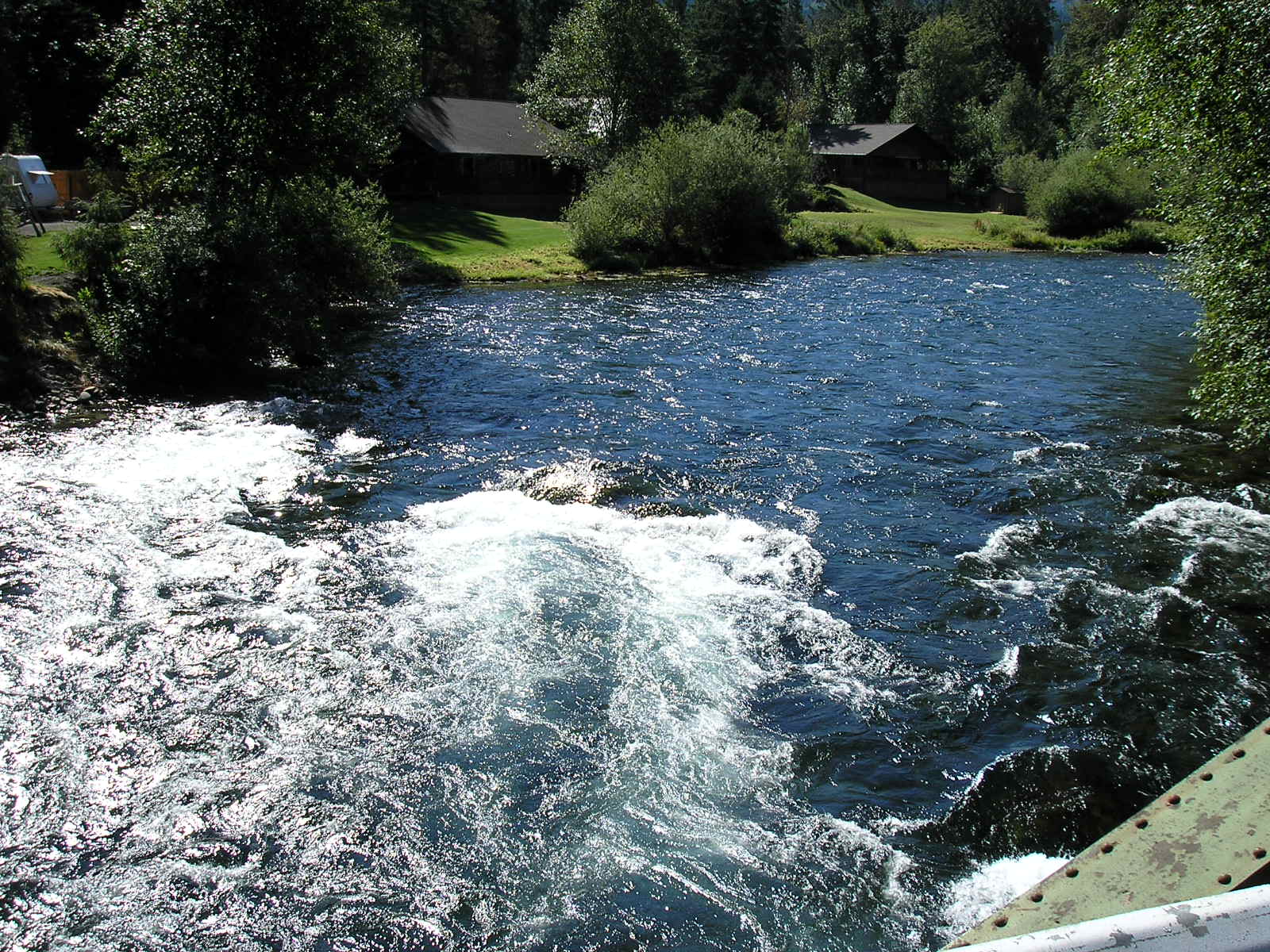 1 guy was from Austria and the other guy was from Canada, they were both going to San Francisco and taking the long way. They took the city bus from Eugene to Mackenzie Bridge and had just gotten dropped off. I was glad I got to meet them at the very beginning of their journey. We asked each other a lot of questions. Then I said good luck and took off riding down the hill.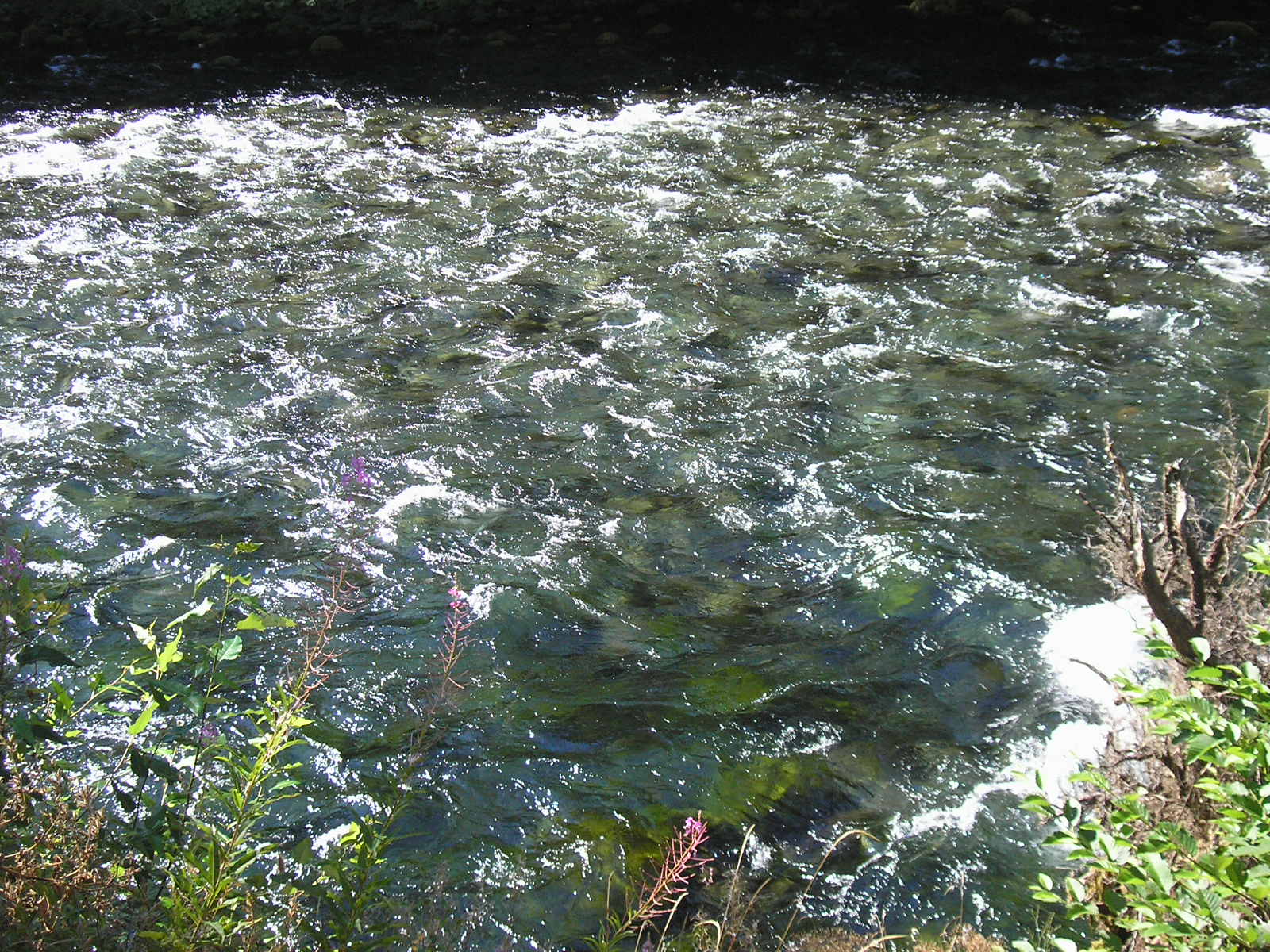 I found this secret road Steve was telling me about. It's off the main highway and rides alongside the river. it was nice to get away from the traffic for a couple of miles. I stopped in a little town called Blue River. When I asked about the library hours and they told me that library doesn't have the internet. I thought that sucks but at least they have a library. I was starving and there was nowhere to eat. So I got some lousy microwave sandwich at the grocery store and called it my breakfast. I called everyone but no one was around.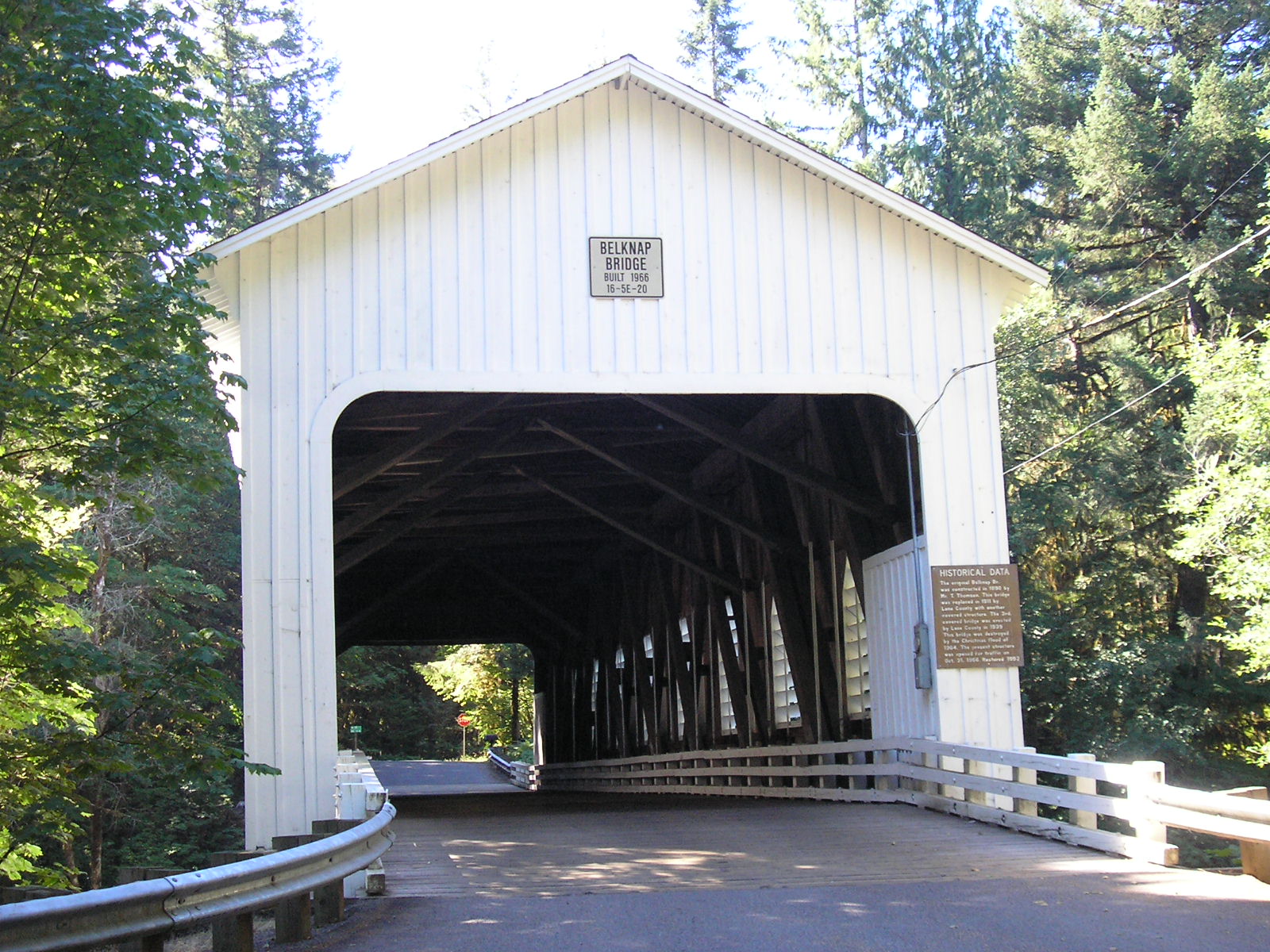 Some dirty old man who was smoking a cigarette on a roach clip came over and walked circles around my bike looking at the trailer nodding his head. He asked me 'is this your rig?' I just gave him thumbs up. He stared at my bike for quite a while looking amazed, then he walked back to the dirty garage he came from.
While I was leaving Blue River a pickup drove past me with one of those really long mirrors that extend off the side of the car pretty far. He came about 2 inches from hitting me. He is going to kill a cyclist with that dumb mirror.
When I was riding down the hill in a town called Vida a bug flew in my eye. I had to stop for a while to get it out. Eventually I got back on the bike and 5 minutes later a bee flew into my ear/headphone/helmet strap area. I panicked and tried to get him out, but the sonofabitch stung me right behind the ear.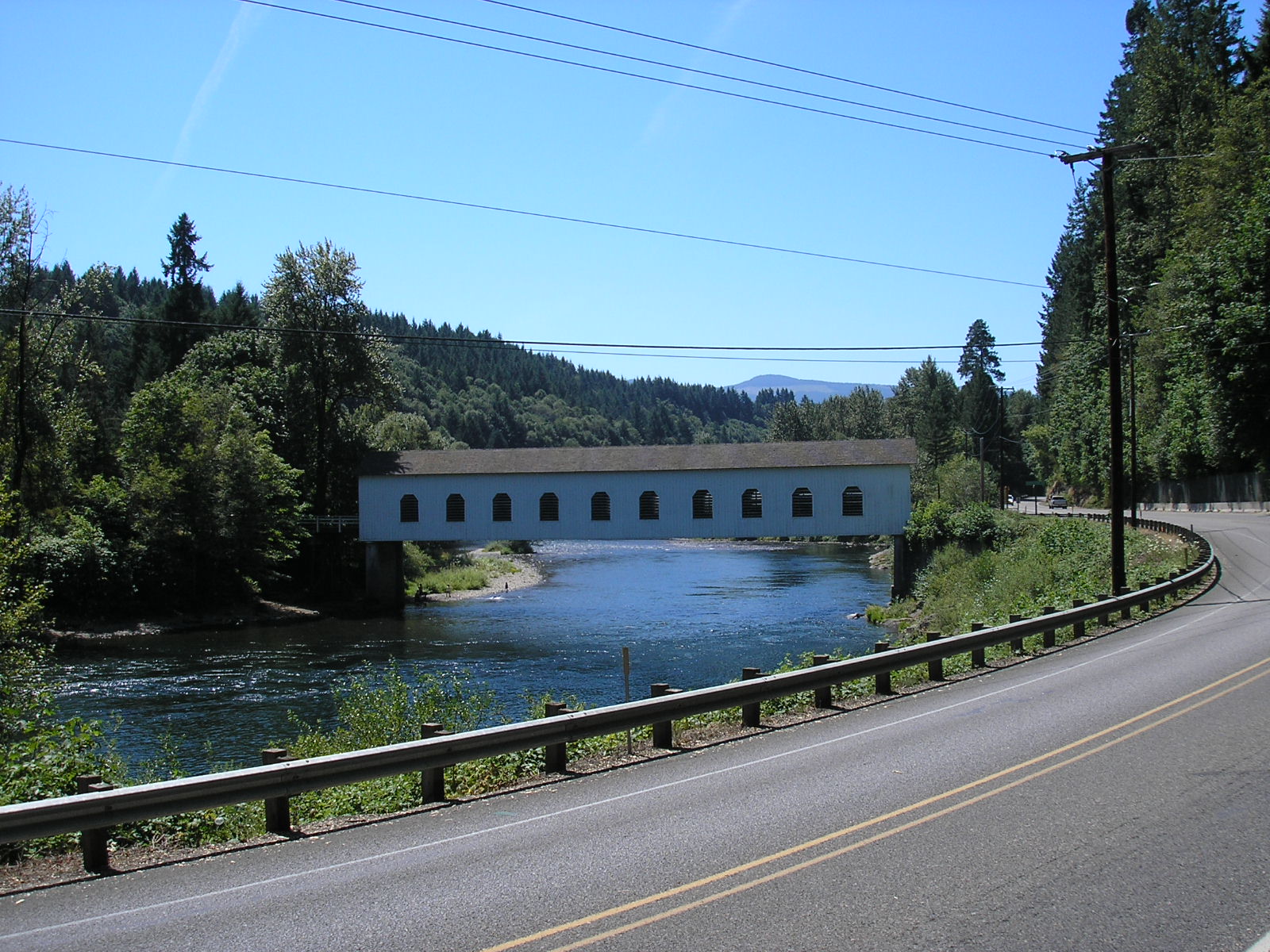 Being really bummed out me stopped at the next convenience store. The lady working there was really happy to see. I told her I just got stung by a bee and she filled a plastic bag with ice for me. It helped. I put on some of this bee sting chemical I had in my first aid kit. The lady at the store didn't charge me for my coca cola.
How many close calls am I going to have before hitting the coast? Is the universe trying to kill me before I get there? Why am I having all these bullshit problems?
Eventually I was riding and I had to make a decision. I knew I was spending the night in Springfield. I couldn't decide to take a 15 mile detour to Springfield. Or do I just stay on the road I was on that goes straight to Springfield. I couldn't decide so I just stopped and ate a cheeseburger. While I was eating the waitress kicked out some punk who didn't have on a shirt or a pair of shoes. I'm noticing a lot of the men in Oregon just don't wear shirts or shoes while they are walking around the middle of town. I wonder why.
I finished my burger and then got on the road that went straight to Springfield. When I got to Springfield I went into the bike shop to ask about mailing my bike home. I immediately noticed they didn't have 1 road bike on the showroom floor. They want $25 to box my bike, (That's reasonable) BUT they wouldn't be able to get to my bike for at least 3 days. That doesn't work with my schedule.
I rode into downtown Springfield and left a message at Sandy and Kelly's house saying I was in town. I hit up the library because I didn't have a library card I had to use the 20 minute computers and had to stand up.  Nothing makes me not want to use the internet more than when I have to stand up when I really want to sit down.
After the library I moseyed on over to the Mexican place to get a giant plate of food.  After I ate I called Sandy and Kelly again, they still weren't home. I went over to the coffee shop and drafted out some journal stuff I have to get to. I got a lot of good thinking done.
It was around 7pm and I just decided to go over to Sandy and Kelly's house, I had their address. No one was home. So I decided to go find a place to stay for the evening. There are no campsites in town so I just started riding into Eugene. On my way to Eugene I found a $40 motel room and checked in.
Bonnie called as I was about to disassemble my bike and walk it up a flight of stairs. After I got off with her I noticed that Sandy and Kelly left me a voicemail. They said they were home and to come over. Luckily the nice man at the motel let me back out of the whole deal. I felt bad because I drilled him with questions and wasted his time. But I have to make sure when I get home I don't get charged for that motel room.
I rode back to Sandy and Kelly's house in Springfield. They were really happy to see me again. Lauren their niece from phoenix is also visiting. I jumped in the shower and scrubbed away. Sandy cooked me up some great food and he told me stories about how he used to work for a bicycle touring company many years ago. He told me a lot about some of the tours he's been on and how he always dreamed of going cross country.
Sandy and Kelly also told me a lot about the pizza place in downtown Eugene that they just opened this past January and has been pretty successful. We sat talking until it got late then I went upstairs and crashed in the guestroom.
I've met a couple of great people today and yesterday. Tomorrow is my last day on road. I'm a little nervous about finishing this trip.
Click Here to Visit The Table of Contents
Click Here to Visit Previous Page: Day 74: Bend OR to  Mckenzie Bridge OR
Click Here to Visit The Next Page: Day 76: Springfield OR  to  Florence OR