Day 76 Friday August 5, 2005, 80 miles (129 km) – Total so far: 4,538 miles (7,303 km)
80 Miles
Click Here to Visit The Table of Contents
Click Here to Visit Previous Page: Day 75: Mckenzie Bridge OR  to  Springfield OR
Click Here to Visit The Next Page: Day 77: Florence OR to NYC
I woke up around 8am and Kelly cooked me the most delicious blueberry pancake. We sat around talking while we ate breakfast. I quickly packed my bags, stretched my legs and talked about the ride to Florence. I said farewell and thanked them for their kindness. Being one of the last nights of this trip, staying with Sandy and Kelly felt extra special to me.
The ride into Eugene was all bike paths. When I got into The University of Oregon I poked around the campus a little bit looking for the architecture building, but had no luck. Following the Transam directions I noticed that I was very close to Sandy's restaurant so I stopped in to check out the place and grab a slice of Joe. Leaving the restaurant I stopped at a bike shop to talk about boxing my bike up for me tomorrow. They said they will do it for $20 but can't get to it until Monday and will have nothing to do with the shipping. That doesn't work with my schedule. I started to get worried about boxing and shipping the bike.
The ride out of town was all bike paths. I noticed there was another bike shop alongside the path. I went in to ask about sending my bike home. They said they will do it for $35 but wanted nothing to do with the shipping. The kid working at the bike shop told me a couple of his friends were traveling east on the Trans am this summer. I knew almost immediately who they were.  They were the kids I met on day 61 when I was in Sula, Montana. The kid got really excited that I saw his friends on the road and asked me a bunch of questions about them.
I stopped at some Mailbox's Etc. place. They had a bicycle box that they said they could sell me for $5. That works. I figured, Tomorrow ill just come back here and box the bike myself. I actually prefer to box the bike myself anyways. Now I can finish riding to Florence. I felt like I needed some kind of a plan about sending the bike home, before I could finish my ride. Even if it was a half ass plan.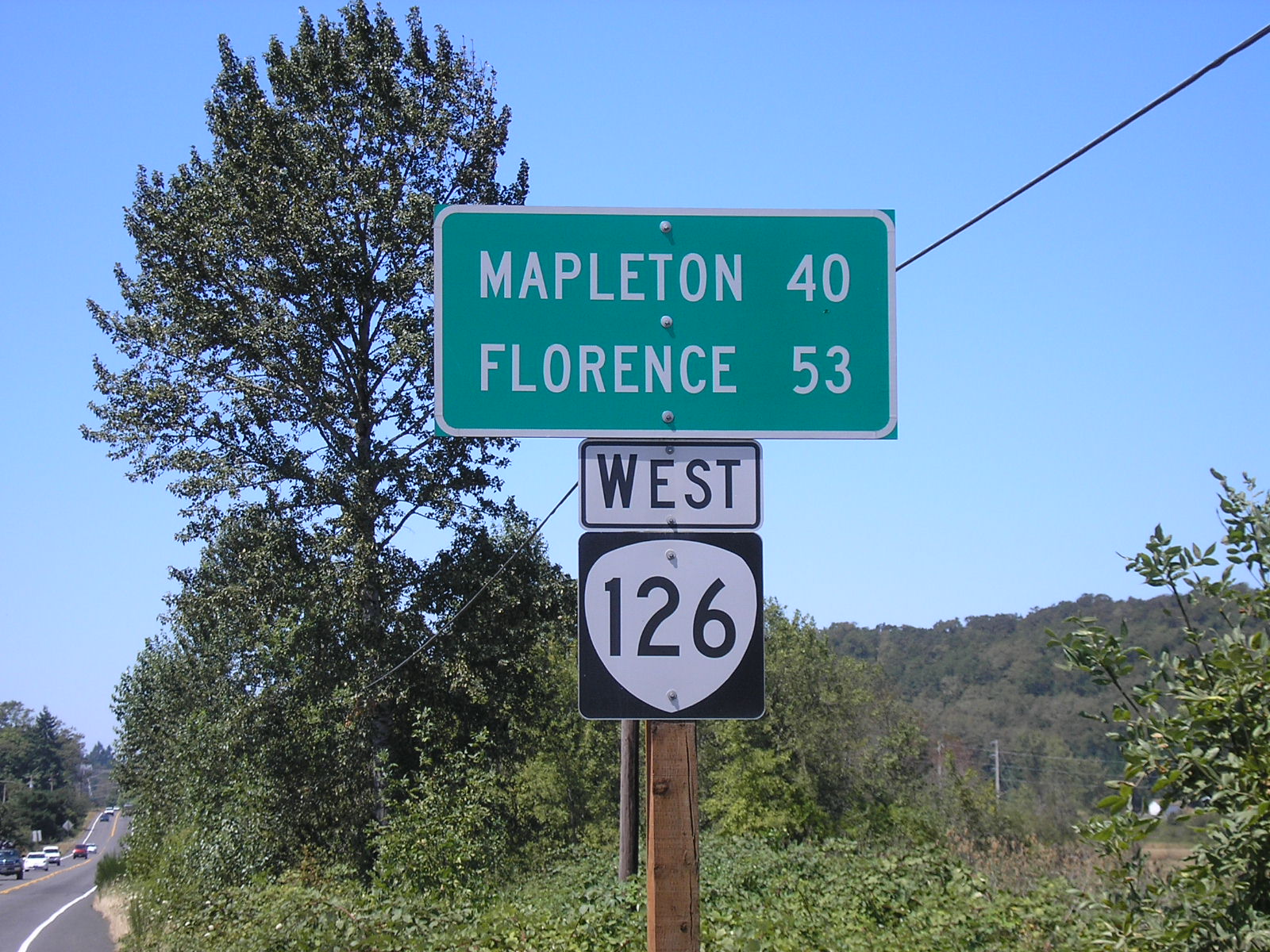 I followed the bike path to the end and found myself lost. I stopped a lady bringing in her garbage cans and asked her about the road I'm supposed to be on. She said 'Make your next right and take that all the way and that's where the beach, seagulls and sandcastles are.' I smiled and took off riding down that road like a madman. She got me very excited.
Route 126 had a lot of traffic but I had a wicked tailwind and I didn't care about anyone or anything and just rode my tailwind like there was no tomorrow. The Trans am took a detour away from all the traffic, but I just decided to stay on 126 I was anxious to get to Florence, I have been detouring for 11 weeks. Most of the day riding it smelled like flowers.
Some guy's car was broken down on the side of the road. He stopped me and asked if he could use my cell phone. I handed it to him, but I had no service. He said he had been there for about 4 hours and no one has stopped to help him. I told him that when I get to the next town or see my phone has service that I would call the sheriff for him. He thanked me. 7 miles down the road I waved down a trooper and told him there's a guy back there that needed help.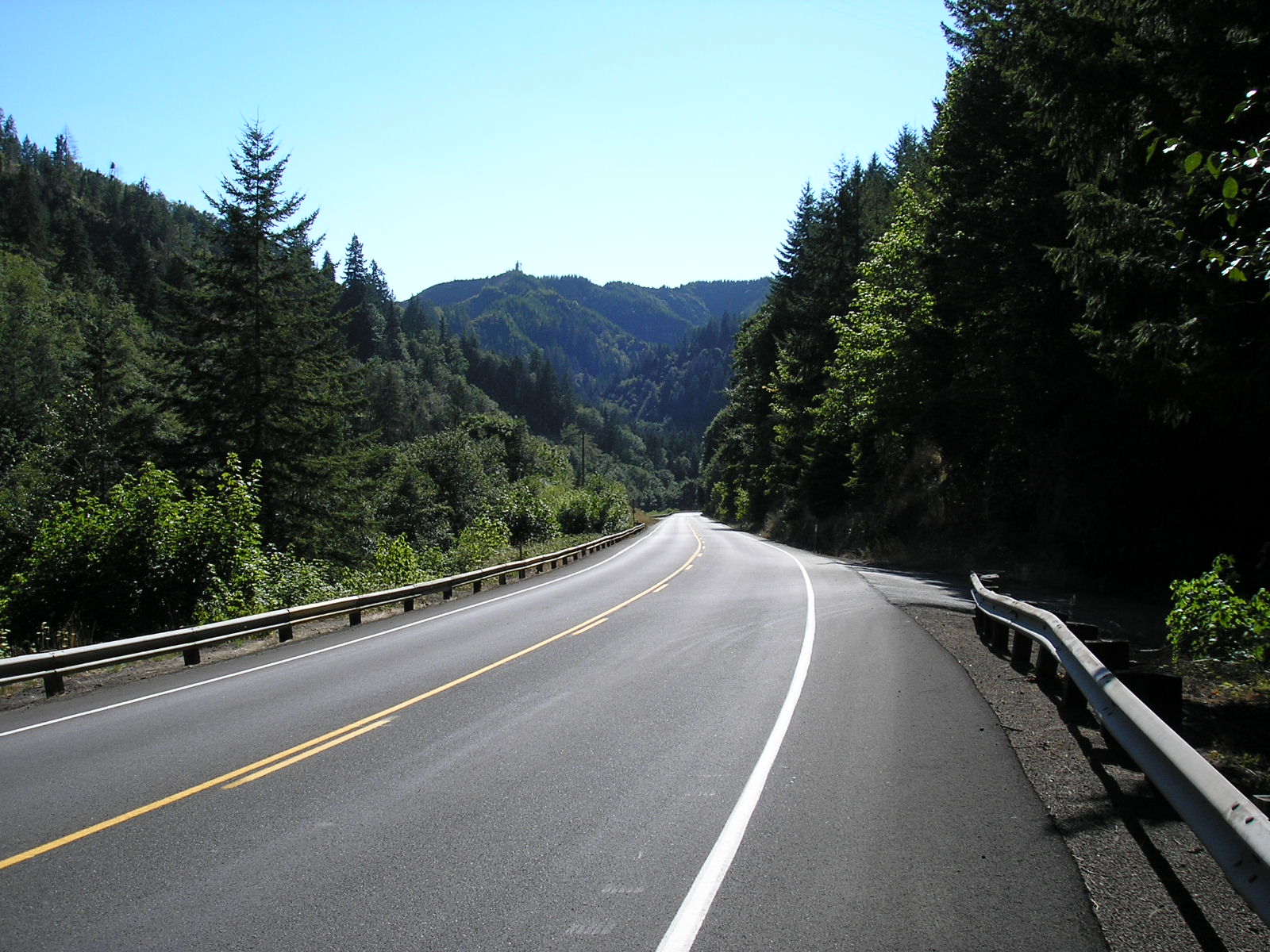 I stopped into a diner called the 'Gingerbread House' or something. It had all these dumb gingerbread men nick-knacks. I drank a cup of coffee and drilled the kids working there about the mileages. I sat and talked with the cook for a while about my trip, then threw $2 down and ran out the door to get back on the bike. I ran out of there so fast I forgot to refill my water bottles.
At the bottom of the hill I stopped into a local bar for water and parked my bicycle in the 'Harley Parking' spot. Inside the bar 2 drunken middle-aged women drilled me with questions. They wanted to talk but I ran out the door. The trail was starting to run alongside the Siuslaw River and it started to smell like the ocean and this drove me crazy.
My tailwind turned into a cross/headwind for the last 10 miles or so, but I didn't care and just pedaled harder. The closer I got to Florence I could see this big cloud of smoke blowing very fast towards the south. For quite a while I thought that Florence was on fire and I wasn't going to be able to get to the beach. The closer I got into town and towards the coast I started to realize that it was just a fog.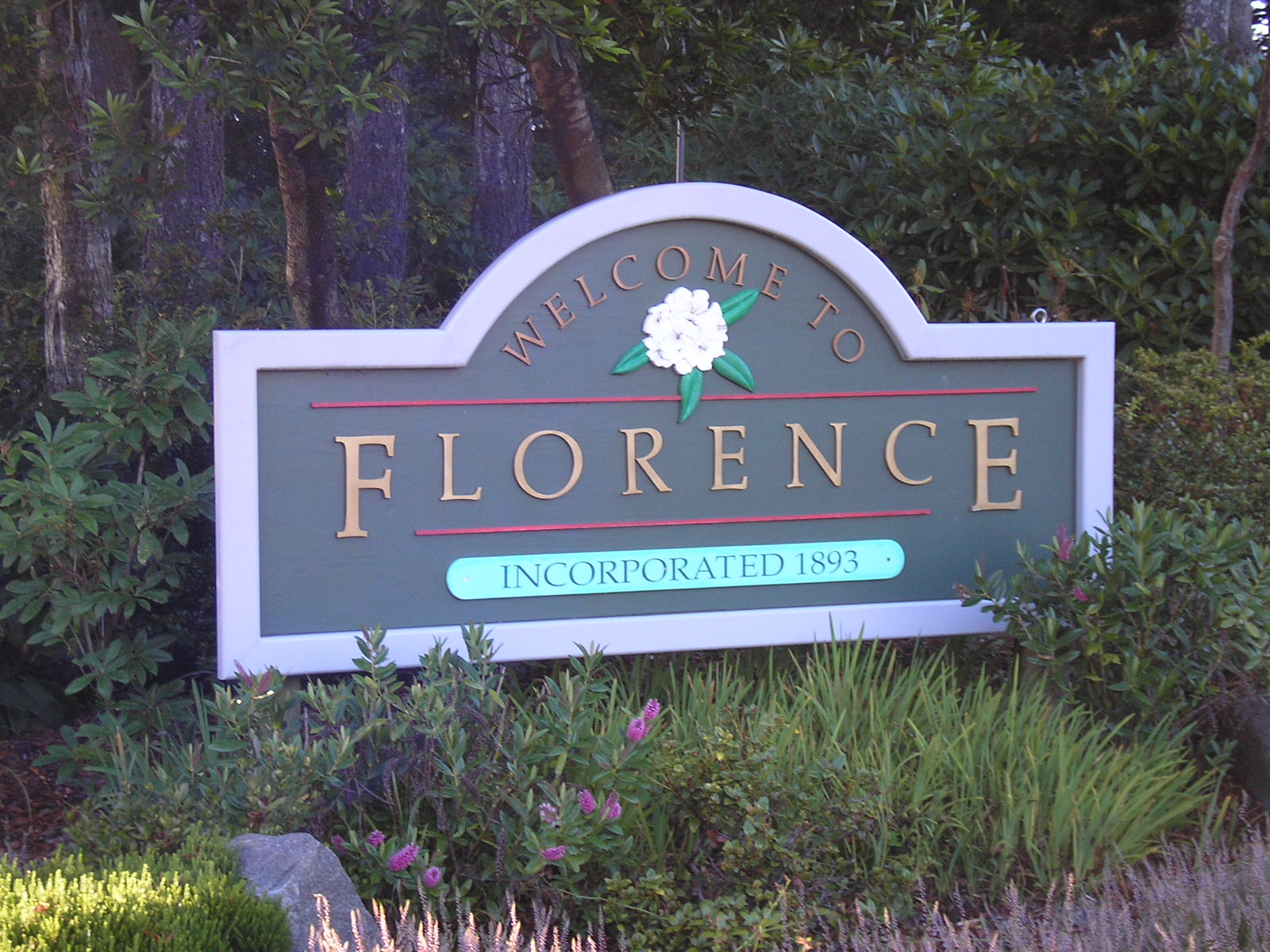 When I got into town I was starving but anxious to get to the beach. I went into the grocery store and bought a 6 pack of Sierra Nevada and some of that crappy Safeway chinese food, to hold me over for a little while. While I was standing in line with a bunch of high school kids one of them said 'It suddenly got really cold outside, what's up with that?' I told them that I didn't care about the cold and how this is the end of my cross country bike ride.
I sat on the sidewalk like a bum and ate my chinese food. Everyone gave me dirty looks. I stuffed the six-pack into my panniers and rode towards the South Jetty. While I was climbing the hill I saw a couple of cyclists parked hooking up a bob trailer. I whistled and waved. They cheered for me. I would have stopped to talk but I just wanted to be on the beach.
The closer I got to the beach the worse the weather became. I was riding through that fog and the winds must have been about 30 mph.  Sand was blowing all over the place and it was raining.   I stopped some guy in a Cadillac SUV to ask him how to get onto the beach. I told him I just finished riding across the country. He and his family got really excited for me.
I rode further down the hill and the weather was just really bad. I parked my bike in the parking lot and climbed up to the top of the dune that brought you onto the beach. I saw the ocean for about 5 seconds and the winds were just so bad that I had to get down. I wanted to take pictures but I wasn't pulling out my camera with all this sand being blown around. It started to rain really hard, so I sat next to my bike and drank a 2 beers listening to my iPod.
3 years ago when making this trip across the country on a bicycle started to become my dream my best friend Jamie Obrien introduced me to the song 'End of Miles' by Frank Black in the Catholics. It's a beautiful song about reaching the Pacific Ocean after crossing the country after losing it all back east. Jamie had me promise him that when I got to the pacific coast that I would listen to this song. So that's what I did.
It was raining but I sat in the parking lot for a long time drinking beers and listening to my song. Eventually the guy in the Cadillac came back over to talk. He congratulated me again and told me that he didn't own this car; he rented it so he could take his family on vacation. They were from California and driving up and down the Pacific Coast. We chatted for a while then they left.
I sat in the parking lot, in the rain until it got dark. Then I started to ride back into town. The farther I got away from the beach the weather turned normal. I saw some kids with bikes loaded with gear. They were touring down the coast. They told me where they were going to camp and I said I might join them there later.
While I was riding into downtown Florence I noticed I had a flat tire in the trailer. I saw 2 16 year old kids riding BMXs then some other traveling cyclist stopped me. He was also riding south down the pacific coast. I asked him where he was sleeping tonight, he shrugged and said 'I don't know, on the street somewhere' He sat and kept me company while I patched the tube on the trailer.
While we were sitting talking there the 2 kids on the BMX bikes came over and said 'Hey you guys ride bikes, but can you do this?'  Then they did some insane BMX trick in the middle of the road. I said 'No way, I can't do that and you're the fucking man!'  Then the kids came over to talk. I told them I just finished riding across the country and they both flipped out saying that riding across the country are their dream. They were so happy to hear about my trip, it made me feel great. I have been on the road for so long. I can't believe I'm here. This bike trip has been a rollercoaster of emotions and a lot of hard work.
After fixing the tire everyone disappeared. I went over to a seafood place where I apparently knew all the right people to get a free meal. But I got there too late and they weren't seating anymore people. I went to some lame bar and drank a beer, but they were also closing so I finished my beer and left.
I went to another bar across the street. It was pretty busy. I ordered a beer then the bartender asked me where I was cycling to. I told him I just finished traveling across the country. He knew all about the Bikecentennial route. My next beer was on the house. For the rest of the night the bartender kept telling people I just rode my bicycle across the country and all these people started buying my drinks.
While I was hanging out I met this guy named Terry. He was interested in hearing about my trip and also contributed in getting me several more beers. I hung out with him for most of the later part of the evening. When he asked how I was getting home. I told him that I'm going to hitchhike back to Eugene tomorrow morning, then I'll take a bus to Portland then I'm getting an airplane.  Terry chuckled, because he's actually going back to Eugene tomorrow morning and said he would just give me a ride. He gave me his number and said he'll come looking for me in the morning.
At the end of the night I walked my bike until I found this old dock right under the bridge. I laid down my ground tarp and just slept on top of that. I was really drunk and couldn't be happier to be sleeping on a dirty old dock in Florence, Oregon!
At the end of miles
You stare out at the ocean
Mountains at your back you think you've tamed
At the end of miles you hope
You'll soon be back in motion
But you're never going back from where you came
A little peace at last
Yes I thought that I would stay just for a while
Now a shadow cast
Is all what's left of this wanderer's profile
But still I have survived
And I know I have arrived
Here at the end of miles
I lost it all back east
I sold my El Dorado
A stranger helped when I was thirstiest
For some the end of miles is Denver Colorado
But something always kept me moving west
I'm lately out of reach
In towns along the California shore
I'm leathery and bleached
I'm lost and I am lonesome to the core
I've got nowhere left to go
But I'm satisfied to know
There'll be miles never more
Click Here to Visit The Table of Contents
Click Here to Visit Previous Page: Day 75: Mckenzie Bridge OR  to  Springfield OR
Click Here to Visit The Next Page: Day 77: Florence OR to NYC