Monday June 25, 2007, 11 miles (18 km) – Total so far: 378 miles (608 km)11.4 miles 34 max
1 hour 10 minutes
Click Here to Visit The Table of Contents
Click Here to Visit Previous Page: Day 8: Conway, ME to North Woodstock, NH
Click Here to Visit The Next Page: Day 10: North Woodstock, NH to South Stafford, VT

It was raining on and off all night long. I was in no rush to get outta my tent into the rain. Soon it stopped and I came out at 8am. Chuck came out shortly I told him Jamie was still sleeping. 2 minutes after Jamie came walking up the campsite with his sleeping pad and bag. He said in the middle of the night his tent was dripping water so he evacuated the situation and slept on the porch of one of the vacant cabins at the campsite. His tent (which is really my old tent) hasn't been holding up very well in all this rain we've been having.|
We packed up pretty quickly. Ham sandwiches for breakfast.  It was overcast and gloomy so I switched my sunglass to the yellow lens, so inside my sunglasses it was a beautiful day. While we stretched on the driveway to the campsite an old man came over to tell us the climb ahead of us is pretty tough but the rest of the day is nice riding into Vermont.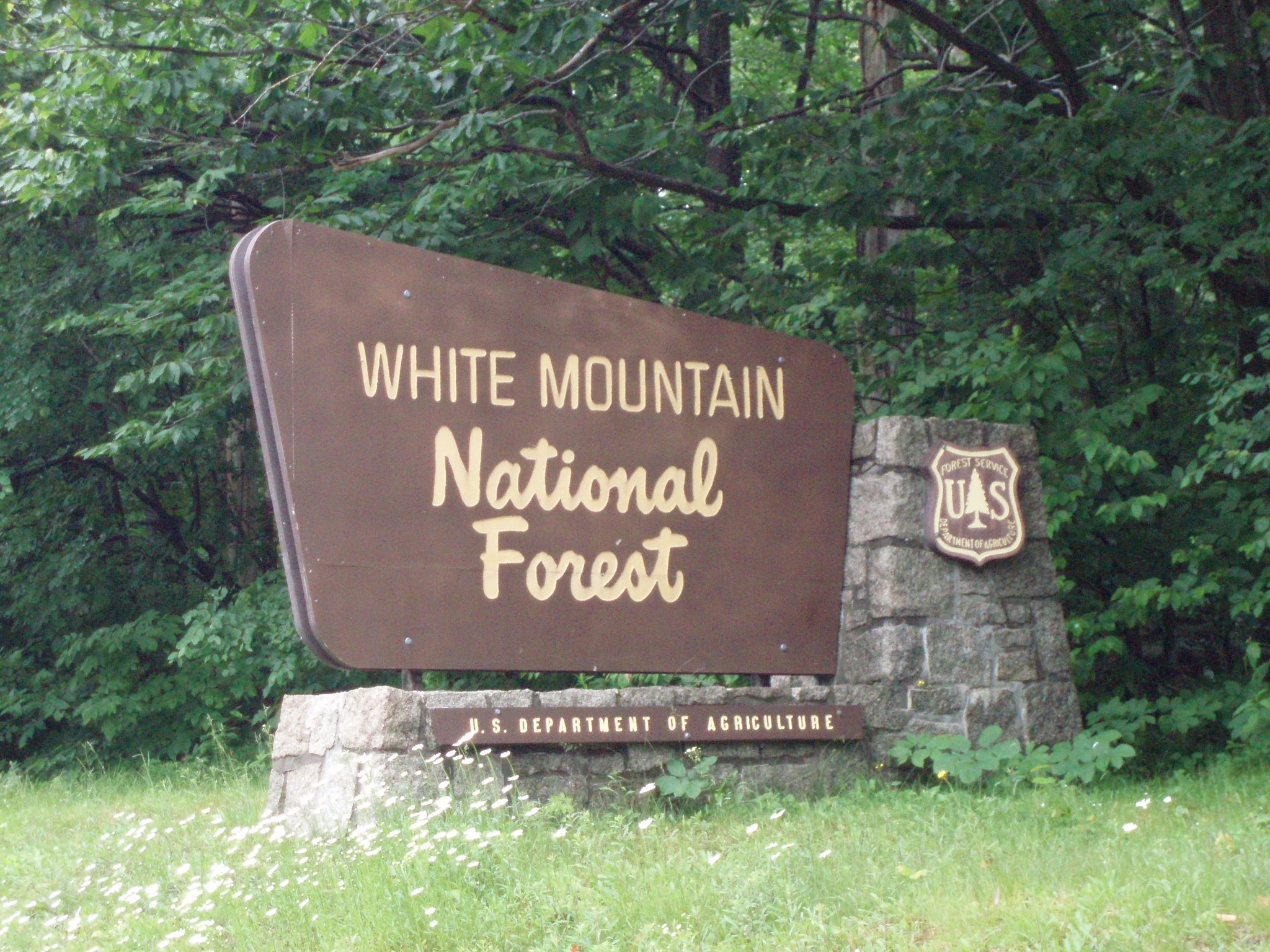 We started climbing the hill. The knee really started to ache halfway up and at the top of the mountain Jamie was in a lot of pain. We sat on top of Mount Moosilauke for about an hour discussing what to do. It didn't make sense for Jamie to stay out here if he wasn't having fun.
We came to the decision that Jamie should go back to Boston. Go see a doctor (While he still has full health insurance), rest and heal his knee and meet up with us in Buffalo, New York. Buffalo is about a week and a half, maybe 2 weeks away. In Buffalo Jamie wanted to check out the university there so maybe he could go up a few days early to do his thing and hang out.
It didn't make sense to go further on our trail because little options were available as far as camping goes so it just made sense to go back to the campsite we came from. We stopped at the library on the way down the mountain. Jamie got in touch with Karl who said he would pick him up. We checked back into our campsite from last night. Luckily that snotty girl was gone.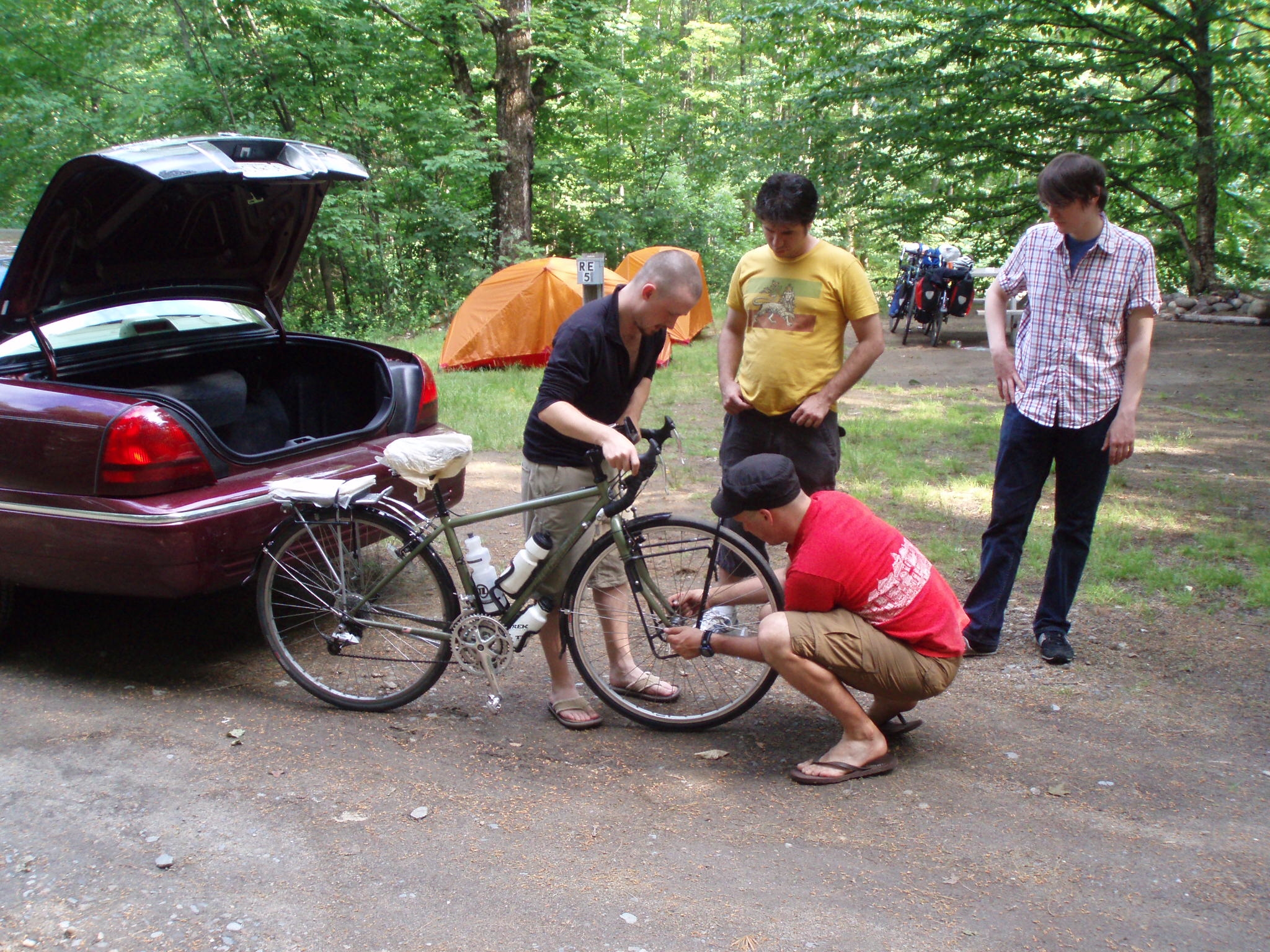 Jamie chuck and I went back to the brewery and ordered beers and burgers. Soon Karl and Gustavo showed up. We put Jamie's bike into the rented car and waved goodbye. It was really sad for all of us. The 3 of us have been having too much fun out here for it to end so abruptly. We laugh all day long. But it's only a week and a half. The little guy will be back. He also wants to get a new tent at the REI in Boston.
After Jamie left chuck took a shower and I took a nap. While I was trying to get some shut eye this chipmunk was freaking out on a branch above my tent making these awful sounds. I got outta the tent told him to shut up and saw another chipmunk on our picnic table. I shooed him away and lay back down. When chuck came back the chipmunk was still hanging around our stuff and he wouldn't leave. Then the guy in the branch started making that annoying sound again. He wouldn't stop, so we threw a rock at him and chased the other guy off our campsite. After they left chuck said one of them pooped on his panniers. Those Sonsofbitches!
It started to rain so I worked on journal stuff then we cooked some pasta for dinner and lunch tomorrow. Tomorrow night we're staying with some cyclists in Vermont it's supposed to be 90 degrees tomorrow. We're both really upset about Jamie.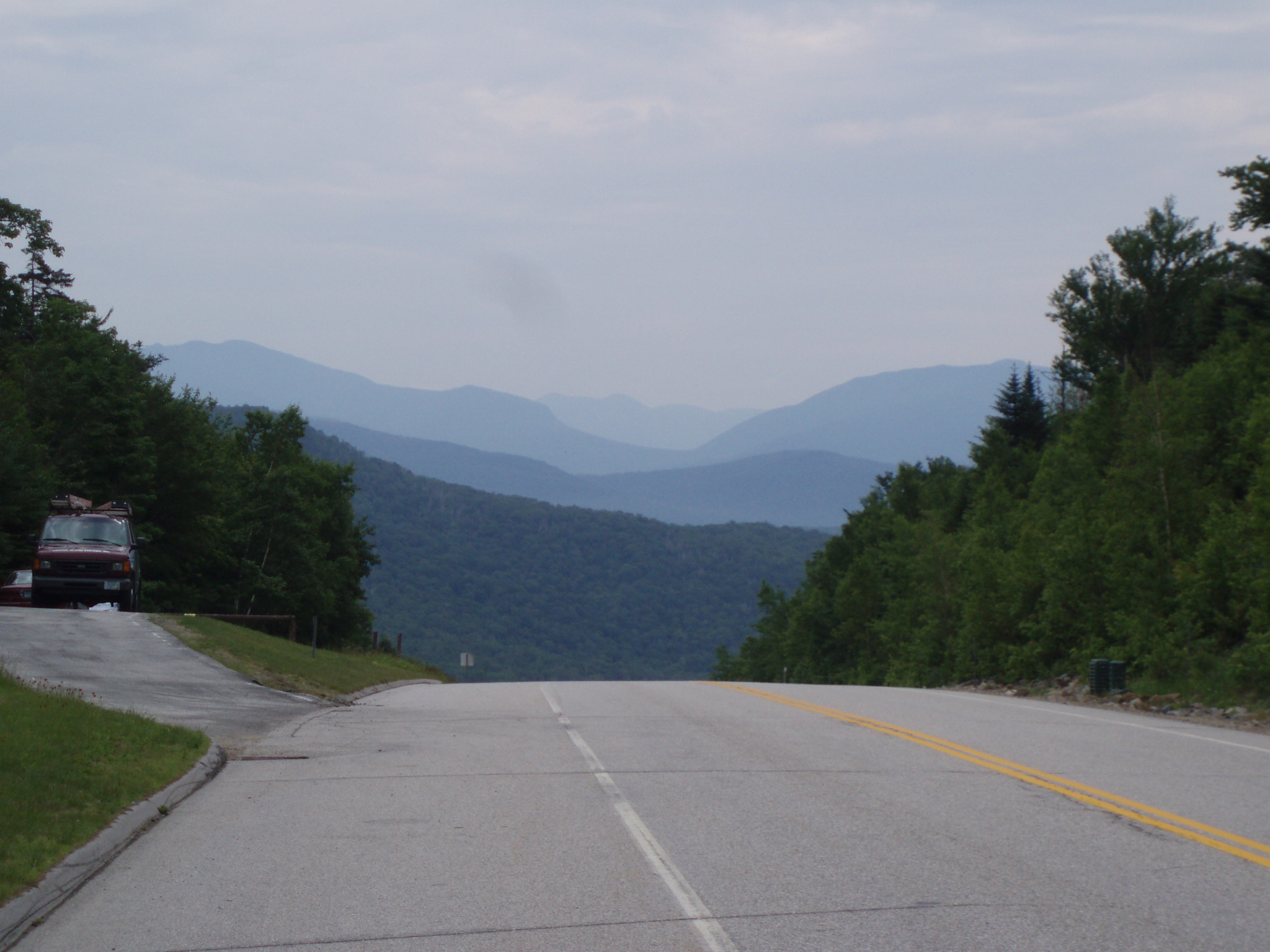 Jamie wanted to write about his knee so this is the text he emailed me to put into the journal. He also made a video, it exists here:
http://www.teamnortherntier2007.blogspot.com/2007/06/moral-low_26.html
It was climbing the Kancamagus pass that gave me the first signs that I wouldn't be able to continue riding up hills.
Before that, it was moderate hilly terrain that triggered my knee, which made me think I wouldn't be able to get up the Kancamagus pass.  It was a frustrating turn of events.
The inside right muscle (or tendon) outside knee cap produces a sharp pain when I peddle.  When I dismount and walk around, when I jump or climb a grassy hill, I feel no pain from that area.
I must have pushed myself too hard peddling on one of the longer mile days.  It was a gradual pain.  The more I was pushing the more I am clearly affecting it.
We stopped at the Kancamagus pass.  I told Mike and Chuck that I can't do it anymore.  We all got quiet.  Chuck and Mike were thinking of alternatives.  I was thinking of what I meant, when I said that.  I physically couldn't ride the bike across the pass, I could walk it, but who would want to do that.
We flagged down the first pickup truck we saw.
A guy named Chuck was being followed by his wife and kids in a hatch back.  They all just came back from a canoeing trip and were more than happy to help someone who needed it.  In the truck Chuck and I talked about mentorship amongst youth groups etc.
We shared a lot of ideals on education.
It got my mind off of the blow to my pride.  He dropped me off in Lincoln, the town below the pass; I got some tea at a fancy sandwich shop, and took a nap across the street on a grassy knoll.  I woke up, did some budgeting and looked up to see Mike and Chuck riding into town.
The next day I would try to ride again.  I had bought a knee brace and put on some BENGAY for the beginning of the ride, which turned out to be riding up a mountain.  There was faint pain to start, and then as I continued to climb it got worse and worse.  I walked the bike the last half a mile up the mountain.  When I got to the top, I announced that riding wasn't fun anymore, because I was in too much pain.  It was difficult to admit.
After a few phone calls, I got a ride from Karl and our friend Gustavo back to Boston.
Today when I reluctantly climbed the stairs back to my almost abandoned apartment, my knee was reminding me why I had to break from riding.
Click Here to Visit The Table of Contents
Click Here to Visit Previous Page: Day 8: Conway, ME to North Woodstock, NH
Click Here to Visit The Next Page: Day 10: North Woodstock, NH to South Stafford, VT