Click Here to Visit The Table of Contents
Click Here to Visit Previous Page: INTRODUCTION!?: 
Click Here to Visit The Next Page: GEAR LIST
Pre-Ride Drama Updates: I haven't even left yet.
As I get closer to beginning the trip I will just post the updates right here to this one page to help keep this journal organized.
UPDATE as per January 23, 2005
Well classes start tomorrow morning for my spring semester. I've been meaning to post here with an update for a while. I feel like I'm halfway to the beginning of my ride. The fall semester went very quick and the spring semester is going to go a lot quicker and as soon as it's over I'm off to Virginia to begin my summer riding the Trans Am.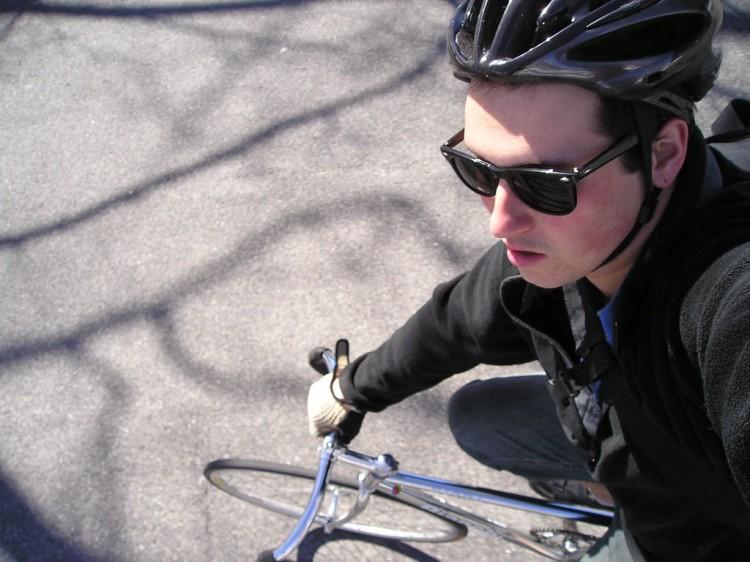 I'm quickly acquiring all the odds and ends I need before I leave for this trip. Today I scored a rain cover for my handlebar bag. I got a really good deal on it off eBay. 2 weeks ago I bought the tiniest little laptop my small budget could afford, so I can keep up with journal entries and emails while I'm on the road. After overly investigating all my options I made the confident decision to go with a small laptop.
Last week I signed up for bike mechanic school at the local bike shop.  Its (10) 2 hour classes about bicycle maintenance. I found out about this when mentioned to my bike mechanic I was riding cross country and I wanted him to teach me a couple of things before I left. I'm really excited to learn about fixing spokes and derailleurs and headsets and bottom brackets. I'm so glad the opportunity arose for me to take this class before I ride this summer.
There's a few minor items that I need to acquire before I leave: the first is a good set a raingear/fenders for my bike and I don't have much money to spend. The rain gear I currently have sucks and isn't much of raingear. If anyone could make any raingear recommendations, I'd really appreciate it. I also got to get a new pair of cycling shoes. I like the mountain bike shoes with SPD cleats. Shoes are easy, I know what I want. The last major piece of equipment I need is a sleeping bag. I want to find the smallest cheapest lightest bag that they make. Sometime soon I'm going to take a ride out to the Campmor retail store by my dad's house in NJ and see what they have to offer. I was also thinking about getting a small stove but I just don't know if it's really necessary.
As far as school goes the fall semester wasn't my best semester at architecture school. I got a shitty grade in design because my Instructor was Jackass. Him and I couldn't see eye to eye on anything. Whatever.  He gave me a C and I have never had anything less than an A- in design.  It's my first bad grade in design it almost doesn't matter. He gave A's to all the tough guys in my class who couldn't give a rat's ass about design or architecture.
As soon as the semester was over we had to submit a portfolio with all of the work we've done in architecture school to get accepted into the 5th year (thesis year) of architecture school. I was really depressed from the rough semester, but getting accepted into thesis made me feel a lot better.  I worked pretty hard on my portfolio. None of the tough guys who got A's portfolios were accepted in the Bachelors of Architecture program. It all evened out in the end.
When spring semester is over I'm thinking about doing a very quick ride from Boston—>NYC kind of as a fun test ride to make sure all my gear is in order before I take off for the summer. Maybe I can convince a few friends to come along for the Boston—>NYC ride. It's such a beautiful ride, I've done it twice. I have the best route (that I keep editing every time I ride it) Someday I'll share it with the online bike touring community. My friend Victor from school is also pressuring me to ride the Montauk century ride with him on May 15. I rode it last year on my track bike in June and had the time of my life.
Currently I still don't know how I'm getting to Virginia yet. My Aunt Barbra said she would give me a ride because we have to visit our aunt Ethel in Fredericksburg. But I don't know how serious she was about that. Worst case I'll take the greyhound. Couple years ago I took the greyhound from Virginia Beach to NYC it was an 18 hour nightmare, but it worked and it was cheap.
My family still doesn't really understand that I'm doing this no matter how much I talk about it. My parents aren't very supportive. Dad doesn't even like me talking about it. But it's ok. last summer when I was in Italy they wanted me to hang out in Europe for a month and backpack all over and I said "No I'm coming home" cause I knew if I stayed I wouldn't be able to ride this summer… but going on a bicycle ride across America seems like a silly idea to my family.. I'm not really bothered by them because I know after I leave and after this ride is over their feelings will change. I remember the first time I rode from Boston to NYC. My dad gave me a lot of shit before I left but he was so proud when he met me at the George Washington Bridge at the end of my ride. It's just the way he is. Bike touring makes him nuts. He doesn't understand.
What else, I've been working part time at the front desk at a cheesy gym that's close to school. I get a free gym membership and all the spin classes I can handle. I'm also working for the school getting ready with a big exhibit for the National Architectural Accrediting Board when they come during spring break to check out our school. That's bringing in some money. All my classes this semester are from 2-5pm so that gives me plenty of time to train during the mornings. But I haven't been riding much lately, I woke up this morning and there was 12 inches of snow on the ground.  January and February are usually my worst months for cycling.  I hate it. I get fat and depressed.
I'm tired I'm going to sleep. I'll post more in a few weeks. I'm getting my touring bike from my mom's house next week so I have it for my park tools class.
February 22, 2005, 3:30am – 90 days till start
Ugh.  its 3:30 am I have design class at 9am and I have nothing good to show my professor. I'm the worst right now.  But I presented the analysis part of my project last week and it went really well… So far architecture school has been treating me good this semester! We're studying/designing housing all semester.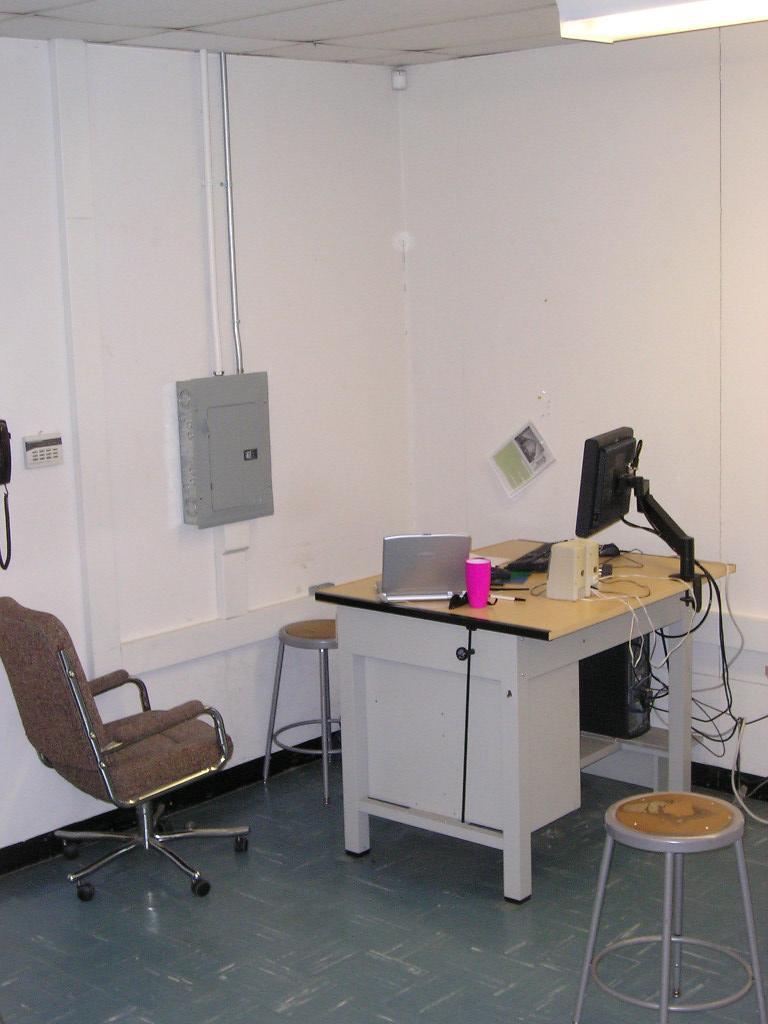 So it looks like I have 90 days until my tour begins. I know those 90 days are about to fly by. I've been taking that bicycle repair class at night on top of my 17 credits at the architecture school. The bike class is the best thing going right now. I've learned so much about bicycle mechanics that I feel pretty comfortable dealing with mechanical issues on the road. I'm grateful I got the opportunity to take this class before I left for the summer. Last week I gave the touring bike a pretty hardcore tune up. The bottom bracket needed to be replaced and I bought a new pair SPD pedals. (Because I'm sick of switching pedals around) Popped spokes and wheel truing is no longer a mystery to me. Popped spokes and untrue wheels have haunted me for years.
January and February are always the toughest months to get out riding. I haven't been riding as much as I would like to be aside from the daily commute. It's been really wet, cold and windy. But I did manage to get the track bike out for a ride a lap around central park yesterday to see the orange gates.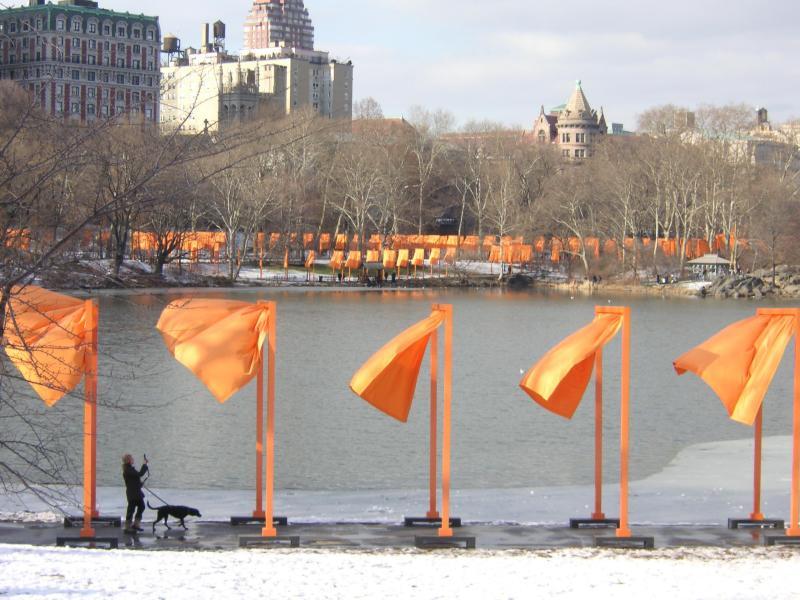 I'm glad I got to experience the installation my bicycle. Just put on my headphones and took off riding avoiding all the crowds and mayhem of everyone else in the park. As far as rides go I'm booked May 1st for the NYC 5 borough ride and the Montauk Century on May 15th… I've ridden both rides before and had amazing experiences.
Starting to get all my gear in order. I've been reading/book marking every gear list I can find on the internet and using those to put together my own.  Thank god for Crazyguyonabike and bike forums. Sometimes I feel that there's just too much information available for me to waste time reading when I should be doing other things.
Many more purchases still have to be made. I have to get a sleeping bag (I've read all the arguments, I'm going synthetic!), rain gear, Halt!, new cycling shoes, fenders, I'm debating buying a smaller 1 person tent and a lot of small odds and ends… I'm researching a lot and buying on eBay so I can to save $$. I'm really worried about money and running out of it…. I'm going to do whatever I have to do to make sure that doesn't happen.
Oh, I found a Chinatown bus that goes from NYC to Norfolk Virginia for like $35. According to map quest Norfolk is only 36 miles from Yorktown where the trans-am begins.  That's good enough, I can figure out the rest from there.  From my Chinatown bus experiences they have always been pretty good about letting me put my bike in the cargo space unboxed.  Greyhound (or the "dirty dog" as I like to call it) made me put my bike in a box.  AND THAT SUCKED.  I hope I don't have to take a bus to Virginia. Taking a bus is my backup plan…
I haven't really worn a winter jacket all winter. Just non insulated windbreakers and maybe a sweatshirt, but nothing too fancy. I'll throw on a sweatshirt if I'm outside for an extended period of time. My friend chuck and I have a theory that: "yeah it's been cold, but not that cold… and only people that wear winter jackets and fight against the cold, THEIR THE ONES WHO ARE ALWAYS SICK." ::knocking on wood::
What else is going on? I quit my job at the gym.. I'm working a lot of hours for the school getting ready for the accreditation.  Working on this accreditation project is amazing. I make my own hours, work with my best friends, we just laugh and laugh while we build this enormous exhibition for the school. And then the school pays us! Architecture school is the best!
I guess that's about it. I'm going to keep all my ranting to my other journal… Ill post again when my ride gets closer and I have more to talk about.
::sigh:: I can't wait to get outta here and explore the landscape.
April 2nd, 2005
Today I finally got around to designing my business cards… check it out.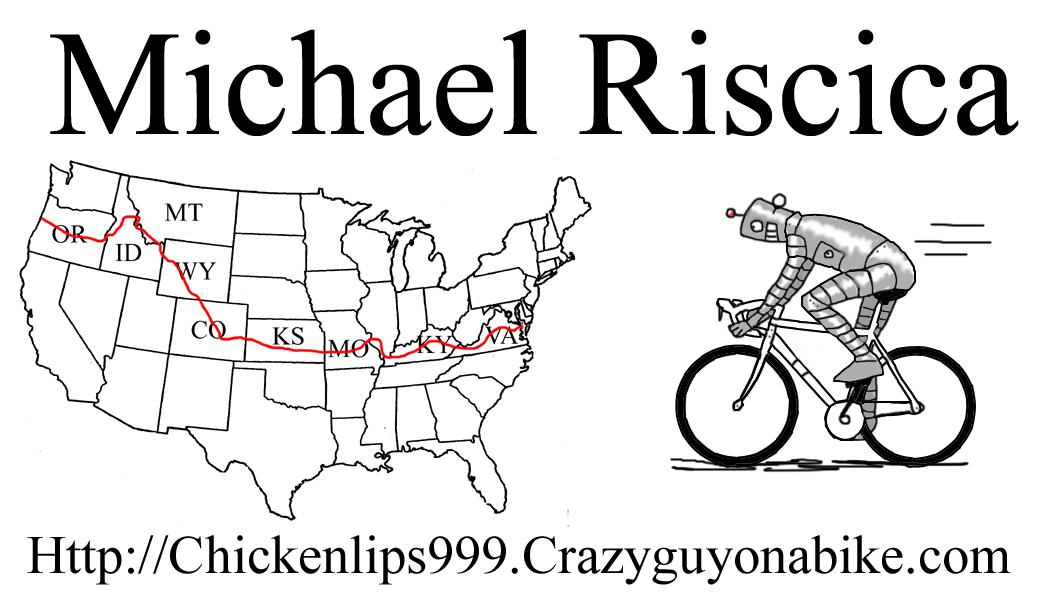 Now I just have to get them printed. My best friend Fluery drew the robot for me.
I'm basically done gathering all my equipment. I bought a new tent for the trip.  Got the 2005 eureka solitaire, yep! Finally decided a 1 man tent was the way to go. I researched the hell out of all the tents. When I finally got the new tent set up in my living room it was actually a lot more spacious then I thought it would be. I'm pretty happy with it, even though I haven't slept in it yet.
On most of these journals people post their gear in a list form, which I find very tedious to read.  So I've started working on a diagram of what I'm taking with me. The diagram is a lot easier for me to work with. I'll post it after it's finished.
I also called to chat with the china town bus people. They don't charge extra for bikes and it doesn't have to be in a box. THANK GOD! Boxing bicycles is the biggest nuisance in the world. After I got off the phone with the china town bus people I thought about how lucky I am to find a $35 Chinatown bus ride that goes from NYC to about 10 miles from the beginning of the trans-am trail in Yorktown VA.  Oh they also told me they only make 1 stop on the way to Virginia and that's in DC.
Training is going well. Been mostly riding the track bike everywhere, but yesterday I rode 35 miles to jones beach with a bob trailer filled with crap that was laying around the house.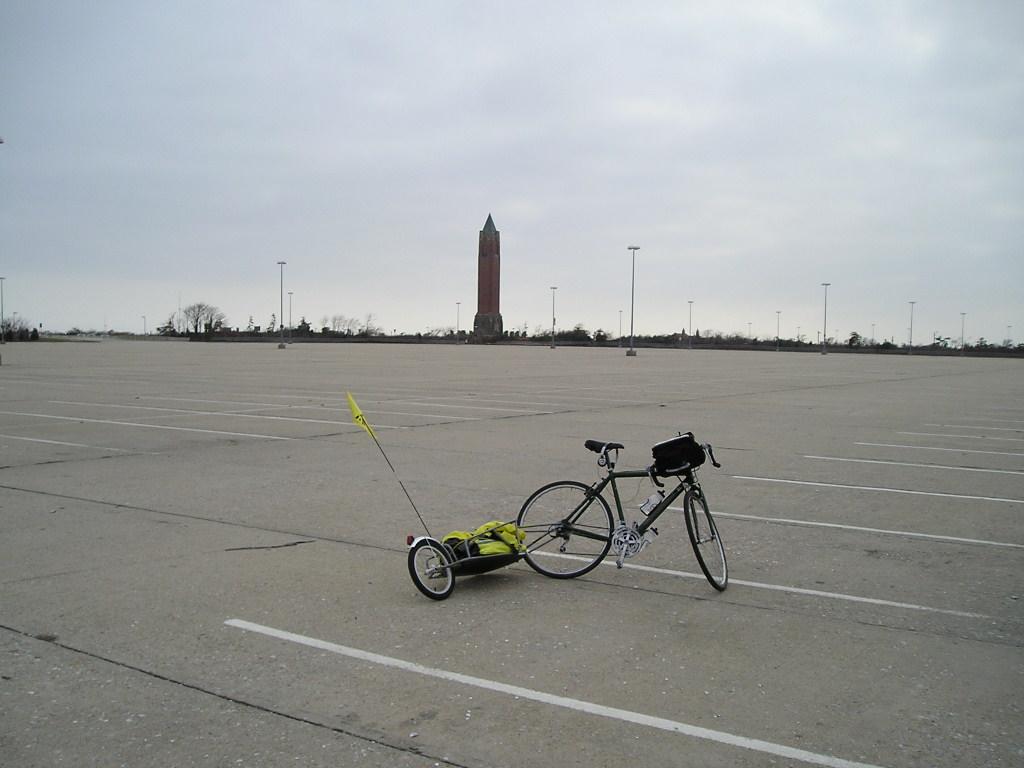 The minute I left the house I instantly remembered how much I love riding with the bob. It feels like the bike has a tail.  In 2 weeks there's a century ride in northern long island. that should be fun. I also started riding on rollers (in my living room) when the weather sucks.
Schools going pretty good. All my presentations have been successful so far and nothing disastrous has happened yet. Been working hard to catch up because I was a big part of the schools accreditation visit and that pushed me a little bit behind in my own work.
The other day I was driving home from school in a rush so I could go out riding before it the sun went down. As I was sitting at a red light with all the windows down a cyclist rode up and asked me for directions. She was trying to get from eastern long island to Manhattan. I didn't have my bicycle map in my bag, but I gave her the best information I had. I told her about my trip this summer then we both said good luck to each other and I drove away. It felt pretty weird to have a cyclist ask ME for directions while I was driving my car.
I'm going back to doing what I do. In meantime I need to figure out how and where to attach a water bottle cage to the bob and where I'm going to keep my camping fuel container. I don't want to store it in the bag with all my clothes.
Ciao
April 17th, 2005
I have been training like a maniac. I'm back into my daily routine of stomach crunches and pushups. I've been using the bike more and the car less.  2 nights ago me and my friend victor took an evening train into Manhattan, rode up to central park and did a lap. Then we rode down over the Brooklyn Bridge, thru Brooklyn and caught the shore parkway bike path and took that out to Coney Island and rode the ocean parkway and Flatbush Ave back into Manhattan… Victor clocked 43 miles. It was a beautiful night to ride bikes in New York City. We caught a 1am train back to the Island and ate like pigs when we got there. Next Sunday is a 63 mile ride, that I'm really excited about…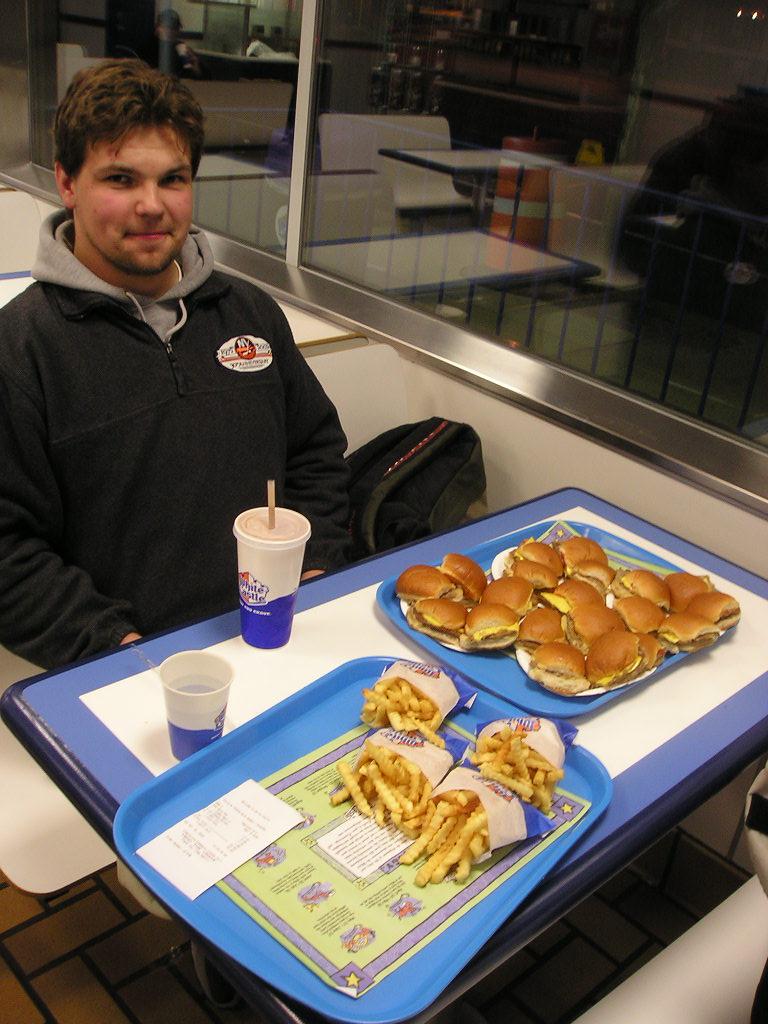 I haven't ridden the touring bike much lately. I rode it around the block the other day and it feels weird riding it without the bob attached. But I keep packing, modifying and repacking for my trip. I'm frustrated because the fenders I bought don't fit my beefy Cannondale frame and my handlebar bag isn't fitting right… I've also been getting a lot of flat tires lately on my track bike. 3 in the past 2 weeks! ugh…
Waiting for this trip to begin is the starting to get really hard.
April 21st, 2005
It looks like my cross country adventure might be abruptly ending in Potsdam, Germany with a design project. My architecture school is participating in a 2 week workshop for 10 students that involves doing an urban/housing design project in Potsdam. It's the first 2 weeks in September, but I have to arrive in Germany a week before the program. So that would mean I would have to cut out hanging out in San Francisco at the end of the tour and fly out to Europe the last week in August.  I haven't officially gotten on this Potsdam trip and no plane tickets have been bought.  But, who knows this whole Potsdam trip might fall through, But I really hope it doesn't ::knocking on wood::
I made out like a bandit today in Walmart. Bought a mean-ass camping knife, waterproof pants! a compass, glow sticks?!, a spice kit, 7 piece alum cooking set. I have to go generate some kind of architectural looking drawing for class tomorrow.
See ya later.
April 22nd 2005
Well, it didn't fall through… It all worked out beautifully!
Today my amazing wonderful Mother used all her frequent flyer miles and bought me a airline ticket to berlin on August 22nd. So I'm definitely doing this architecture workshop in Potsdam Germany. The program doesn't officially begin until September 5th but the university is letting the students of this program stay there for 2 weeks before the program begins. I'm taking full advantage of that. I hope in that 2 weeks' time before the program I can ride bikes, sightsee with classmates and visit distant relatives. When the program starts September 5th, they are going to be working us pretty hard so I'll have no time to be a tourist.
So the cross country ride. Well basically it cuts my cross country trip from 92 days down to 80 days.  Is 80 days enough time to ride the Trans am?!?? I don't know. But I do know I'm not going to rush my bicycle trip just because I have an airline ticket to Berlin.  Maybe I'll have to come back and finish riding the end of the trans am.  Somewhere around August 15th I'm going to start thinking about making my way back to NY wherever I am….
There was a famous Italian architect Giuseppe Terragni from the futurist era in the 1930's-40 who I spent a lot of studying last summer when I was Lake Como, Italy. Well his niece Elisabetta Terragni is an Architect and a Professor and she will be visiting my school next semester. After I get back from Germany I'll spend the rest of the semester with her as one of her brilliant, talented and gifted design students. Last summer I met her briefly and visited her office.
So that's where I stand. This opportunity to travel and study in Germany came before me and I jumped all over it and bit its head off.
Ok back to the grindstone.
April 29th 2005   2AM
Last Sunday I rode the Nassau Suffolk challenge it was 63 miles. I had a great time. It was a lot of fun. I think this is the most fun organized ride I've rode. Last year I also had a blast. All the old men bike club guys were super impressed that I was able to destroy those 63 miles on a track bike with no brakes.
The NYC 5 boroughs ride is this weekend I don't know if I'm going to go. It's going to be chaos, maybe I'll just do a long peaceful ride on the island.
Last night I switched my brooks saddle on the touring bike and put that silly track bike away until after my trip. From here on out I'll only be riding the Cannondale t-700 touring bike. I gotta put down the track bike for a little while. I need to get used to riding a civilized bike again with gears and brakes.
I've added daily abdominal exercises and pushups to my training.
Finally got the business cards printed (that I posted at the top of this page).  I'm going to wait until I leave till I mail them out to friends and family.
I've made getting ready for this trip an exhaustive process, but I've enjoyed it immensely. I'm 95% ready to leave and I still have a few weeks to go until I'm done with school.
May 2nd, 2005
I rode the 5 boroughs ride yesterday in NYC. 30,000 people rode 42 miles. It rained and rained and it was cold as hell. I got into the city a few minutes late. the front of the tour was going past as soon as I got outta Penn station so I was at the very front the whole ride. They made us wait 30 minutes in Astoria Park until the closed the Brooklyn queens expressway.  Standing around being wet and cold was the worst part, but the weather cleared up while I was on the Staten Island Ferry heading back to Manhattan.
I always have a good time riding with a herd of cyclists. but what I like the most about the 5 borough ride is that everyone rides, regardless of skill level or whatever kind of bike you have, kids, families, cycling freaks and weirdoes. It's quite a huge celebration.
I slept outside last night in my new tent and I felt like a million dollars when I woke up this morning.
Architecture School is in final crunch time and all I want to do is ride bikes.
May 5th, 2005
Yesterday I rode my bike to a Dr.'s appointment and I was 10 minutes early so I grabbed a muffin at Dunkin Donuts and sat outside enjoying the beautiful day and my muffin… while I was sitting there this dirty homeless man came up to me and was like
<I>Homeless guy :< /I>    That's a nice bike, what's the farthest you ever rode that bike??
<I>Mike Riscica: </I>    I'm leaving in 3 weeks, I'm riding 4000 miles across the country
<I>Homeless guy:  </I> How long do you think that's going to take you???
<I>Mike Riscica: </I>    I don't know, about 85 days
Then he looks me in the eyes and says
<I>Homeless guy: </I>    Well I don't want to offend you or anything but I have some friends that rode it in 5 days!!!
<I>Mike Riscica: </I>    GET OUTTA TOWN?! 5 DAYS!?!?!?!   On a bicycle????
As he walks away…
<I>Homeless guy: </I>   Yeah man, it was the 60's they had drugs to help them…
Friday May 13th, 2005
Today I had my final presentation for design class. It went very well, I presented to a jury of 6 professors and practicing architects and the Dean showed up. They liked my proposal and gave me some excellent constructive criticism. It felt great to have a solid final presentation for once. The last couple of "end of the semester presentations" I've had, have all felt like circus fiascos.
The weight of the world was lifted off my shoulders immediately after today's design review. I have been locked up inside my house for the past several weeks neurotically drawing on a computer getting ready for this presentation. Unfortunately I haven't been riding very much because of this review. I've managed to ride to Jones Beach a bunch of times. (About 35 mile) but that's a dull ride. Luckily I can have my life back and I can get some riding in before I leave. I'm hoping to be able to ride the Montauk century ride this Sunday but I have a huge packet of drawings due Monday for my construction class.
I haven't shown my face at architecture school much lately, but today several people stopped me in the halls to talk about the trip and had been to this website and are excited for me to start riding. That felt good to hear.
So this is my very optimistic plan for to finish all my responsibilities in New York and leave for Virginia.
Tomorrow (14): ride in the morning and spend the rest of the day finishing up those tedious building construction drawings.
Sunday (15): wake up early and ride 100 miles to Montauk and take the train back… go to sleep, wake up in the middle of the night and whip out some school shit
Monday (16): Drop off my construction drawings (lower Manhattan), work on design project for a history class, and start disassembling an exhibit at the school.
Tuesday (17): ride somewhere in the morning, work on history final & disassembling the architecture exhibit,
Wed (18): go riding, Hand in history final, going away party with family in Westchester
Thurs (19): Exam at noon maybe visits my dad in NJ, possibly still finish disassembling architecture exhibit?
Friday (20): Visit with my best friend Jamie Obrien in CT at my moms.
Saturday (21) or Sunday (22): Take the bus to Virginia
Monday (23): Be in Virginia, most of my fellow classmates fly to Italy, china or berlin to study/travel for the summer.
I'm going to go catch a movie with girlfriend. I'll post again in a few days.
May 15th, 2005
I bailed on the Montauk ride. I have too much school work that needs to be accessed, I can't afford the $60 entrance fee and it's cloudy and it looks like it might rain.
My car is dead and it won't start, I neglected it while I was in my final crunch and didn't get started or used for about 2 weeks. I'm scared for it because I don't have money to put into it and I won't really need a car until the end of September anyways. Actually I don't even want to own a car anymore. My life is always happier when I don't own one.  It's too easy to live in Nassau County and ride a bike everywhere. I don't even like cars.
I'm leaving for Virginia in 7 days. "Shoot me in the ass!" as Wesley Willis likes to say.
May 18, 2005
A shithead internet company who I bought my new brooks saddle from decided not to ship it for 11 days, then they gave me the run around after I called them looking for it. I'm really pissed, but hopefully it will arrive tomorrow. I now have a UPS tracking number.
It's going to be nice when I take my next bike tour and I don't have to buy anything and I can just go.
Finishing all my school responsibilities has been like pulling teeth. My brain has shut down after my final crit. My last test is tomorrow.  ::wiping hands clean::
I called the Chinatown bus people 3 different times about getting my bike on that bus and someone tells me something different every time. I've learned in the past you have to deal with these Chinese bus company's face to face.
I'm leaving with a lot less money than was planned. I'm not going to worry about it until I run out of money.
I'll be leaving Saturday; my girlfriend going to take me to the bus stop in lower Manhattan. I have no idea where I'm going after I get off the bus in Virginia. I'll be in Norfolk and it will be 1am. I'll probably try to work my way over to Yorktown.
::Sigh:: I need a vacation.
May 20th 2005
I'm officially done with architecture school!  I aced my last test today, handed it in and gave my professor a high-five. I'm free at last. I went out for drinks tonight with bonnie chuck and Ryan. The air finally feels fresh in Long Island. I've been sleeping with the windows wide open every night. I only want to breathe fresh air.  The brooks saddle finally arrived today. After all the stress I'm pretty happy with it. Brooks' saddles are the way to go; I now own 2. Now I need to figure out how my crazy bike computer works.
Tonight's the last night in my bed. I'm leaving Long Island tomorrow at 2pm for CT. The list of shit I have to get done is growing like a weed.
This is my last post here on these Pre-Ride updates.
Here we go.
Wish me luck.
Click Here to Visit The Table of Contents
Click Here to Visit Previous Page: INTRODUCTION!?: 
Click Here to Visit The Next Page: GEAR LIST