Saturday June 16, 2007
Click Here to Visit The Table of Contents
Click Here to Visit Previous Page: 2007 Gear List – Team Northern Tier
Click Here to Visit The Next Page: Day 1: Blue Hill, ME to Bar Harbor, ME
Last night sleeping arrangement in Jamie's empty apartment was very limited, in true Mike Riscica fashion I volunteered to sleep on the porch. I slept great. Karl slept on the hammock and he also slept great. There is nothing like breathing fresh air all night long.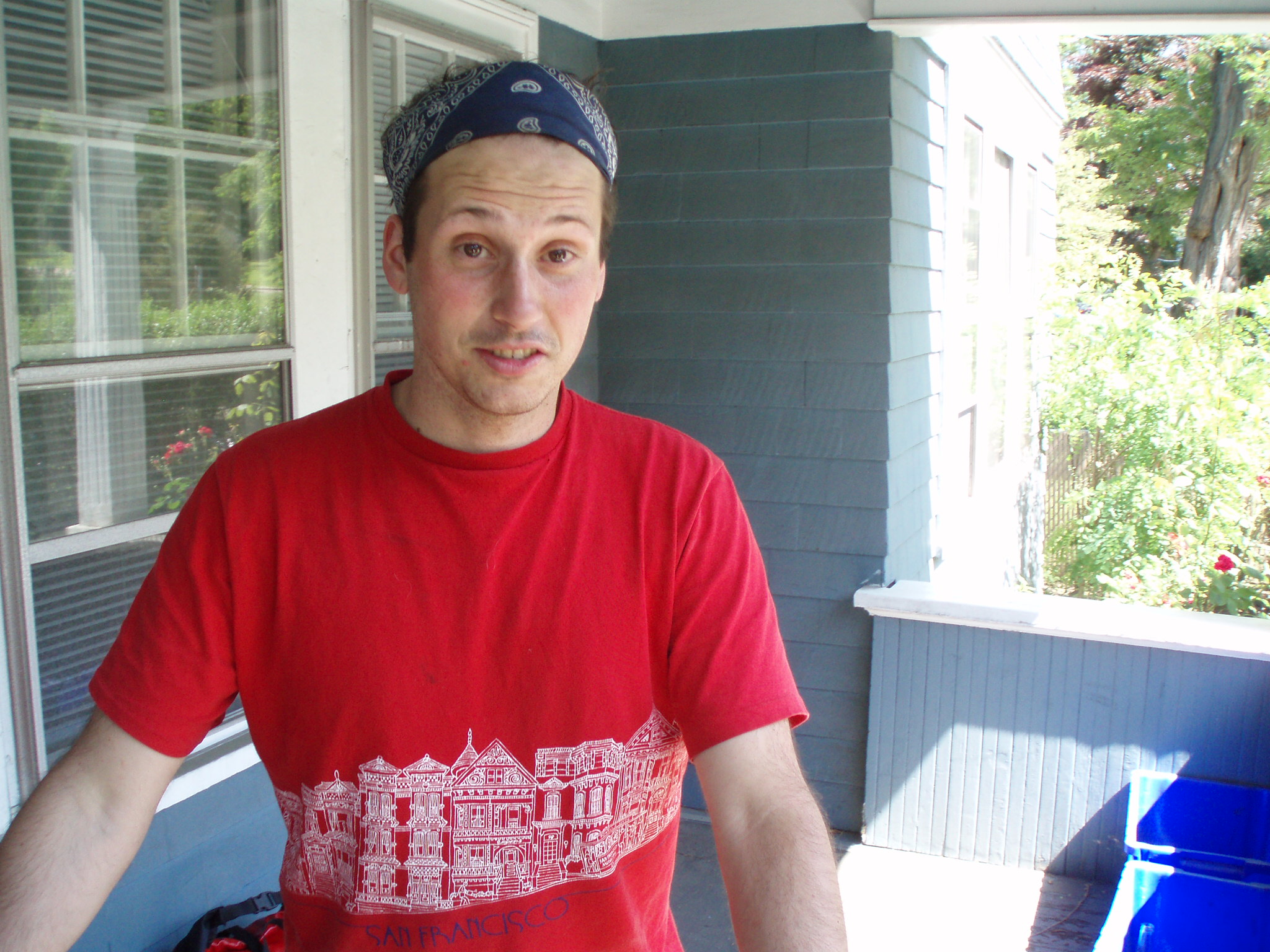 Jamie's friend from the internet show Drive Time http://drivetime.ravijain.org/ called and was going to pick him up at the apartment at 9am for an interview. We all quickly got our gear together and brought everything downstairs. At 9am they picked Jamie up in the car and chuck and I rode our bikes over to the Forrest Hills Cemetery to be there at the end of Jamie's interview. They drove Jamie around and he told them about the bike trip. Jamie said it went great; we're all looking forward to seeing the finished version. They told us the episode should be up in a couple of days. http://drivetime.ravijain.org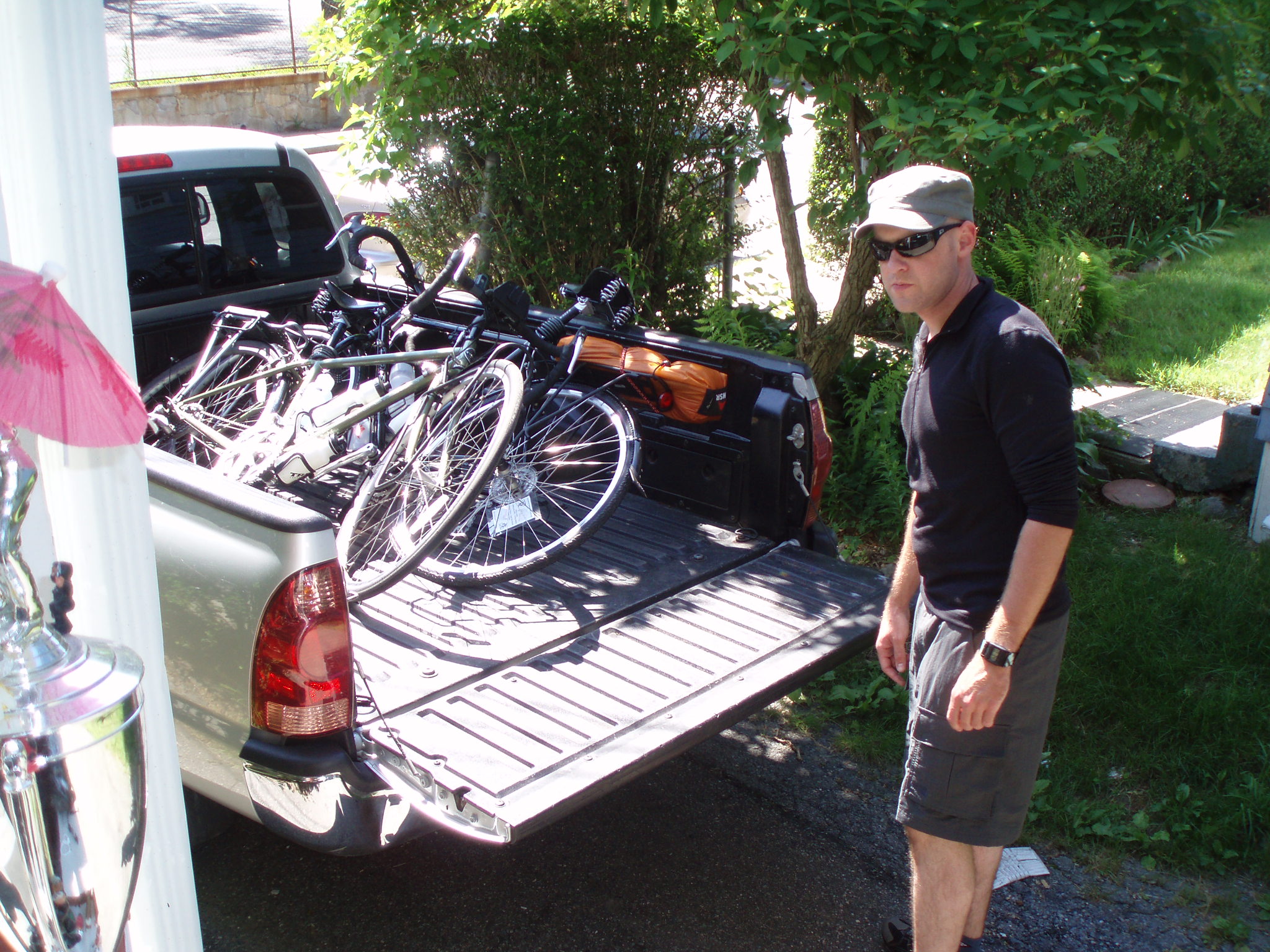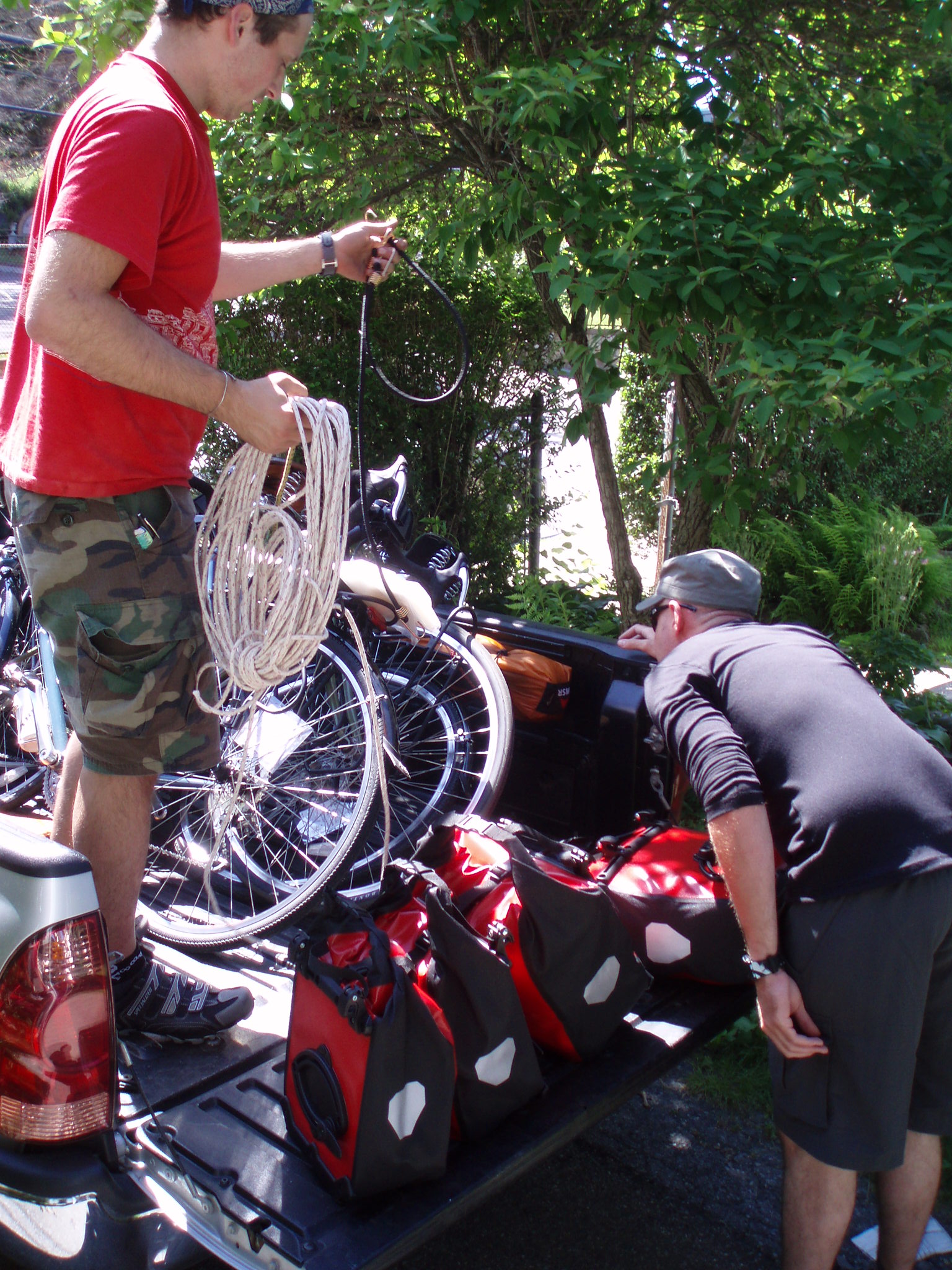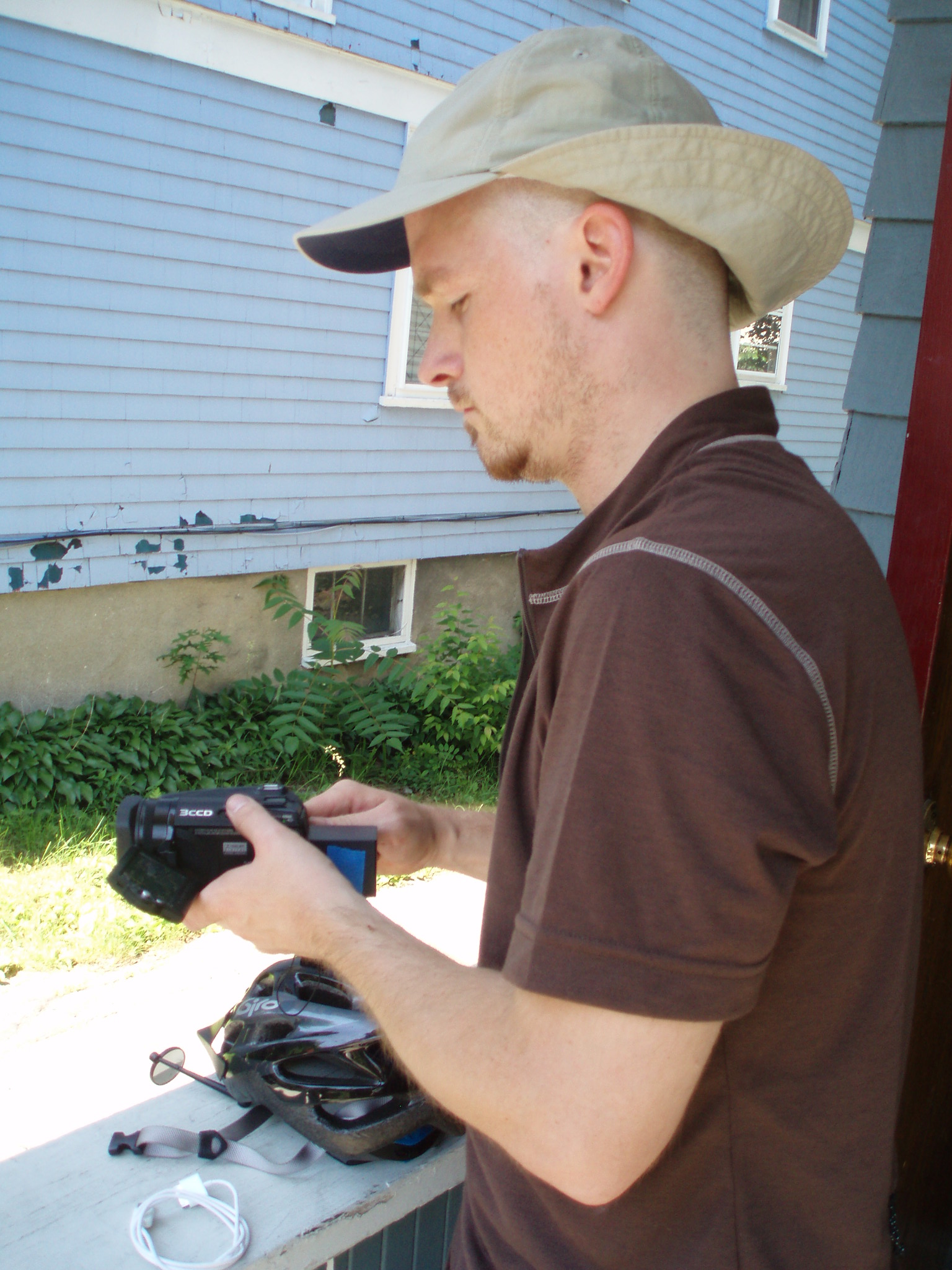 We went back to the apartment and started loading the truck. It took a while but we tied everything down real good for the 5 hour ride that was ahead of us. After a crap load of running Jamie's last minute errands we finally got on the road. The drive was a lot of fun. We cracked jokes the whole way up and Karl hadn't driven a car in 2 years so we made fun of his driving. When we got close to our destination in blue hill we actually drove on 20 miles of the northern tier. It was pretty cool getting that sneak peak of our ride outta bar harbor, the views are fantastic.
Our first night was at our friend Jennifer and Berto's house in Blue hill Maine. Jennifer works for the School of Architecture and is in charge of organizing lectures and Exhibitions. While Chuck and I were in architecture school we became very good friends with Jennifer. When I told her in September that we were going to ride bikes from Bar Harbor to the coast of Washington she got really excited and said we need to visit her in Maine. We talked about it all year long and tonight it was finally happening.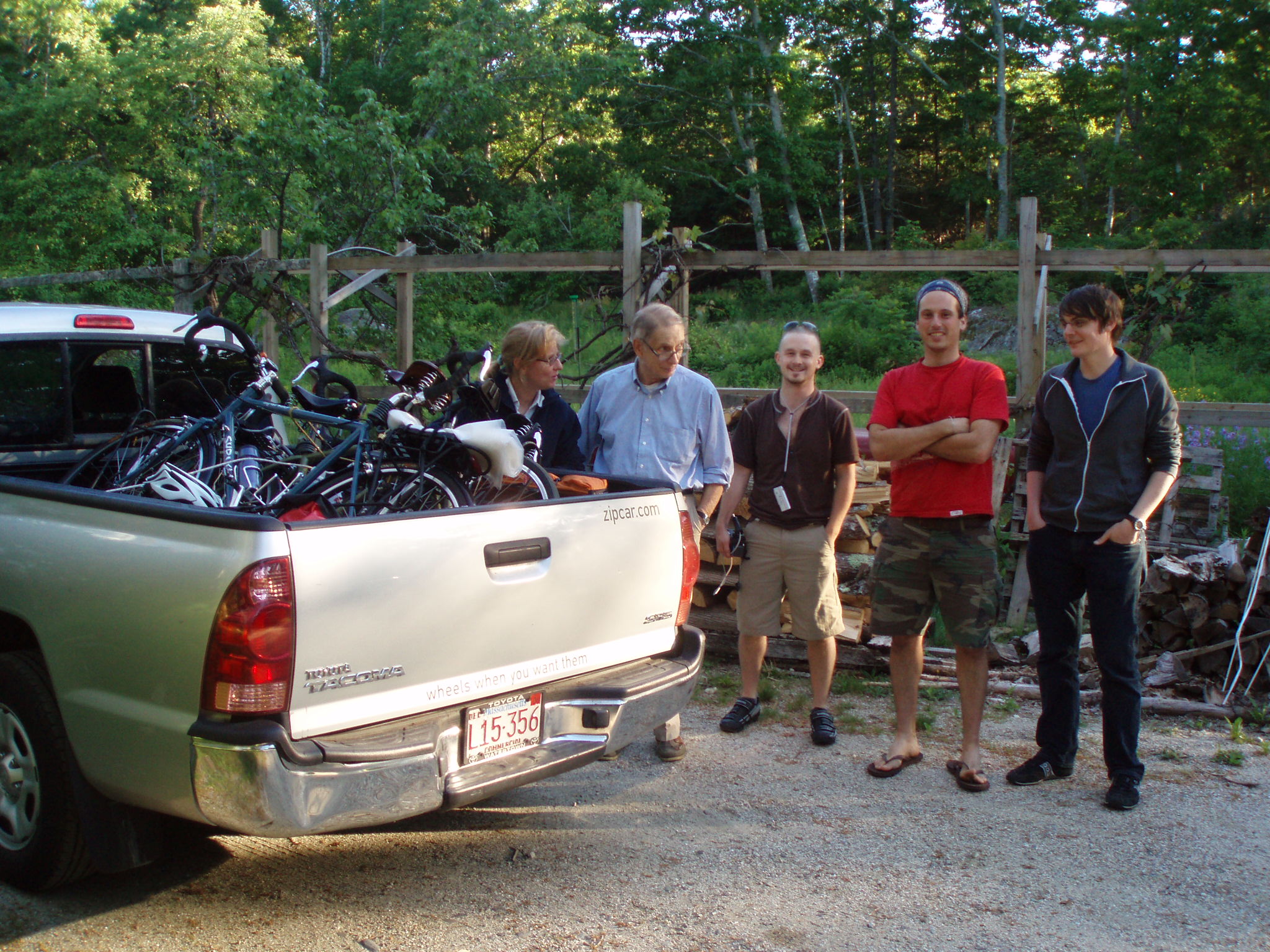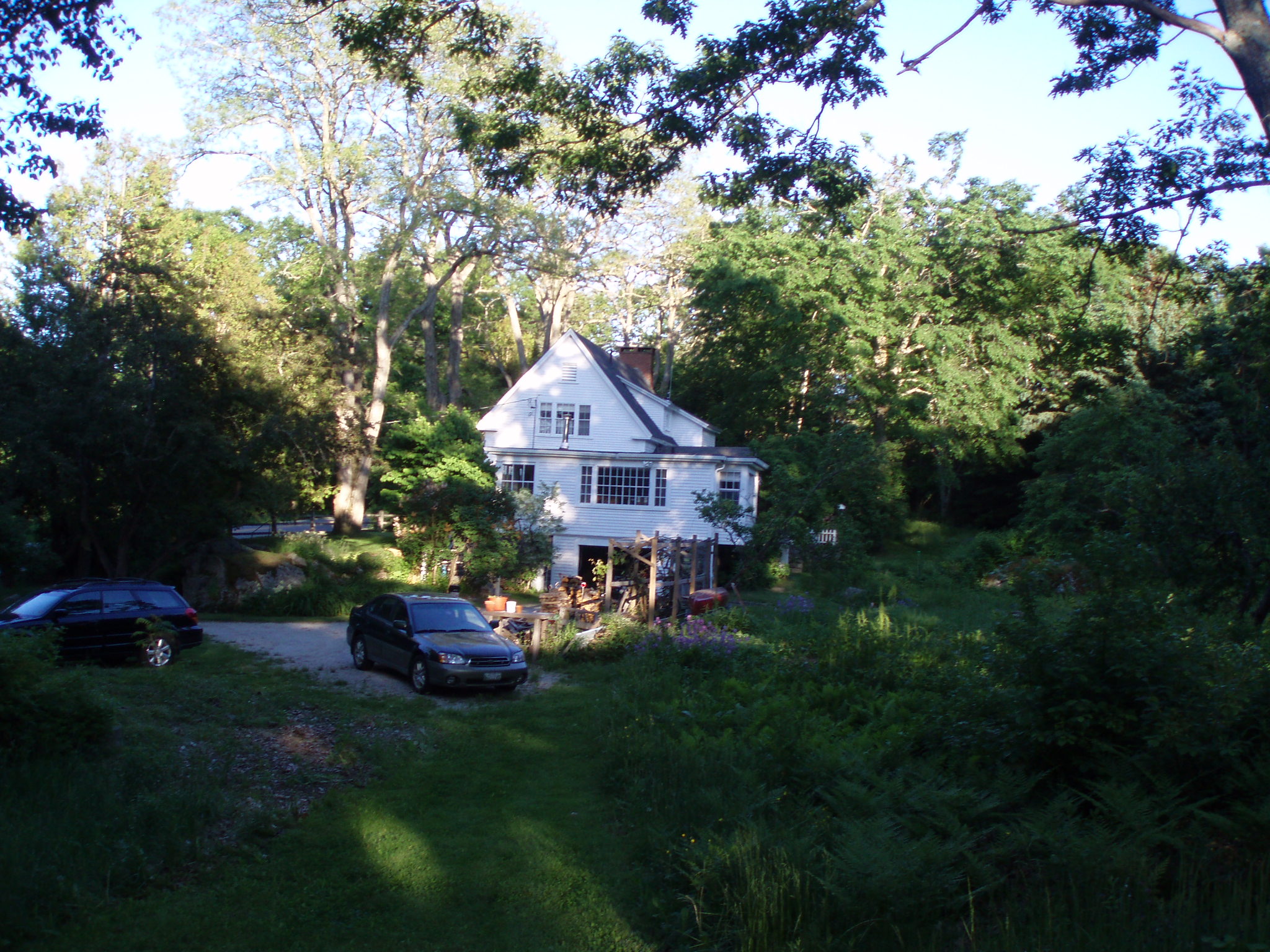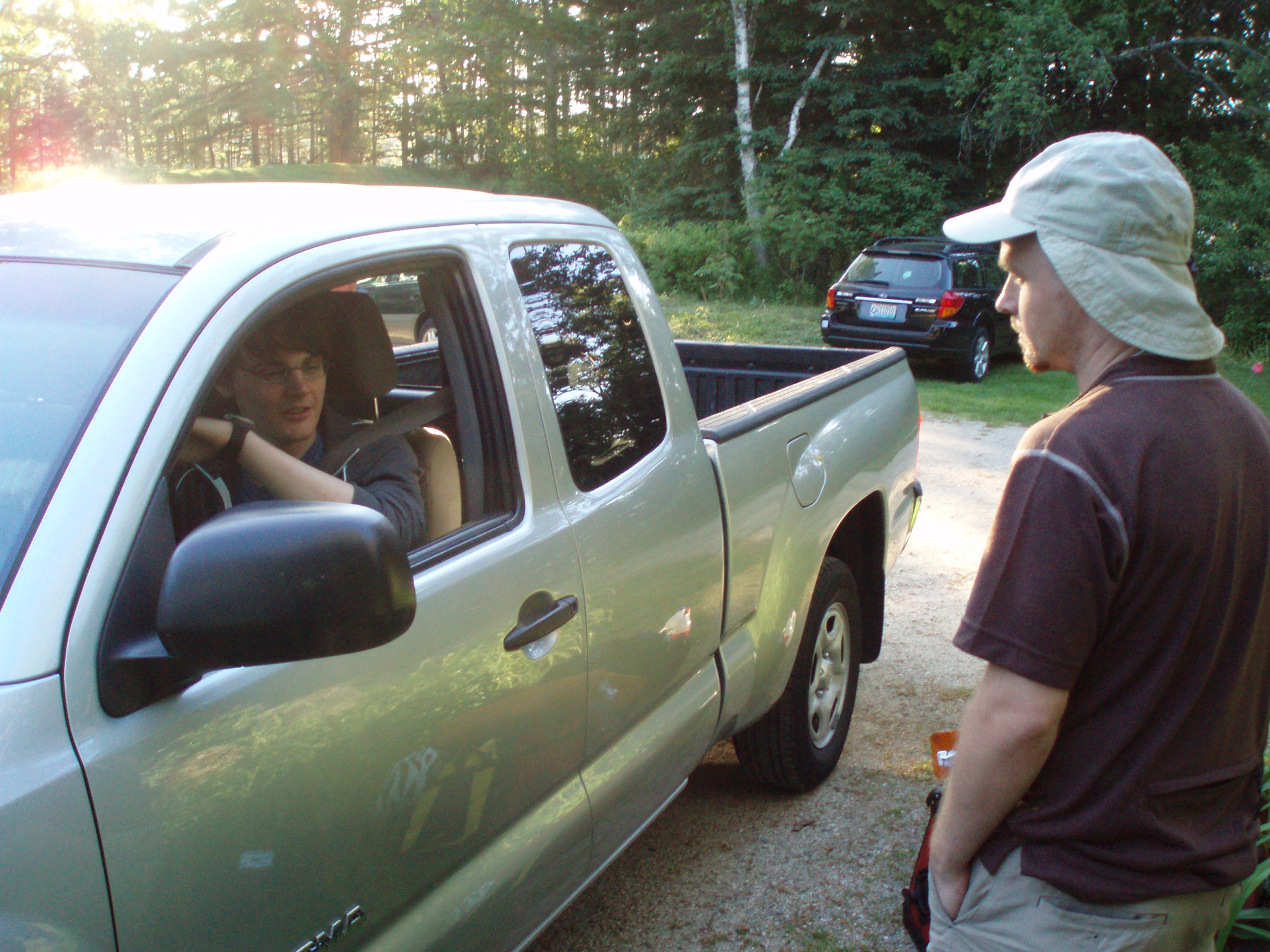 When we got here Jennifer and Berto happily greeted us in the driveway.  Karl unfortunately couldn't stay. He kind of wanted to get back to Boston. So we unloaded the truck gave Karl a big hug and said farewell. It was really nice spending some time with Karl before we left.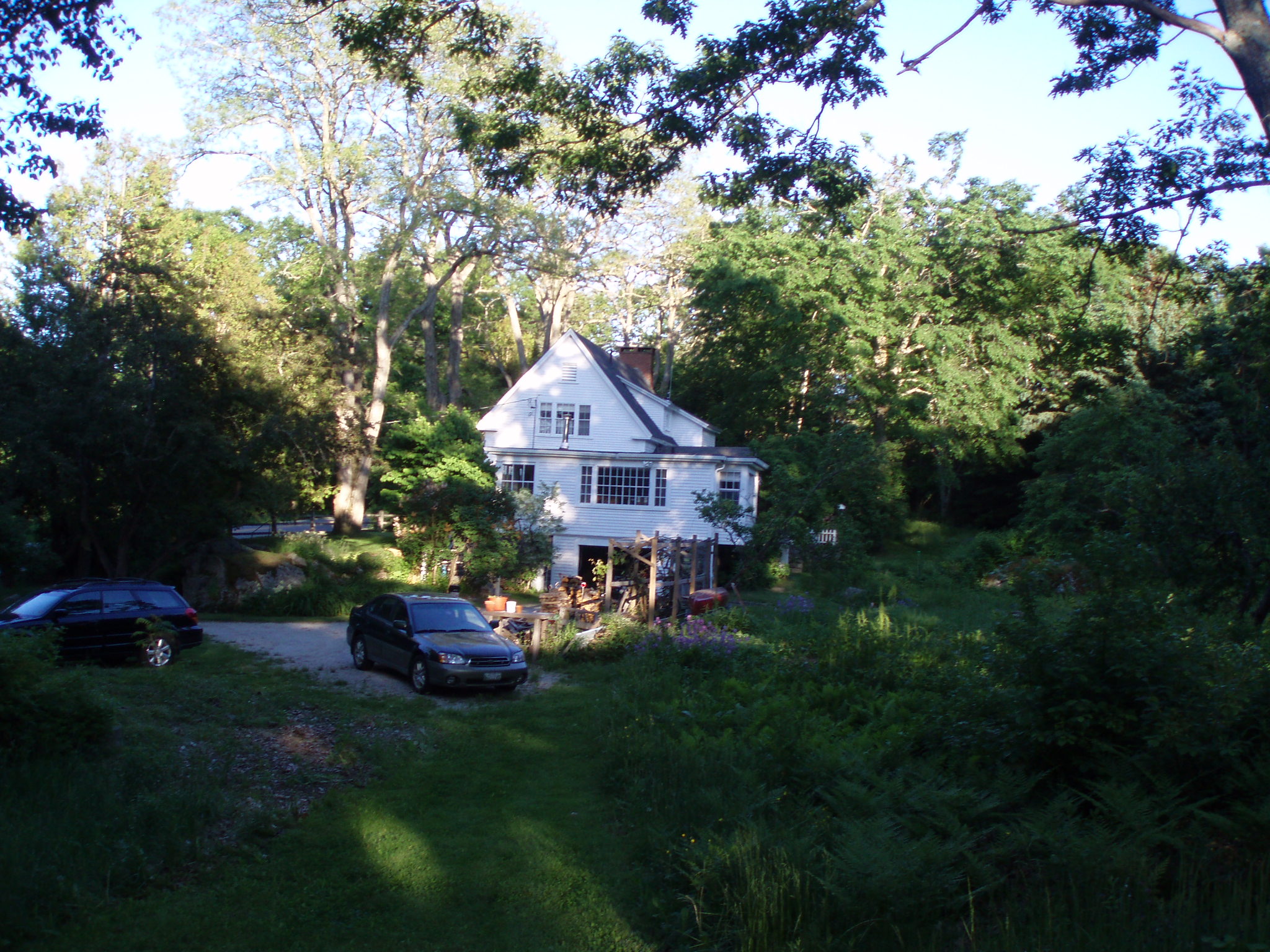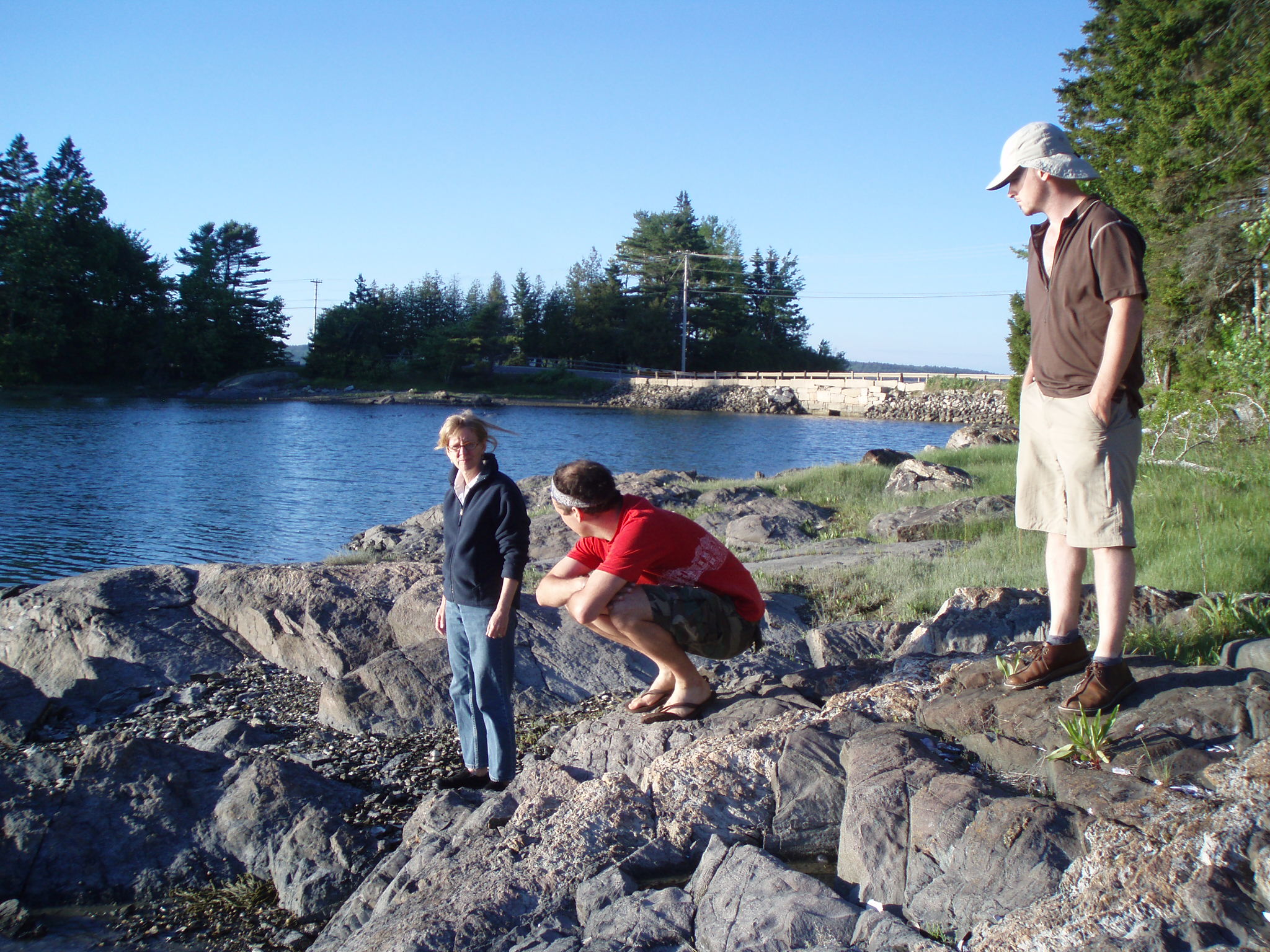 After Karl left Jennifer gave us a tour of her property. It's great seeing Jennifer, Especially in Maine. We haven't seen each other in a couple of weeks and in the craziness of the last few weeks of school we kind of lost touch.  Jennifer's house is really a special place. She and Berto live on an island and the views of the bay are fantastic any direction you look. She took us across the street to Berto's, Brothers and Sisters houses who are perched on top of a hill and look out across the bay. It was really fantastic.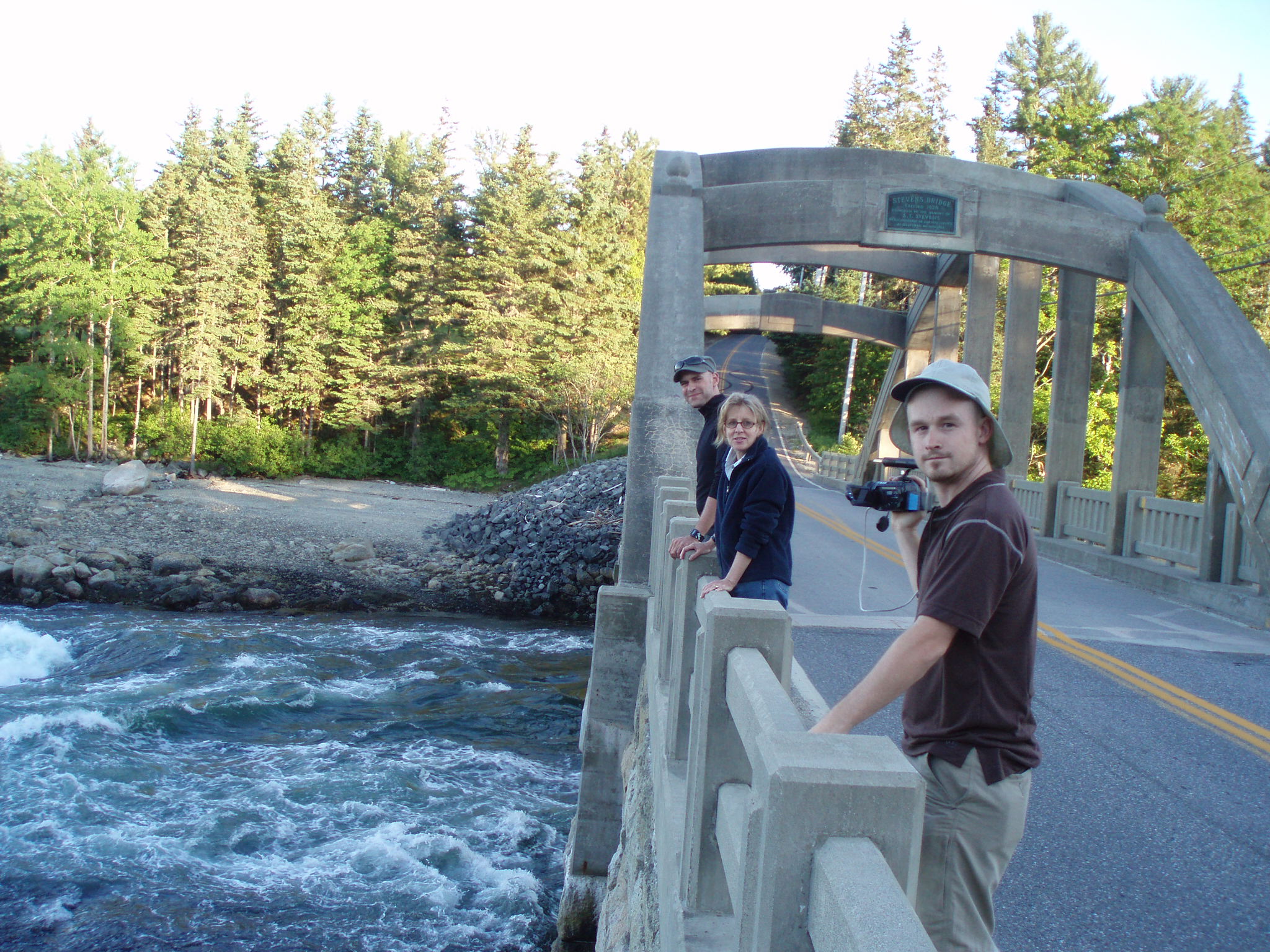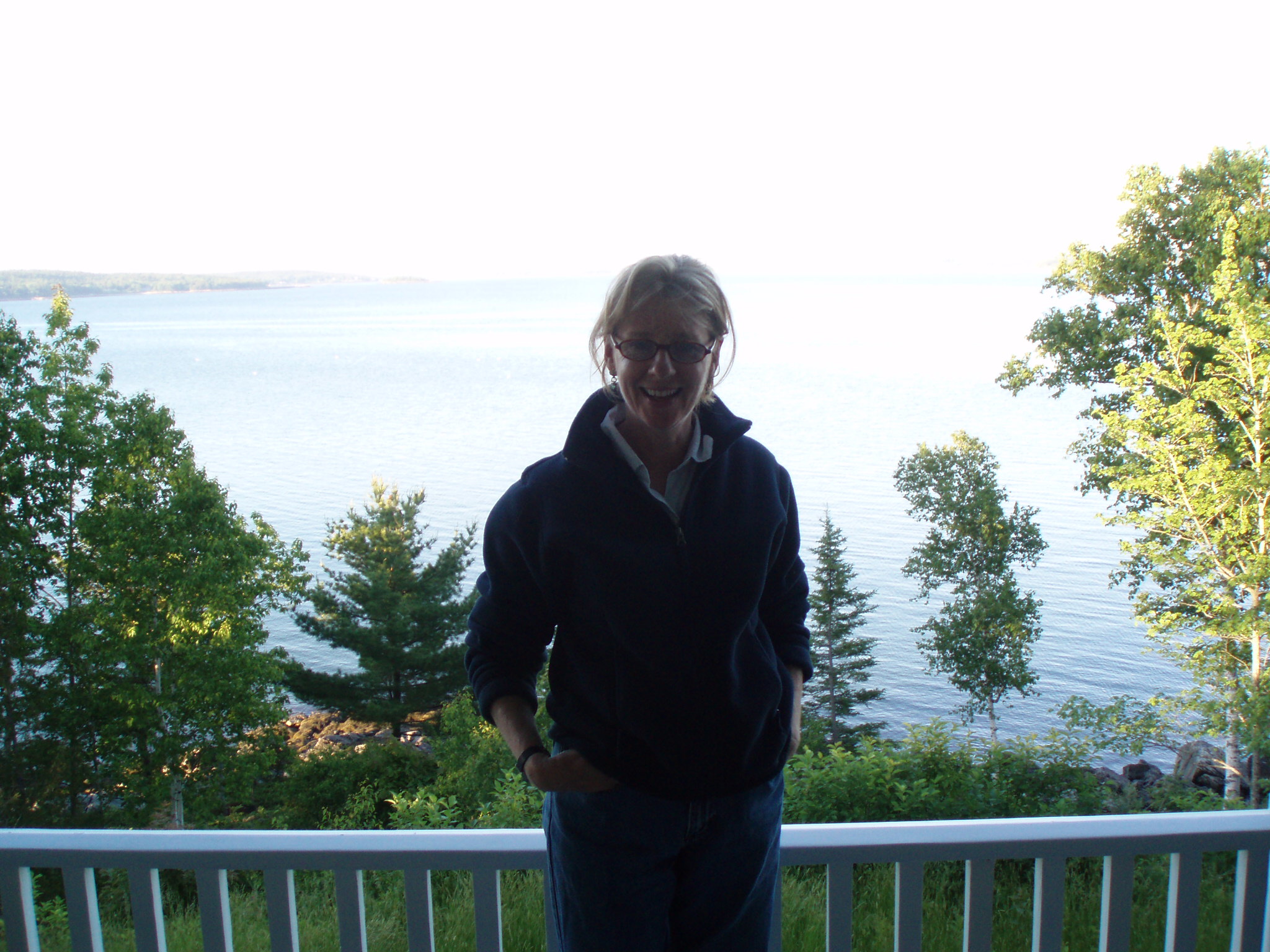 After our sunset tour we went back to Jennifer's house. We sat around drinking wine having a great time chatting with Jennifer and Berto. Berto is a very interesting guy. We talked about our trip and He told us about sailing boats and his travels all over the America.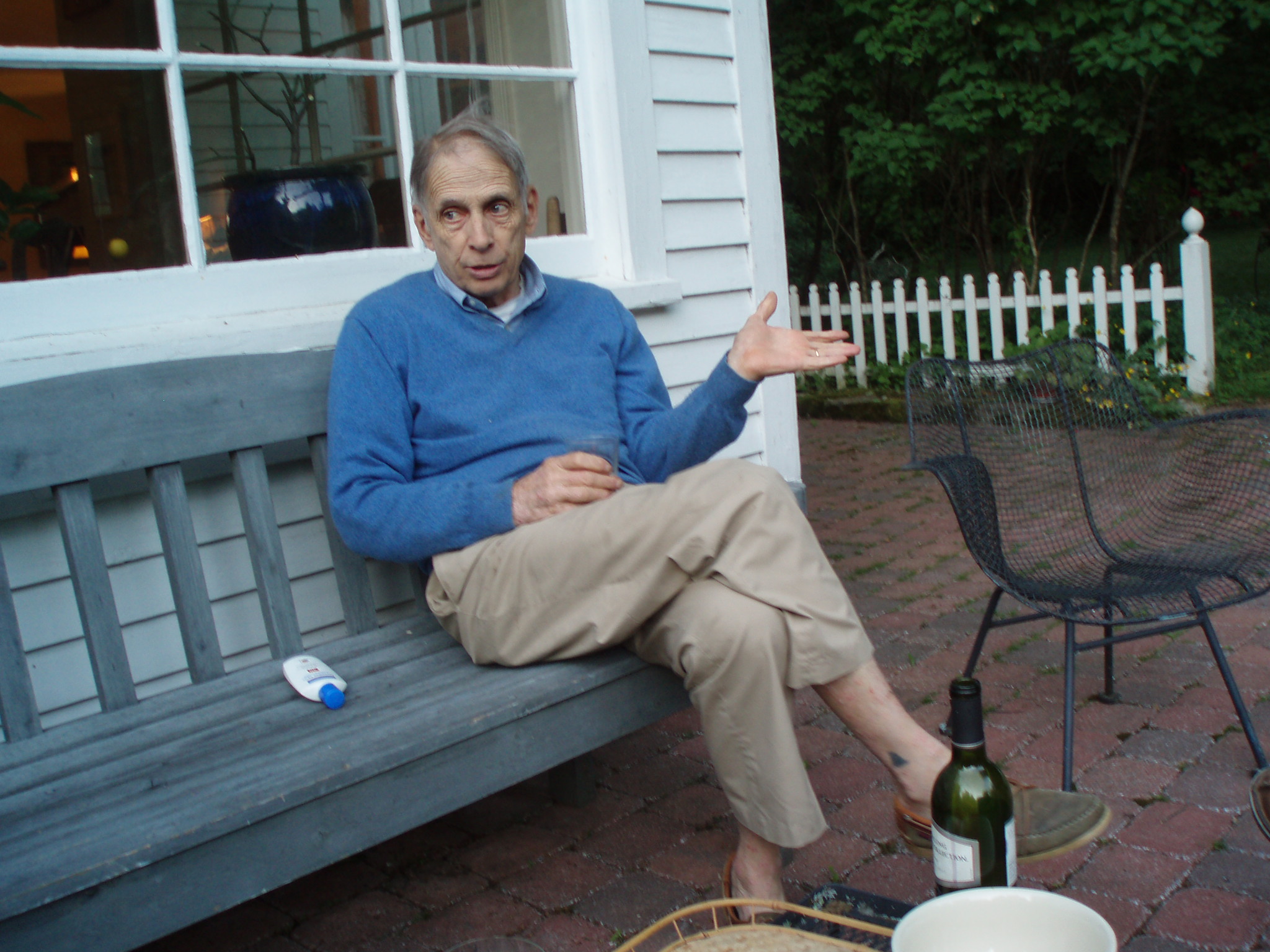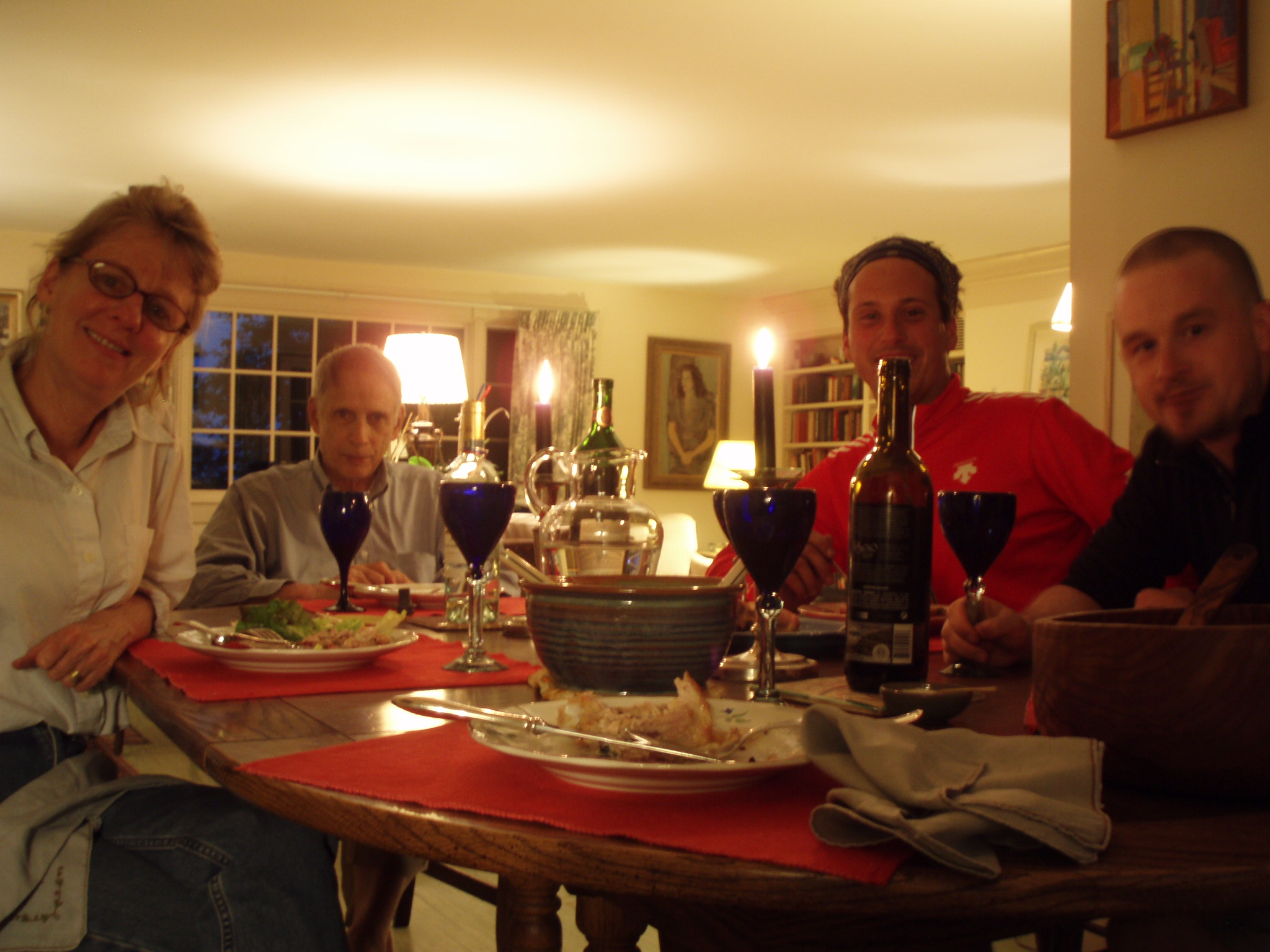 Eventually the sun went down and we went inside to eat that delicious meal that we have smelled since we arrived. We had a great time a dinner, laughing and telling stories. We're really happy being here in Maine. Spending our first night with Jennifer and Berto was really wonderful. I wish we had more time to spend with them.
Tomorrow morning is the official first day of our trip. We are going to ride from Blue Hill to Bar Harbor the official beginning of our trail. Berto says it's about 40 miles. We have plans to stay with a Gentleman in Bar Harbor who rode the Northern Tier last year. We're all looking forward to hearing about his trip.
Jamie posted a new video about frequently asked questions of our bike trip. The link for this video is: http://www.teamnortherntier2007.blogspot.com/2007/06/faq-answered.html
-Mike Riscica
     Click Here to Visit The Table of Contents
     Click Here to Visit Previous Page: 2007 Gear List – Team Northern Tier
     Click Here to Visit The Next Page: Day 1: Blue Hill, ME to Bar Harbor, ME