Monday July 9, 2007, 74 miles (118 km) – Total so far: 1,084 miles (1,745 km) 73.54 Miles 7:20 Min 
10 mph avg
Click Here to Visit The Table of Contents
Click Here to Visit Previous Page: Day 22: Buffalo NY to Evangola State Park, NY
Click Here to Visit The Next Page: Day 24: Erie, PA to Geneva on the Lake, OH, Riding on Lake Erie Video
Mike Riscica didn't sleep very well. In the middle of the night a hurricane rolled through and my whole tent shook. I got worried that it was going to pick up my tent and throw it into Lake Erie with me inside of it. We had ham sandwiches and leftover pizza for breakfast.
I checked the weather as we were riding outta Evangola. It said 20-25 mph winds from the west. The plan was to make it to Erie Pa for the night but that was 65 miles away. I was skeptical it was going to happen with a headwind like this.
We rode 15 miles then decided to ride a few miles away from Lake Erie to do the Walmart thing. The bum hanging out in front of Walmart chewed off Jamie's ear. The minute he started rambling about drunk drivers killing cyclists I was outta there. Lately Jamie's been a favorite amongst all the undesirables that hang out in front of these stupid stores.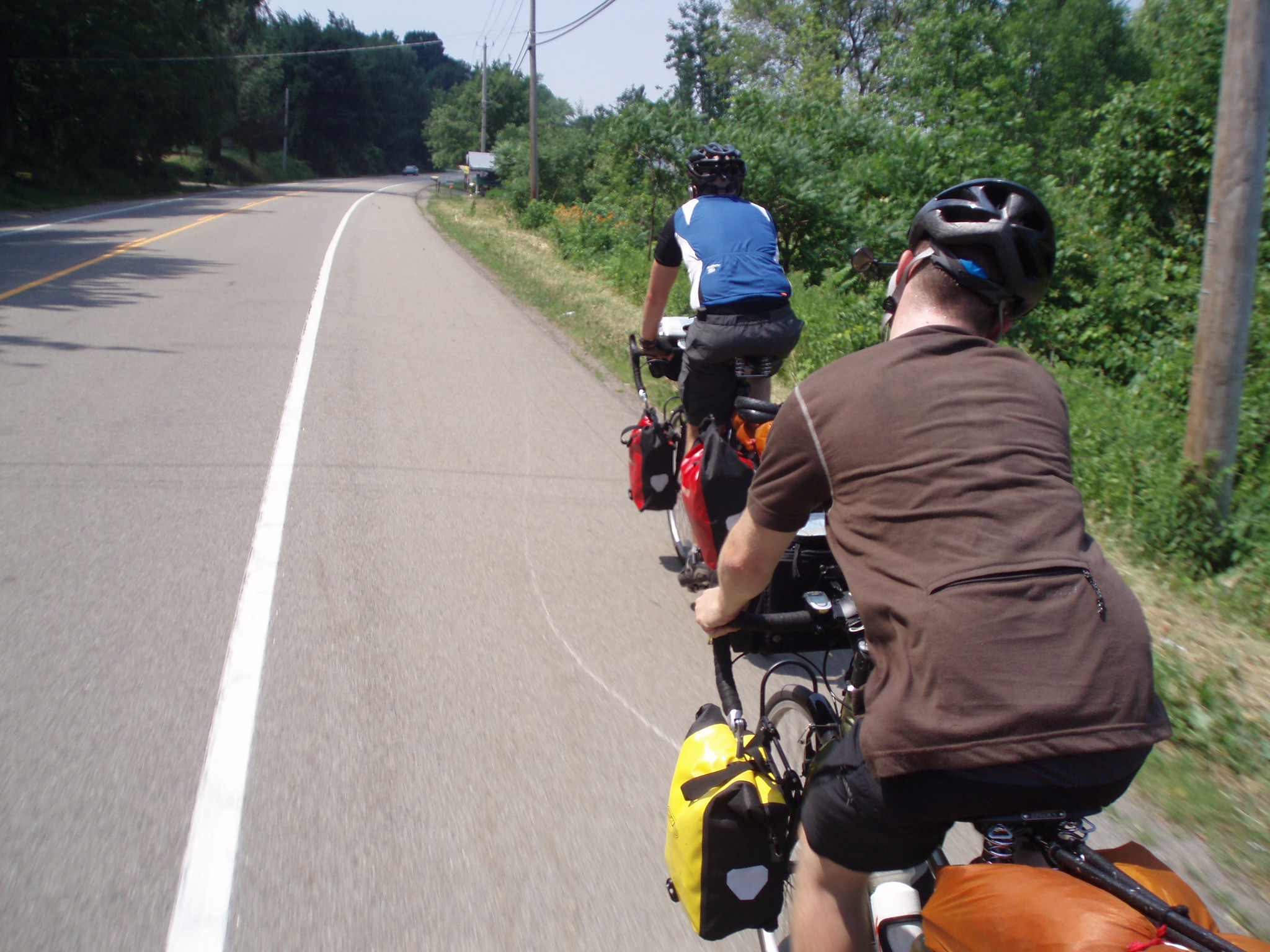 The headwind was the same 3 miles south of Lake Erie. We stopped at McDonald's and drank a couple cups of tea. After we loaded up on caffeine we got back on the bikes and pushed our way through the headwind. We rode close together taking turns drafting each other. We're getting really good at it.  The temperature was about 95 degrees but because we were riding into the wind it didn't really bother us that much.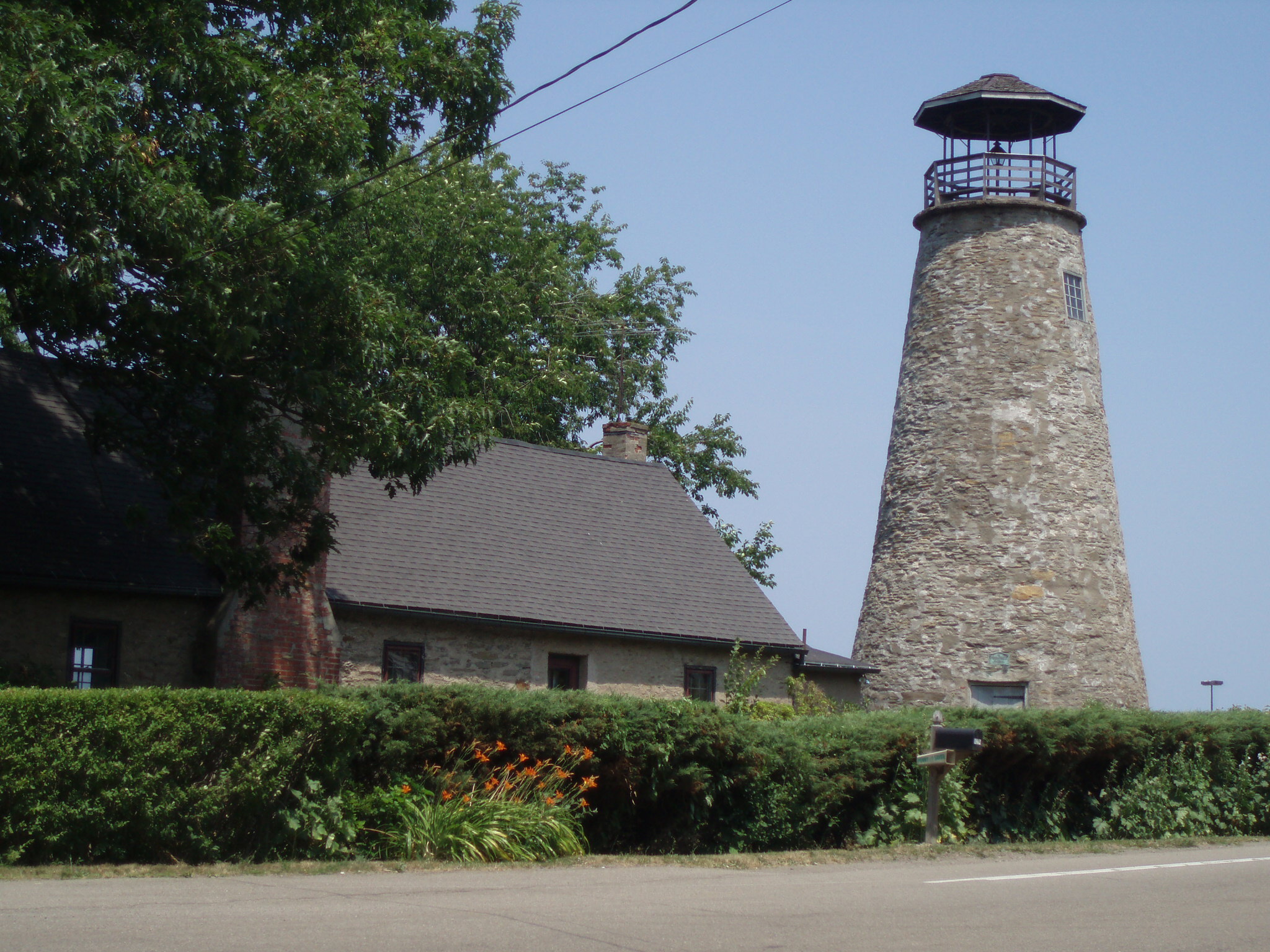 When we got to the town Barcelona we ate lunch in the air-conditioned restaurant. After lunch we decided to go for a quick swim in Lake Erie. It was really refreshing.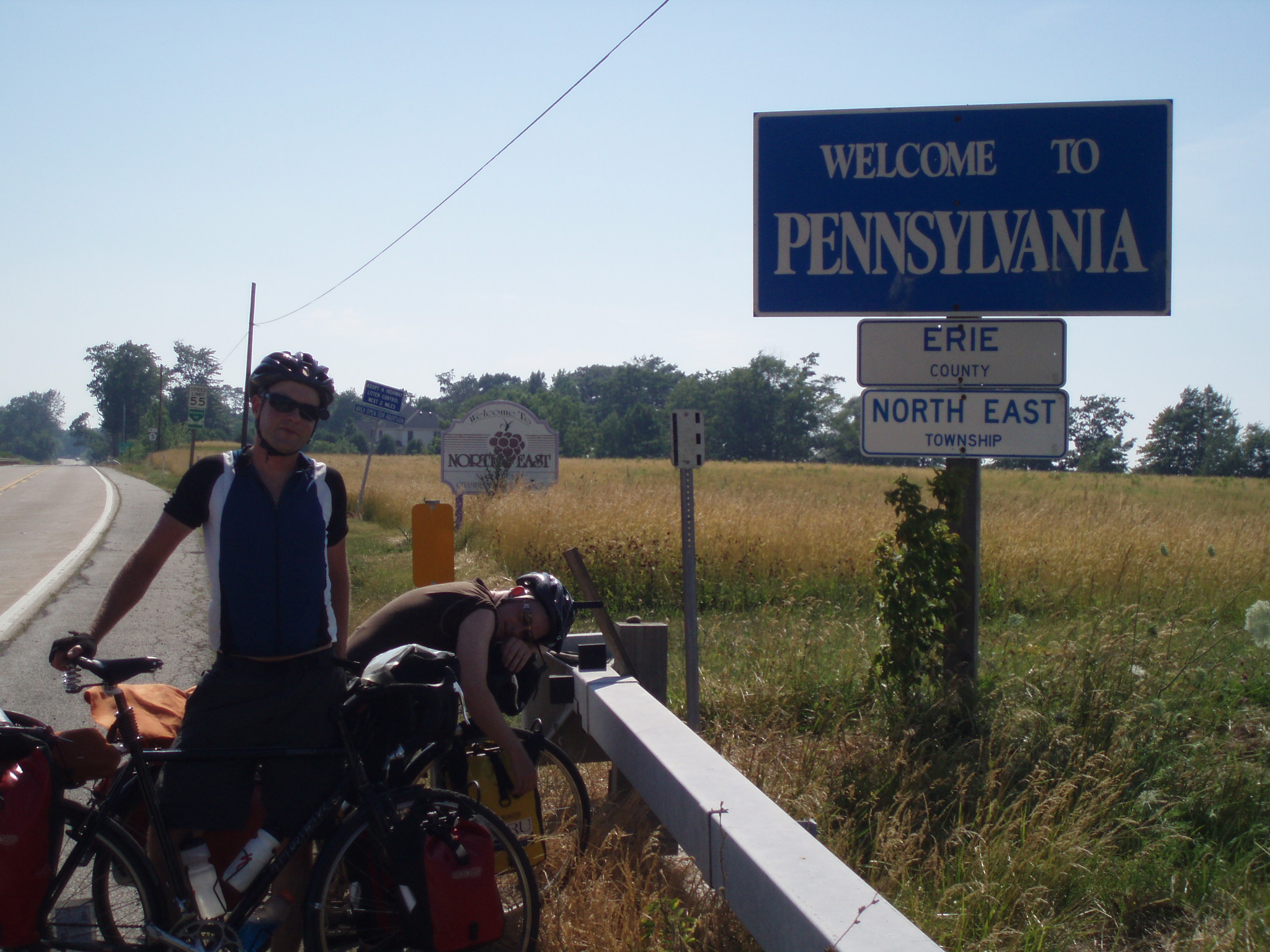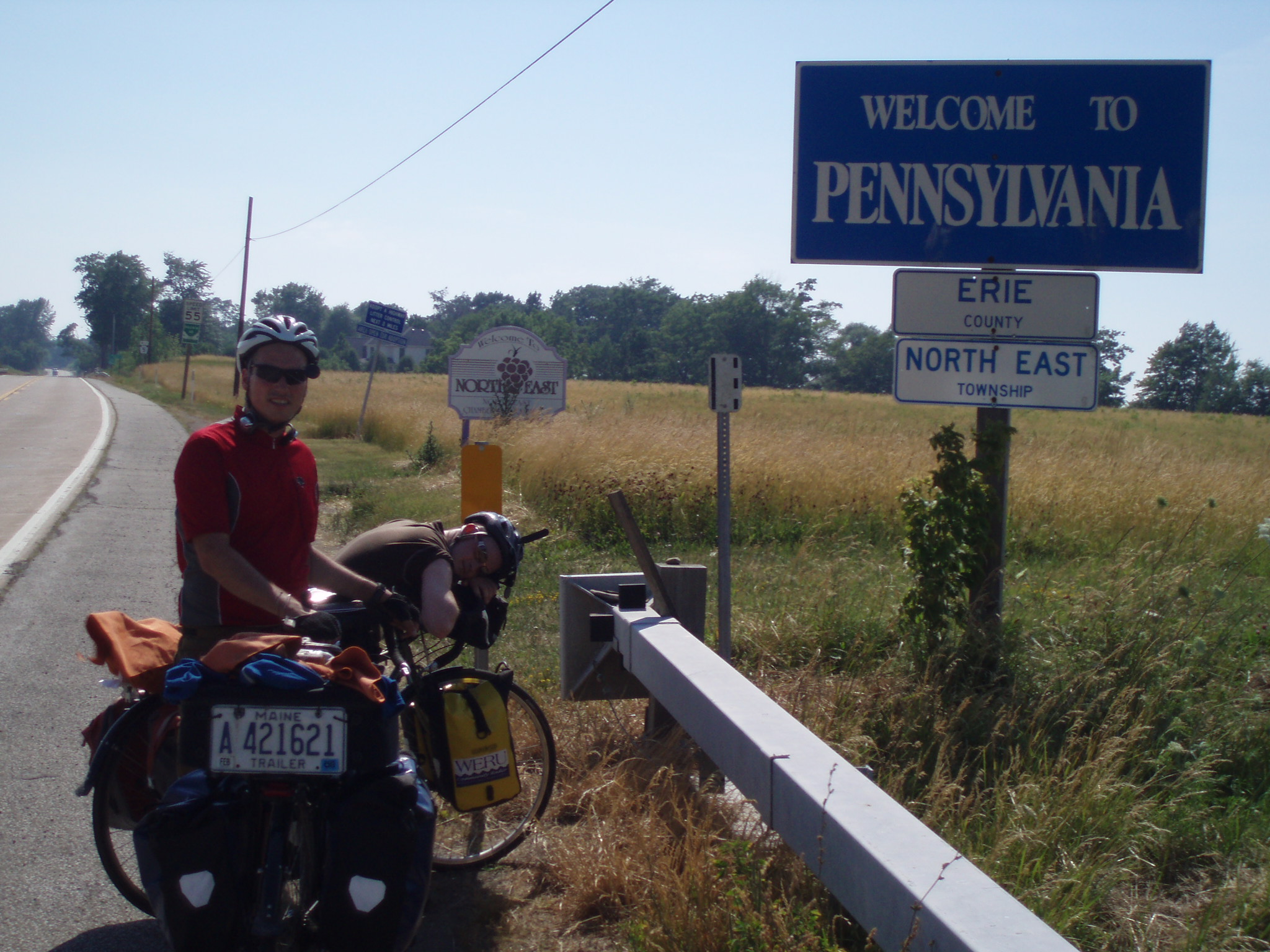 Then we got back on our bikes and rode across the PA border. We took a break next to the sign. Chuck said farewell to New York by standing on the line and peeing across the border back onto New York soil.
Crossing into Pennsylvania the road turned to shit. I have a bad feeling about these Pennsylvania roads.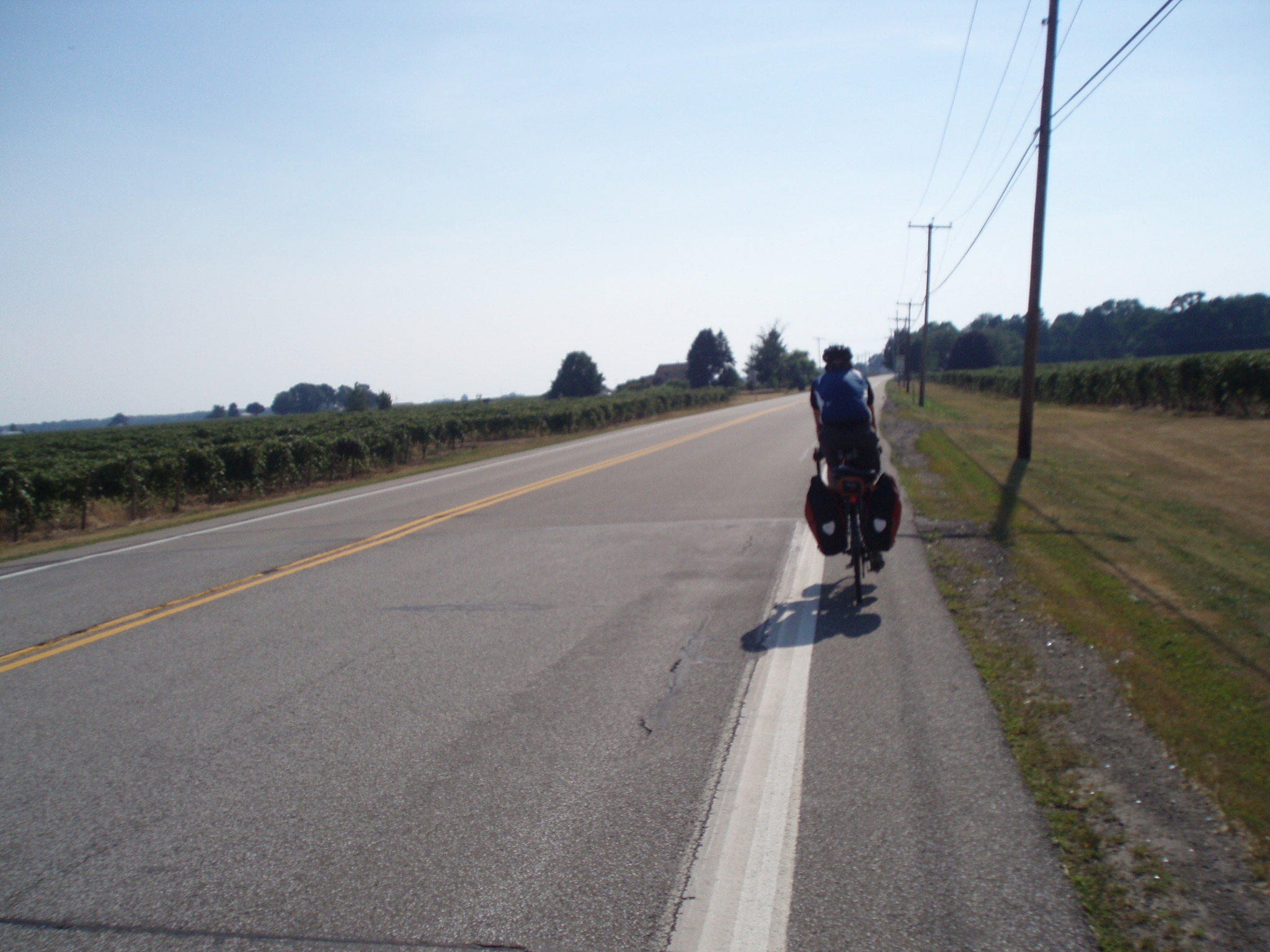 It felt like Erie was never getting any closer. We rode past same sign that said Erie was in 15 miles away, 5 miles apart from each other. When we finally go there we took a break at the second park.
Jamie was looking exhausted and he cursed a lot. A guy walking through the park told us there's a nice downhill ahead and there's a great hotdog stand at the campsite we were going to.  Hot dogs sounded delicious so we hauled ass to the campsite.
Even though we have been carrying dinner food for the past 2 days we decided to just eat out again. We were all cranky and hungry. The prettiest girl working at the hotdog stand gave Chuck a free chocolate milkshake. Jamie got really jealous and busted his balls.
We checked into the campsite. They had beachside camping but we checked it out and it looked like MTV beach party, so we went across the street and found a quiet little camping spot. Jamie passed out really early while Mike and Chuck both got destroyed by the bugs. Today was a rough day. The wind really drained us. Feels like we rode 150 miles.
My helmet is giving me this really cool tan on my forehead. Jamie says I look like one of the weirdos from 'Alien Nation'. I'm going to shave my head again so I can work on my Alien Nation tan.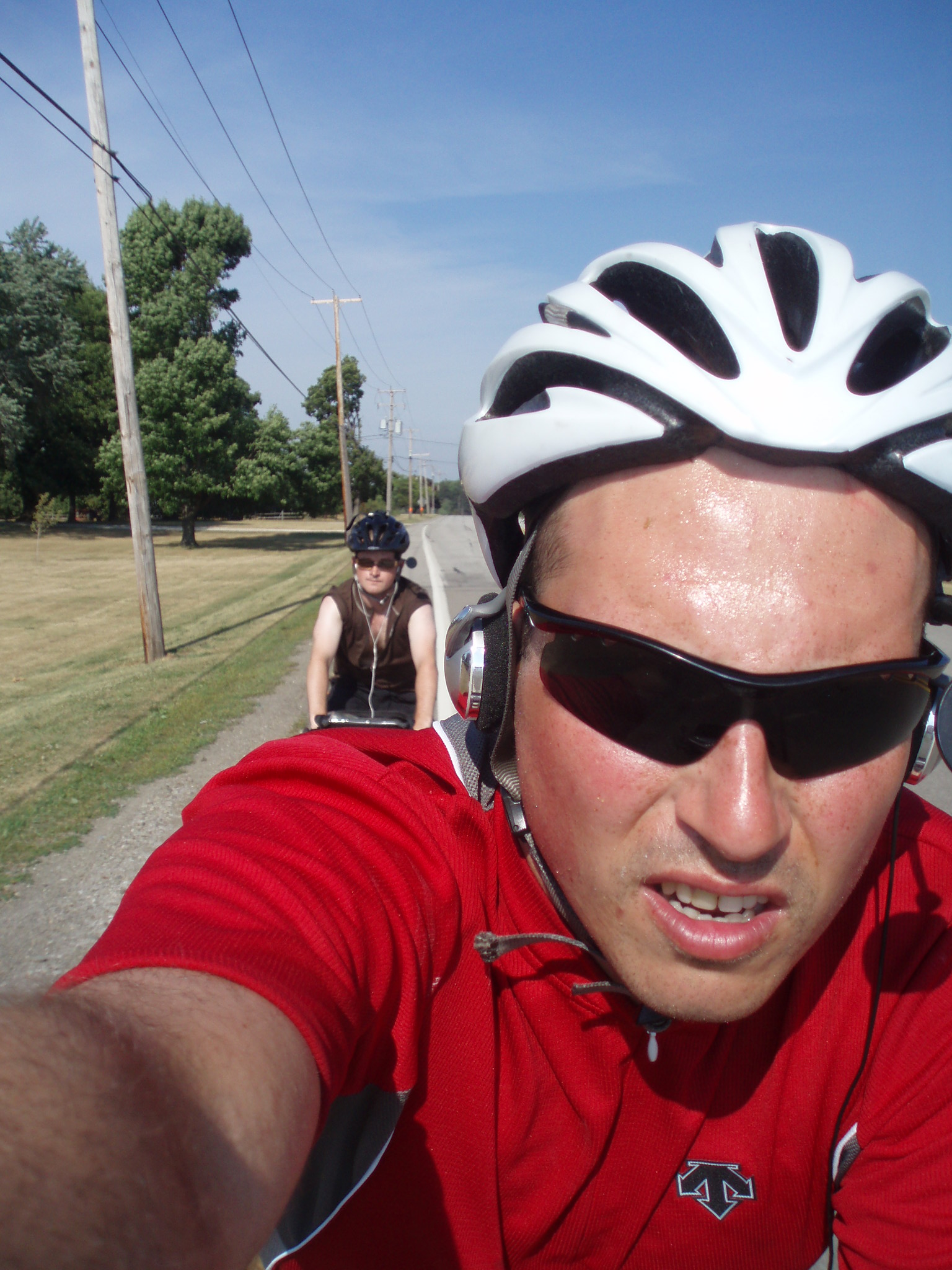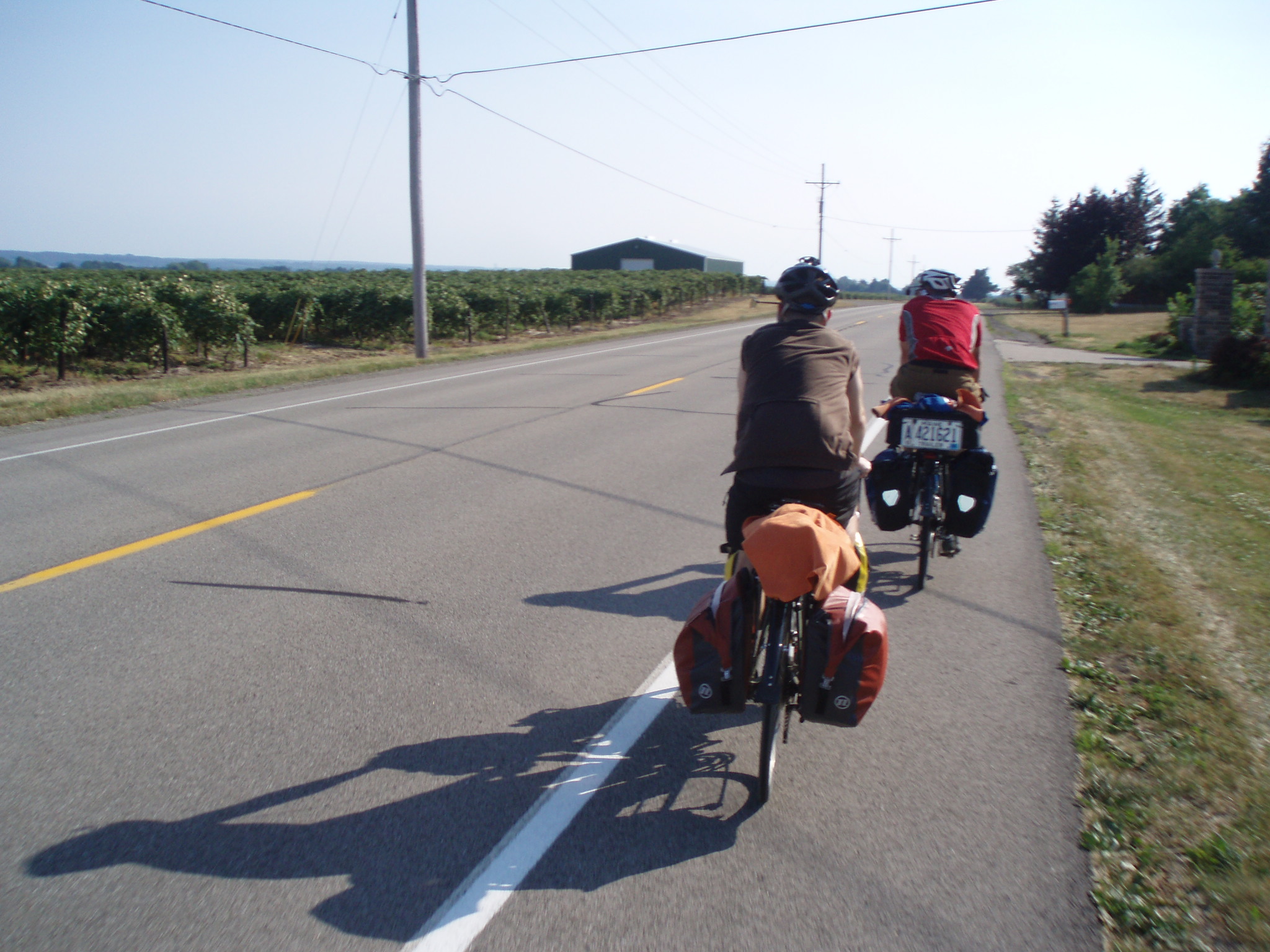 Click Here to Visit The Table of Contents
Click Here to Visit Previous Page: Day 22: Buffalo NY to Evangola State Park, NY
Click Here to Visit The Next Page: Day 24: Erie, PA to Geneva on the Lake, OH, Riding on Lake Erie Video