Tuesday July 10, 2007, 62 miles (99 km) – Total so far: 1,146 miles (1,844 km) 61.67 Miles 
5:23 min 11.3 avg speed
Click Here to Visit The Table of Contents
Click Here to Visit Previous Page: Day 23: Evangola State Park, NY to Erie, PA
Click Here to Visit The Next Page: Day 25: Geneva on the Lake, OH to Willoughby, OH

Slept pretty good last night it got kind of hot in the middle of the night. I woke up to chuck fully packed and ready to go. He had his rain jacket on and he told me it's about to rain and he's getting the hell outta here. As he rode away he told me to meet him at the diner. As I woke up I realized it's going to be a beautiful day and there wasn't a sign of rain. Chuck frequently freaks out about the rain long before a drop falls from the sky.
As we packed up the mother from the family camping next to us came by to ask about the trip. She told us that her and her husband have a tandem but haven't used it much because they are so busy with their children. When Jamie met up with us at the diner he said that nice lady from the campsite gave him a bunch of cherries and blueberries.
The diner was closed so we rode up the hill to Perkins and we all ordered an absurd breakfast. Breakfast at Perkins is the best; we left there riding really slow with full bellies.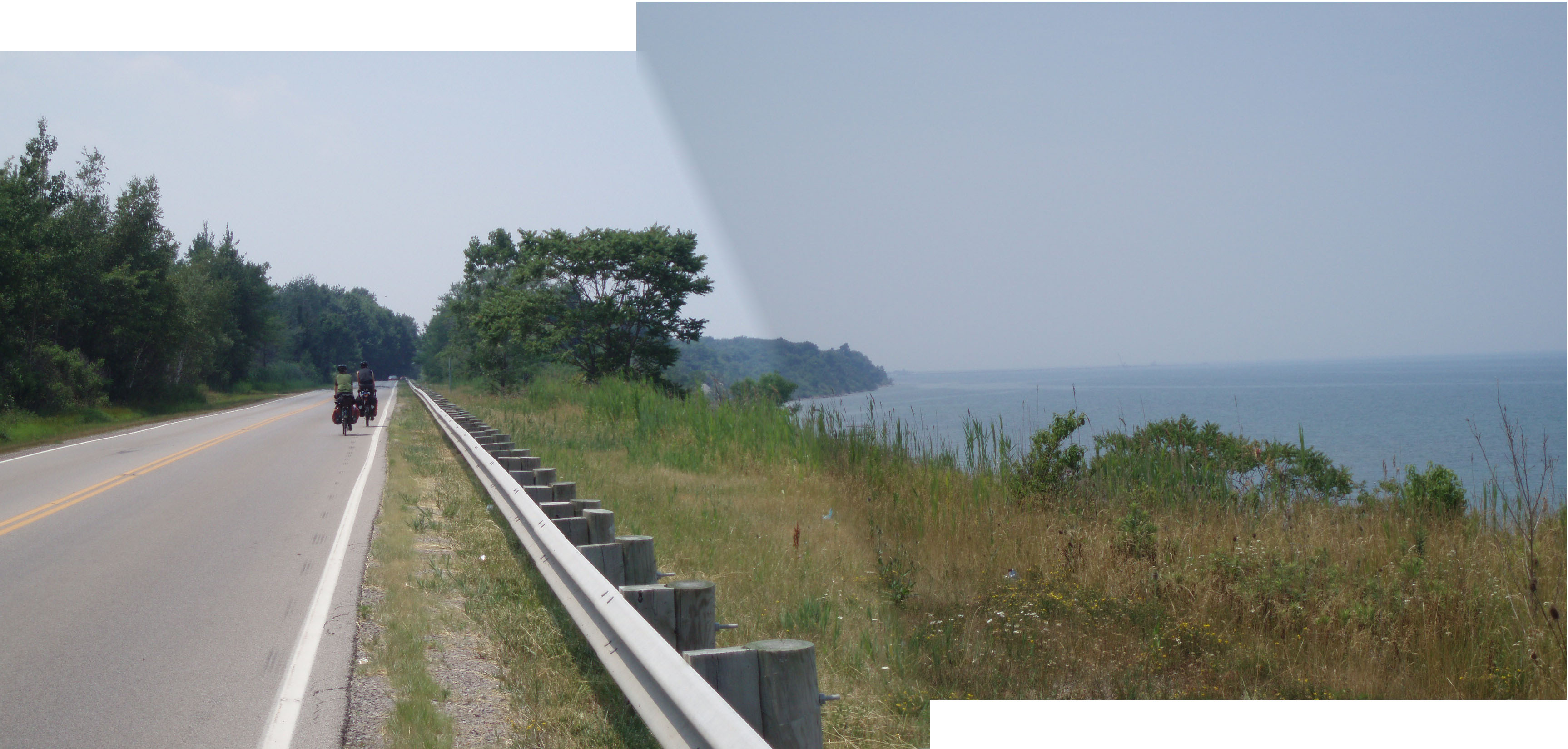 The 90 degree heat came out really early today, however the wind wasn't as bad as yesterday. We all agreed what would take the heat over the headwind anyway.
Riding through Pennsylvania I was reminded that they don't pick up road kill here. I learned this lesson in 2003 when I rode from Trenton NJ to Baltimore. The road was evenly sprinkled with every type of dead animal. Jamie counted 4 dead animals evenly spaced 30 feet apart as we flew down a hill.
My front wheel got a flat tire early this afternoon. Coincidently this happened almost exactly 24 hours after mike said the chuck 'Ya know, we haven't had any mechanical problems in a long time!' It was giant piece of glass. I patched the tube and the tire. Before we left we gave a small round of applause for New York states well maintained roads and State parks.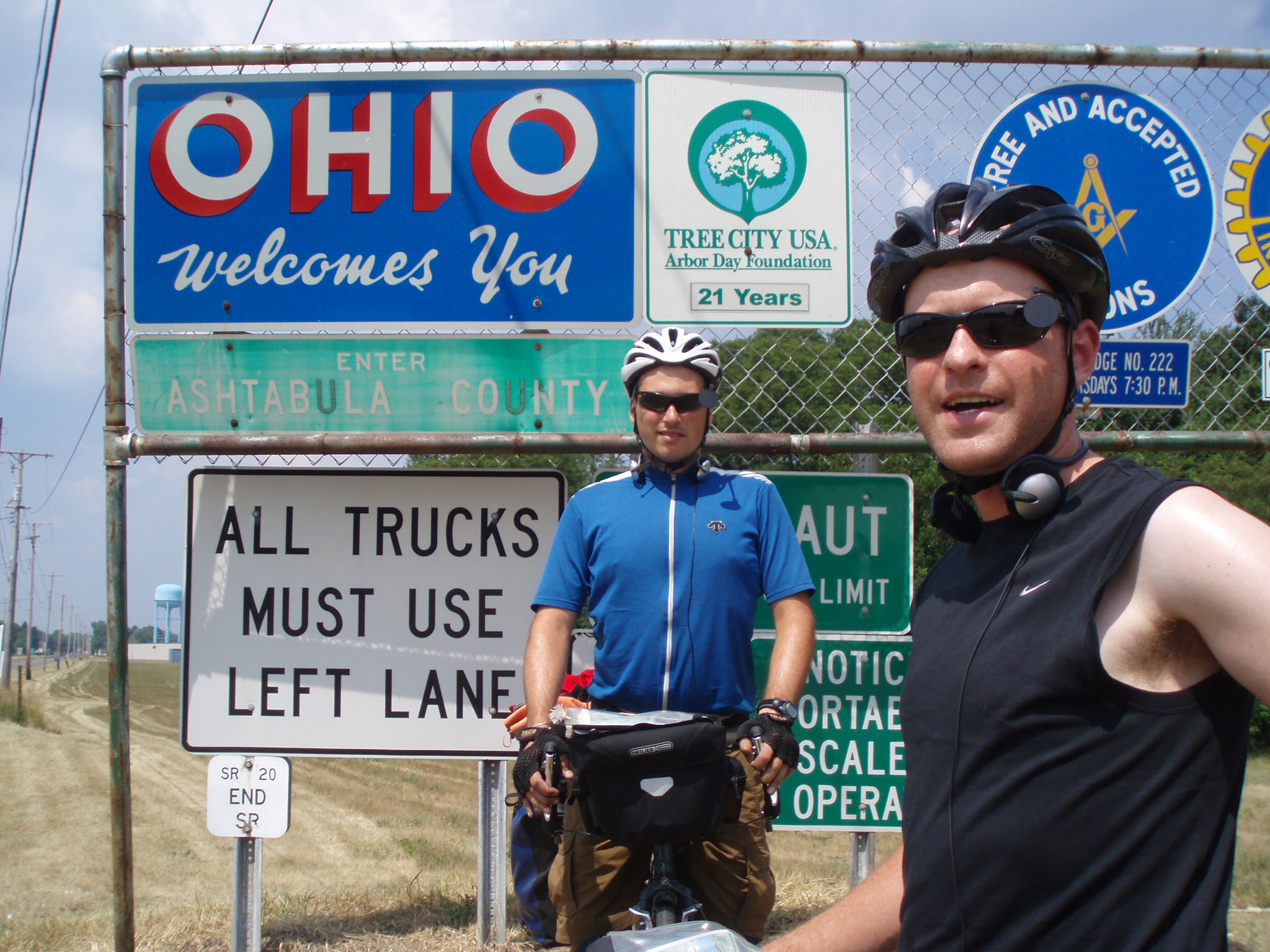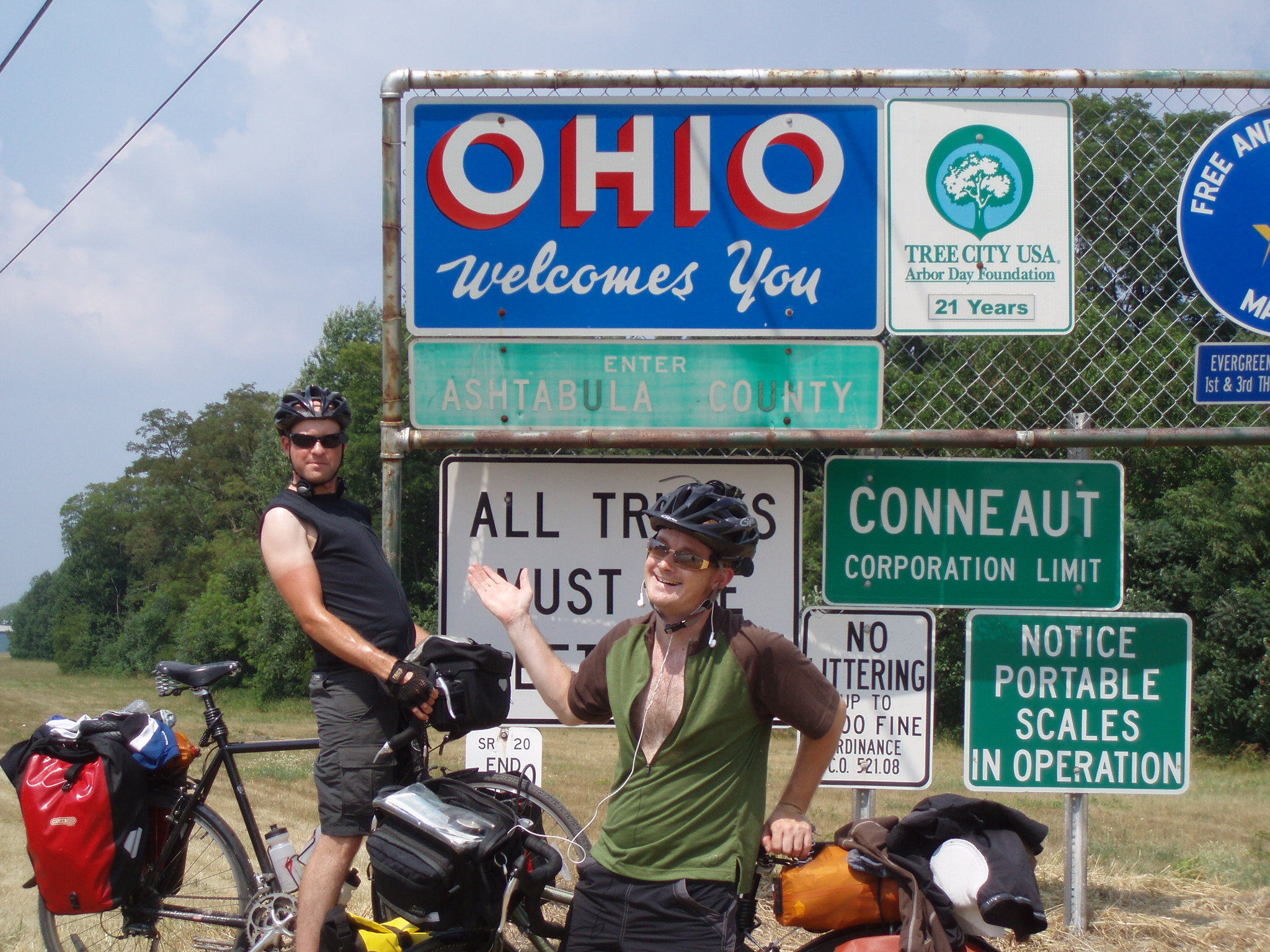 We crossed into Ohio. Jamie told the What's round on the end and hi in the middle joke about 10 times and chuck said over and over 'Why-o Why-o did I ever come to Ohio?'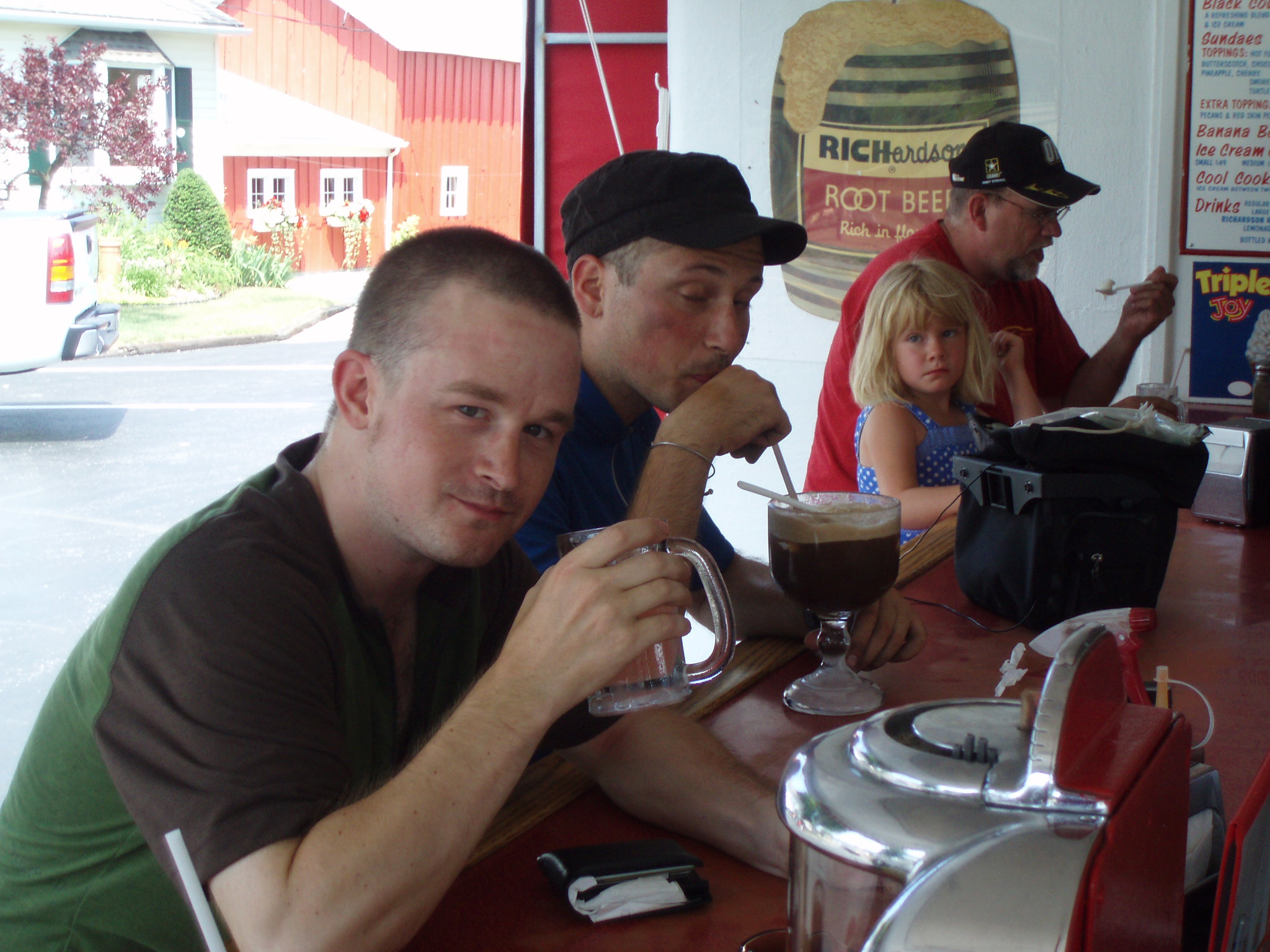 Shortly after crossing into Ohio, We stopped at our 3rd 50's themed diner in the past 3 days. Mike Riscica ordered the Giant goblet filled with a root beer float.
As we were riding we could see in the distance that there were 2 bikes with flags riding in front of us and we couldn't catch them. Chuck said that it's the 2 tandems that we have been hearing about for the past week. Eventually they stopped to take a break and we caught them. It was 2 couples doing a ride around Lake Erie. They have been on the road for 3 weeks and today are their last night on the road.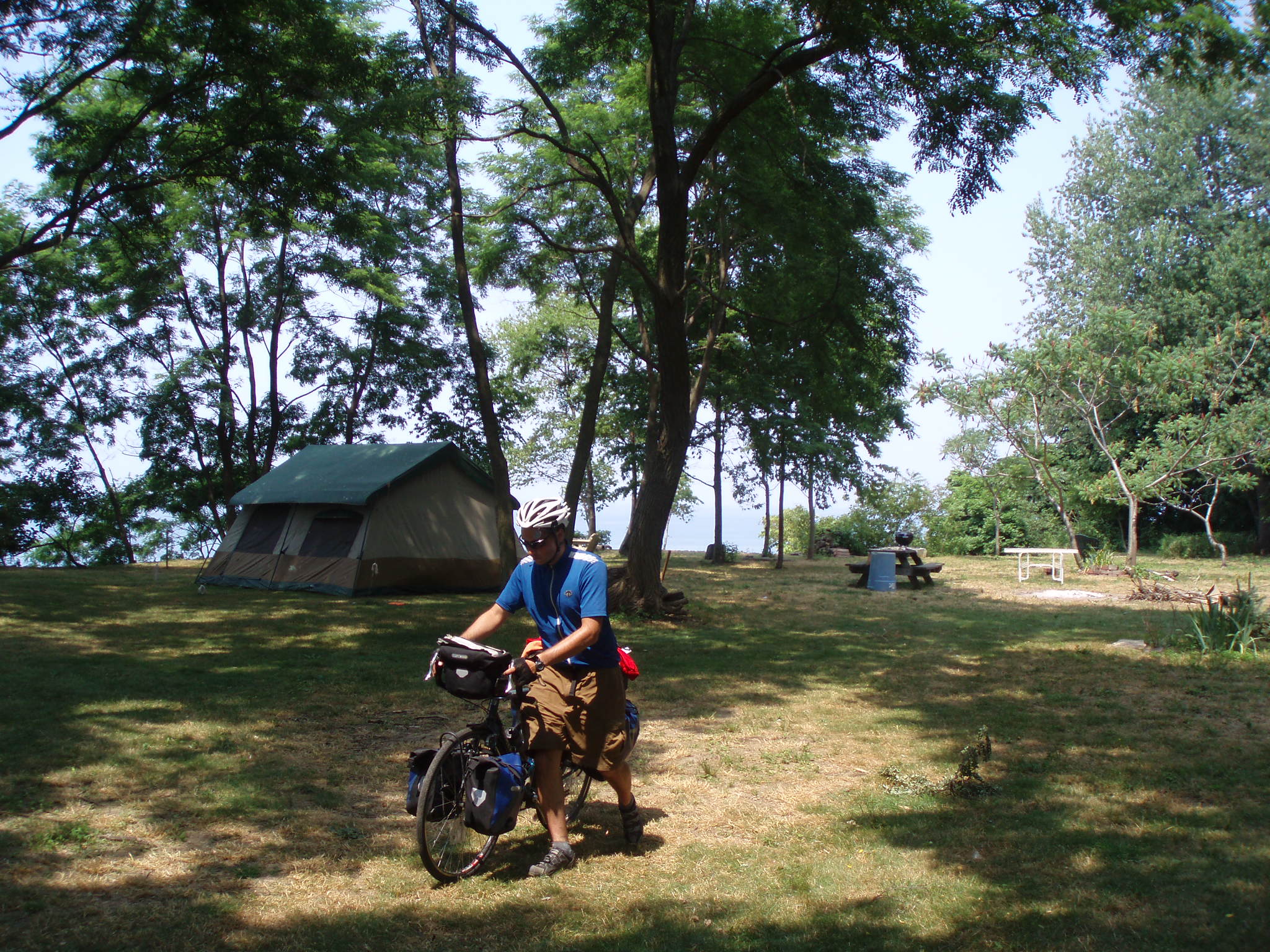 This guy who saw us on the road told us he has a nice piece of property that we can go hang out on. So we followed the tandem riders and then took a nice long break in this guy's yard that overlooked Lake Erie. Here's a video of us on Lake Erie
http://www.teamnortherntier2007.blogspot.com/2007/07/ride-on-lake-erie.html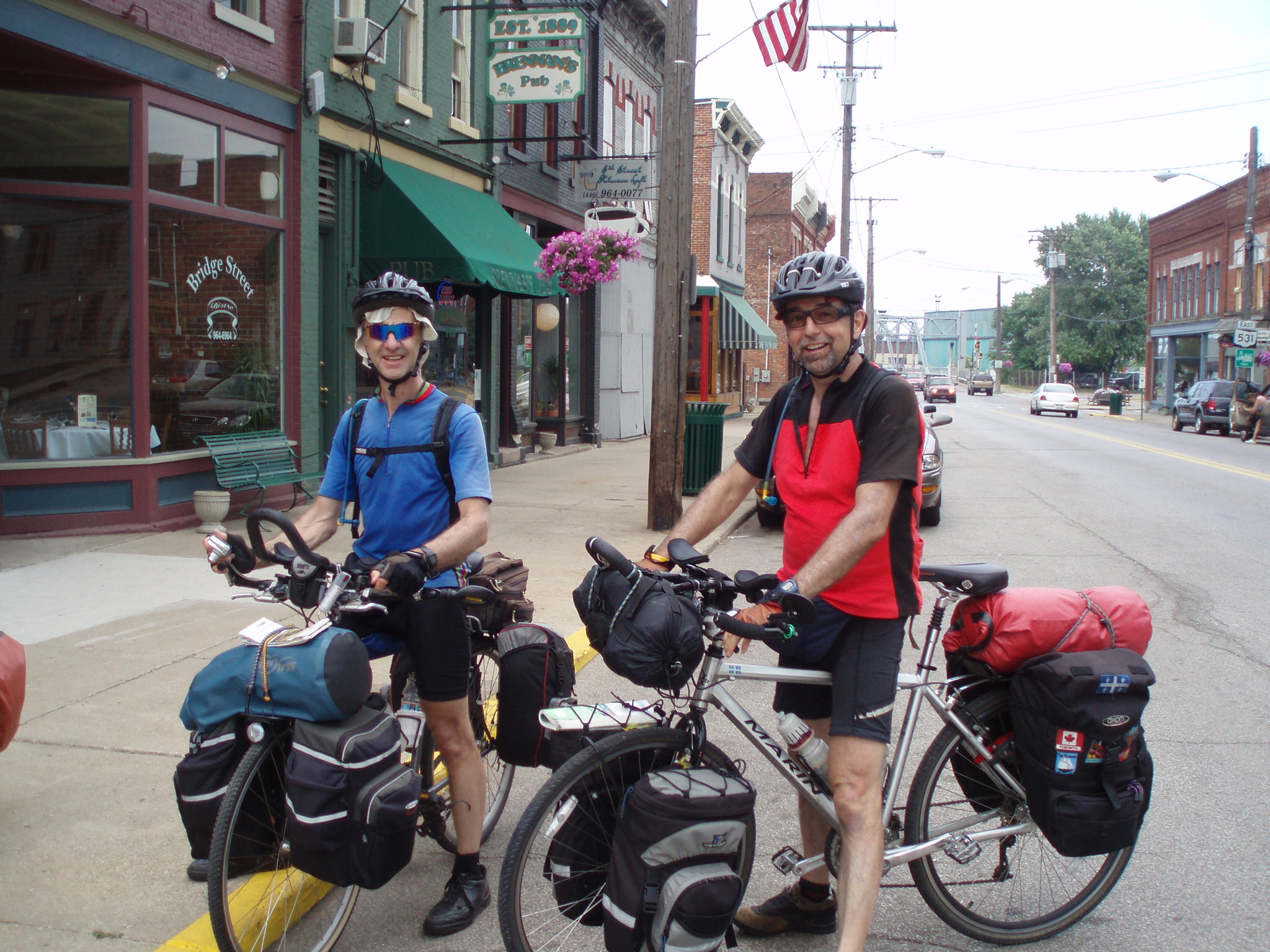 When we rode into town we met these 2 really awesome Canadian Guys they started riding from Chicago 7 days ago and are riding home to Montreal. They gave us a lot of great advice about roads and motels. They were really happy to see us; I don't think they have seen any other cyclists since they have been on the road.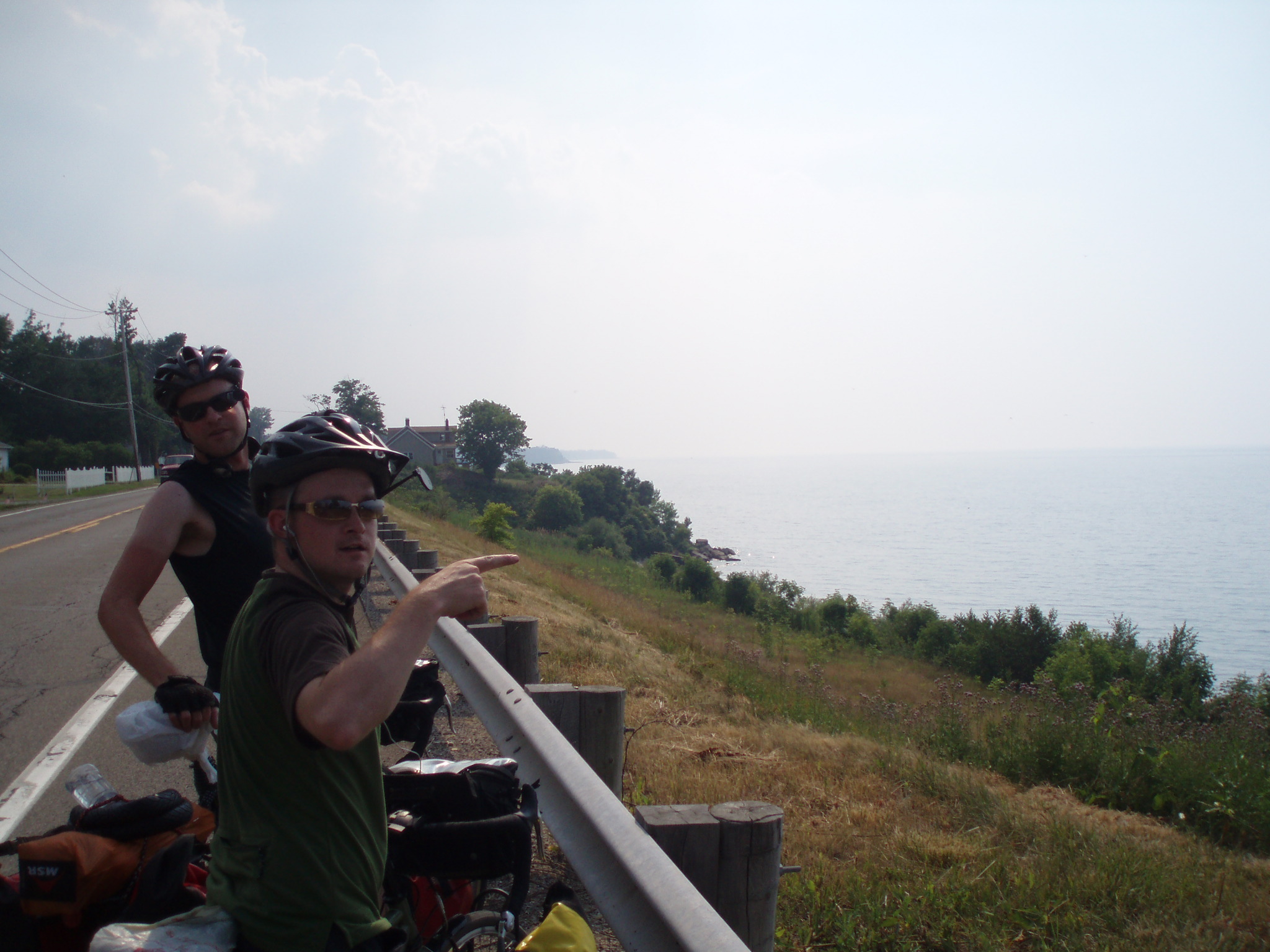 We ate lunch at the grocery store. Mike Riscica ate 5 ice cream sandwiches for dessert and probably could have eaten a few more if he didn't have to ride another 15 miles.
Riding into Geneva on the Lake Jamie Obrien freaked out. There were arcades, neon lights, water slides and trashy food for as far as the eye can see. Jamie spent a lot of his childhood at Hampton Beach, New Hampshire and Geneva on the lake was just like it.  We decided to find the campsite and come back into town.
When I walked into the campsite office I felt great and I asked the park cop and the kid working there how they were doing. The fat overweight cop gave me a dirty look and said 'a lot better then you. You've got to be crazy to ride bikes in heat like this!' I smiled and said 'I feel great I just rode 50 miles!' the cop was less then amused. Jamie said that cop was just pissed because he is as sweaty as I am and he's sitting in the air conditioning surfing the internet.
30 minutes after we got to our campsite a van filled with 30 Hasidic Jewish children pulls up and parks right across the street from us. They opened the door and all the kids ran out screaming their heads off. I asked Jamie and chuck if they wanted to move, but we were already setup. Everyone at the campsite sat there and watched the camp counselors spent 2 and a half hours trying to put up one of those giant tents that has 5 different rooms. While the counselors argued about the tent, the kids had sword fights with the tent poles.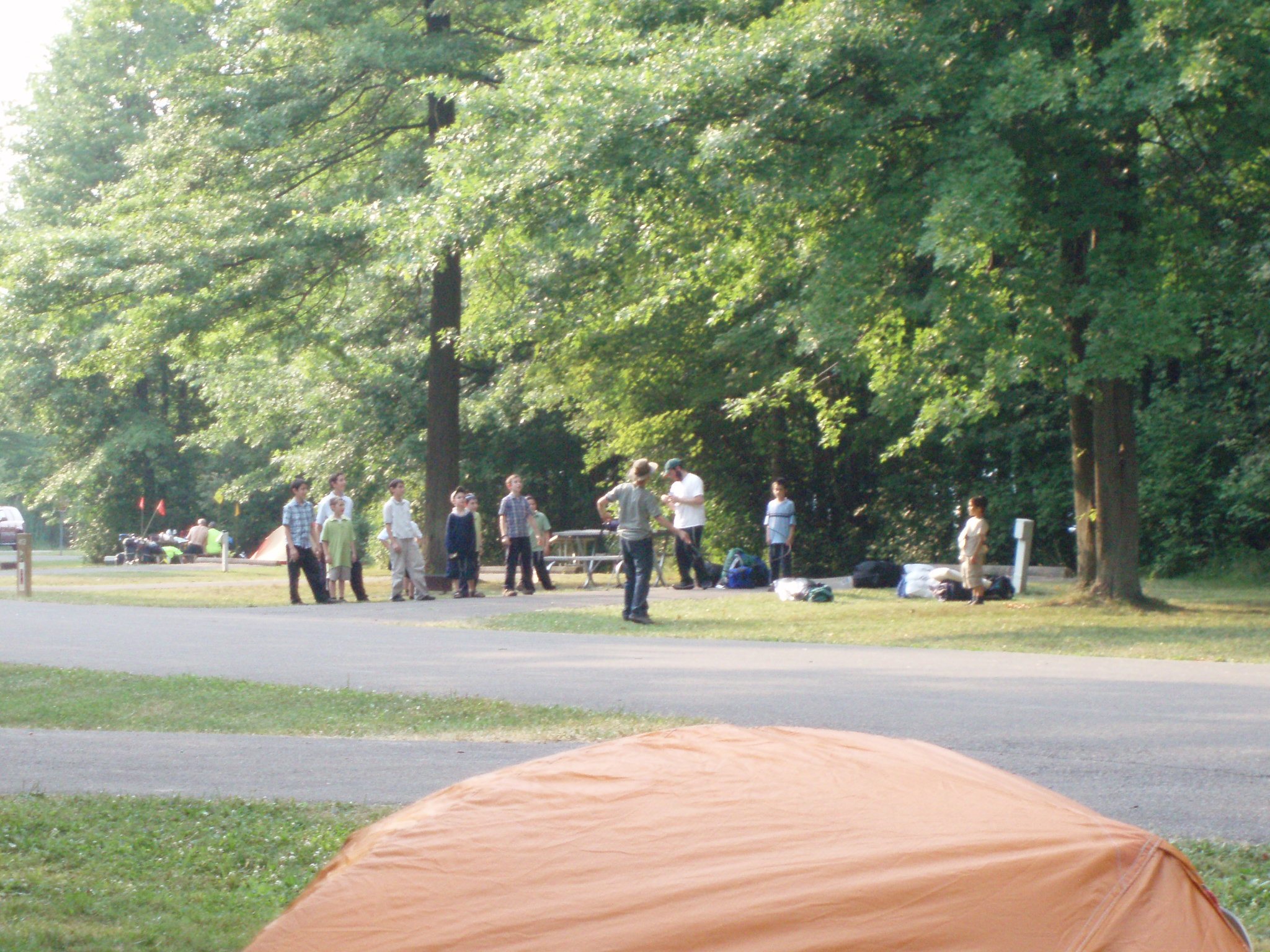 The counselors were more retarded then the kids.  At one point one of the counselors put on a cowboy hat and had a whip like Indiana Jones and was walking around the campsite whipping everything. Then another Counselor started blasting this Hebrew polka music and dancing around. We all gave him the thumbs down so he turned it off. One of the other guys at the campsite rode his bike past and said 'They should charge for this sideshow!'
While we were watching this fiasco we met this girl Laura who was camping with her family. Turns out she works at the IHOP not far from where we're riding, so we're going to have breakfast at her IHOP on Thursday morning on our way into Cleveland.
We rode into town and met this guy Joe and his wife. Joe was really entertained by our trip and he kept as laughing all night long. Joe also paid for all of our beers, which was really cool of him.  It got late and Joe left and since he was the life of the party we just rode back to the campsite.
11pm The Hasidic fiasco was in full force when we got back to the campsite. Everyone was screaming and yelling. Looks like it's going to be an earplugs night.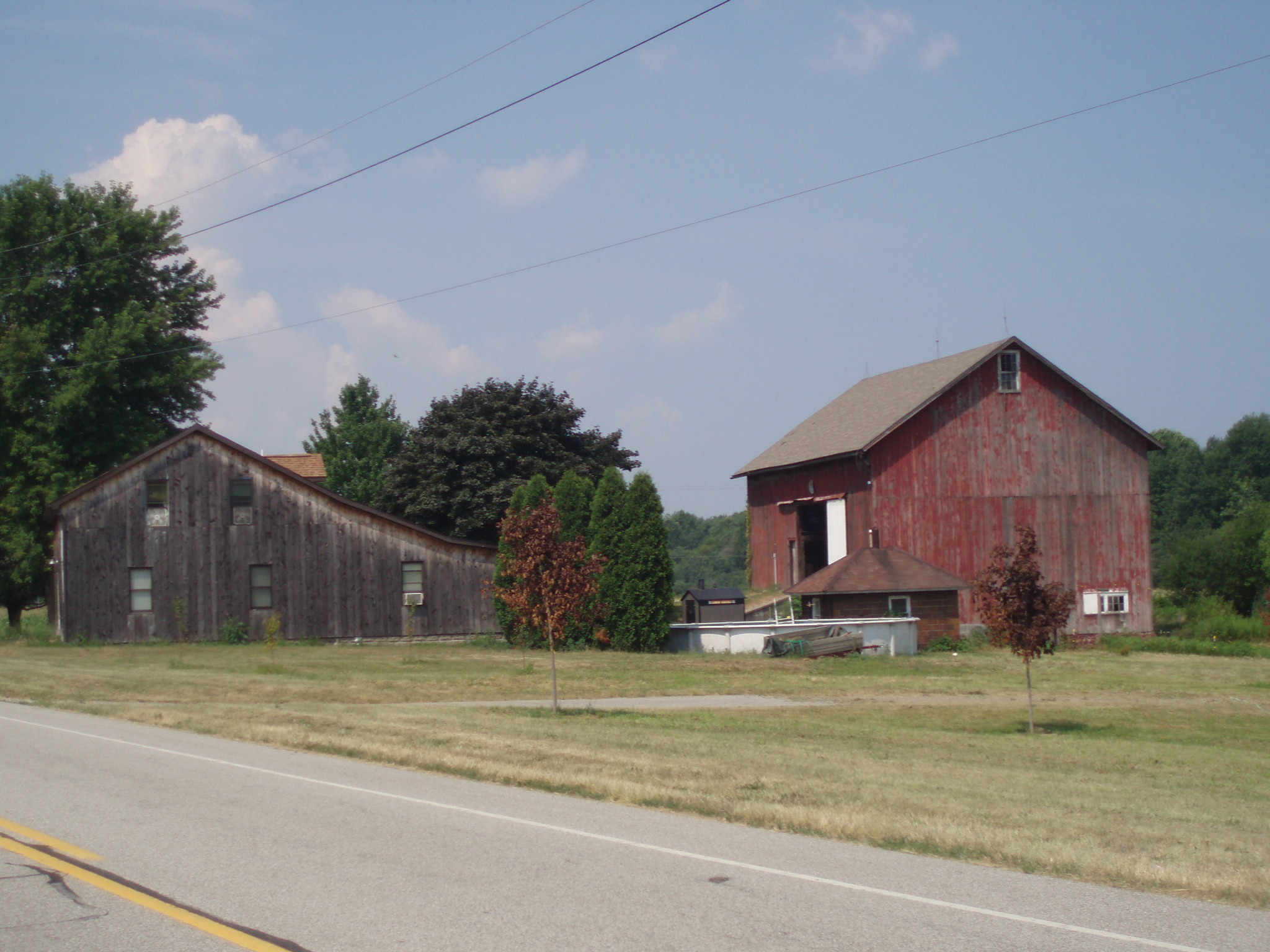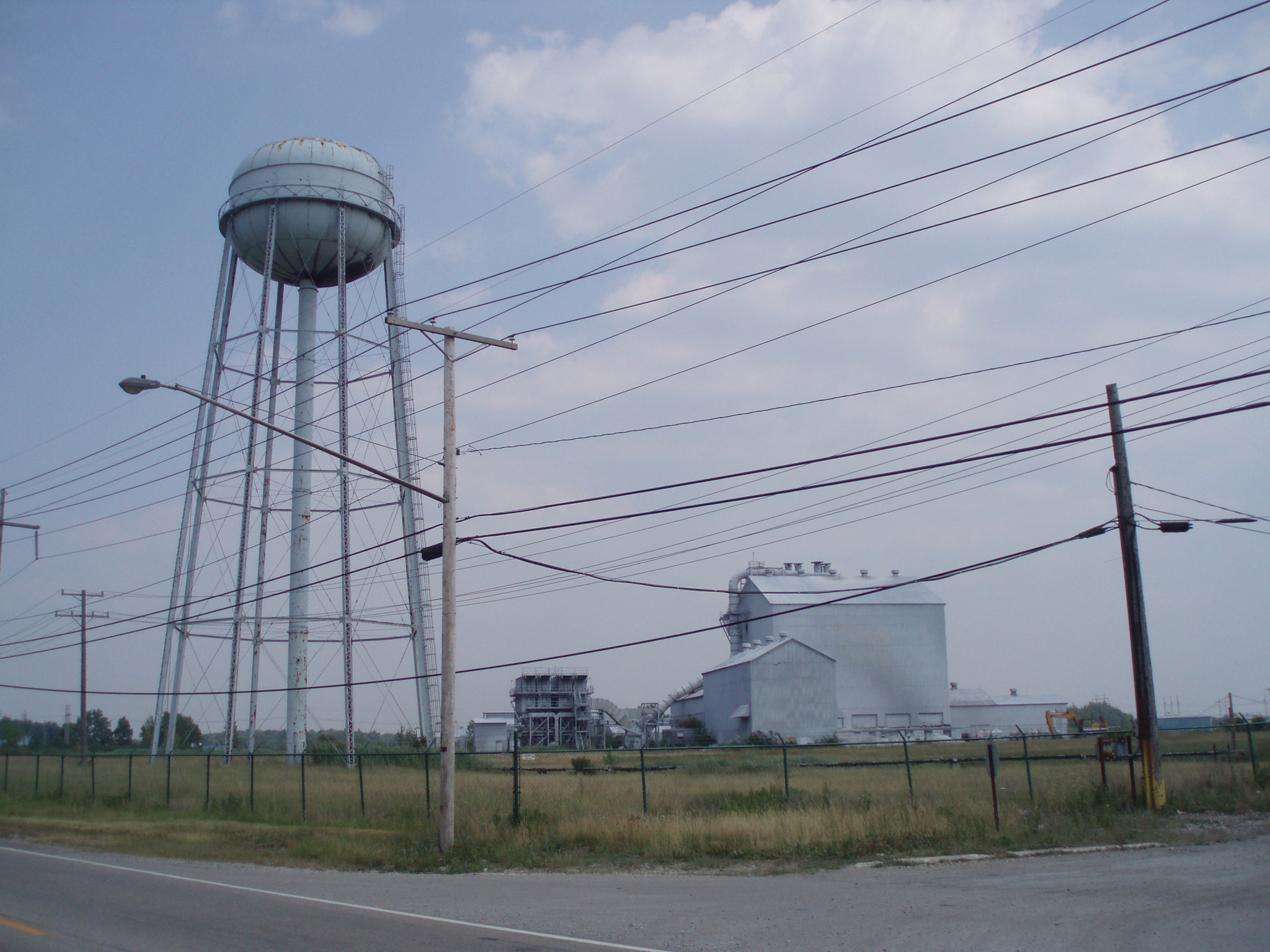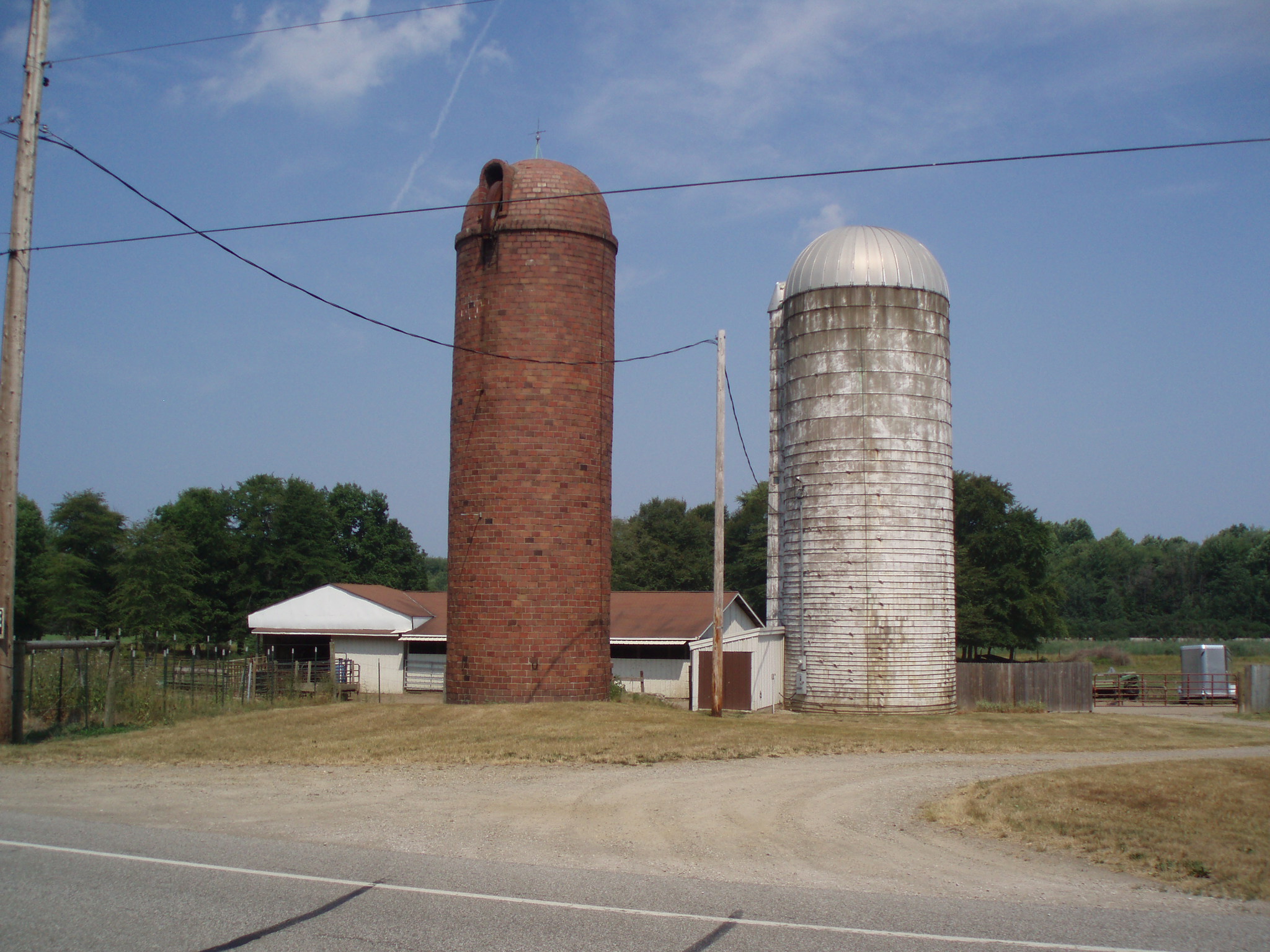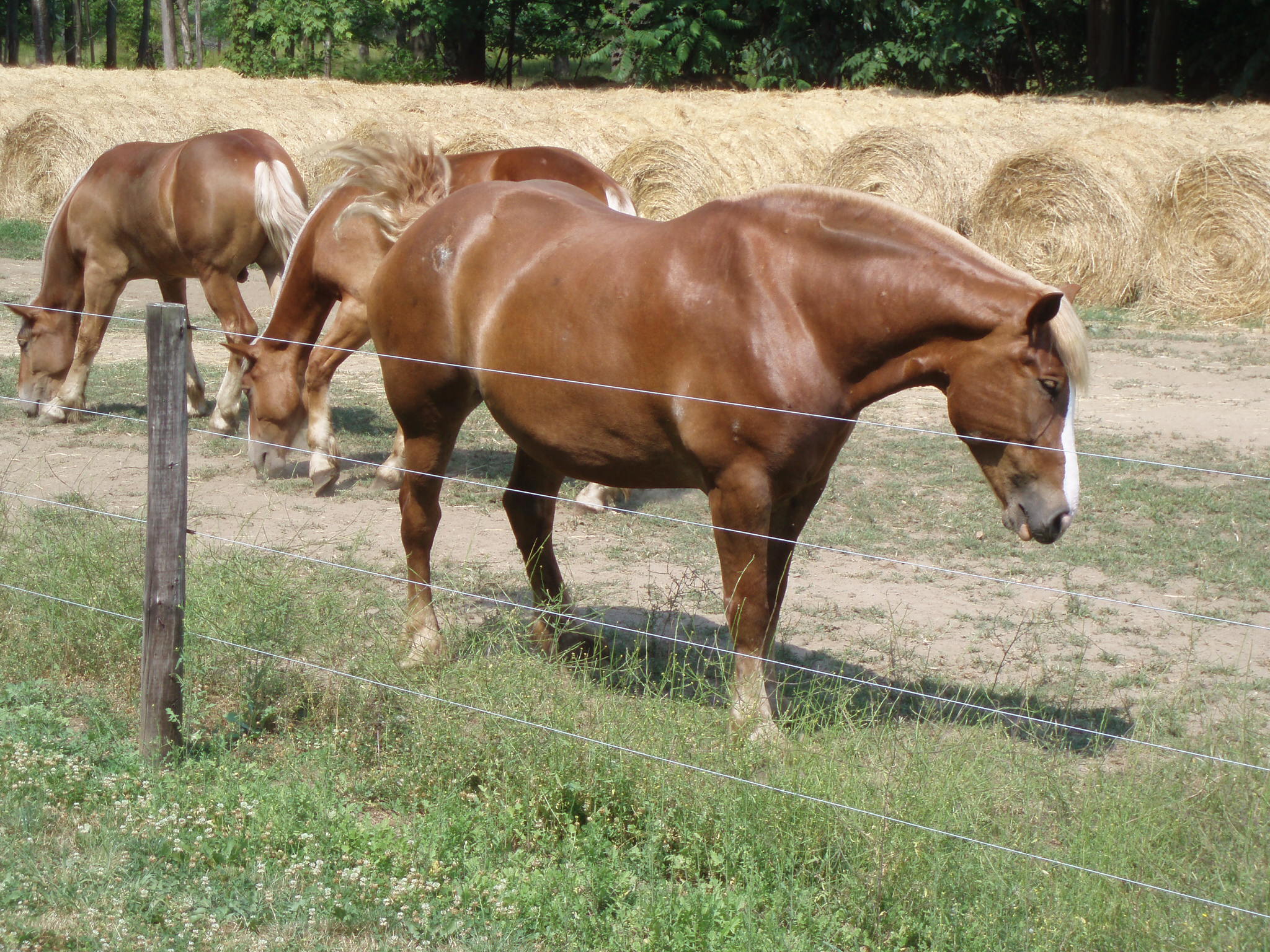 Click Here to Visit The Table of Contents
Click Here to Visit Previous Page: Day 23: Evangola State Park, NY to Erie, PA
Click Here to Visit The Next Page: Day 25: Geneva on the Lake, OH to Willoughby, OH