Monday July 16, 2007, 58 miles (94 km) – Total so far: 1,421 miles (2,287 km)
58.10 Miles 4:40 min 12.4 average speed
Click Here to Visit The Table of Contents
Click Here to Visit Previous Page: Day 29: Bowling Green, OH to Napoleon, OH
Click Here to Visit The Next Page: Day 31: Monroeville, IN to Largo, IN, Larry from Project Pedal Video

In the morning we woke up to an empty house. It was a little sad being at their house not having anyone around. We cooked ourselves breakfast and Bree showed up early to take us to Bowling Green to the bike shop.  On the way to Bowling Green we were flying in the car but it still felt like it took a long time to get there. My perception of 35 miles in a car and 35 miles on a bike is very distorted.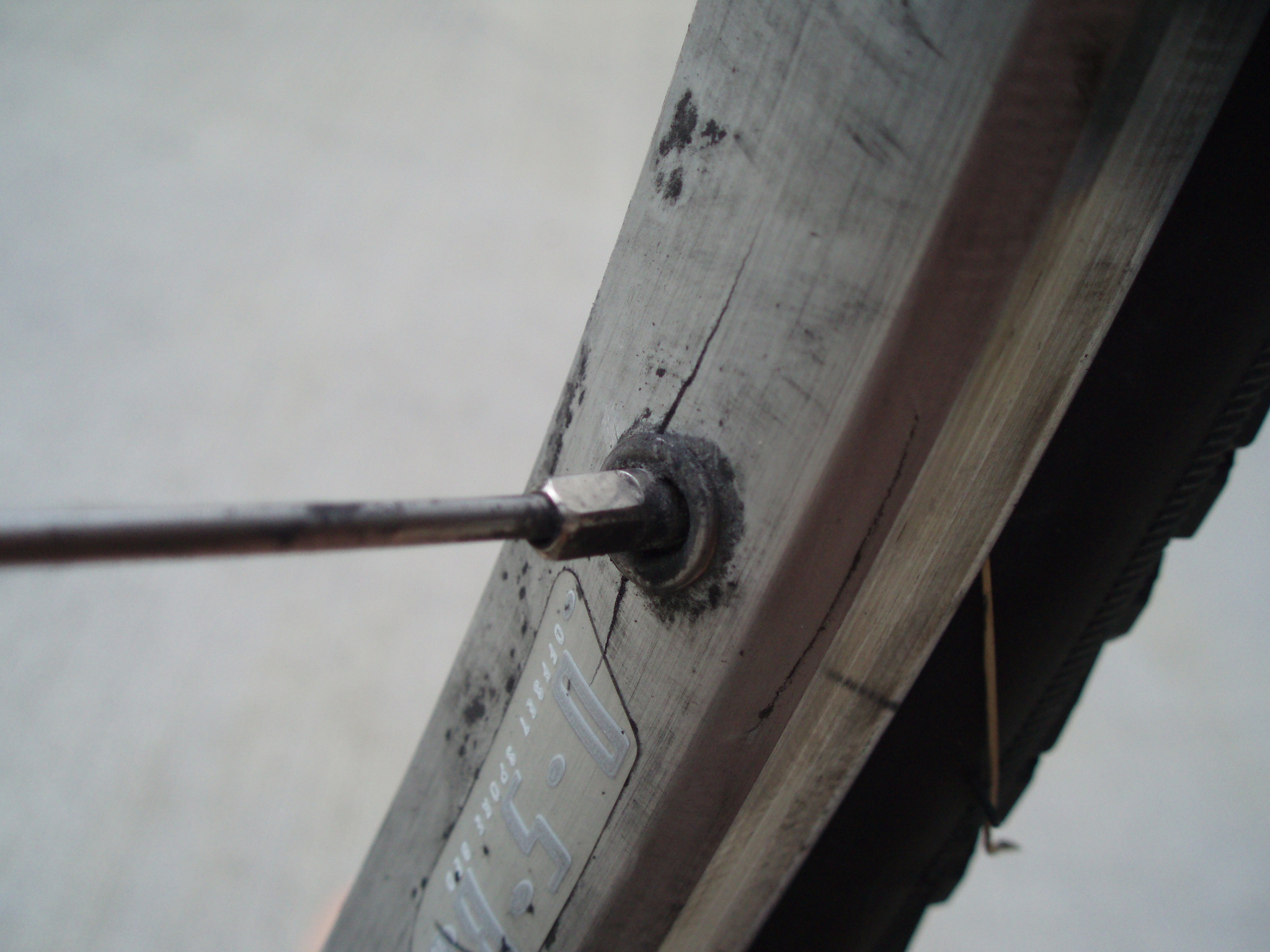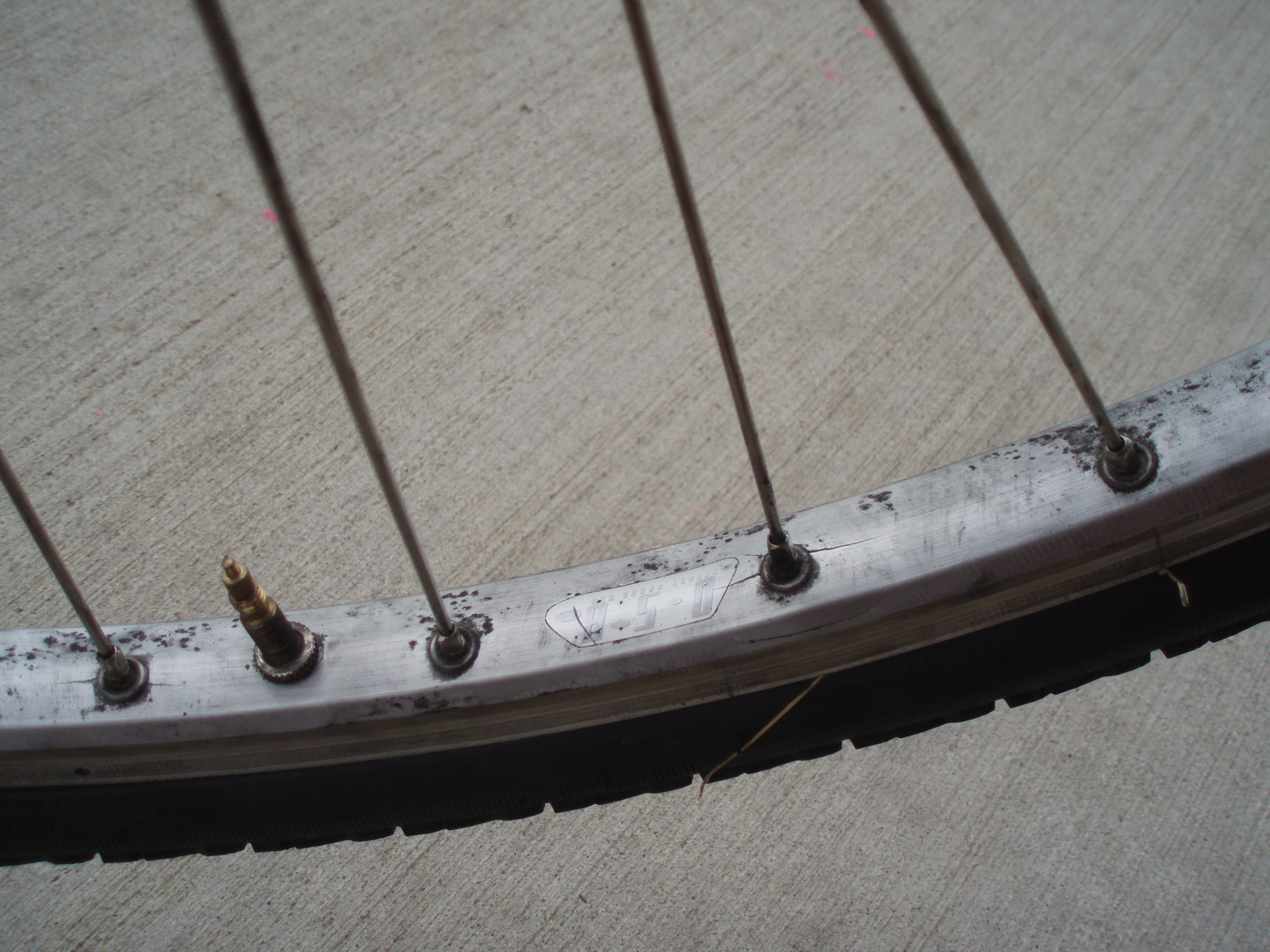 At the bikeshop Dave was really excited to see us. He was all ready to rebuild chucks wheel. Cycle Works in Bowling Green is a nice shop. It felt great knowing we were in good hands with chucks rear wheel.
Bree had to run some errands so we went to the bakery and did internet stuff. Jamie worked on finding some people to stay with in Chicago. Somehow Jamie got us onto ITunes. Video: http://www.teamnortherntier2007.blogspot.com/2007/07/itunes.html I banged out a lot of journal stuff, chuck went to the library where the librarians were bitchy to him and would only let him use the computers to check his email.
## fish ##
Our buddy in Boston Fish McGill http://www.fishmcgill.com/ sent us this schematic of a robot condo that he wants his architect Mike Riscica to have built for him.
Around 11:30 I went back to the bike shop to see how Dave was doing with chucks wheel and he seemed a little stressed out. He said he finished it but he didn't like the way it came out so he's redoing it with different spokes.  45 minutes later Bree called and said the wheel was done.
Back at the shop Dave had our journal up on the computer to the page where it said we were stuck in Ohio. Chucks bike looked great. The new wheel looked strong and they also cleaned the layer of filth off chucks bike. They cleaned his chain, tightened some bolts and tuned up his derailers. Chuck was really happy. While we were at the bike shop chuck also decided to buy and Ohio State cycling jersey. Not because he went to school there, no. But because that guy loves the state of Ohio.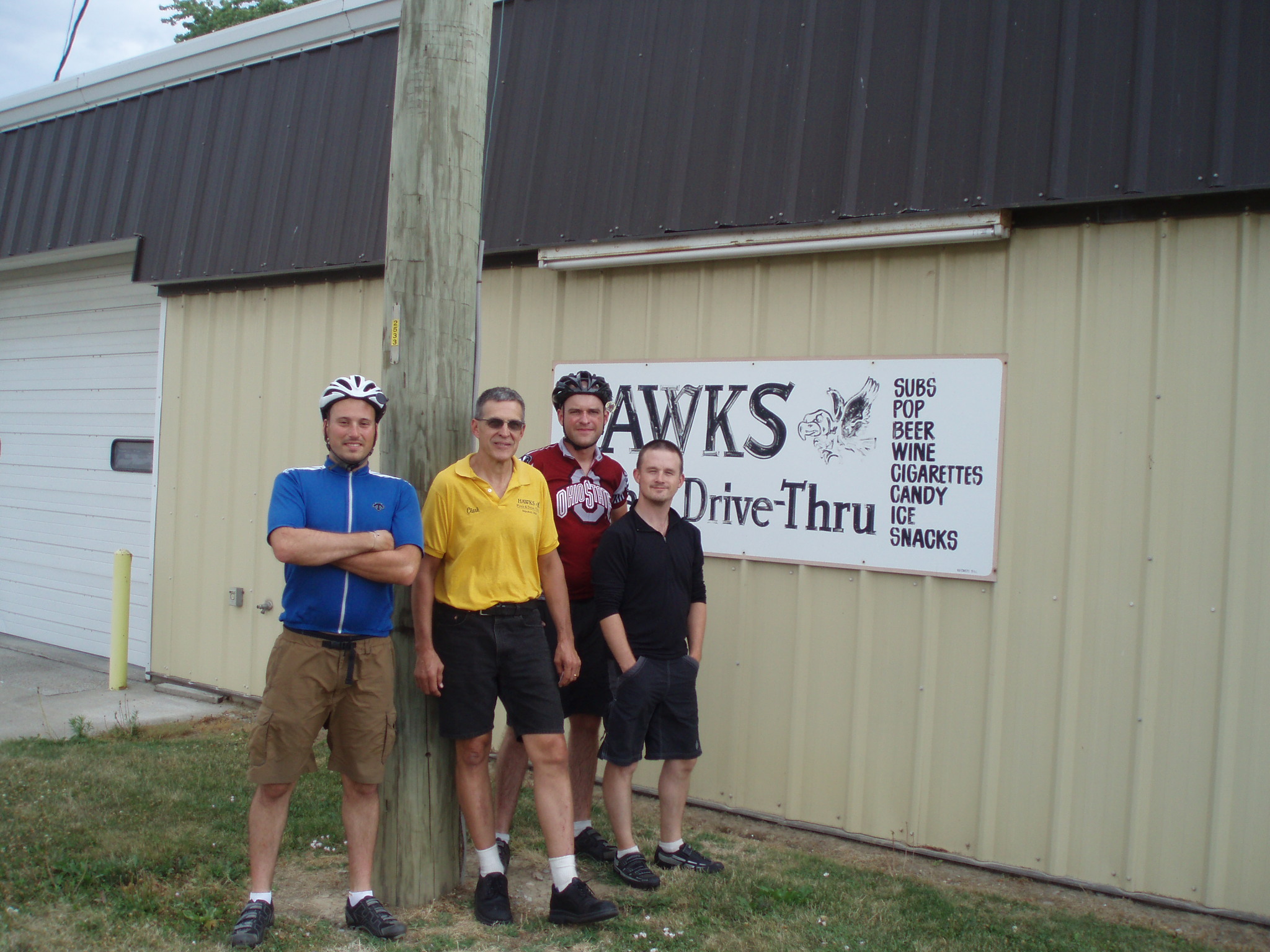 Bree took us back to the Damman's and cooked us a spaghetti lunch. Andy's cousin was real excited about chucks new cycling jersey. We packed up our mess and Andy took us into town so we can get on our trail. We unloaded our bikes in the parking lot of Hawks Pizza. Clark the pizza man is a big cyclist so he came out and kept us company while we packed and got ready to hit the road.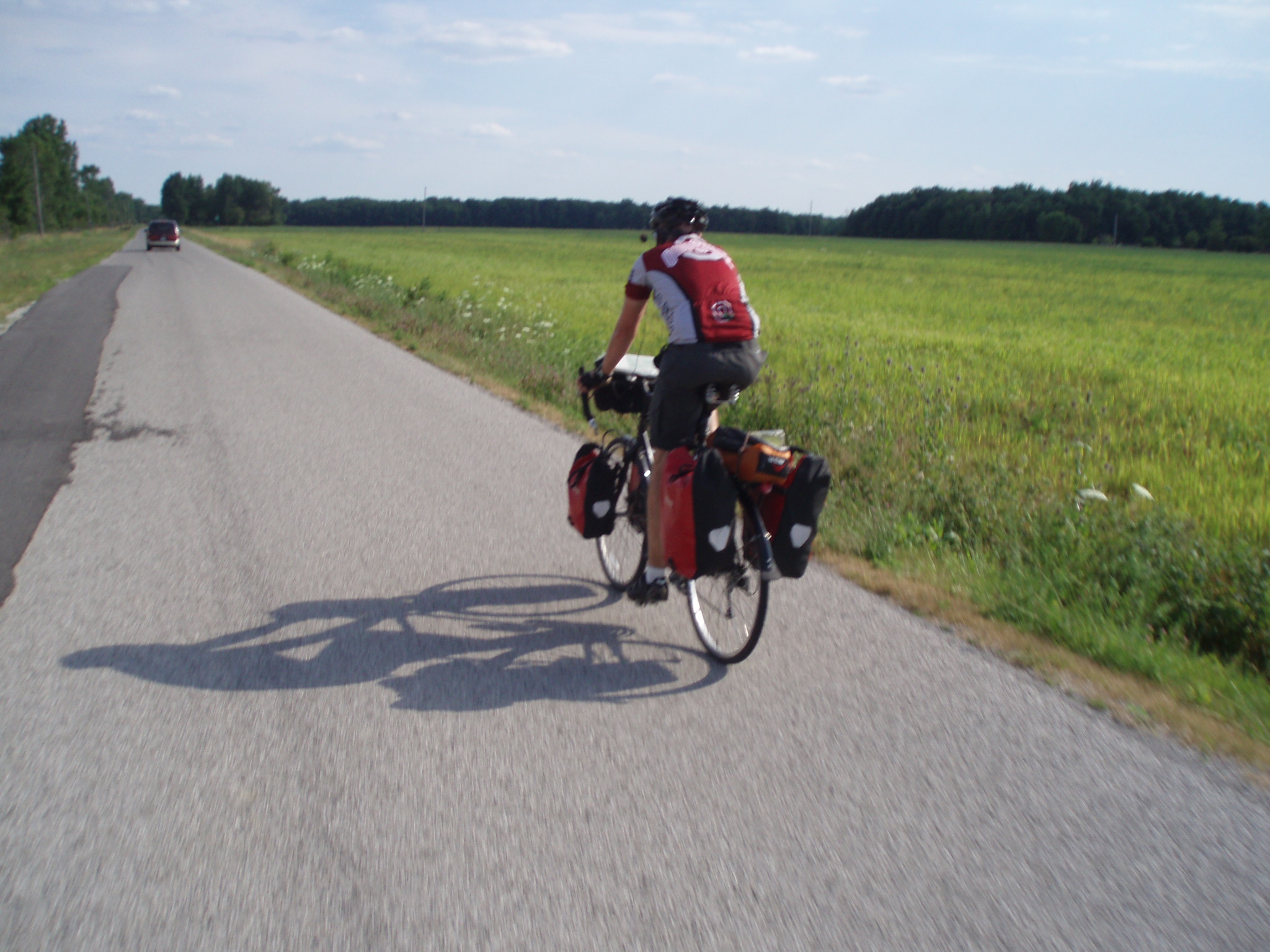 It was 3:30pm and we were just getting on the road. The goal was to make it Monroeville, Indiana and that's 60 miles away. Andy was real worried about us leaving town so late. He said if we have any problems to call him and if we want he can drive the RV out to wherever we are and we can spend the night in there.
Right before we left we thanked Andy and his family again for everything they have done for us in the past 2 days. He said to us 'I don't know who got more out of this, us or you guys.
We rode outta Napoleon like the Devil in the wind. We all rode really hard all day long and kept our breaks to a minimum. All day it was a race to get to Monroeville before the sunset. We made a quick stop in defiance and some big dude came up to chuck and asked him where he was headed. Chuck said 'I'm going to Indiana.' And he slapped chuck on the back and said 'Wear that jersey with pride!
The riding was really great. The wind was very low and we flew.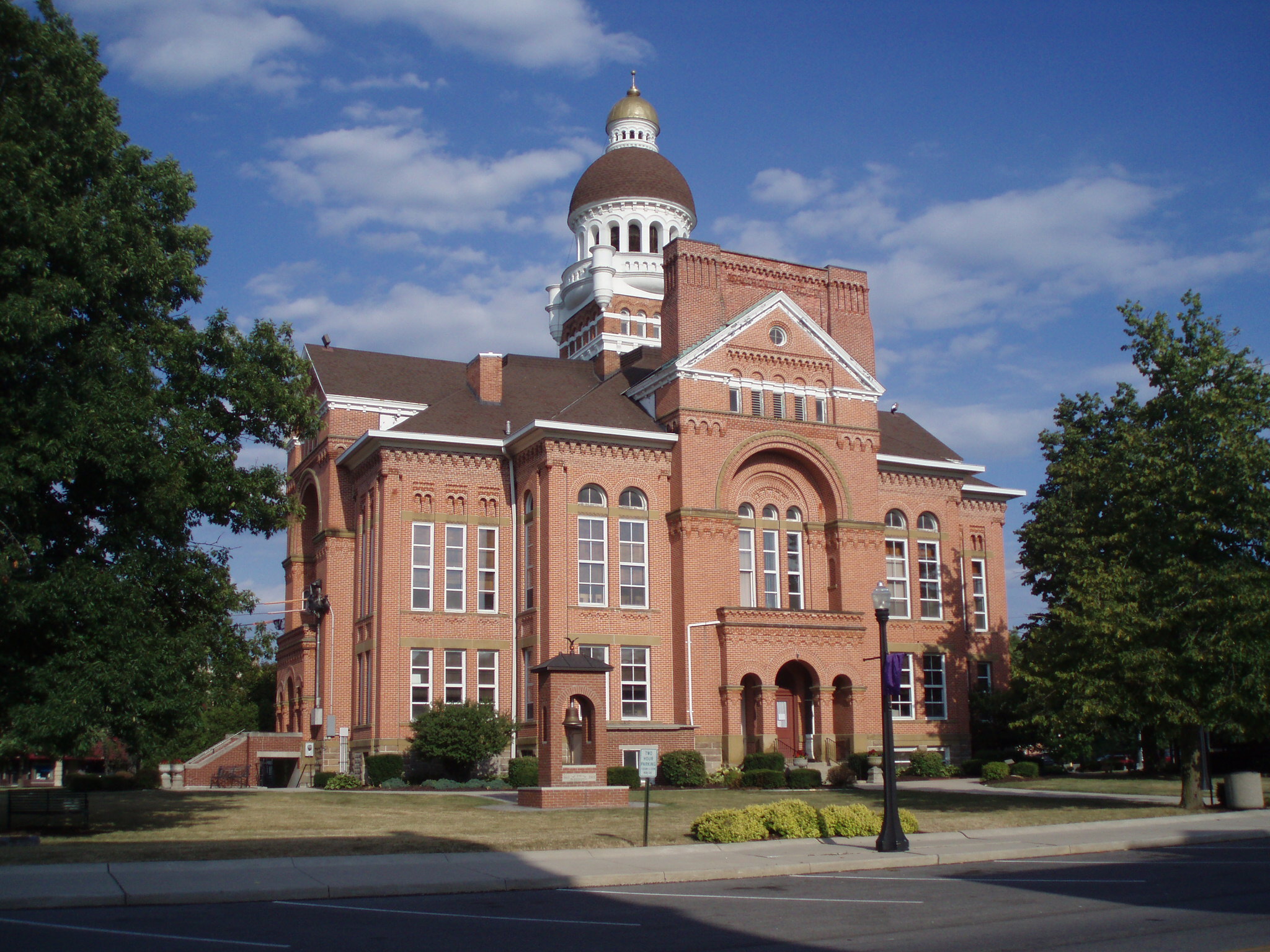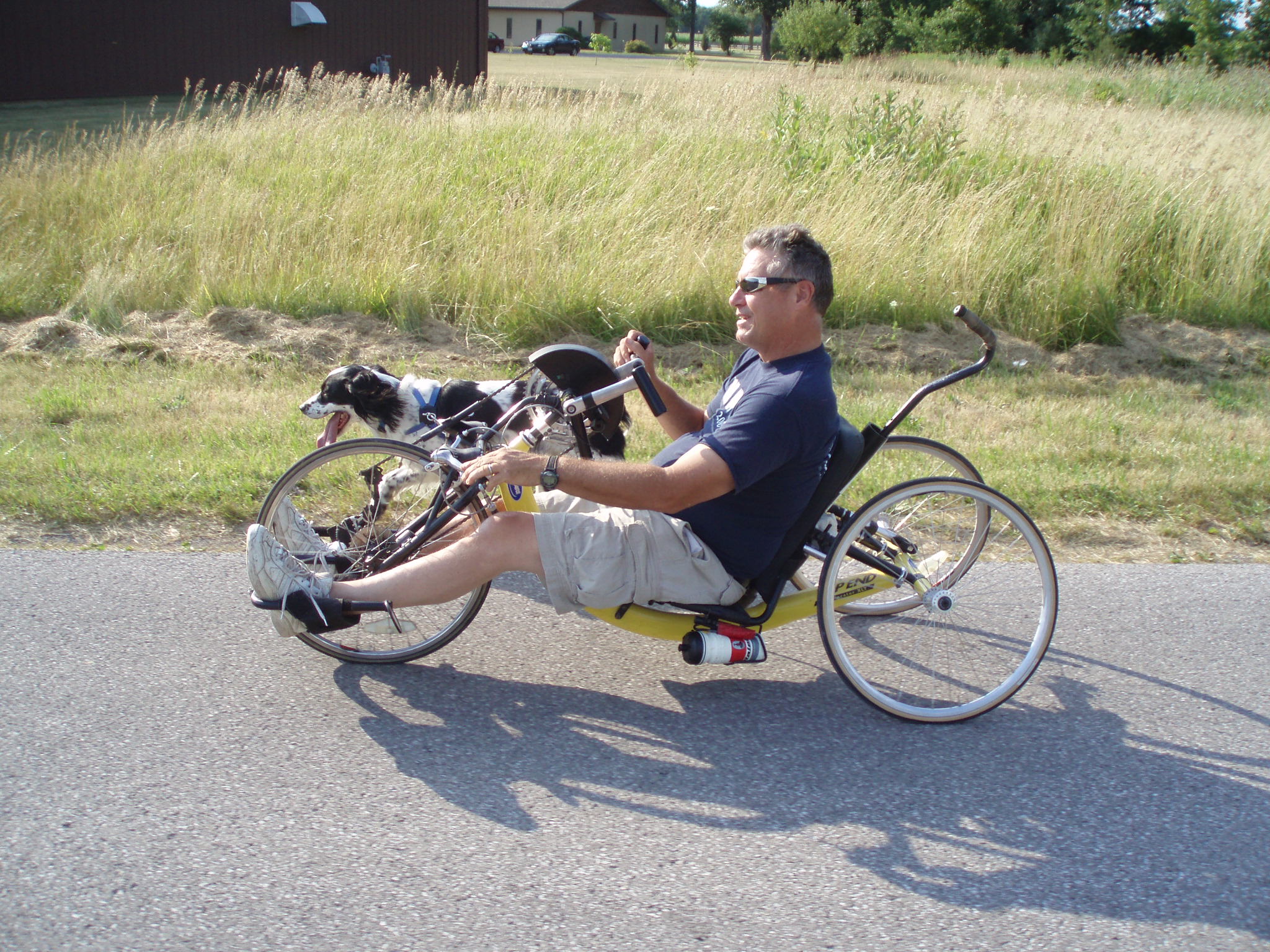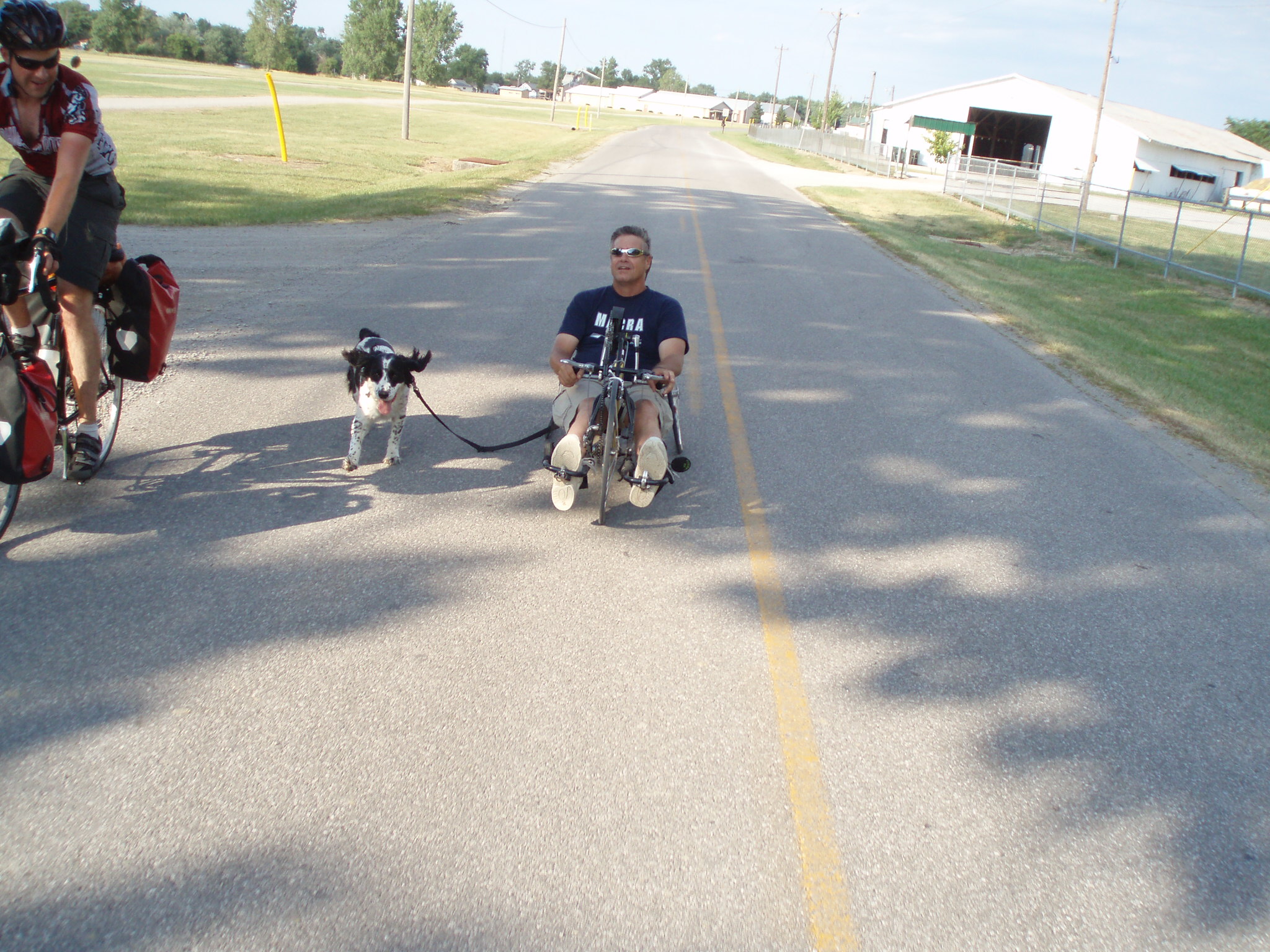 When we rode through Paulding this guy on a trike, that was being pulled by his dog rode up to us. We rode with him for a little bit. He told me that has MS and can no longer ride a regular bicycle so now he has this trike that he can pedal with his arms or have the dog pull and he's happy to still be out riding.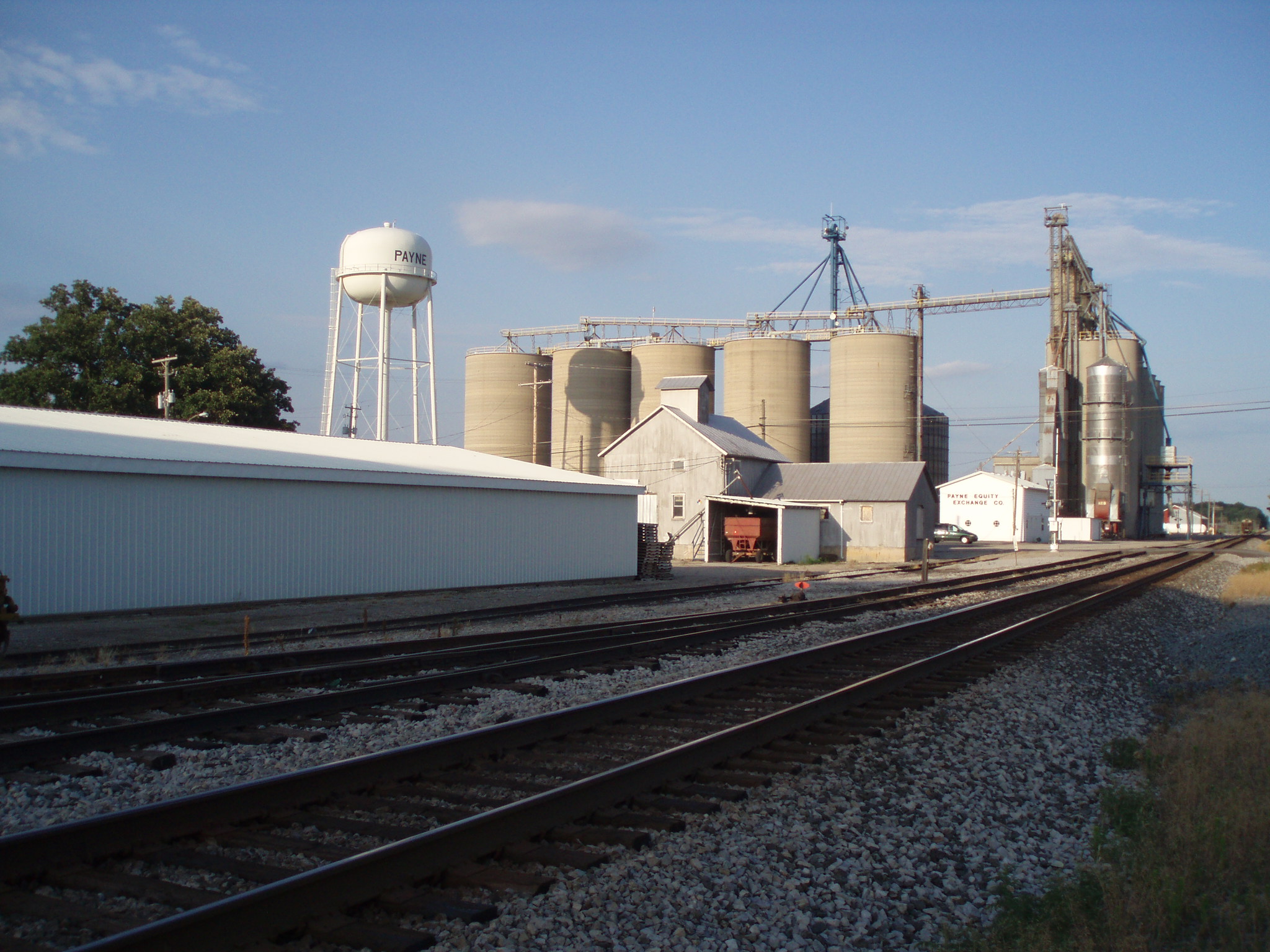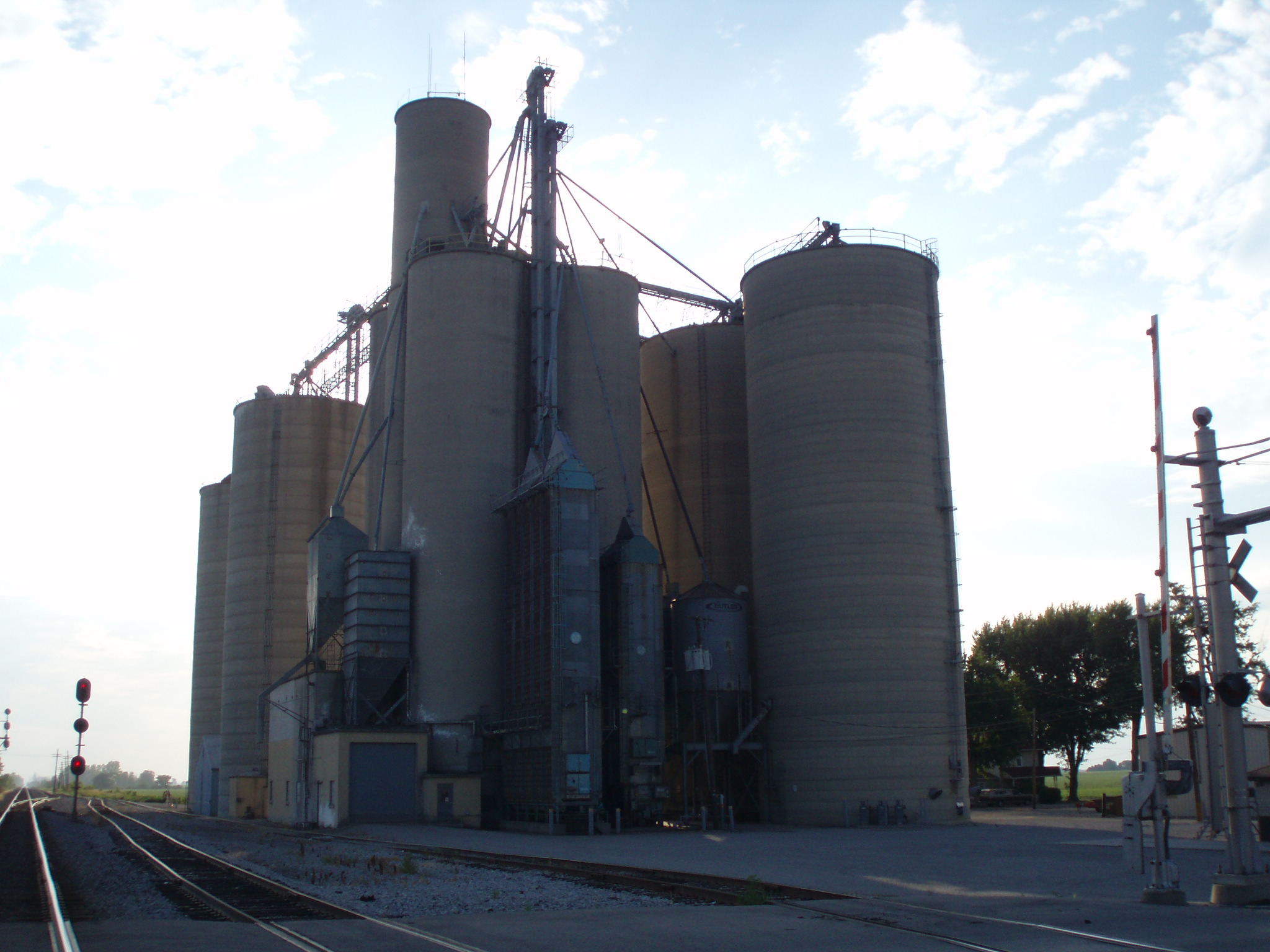 Riding into Payne Mike Riscica's left leg got all achy. I took it easy for a few and figured it's probably just psychological. We called warren in Monroeville and told him we were 1 hour away. He said he will meet us on our way into town. And to take a different road because there is construction.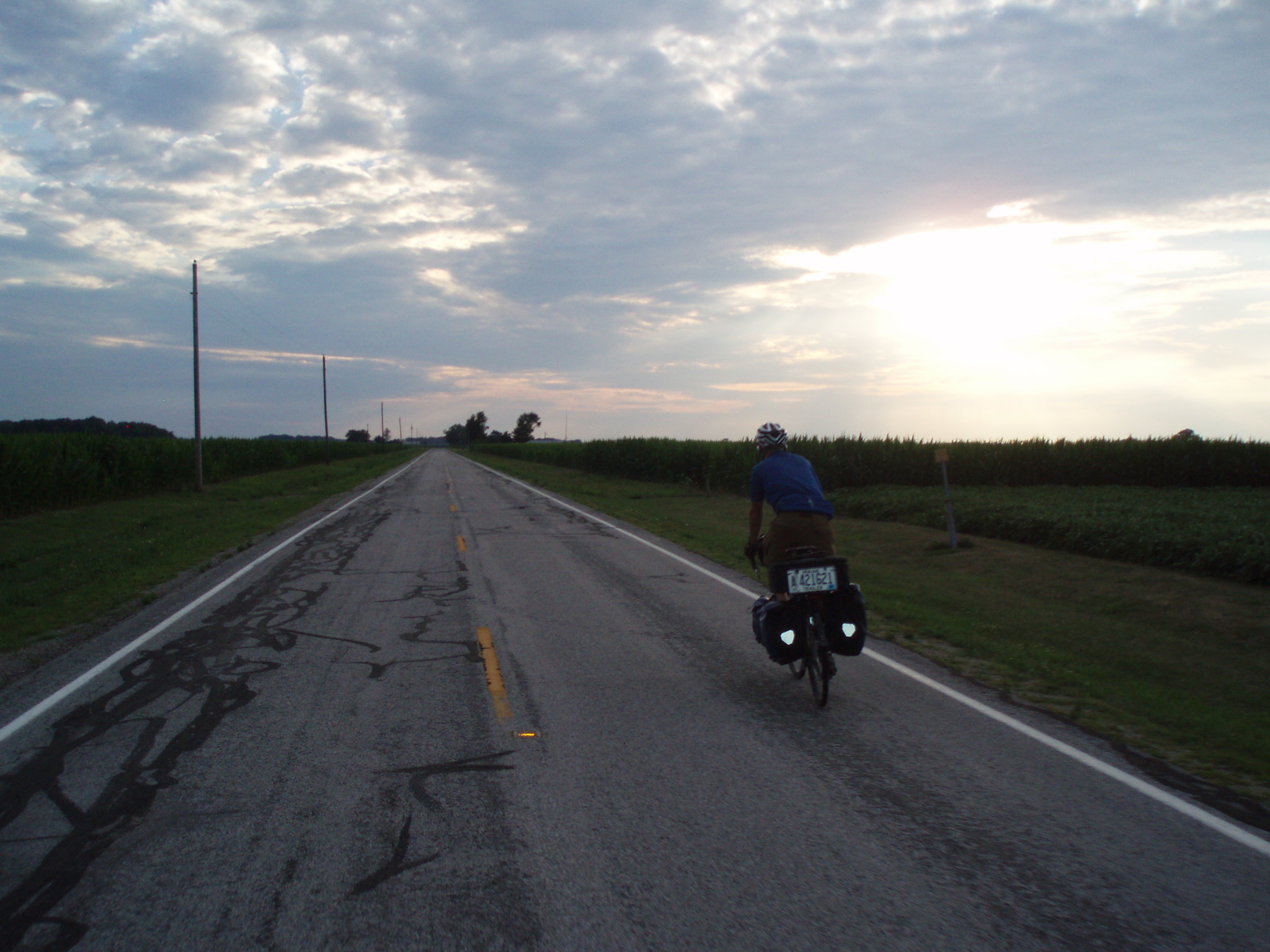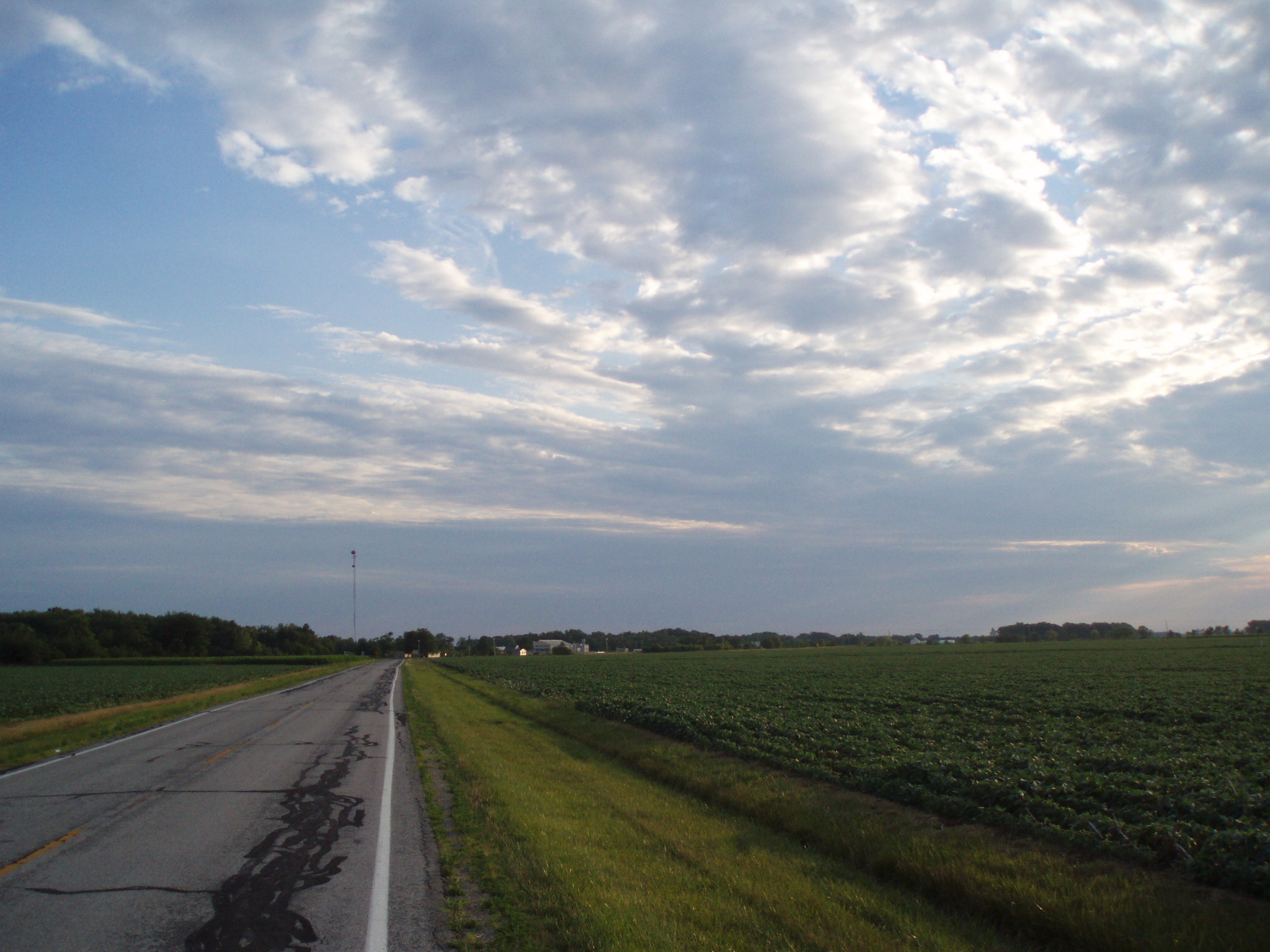 Since we detoured into Indiana we didn't get our welcome sign.  However we turned around and said goodbye to the entering Ohio's sign.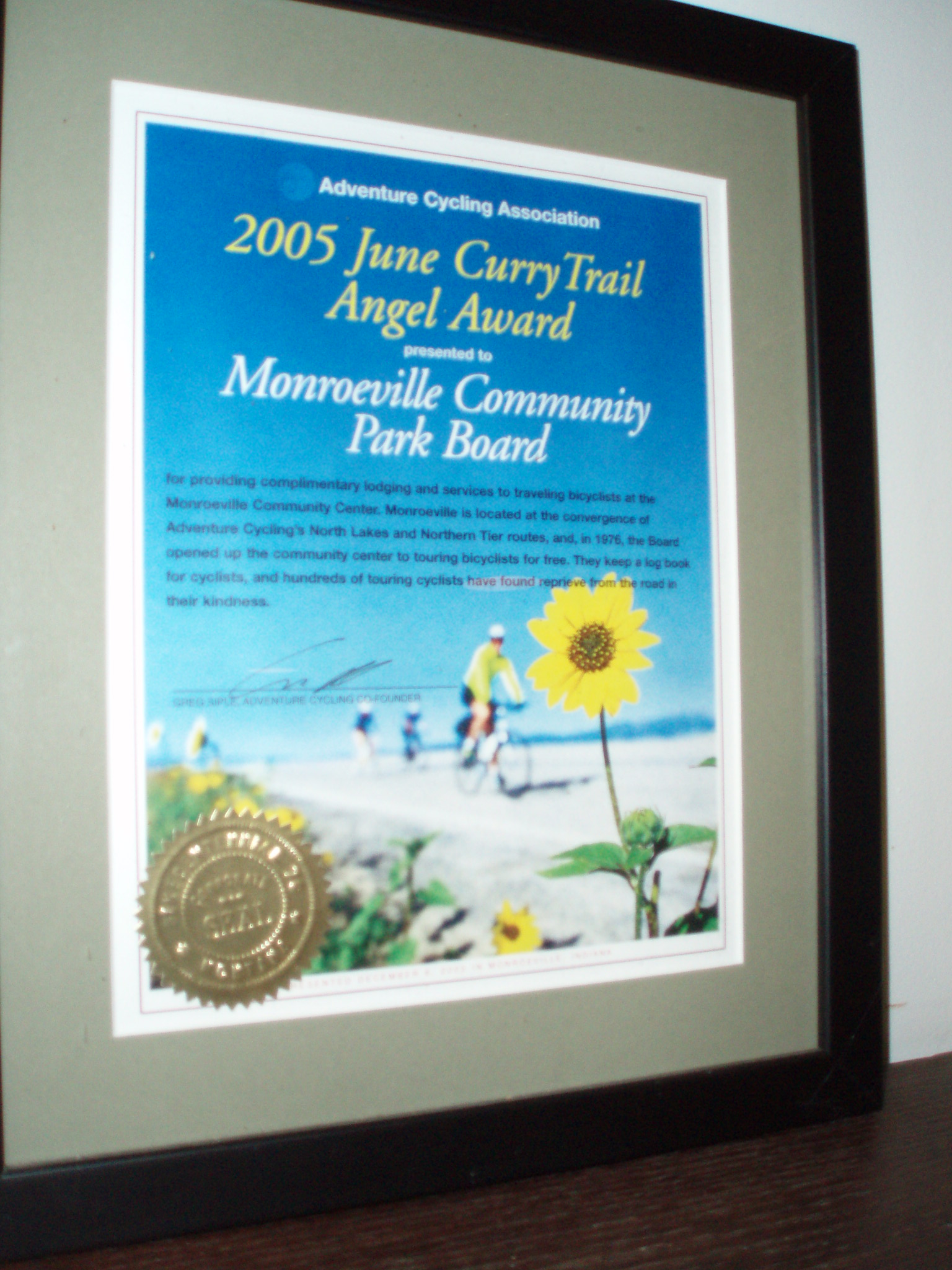 When we got to town Warren found us on the road. He's a super nice guy. Warren took us to the city park where they let cyclists stay inside the pavilion. He showed us around and got us setup making sure we were comfortable. Warren and the people of Monroeville are really excited to have a cross country bike route come through their town. Hanging on the mantle warren showed us that this bike hostel won the 2005 June Curry Trail Angel Award. You can read more about The June Curry Trail Angel Award here: http://www.adventurecycling.org/outreach/awards/trailangel.cfm I was really happy to hear they won this award; June Curry is a good friend of Mike Riscica.
It got late we just ate dinner at the local pub and drank a few beers. Everyone in Indiana calls Ohio, Ohia
Oh and Dave at cycle works in bowling green  if your reading PLEASE PLEASE PLEASE keep me posted if you decided to put that sexy Serrotta track bike on eBay. I think I'm in love. -Mike Riscica
 Click Here to Visit The Table of Contents
Click Here to Visit Previous Page: Day 29: Bowling Green, OH to Napoleon, OH
Click Here to Visit The Next Page: Day 31: Monroeville, IN to Largo, IN, Larry from Project Pedal Video