Sunday July 29, 2007, 49 miles (79 km) – Total so far: 2,092 miles (3,367 km)
48.89 miles 33.5 max speed 3:49 pedal time
Click Here to Visit The Table of Contents
Click Here to Visit Previous Page: Day 42: Madison, WI to Spring Green, WI
Click Here to Visit The Next Page: Day 44: Wonewoc, WI to Bangor, WI: Old Style Beer Video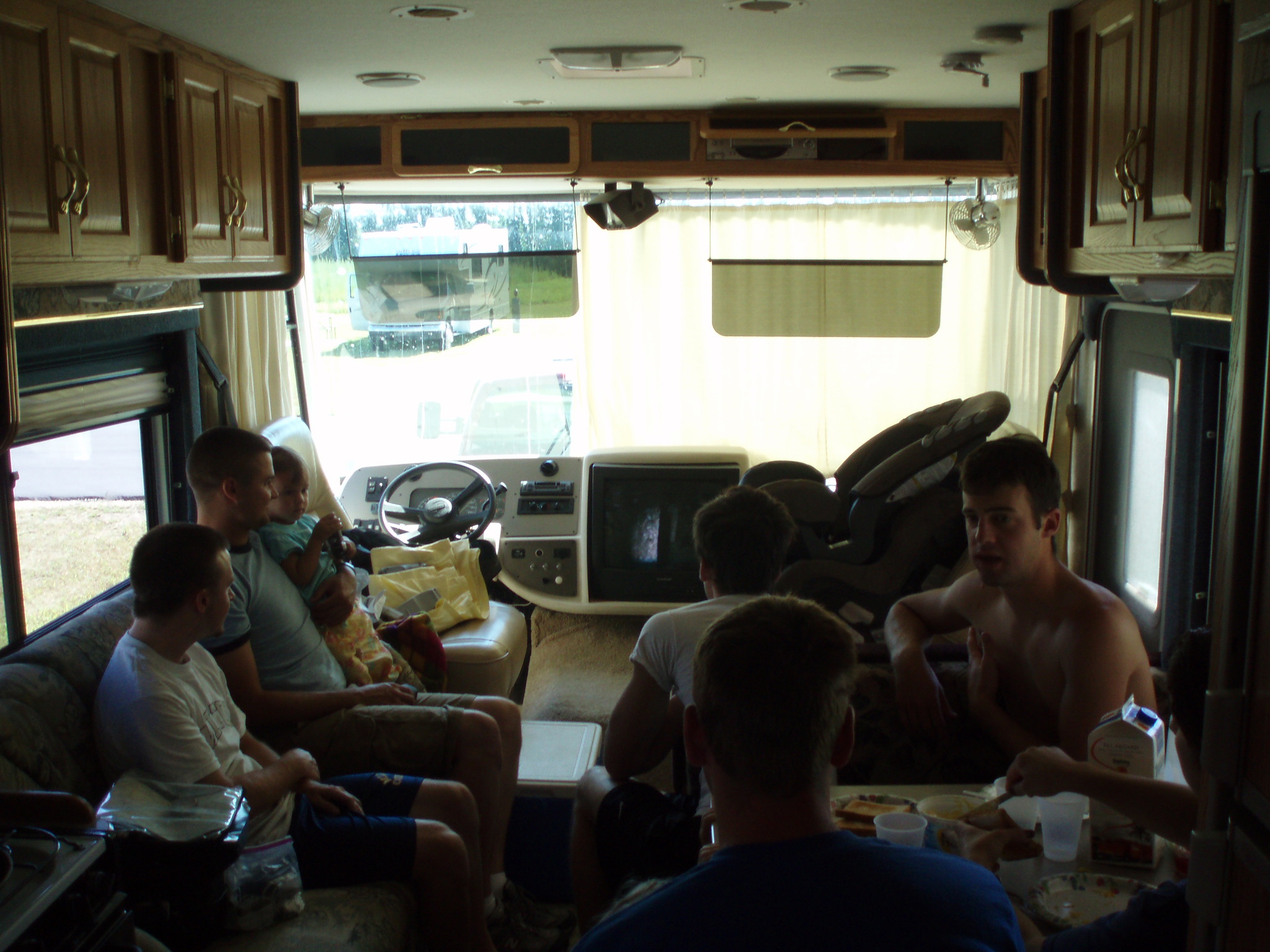 Last night Jamie and I slept inside the air conditioned RV with the Dammons, The boys slept in one of those gigantic tents behind the RV. Bree woke up early and started cooking like a mad lady. We ate till we were full and then we ate some more. I wanted to catch the 10:30 Taliesin Tour, but I was having such a good time hanging out with the Dammons that I decided to catch the next tour at 1:15. While we ate breakfast we watched all the footage from their vacation in Wyoming.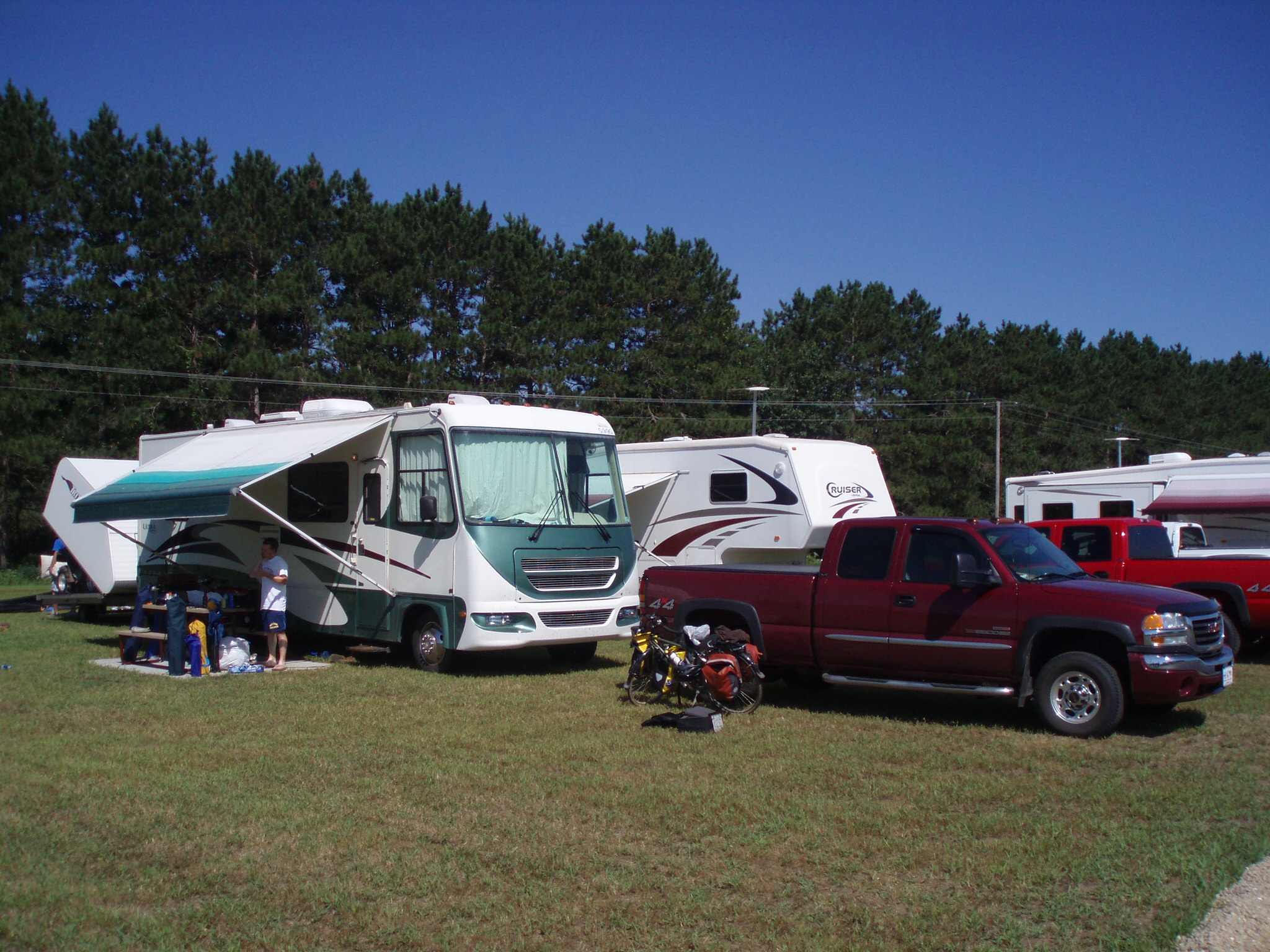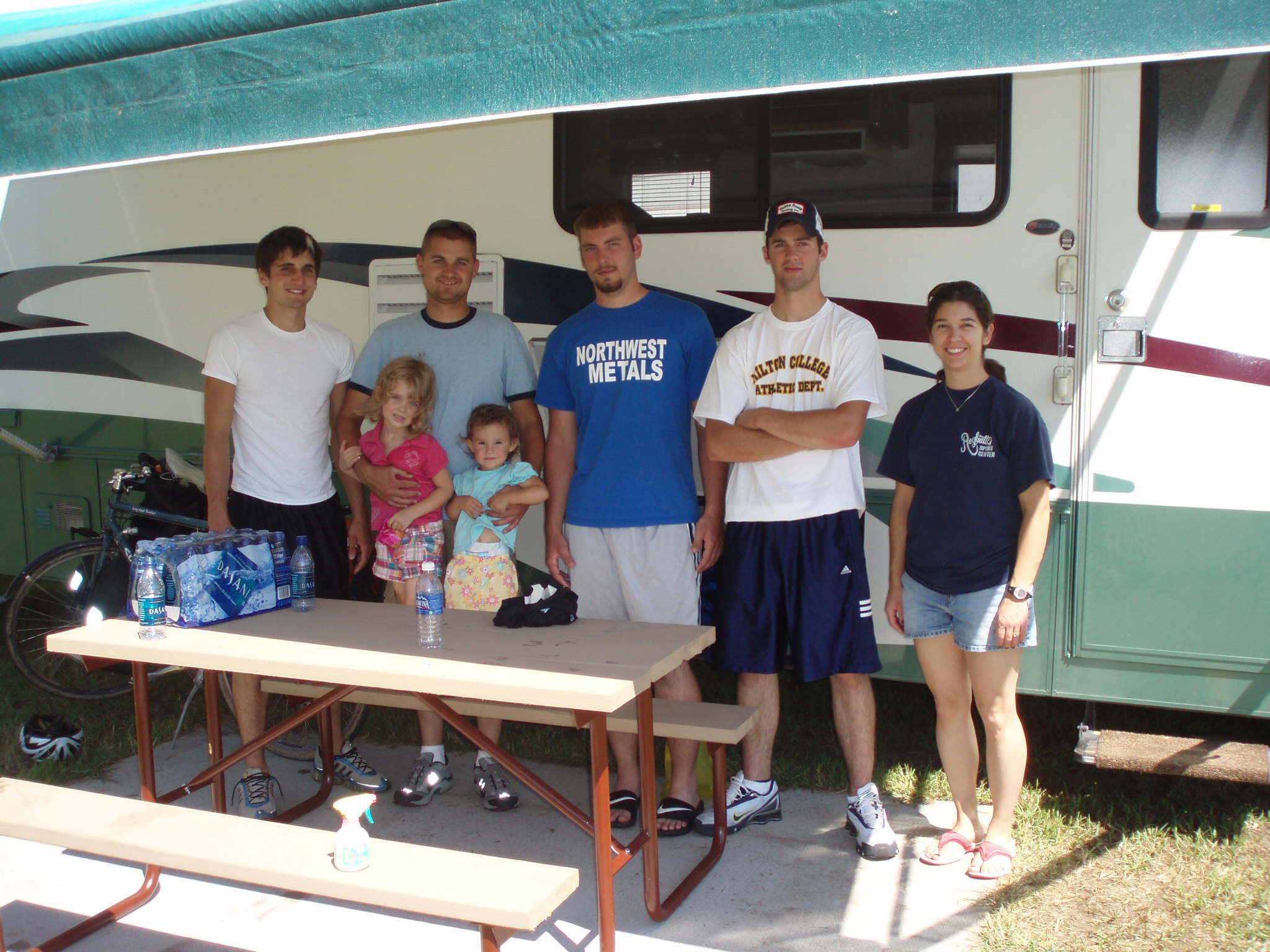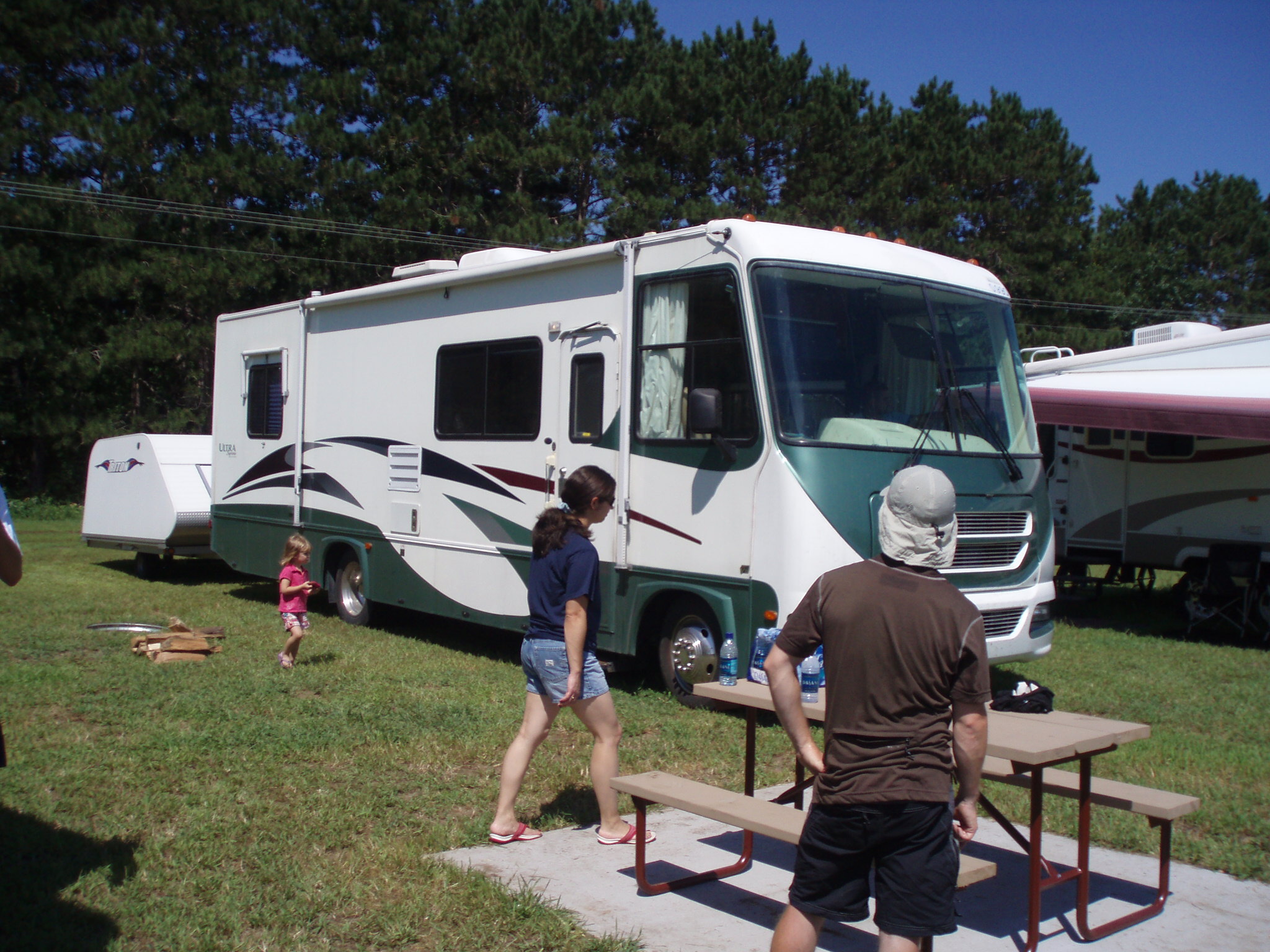 Jamie and I just hung around while the Dammons packed up their ship and got ready to head back to the ranch. While they were packing Jamie and I realized that after a long streak we have no more plans or people to see from here on out. It was kind of sad, for the past few weeks we have always had something to look forward to. We waved farewell to the Dammons and rode into town. They are such nice people.
We had a little bit of time to kill before I got on my FLW tour, so we stopped at the grocery store and stocked up. It had been a long time since we had done the grocery store thing. Jamie finally threw away that horrible tartar sauce that he's been carrying around for too long.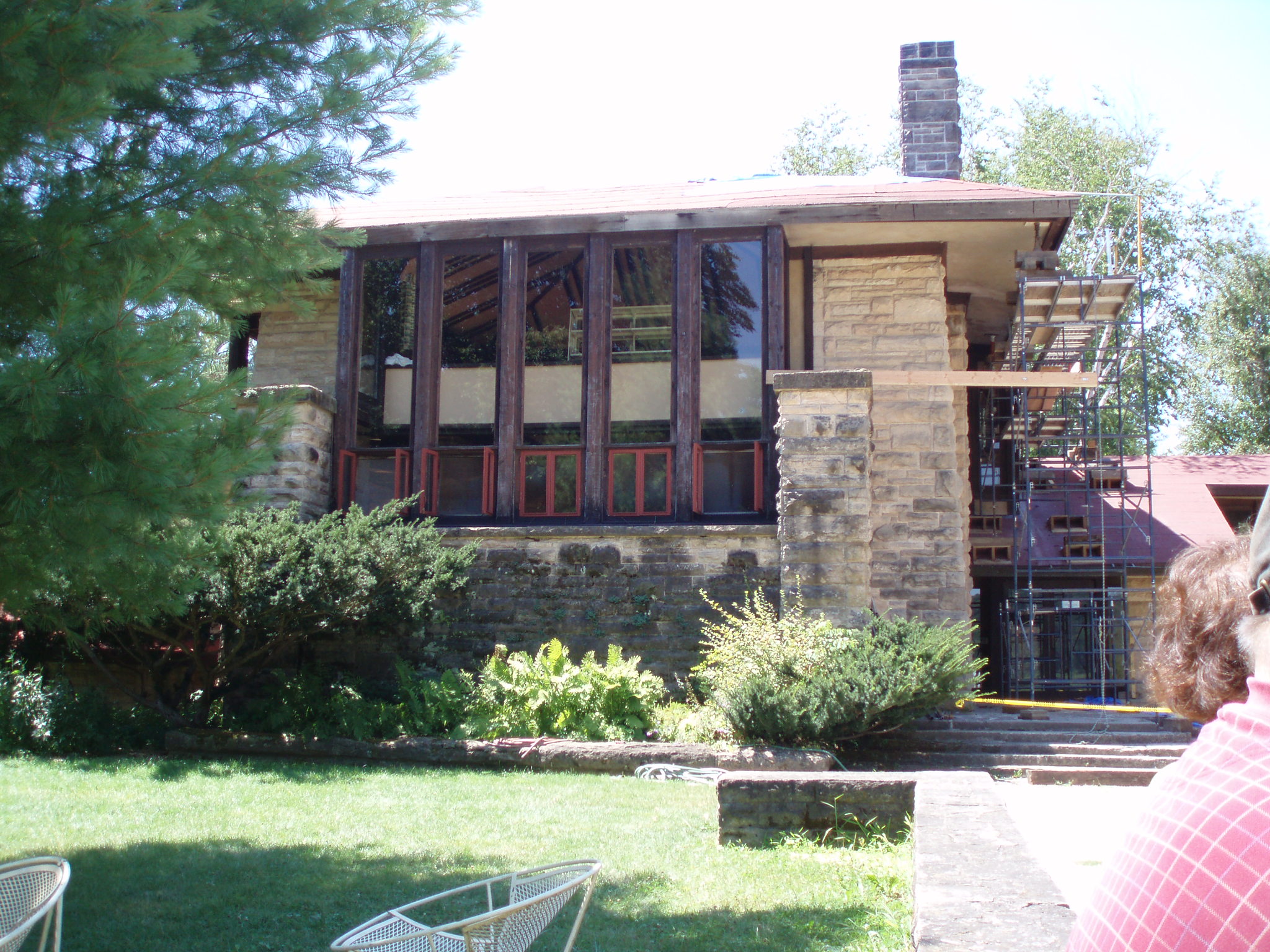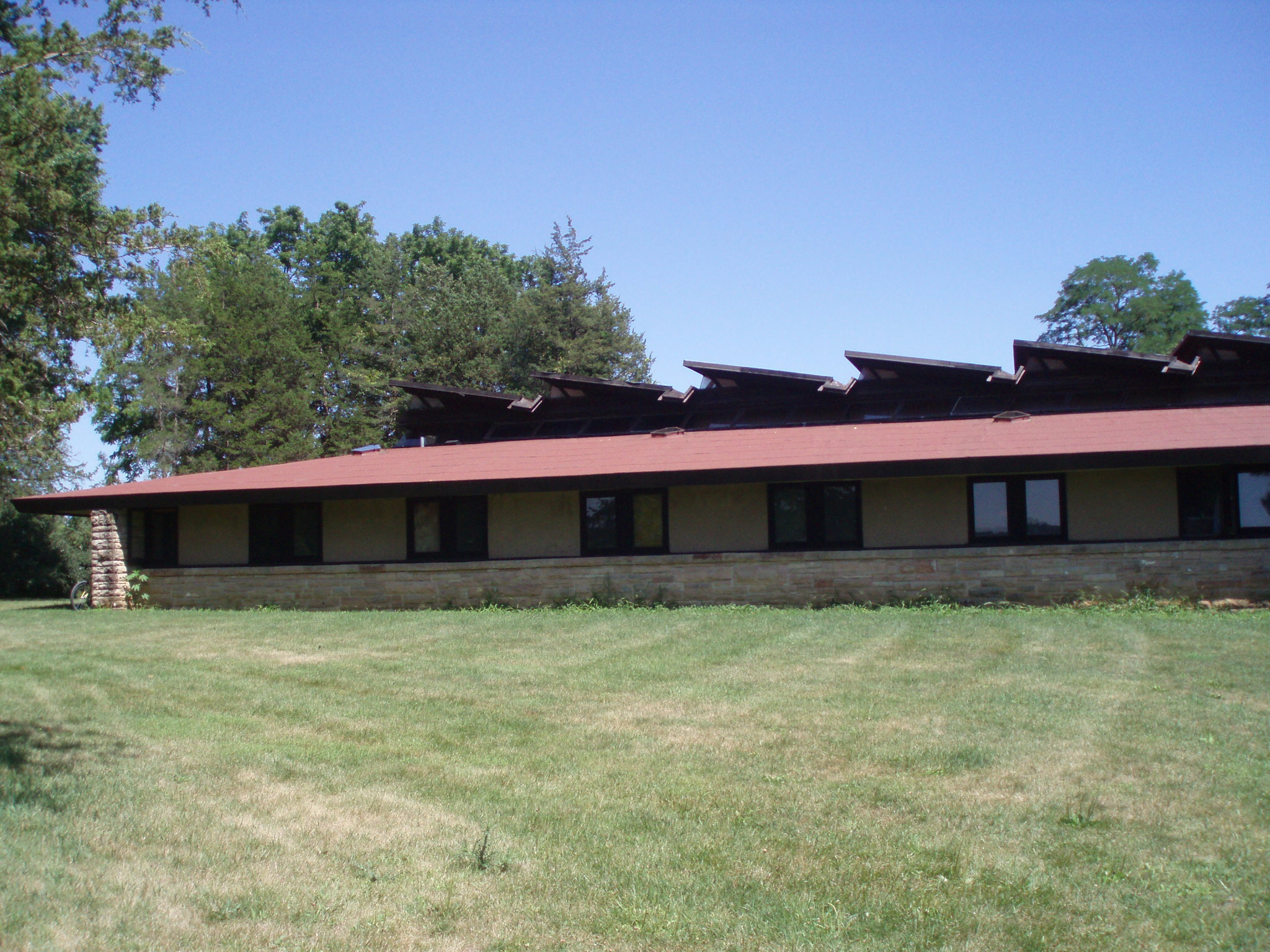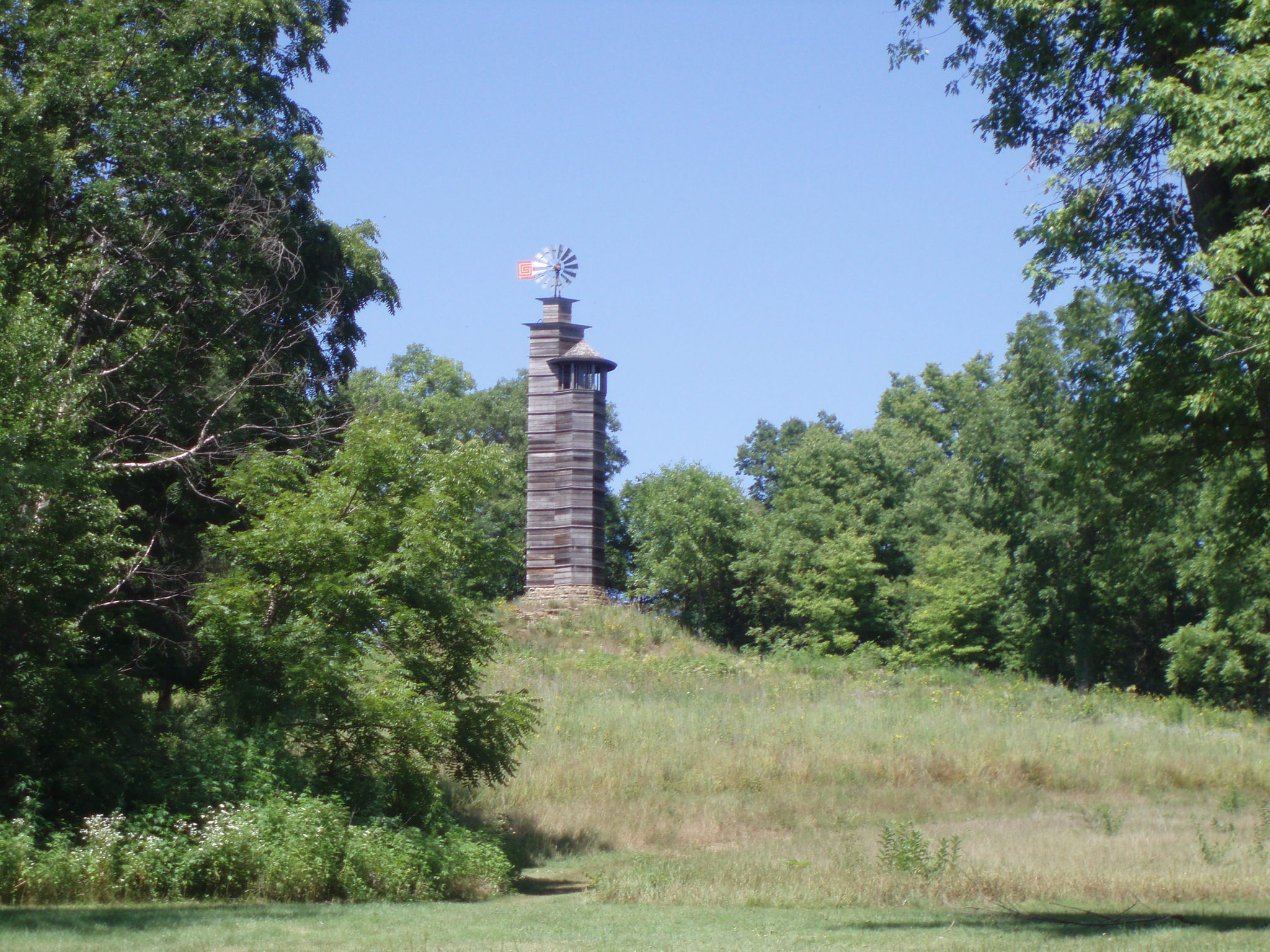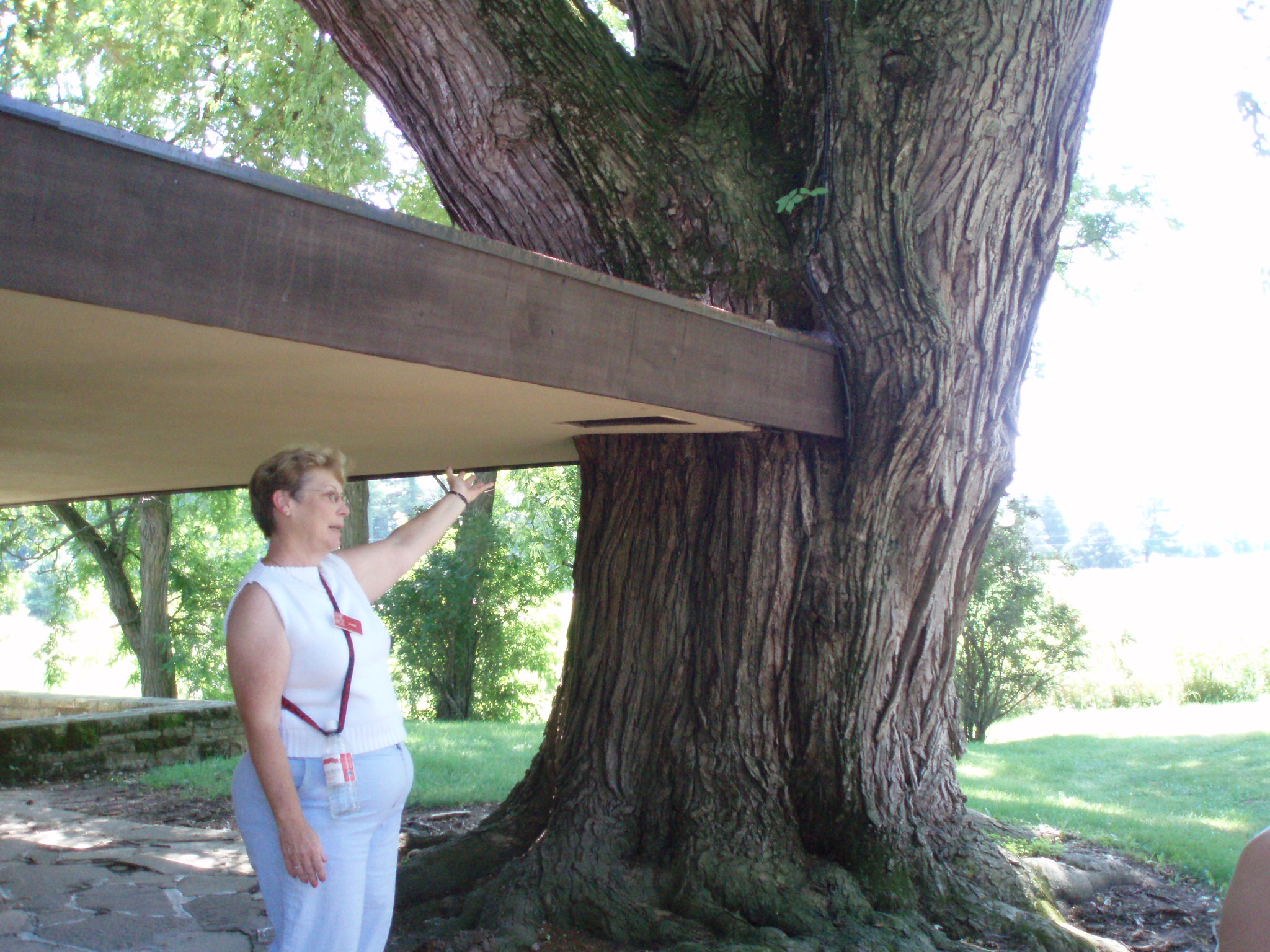 The $53 tour at 1:15 of the house and architecture school was booked. I didn't wanna wait around till 3 so I just took the $15, 1:30 tour of just the architecture school. The tour guide was really good.  I was unaware that Taliesin is still a working Architecture School, so I saw all the architecture students milling around not doing anything. (typical) They wouldn't let us walk through the studios so I couldn't see what was on their desks. Printed on the wall in the middle of the architecture there is a quote that says 'WHAT A MAN DOES, THAT HE HAS'
I was glad I saw Taliesin; after the tour was over I was hungry and anxious to get on the road. Jamie and I rode back into town to find some food. We settled for some smoky dark restaurant in town the food was alright. When we were leaving the restaurant we saw some local fellow cyclists. They told us we're amazing for cycling cross country and said 'America is really beautiful when you're not working and just cycling every day!'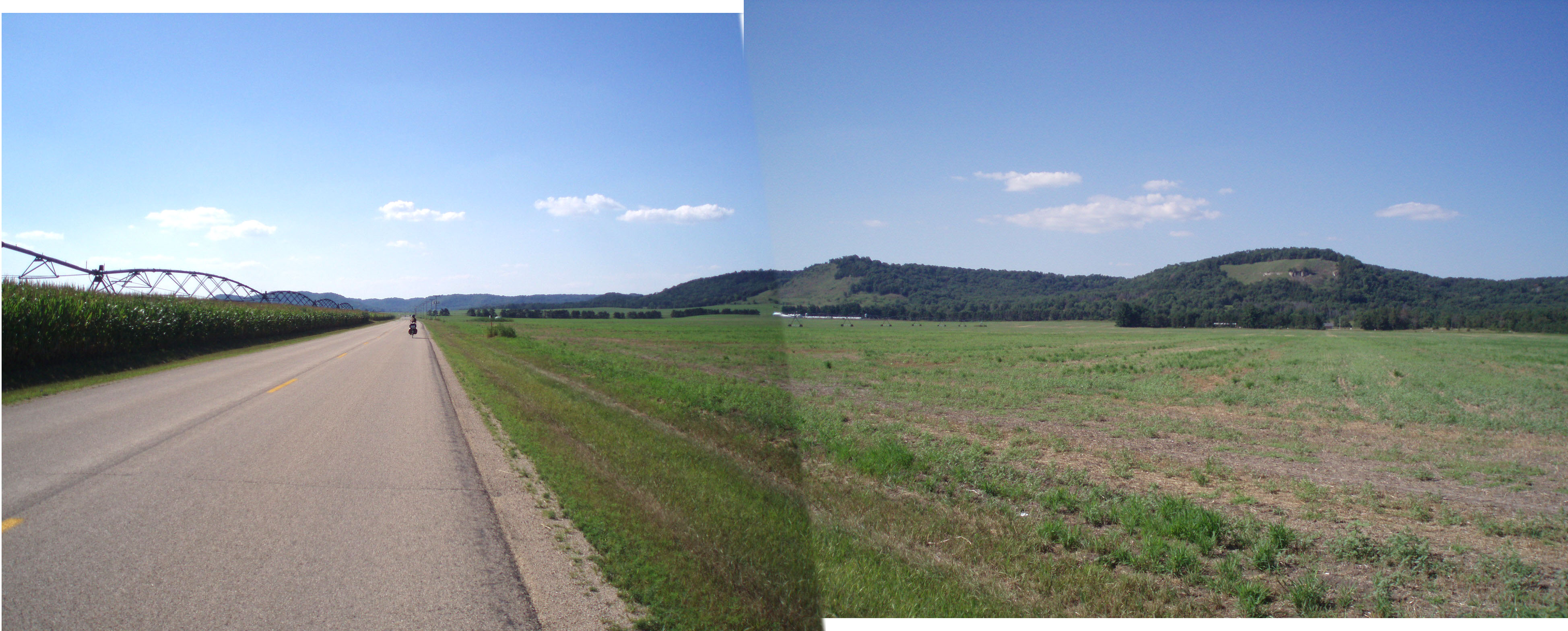 We didn't officially get on the road until about 4pm. It was 100 degrees outside and the plan was to ride 40 whatever miles to the bike trail and camp somewhere on the trail.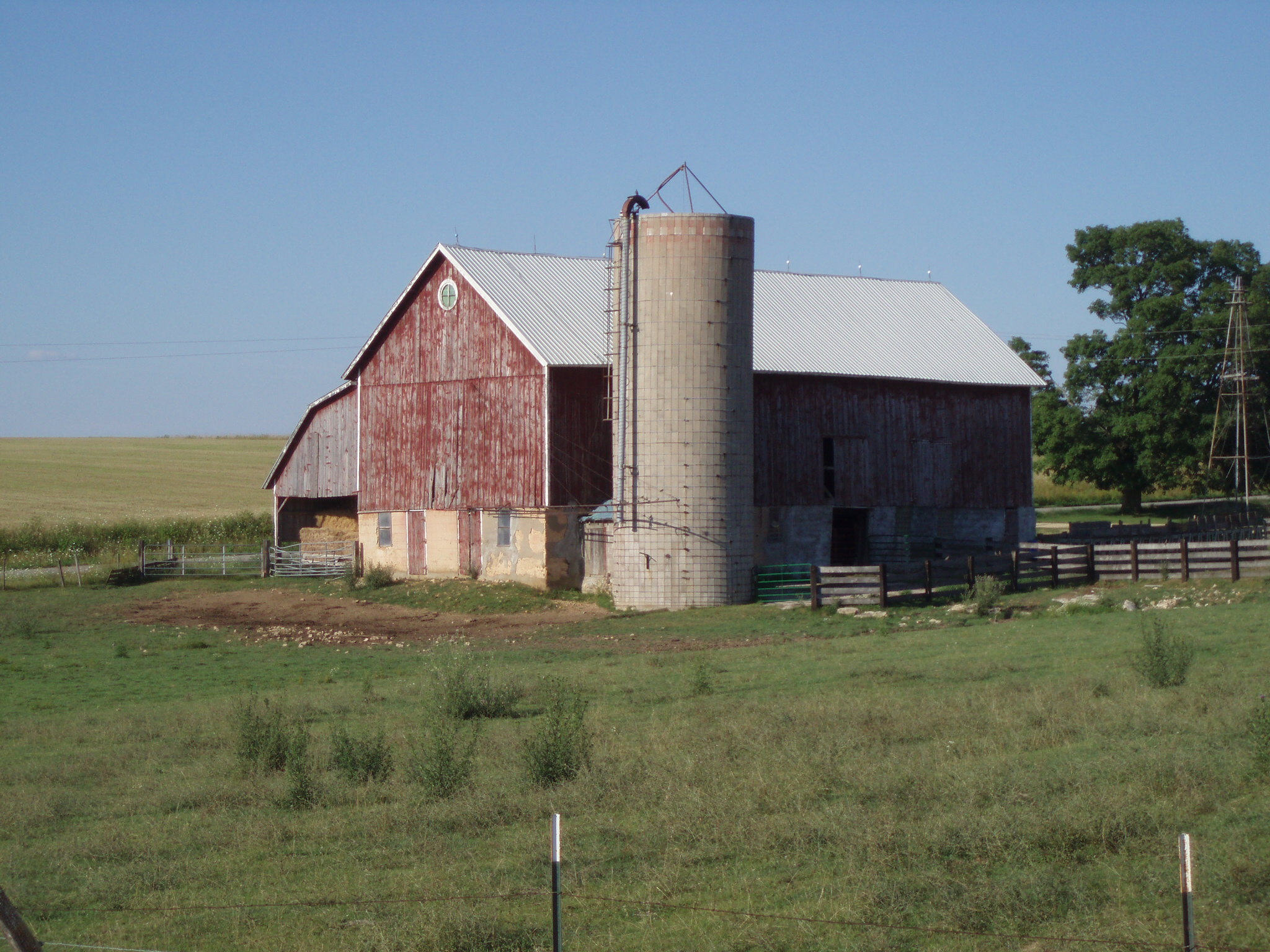 Riding outta Spring green we rode into some pretty serious hills. Jamie was riding like a champion and Mike Riscica struggled a little with the hills. It was so hot and my water was going quick. There were basically no towns on our trail.
They grow their corn and soy a lot differently out here. They mix their crops and instead of just growing in a grid, the crops are grown in these beautiful curved shapes. It's quite pleasant to look at.Eventually we came across a bar in the middle of nowhere. Both Jamie and I were out of water and starting to become dehydrated. The bar was filled smoke and all these rowdy bikers. When we walked in it reminded me of Peewees big adventure. The bartender didn't wanna give us any water he only wanted to sell us small bottles of water. Eventually he just filled up one bottle for each of us.
The bikers all made fun of us for riding bikes in the heat, so we just got the hell outta there. Luckily we only had to ride a few more miles and we saw some teenage kids skateboarding in a town who ran back to their houses to fill up our water bottles. Jamie and I sat and talked with the kids for a while. They were real cool; one of them was very knowledgeable about all the bicycle trails we were trying to get to and gave us some good camping advice.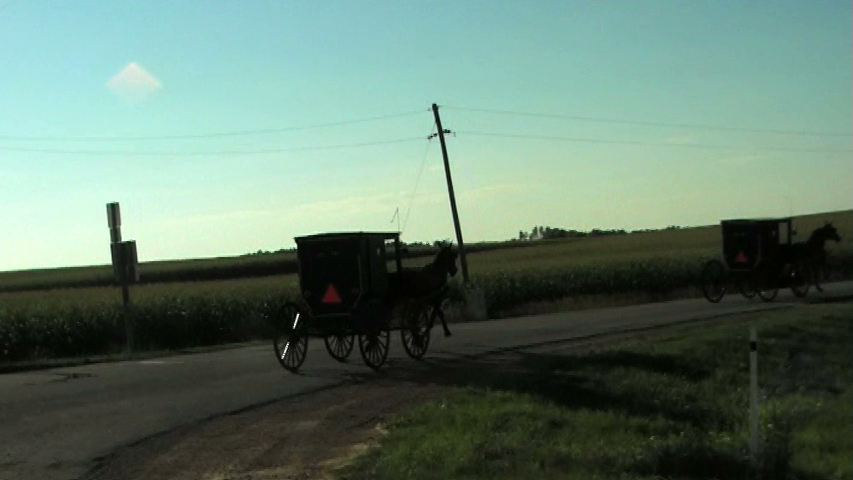 While we were on the road we kept seeing a lot of horse poop. Then we saw 2 Amish carriages come up behind us and pass us and within 20 minutes 5 more Amish carriages came out of nowhere and passed us. Each time a carriage went by they would wave at us. But they kept creeping me out, because all the people inside the carriages had on these gigantic black sunglasses that reminded me of Johnny Depp in Willy Wonka. Eventually we rode past where they were congregating and about 50 Amish people all waved hello at us. It was quite a scene.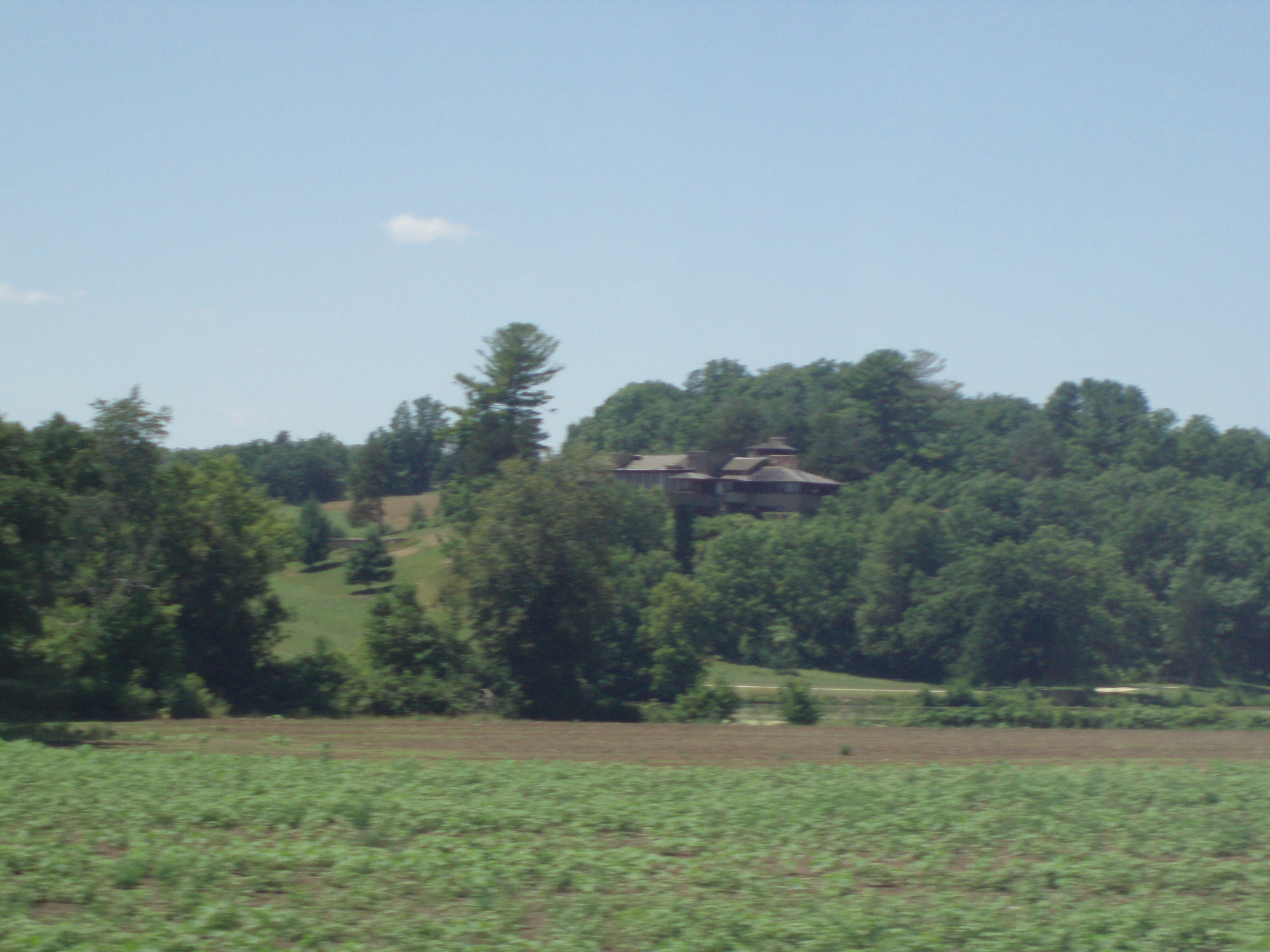 Eventually we hit the 400 trail an off road bike path. We rode 8 miles to the next town where we were told is free camping. Jamie and I decided to just camp under the picnic pavilion. Jamie was really happy and said 'This is the best campsite we have ever been to.' Because we have: a roof, Electricity, Lights, Plenty of space and it was free. We cooked up a feast and both of us stayed up real late working on journal stuff.
Click Here to Visit The Table of Contents
Click Here to Visit Previous Page: Day 42: Madison, WI to Spring Green, WI
Click Here to Visit The Next Page: Day 44: Wonewoc, WI to Bangor, WI: Old Style Beer Video