Monday July 30, 2007, 53 miles (86 km) – Total so far: 2,146 miles (3,453 km)
53.32 Miles4:28 Pedal time 11.9 Avg speed. Another 90 degree day
Click Here to Visit The Table of Contents
Click Here to Visit Previous Page:Day 43: Spring Green, WI to Wonewoc, 
Click Here to Visit The Next Page: Day 45: Bangor, WI to Alma, WI: Mailbag Video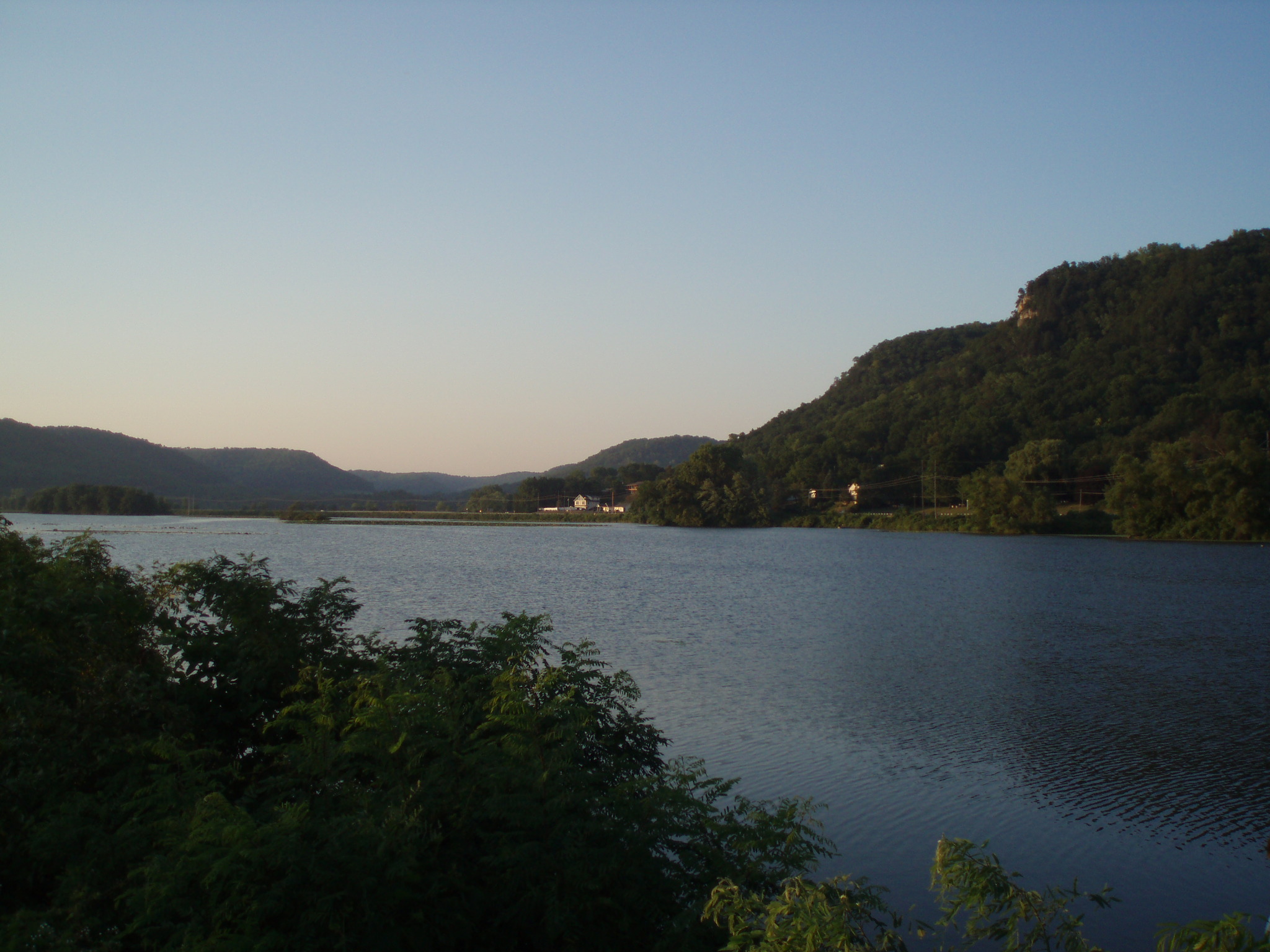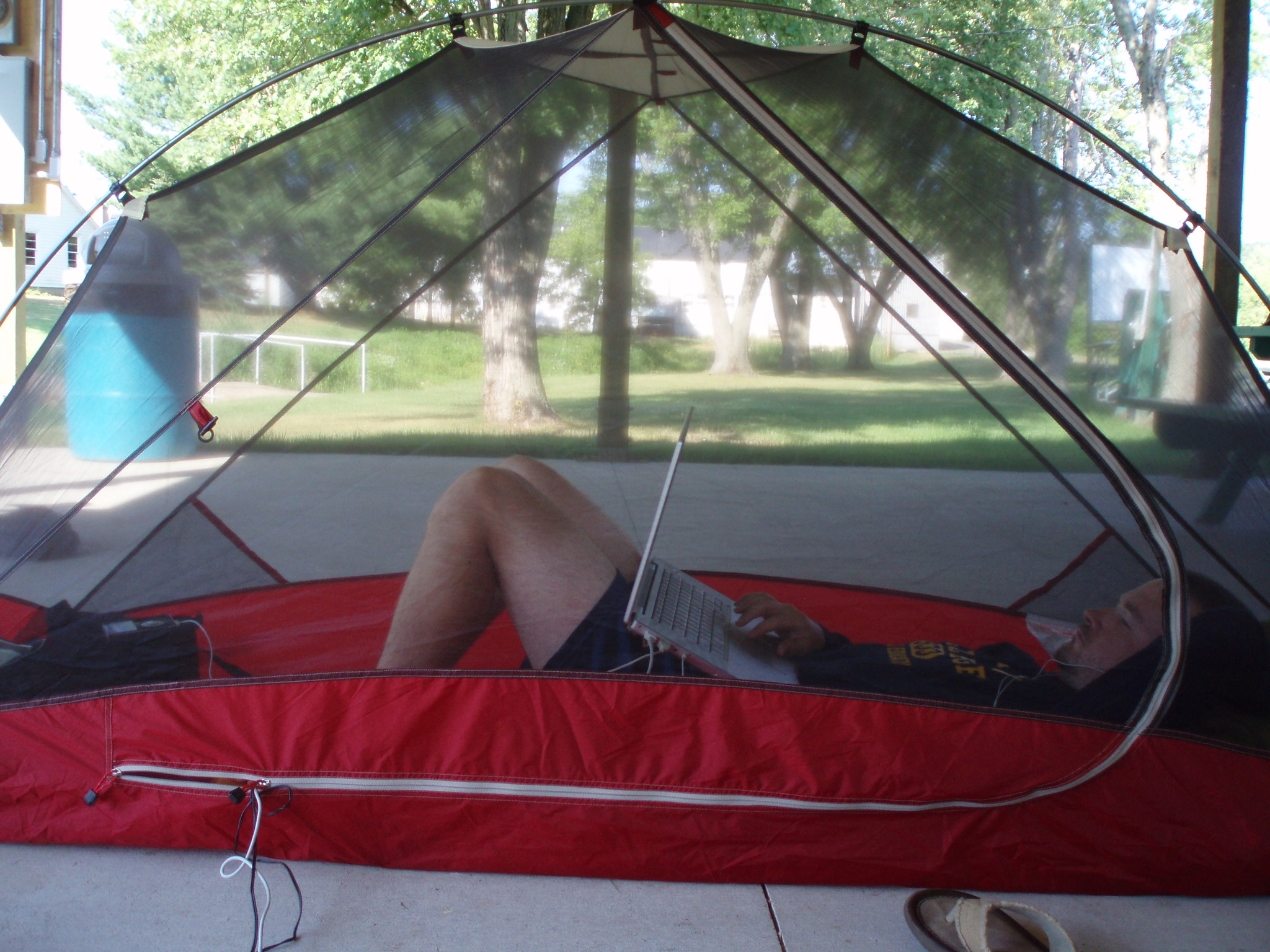 Mike Riscica promptly woke up at 6:30am; I made some tea and then wanted to finish all the computer stuff I was in the middle of, when my computer crapped out on me last night. Jamie woke up but saw me pull out my computer so he went back to sleep. The groundskeeper came by to empty the garbage cans. I got a little nervous he was going to be pissed that we camped here but he was totally cool. Around 11am Jamie and I got our act together and we rode into town for some breakfast.
We both ate a giant breakfast in another bar that stunk like smoke. Restaurants that smell like smoke are starting to bother me. A lot. After breakfast we hit the library to upload all the crap we worked on last night and this morning. The librarians told us we have only 10 minutes because they are closing the library for a few hours. Ugh… so I quickly just posted all the text to  the journal then sat outside with my laptop and uploaded some pictures.
While I was in the library the little girl sitting next to me was telling another little girl all about how she's in love with this guy who's in jail for aggravated assault. Then went into great detail about how she goes to the county prison to visit him.
It was one of the most retarded conversations I ever heard.
I mailed home some crap. About 7 pounds of junk I no longer need to carry. Mostly maps and papers.
We didn't hit the trail until around 1pm.  It kind of sucks to walk out into the heat and sun and know that you're just getting started on a 50 mile day at 1pm. The plan for today was to ride until the sun went down and camp wherever we happen to be. The good news is that the ENTIRE day we will be riding off road bicycle trails.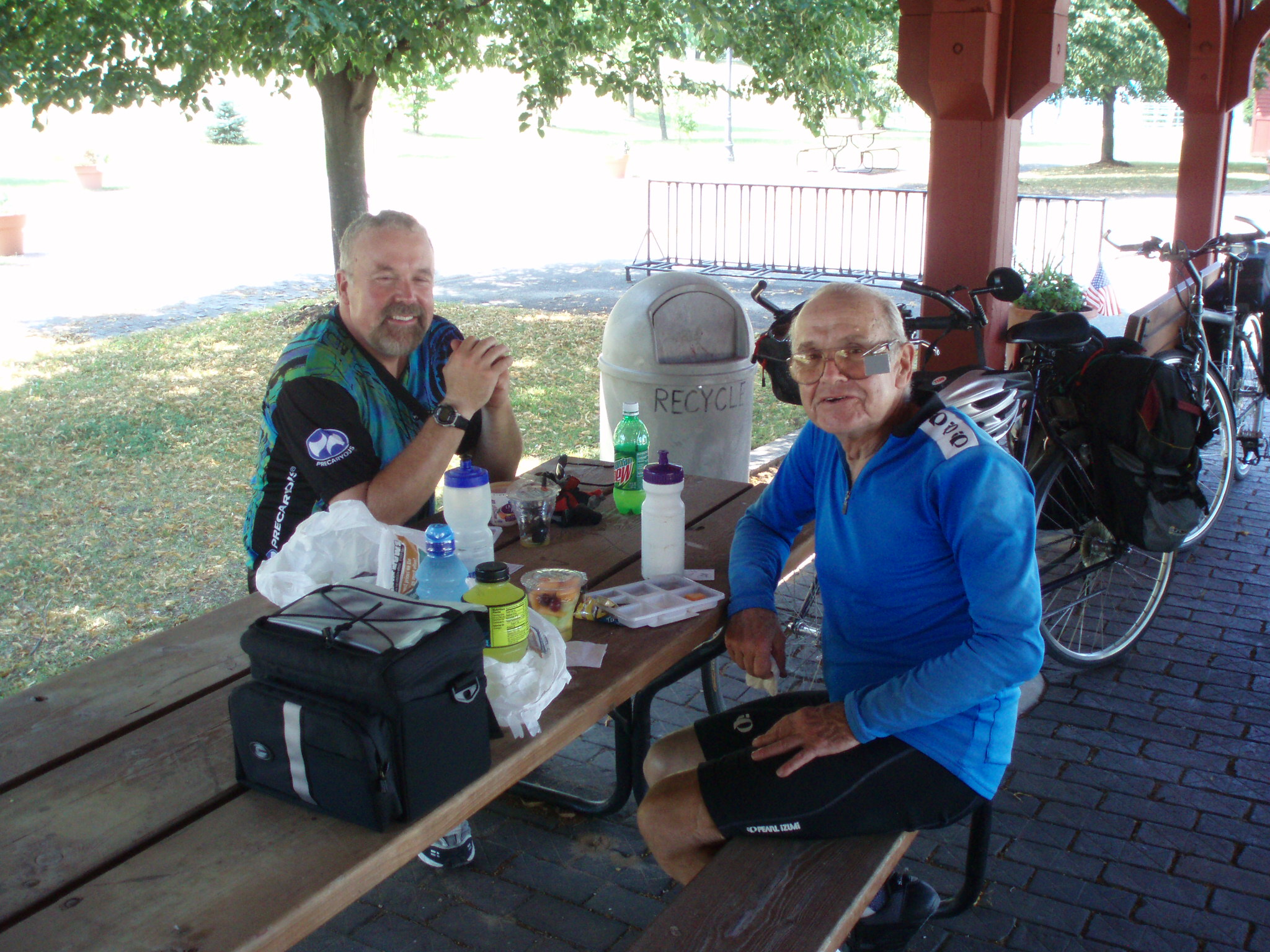 A few miles into the day we saw these 2 nice guys (Iforgottheirnames) who are riding from Lacrosse, WI to Chicago. Jamie and I chatted with them for a little bit about bike touring and they gave us a lot of advice about the trail ahead. It was nice seeing them; it had been awhile since we had seen any other cyclists who were going a long distance.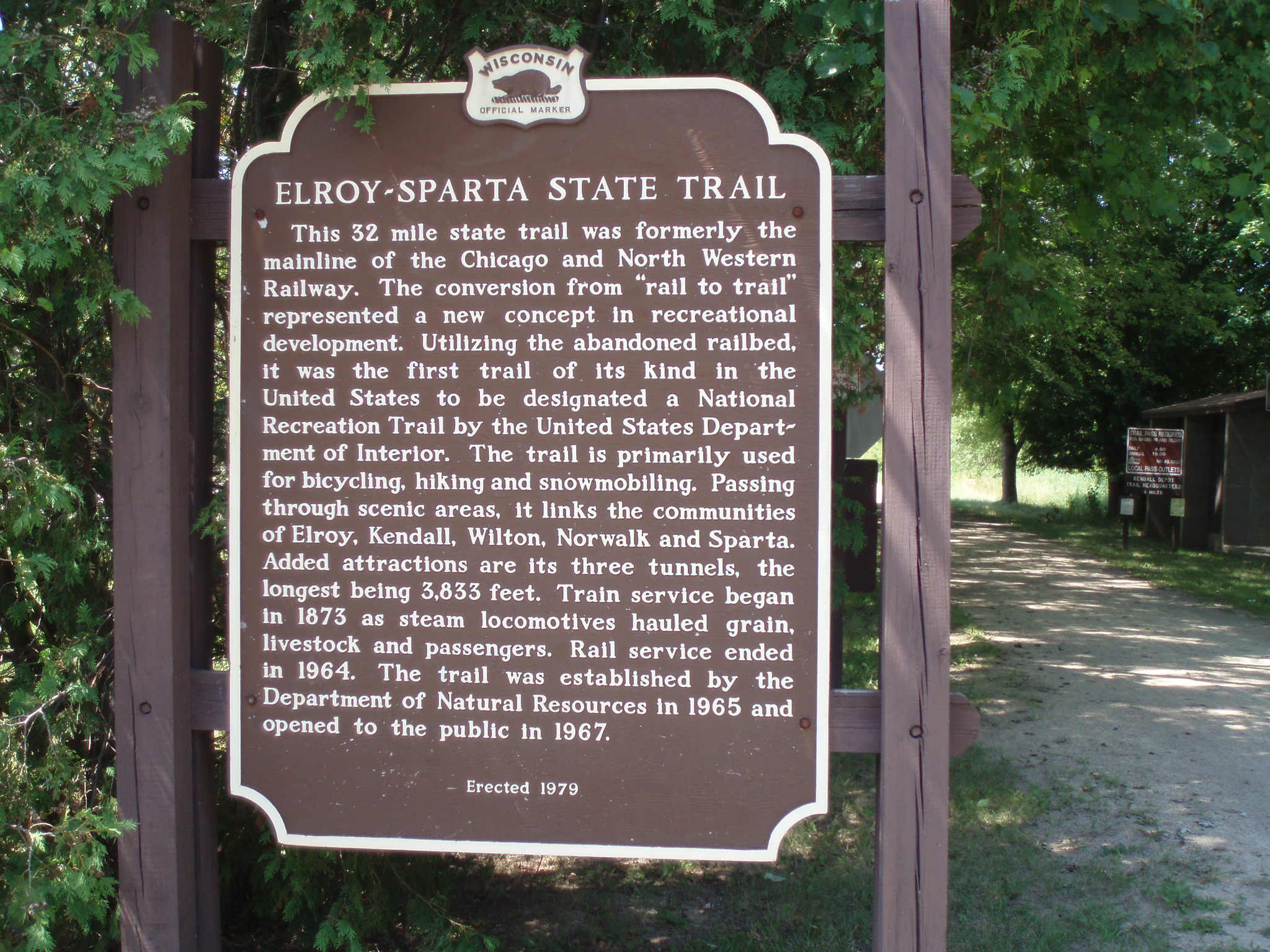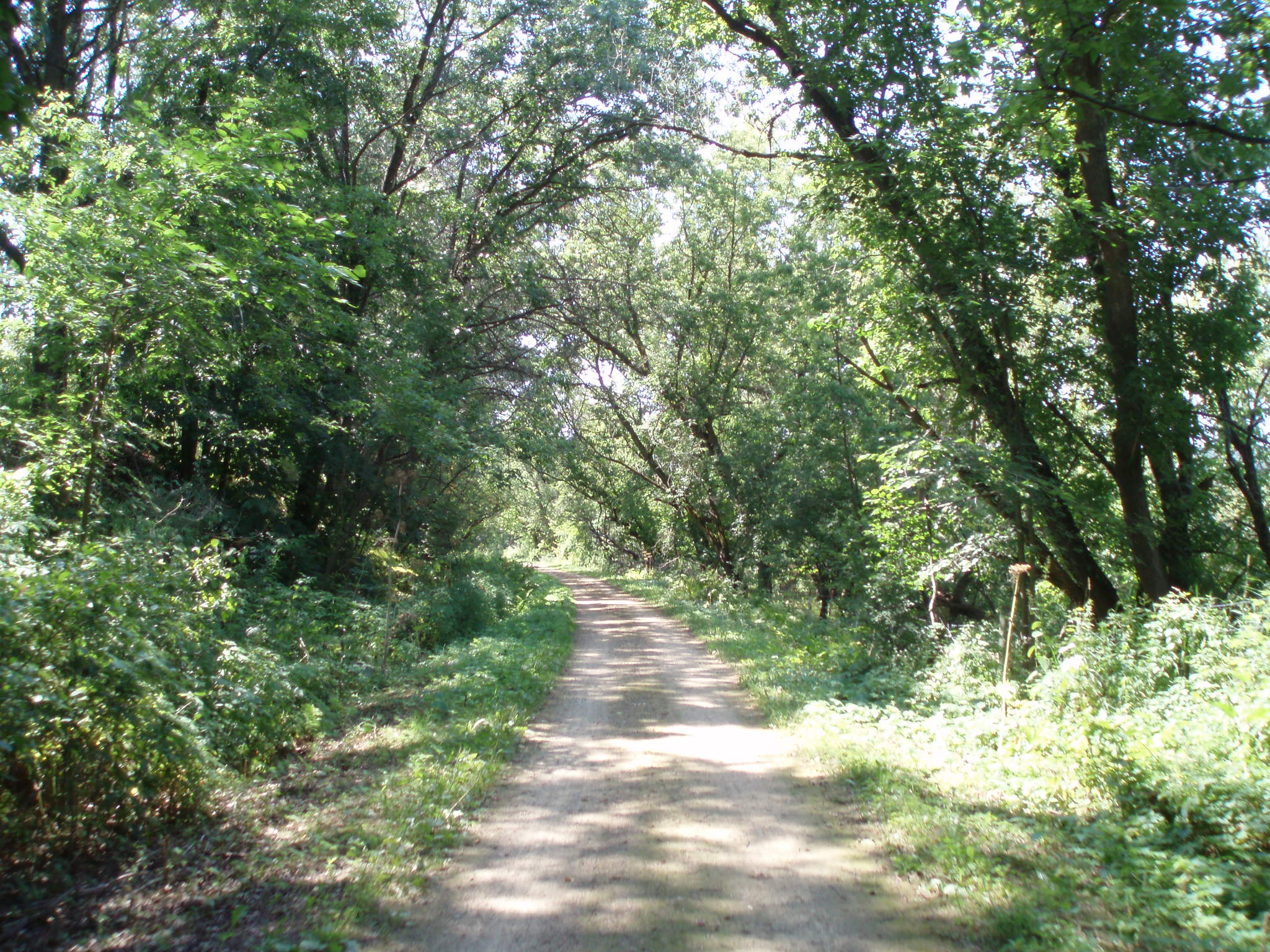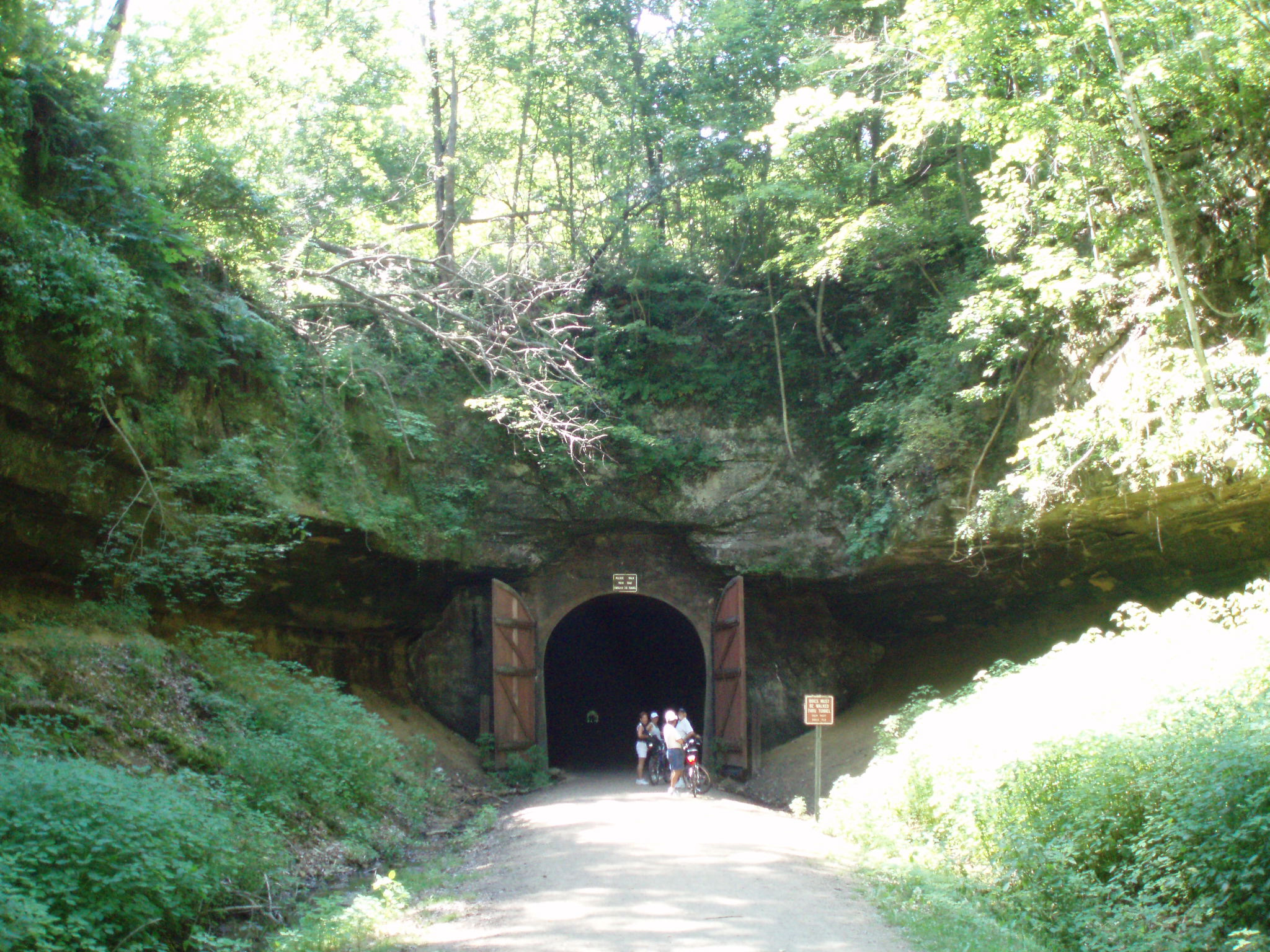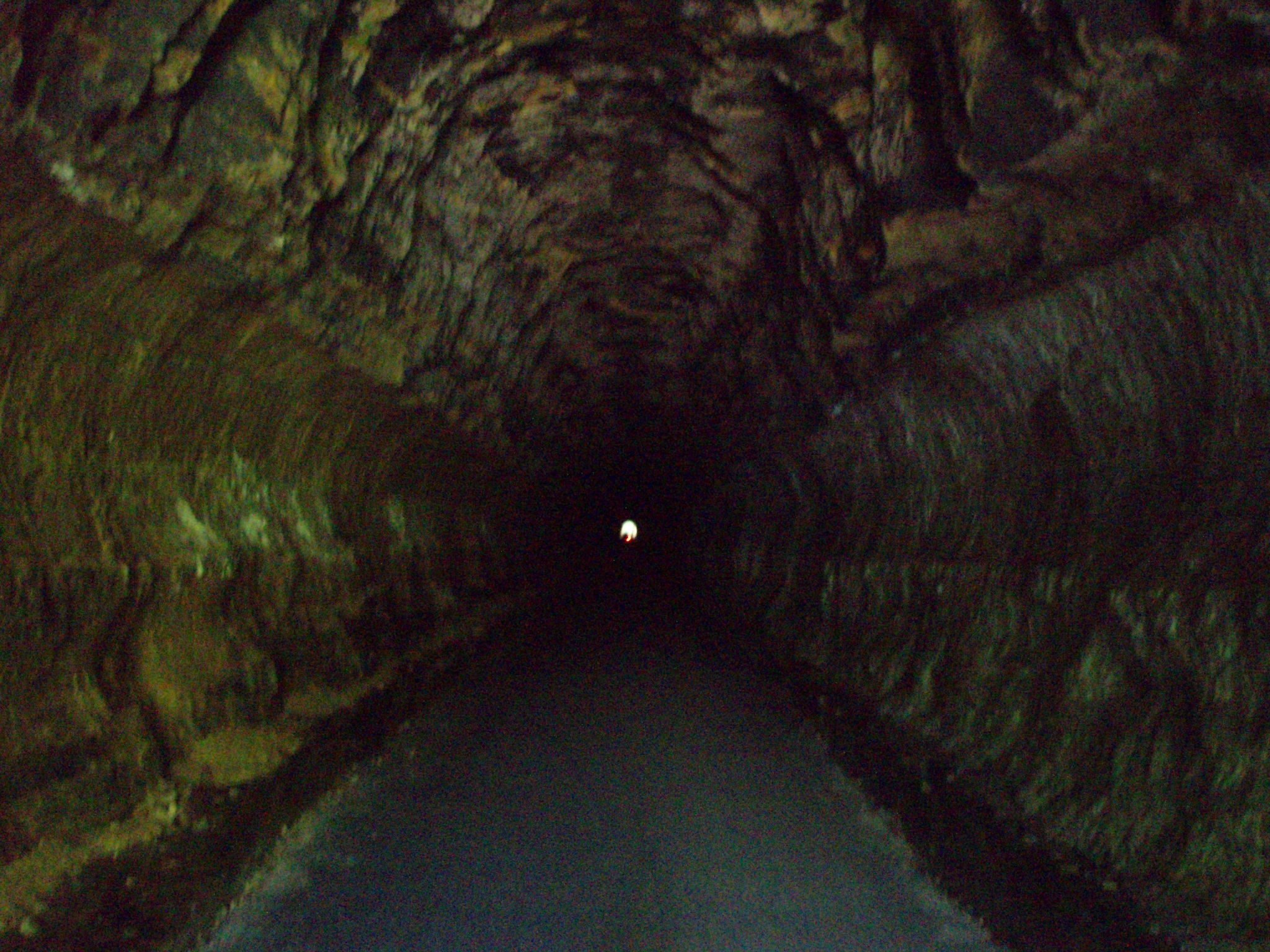 We changed trails from the 400 trail over to the Elroy Sparta. We rode about 20 minutes in and finally hit the first tunnel that we've heard so much about. The closer we got to the entrance of the tunnel the temperature quickly changed from 90 to about 50 degrees. I was starting to get cold. We turned on our lights and rode through. It was a pretty creepy feeling riding through a dark tunnel.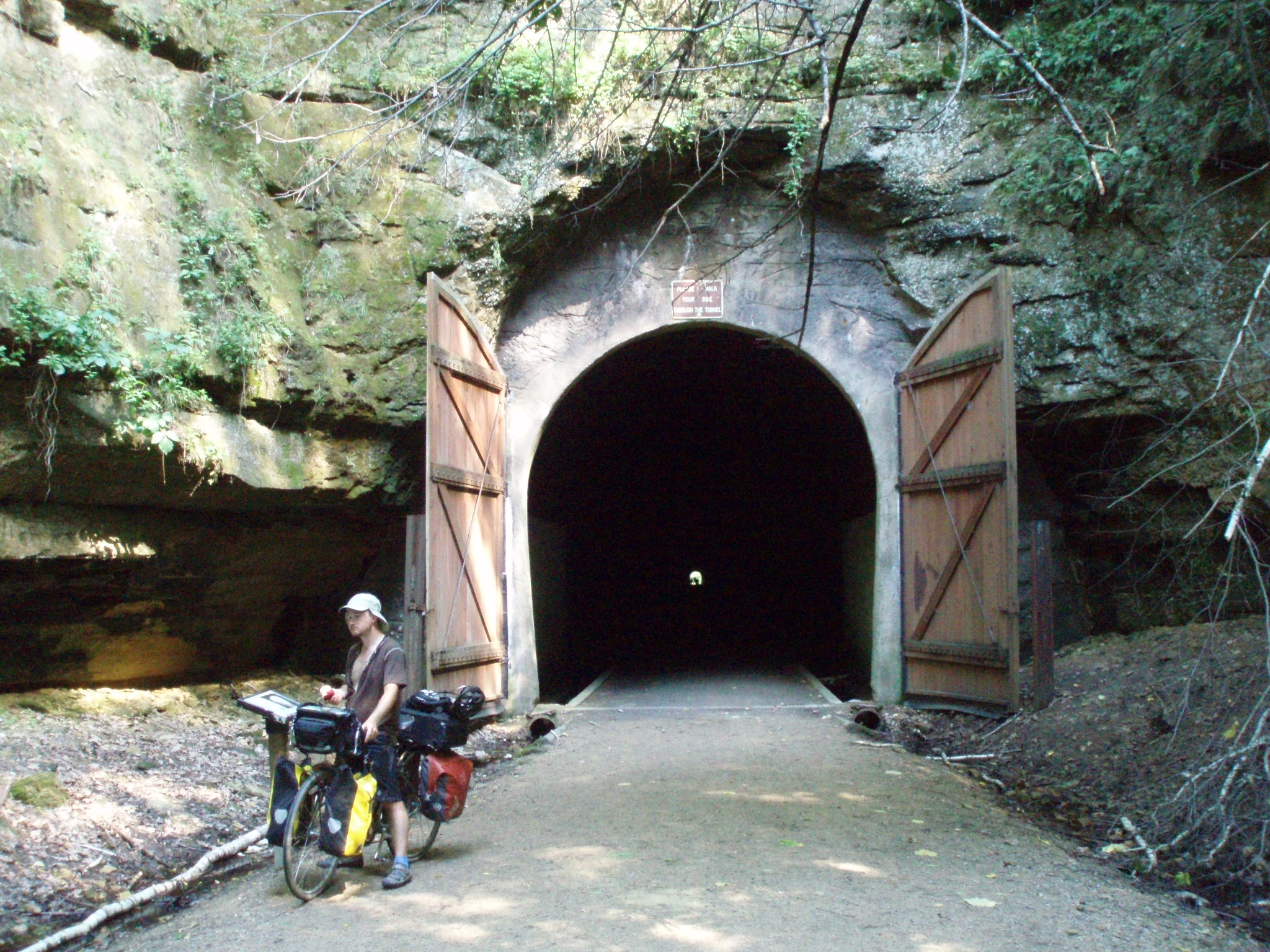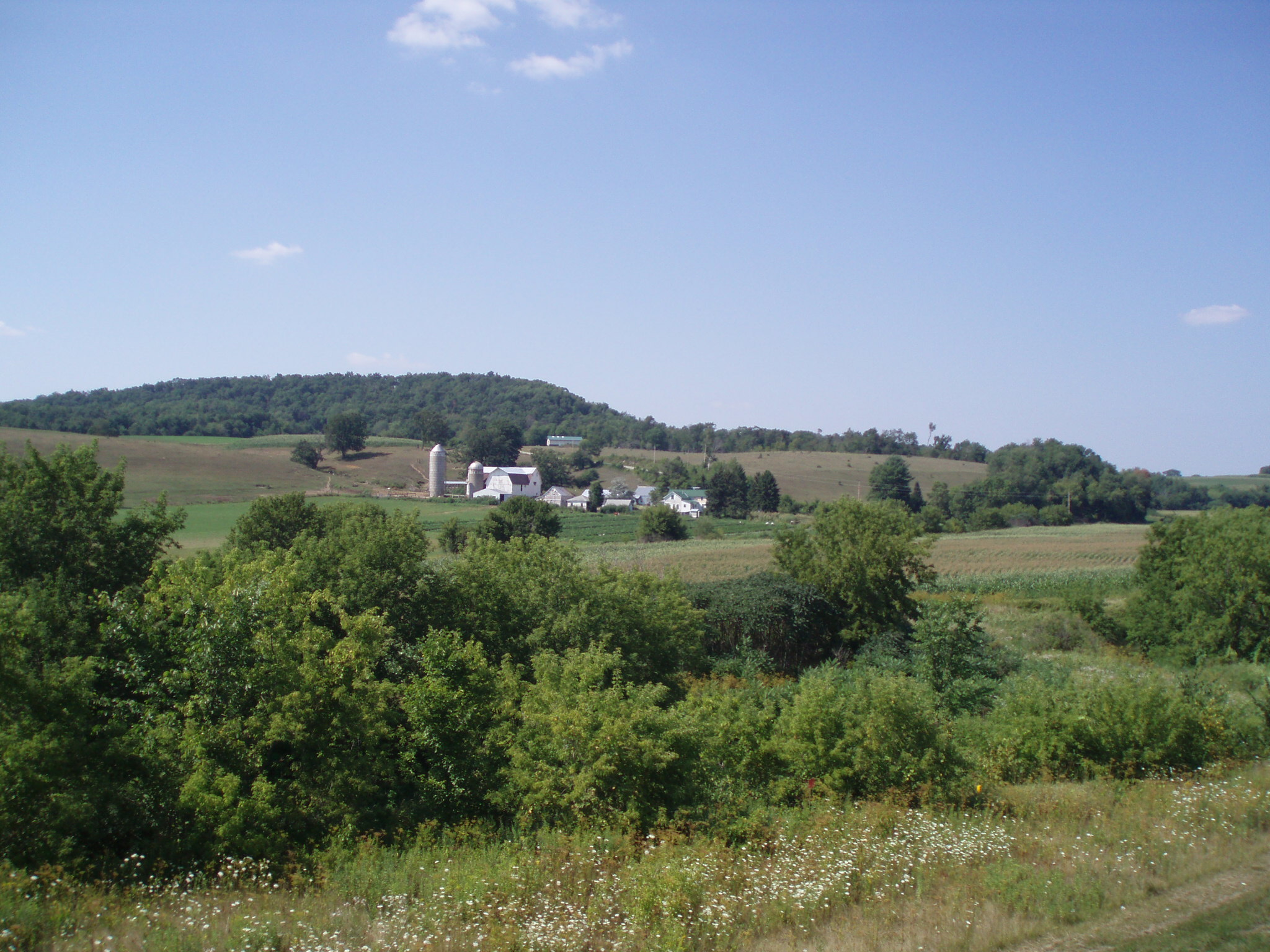 After the tunnel we took a break at the other side. It was a little warmer on this side. It was a nice very gentle downhill after the tunnel that lasted several miles. We flew. In Wilton we took a long break and ate disgusting meatball sandwiches with the leftover meatballs from last night.
The second tunnel was easy and short. We rode through no problem. However the 3rd tunnel was ¾ of a mile long. At the entrance of the 3rd tunnel it sounded like it was raining inside the tunnel and it was. Giant drops of really cold water drenched us as we rode through.  The signs say you had to walk your bike, but there was no way I was walking my bike ¾ of a mile in a dark cold tunnel.
It was a really long ride through the 3rd tunnel at the end there was a thick fog that made exiting the tunnel extremely surreal.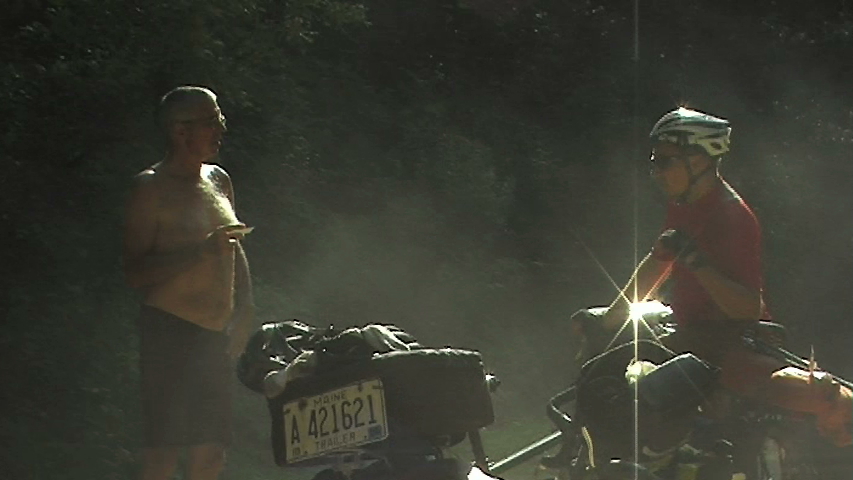 When we popped out there was a cyclist standing there hanging out. We talked with him for a while. He was a musician from Chicago who was just getting back into cycling and it sounded like riding bikes was really bringing him a lot of happiness. He spent some time riding on the Erie Canal trail earlier this year. Nice guy.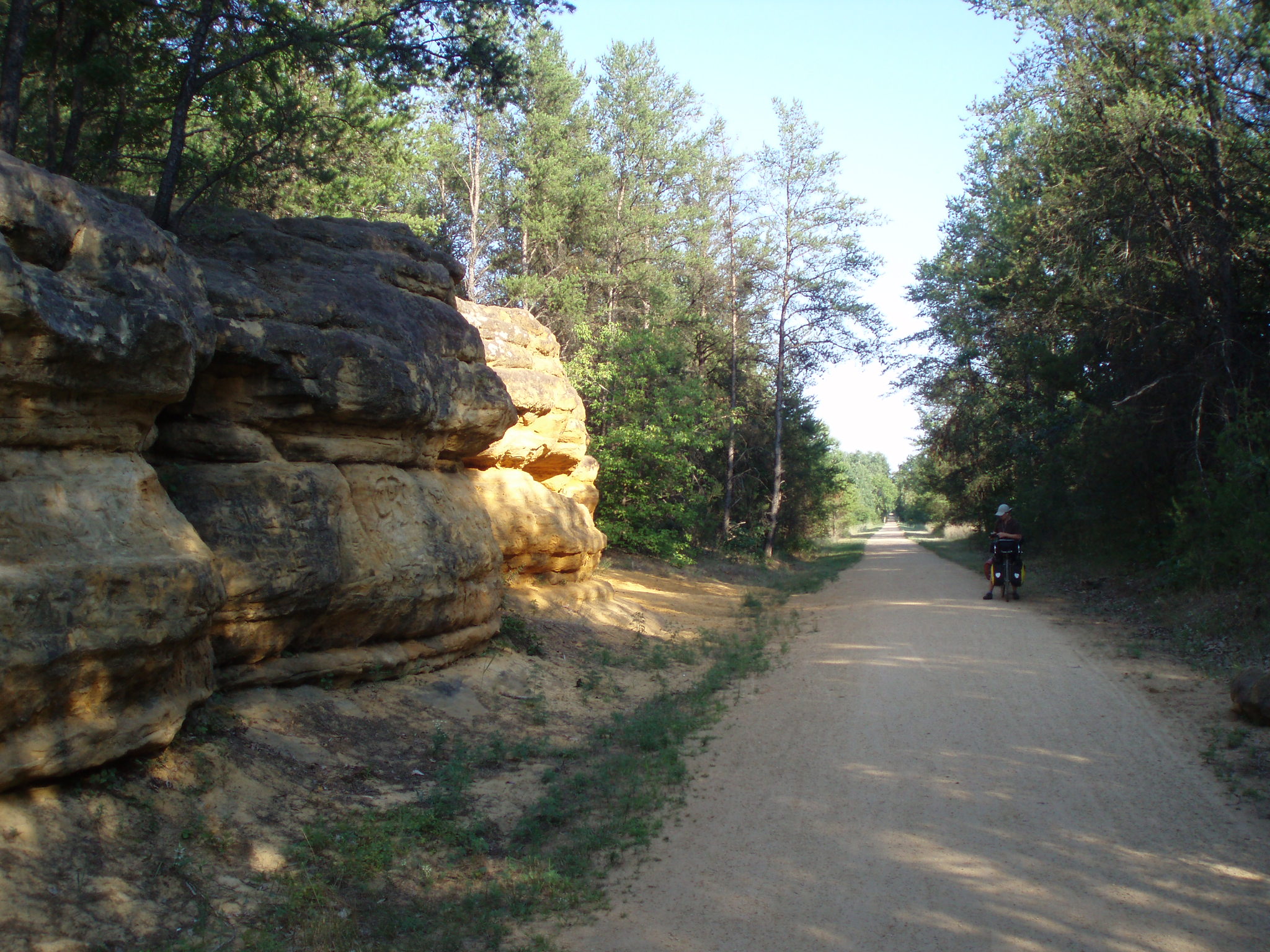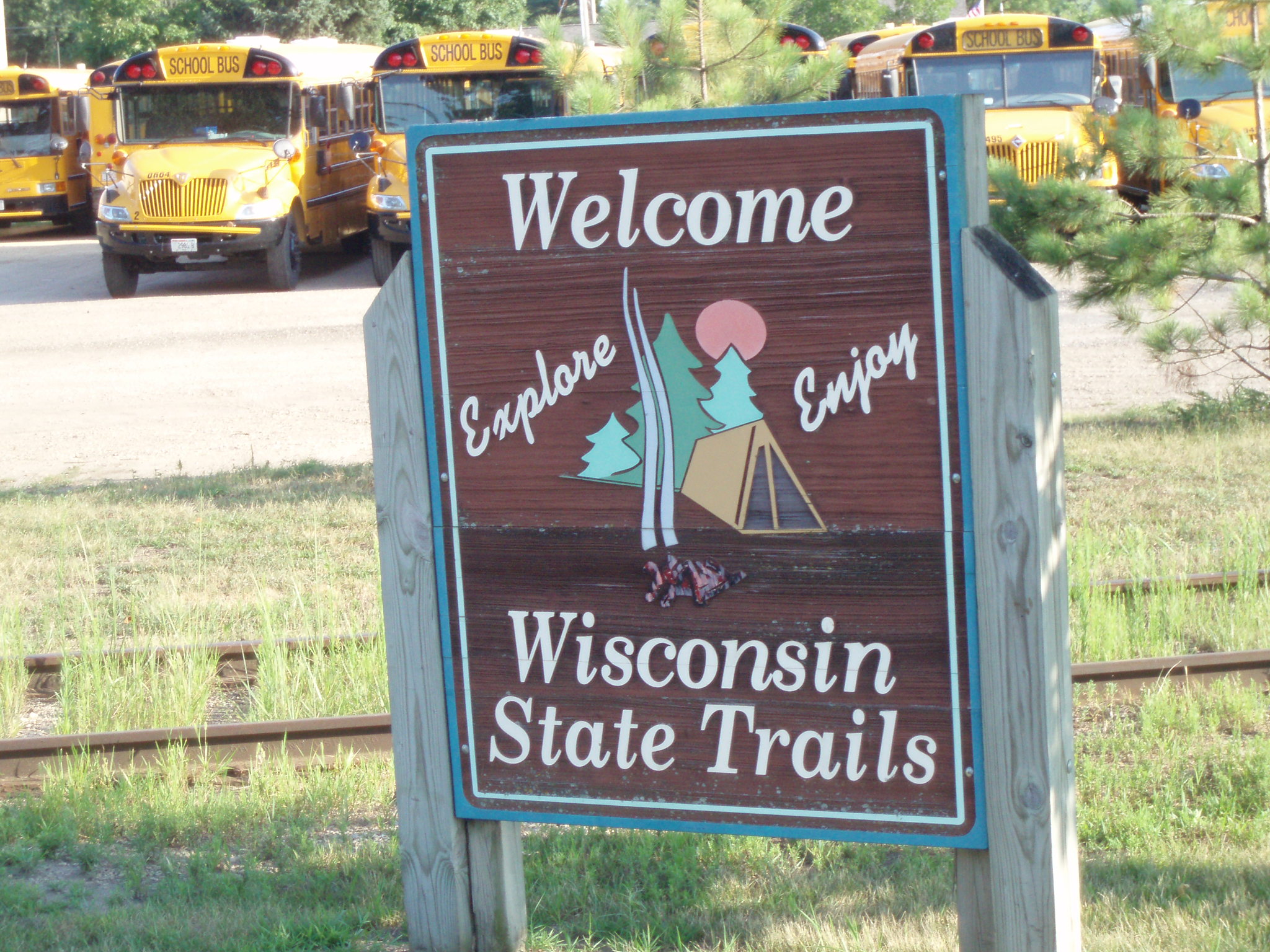 We finished the Elroy Sparta trail and got on the Lacrosse River trail, which would take us to the Mississippi River. We were about 20 miles away and briefly spoke about trying to make it to the river before sunset. Then Jamie stopped because he wasn't feeling well and needed to eat something.  I got a feeling Mississippi river wasn't going to happen tonight. Shortly after Jamie didn't feel good, I started to not feel good. I didn't have much food in my belly and between the heat, the trail mix, all the water I drank and those gross meatball sandwiches I felt like I wanted to puke.
Riding into the next town (Bangor, WI) we saw a nice picnic pavilion that would be excellent for camping at the town park. But we needed to find food immediately.  We tried to find a grocery store but failed so we went to the restaurant.  The waitress was really nice. We told her we were riding cross country and she was really happy to meet us. Leaving the restaurant both felt a lot better.
At the restaurant Jamie made this video about trying his first Old Style Beer: http://www.teamnortherntier2007.blogspot.com/2007/08/old-style-beer.html

We rode back to the park and decided to do the right thing, by calling the police department and asking for permission to camp in the park. The police officer I spoke with told me we were not allowed to camp in the park and there was a city ordinance against camping. He didn't really care about our situation and said the only thing for us to do was ride another 9 miles to the next town.
Both of us were exhausted and cranky. It was about 9pm and we weren't riding to the next town. We rode around Bangor trying to find a place to camp and eventually we just sat outside the gas station. This nice man came by to pick up a pack of smokes and we got into a long conversation with him. His wife and kid wondered what was taking him so long so they showed up at the gas station. We all hung out talking for a while then they took us back to their house and let us camp in their yard.
Our time with them was so short I forgot their names. But we took showers and listened some really funny prank phone calls on the CD player. The father gave us some advice about the roads when we get out to Washington. He knows every road along the pacific coast. We were both fading fast so we crashed around 11pm. Tonight almost became a total disaster but luckily we met this nice family.

Click Here to Visit The Table of Contents
Click Here to Visit Previous Page:Day 43: Spring Green, WI to Wonewoc, WI
Click Here to Visit The Next Page: Day 45: Bangor, WI to Alma, WI: Mailbag Video