Tuesday July 31, 2007, 69 miles (111 km) – Total so far: 2,215 miles (3,564 km)
69.13 Miles 5:21 pedal time 12.9 avg speed 90-95 degrees all day long.
Click Here to Visit The Table of Contents
Click Here to Visit Previous Page:Day 44: Wonewoc, WI to Bangor, WI: Old Style Beer Video
Click Here to Visit The Next Page: Day 46: Alma, WI to Prescott, WI: Music Video

Today is day 45, of what we like to call a 90 day trip. Are we halfway? I don't know. Maybe. I thought Minneapolis was halfway. But we're only 2 days away from being there. Today is Hump-Day as Dave Letterman likes to call it.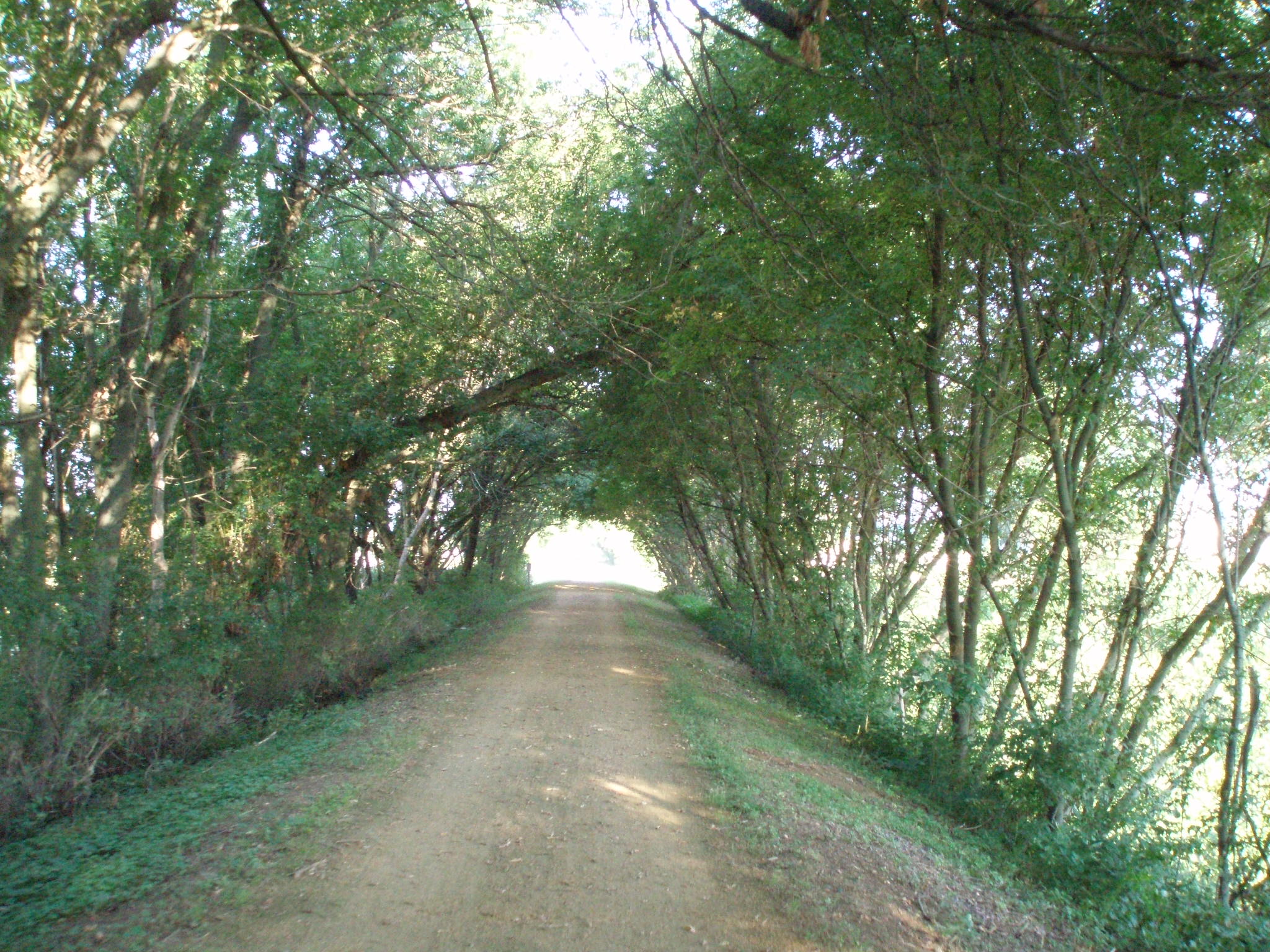 We woke up at 6:30 and packed up our bikes in record time. We couldn't find a breakfast in Bangor so we rode to the next town. The goal was to ride as many miles as we can before the heat was too unbearable.
After breakfast Jamie and I were about to get back on our bikes and ride out. When some old timer walked by and said good morning. I gave him the ol' 'hey, how ya doin!'  And he looked at our bikes and said 'A lot better then you, I've got a bed to sleep in at night!' I smiled and thought yeah ok; this old man is overweight and has one foot in the grave. I should have asked him if I could hold the door for him so he could carry his beer gut inside the greasy diner, but I didn't. I just ignored him while he tried to talk to us.
This is the 3rd time on this trip someone has said 'A LOT BETTER THEN YOU!' when I've tried to be polite and ask how their doing.  How is anyone supposed to respond to that?!?  And the people that keep saying this to me all look like they've been locked up inside eating pizza for the past 10 years… I JUST DON'T GET IT!!! Whatever. :: taking a deep breathe::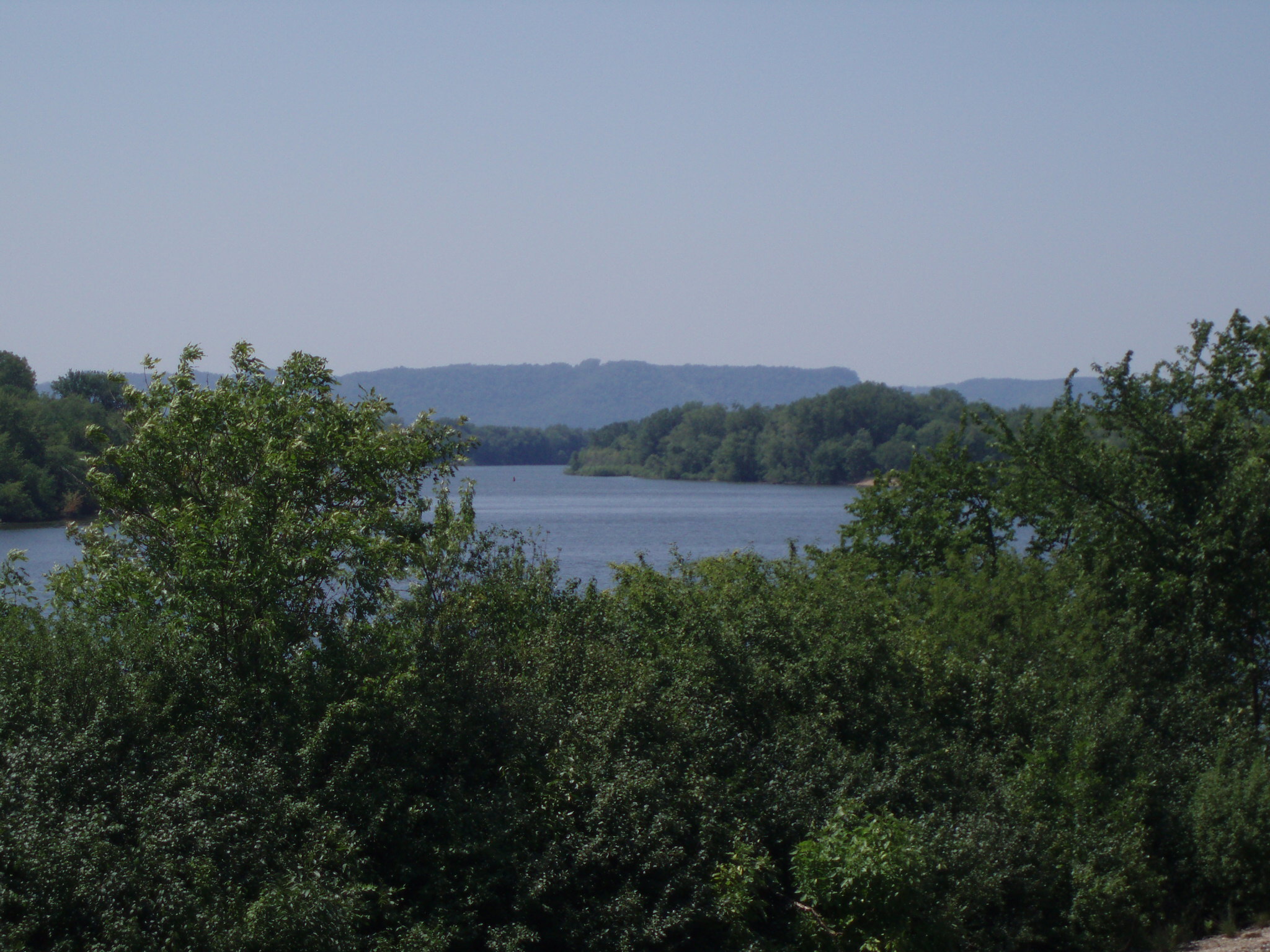 We finished the lacrosse river trail and rode right into the Mississippi river valley. Jamie and I got really lost in Lacrosse trying to find the next trail. Luckily we saw a nice man on the path who pointed us in the right direction. We were both anxious to finally see the mighty Mississippi.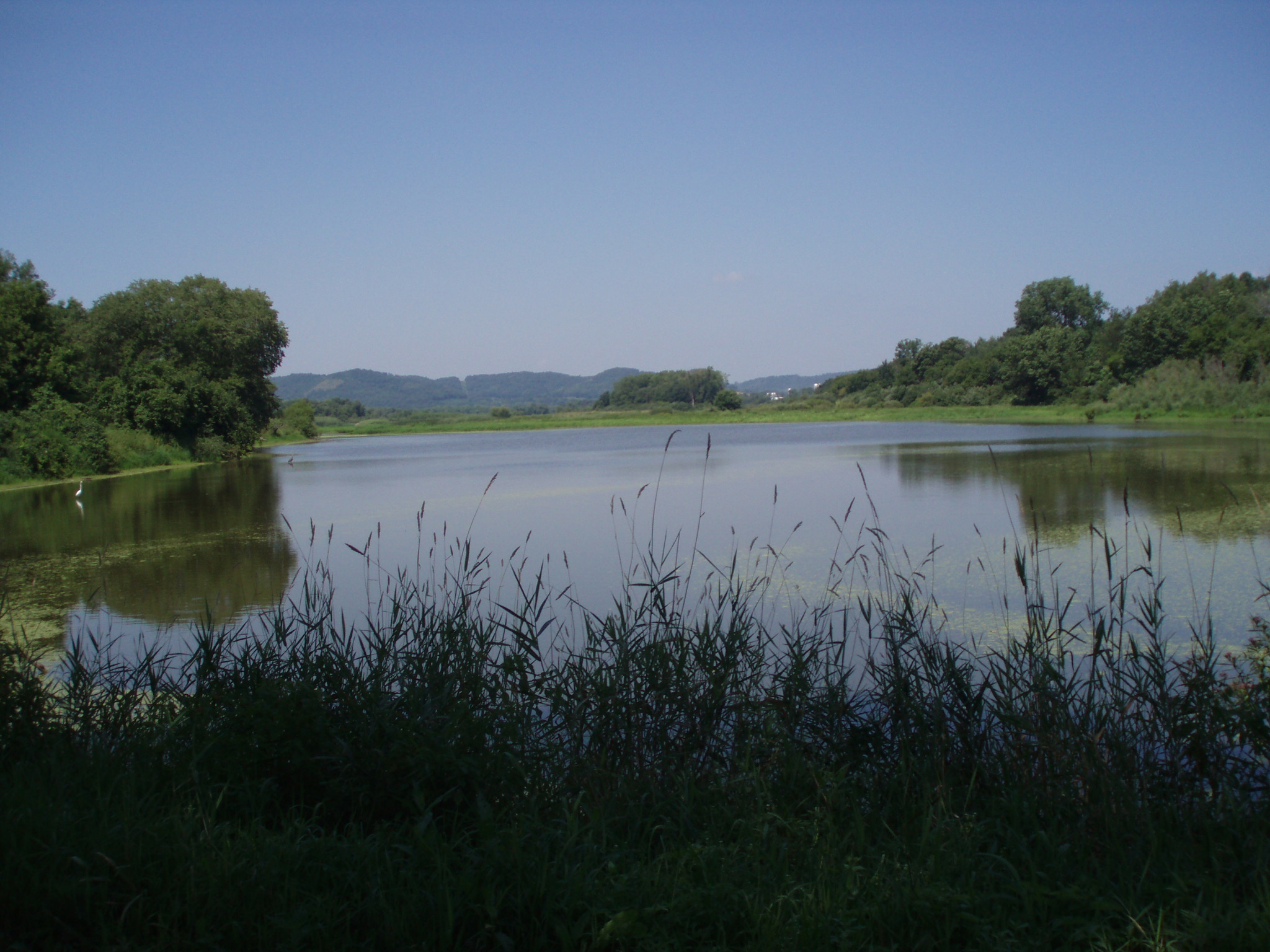 The bike trail took us through this really pretty nature preserve.  The nature preserve was the very end of our long stint on the off Road Wisconsin bike trails. It was kind of sad to say goodbye, we had too much fun over the past few days riding those trails.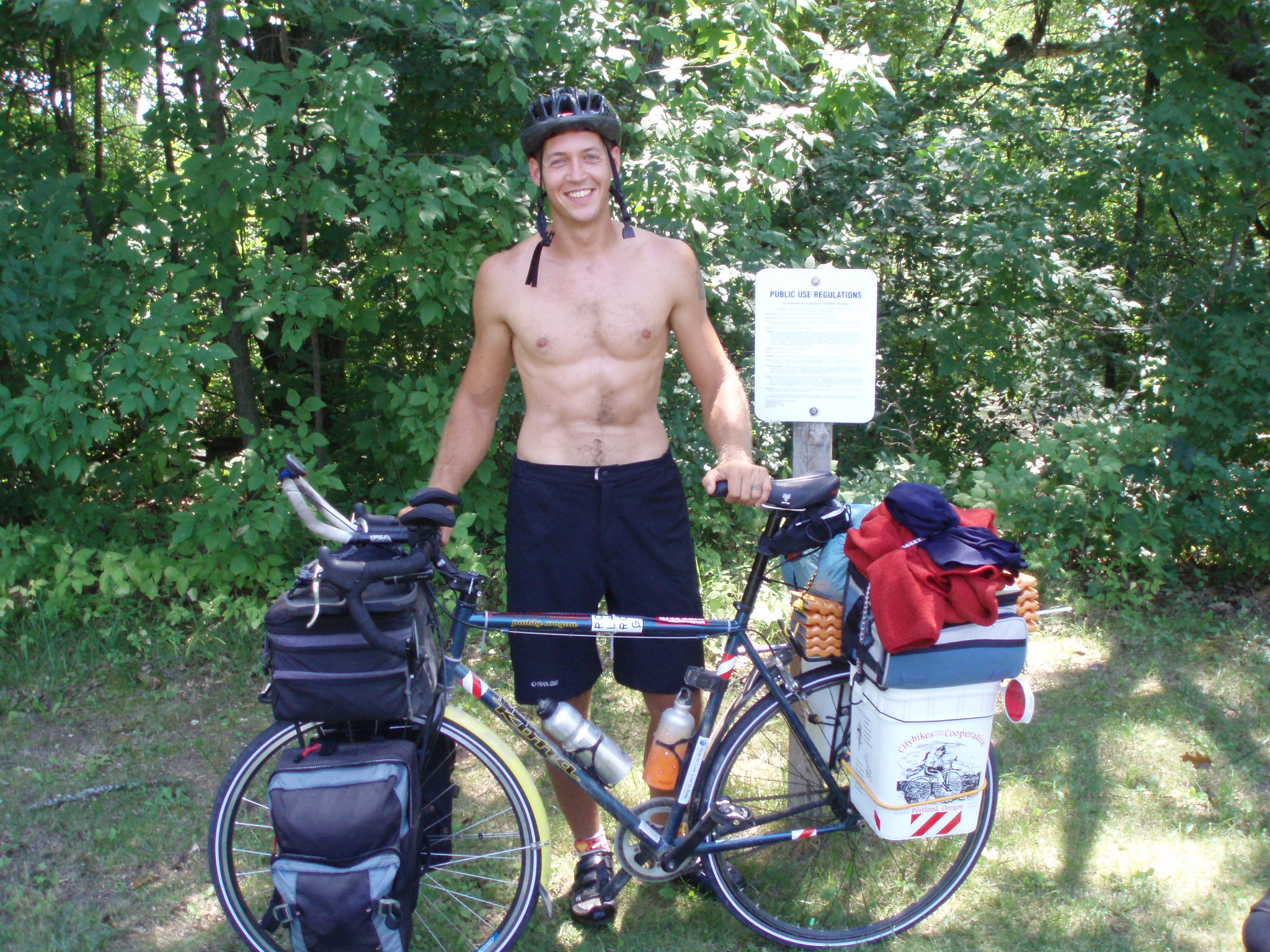 When we popped out of the nature preserve was saw a touring cyclist. He turns out to be Winslow Jenkins of the 'One Gear, One Love' Tour. http://www.crazyguyonabike.com/doc/oneloveonegear Winslow lives in Portland Oregon and we talked to him for a while about Portland and his crazy bike tour all over America. He's a really cool dude, we were happy to see him on the road.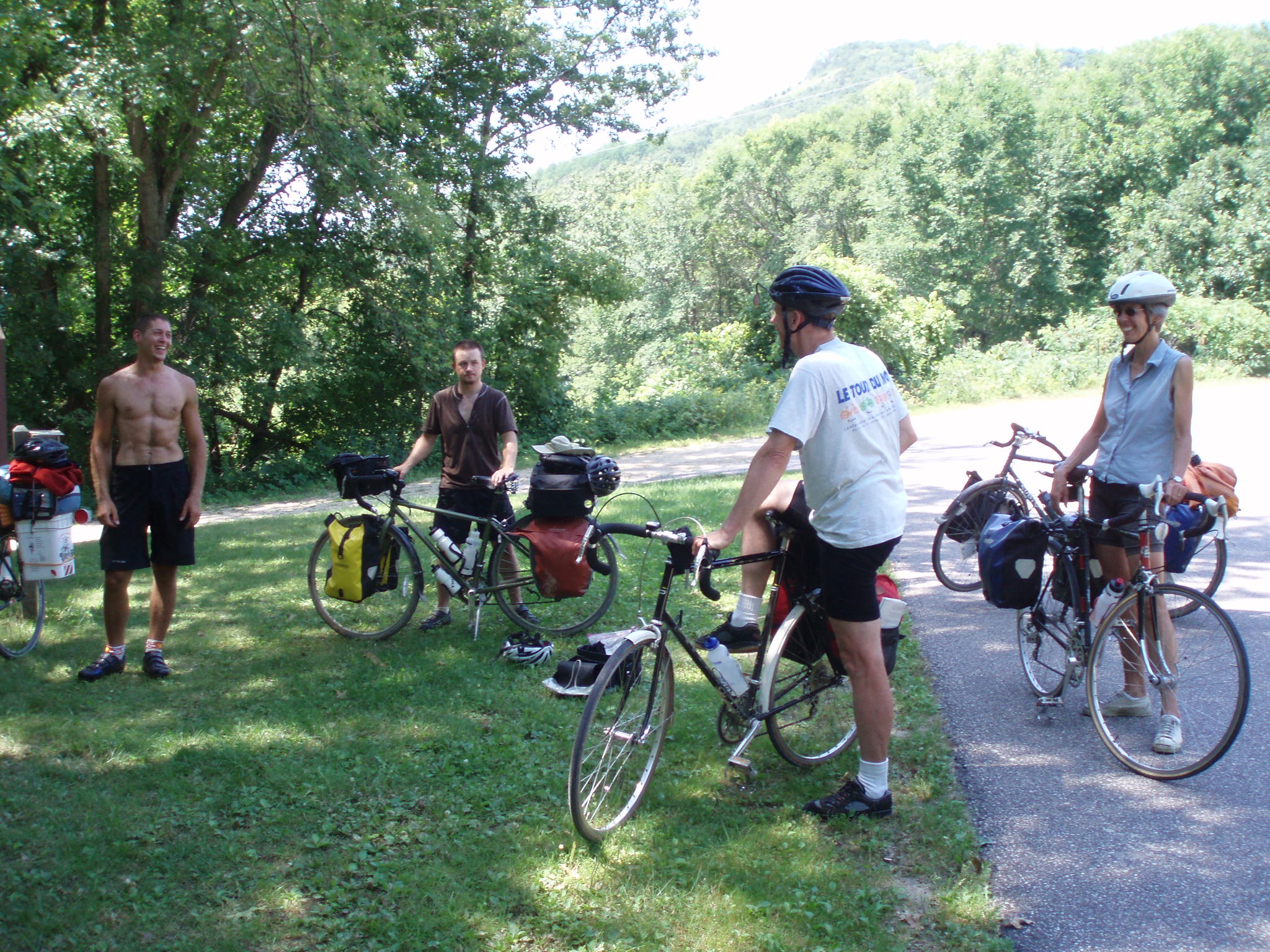 While we were chatting with Winslow, Tom Huber (a big Wisconsin bicycle advocate) came by to chat. Tom thought that Jamie and I were European cause we are all decked out with our Ortlieb bike touring gear. We talked with tom for a bit then he took off down the road.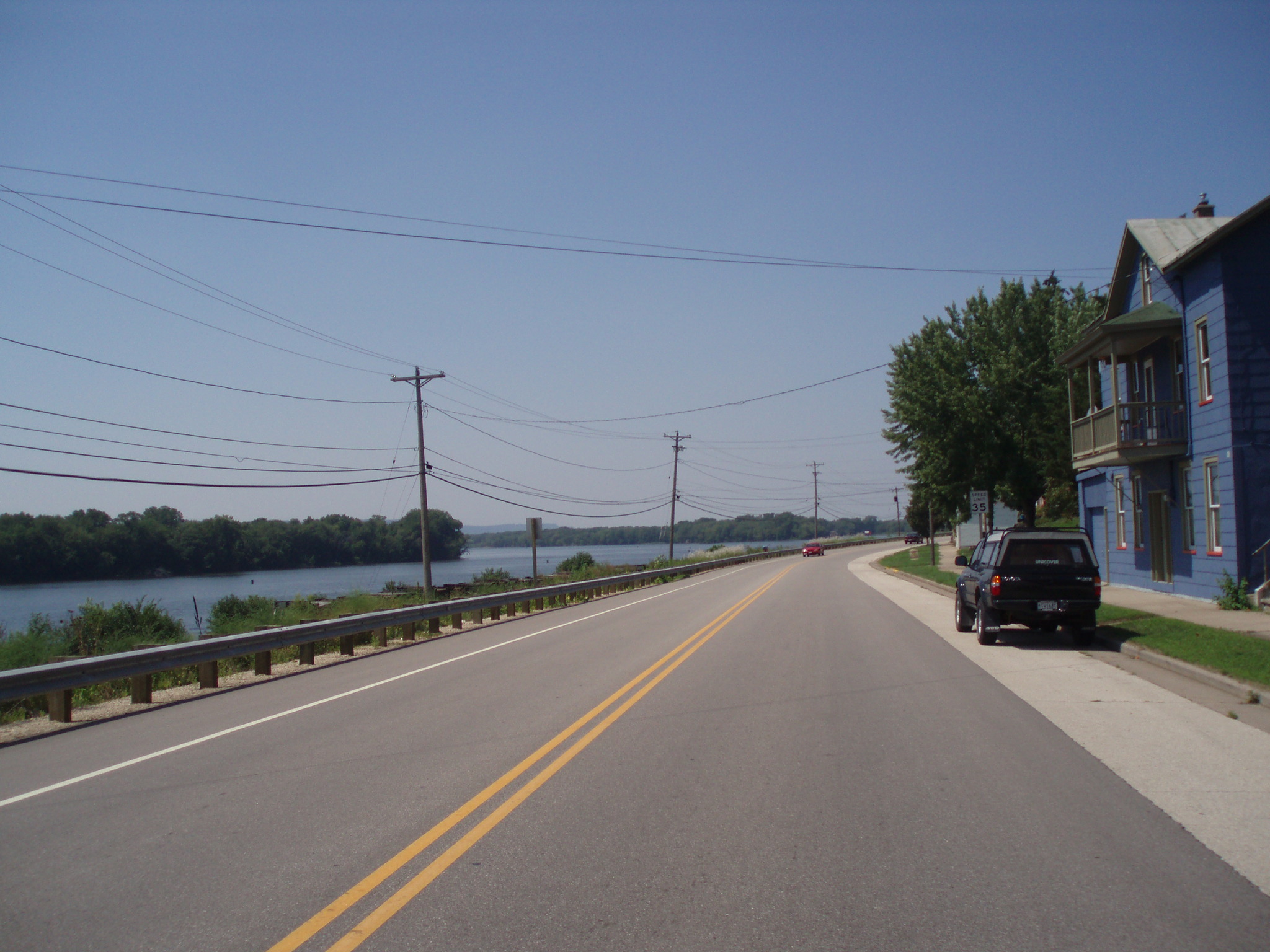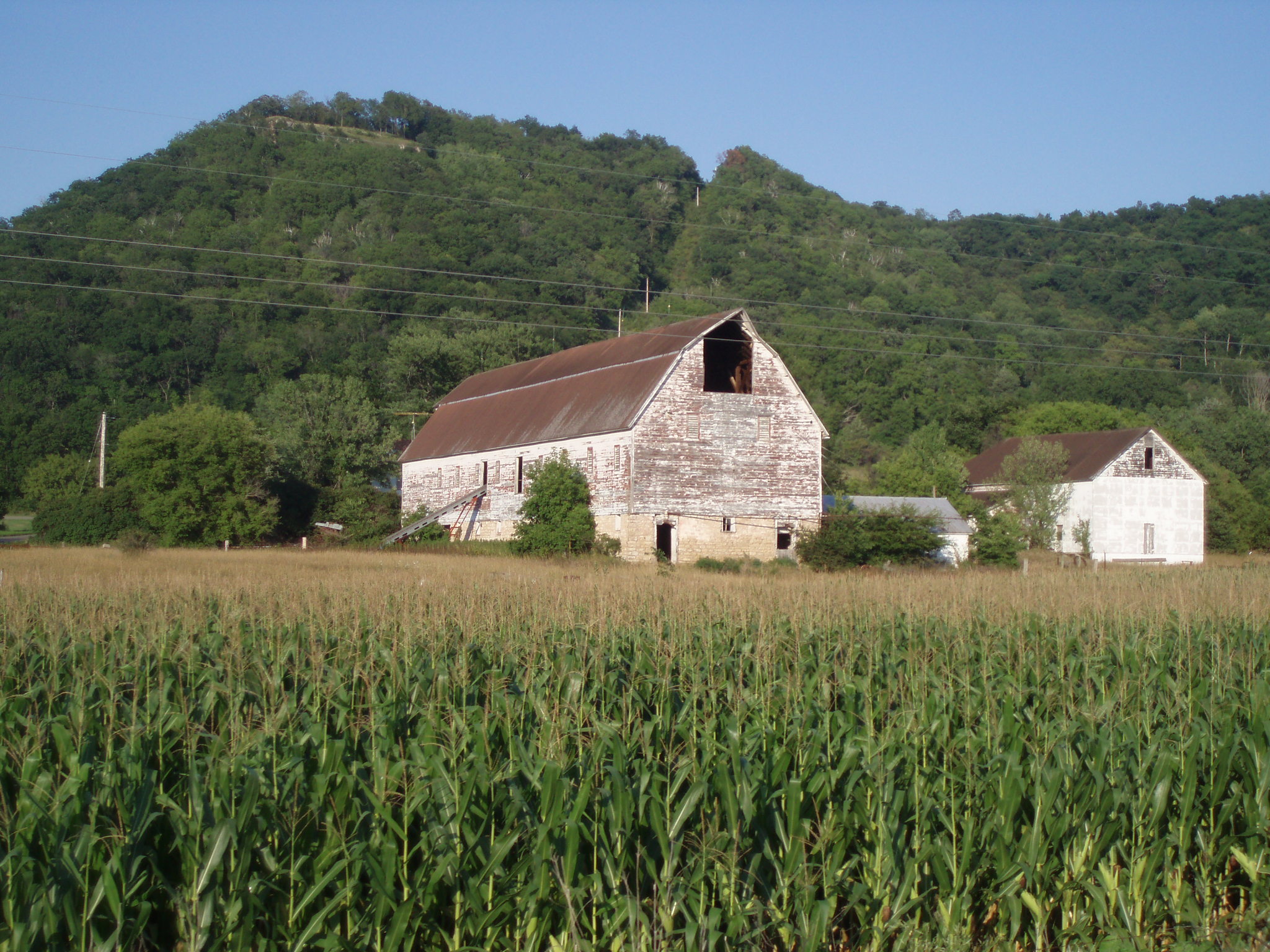 Winslow rode with us into the next town. We were all starving. Jamie and Winslow stopped at a coke machine and I rode ahead. I saw Tom and his wife in town and I got a sandwich at the convenience store. Jamie decided to go find a burger somewhere in town. While we were hanging out at the convenience store I chatted with a nice man who told me about his cross country bike ride 10 years ago.
When I found Jamie he was talking to everyone at the pub and having a great time. He told me they had wireless here so we decided to take a 2 hour break in the middle of the day to get outta the heat and get some work done on the journal.
We both banged out a ton of work and Jamie uploaded the new Mailbag Video that he filmed yesterday
http://www.teamnortherntier2007.blogspot.com/2007/07/tnt2007-mailbag.html
We left the brewpub around 5:30; it was a little cooler outside. We felt refreshed. On our way out of Fountain City this nice guy named Ed stopped us in the road and told us he rode from Ithaca back to Fountain City 10 years ago with his girlfriend. He asked if we needed anything but we were fine.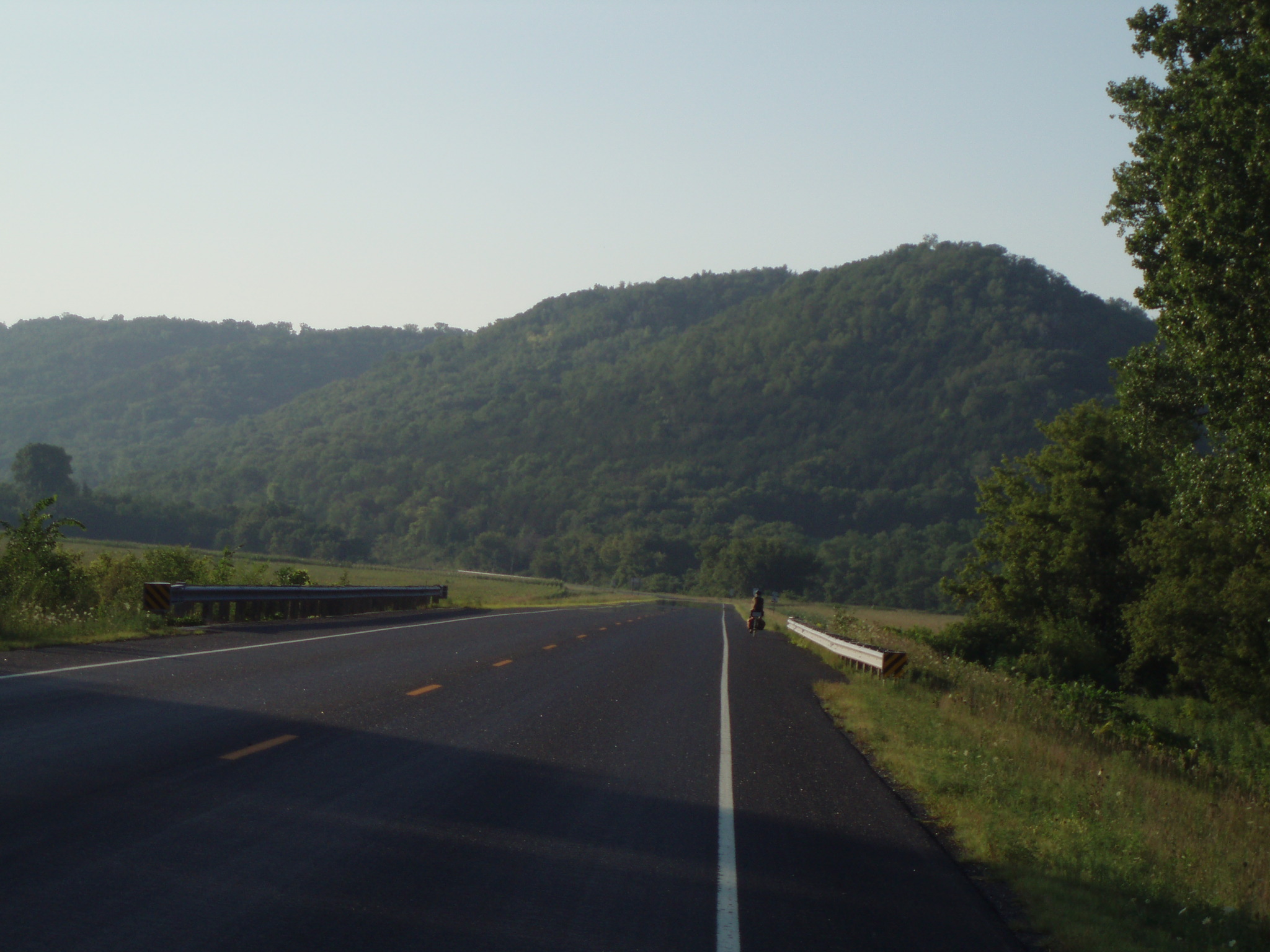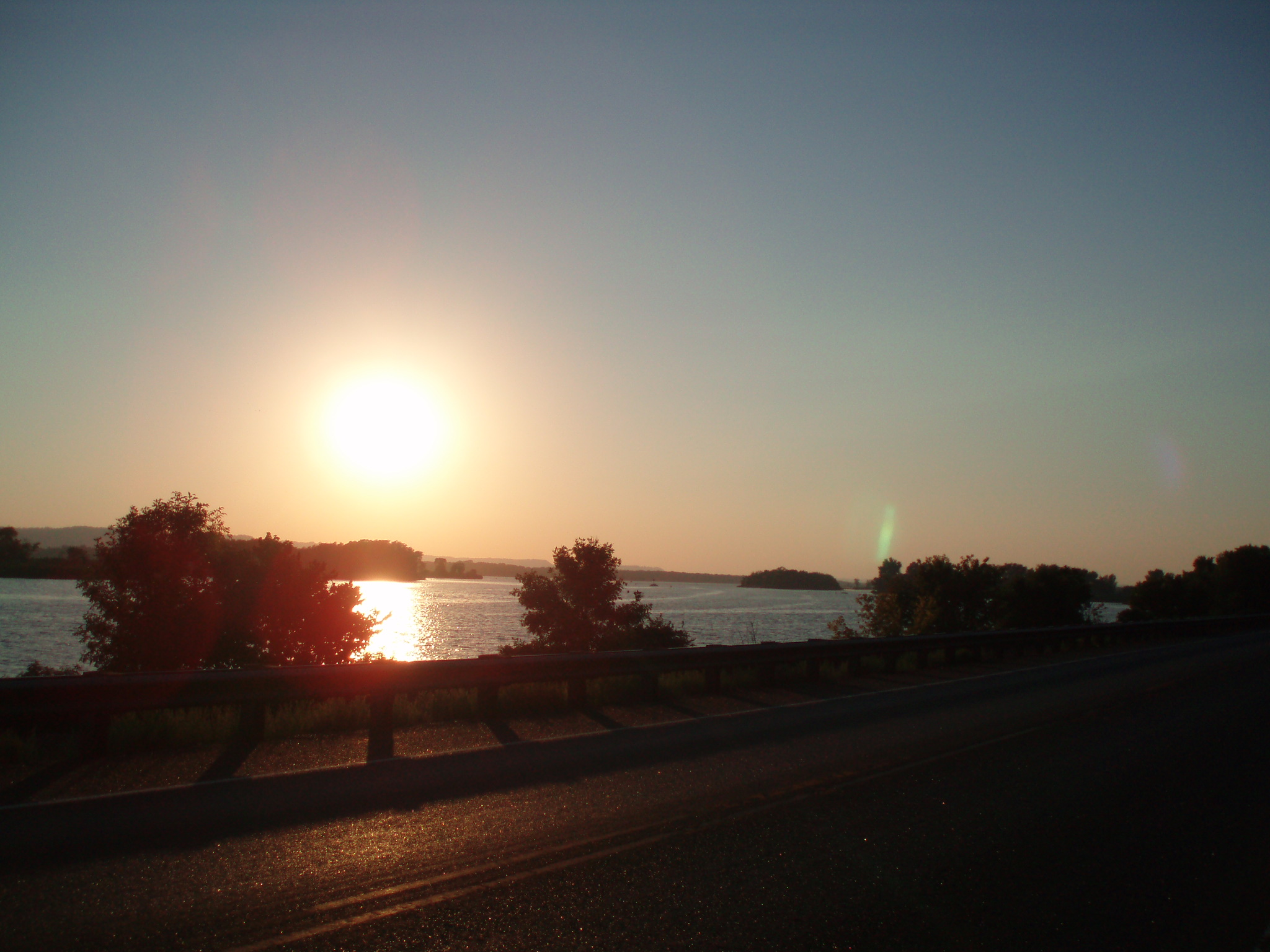 We rode around the next town Alma, looking for a place to camp. Everyone kept telling us there was a campground down the road but it was a little pricy. We invented a nice little campsite in the middle of some trees along the beach by the marina. There were some locals hanging out drinking some beer by the little league diamond but they were real cool. They told us the town police officer retired that afternoon, so no one would bother us. We waited until it was dark then setup tents and crashed fairly early.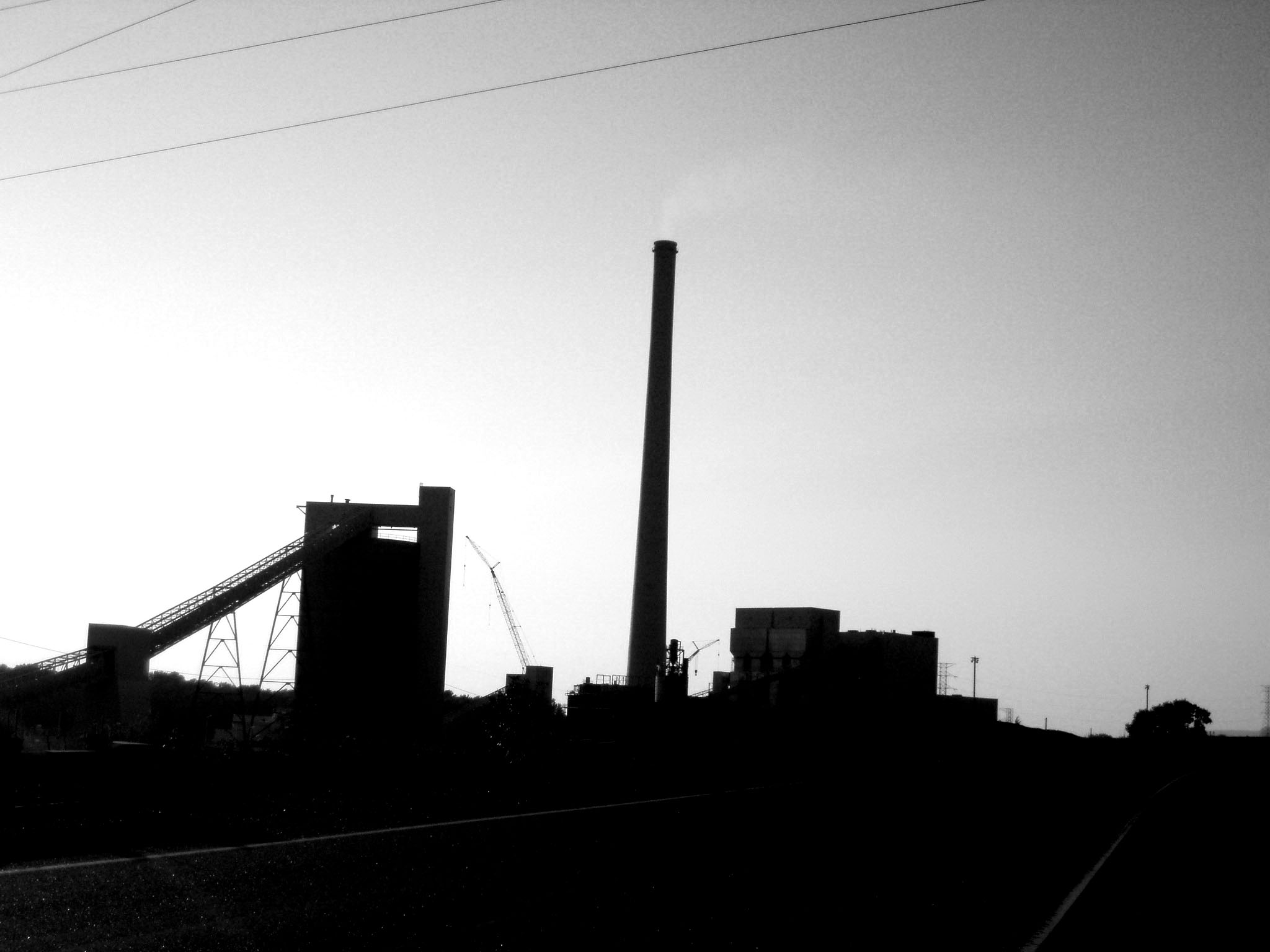 Riding in the Mississippi River Valley really made it a great day. The river is beautiful the cliffs are amazing.  Both of us felt and rode really great all day. Life's pretty good.
Click Here to Visit The Table of Contents
Click Here to Visit Previous Page:Day 44: Wonewoc, WI to Bangor, WI: Old Style Beer Video
Click Here to Visit The Next Page: Day 46: Alma, WI to Prescott, WI: Music Video