Thursday August 2, 2007, 53 miles (85 km) – Total so far: 2,331 miles (3,752 km)
53.10 miles 31.5 max speed 5:03 pedal time 10.5 avg
 
Click Here to Visit The Table of Contents
Click Here to Visit Previous Page: Day 46: Alma, WI to Prescott, WI: Music Video
Click Here to Visit The Next Page: Day 48: Minneapolis, MN to Minneapolis, MN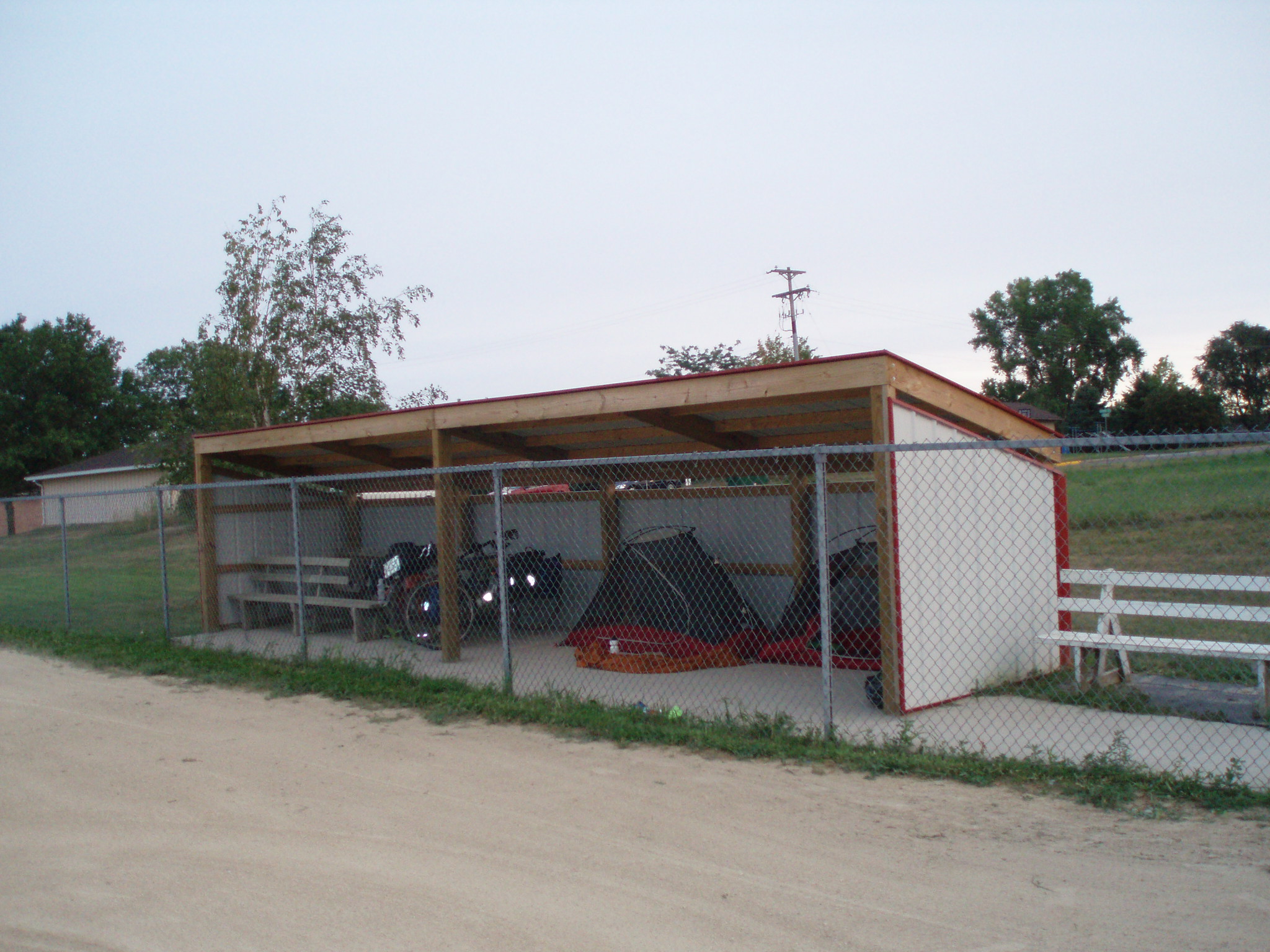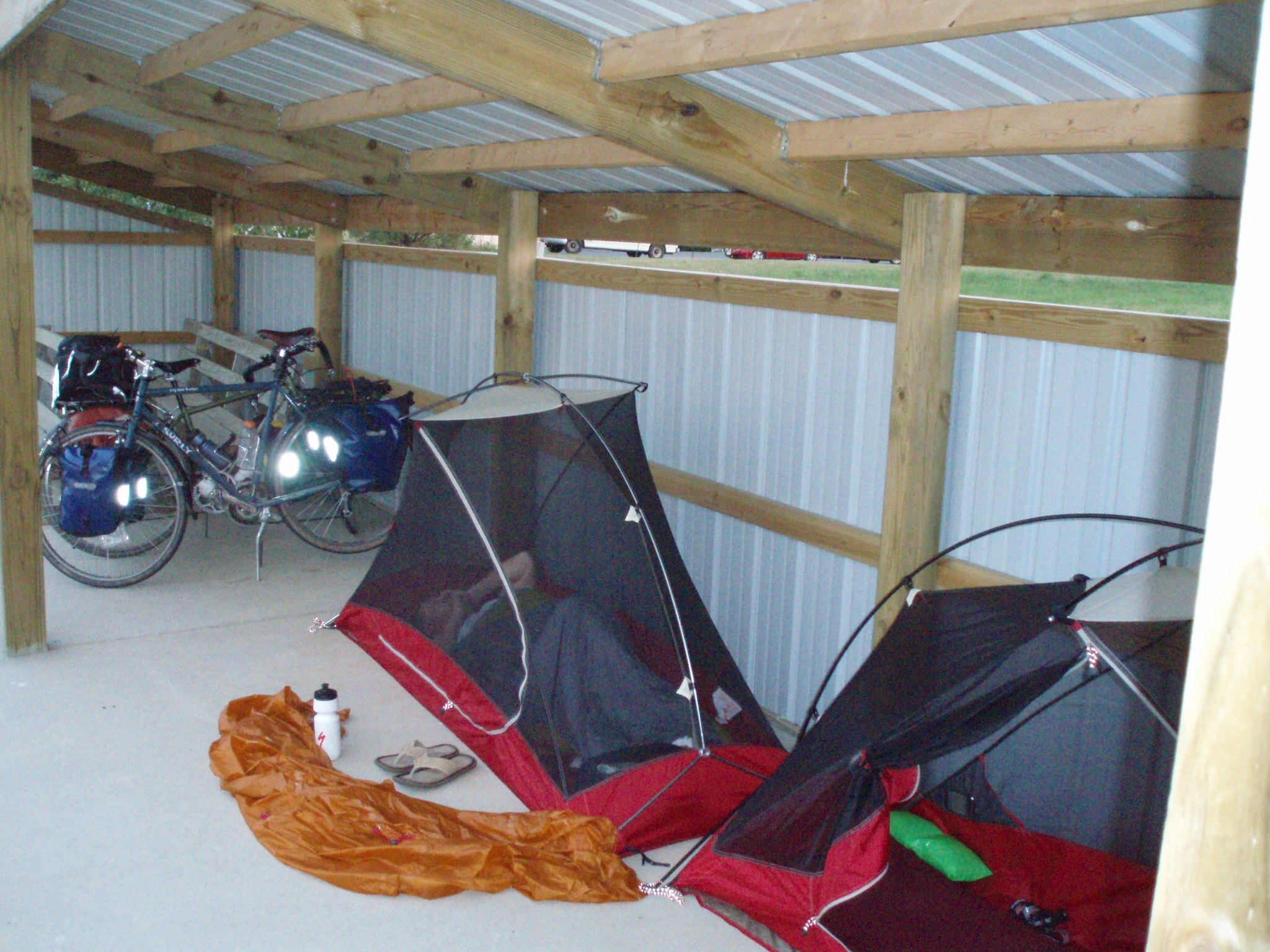 Around 6am we woke up in our baseball dugout. Slept great. I have a feeling we're going to be sleeping in a lot more baseball dugouts. The price is right and it's always nice having a roof over your head. After we packed up we went to the gas station for some caffeine. Mike Riscica laid out 6 giant maps on the ground and found a new route to get into Minneapolis that shaves off 30 miles and avoids the drama of that bridge that fell down yesterday.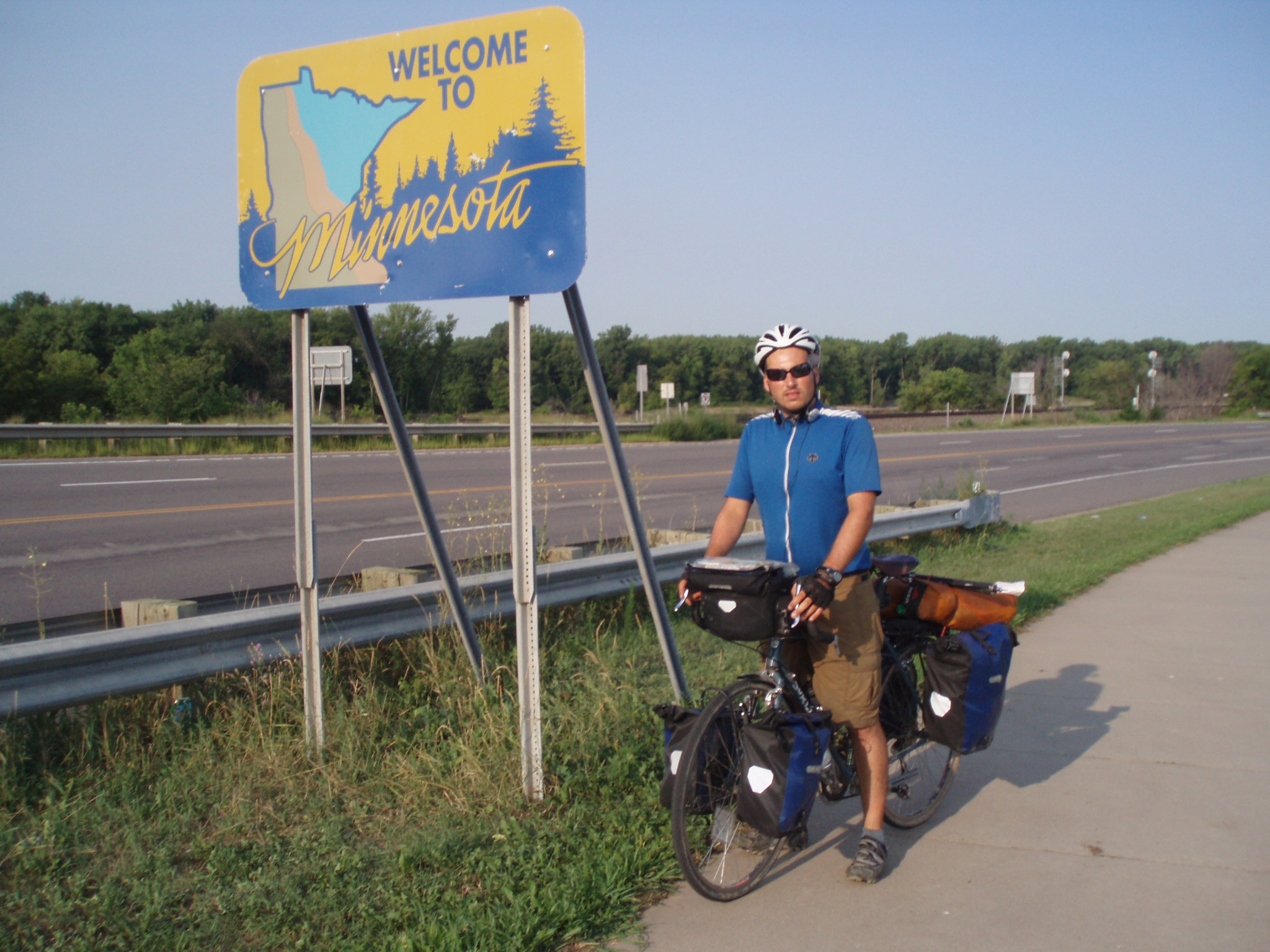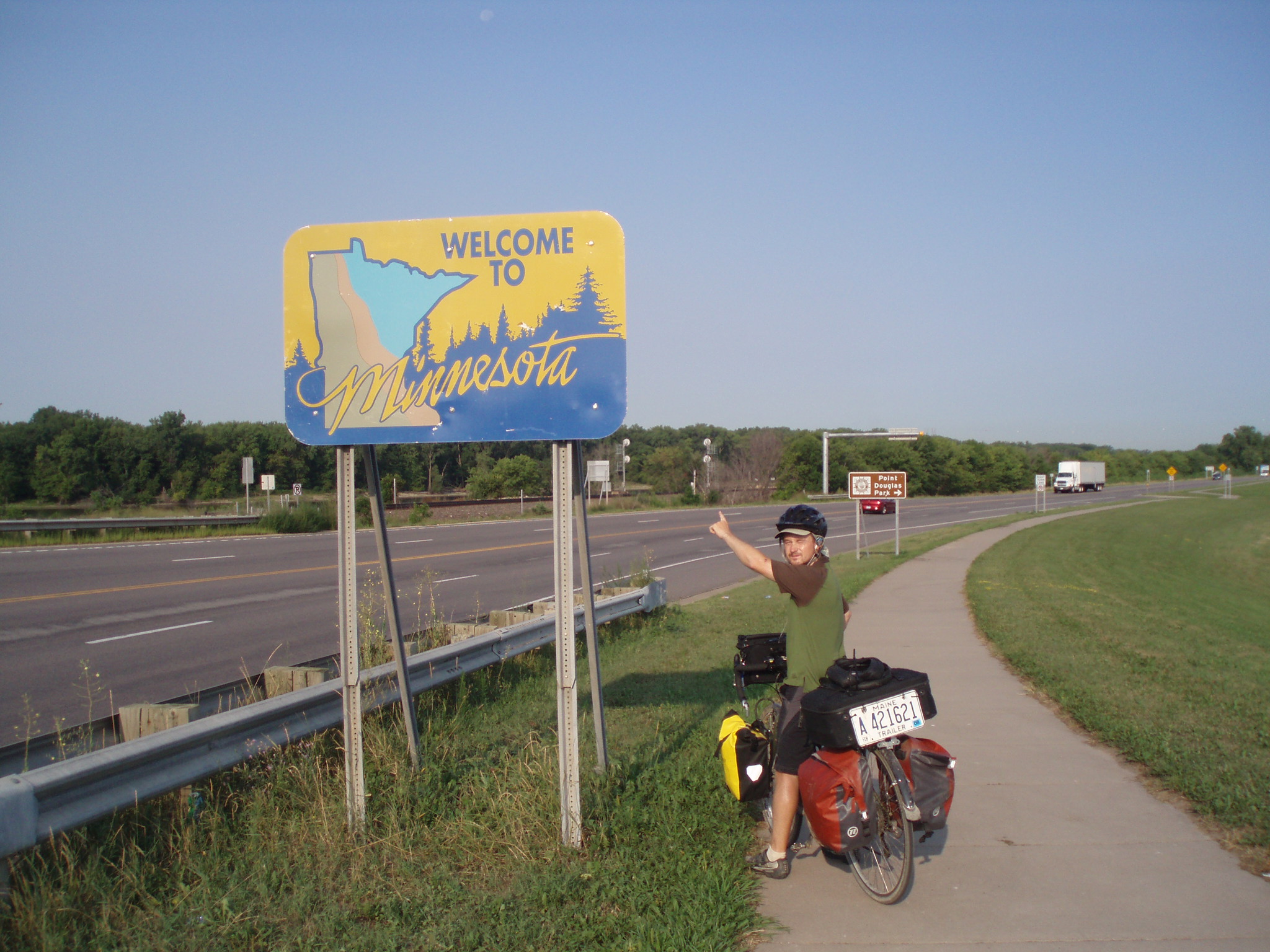 We crossed into Minnesota, 20 minutes after crossing into Minnesota we saw this telephone pole on the side of the road, where some joker came along and masking taped all these hardcore pornographic images to the side of the pole.  It was quite a sight at 7:30am. I bet it was the same joker who threw all those banana peels all over highway 35 in Wisconsin. I decided not to post the picture, there is too many good people reading to display such filth.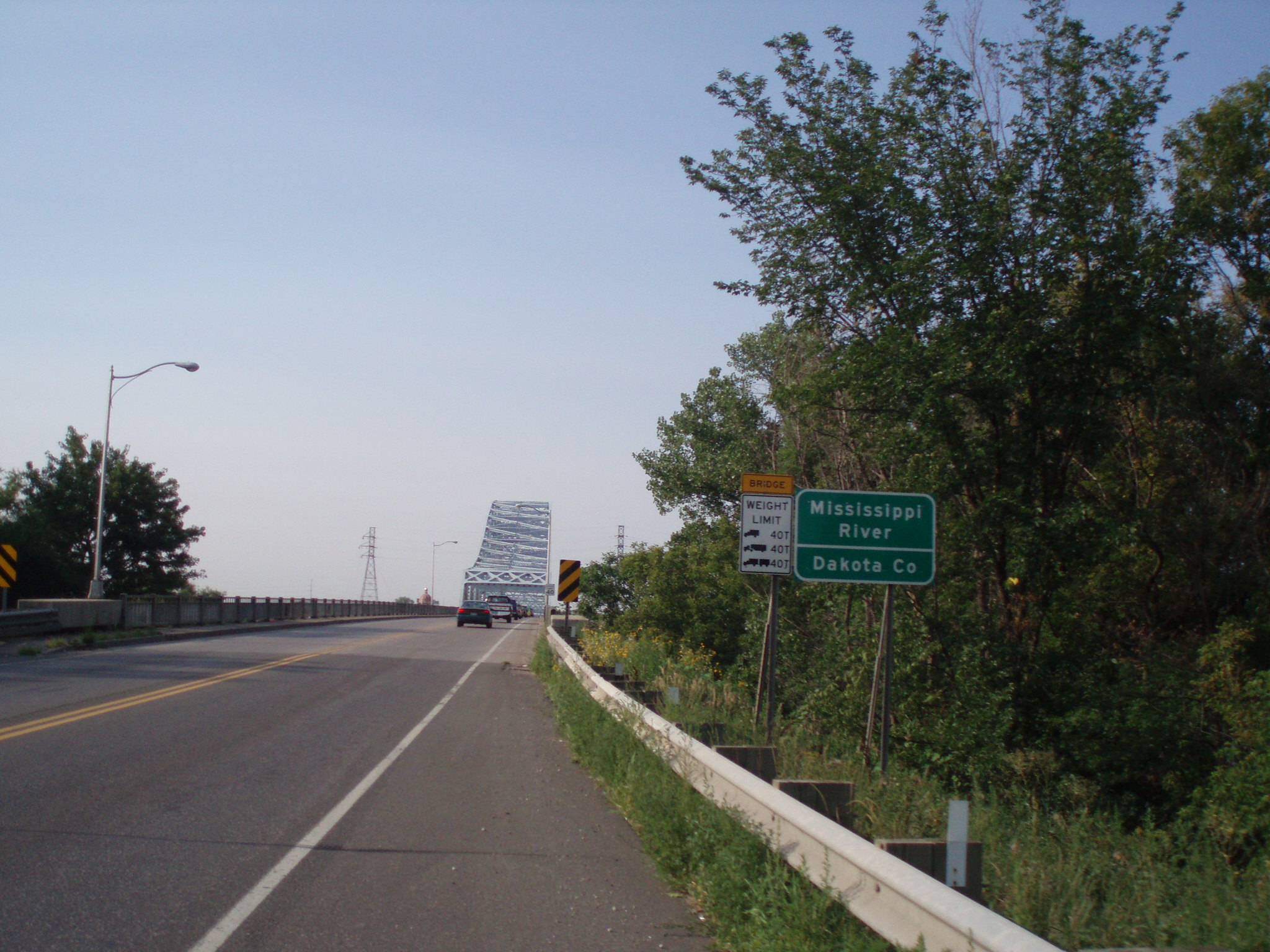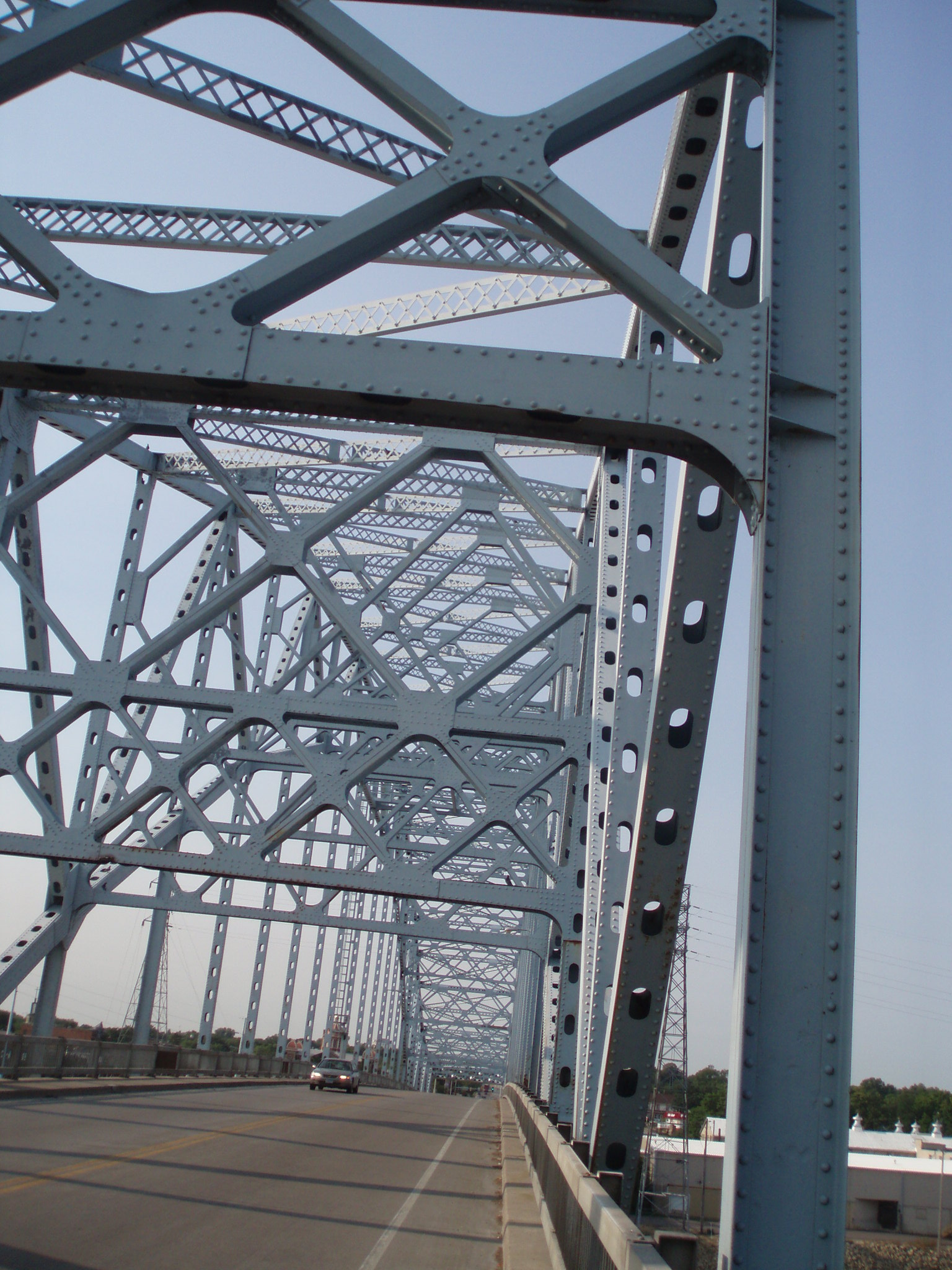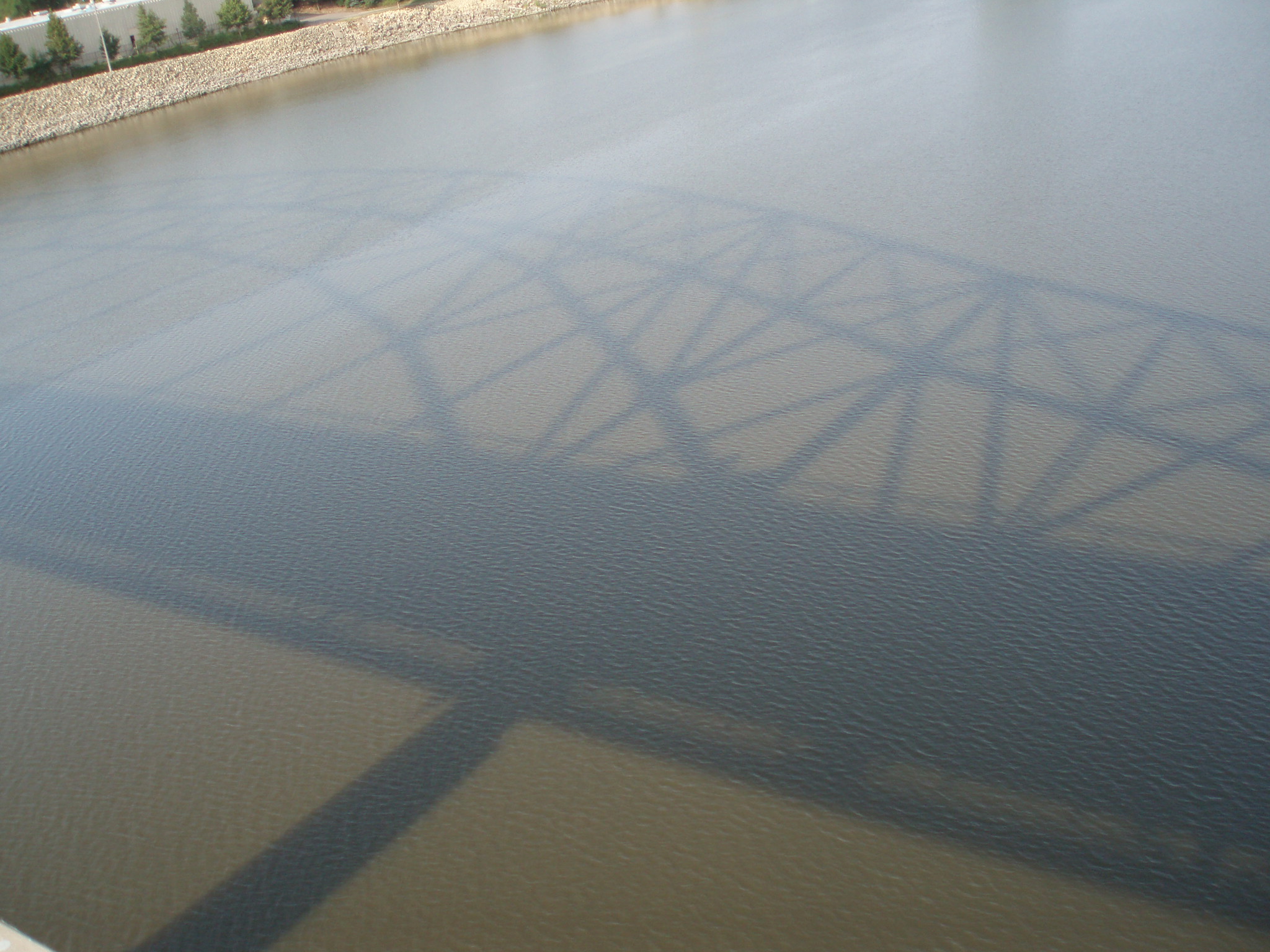 After staring at it for the past 2 days we finally crossed the mighty Mississippi. The heat was gone, but the wind came back and all day we were riding into 10 to 20 mph winds. We've been through so much it didn't really bother us.
We rode about 10 miles and decided to take a stop at a golf course. Jamie's knee was bothering him. We hung out at the golf course for a bit, drinking the Arnold Palmer (iced tea and lemonade). Every few minutes another group of ladies would come into the clubhouse after seeing our bikes and Welcome us to Minnesota. We were having such a great time hanging out with all the ladies but after 45 minutes we had to get outta there.
The closer we got to Minneapolis the windier it became we stopped and ate lunch at subway. Jamie shaved his face in the bathroom. We soon made our way onto the Twin Cities bicycle map.

We crossed into town at the Mendota Bridge and in one view we were able to see both Minneapolis and St. Paul. It was a pretty damn cool.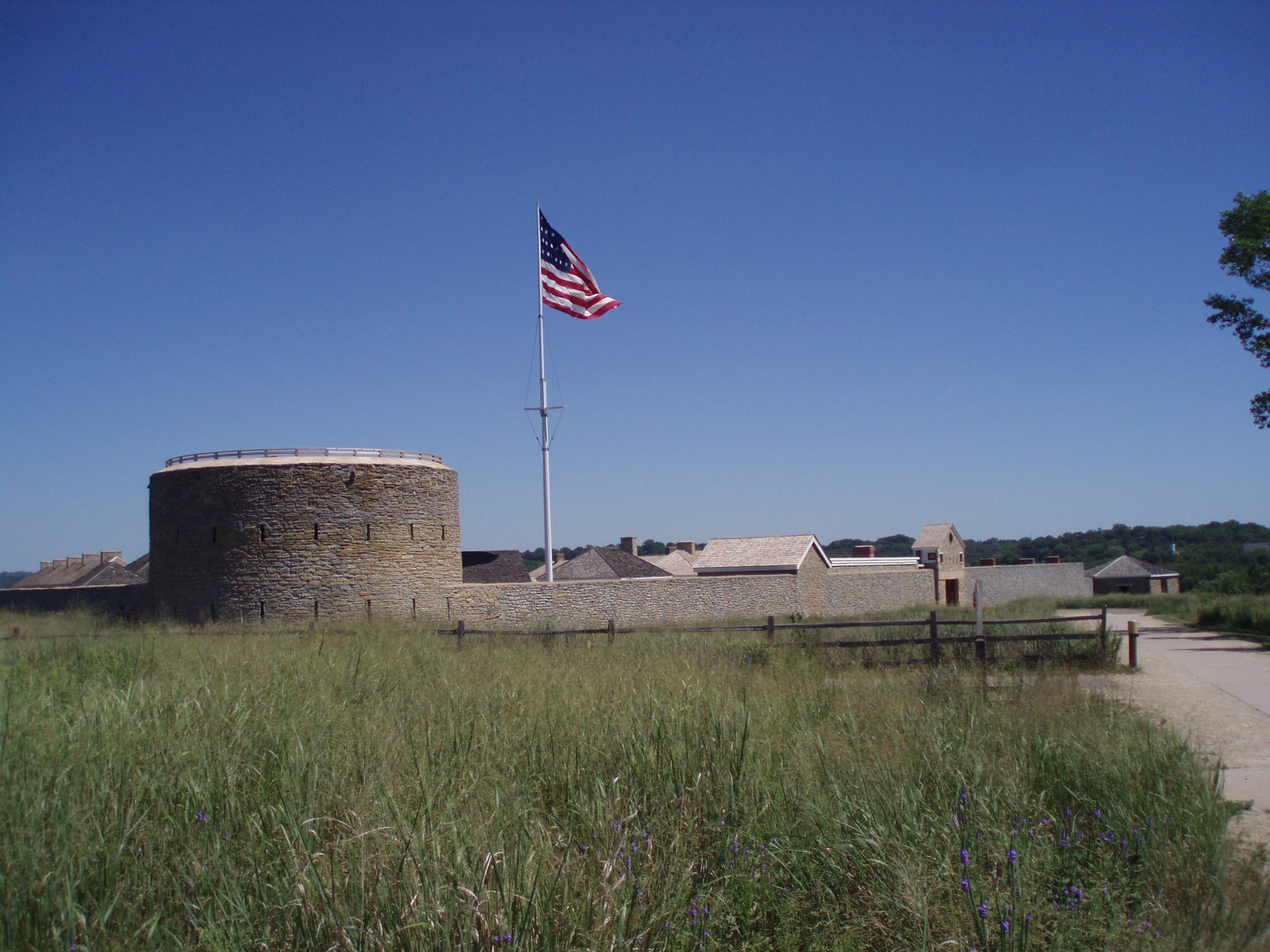 Navigating through Minneapolis was pretty easy. While we were in the city Jamie and I stopped at DQ for an ice cream. While Jamie was ordering his ice cream I watched all these Christians wearing the same T-shirt, stand next to the Maine license plate and take a picture with his bike. They took 4 or 5 pictures with his bike and they had no interest in talking to us. WTF!?
I called Sam; he was still at work for another hour or so. REI was close so we decided to head over to take care of our long awaited business. The Minneapolis REI is the biggest one we have ever been to. We exclusively shop at REI because they will take anything back regardless of how much you have used it and even if you don't have your receipt. Jamie went crazy returning everything. He returned his broken panniers, the helmet cam, a shirt, some other crap and had the girl working there spend an hour researching his account trying to figure out if he bought a pair of socks at REI, but then he remembered he got them at EMS after the fact. He made $235 and spent it on a new pair of Ortlieb Panniers and a pair socks.
Mike Riscica exchanged his nasty old jacket that was absorbing rain like a sponge and got whatever jacket the kid at the store told me to buy. It just doesn't matter anymore.  The new jacket was cheaper than the old jacket so I also picked up a new pair of shades. I also learned that I cannot return only 1 sock and say it's not working out for me. As always the kids working at REI are always the coolest and we have a great time hanging out there, while we return everything.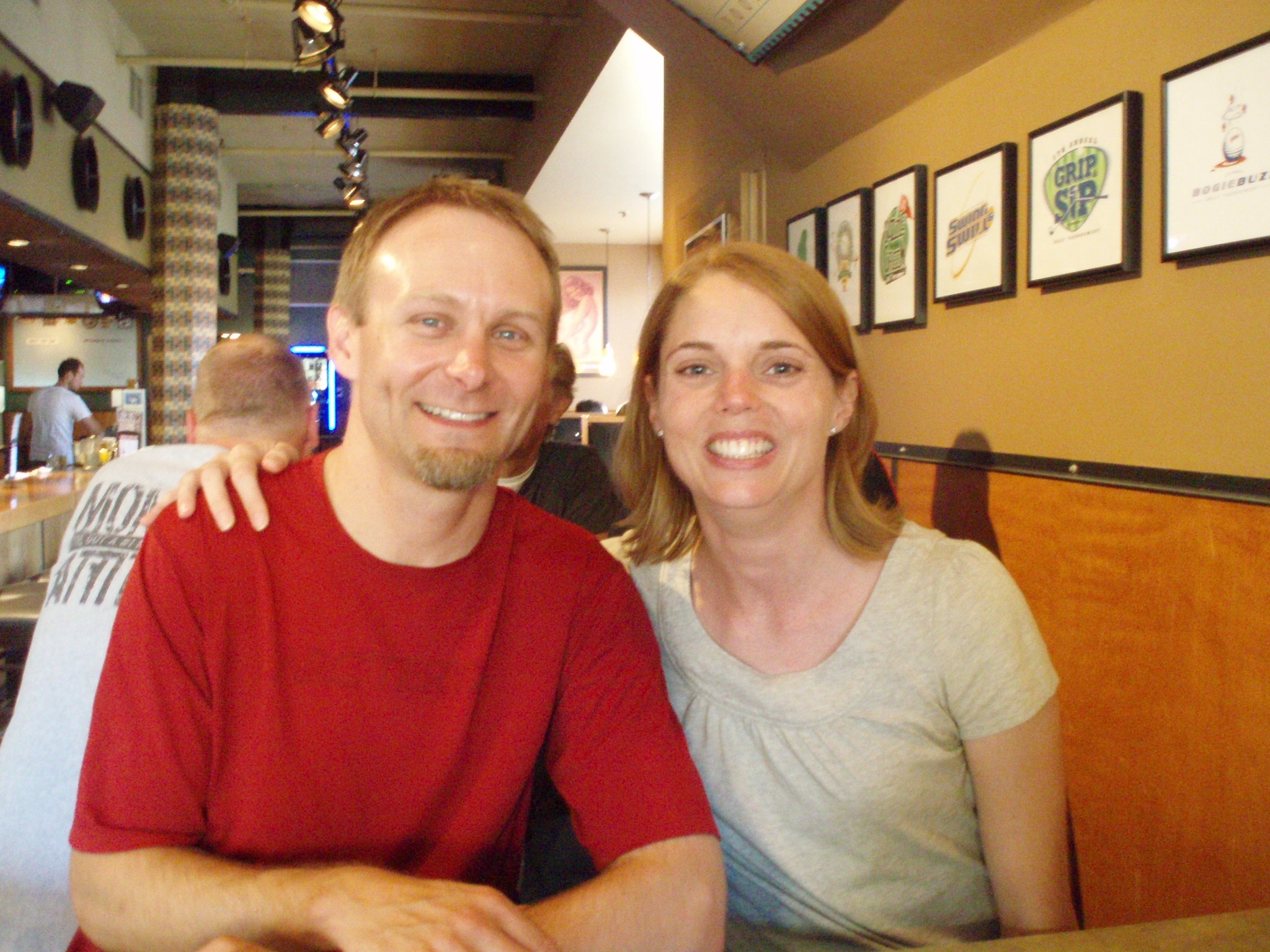 We rode back into town and found Sam and Laura's house. They met us outside and were really excited to see us. Last year they cycled the Northern Tier (Their journal is http://www.tourdeguts.org) and they following our journal since long before we left. It was great to finally be here. They helped us carry our bikes into their cute little house. We sat around talking for a while then cleaned up and went out for dinner at the Brewpub. We met Laura's sister and her husband for a drink. She just had a baby a few days ago, so we celebrated the healthy new baby girl!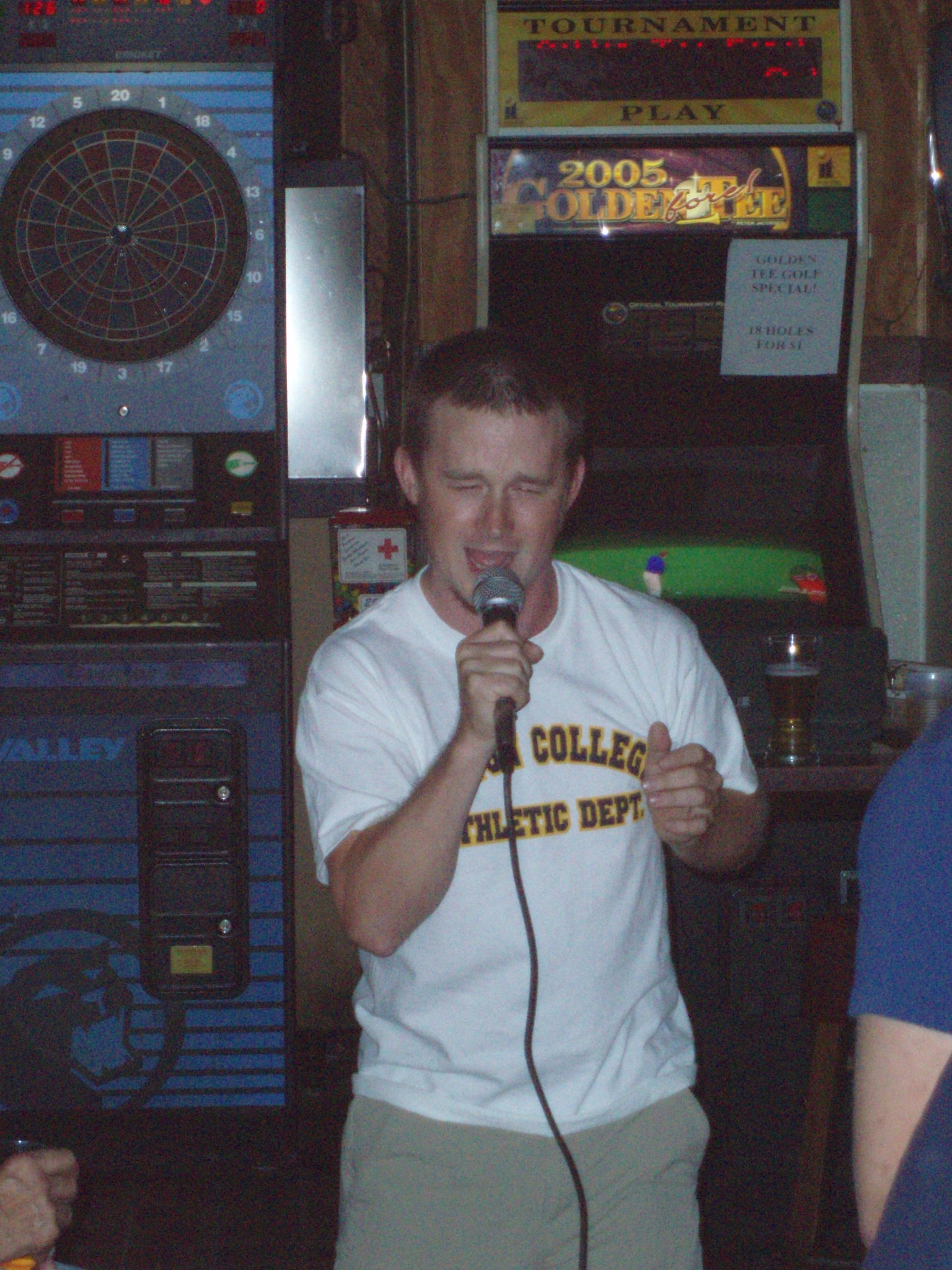 After dinner Jamie really really wanted to sing Karaoke at the bar next door. He's been talking about singing Karaoke for the past 47 days and hasn't had any luck.   Before he sang Total Eclipse of the Heart, he gave this big announcement about how he is riding his bike across the country. Shortly after he began singing this old timer came by and said. 'He rode here all the way from Maine to give us this?!' and we all laughed. While Jamie sang he made some friends and made some enemies.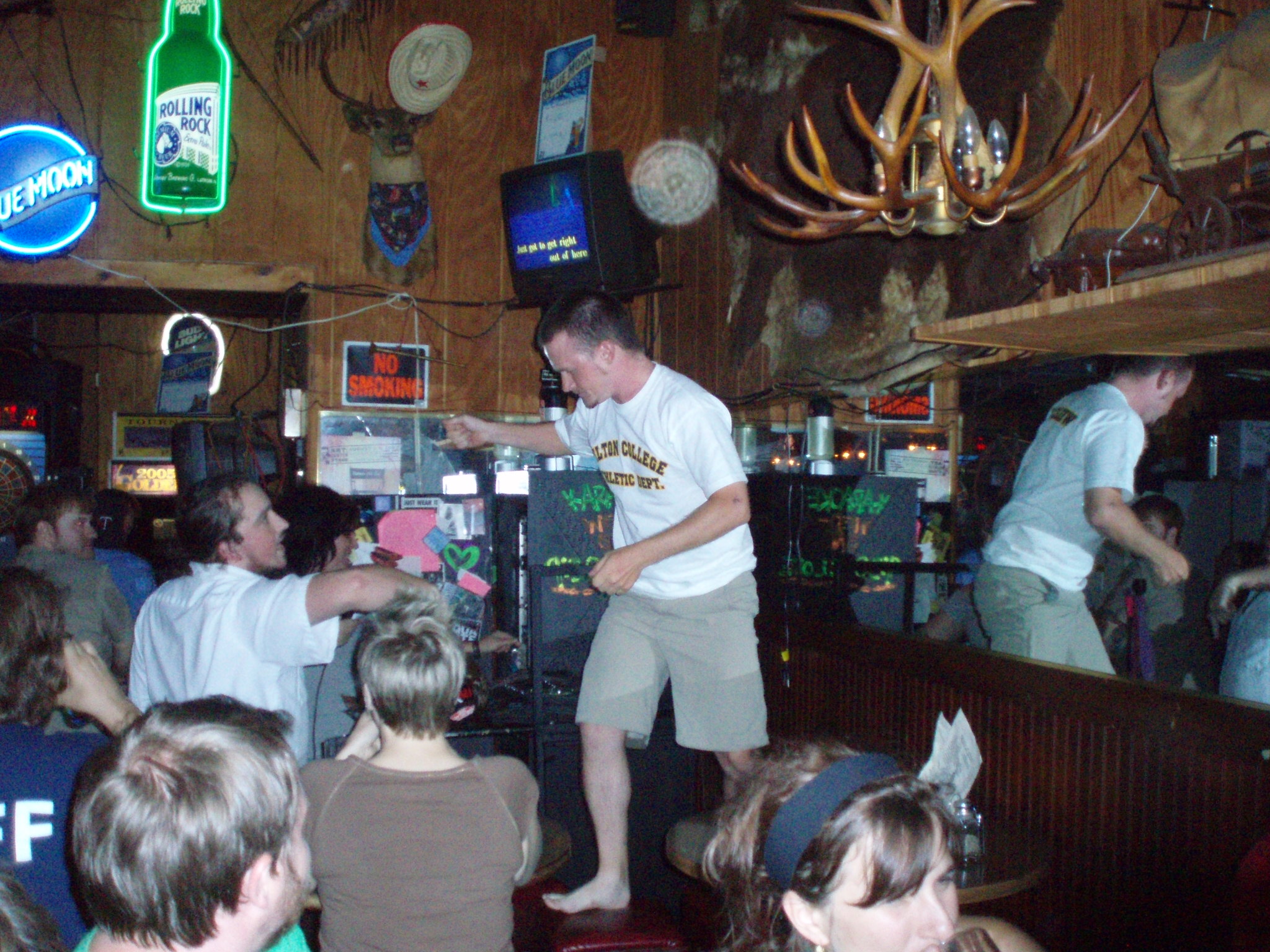 At the end of Jamie's song he climbed up on a table and the guy working behind the bar yelled at him and they turned off his song until he got down. He stood up there long enough for me to catch a picture. Good ole Jamie Obrien pushing the limits of karaoke once again!
We hung around that sketchy bar for a little bit longer then some girl walked in who was dressed like Carmen San Diego; we just used that as our cue to get the hell outta there.
We went to the VFW hall where there was more Karaoke I sat in back and talked with Sam and Laura while Jamie sang some more songs. He was received a lot better at the VFW hall then he was at the first bar.
On the way outta their some kid told us about his friend who is cycling across the country sharing jokes with everyone he meets and is writing a book called 'Jokes across America' Jamie flipped out when he heard this and we looked them up on my phone their website is: http://www.jokesacrossamerica.net/
The whole way back to the Sam and Laura's we talked about Jokes across America.
It feels good to be in Minneapolis; we're taking tomorrow off. Sam and Laura are going to show us around town. They've got a lot of great stories from their Northern Tier ride. We're really happy that they invited us to come stay with them.

Click Here to Visit The Table of Contents
Click Here to Visit Previous Page: Day 46: Alma, WI to Prescott, WI: Music Video
Click Here to Visit The Next Page: Day 48: Minneapolis, MN to Minneapolis, MN