Saturday August 18, 2007, 96 miles (154 km) – Total so far: 3,354 miles (5,398 km)
## map63 ## 95.93 miles 40 max speed 5:43 pedal time 16.7 avg speed.
     Click Here to Visit The Table of Contents
     Click Here to Visit Previous Page: Day 62: Darby MT to Missoula MT
     Click Here to Visit The Next Page: Day 64: Saco, MT to Chinook, MT, Saco the next morning video
Last night I discovered my iPod battery backup was telling me it was going dead. This is amazing considering it hasn't been charged since we were in Minneapolis. I listen to my iPod all day while I ride. That's 2 weeks of not having to charge my iPod. Pretty amazing.
We all packed up pretty quick and decided to do McDonald's for breakfast. Jamie saw an Indian fighting with another Indian on the way to McDonald's. They were yelling in Indian, must have been a tribal war.  Breakfast wasn't that great. I didn't eat very much and Jamie ate out of his panniers. While we were eating, we saw the same guy we saw yesterday in Williston, with the New England Patriots hat on. We all got really excited.
What are the chances of seeing the same guy 2 days in a row at breakfasts 100 miles apart! He was visiting relatives in Wolf Point. As we left I said 'See you tomorrow morning!' and he laughed.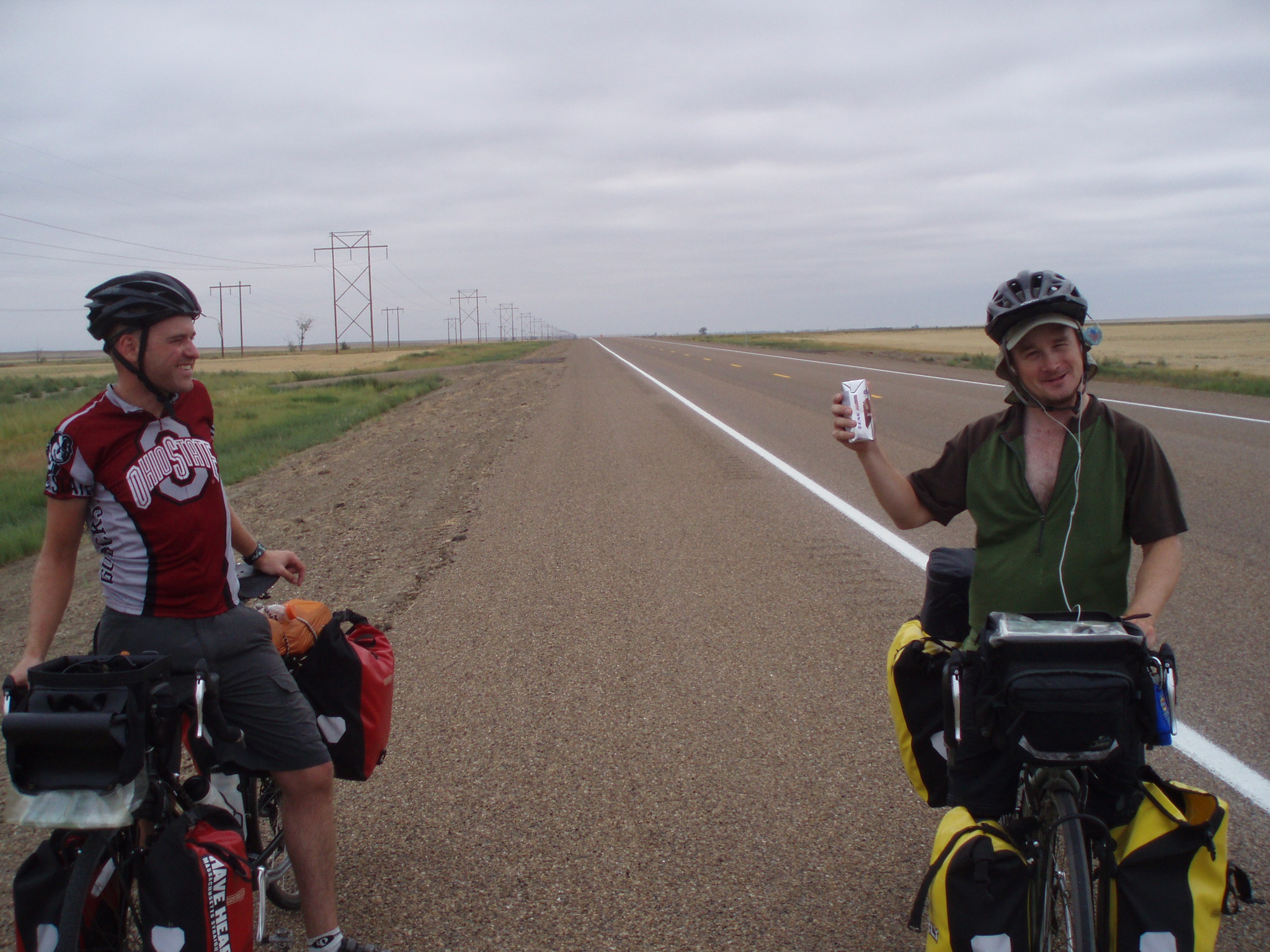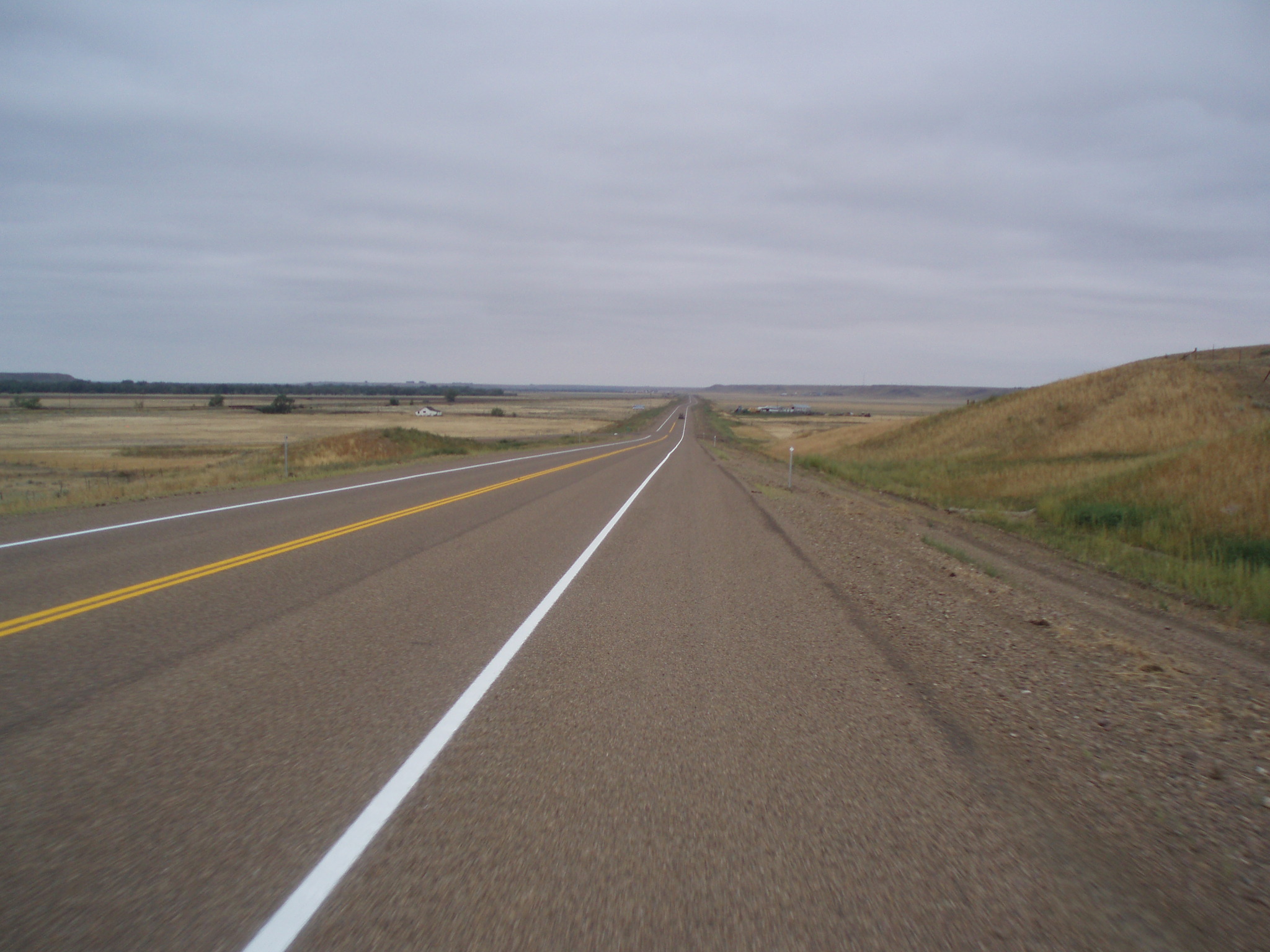 Riding outta Wolf Point we had another great tailwind. It wasn't as strong as yesterday but we weren't complaining. It was still pretty nice. We rode a 15 miles out and got out of the Fort Peck Indian Reservation.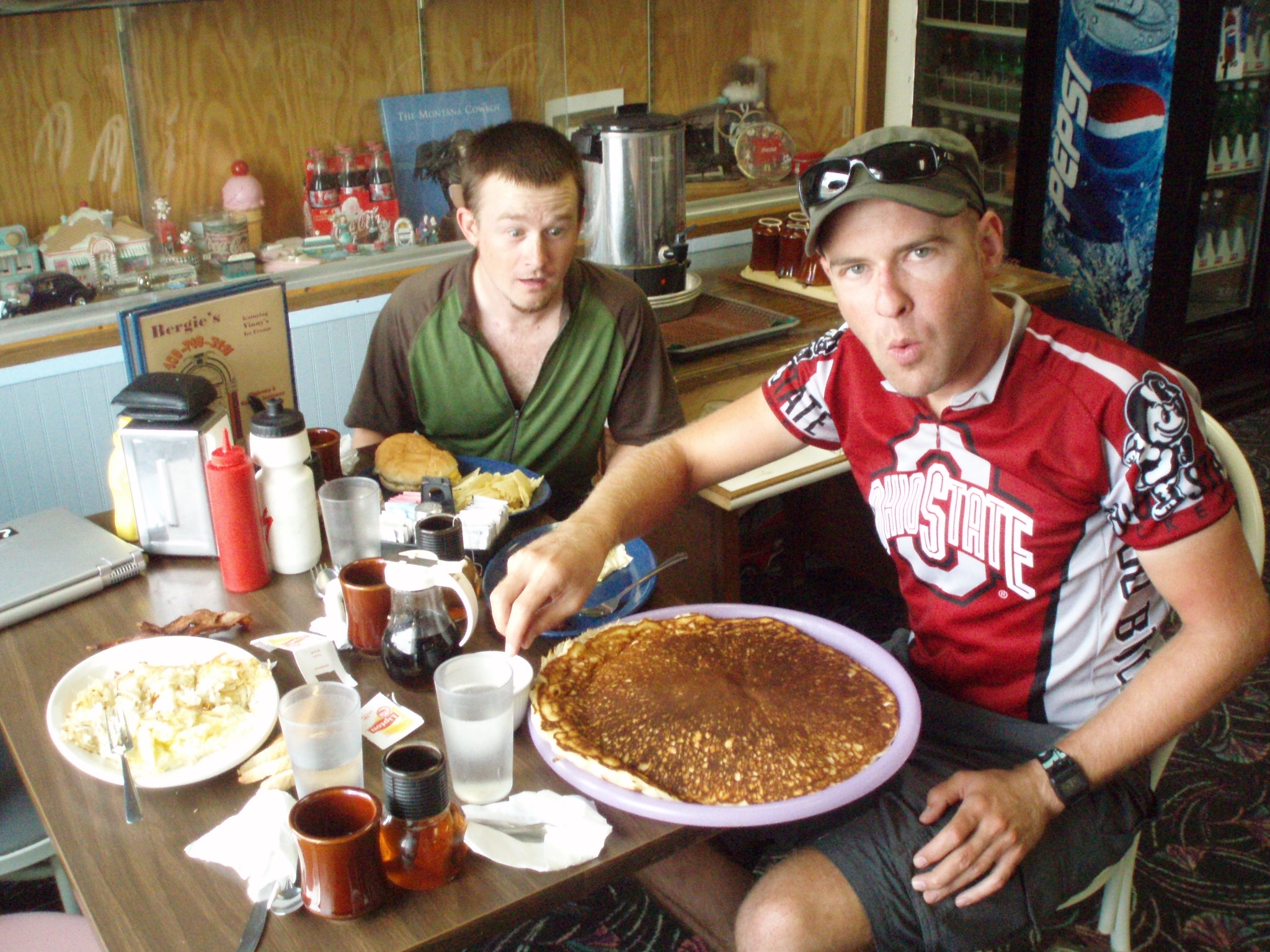 We stopped for food at the diner on the side of the road. I told Chuck they serve an 18′ pancake here. But he wasn't listening to me and he ordered up this huge breakfast and out came an 18′ pancake along with eggs and bacon. His toast didn't come out with the breakfast and he got all upset. And I got crazy saying 'Dude, You have an 18′ pancake in front of you, why are you worried about your toast?!'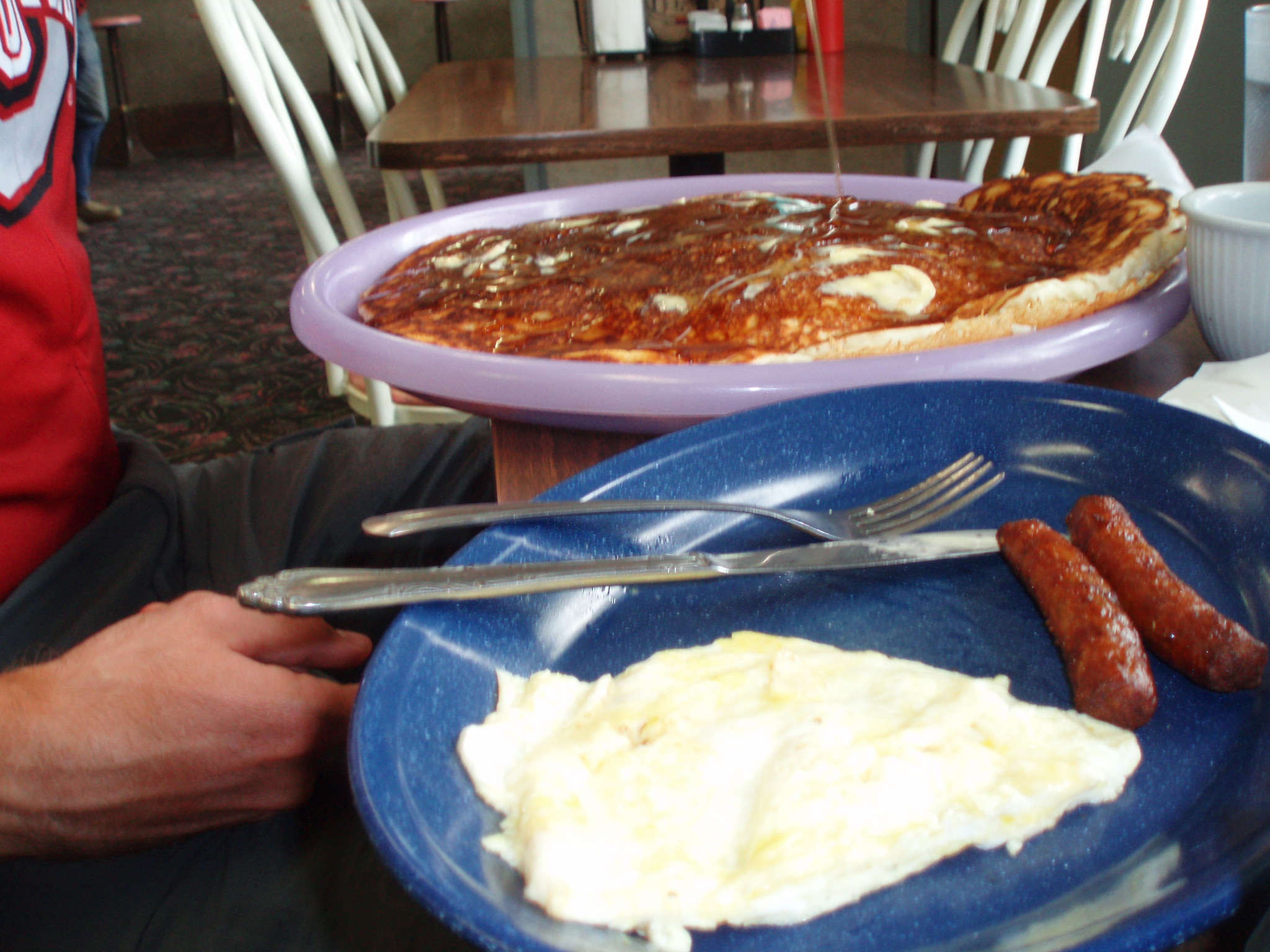 He only ate about ¼ of the pancake, Jamie and I also helped him with it. It was a really good pancake. Perfectly cooked.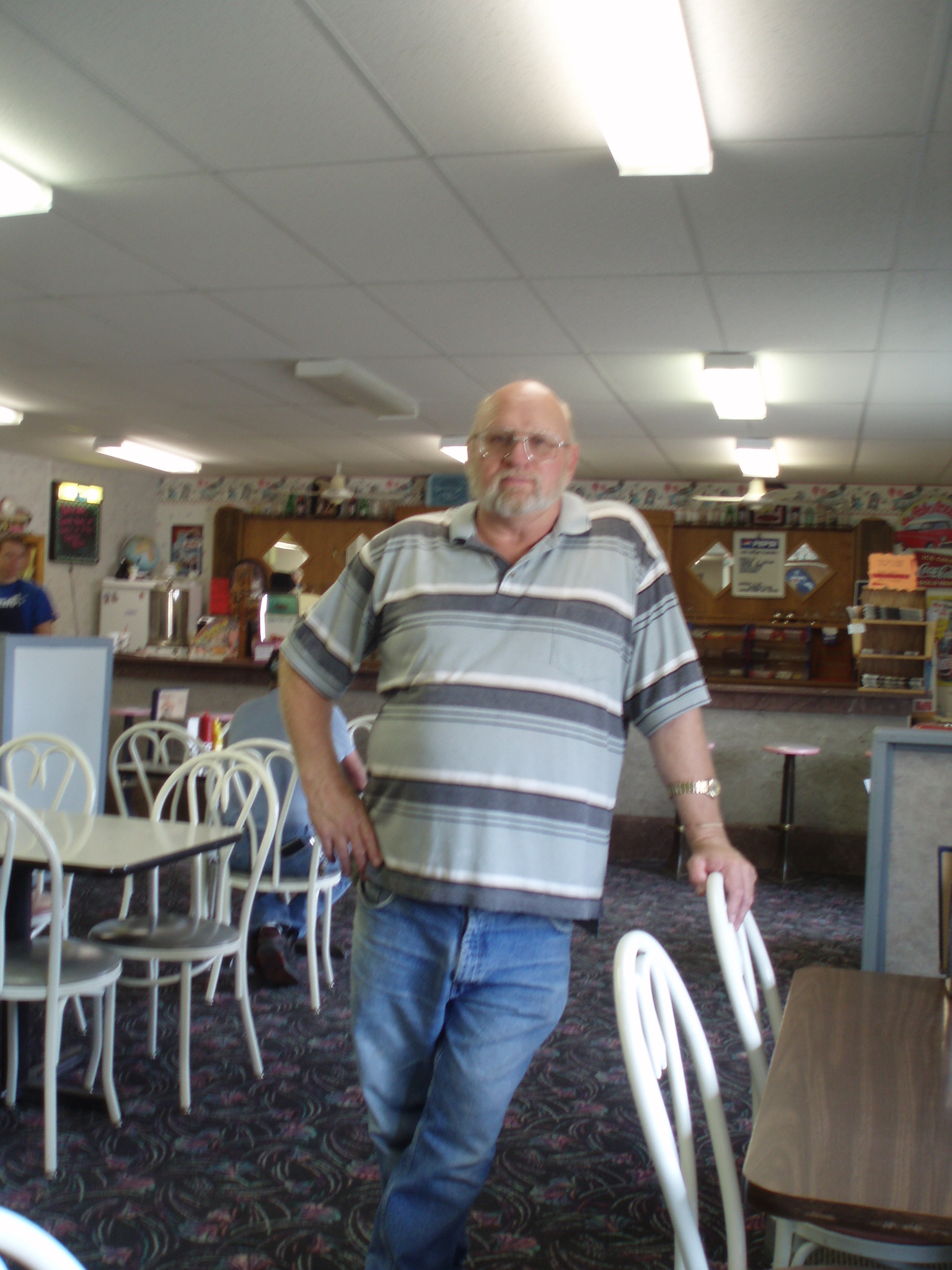 Frank, the guy that cooks these monster pancakes came out to see if Chuck finished it. He talked with us for a bit and told us about all the people that have finished these things. He said it's always the skinny little guy that only weighs 140 lbs. I got the feeling they only make these pancakes for the cyclists that come through.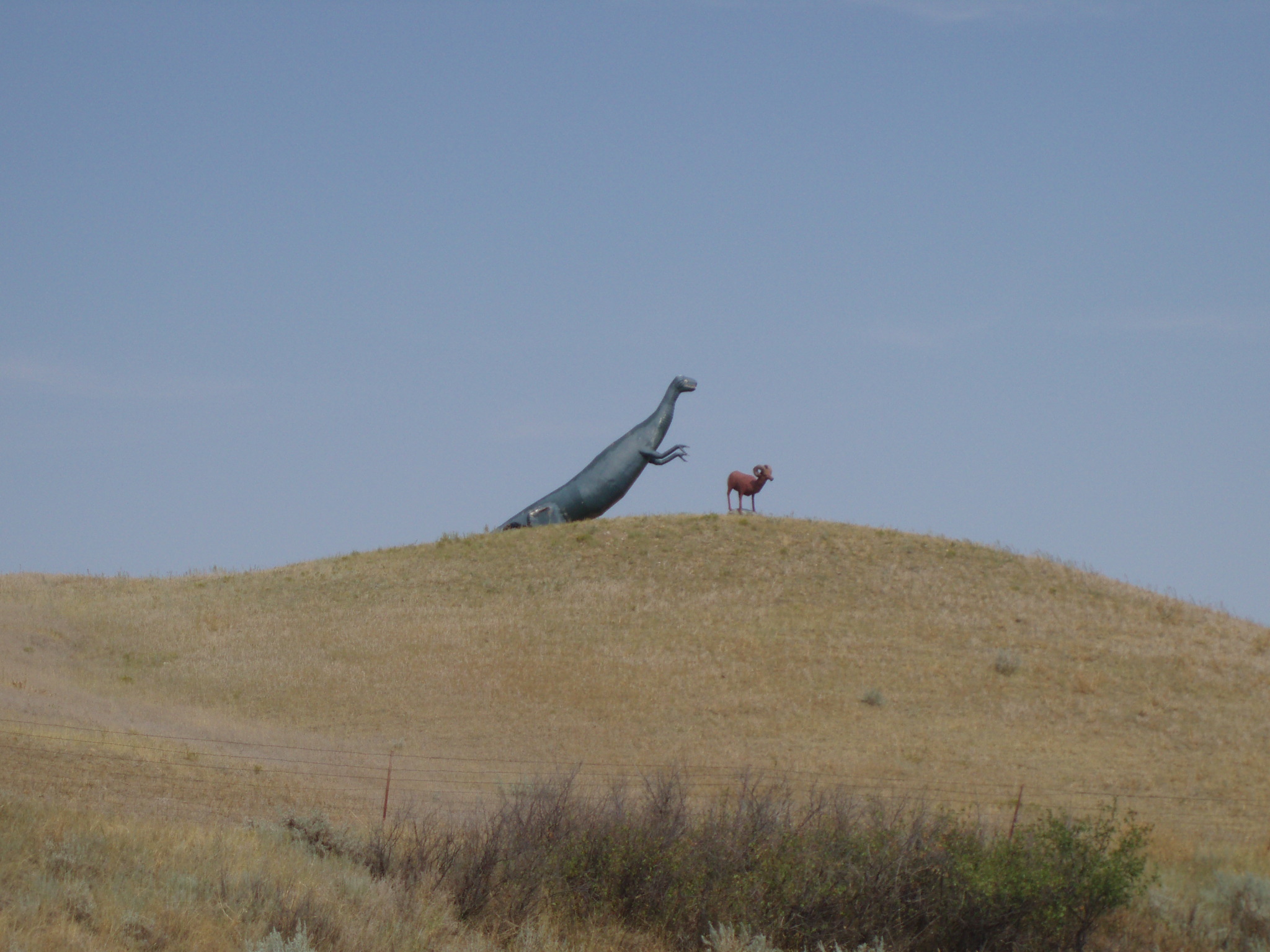 While we were leaving Bergies we were all yelling and laughing outside and this really pretty girl walked around the corner and we all immediately got quiet. We think she heard part of our inappropriate conversation. It was pretty awkward, but really for just Chuck.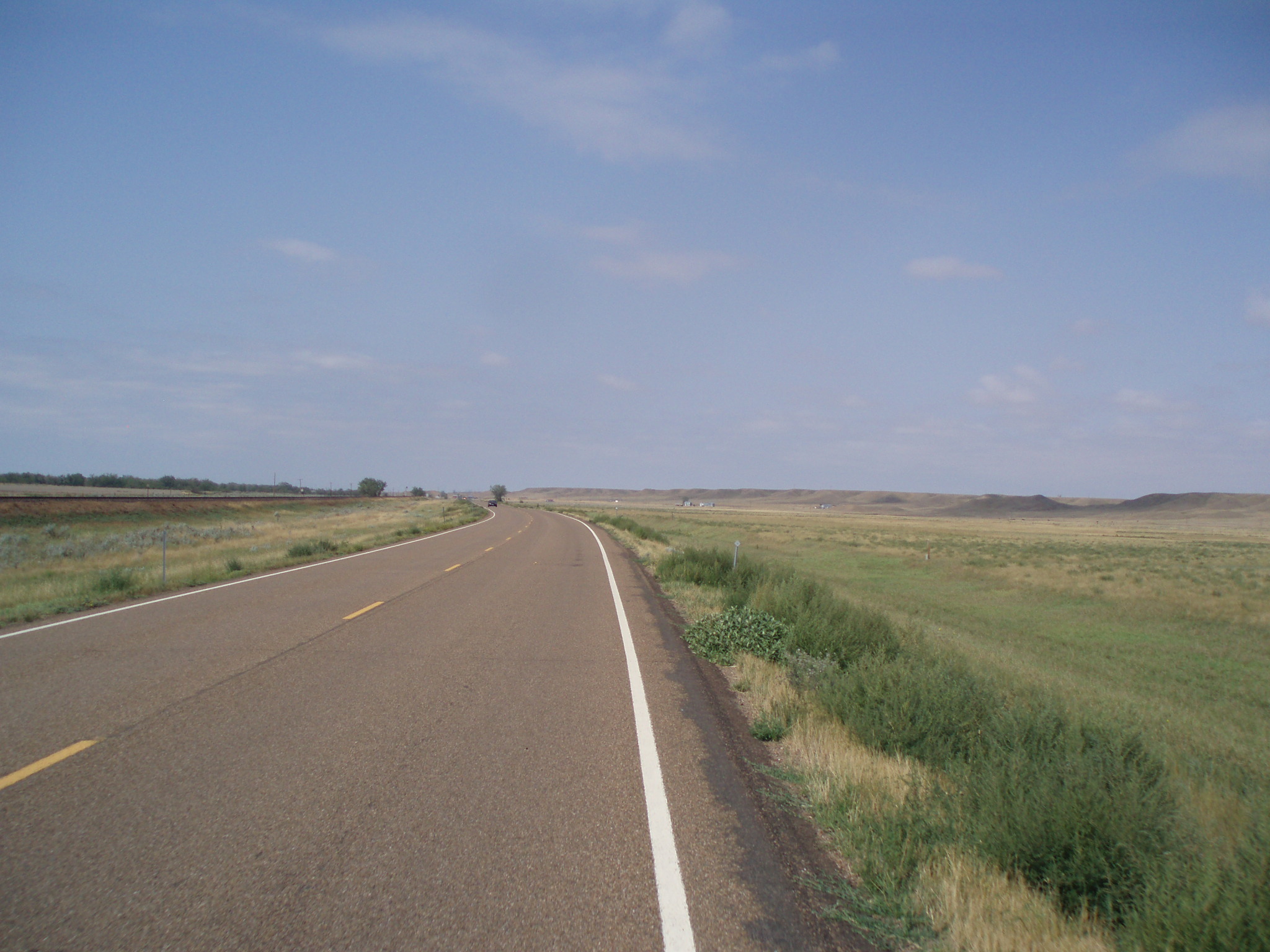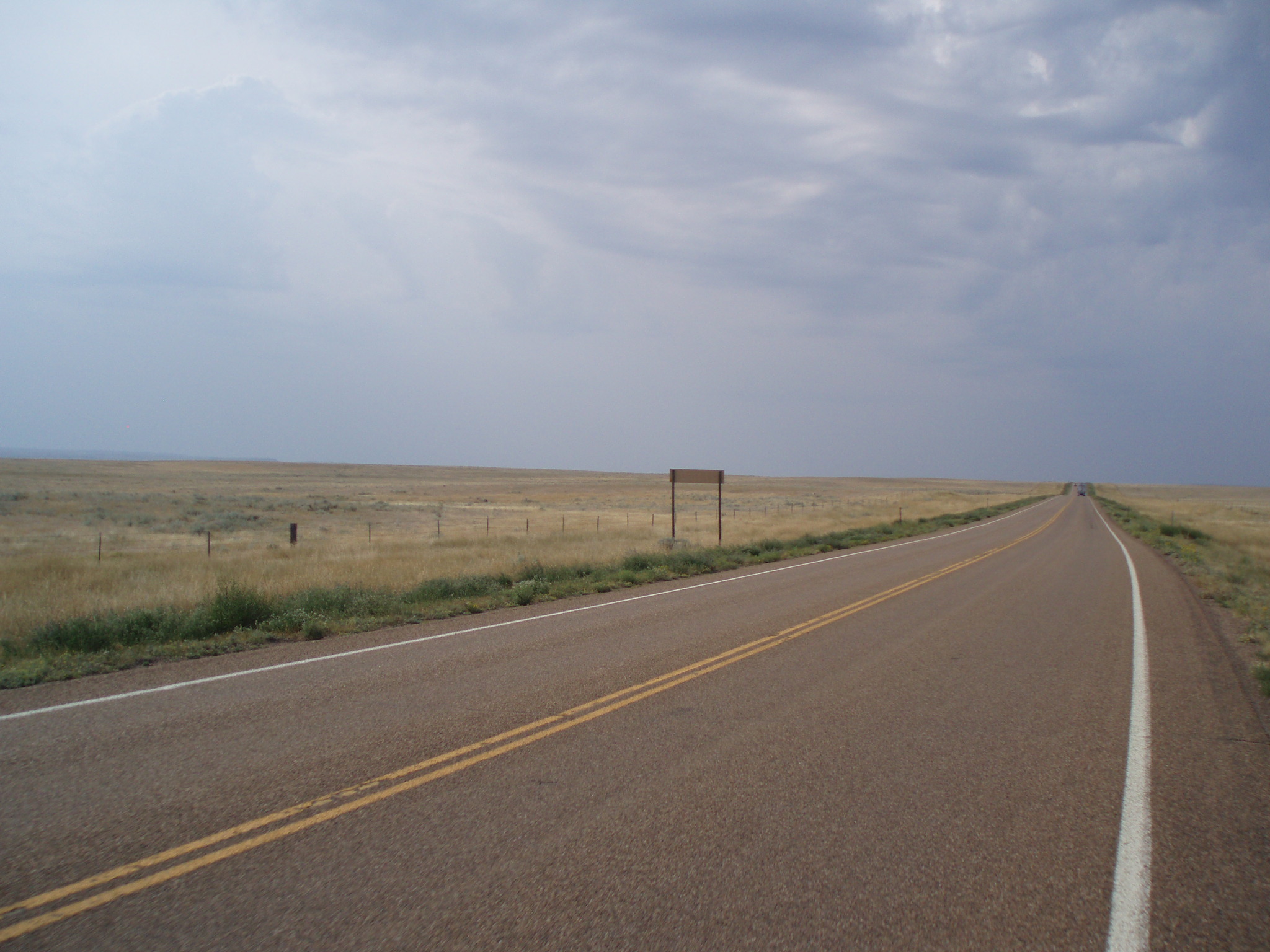 We stayed on route 2 all day even though the NT told us not to. We rode into Glasgow and did a heavy duty update on the journal. Put up 5 days. While I did that Jamie worked on a trailer of all the videos from our trip so far. He made it for Blip.Tv (who host all our videos) to add to their database.
http://www.teamnortherntier2007.blogspot.com/2007/08/tnt-trailer.html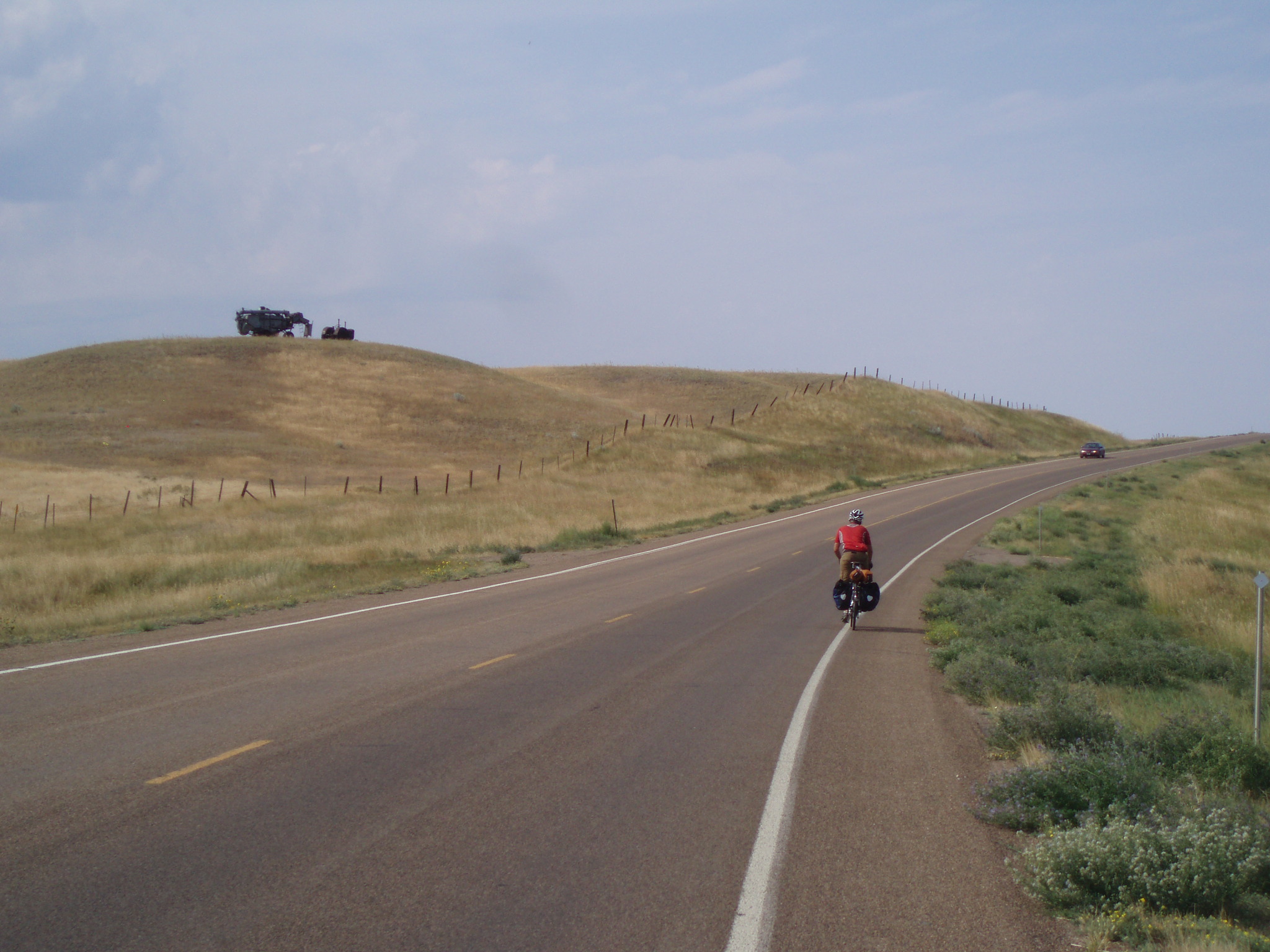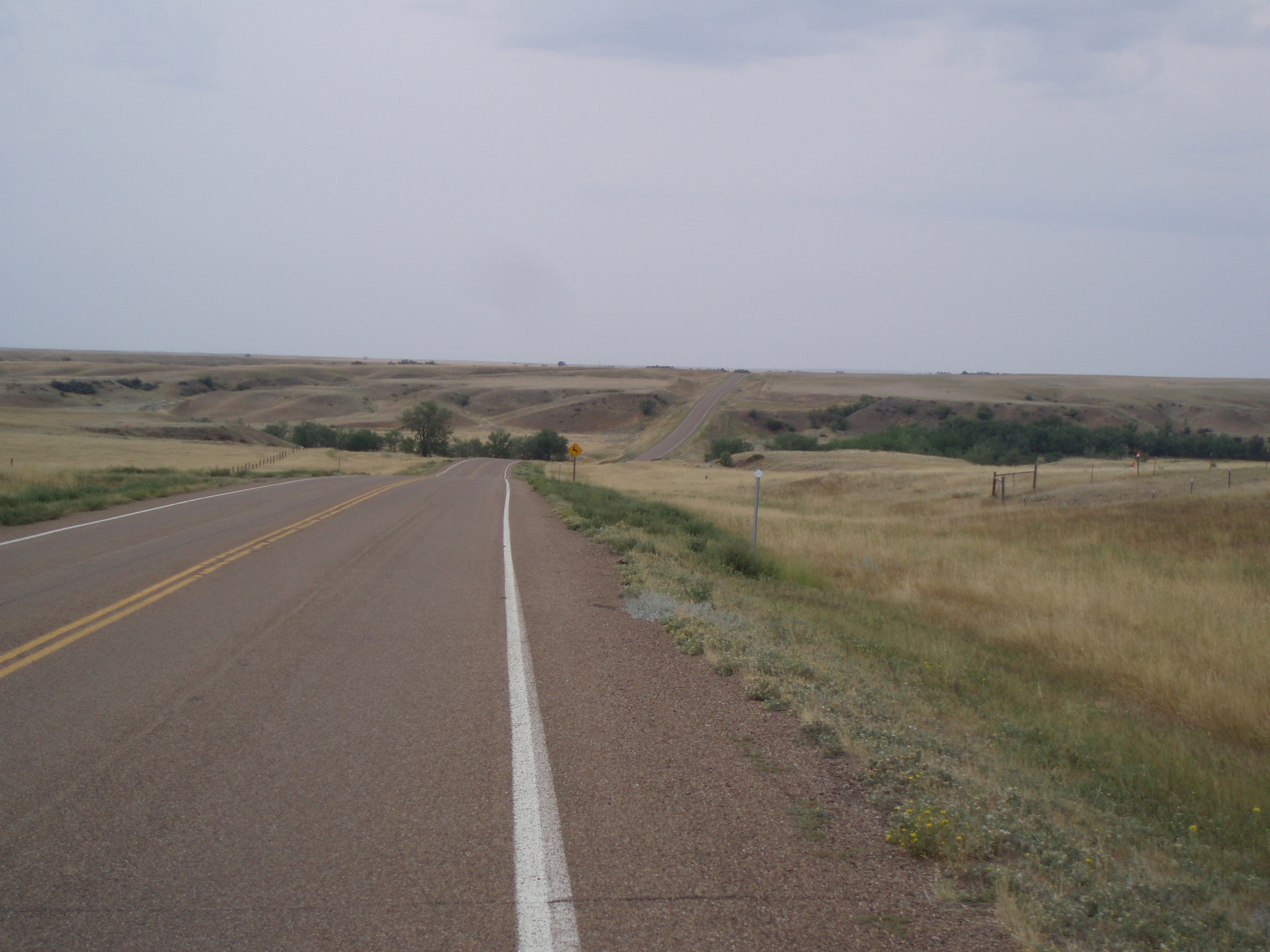 After Glasgow we grabbed lunch at Subway. Riding into town we saw a big sign that said 'Glasgow is a Subway town!'  So just decided to eat there. Our plan was to ride past Saco and stay at the Hot Springs 10 miles west of town. Everyone told us to avoid Saco because it was the Mosquito Capital of World.
We rode our tailwind for a while longer and then stopped to take a break in Hinsdale. We hung out with some motorcycle dudes from Canada and Chuck talked with the bartender about Poplar. He said the FBI has a branch there and you know what FBI stands for Fucking Big Indian!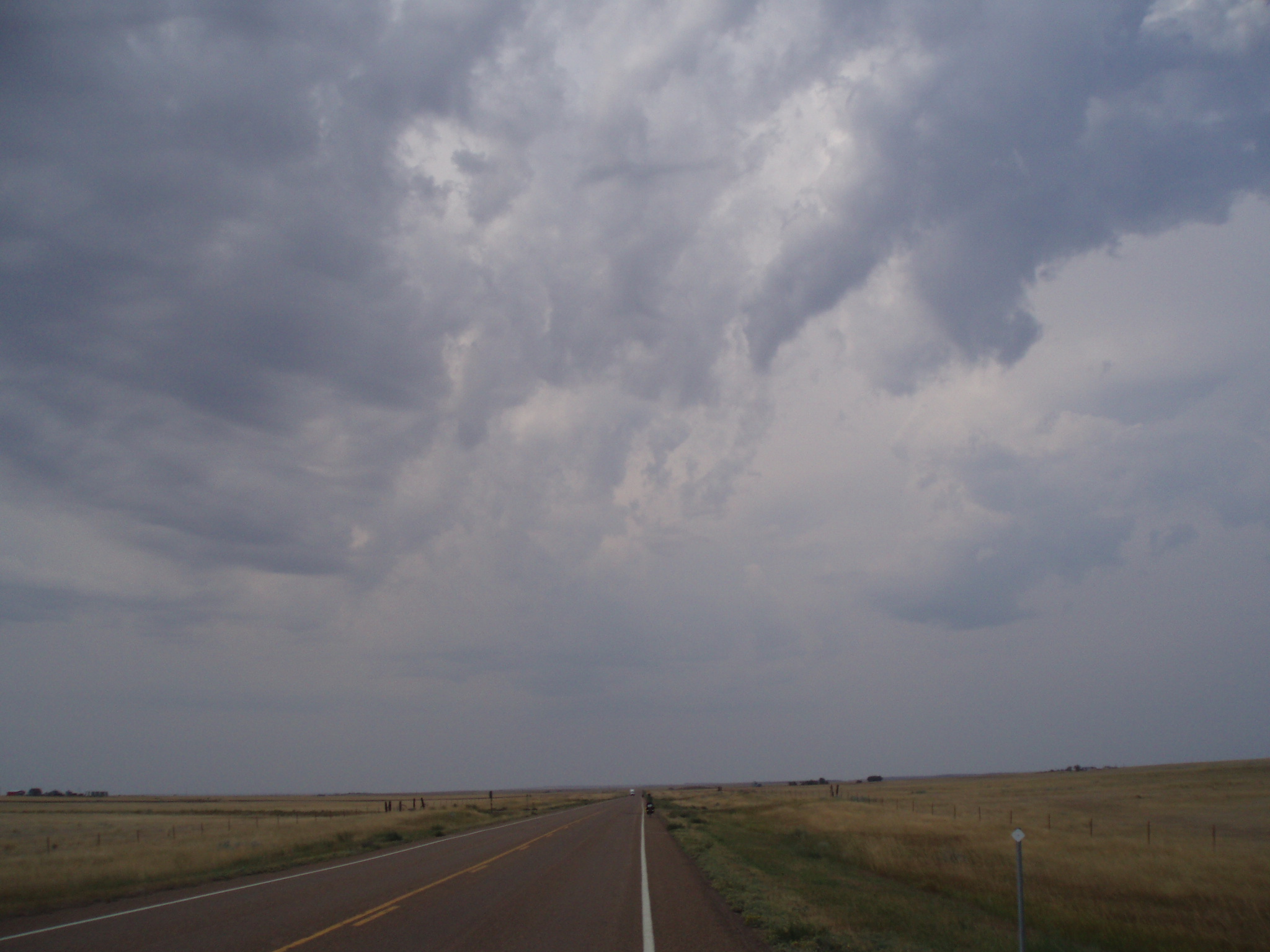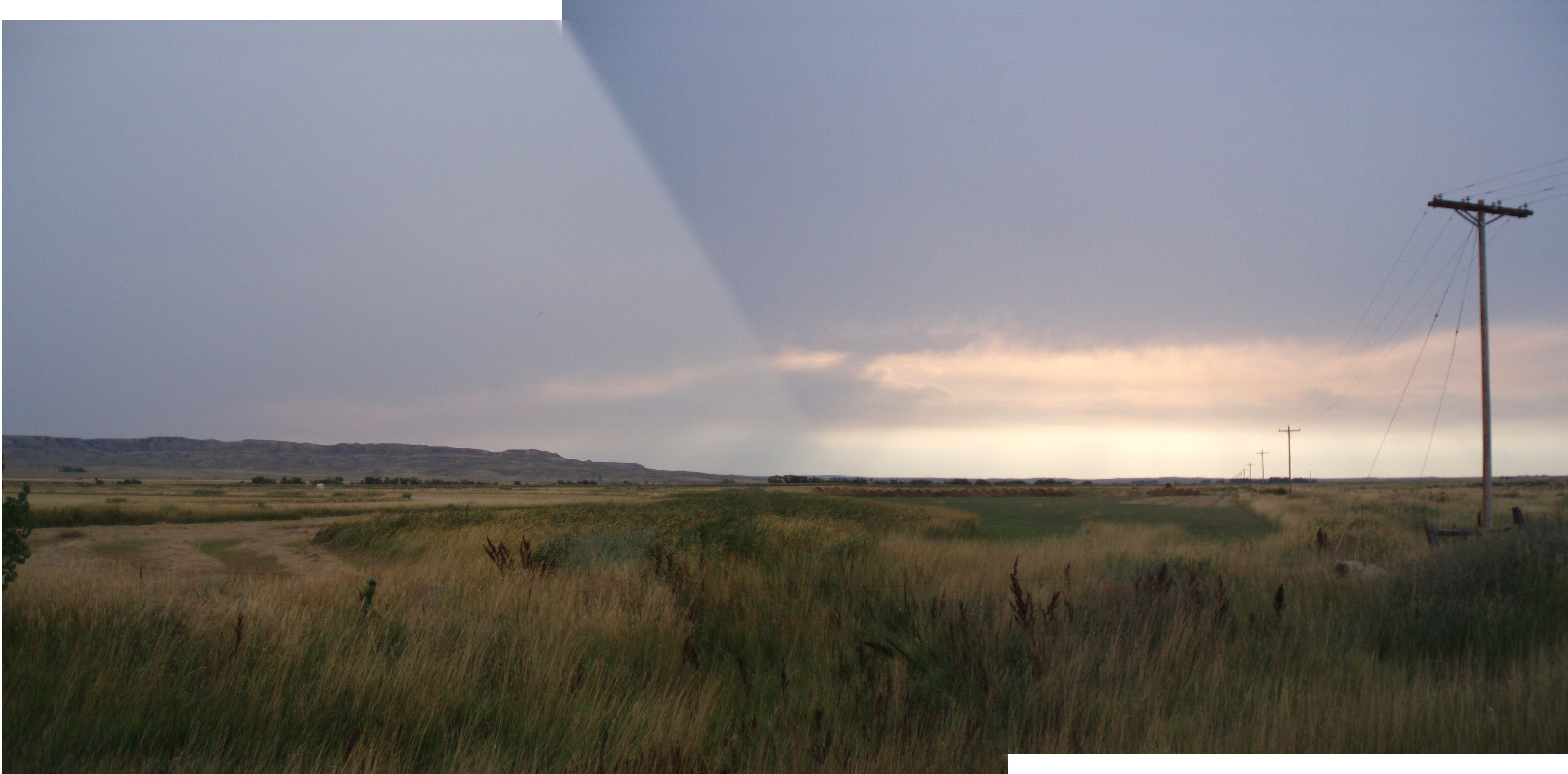 On our way towards Saco I saw Jamie get stopped by a car and I rode right up. It was the Pastor of the Lutheran church in Saco. He said the mosquitos are going to be really horrible tonight and we could stay in the basement of the Lutheran church. He gave us directions and said we could go into his house to take showers. What a guy!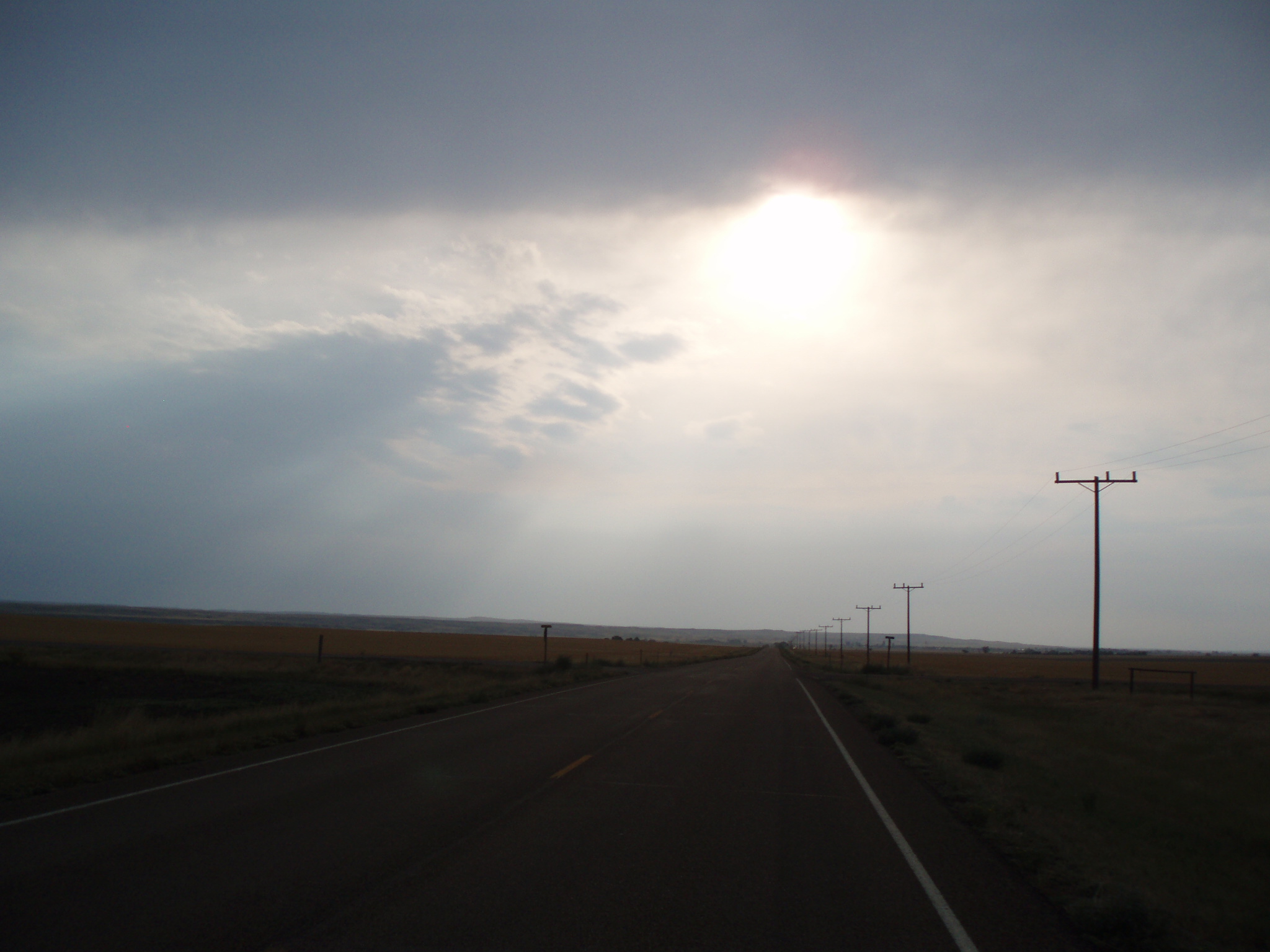 The mosquitos started before we even got into town. The train went by and Jamie said 'You see all those cars; they are all filled with Mosquitos!' When we got into Saco we stopped for a minute at the coke machine and they all swarmed on us. The 3 of us screamed like girls and then rode through town trying to find this church.  Here's a video from the Coke Machine.  http://www.teamnortherntier2007.blogspot.com/2007/08/saco-montana.html
I got confused with the directions and we rode around for a little bit screaming about the mosquitos until we found the church. It was a pretty severe situation each time Chuck killed 15 mosquitos on his leg 15 more mosquitos immediately appeared. Jamie had to put on all his clothes to try to prevent from being attacked.
The church was really nice and we managed to pick up a Wi-Fi signal. It was too dangerous to go outside, so we ate power bars for dinner. Tomorrow looks like another tailwind!
     Click Here to Visit The Table of Contents
     Click Here to Visit Previous Page: Day 62: Darby MT to Missoula MT
     Click Here to Visit The Next Page: Day 64: Saco, MT to Chinook, MT, Saco the next morning video