Sunday August 19, 2007, 97 miles (156 km) – Total so far: 3,451 miles (5,554 km)
96.75 miles 6:13 pedal 15.5 avg speed
     Click Here to Visit The Table of Contents
     Click Here to Visit Previous Page: Day 63: Wolf Point, MT to Saco, MT, Trailer & Saco, Montana Video
     Click Here to Visit The Next Page: Day 65: Chinook, MT to Havre, MT
I guess my cell phone is confused and doesn't know what time it is because the alarm went off at 5:30 instead of 6:30. I had already had my morning tea when I figured this out. Jamie was pretty annoyed and bitched about it for the rest of the day.
The plan was to ride as fast as we can outta Saco to avoid further mosquito assault, eat breakfast somewhere, then hang out in Malta until 12:30 when the museum opens so we can see the Mummified Dinosaur.
Leaving the church Jamie and chuck put on every piece of clothing they had to help prevent the attack from the mosquitos. Jamie made this video: http://www.teamnortherntier2007.blogspot.com/2007/08/saco-montana-next-morning.html
I didn't care. Yesterday I still got bit pretty badly, but they didn't like me as much as the other guys. Must be because I'm Italian or just filthy. Jamie says, 'It's the same thing' .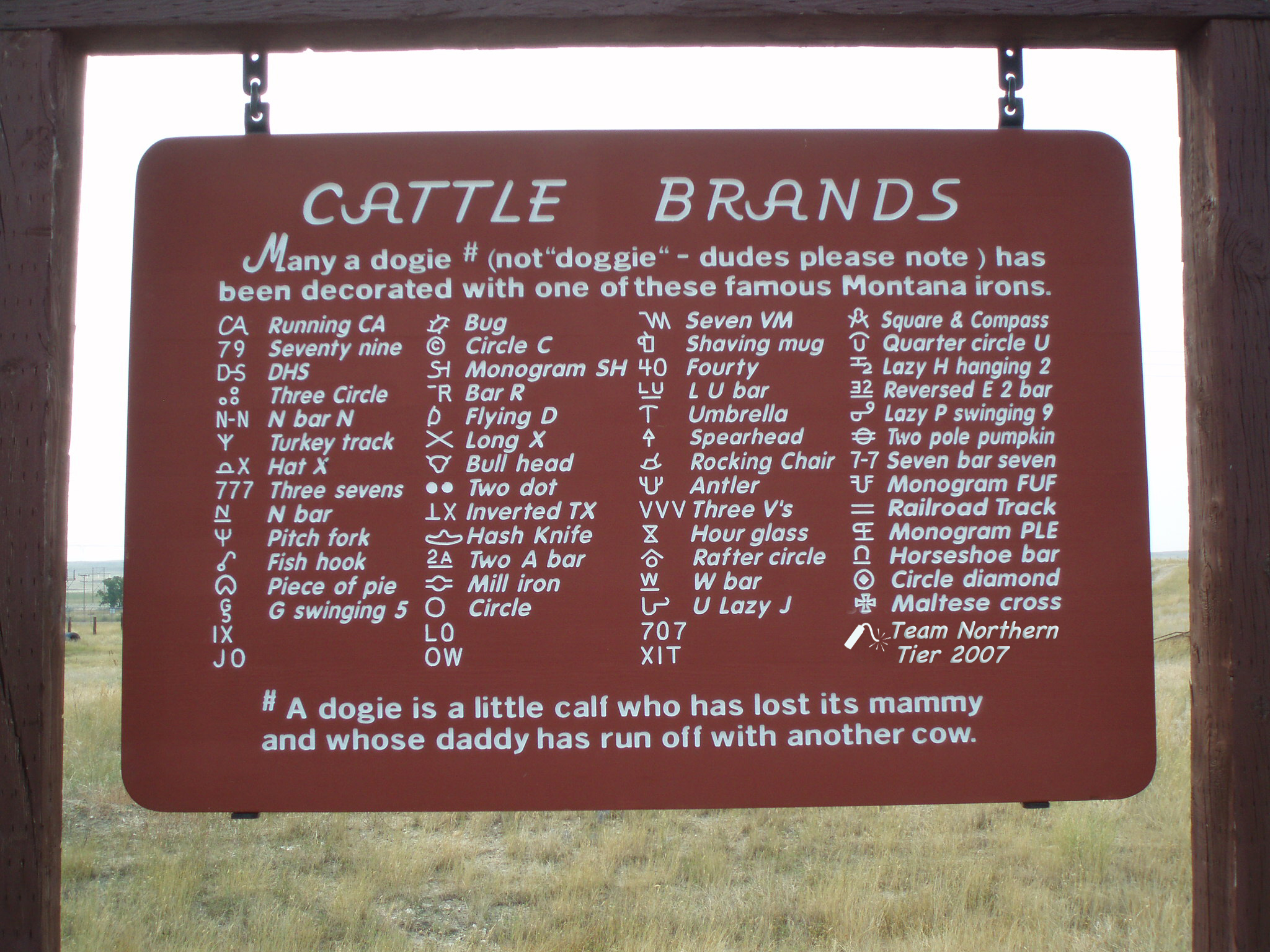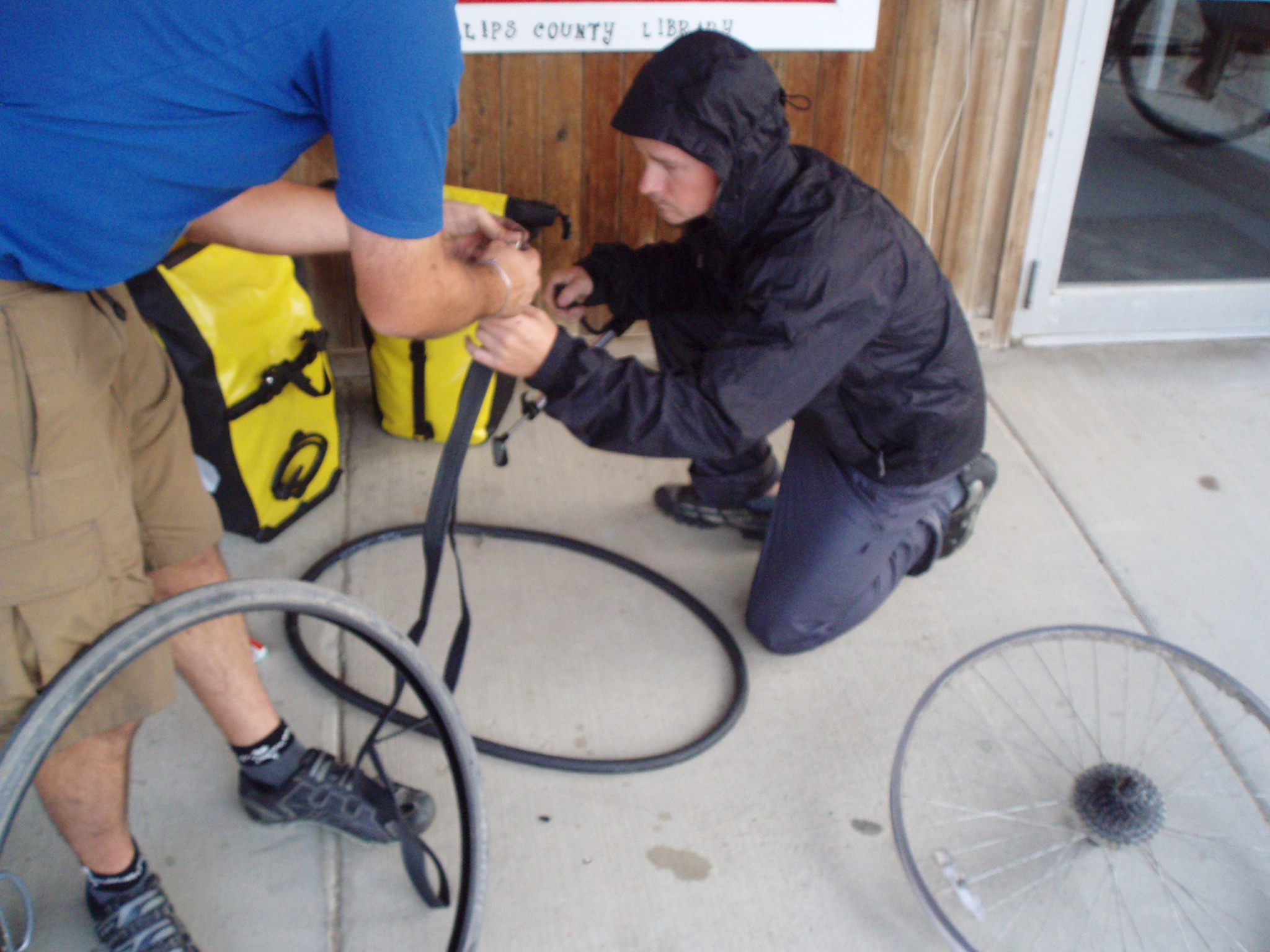 As soon as we were about to hop on our bikes and start pedaling down route 2 west, Jamie had a flat tire. Nothing was open and there was nowhere to go. I suddenly remembered the kid in subway telling me yesterday 'If one of you gets a flat tire in Saco, Your going to die from the mosquitos!'
The 3 of us ripped Jamie's rear wheel off his bike and changed that flat tire in less than 3 minutes. It looked like something out of a NASCAR pit stop. While Jamie and I worked on the flat chuck killed all the mosquitos that kept landing on us. It was quite a scene.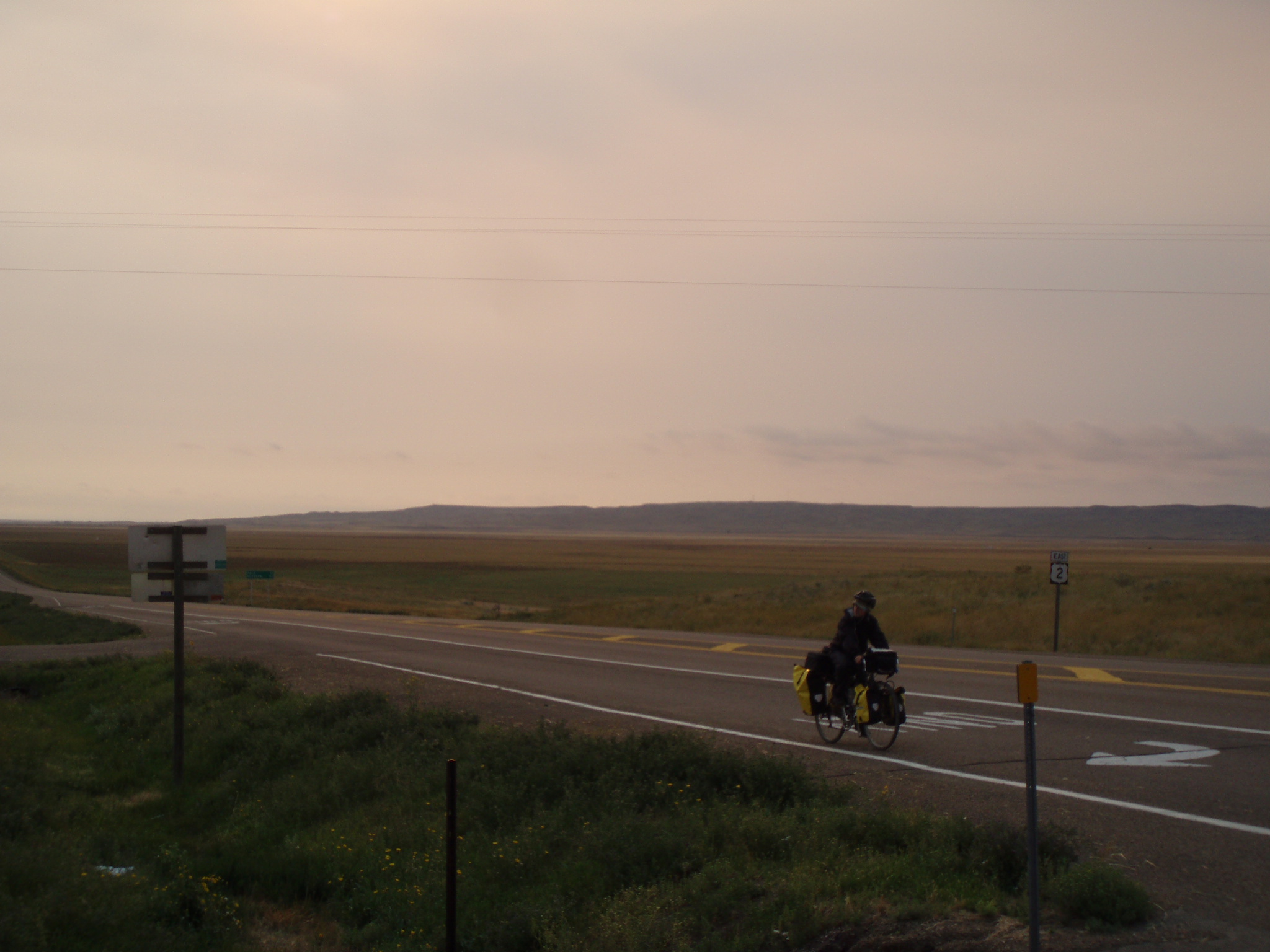 Stopped for breakfast at the Saco Hot Springs 10 miles down the road. The mosquitos were pretty bad there also. Someone told us that they love fresh meat. The breakfast was really good. An old timer told us that the mosquitos are pretty bad all the way to Havre, which is about 120 miles away.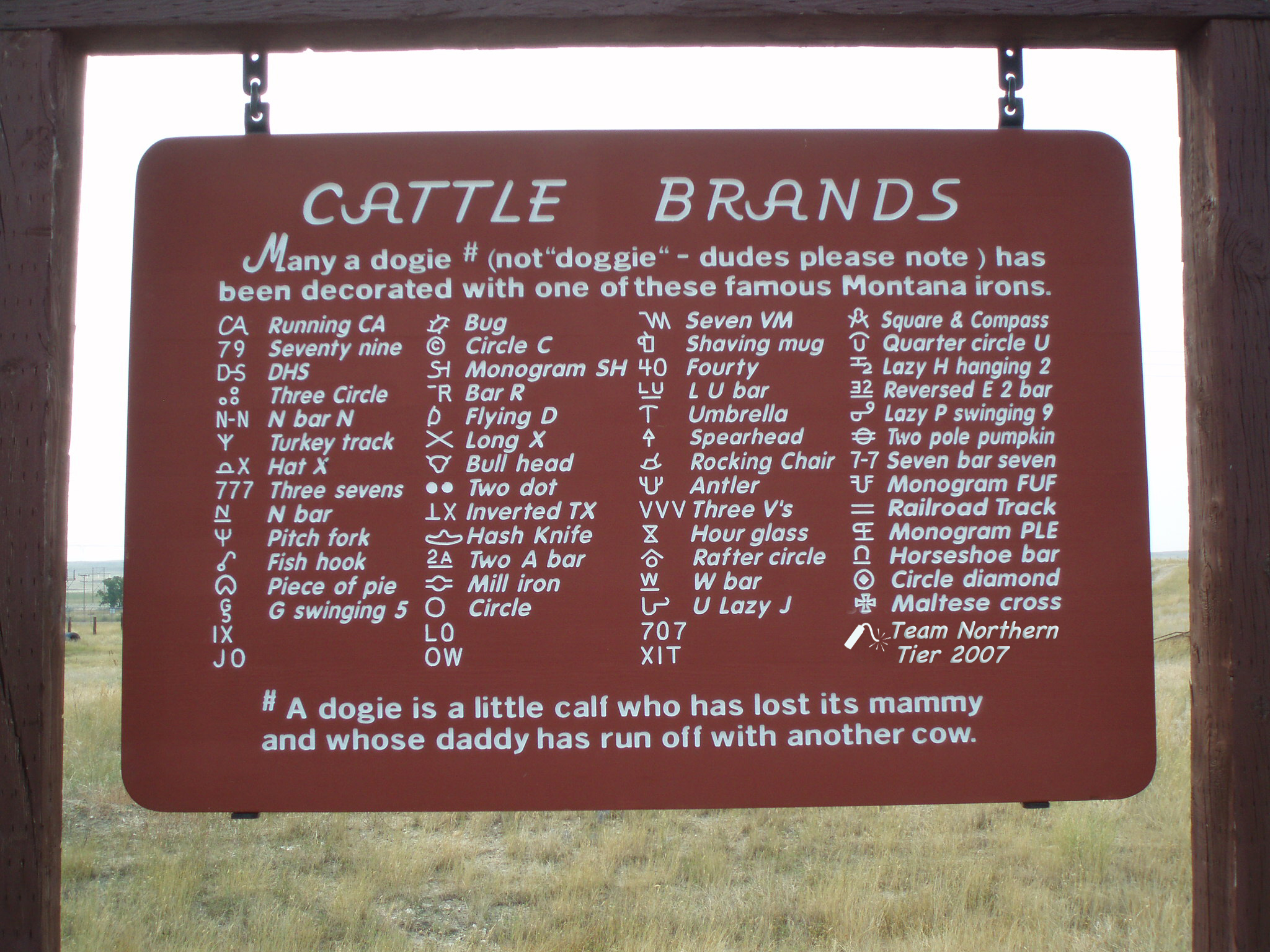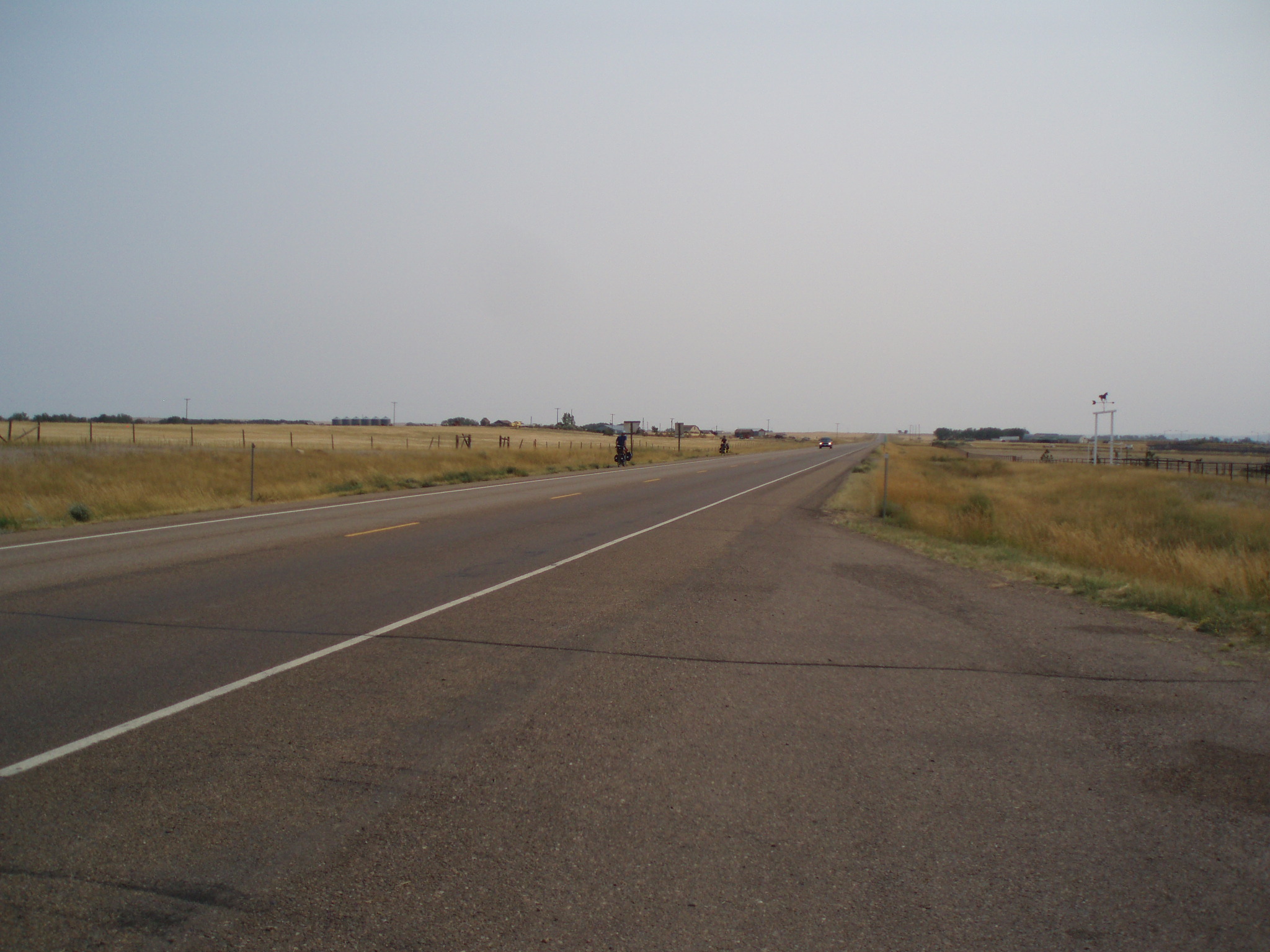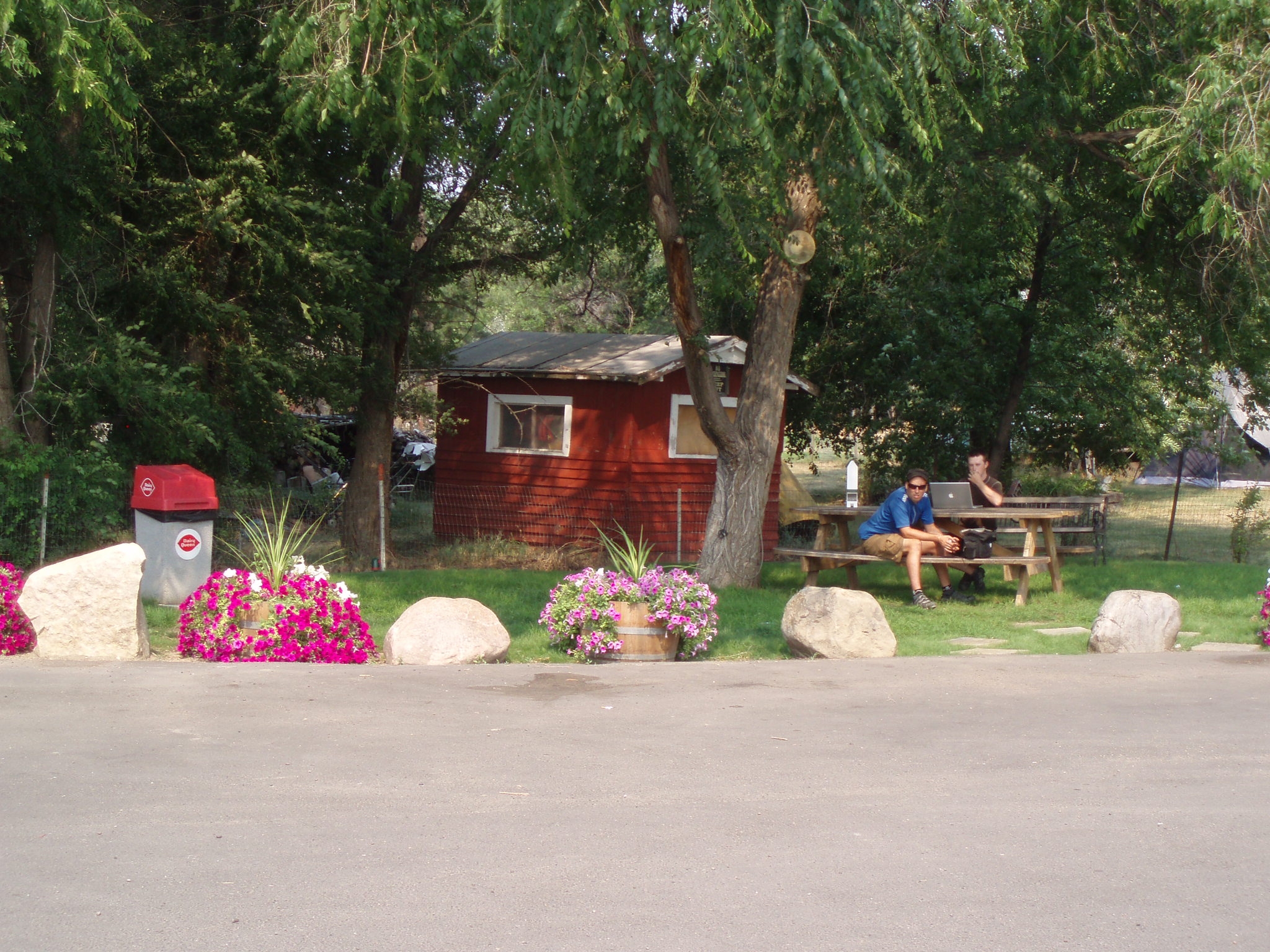 When we got to Malta we hung out at DQ for about an hour waiting for the dinosaurs entertaining ourselves with a little Photoshop. I checked out the Bike for MS guy's blog and figured we'll probably see those guys today. They were in Havre last night.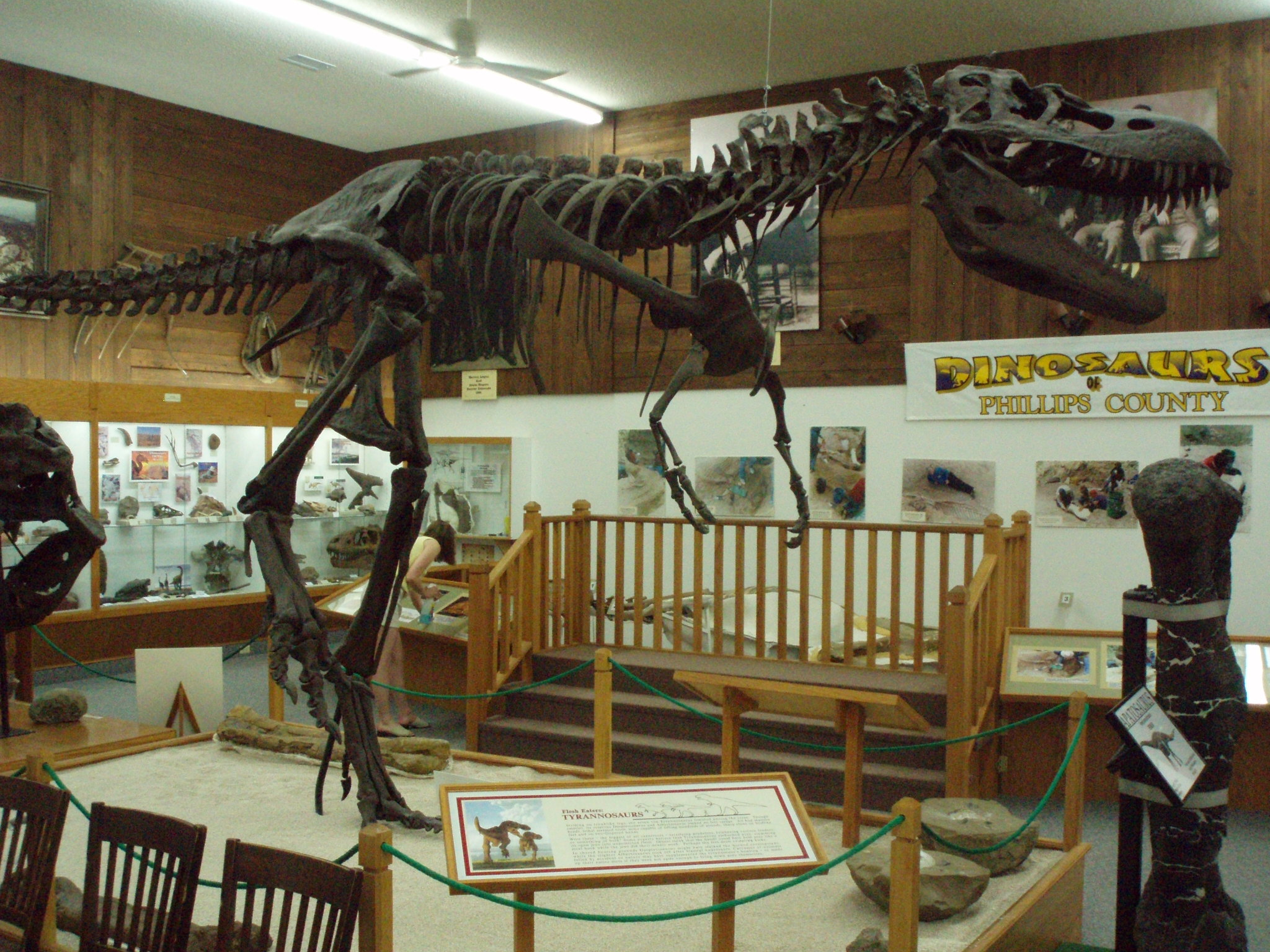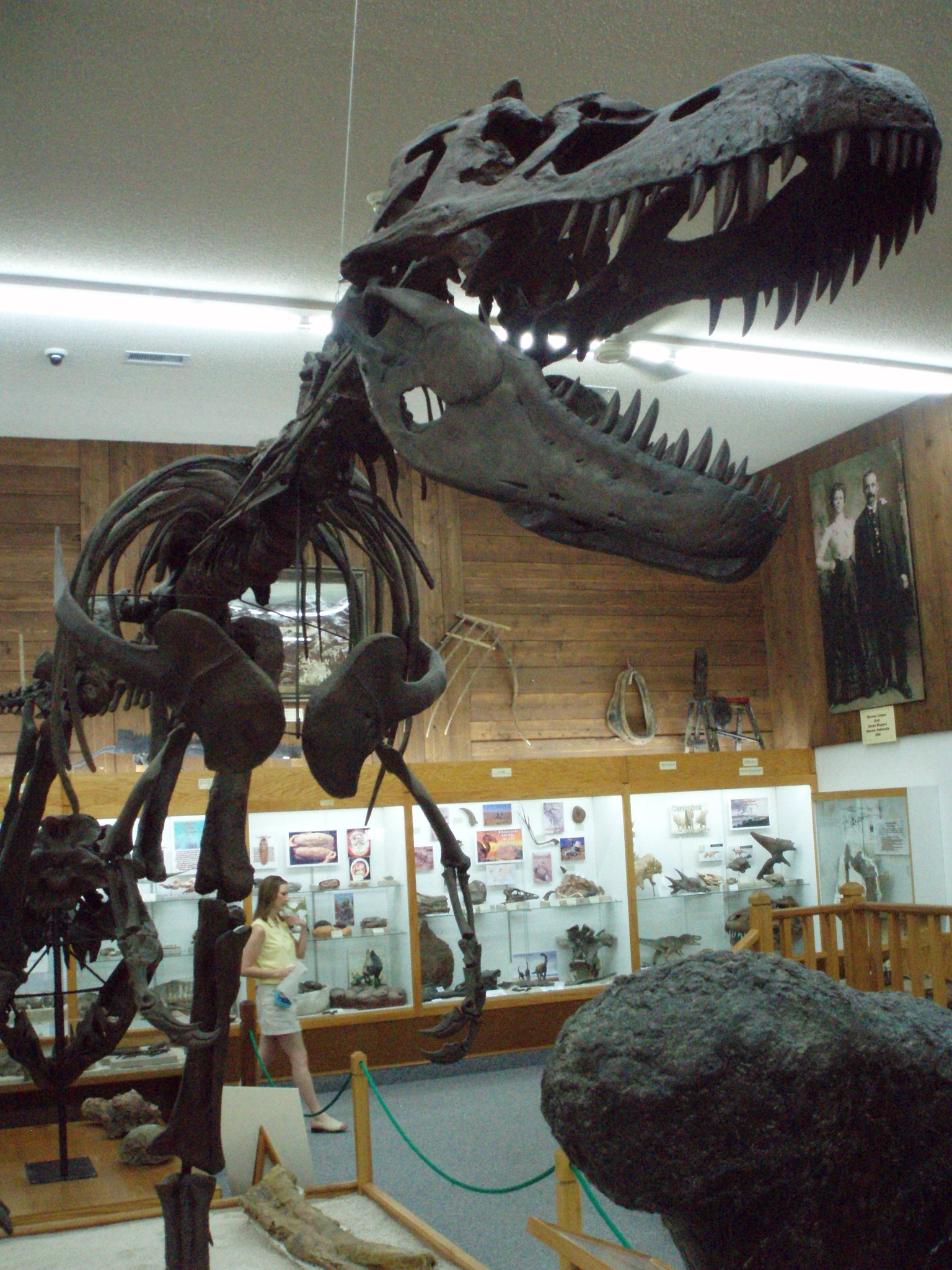 We visited the county Museum and saw some dinosaurs there. The lady working there didn't charge us to get in and she gave us this great tour of the place. She was really excited about our bicycle tour and gave us lots of advice about the towns ahead.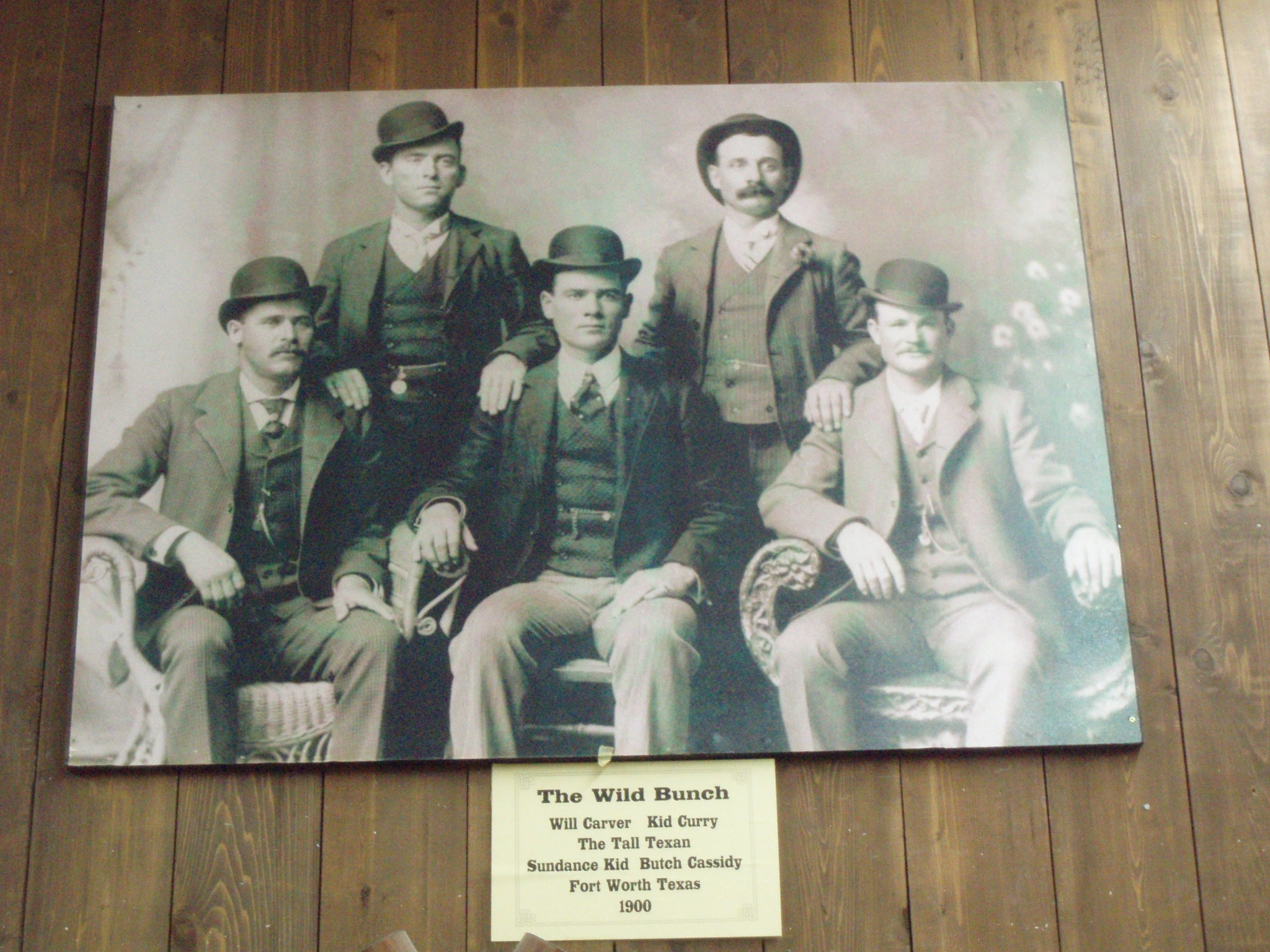 Chucks really excited to hear about all the outlaws that robbed everyone out here in Montana.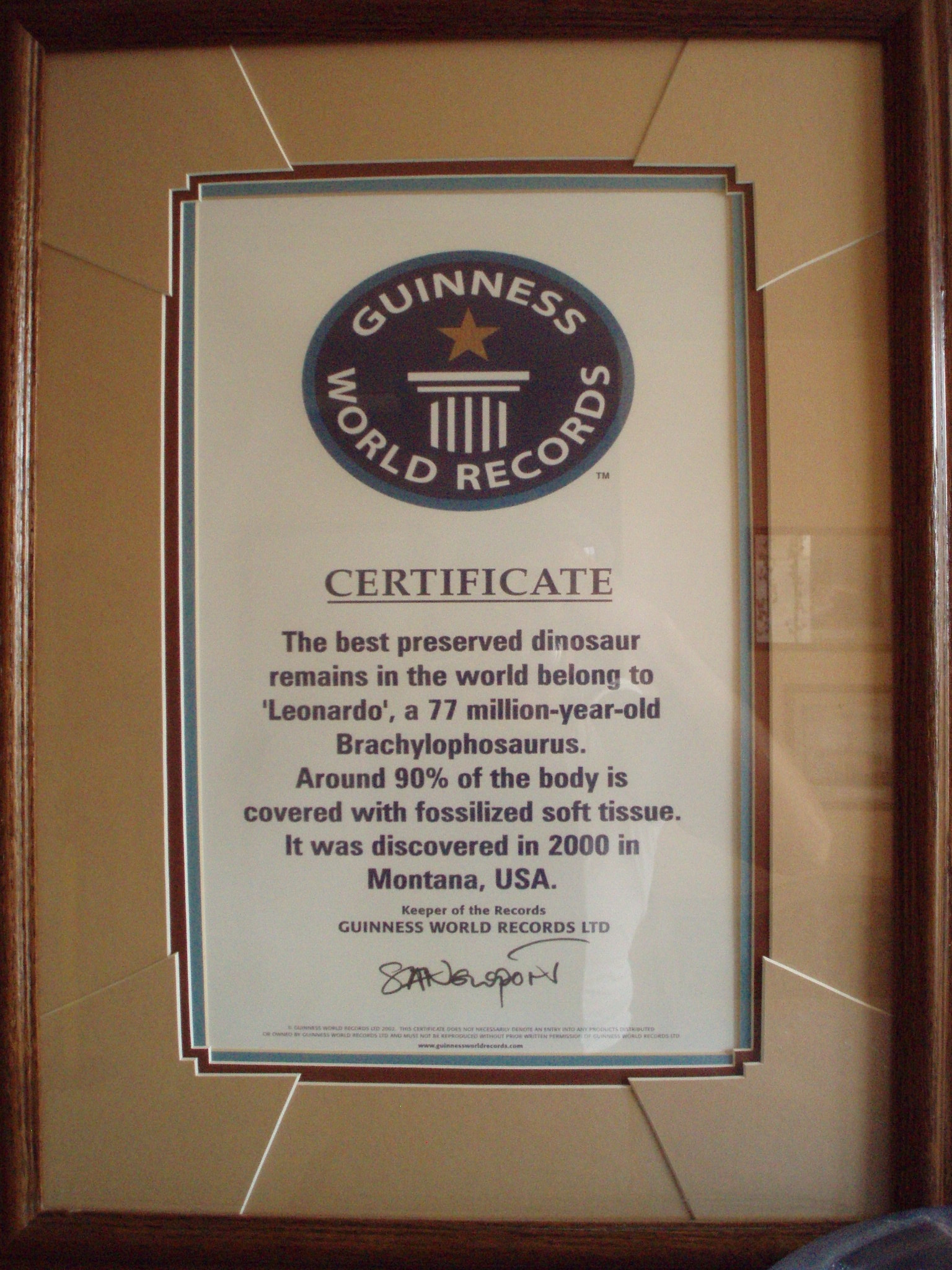 Then we went across the street and visited Leonardo the best preserved dinosaur. The pet Iguana hated Jamie and every time he would walk by he would slam his tail against the glass cage. We figured it's probably because he's Irish.
The girl giving us a tour was really good she showed us all the cool dinosaur bones and really told us a lot. We also got to see all the Dinosaur experts hard at work doing their important stuff like planning more dinosaur digs. Jamie was really excited about all the Dinosaurs!
Our lunch at the diner in Malta was terrible. We got back on the road around 2pm. We had already done 30 miles and wanted to make it a 100 mile day into Chinook or possibly a 120 into Havre.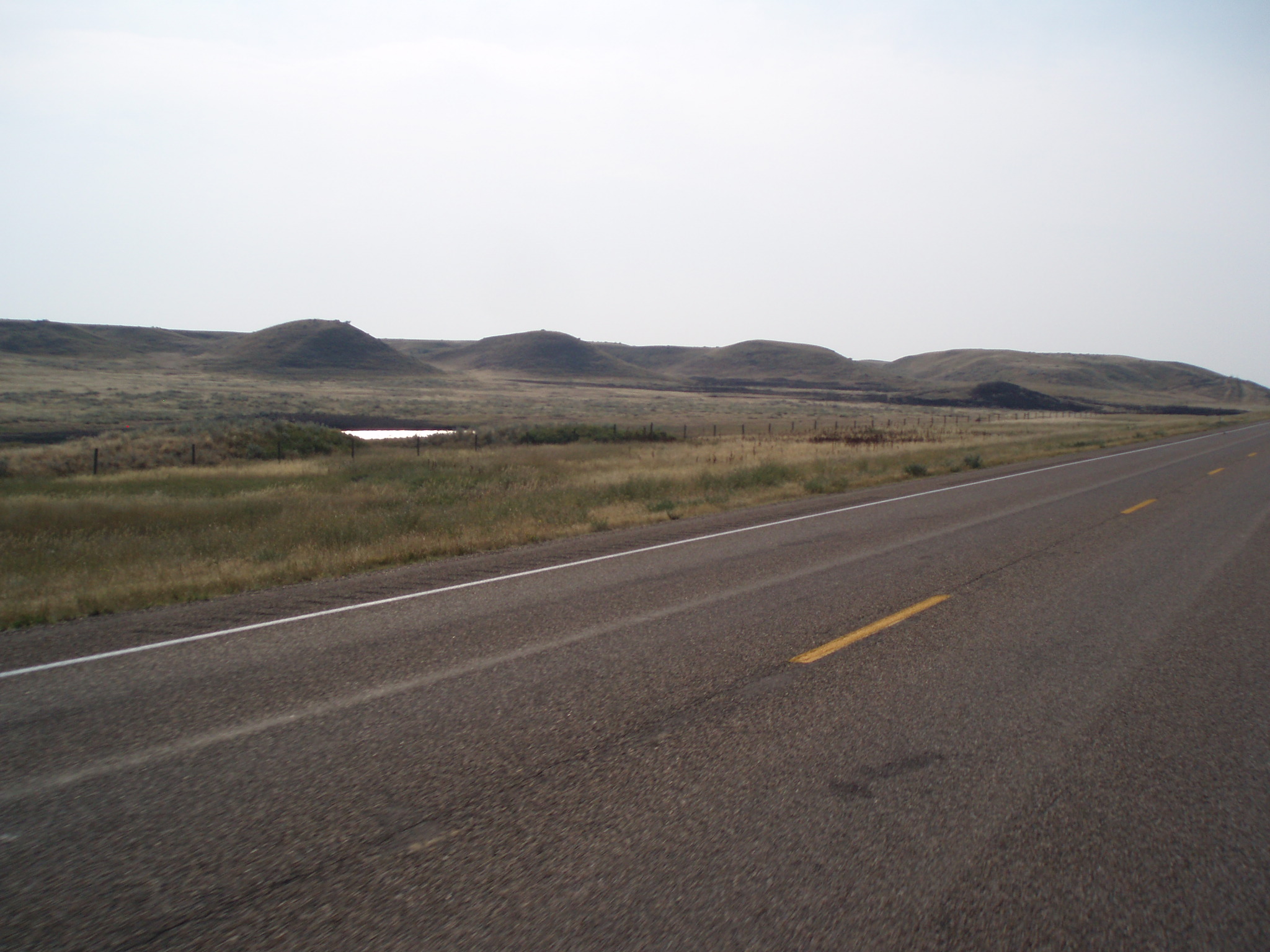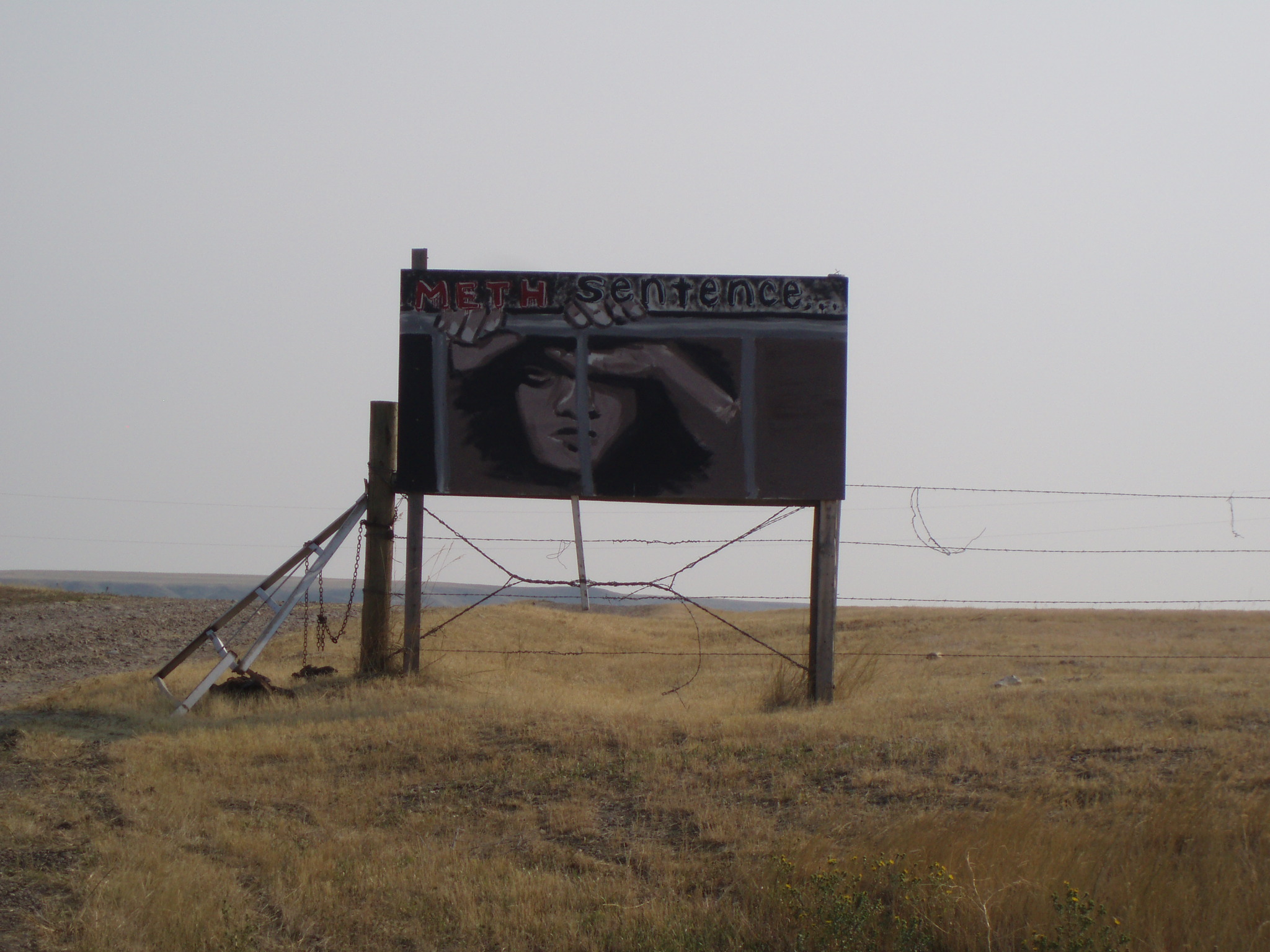 We got back on the road and our tailwind was still pretty good. We rode pretty hard. We stopped at a gas station and drank some cokes. And hung out on an Indian Reservation with a local kid who had this plastic mug that looked like it would hold a gallon of soda. He said he comes here every day and gets this mug filled up for $1 and drinks it for the rest of the day. He was pretty cool.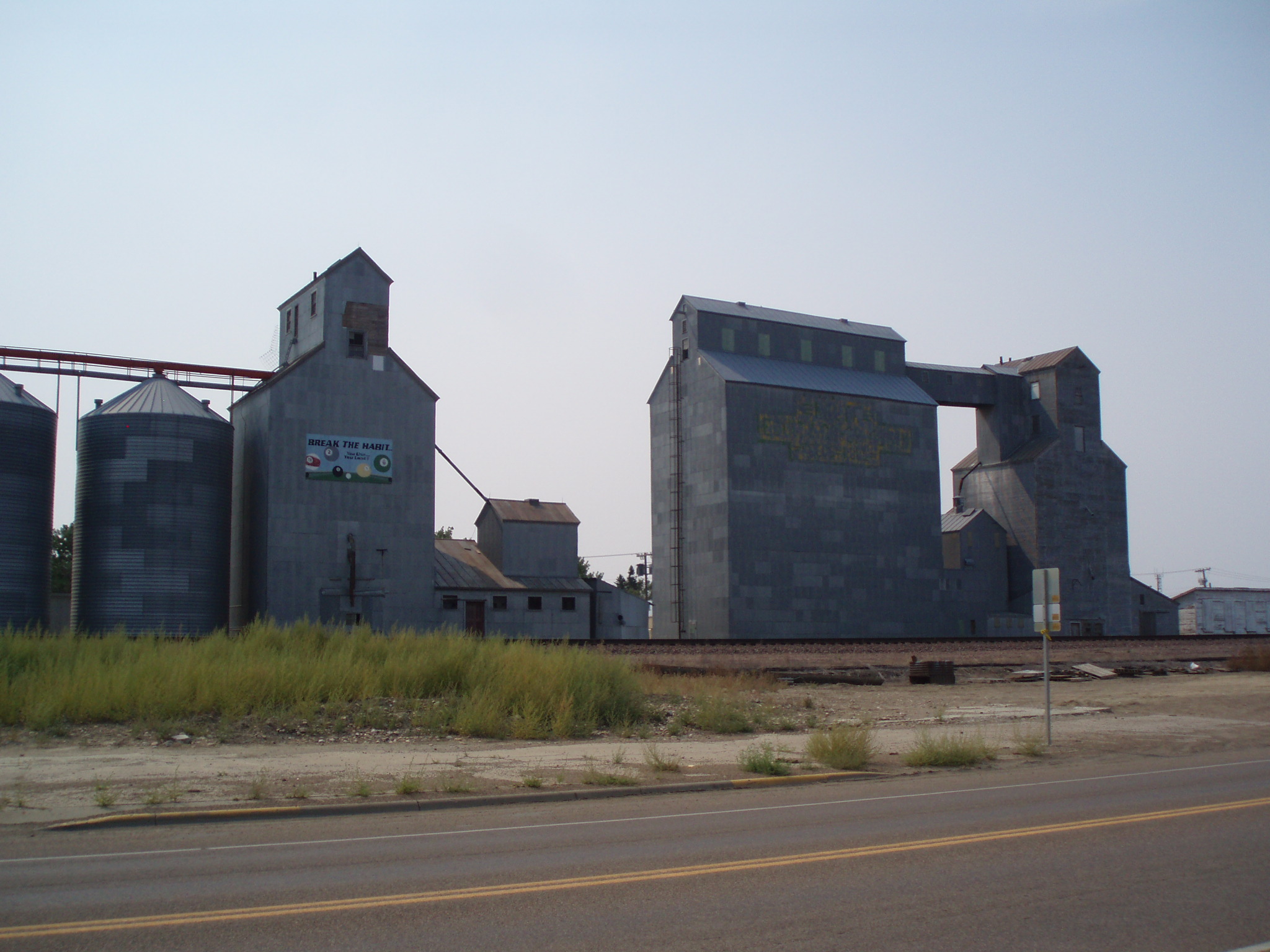 We rode really hard the rest of the day. The goal was to get to Chinook before it rained. 10 miles out of town it looked like we might not make it but we just kept pedaling harder. In a period of about 10 minutes the wind did a complete 180 and our tailwind became our headwind. And then it started to rain. And it rained really hard. We took shelter behind a tree because the wind was so strong it was blowing the rain horizontally.
We rode into the wind for about 10 minutes when a guy in a pickup truck stopped us. He said he was out looking for us because his wife drove past a little while ago and she was worried about us with that storm that just rolled in. His name was James and he gave us a ride the rest of the way into town. He basically saved us. It probably would have taken us an hour and half to get into town and besides we were all exhausted and cranky cause we needed to eat.
James drove us around Chinook to all the parks. We looked for the Bike for MS guys but didn't see anyone. Figured we probably passed those guys because we stayed on Route 2 all day and didn't follow the Northern Tier. James dropped us off by the pool and we figured we would camp here. Nothing fancy. No Wi-Fi, but we found electric.
We rode into town and got dinner at the restaurant. We all got beers. It's been awhile since we had beer. Leaving the restaurant it rained while we were inside and got a lot colder.
Back at the park none of us wanted to camp. I could think of a million things I would have rather done then setup my tent in this wet cold grass. Jamie and I rode around looking for a picnic pavilion but had no luck. As I was about to start setting up my tent, this guy rides up to us on a touring bike and asked if we were looking for a place to camp. It was Devon from the Bike for MS tour. He said him and the other guys are camping at the other park and they were wondering when they were going to see us. We said we went looking for them but didn't see them. So he took us back to where they were.
At the park we sat around in the dark talking with Devon, Donald and Mason about how their trips been so far. We had a lot of fun chatting with them. As they ride they are raising money for MS and stopping along the way to volunteer for different MS charities. At this point they have already raised $11,000 which is really amazing. Their website is their journal is located at http://bikeusforms.blogspot.com
Bike for MS tour has had it pretty rough the past couple of days, while we've been pulling 100 mile days, back to back. But as the weather report says tomorrow is their day to shine. They are all really excited about tomorrow's tailwinds.  I really hope those guys fly through the Great Plaines as fast as we did.
It got late, so we all went to sleep. Team Northern Tier slept under the vacant picnic pavilion.  Our headwinds are supposed to be real bad tomorrow. Like 30mph winds. We might just stay in Chinook or push through to the next town Havre 20 miles away. There's a bike shop there and we all need new tires.
     Click Here to Visit The Table of Contents
     Click Here to Visit Previous Page: Day 63: Wolf Point, MT to Saco, MT, Trailer & Saco, Montana Video
     Click Here to Visit The Next Page: Day 65: Chinook, MT to Havre, MT