Saturday August 25, 2007, 44 miles (71 km) – Total so far: 3,772 miles (6,070 km)
44.3 Miles 4:12 10.5 avg
     Click Here to Visit The Table of Contents
     Click Here to Visit Previous Page: Day 69: Browning, MT to Lake McDonald, Glacier National    Park, MT, 4 Videos
     Click Here to Visit The Next Page: Day 71: Whitefish, MT to Eureka, MT

In the morning it was really really cold. First thing in the morning Jamie took a 15 minute break on a porcelain throne, while an impatient man tapped his foot and Jamie reread the bathroom wall poetry. Mike Riscica was the last person to emerge from his warm cozy sleeping bag.
We quickly packed up and said goodbye to those really nice Canadians who let us camp on their site. It was a 7 mile ride over to where breakfast was.
At breakfast Jamie and Chuck kept watching this old man across from us at the restaurant. Throughout breakfast he obsessively read some topographic maps of glacier and would occasionally show something to his uninterested wife.
Jamie and Chuck both laughed and said that this old man was a glimpse into my future. Their only reasoning was because he was obsessed with his maps.
Sandra and Florian the nice Swiss couple showed up at breakfast. They also had a great day yesterday, such nice people.
We met some more touring cyclists. They were on their way to Yellowstone and then Salt Lake City. We sat in front of the breakfast place in the sunlight for a while.
Jamie has a new term for multiple cyclists who are all standing around wearing spandex cycling shorts. He calls it 'Smugglin Grapes!'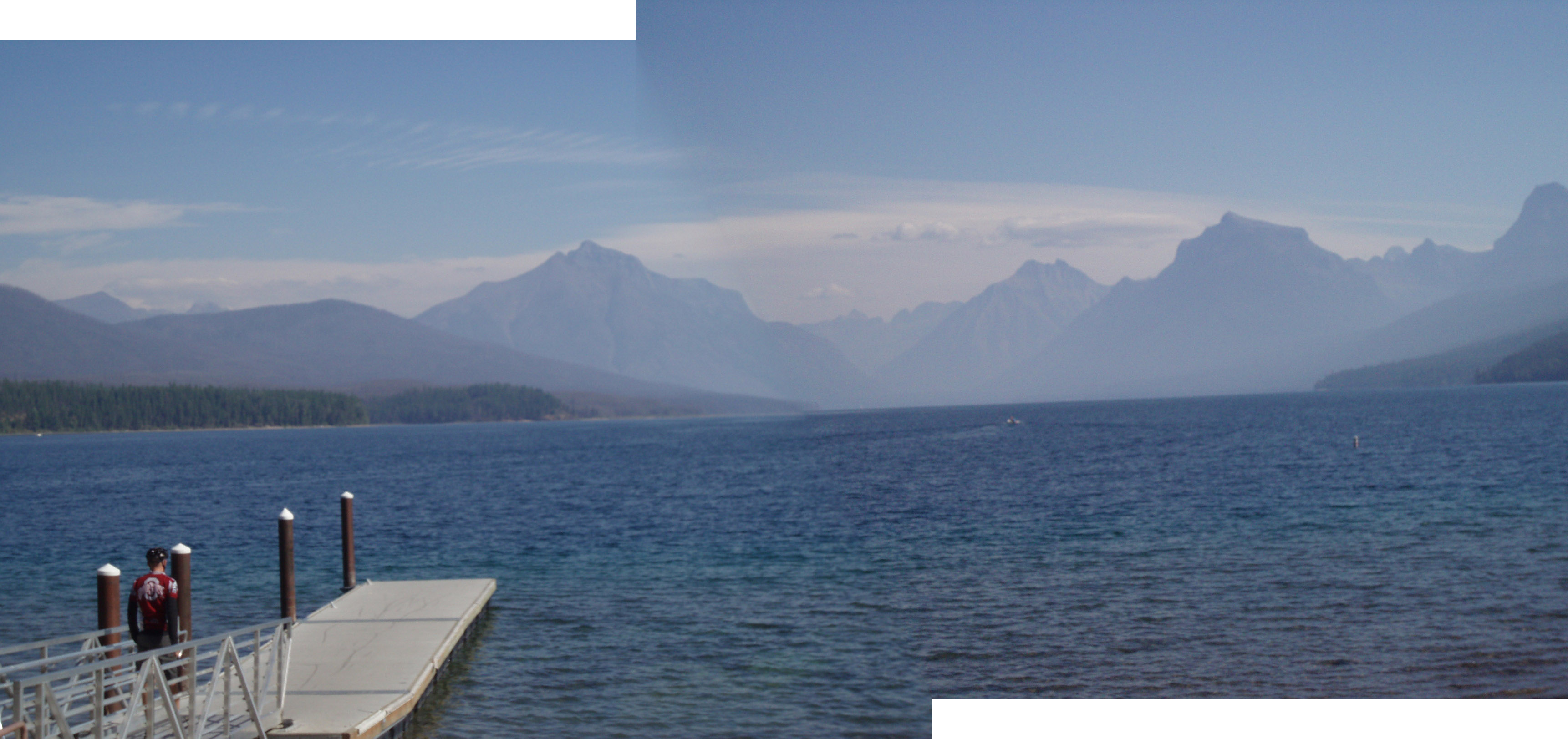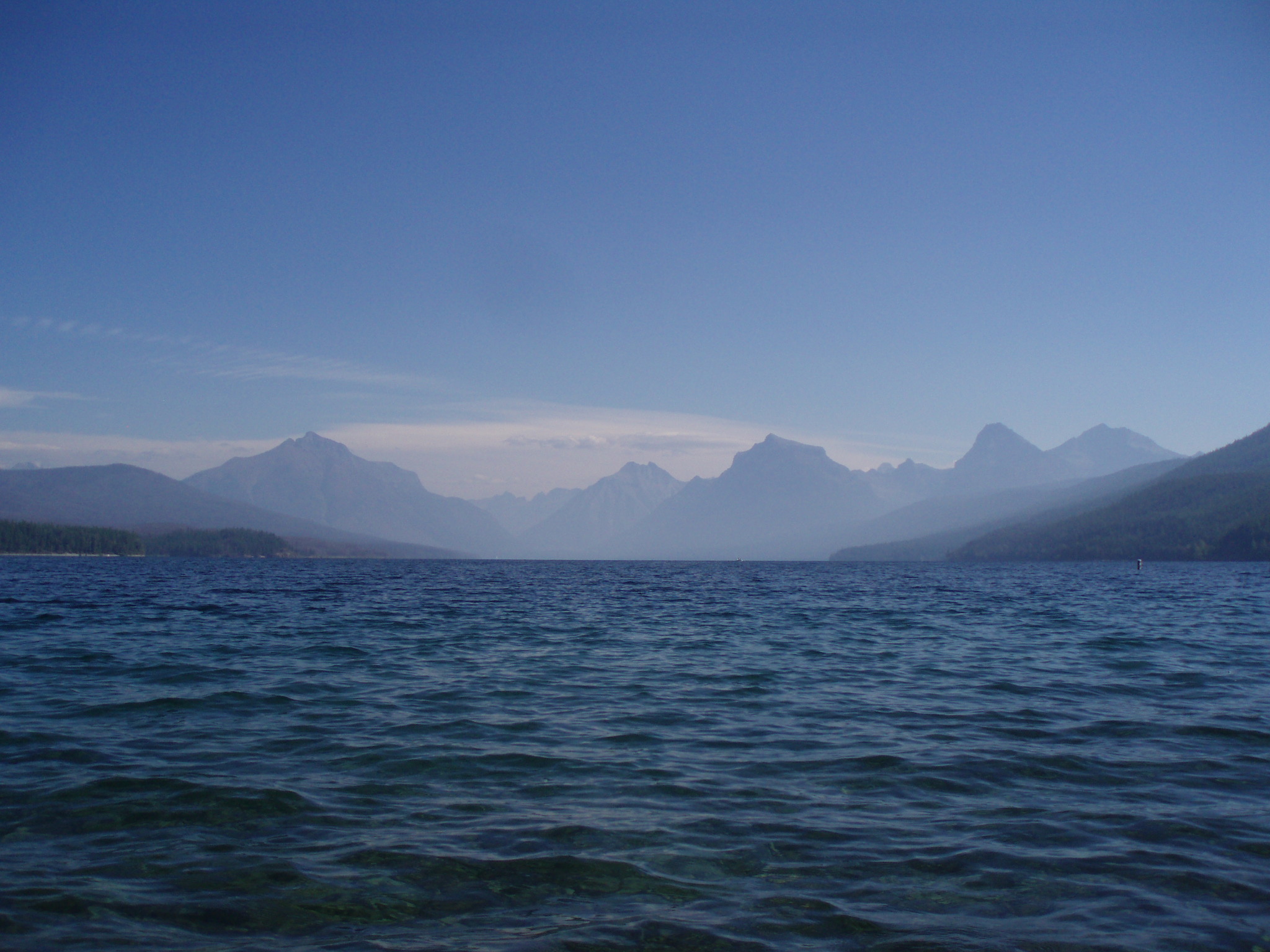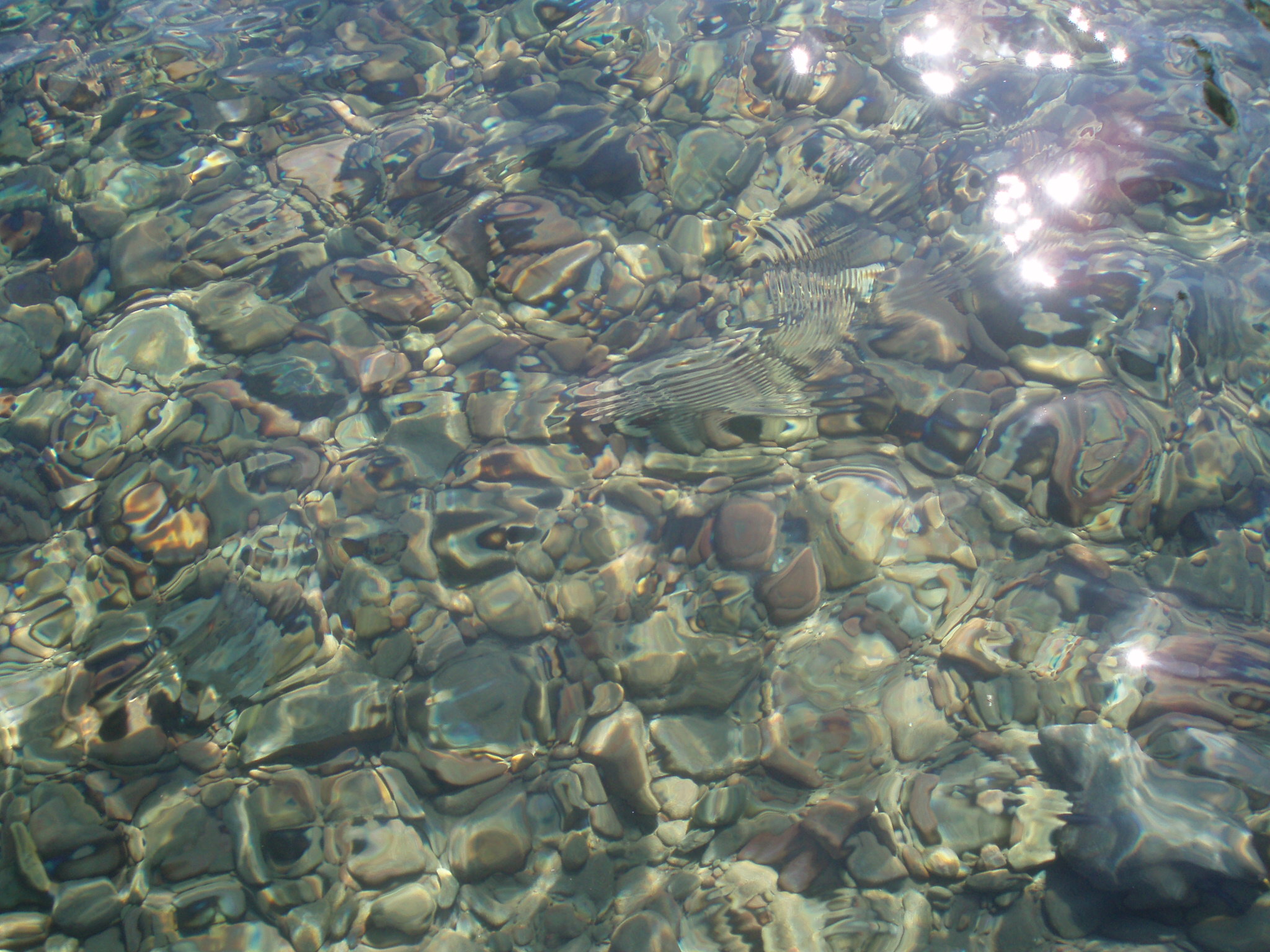 After breakfast Jamie tried to find a shower at the campsite. He thinks it will help his knee. While Jamie looked for a shower, Chuck and I just sat by Lake McDonald and took it easy for about an hour. It was so beautiful. The water was so clear and pretty. Chuck and I met a lot of people just hanging around.
We talked with some nice folks from Gildsford, Montana. We stayed in that little town a few days ago one day after a really bad headwind day.
Eventually we wondered where Jamie was and went to find him in the campground. He never got a shower. Then we just decided to get a move on the day and ride outta Glacier. The plan was to ride 35 miles to Whitefish and just take the rest of the day off to work on the journal and drink beer.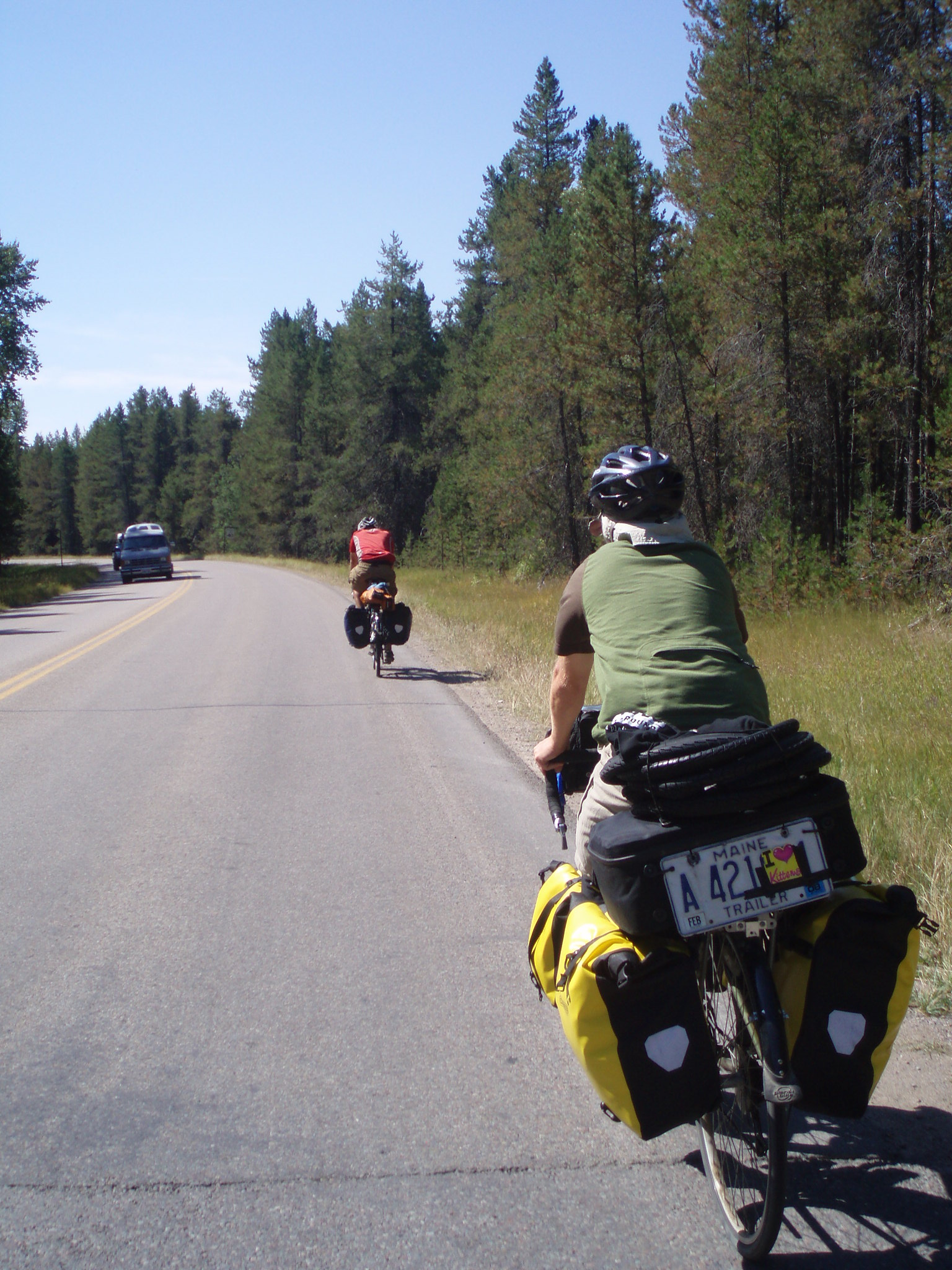 Riding outta West Glacier the headwinds were really bad. The Northern Tier took us off 'a dangerous part of route 2' and sent us through some back roads. Part of it was gravel. When we got to the gravel portion of the trail the road was basically unrideable. Mike Riscica cursed a lot about how his wheels are more screwed up then they already were. After 2.5 miles of gravel hell, we finally hit pavement again. When we did we saw those other cyclists from breakfast. They weren't as bent outta shape about the gravel as I was.
While we were riding all of a sudden a big pace line of cyclists came up behind us. It was quite strange. I haven't seen this many cyclists in a long time. I rode with them for a little bit and learned they were riding a 100 miles to raise money for Juvenile Diabetes. Everyone was really nice.
Somehow I lost Jamie and Chuck somewhere in the charity ride. One of the riders got a flat so I stopped there and waited for Jamie to catch up. They were having a hard time fixing the flat, so I offered my services and changed some kid's flat tire for him. He and his grandfather were really appreciative of my help. It was no big deal. I change flat tires in my sleep. I told them so many people have helped us since we began this trip it was a pleasure for me to do this for them.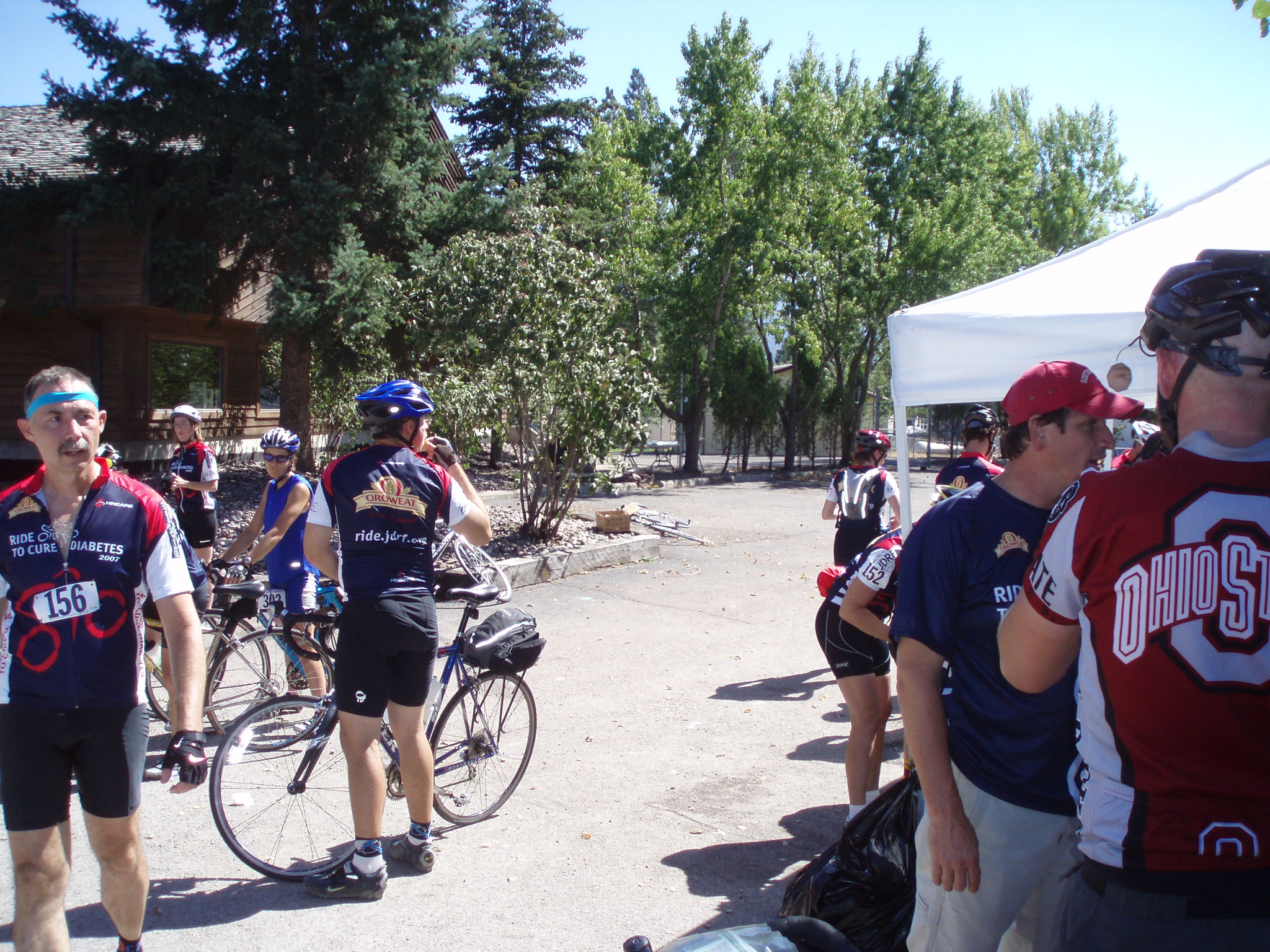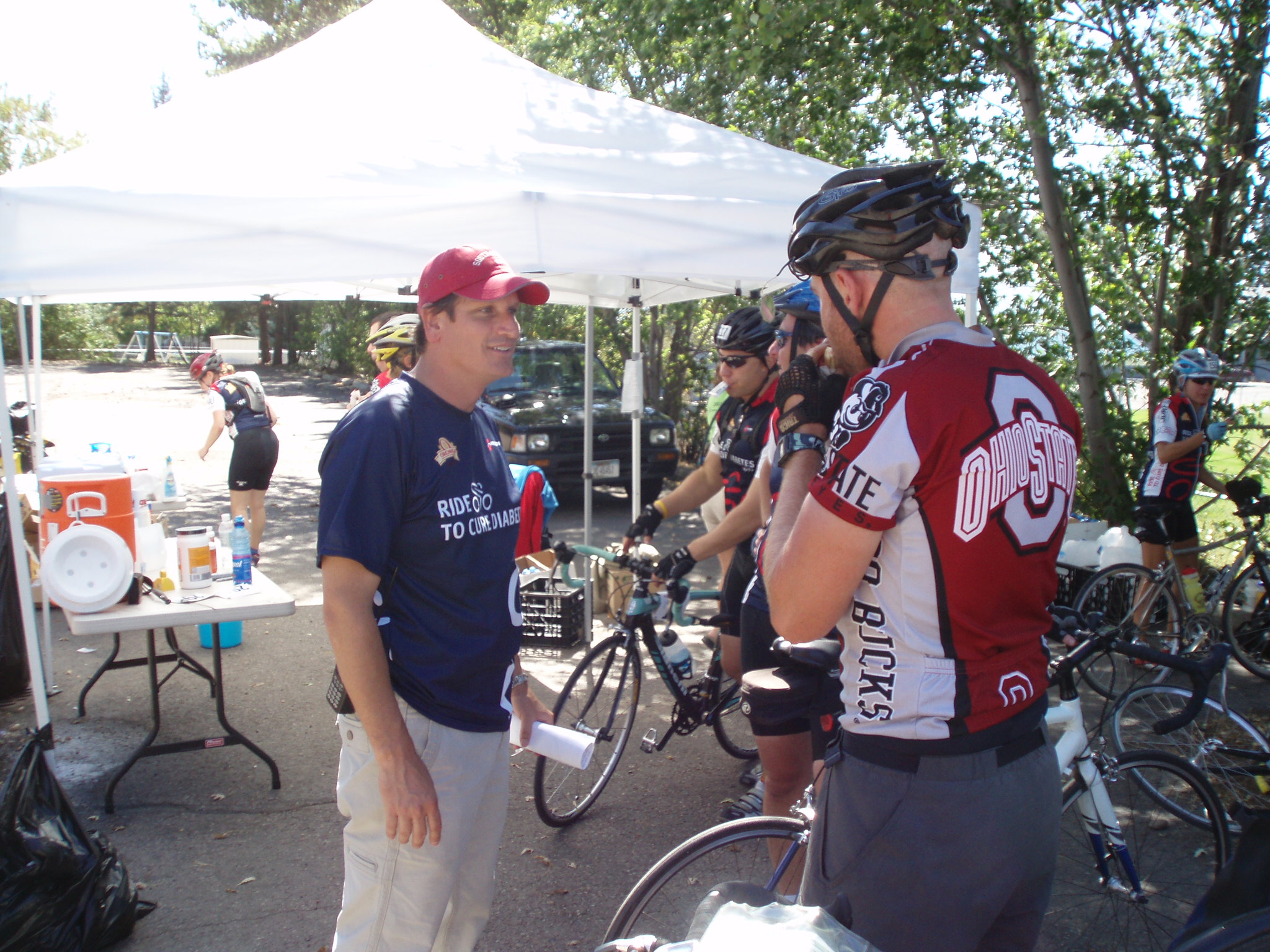 A few miles later we got to the charity ride rest stop. Everyone was really interested in our trip. We each talked to a ton of people. The charity ride fed us and gave us water and snacks for the ride out. That charity ride had a wonderful vibe. Everyone was really excited about bikes and really passionate about raising money for diabetes. Such nice people.
A few miles after the rest stop we were riding outta Columbia Falls and some old man in a red pickup wouldn't share the road with us and then stopped at a red light, rolled down his window and told chuck to 'LEARN TO RIDE A BIKE!'  Chuck laughed at him and told him just rode 4000 miles and he should learn to share the road, because he had plenty of space to move over.  Then the light changed and he drove away. What a jerk!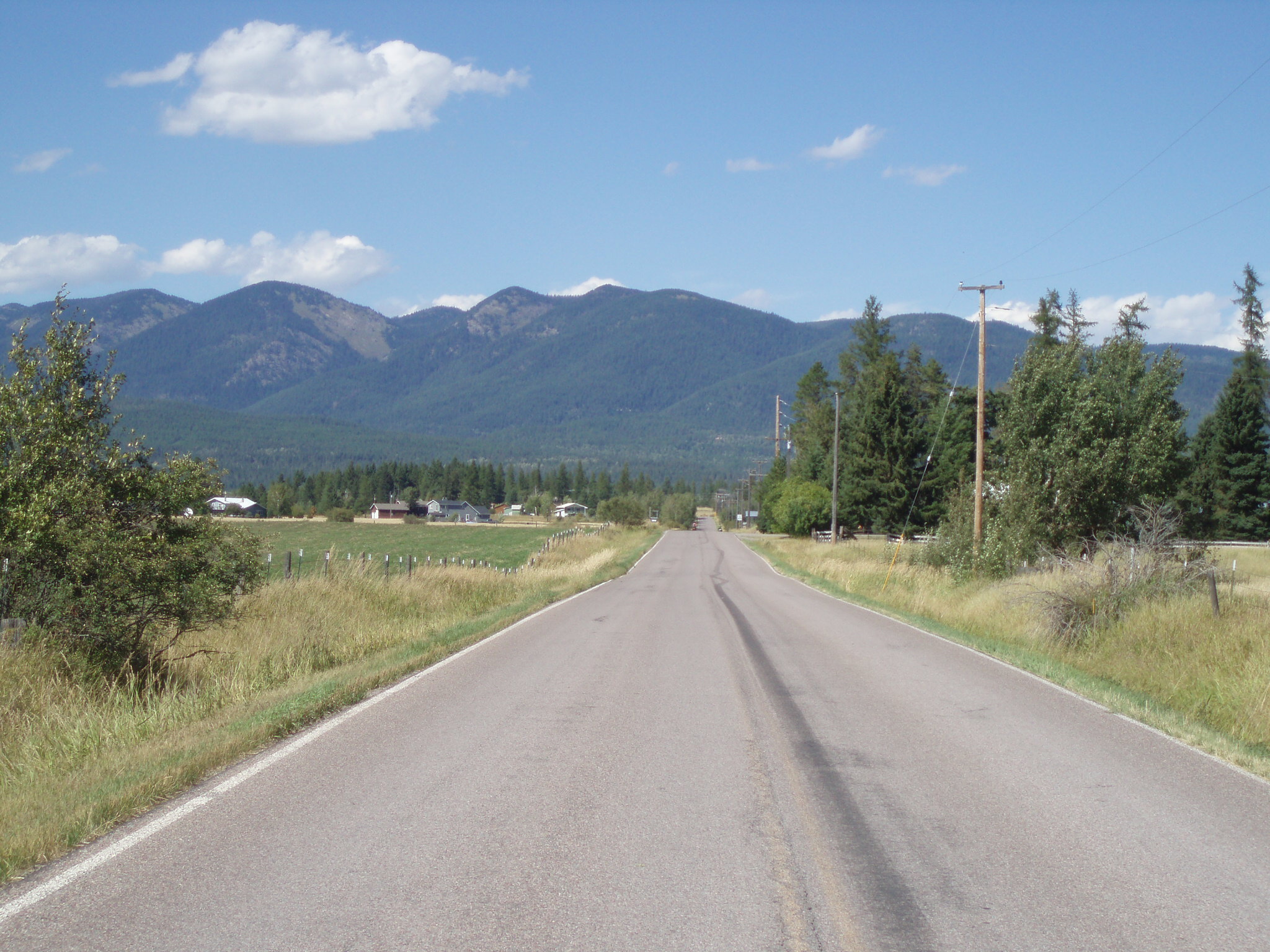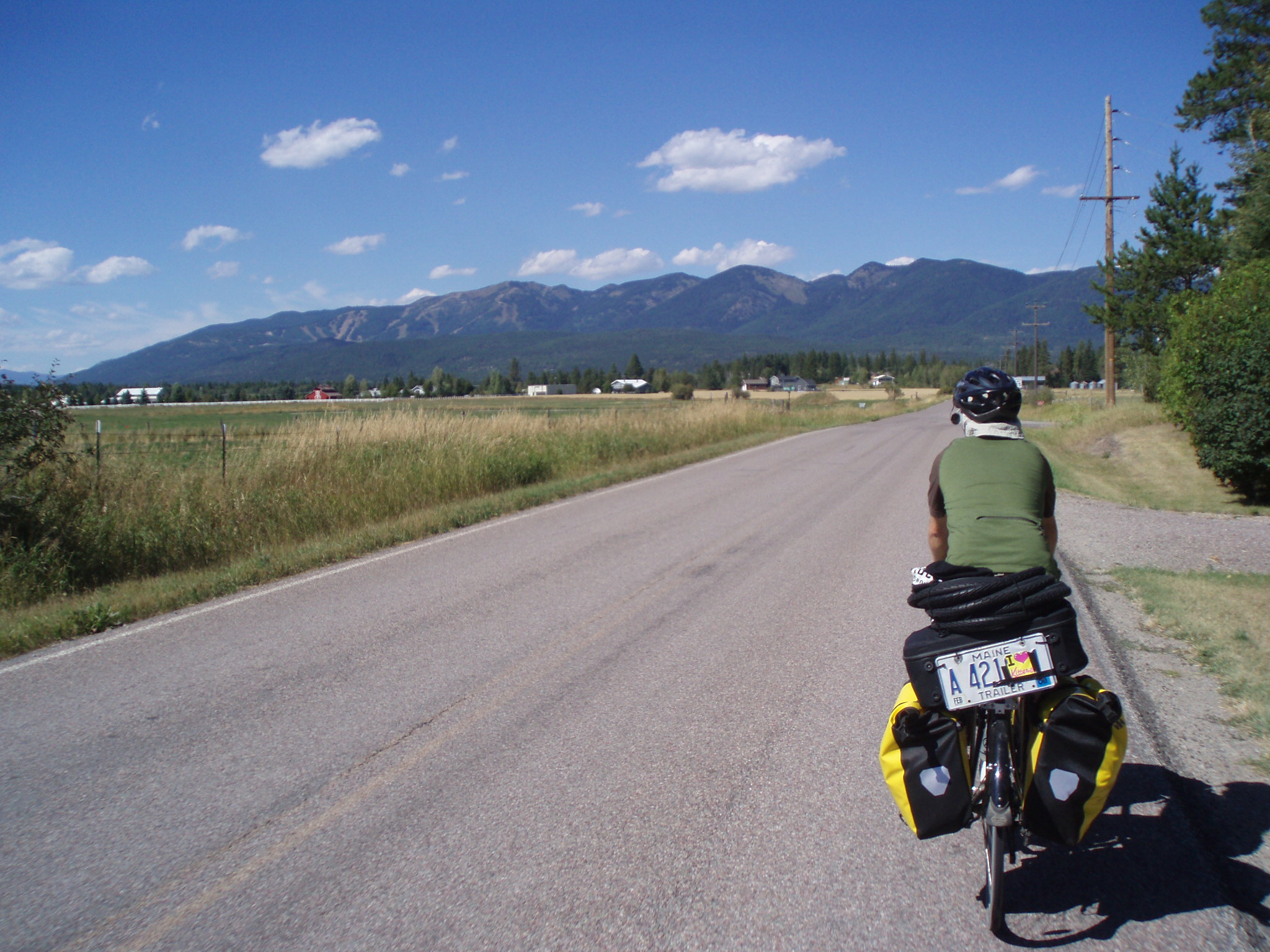 We changed direction and rode into whitefish no problem. When we got into town I stopped at the bike shop and had my wheels trued up, they needed it. Then met Jamie and chuck over at the library that was closing. We didn't stay there long and moved over to a bar on the main strip.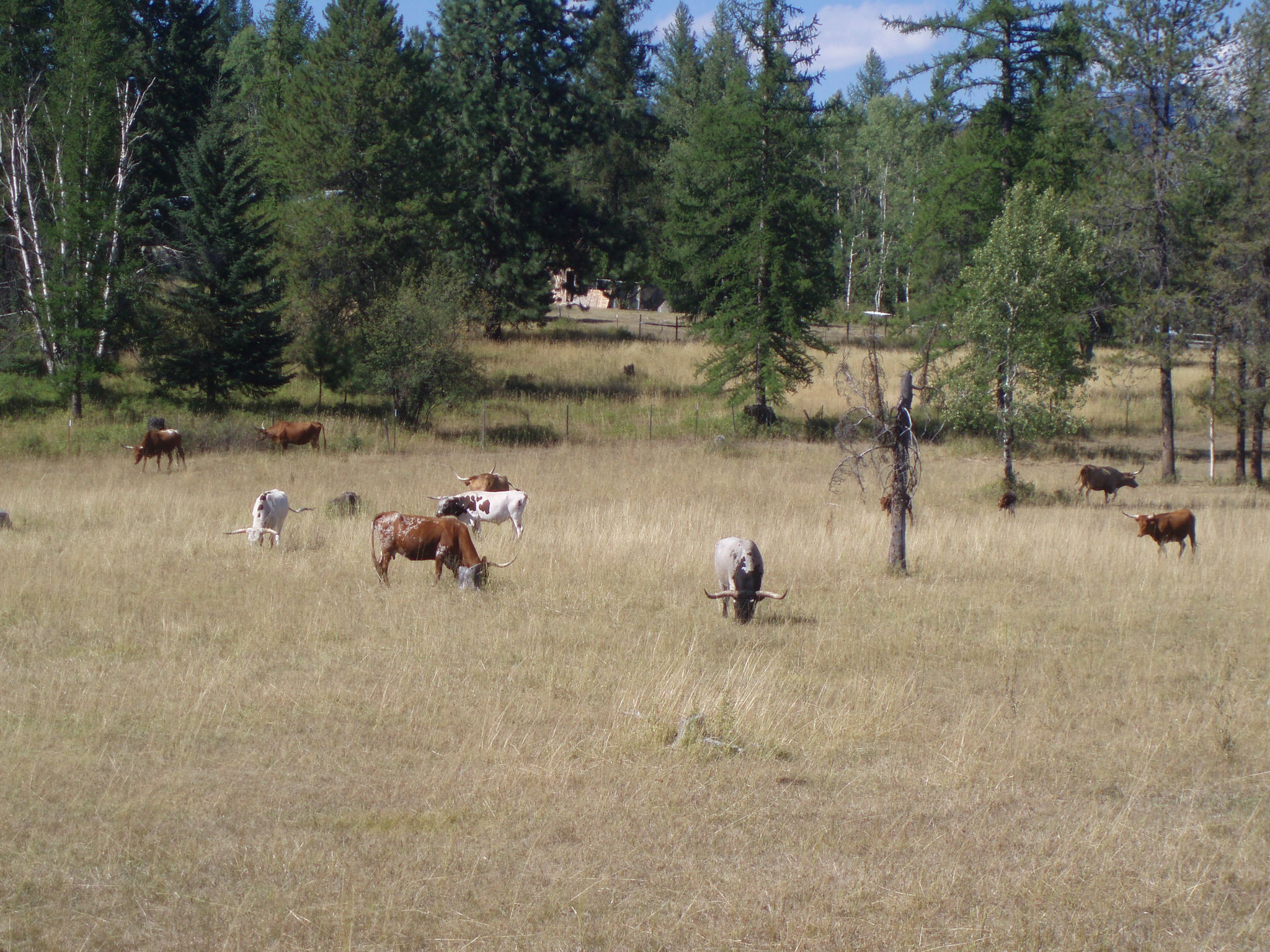 We drank a few beers and worked on journal stuff. The cook at that bar is from NYC and is into riding track bikes, so we talked bikes and NYC with him for a while. Nice guy.  He told us where we could get some good burgers for dinner.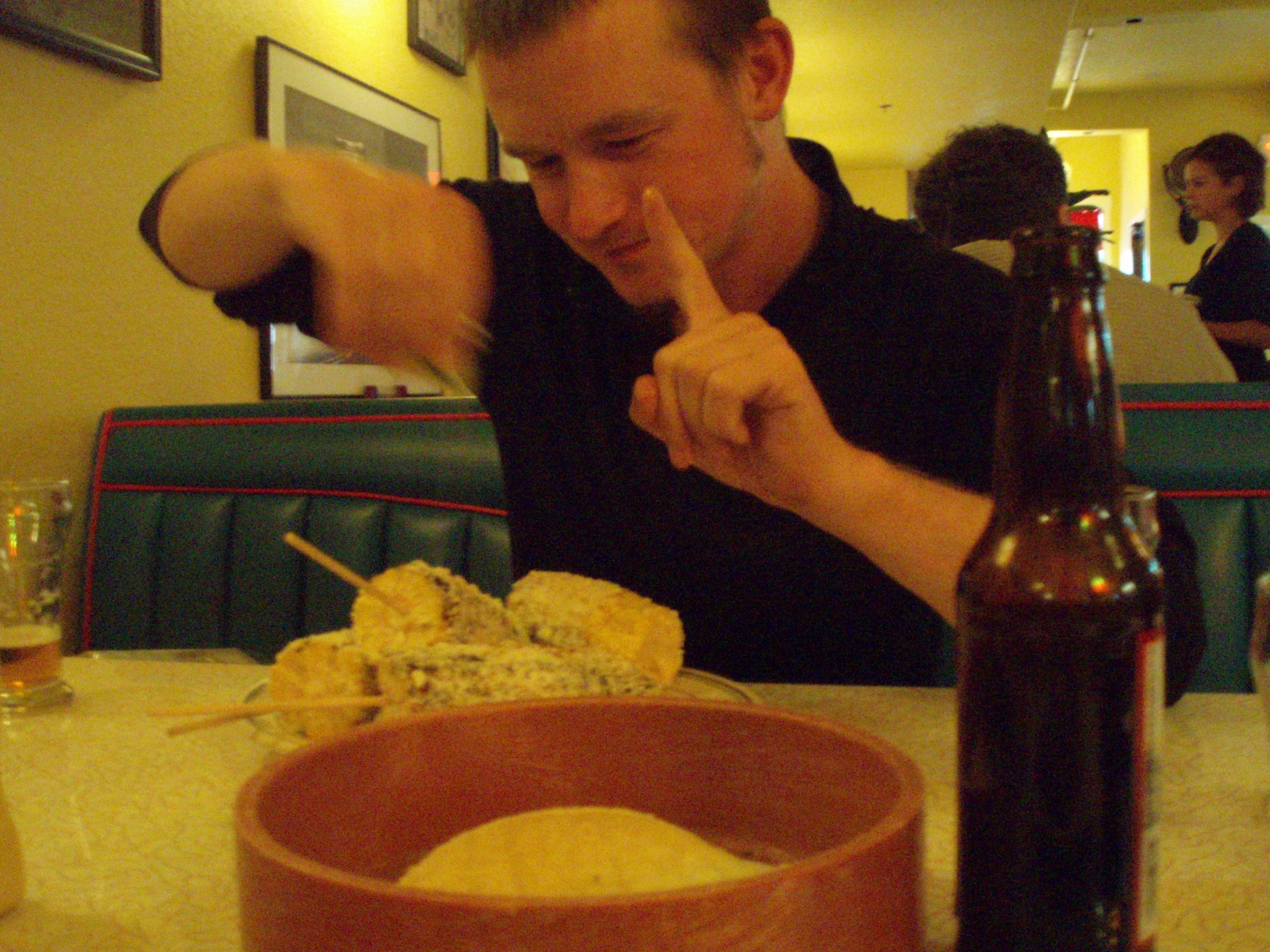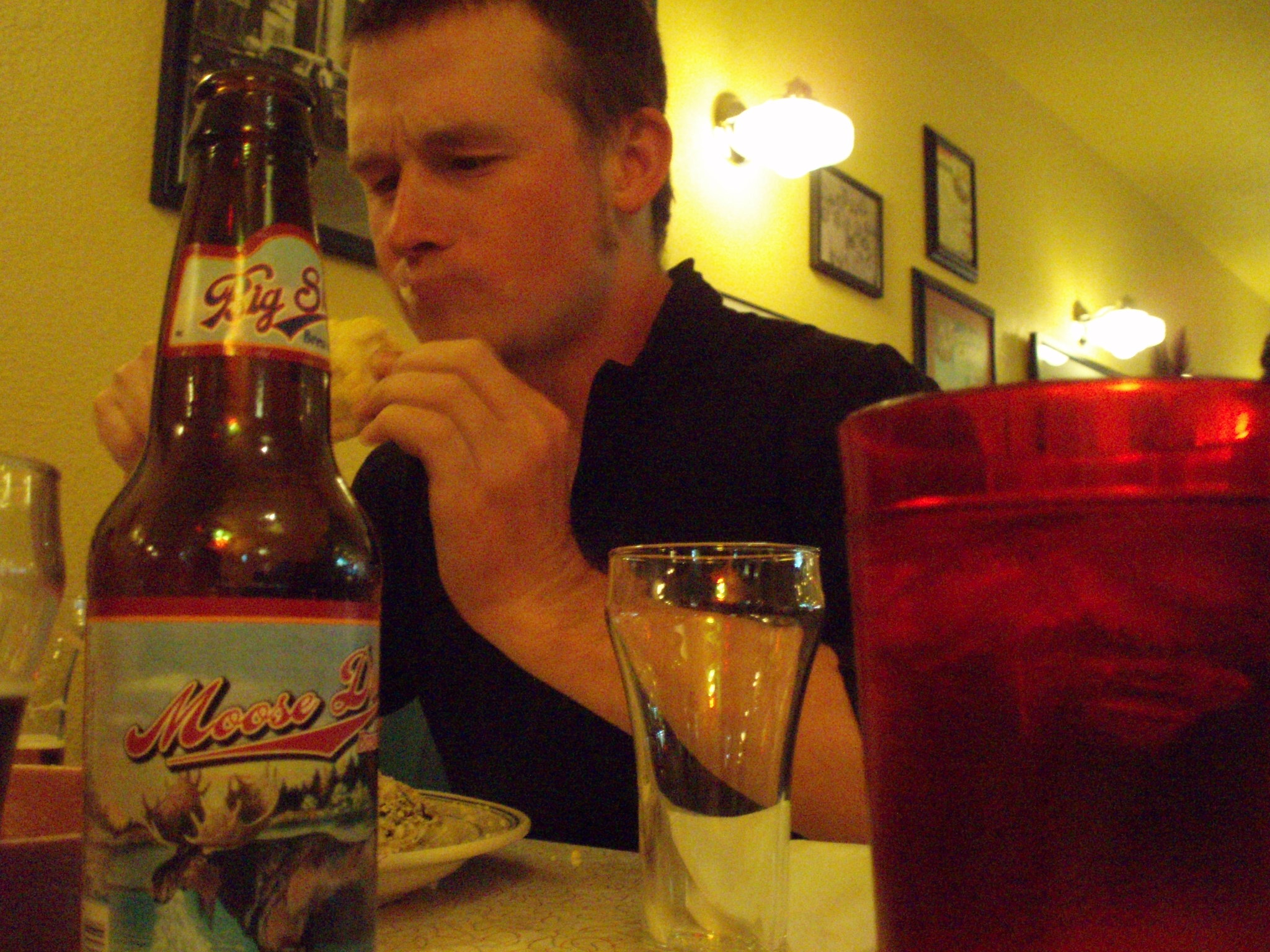 At dinner Jamie ordered the corn on the cob. A few days ago he bought the audiobook "Omnivore's Dilemma'  http://www.amazon.com/Omnivores-Dilemma-Natural-History-Meals/dp/0143038583/ref=pd_bbs_1/002-7952728-7139254?ie=UTF8&s=books&qid=1188435796&sr=8-1   so at dinner he educated us about everything he has recently learned about corn.
I got a message from Joy Santee about hoisting a Moose Drool for her, while we were out in Montana. So I slammed my hand on the table and ordered a Moose Drool for both Chuck and I. Jamie is stuck on Fat Tire ale.
We went back to the bar where we were before. On the way to their Jamie and I saw some teenage skater kid drinking a beer on the street. Jamie and I cheered for him for drinking on the streets and he told us he was homeless. We all quickly replied with, 'yeah ok, we'll show you homeless!'
Everyone in the bar was giving each other awkward looks, so we sat outside on the street, where the bar had these comfy little couches. These 2 guys got out of a car and saw the Maine license plate. One guy was really impressed and the other guy wanted nothing to do with us. The guy who wanted nothing to do with us say 'These guys are Pussies, we ride motorcycles and that's a lot tougher!' and his friend said 'Yeah, but I never get out of second gear!' The guy that was impressed said he's going to come back later and if we're still around he'll buy us beers.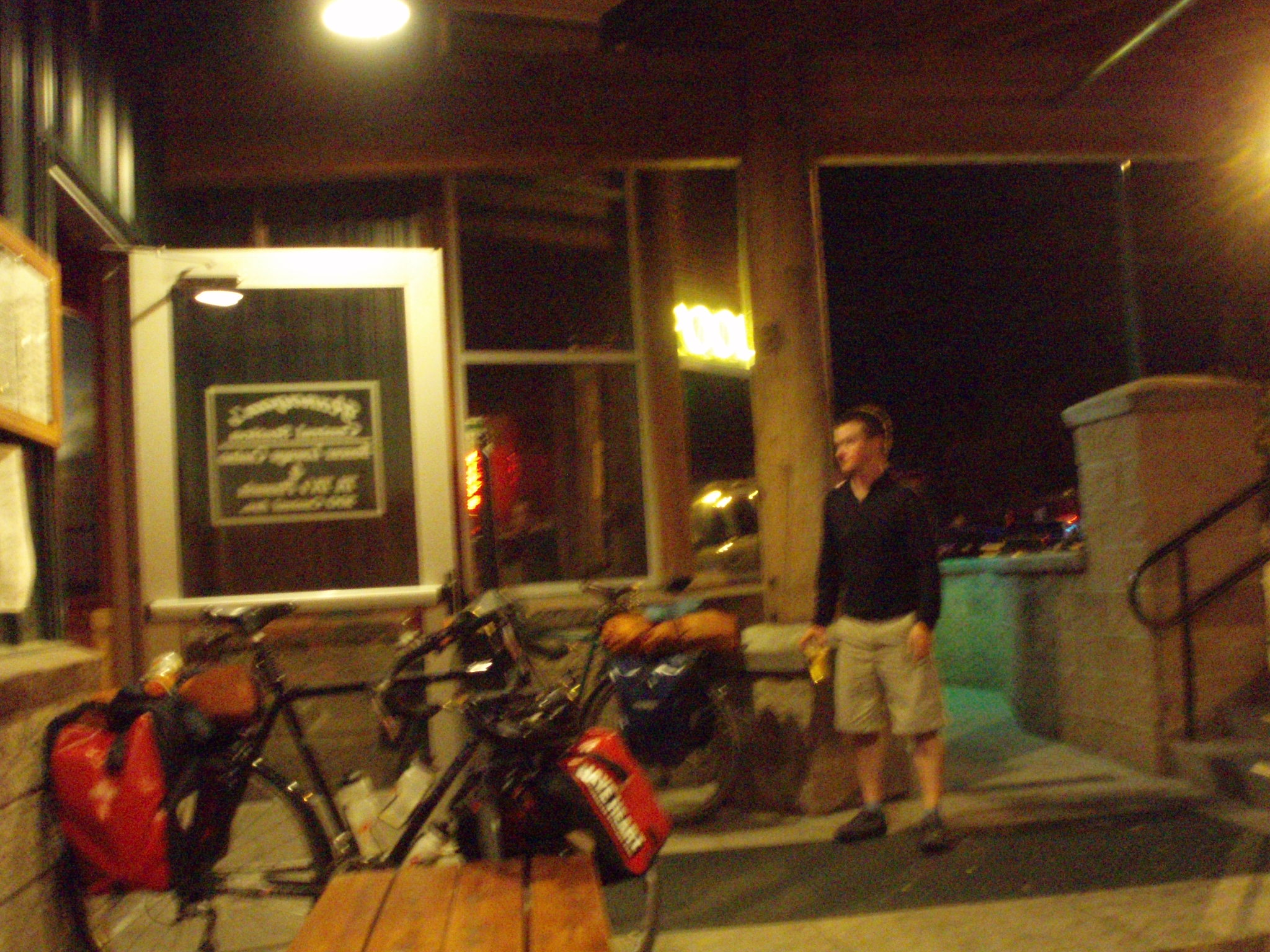 I yawned and stretched my arms and chuck told me I looked like a dinosaur. So I started walking around like a dinosaur and some girl that was just passing by with her friend asked me if that was the T-Rex and I informed her that 'Yes, you are correct!' For the rest of the night she walked by about 10 times and said 'What's up T-Rex!' and I walked around like a dinosaur for her.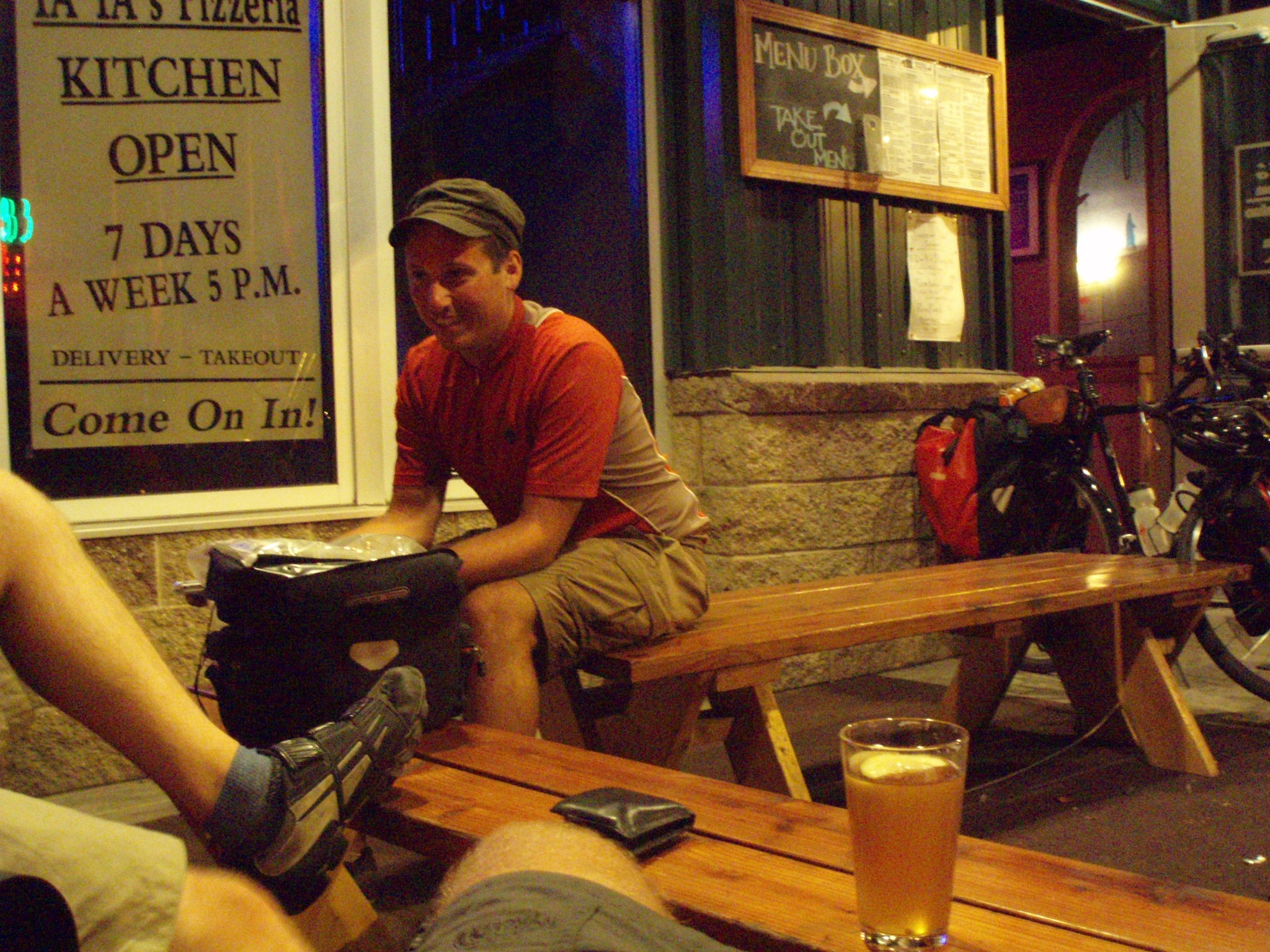 This blonde girl came over to Chuck and I, who wanted to know all about our bike trip, because she wants to take a trip someday. So we talked with her for a few minutes. She decides to inform us that our bikes are pieces of shit, our gear is all crap and we're all lazy because we have kickstand on our bikes. Then Jamie showed up, so she decided to make fun of him and his bike, but he snapped back at her with some obscene comments that were just as rude as what she said to him. Then she quickly left with some dude. Jamie gave it to her pretty good, but she deserved it. She had this 'I ride mountain bikes and you ride road bikes so I'm a lot tougher' attitude. We just don't care.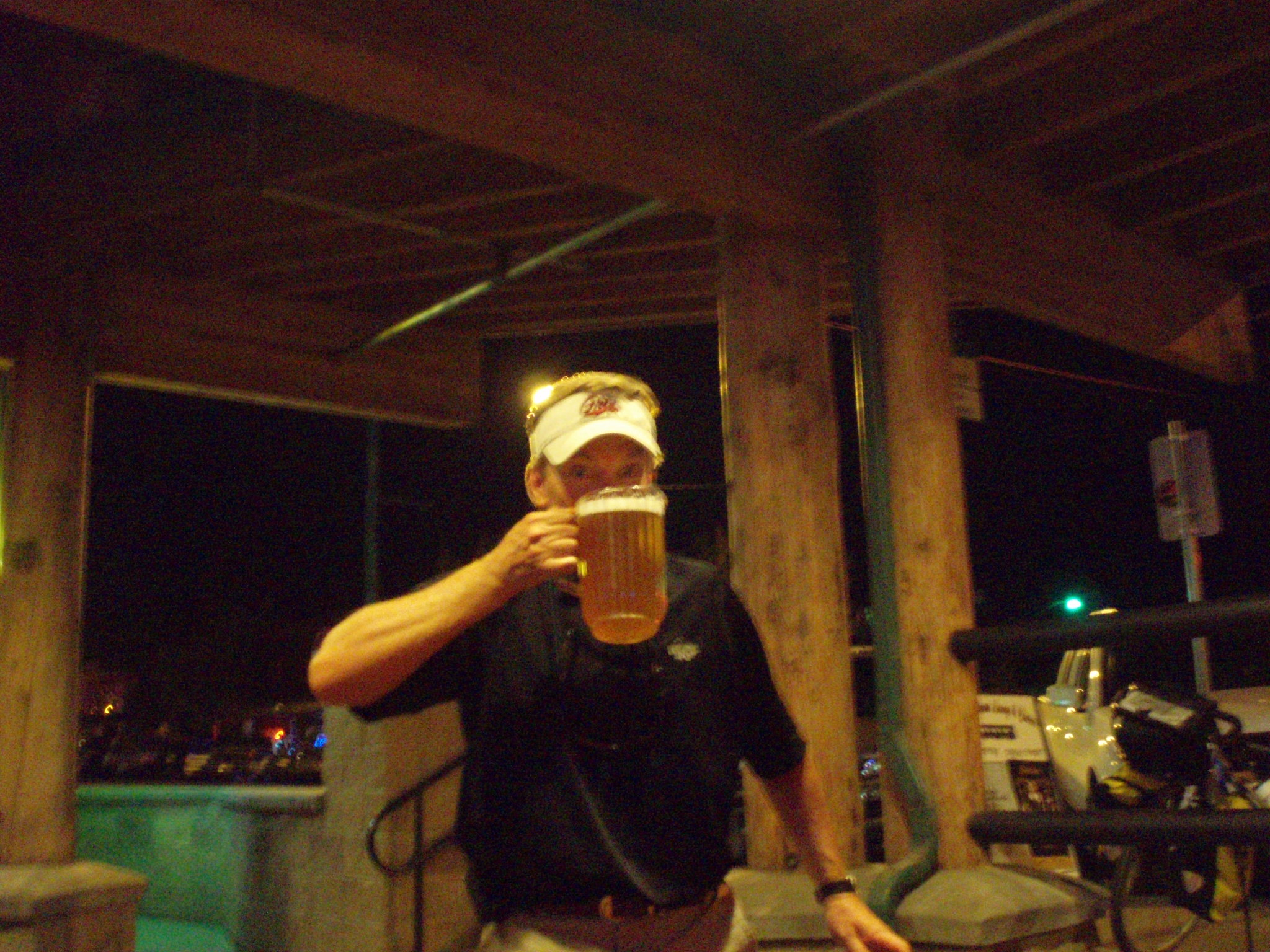 At the end of the night that guy came back who said he would buy us beer and he bought us 2 pitchers of beer. He told us some jokes and we all laughed a lot. It was getting late and we didn't have a place to stay.
We rode back to the park that we went past on the way into town. Jamie and chuck setup tents and Mike Riscica was too lazy, so he slept in the tree house. He even dragged his bike all the way up inside the tree house and just slept on the floor.
     Click Here to Visit The Table of Contents
     Click Here to Visit Previous Page: Day 69: Browning, MT to Lake McDonald, Glacier National Park, MT, 4 Videos
     Click Here to Visit The Next Page: Day 71: Whitefish, MT to Eureka, MT