Friday August 24, 2007, 66 miles (105 km) – Total so far: 3,727 miles (5,999 km)
65.53 miles 5:44 37 mph max 11.0 avg
     Click Here to Visit The Table of Contents
     Click Here to Visit Previous Page: Day 68: Shelby, MT to Browning, MT
     Click Here to Visit The Next Page: Day 70: Lake McDonald to Glacier National Park, MT to White    Fish, MT
Last night we all slept like kings. Before I went to sleep, I pulled out all the quilts so it felt like I had about 10 pounds of blankets covering me. Chuck and I both slept in the twin beds and we let the little guy sleep in the king size bed.
At breakfast the lady who runs the B&B told us today is going to be the perfect day to visit Glacier. Last night's rain put an end to the fires and cleared away all the dust and the sky is supposed to be clear all day.
We took it easy all morning our plan for today was to ride to St. Mary that is 20 miles away. Get there. Hang out until 4pm and then ride up going to the sun. Going to the sun has a restriction on bicycles. No bicycles are allowed between 11am and 4pm. Sucks. But this is what has to do. We have been anticipating this day since the early planning stages of this trip. http://en.wikipedia.org/wiki/going-to-the-sun_road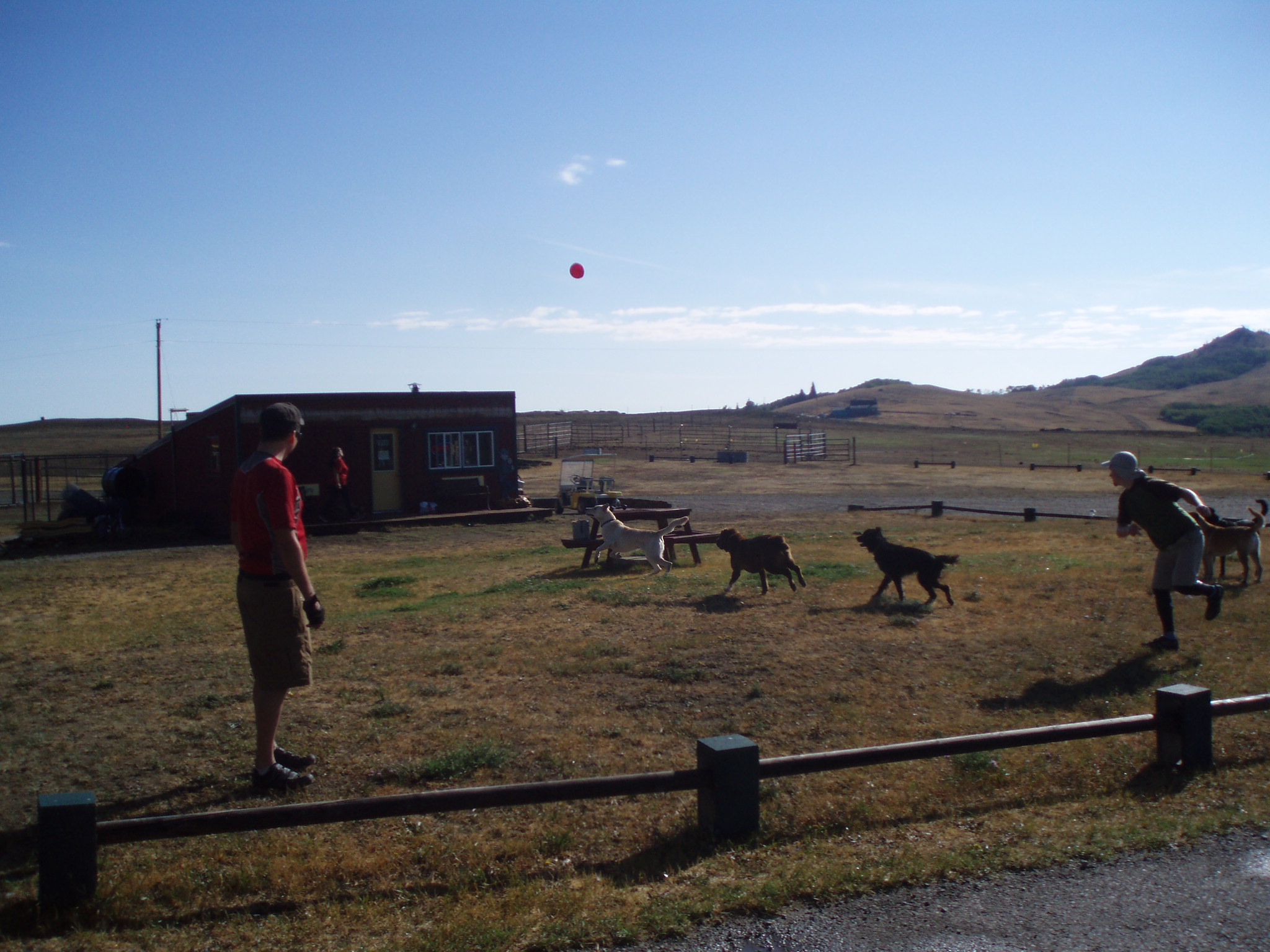 Before we hit the road we hung around and played with the dogs for a little bit. The golden retriever was king and dominated all the other dogs. We called him Sunny because he looked like The Scheele's dog, however this Montana pup definitely doesn't sing like Sunny does.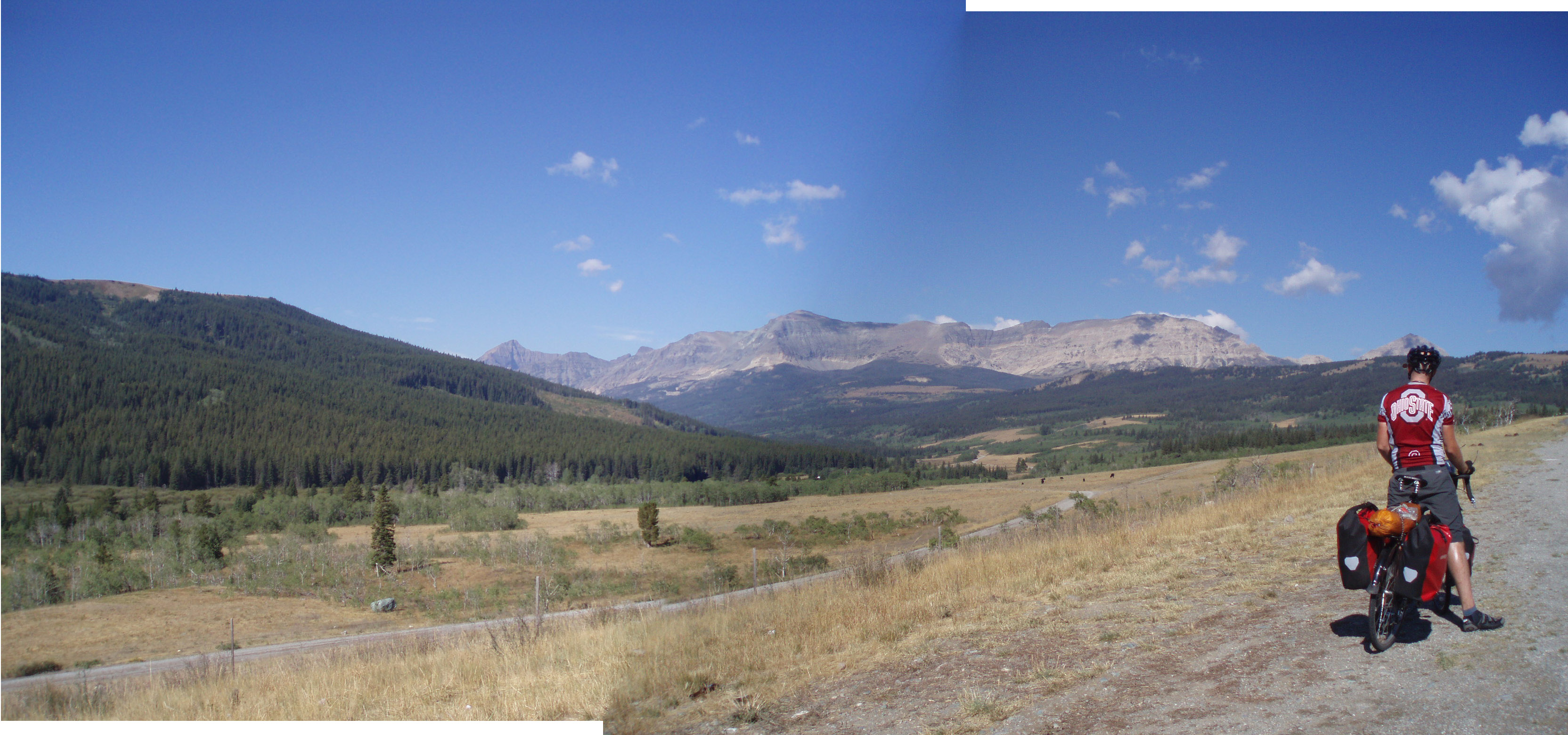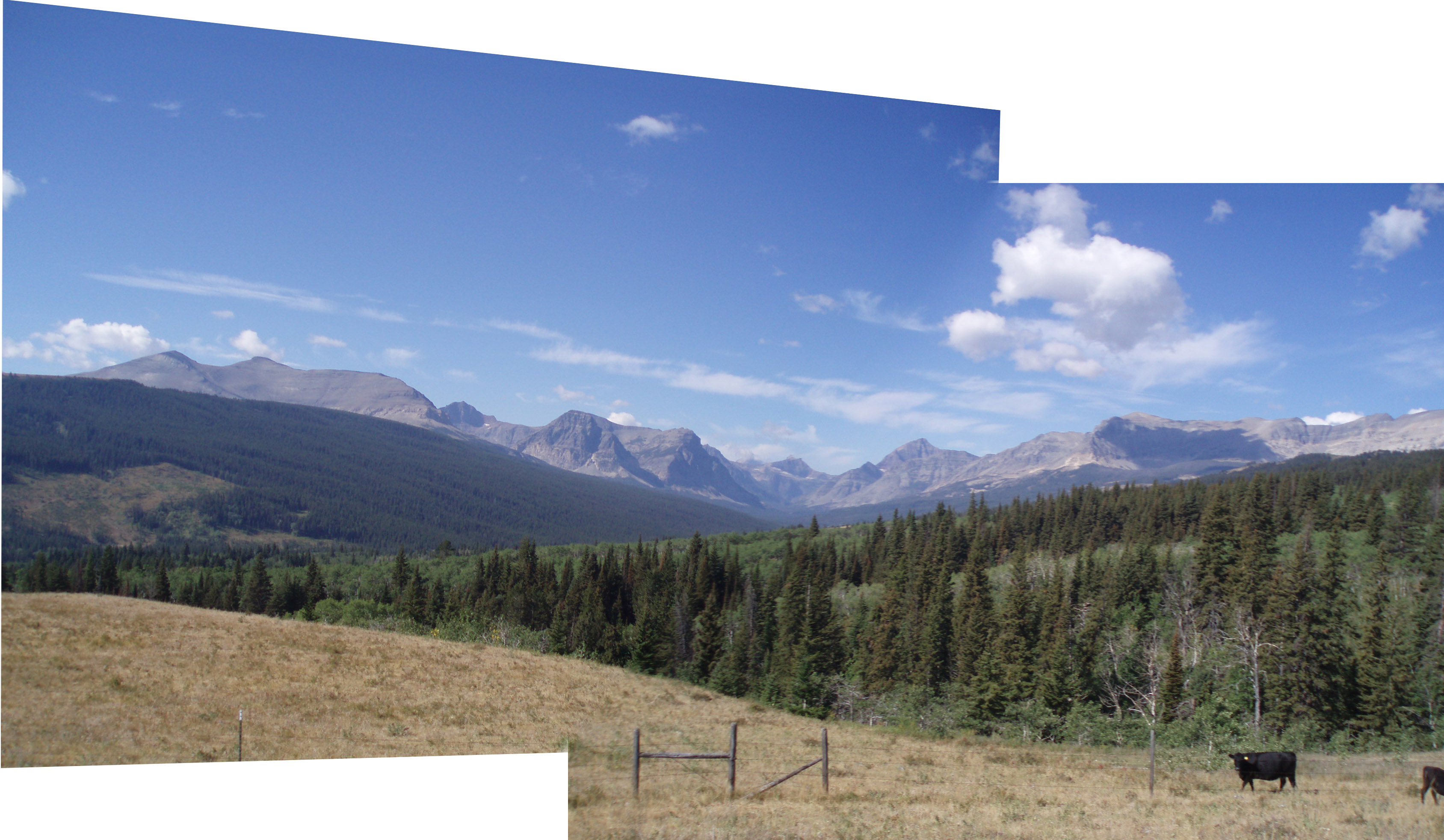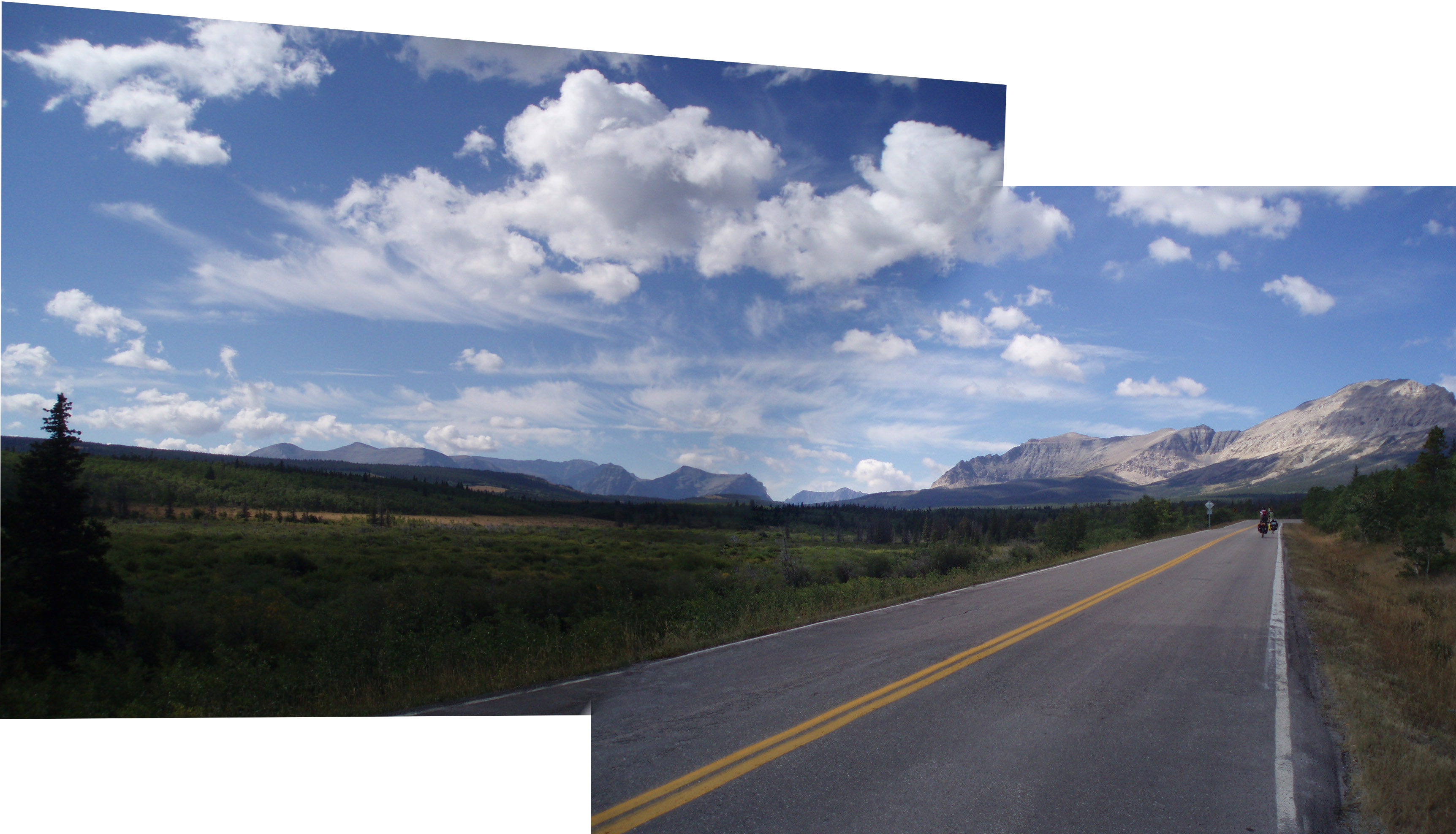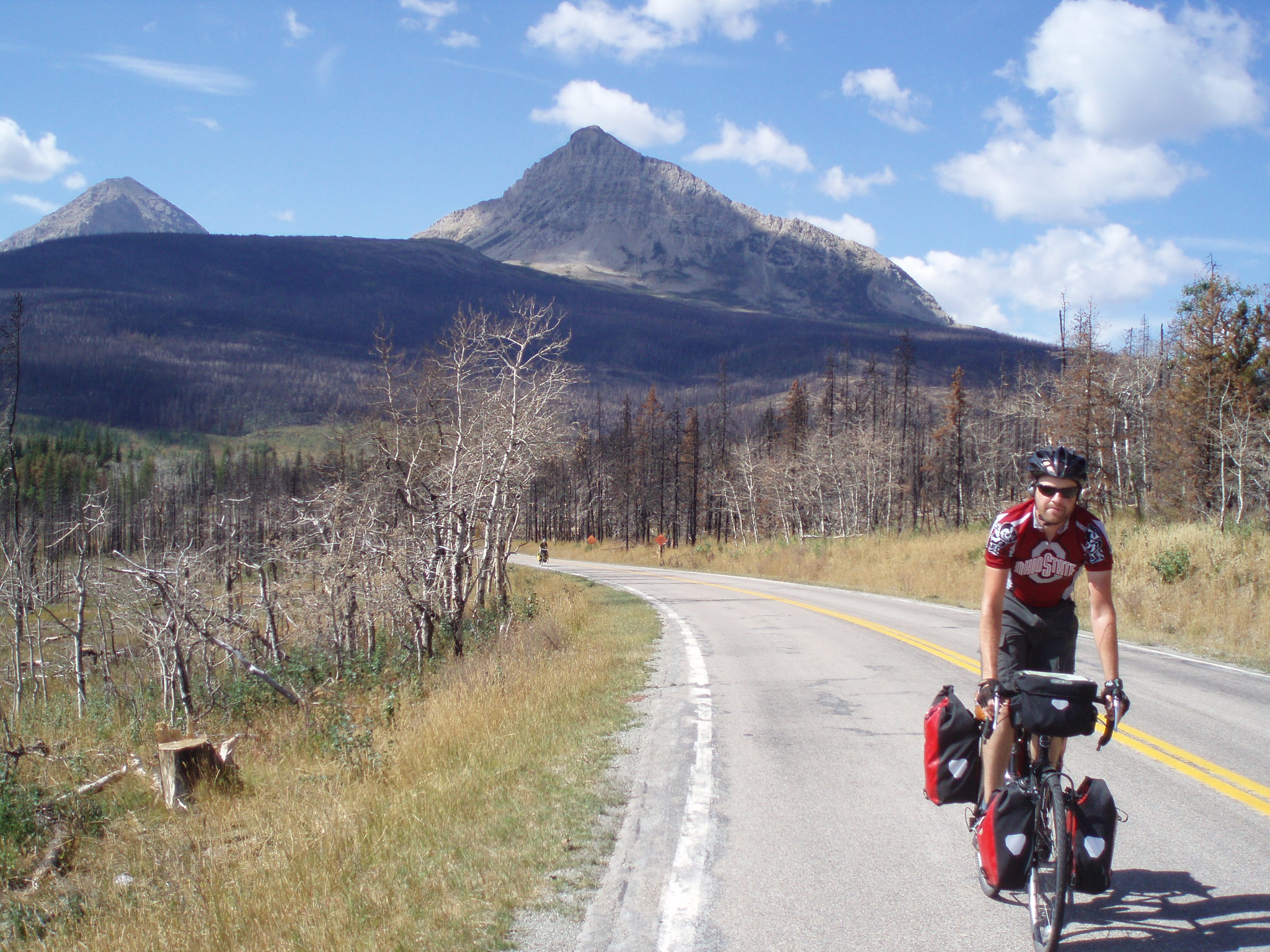 It was a really beautiful ride towards St. Mary. The mountains were huge. It felt so nice being amongst lush green vegetation again. The trees were all so beautiful. On the way to St. Mary we got a great message from Jamie's old Preschool http://www.teamnortherntier2007.blogspot.com/2007/08/tnt2007-mailbag.html
On the way to glacier Jamie saw this free range cow almost get hit by a car: http://www.teamnortherntier2007.blogspot.com/2007/09/free-range-cow-almost-dies-on-road.html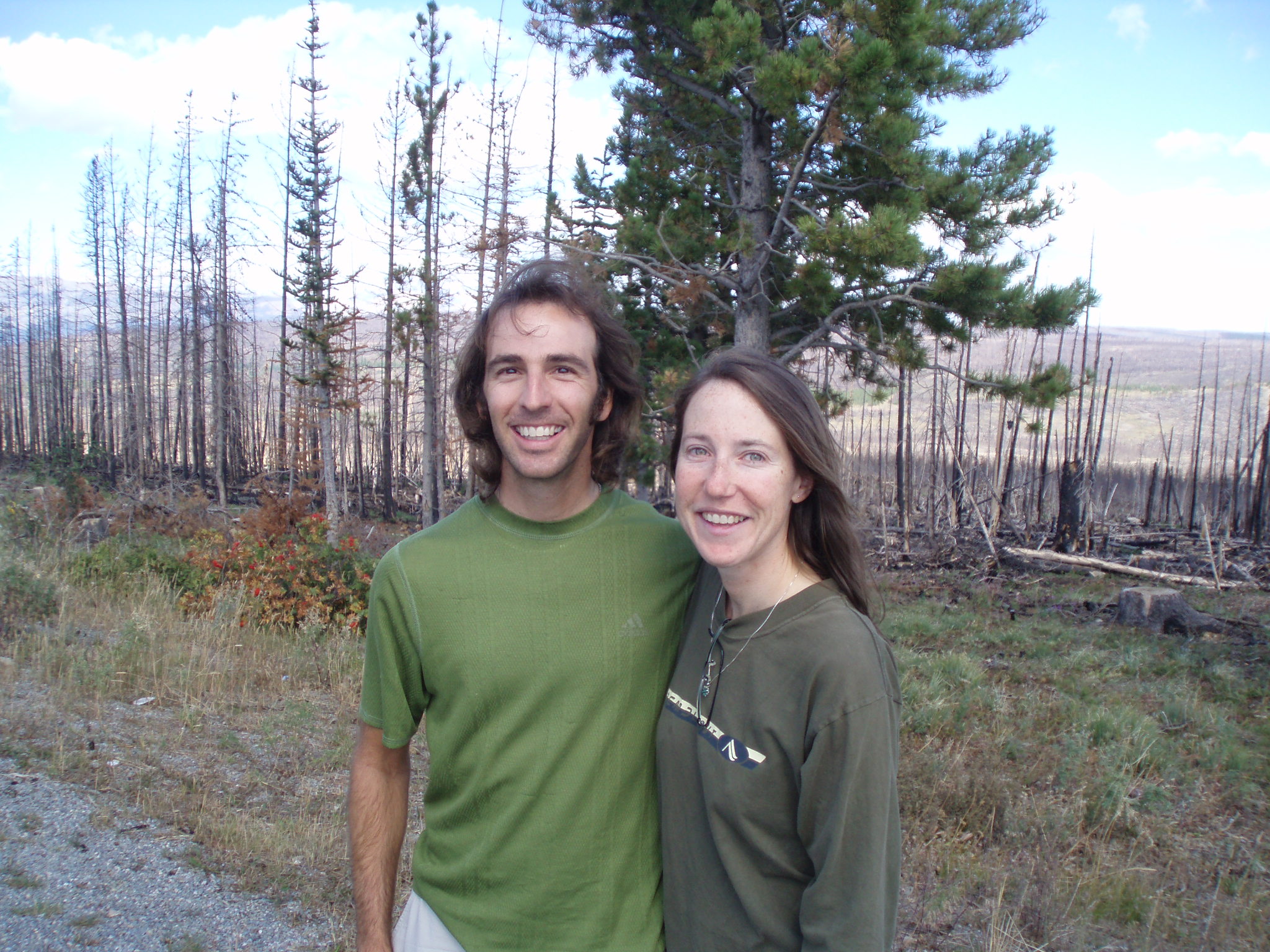 At the top of the mountain chuck and I took a break waiting for Jamie to catch up. His knee was feeling better. While we were hanging around, this car pulled over right behind us and 2 people got out of the backseat. When I looked them I immediately recognized them as Dom and Amie from: http://www.crazyguyonabike.com/doc/domandamie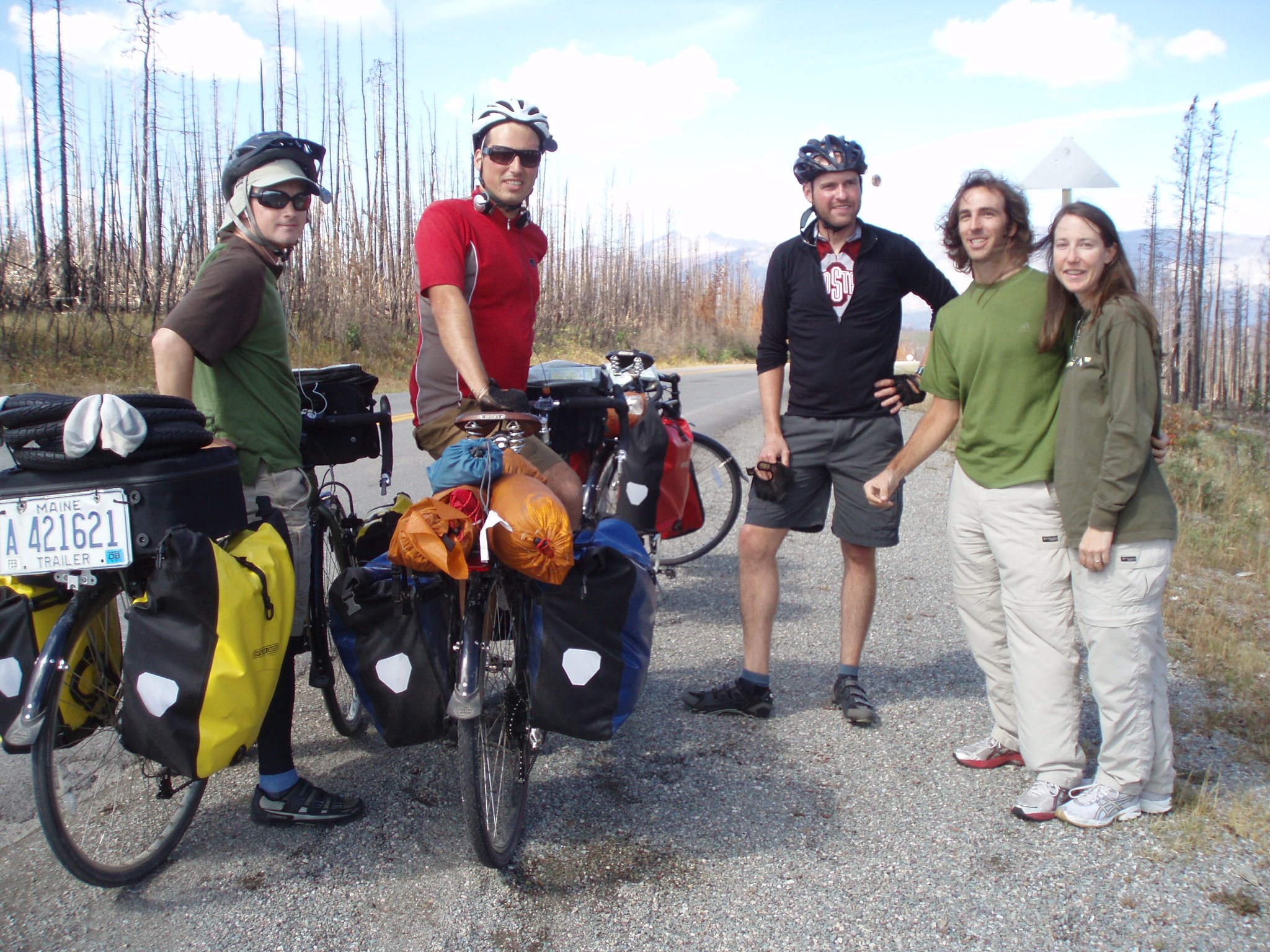 Dom has been in contact with me several times about how they are just right behind us. They were 1 day behind us Monroeville, Indiana. Then they were 1 day from catching us in Rugby, ND. Then they stayed in Williston, ND the same night we did and apparently they saw us in town but we just rode right past them not even realizing it and never ended up catching up with them. I emailed Dom a few days ago and said if we don't meet up on the road (cause they are jumping over to the Transam) that we should meet up in Portland, Oregon for a beer after our trips are over.
Luckily we got to finally meet them. They were taking a few days off and drove up north with Amie's Parents to see Glacier. It was REALLY exciting finally meeting them. I'm real excited to hear about how things go for them on the Transam. We're still going to try to meet up in Portland.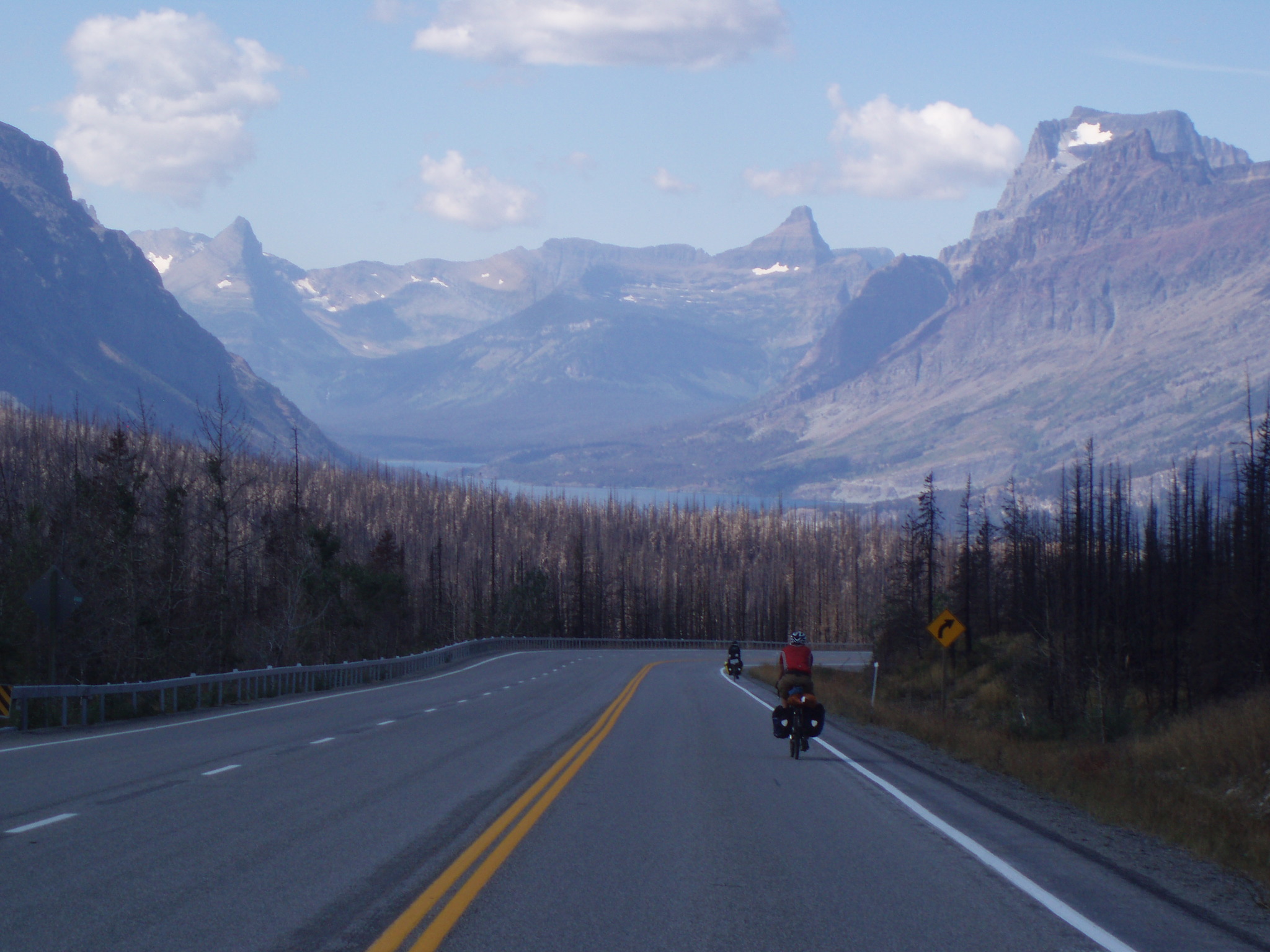 After we saw Dom and Aimie on top of the mountain it was about 4 miles downhill. The landscape was just breathtaking as we flew down the mountain. Chuck kept flipping out because it was so beautiful.
When we got to St. Mary, I rode around looking for a Wi-Fi signal but had no luck. All these crazy Amish people kept giving me awkward looks. I avoided talking to them at all costs and went to find chuck and Jamie.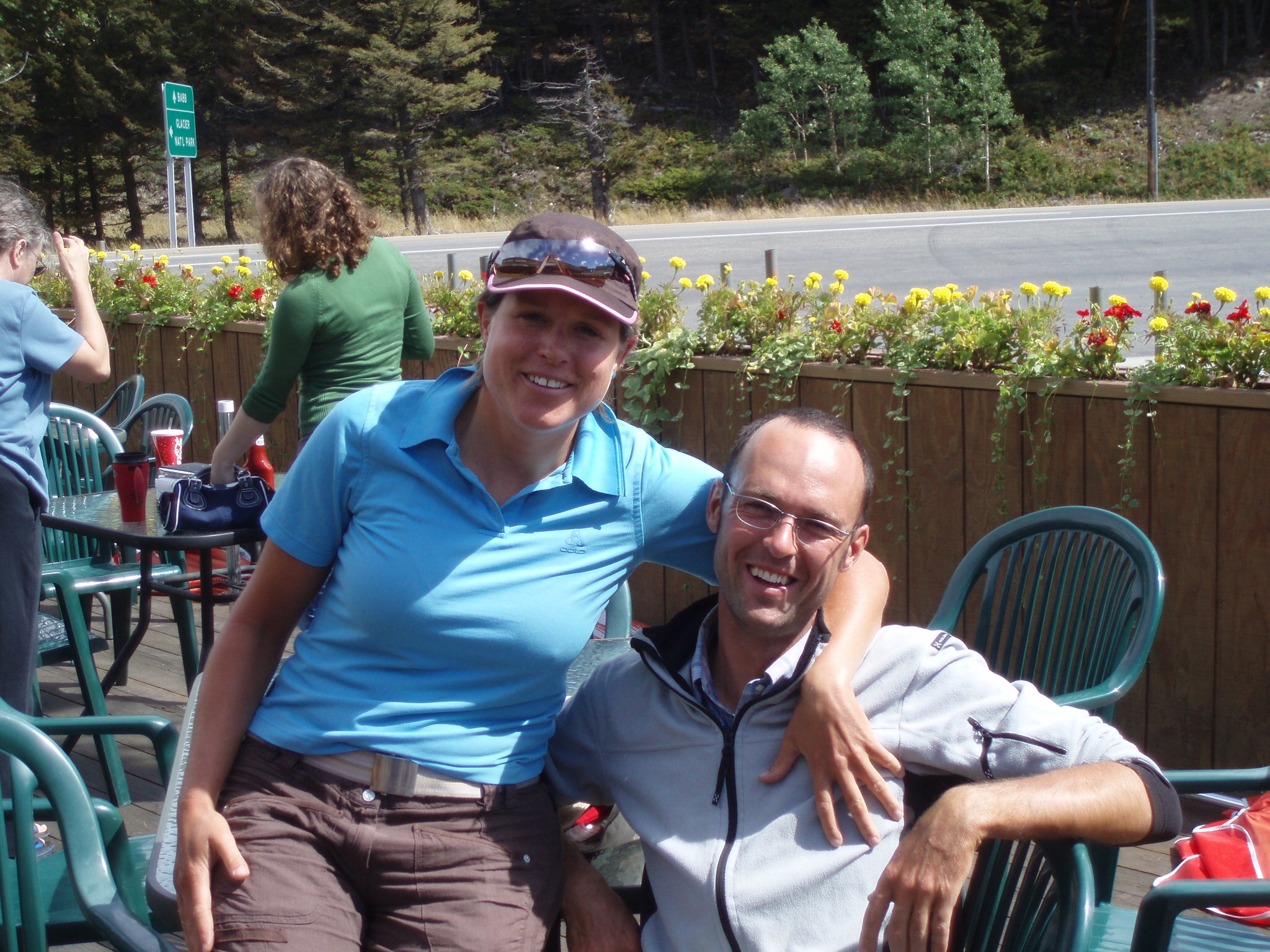 We sat outside the café for a while. We met this nice couple from Switzerland. Florian and Sandra is also bike touring and also waiting around to go up to the sun. They started in South America and spent a month there and decided to just come to America. South America was too crazy for them. They flew into Calgary a few weeks ago and they are working their way down toward San Diego. They plan on being away from Switzerland for a year. We had a lot of fun talking with them. They were both really interesting people.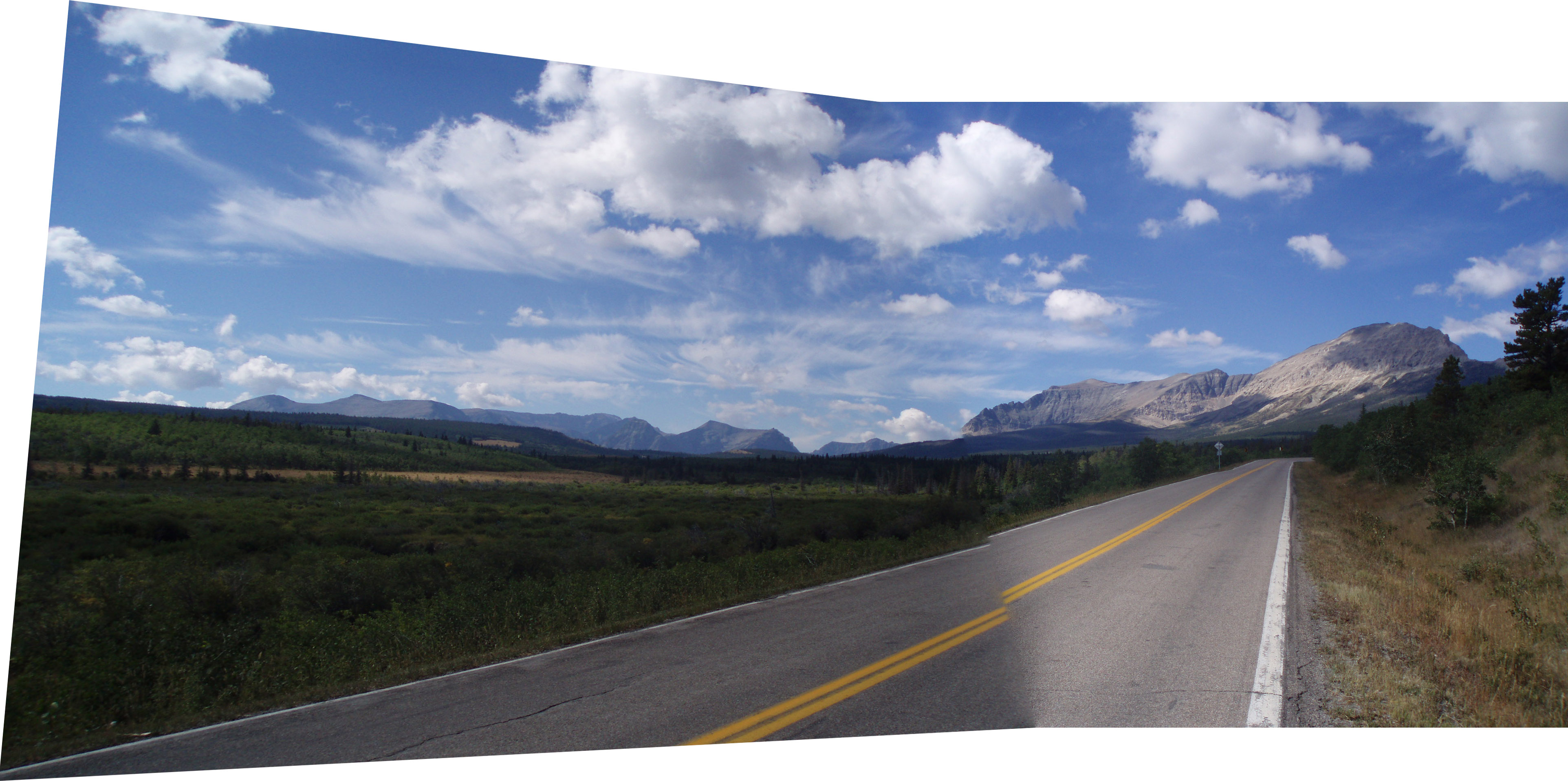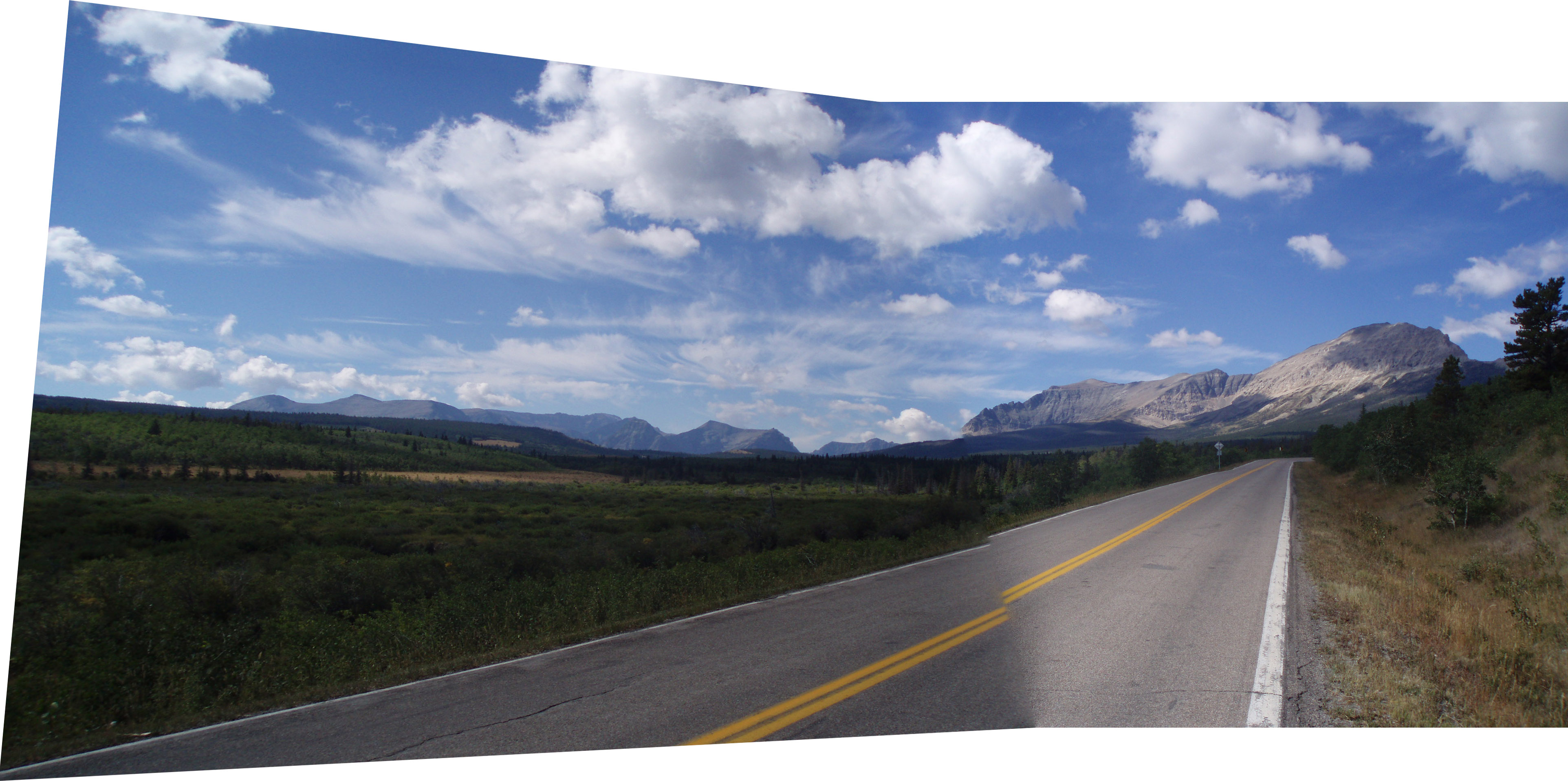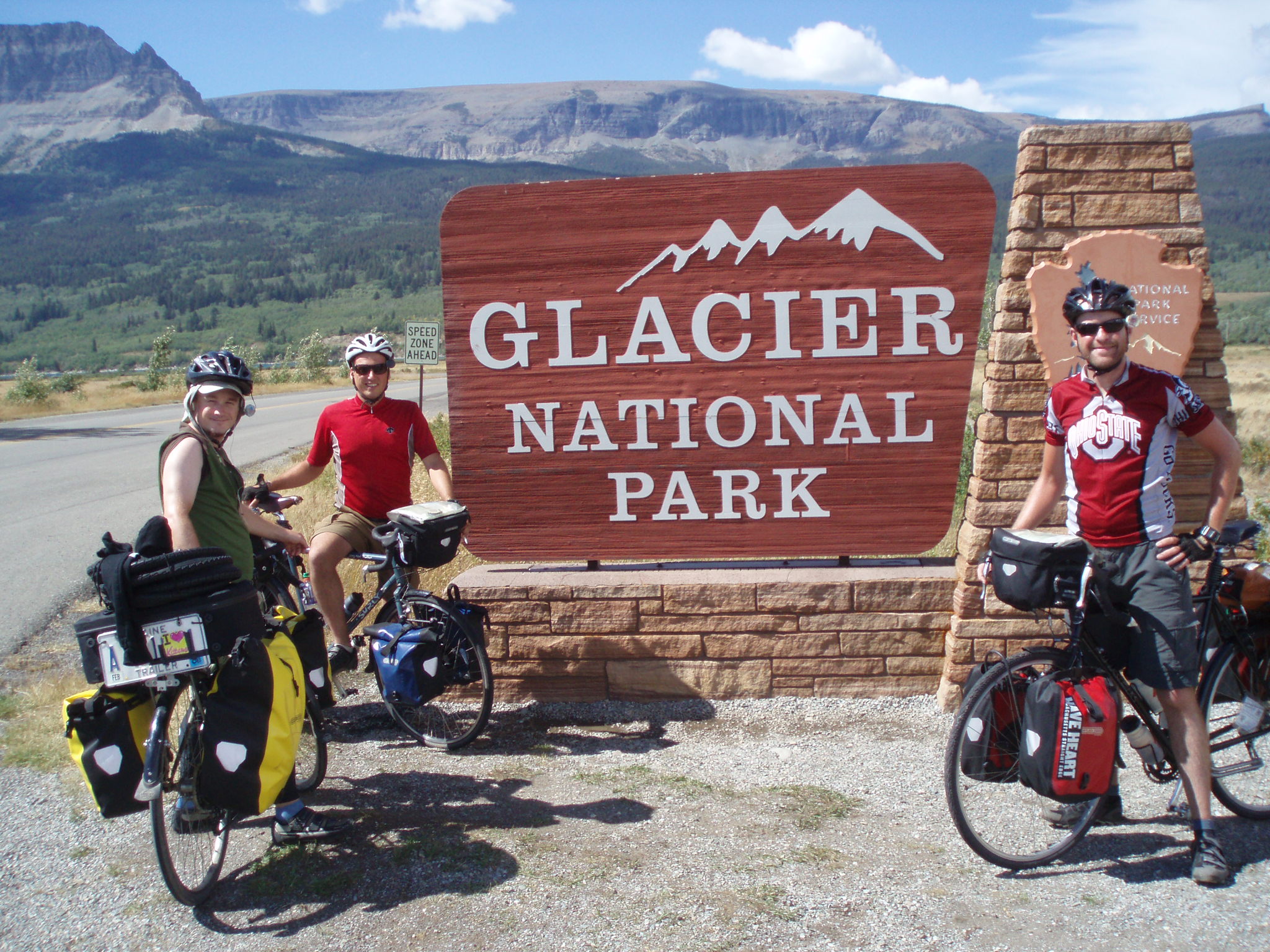 While we were sitting around at the café chatting with Florian and Sandra, Chuck read the fine print and realized that we don't have to wait until 4pm. We just can't ride past the Western side of Logan Pass UNTIL 4pm. And it's going to take us a few hours to get up there anyway. So we all packed up our stuff and quickly got on bikes and entered Glacier National Park around 2:30pm.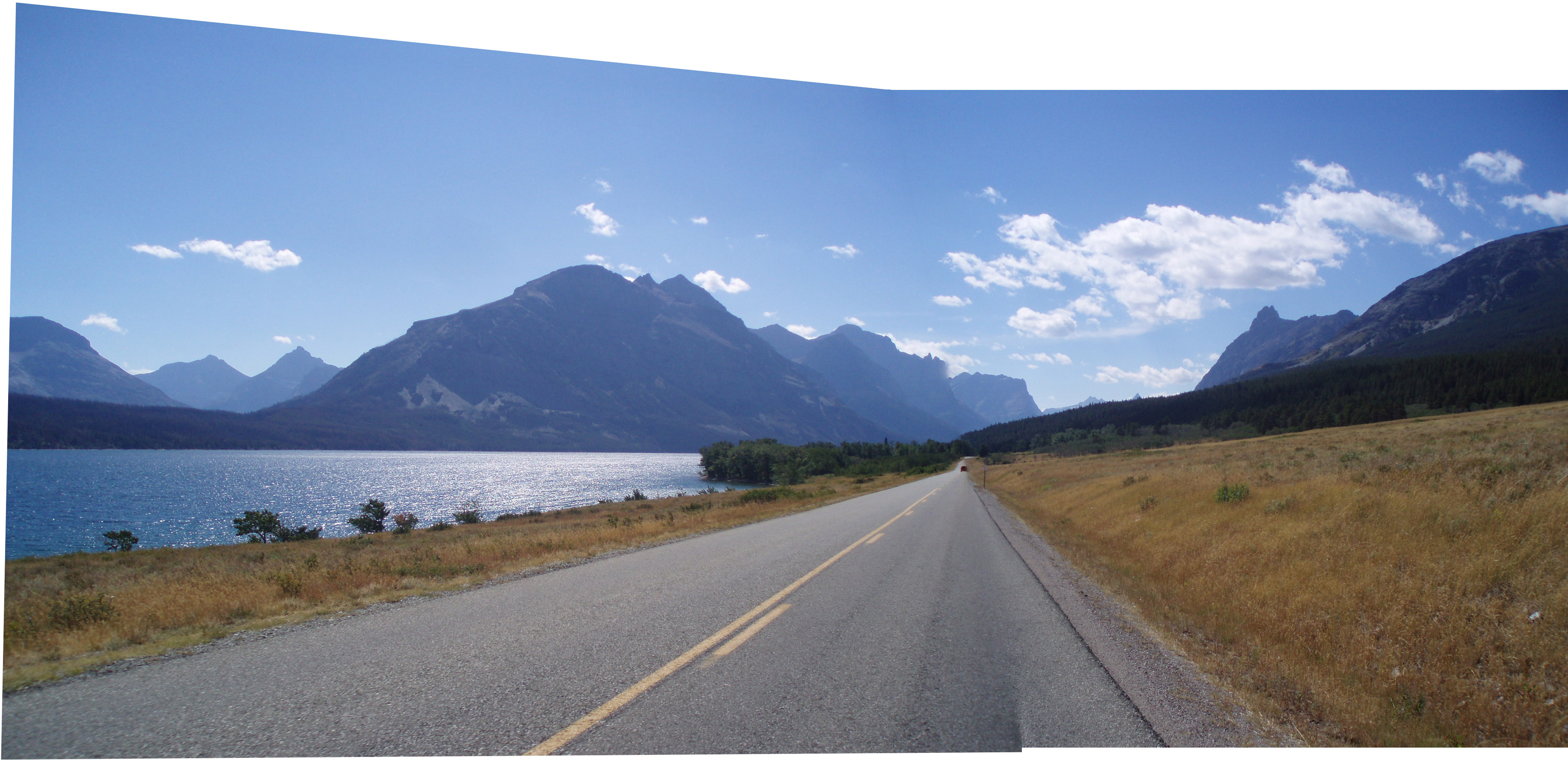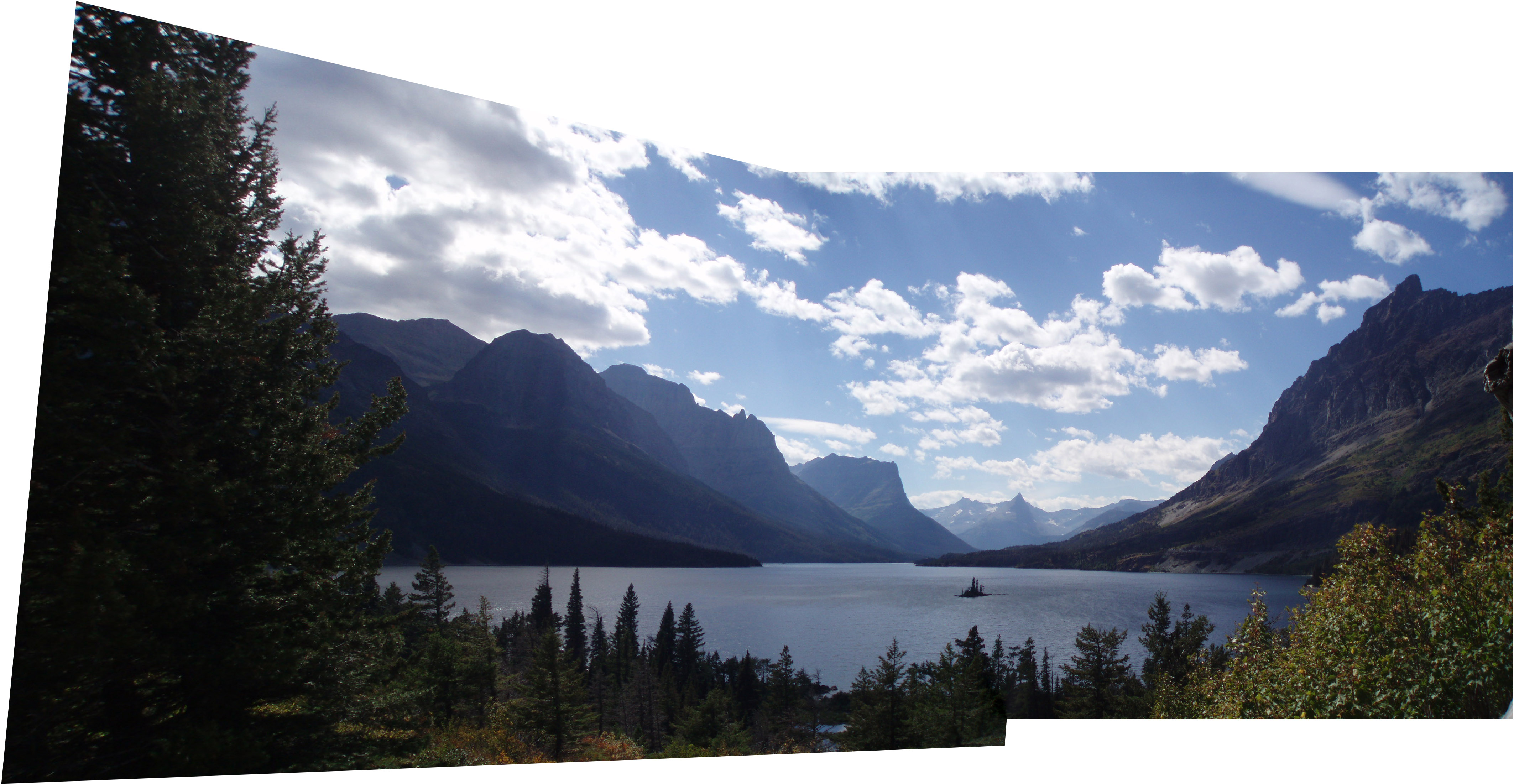 As we were going to the sun, Jamie reminded me that the name of the Montel Williams autobiography is called "Mountain, Get outta my way!"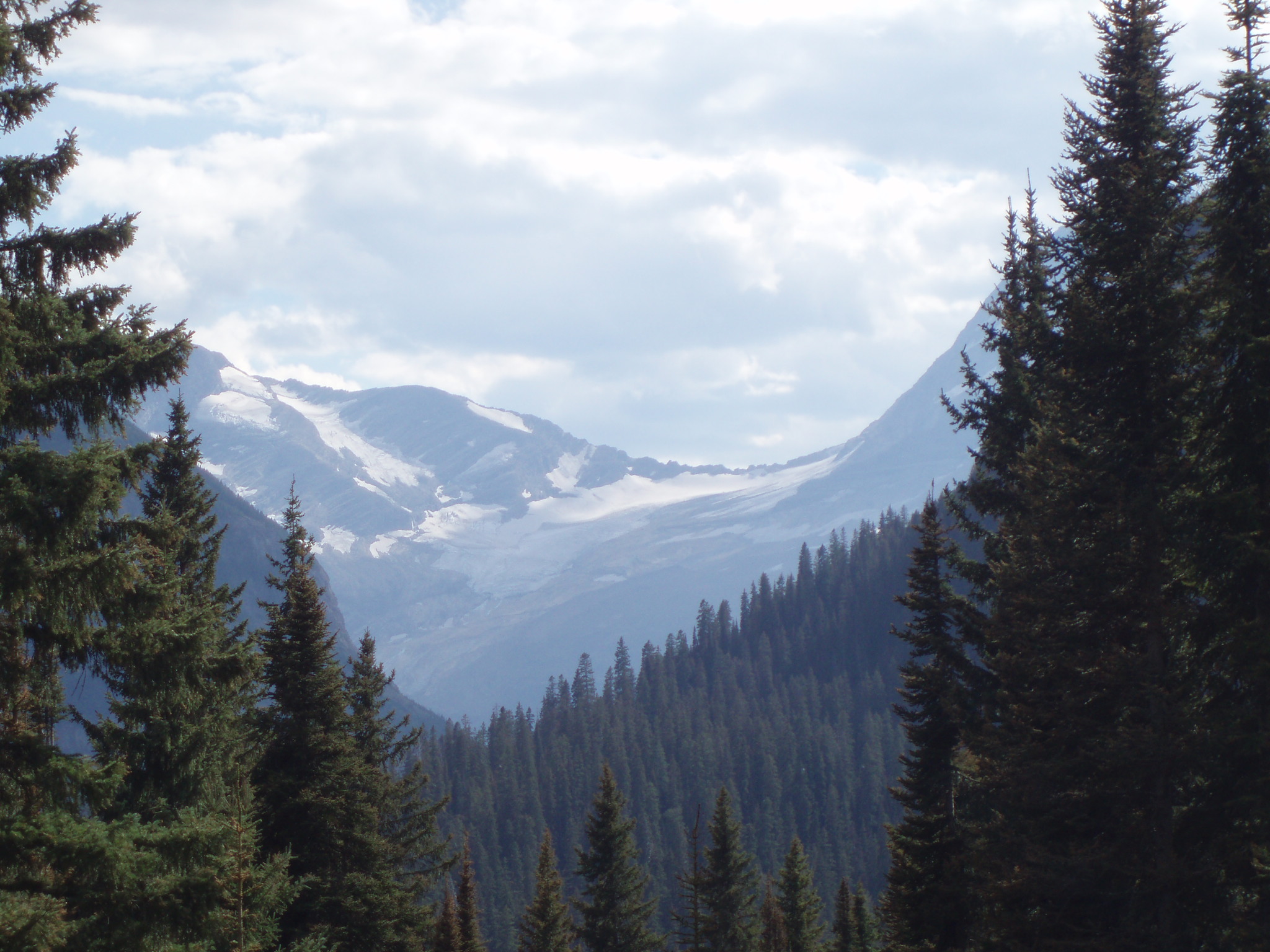 The climb up Going to the sun was really nice.  The 3 of us were just amazed by the magnificence of these mountains. Everyone was right it really was one of the most beautiful places in the world. Going to the sun also smelled just as beautiful as it looked.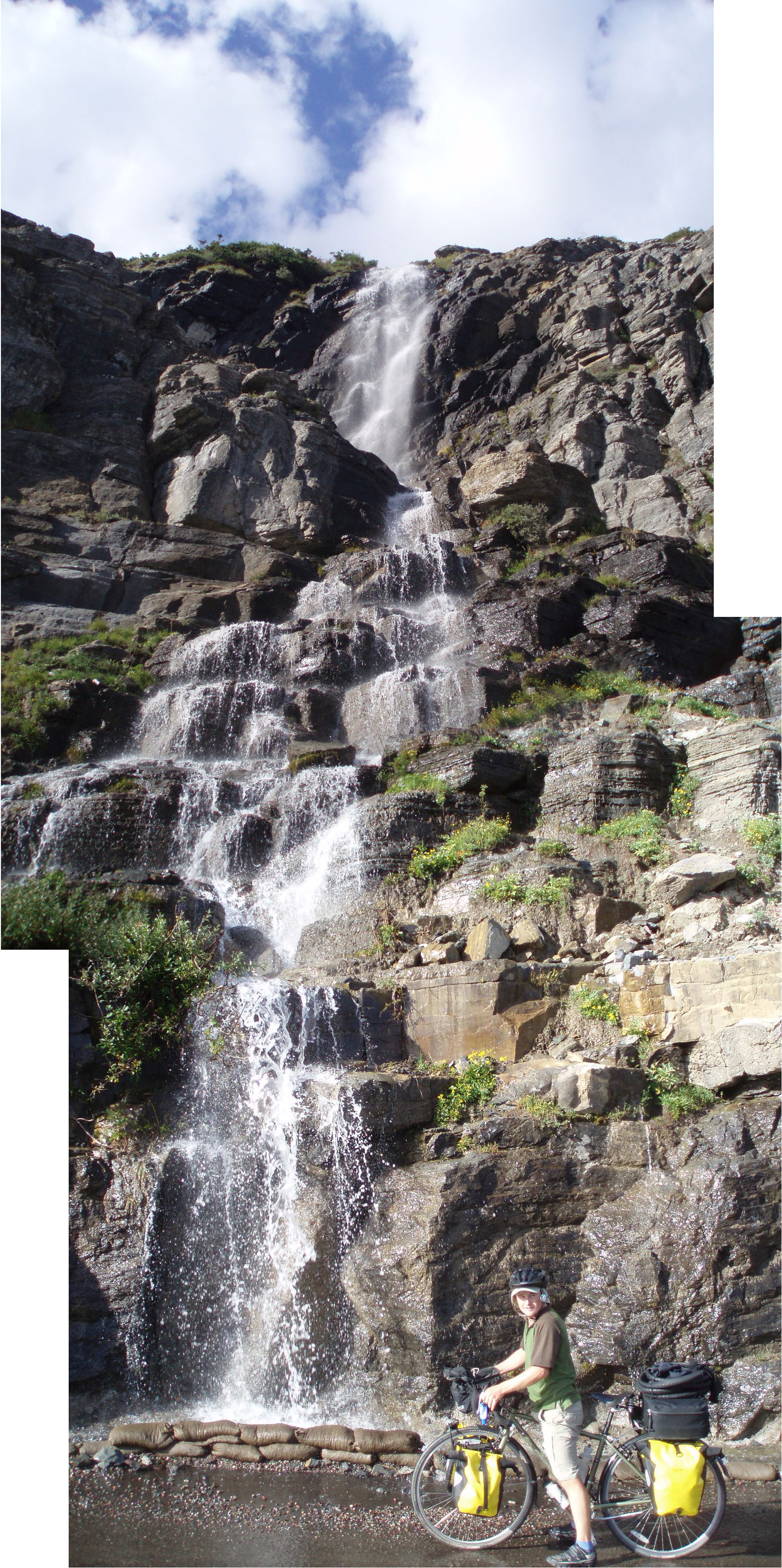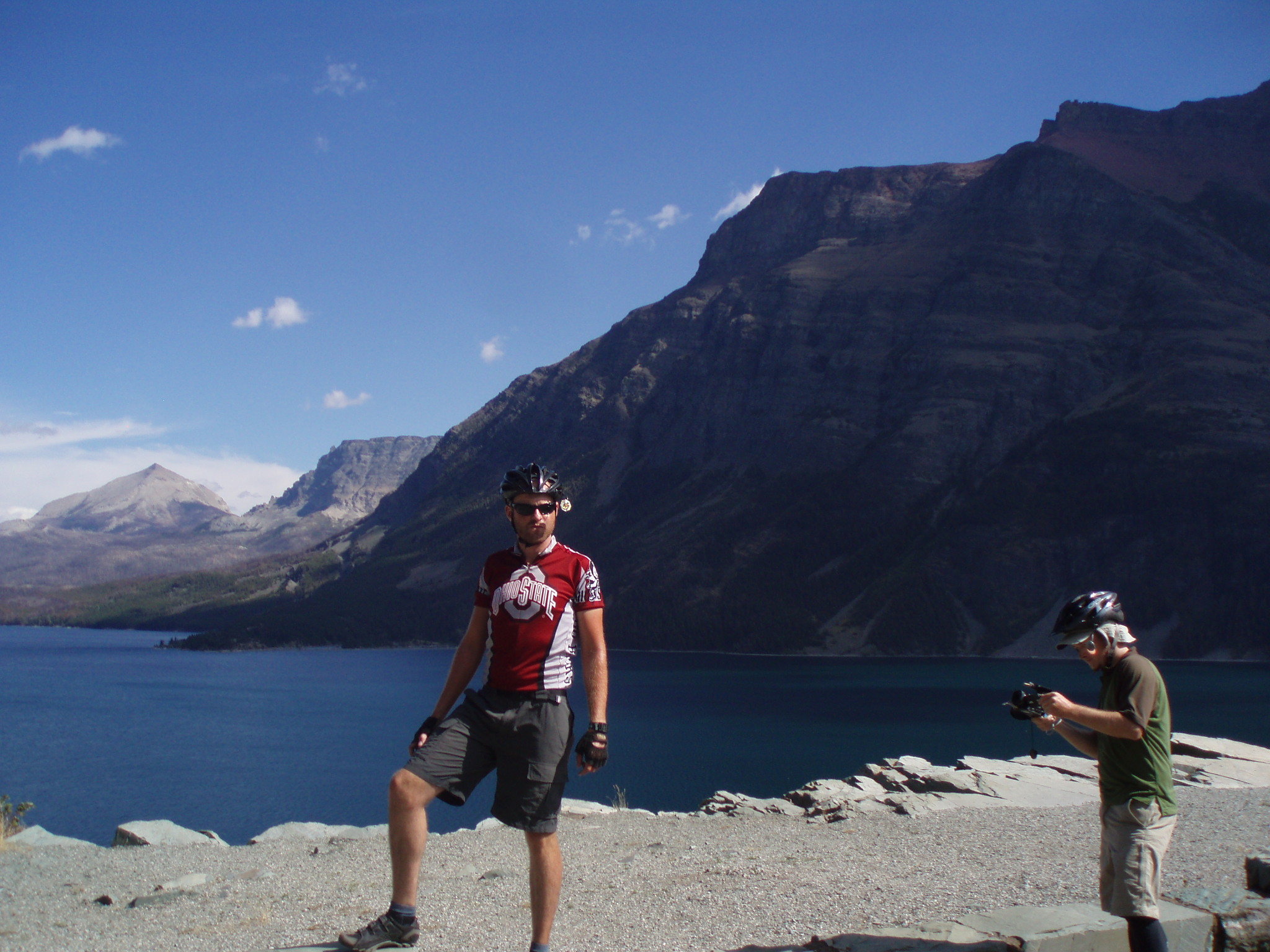 The climb up chuck was climbing like a champion. Jamie and I both took it really slow and took tons of rest breaks. Jamie's knee was bothering him on and off all day long. He has this new method where he tells his knee not to hurt and it stops hurting.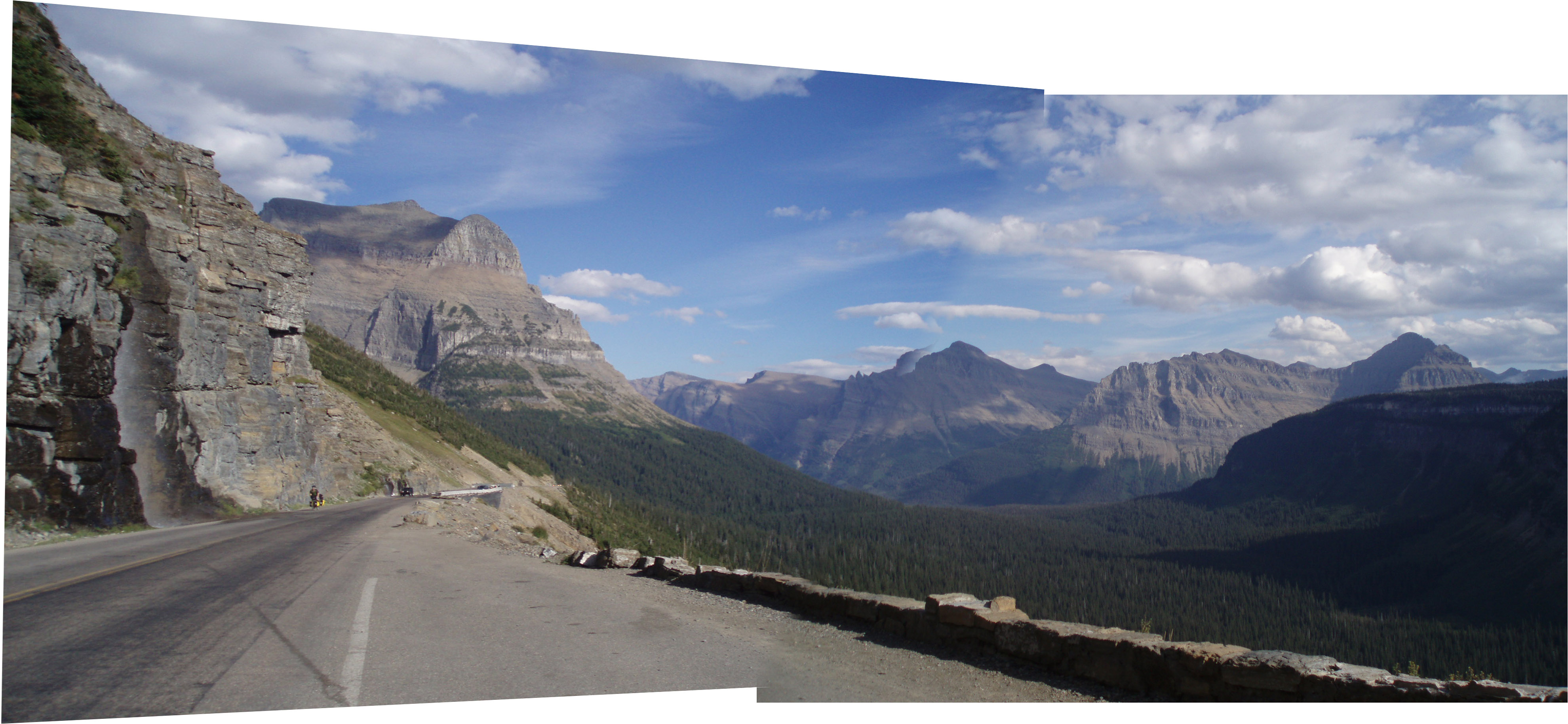 Chuck waited for us as we crawled up the mountain. Contrary to what everyone told us, the traffic wasn't that bad/dangerous on the way up to the top of Logan Pass. All the tourists seemed to be in such a great mood. It was a really nice day.
When the building at the top of Logan pass came into view chuck just took off like a rocket. When Jamie and I finally reached the top, all the tourists were freaking out because there were these 2 rams hanging out in the parking lot looking for food.
I found Chuck at the top hanging out with Dom and Amie.
We went into the lodge and for some reason we all thought that we could get a burger and some beers. But the lodge turned out to only have Taxidermy Beavers and Squirrels. Chuck got pissed and said 'I saw all these animals on my way up the mountain, why would I want to see them stuffed.' The lady at the lodge told us there weren't getting food and beer for a good 15 miles on the other side of the pass, Luckily it was all downhill.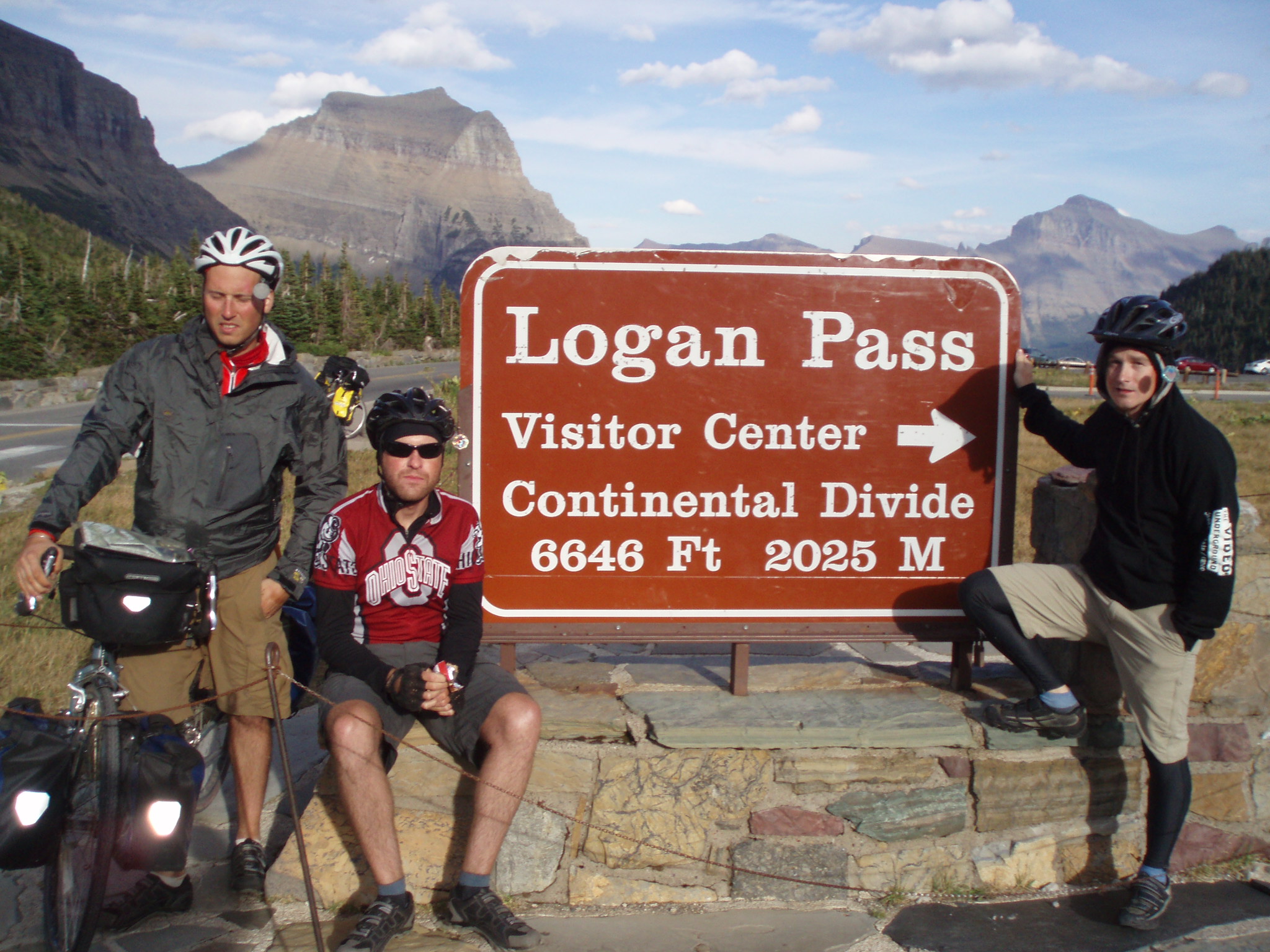 At the top of Logan Pass it was FREEZING! We each put on all our clothes because it's just going to get a lot colder flying down the mountain. A nice girl from Ohio came over to chat with us. She was really into Chuck's Ohio jersey. He gets stopped a lot by people from Ohio who want to talk Ohio with him. They all love hearing about how he loves the State of Ohio!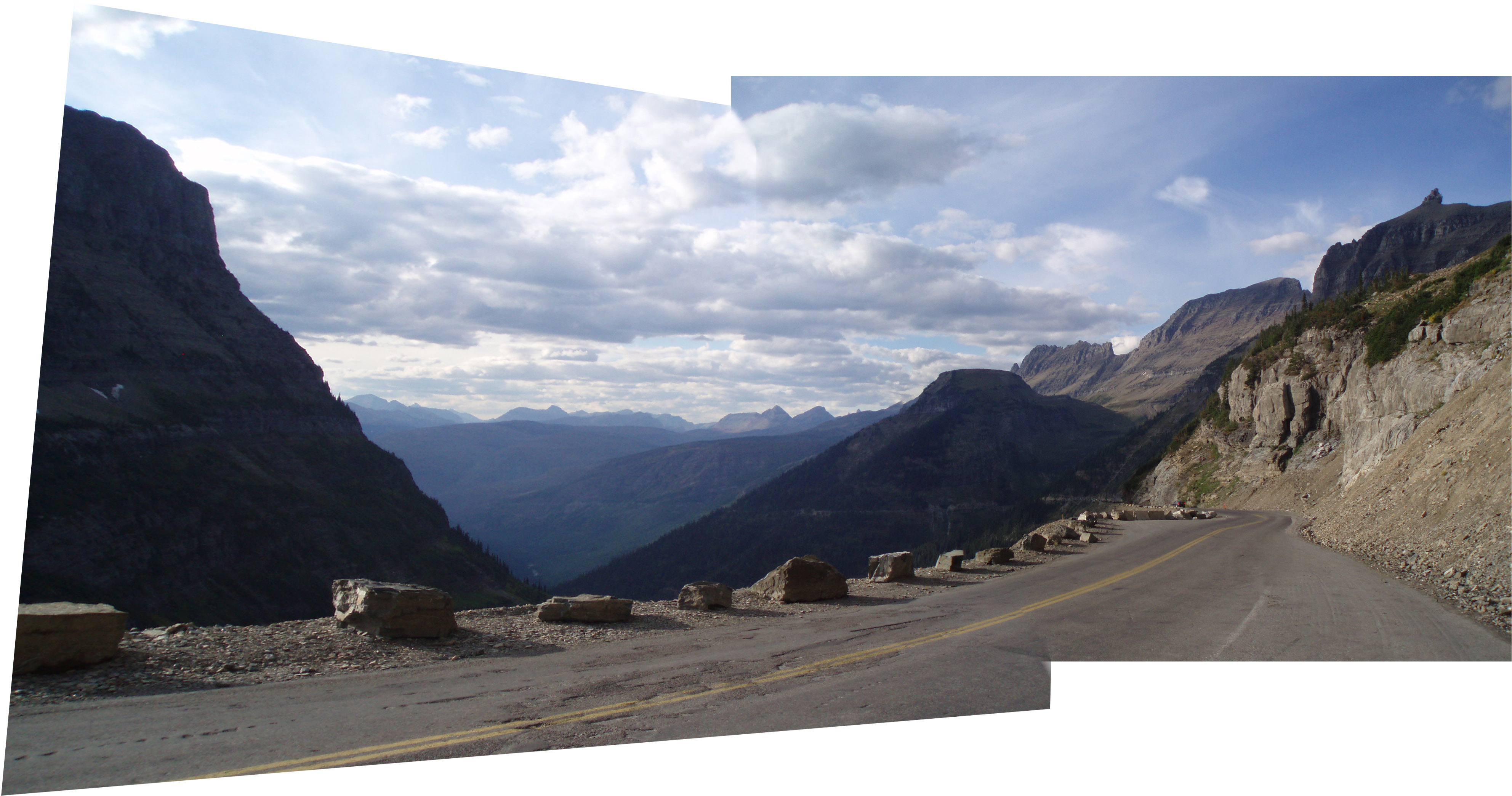 We flew off the top of Logan Pass like madmen. The road was really narrow and the rocks stuck outta the side of the mountain into the road. Jamie almost hit the side of the rocks a few times. Jamie took some video on top of his handlebar bag of riding off the top of the pass: http://www.teamnortherntier2007.blogspot.com/2007/08/riding-down-going-to-sun-road.html
If by chance we would go off the road, the drop down was several thousand feet to the ground.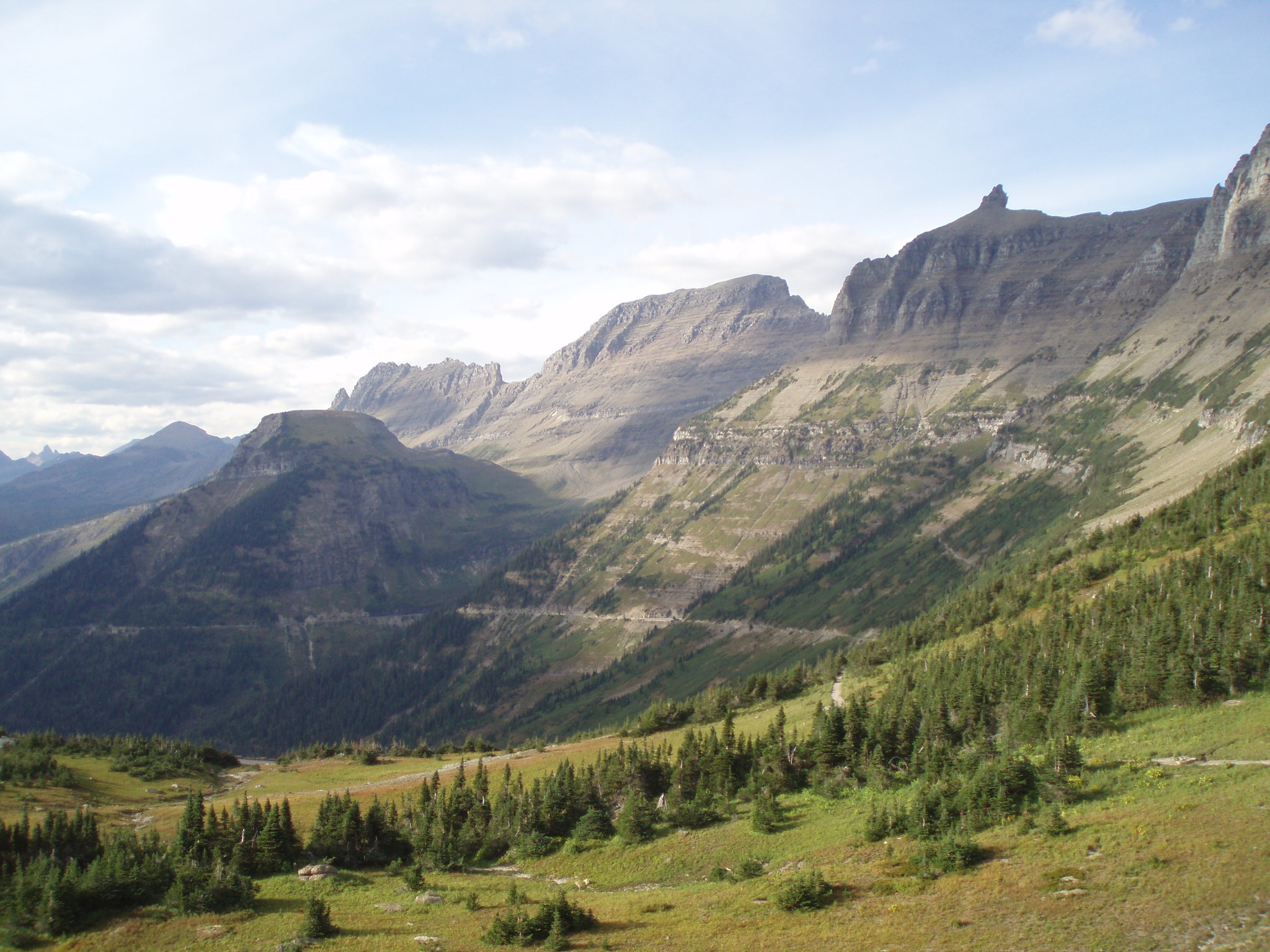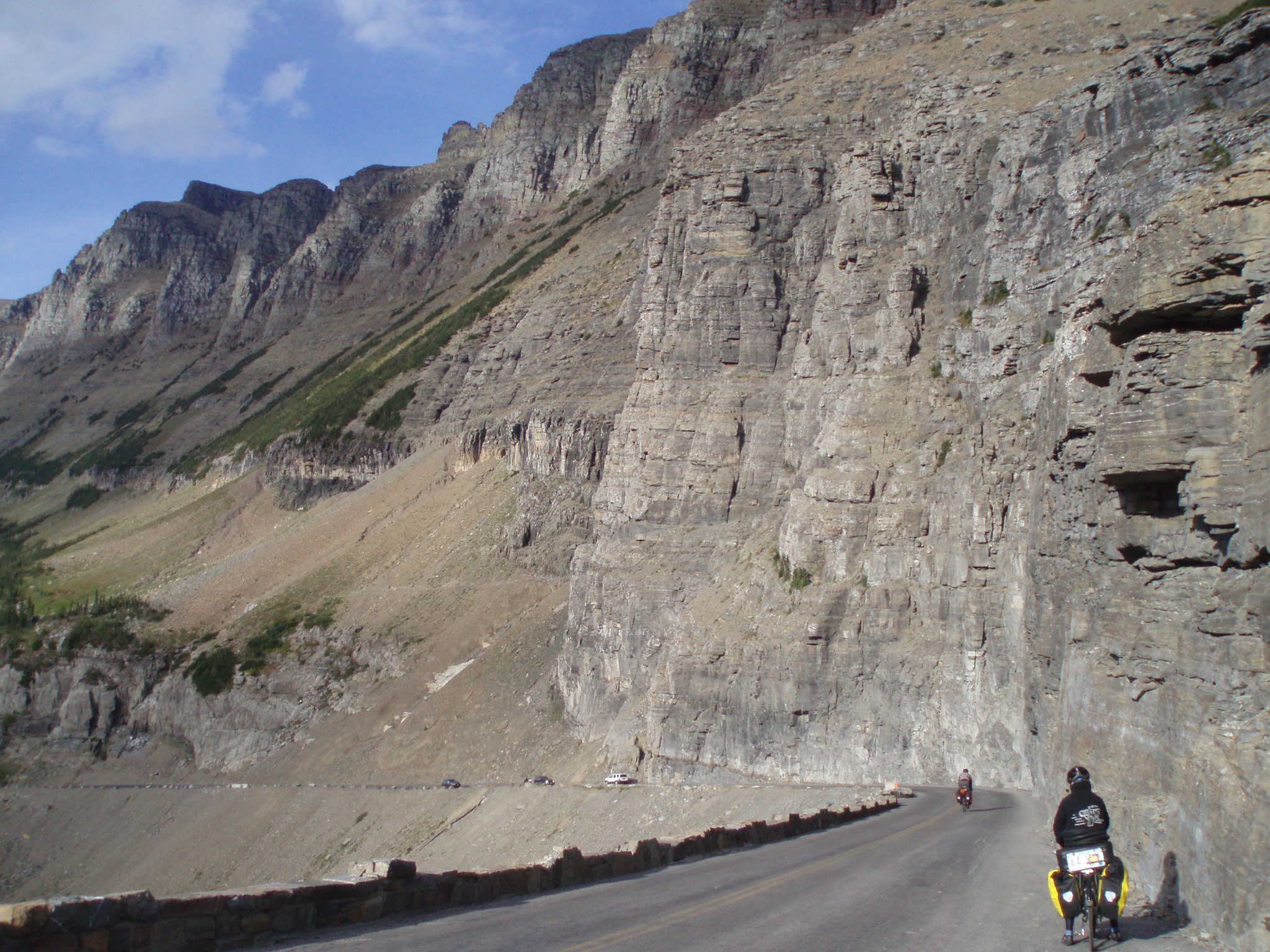 The traffic was pretty light then we hit the construction on the road. We stopped at the light and got in front of about 30 cars. When the light turned green we guided the cars down the top of the mountain at about 35 mph for a good 25 minutes. Then our downhill flattened out a little bit, so we let all the cars pass us. Everyone in the cars waved to us cause they knew how much fun we were having flying off the top of the mountain.
We made it to the restaurant with an hour to spare. The sun was just setting as we walked in. Each of us ordered giant meals and beers. It was a well-deserved dinner. Today was probably the most beautiful day of this bike trip. We're all really tired after that big climb.
After dinner we rode 3 more miles down the hill to the campsite. When we got there it was pitch black. Couldn't see anything. The spot where the cyclists are supposed to camp was packed and everyone was sleeping. We did a lap around the campsite and couldn't find any vacant spots for us to setup our tents.
At the very end of our lap this nice couple came up to us and asked if we needed a place to camp. They had a big RV and didn't need the tenting area on their campsite so they said we could use it. They were really nice. They gave us each a can of this really delicious Canadian beer and we sat and had a lot of fun talking with them. The lady told us that this year Glacier started a shuttle service to help diminish the amount of traffic on going to the sun road. It was about 11pm and we were all really tired, so we crashed pretty quick. Today was definitely sensory overload.
Jamie made a video using his footage from glacier; he also got his band together to make some music for it: http://www.teamnortherntier2007.blogspot.com/2007/08/glacier-national-park.html
     Click Here to Visit The Table of Contents
     Click Here to Visit Previous Page: Day 68: Shelby, MT to Browning, MT
     Click Here to Visit The Next Page: Day 70: Lake McDonald to Glacier National Park, MT to White Fish, MT