Tuesday September 4, 2007, 43 miles (69 km) – Total so far: 4,316 miles
(6,947 km) 43.18     Miles 9.5 avg 35.5 max 4:30 riding.
     Click Here to Visit The Table of Contents
     Click Here to Visit Previous Page: Day 79: Republic, WA to Omak,WA:
     Drive-Time Video
     Click Here to Visit The Next Page: Day 81: Twisp, WA to New Halem, WA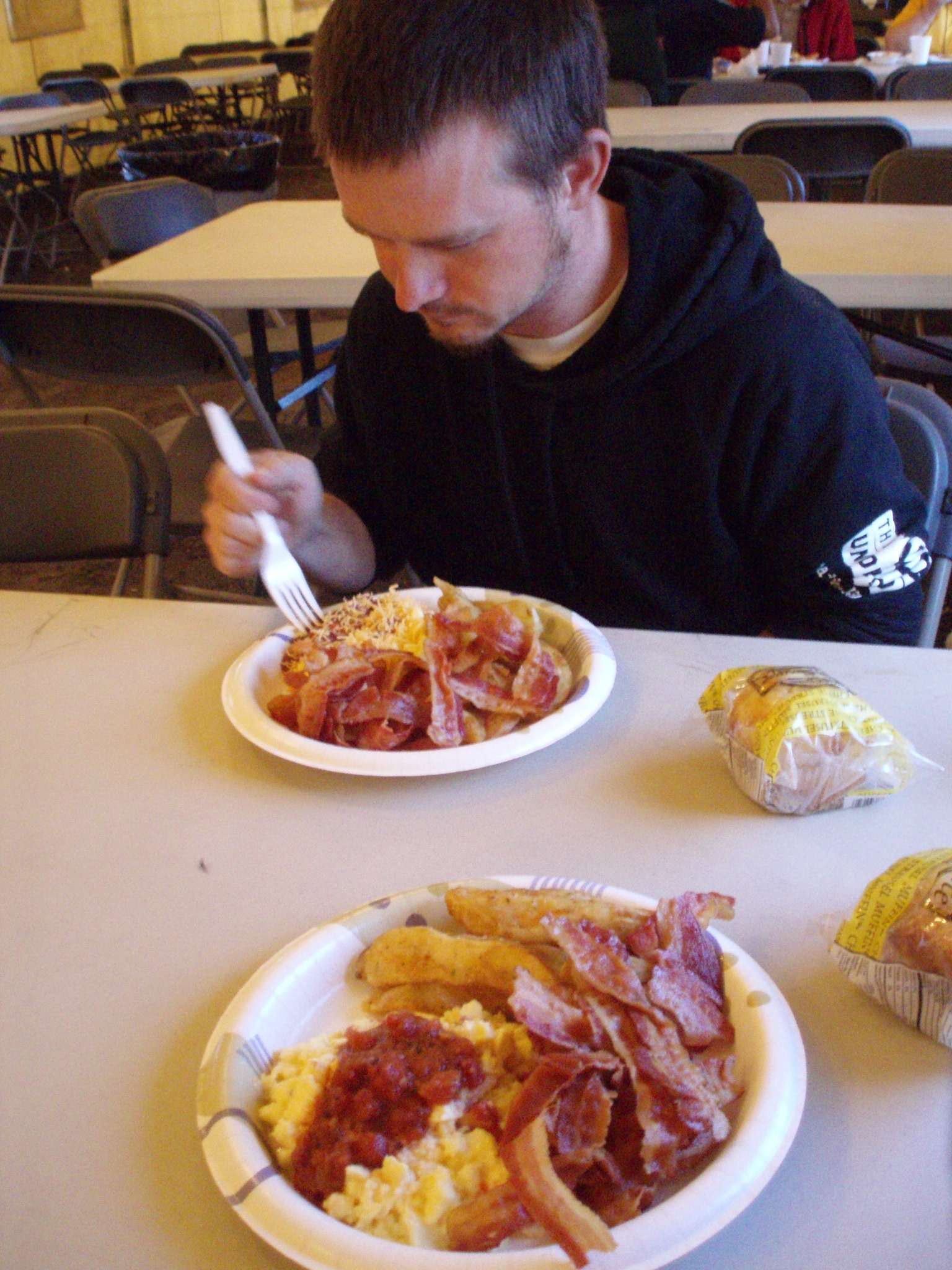 In the morning we all packed up quick. Jamie was up late working on that video for the screening in Seattle. The bug situation has been really good lately so he hasn't slept in his tent since we were in Sandpoint.
In the morning we had a huge breakfast with the firefighters. It was awesome. They gave us this huge plate of delicious food! We met another guy who works for the food service and we talked with him for a bit. He's from Cleveland and we actually rode right past his house when we went through there 2 months ago. He was really excited to hear about our trip. He told us good things about Portland, Oregon and it's been awhile since we heard that. It felt good.
Jamie and I met Chuck in town and we just took care of some errands, Chuck and I had to go up to Walmart to take care of some business.  Bob Potter called, he's driving from Olympia to find us on the road today. I told him what town we plan to stay in tonight.
We met up with Jamie at the library. While we were there, Chuck got really excited because got an email from lady at his office who has been working on this great article about him, Chuck is being featured on his company's in house website.
After we left the library we all needed to eat again. The grocery store was disgusting and had nothing that looked appetizing and smelled horrible to us, so we went to the restaurant and got food. Jamie ordered the turkey and when it came out it was crap, the cook even came out and took away his plate and made him this shitty taco salad, which was just as awful. This restaurant put Jamie in a bad mood for the rest of the day.  It felt like we were in that restaurant forever and we were never getting outta this town.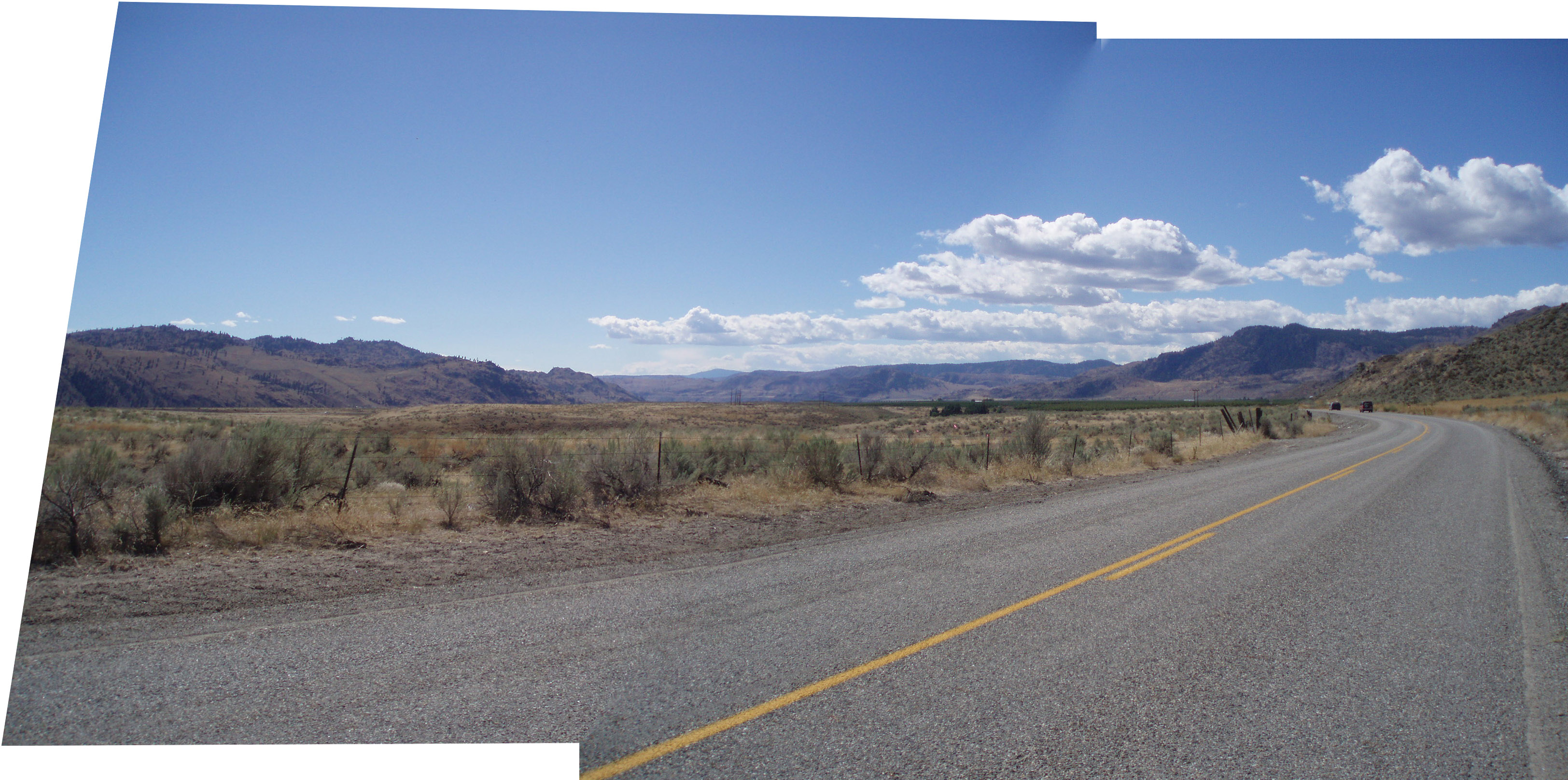 We finally hit the road around 12:30. I needed sunflower seeds so we stopped at the store. Some guy asked Jamie who he thinks the next president is going to be and he said 'Probably George Bush, he's going to figure out a way to get elected again!'
Today we're climbing up Loup Loup Pass; this is the 4th of the 5 climbs. Loup Loup is 3000′ uphill and then a lovely 2300′ downhill into a little town called Twisp.


The first part of the climb might have been the hardest. The sun was beating pretty hard and it was just straight up for the first couple of miles. I got stung by another bee. He got stuck in my helmet and then fell on my arm and stung me. I got over it quick.
When I finally got caught up to Jamie and chuck we kept hearing all these gunshots coming from every direction. In the distance we could see some police lights and a helicopter flew overhead.
We got back on route 20 and climbed up the hill and learned the police lights were nothing more than tinsel the farmers put on the Apple Trees to scare the birds away. We never figured out what was up with those gunshots.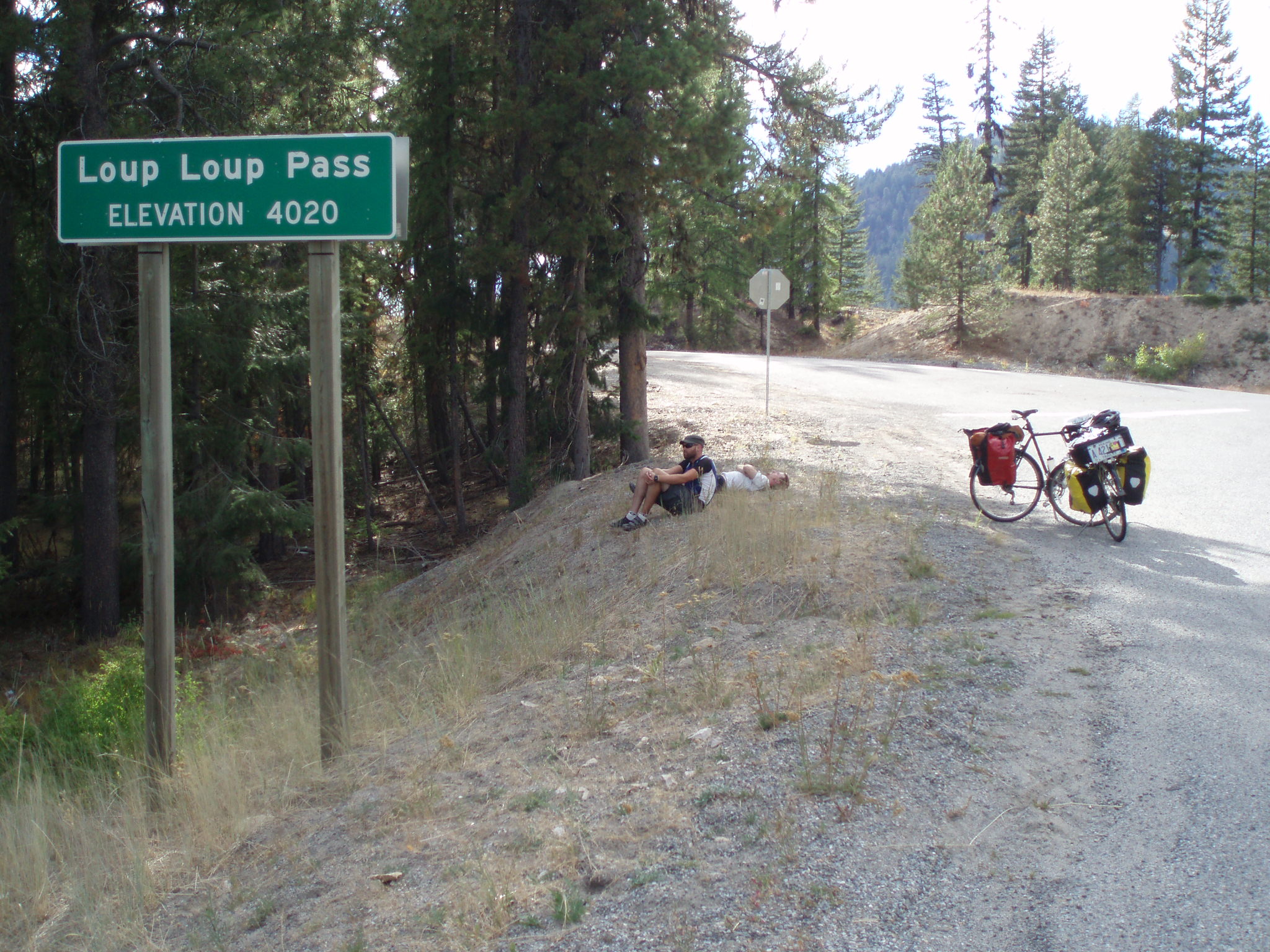 The climb up Loup Loup went pretty good. We all rode pretty strong. The beginning was definitely the hardest part of the day. It wasn't as hot on the top of the mountain. We had really bad headwinds coming off the top of the pass.
We struggled through the wind and got into the next town called Twisp. I stopped at the grocery to get the coke that I had been craving all day long.
Some guy at the grocery told me to be careful climbing up Washington pass tomorrow, it snowed up there the other day and the weather can change in a minute.
When I met Chuck and Jamie in town, Jamie was all cranky. Apparently they tried to get food at the brew pub and they told them it was closed for a private party and James got really mad. He bitched about how he's tired of eating crap food and he's going to eat dinner at this fancy Italian Restaurant and not care how much it costs.  We were all pretty much on his page. We all got lasagna that was kind of pricy. But it was good.
At dinner we debated riding 10 miles to the next town Winthrop, into the wind. It was getting late and it would mean arriving in town after dark, so we trashed that idea. I tried to call Bob Potter, but he was unreachable. He might be at the town we had anticipated to stay in tonight.
We found the town park and met a nice local who told us we shouldn't have any problem staying here even though there's a big sign that says 'NO CAMPING!' he said if the cops give us problems we could move our tents over to his yard.
We all crashed pretty early. Chuck slept in his tent by the roaring river, Jamie slept on the ground with the ants and I slept on top of a skinny picnic table.
     Click Here to Visit The Table of Contents
     Click Here to Visit Previous Page: Day 79: Republic, WA to Omak,WA:
     Drive-Time Video
     Click Here to Visit The Next Page: Day 81: Twisp, WA to New Halem, WA