Monday September 3, 2007, 70 miles (112 km) – Total so far: 4,273 miles (6,877 km)
## 79 ## 69.86 miles 32 max 5:42 12.2 avg

     Click Here to Visit The Table of Contents
     Click Here to Visit Previous Page: Day 78: Kettle Falls, WA to Republic, WA
     Click Here to Visit The Next Page: Day 80: Omak, WA to Twisp, WA

In the morning, Chuck yelled at me that there's a deer standing right next to my tent, so I banged on all the walls and rang this stupid cow bell that Lady gave me in Kettle Falls to scare him away, before he urinated on me. But chuck said 'Oh shit, he thinks your Santa Clause, and he's coming closer!' There's a serious deer problem in town, they walk all over eating lawns and aren't really scared of people. It's not a good thing.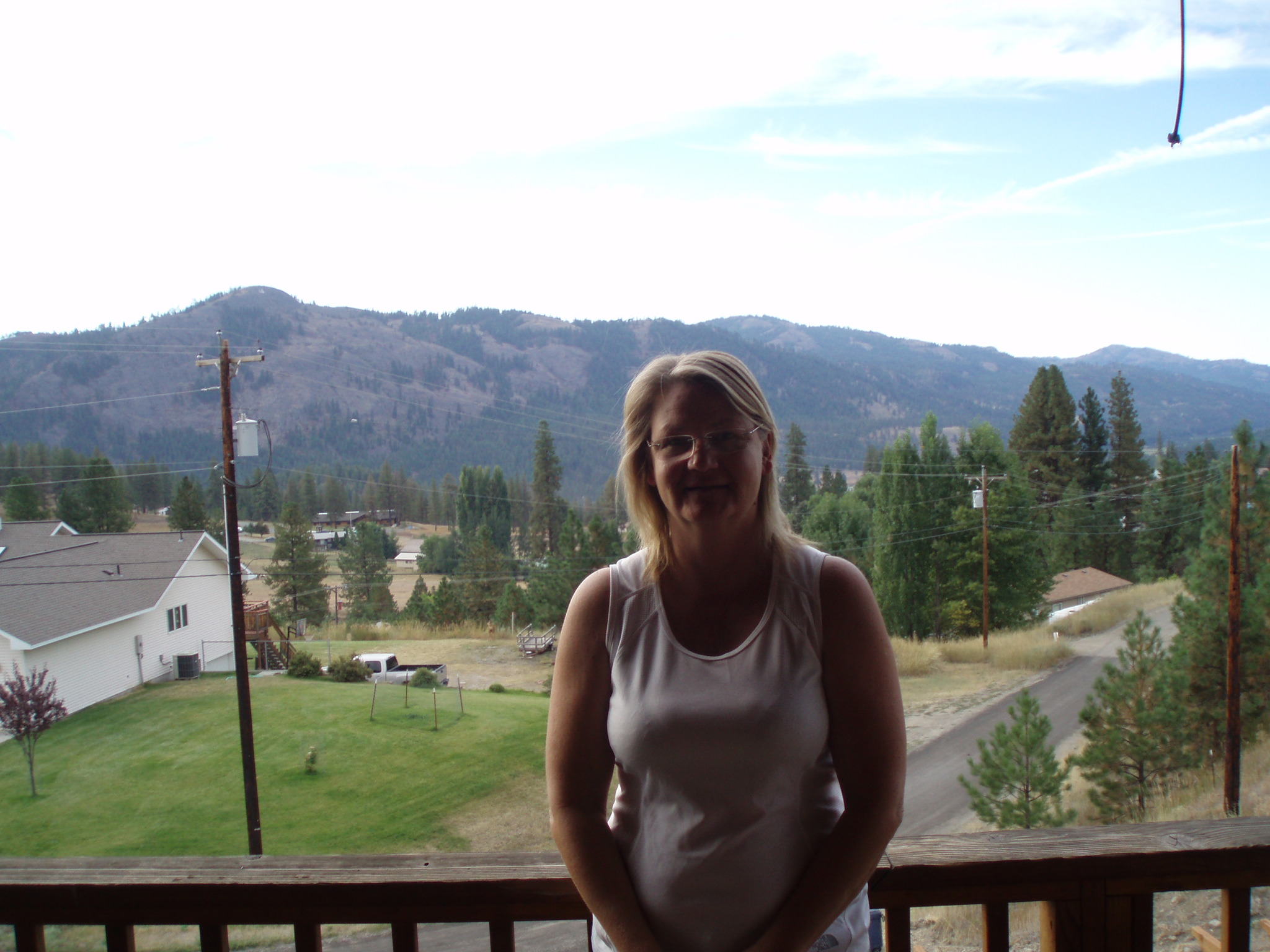 Diana fed us some food and made hot water so we could have some tea. We thanked her tremendously for helping us out last night.  She wished us luck on the rest of our journey and we took off flying down the hill.
Today is Labor Day so NOTHING was open as far as giant breakfasts go. We got stuck eating these lousy sandwiches from the grocery store.  It was garbage. While we ate our disgusting breakfast, Jamie groaned like it was killing him as he ate it.
The plan for today was to cross the second mountain pass called Wauconda Pass. It's about 2000′ climb uphill and then it's a long 3300′ descent into Tonasket where it's basically flat for the rest of the day.
The climb up Wauconda was a piece of cake. We had a sweet tailwind and the climb just went really fast. We all rode it pretty hard.  The climb was over by 11:30am.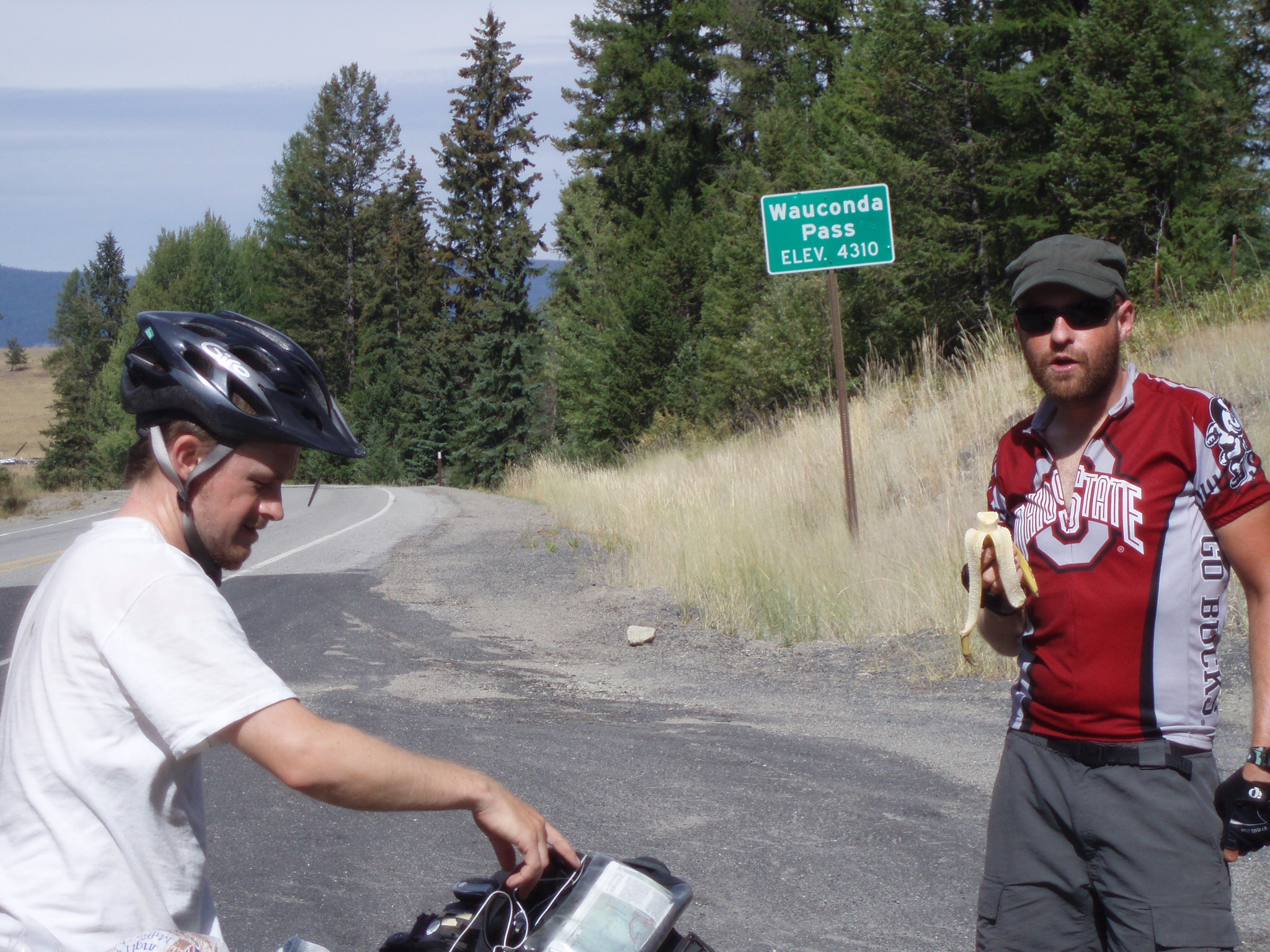 At the top of the mountain we stopped and took a long break in front of some driveway. Some car drove in and asked about our trip. We told them we came from Maine and are on our way to Seattle and this guy decides to break the news to us that we're really far away from Seattle.
Thanks! I mean, it's not like we've been cycling for 79 days and we have less than a week to go and we're still far away! Then when we told him that we're from Boston and New York he asked us who's going to win the Pennant? We all said 'Pennant?! What are you talking about?' and he said 'Ya know baseball!' we all said 'Ohhhh ..' and Chuck went 'I don't know, Lance Armstrong!'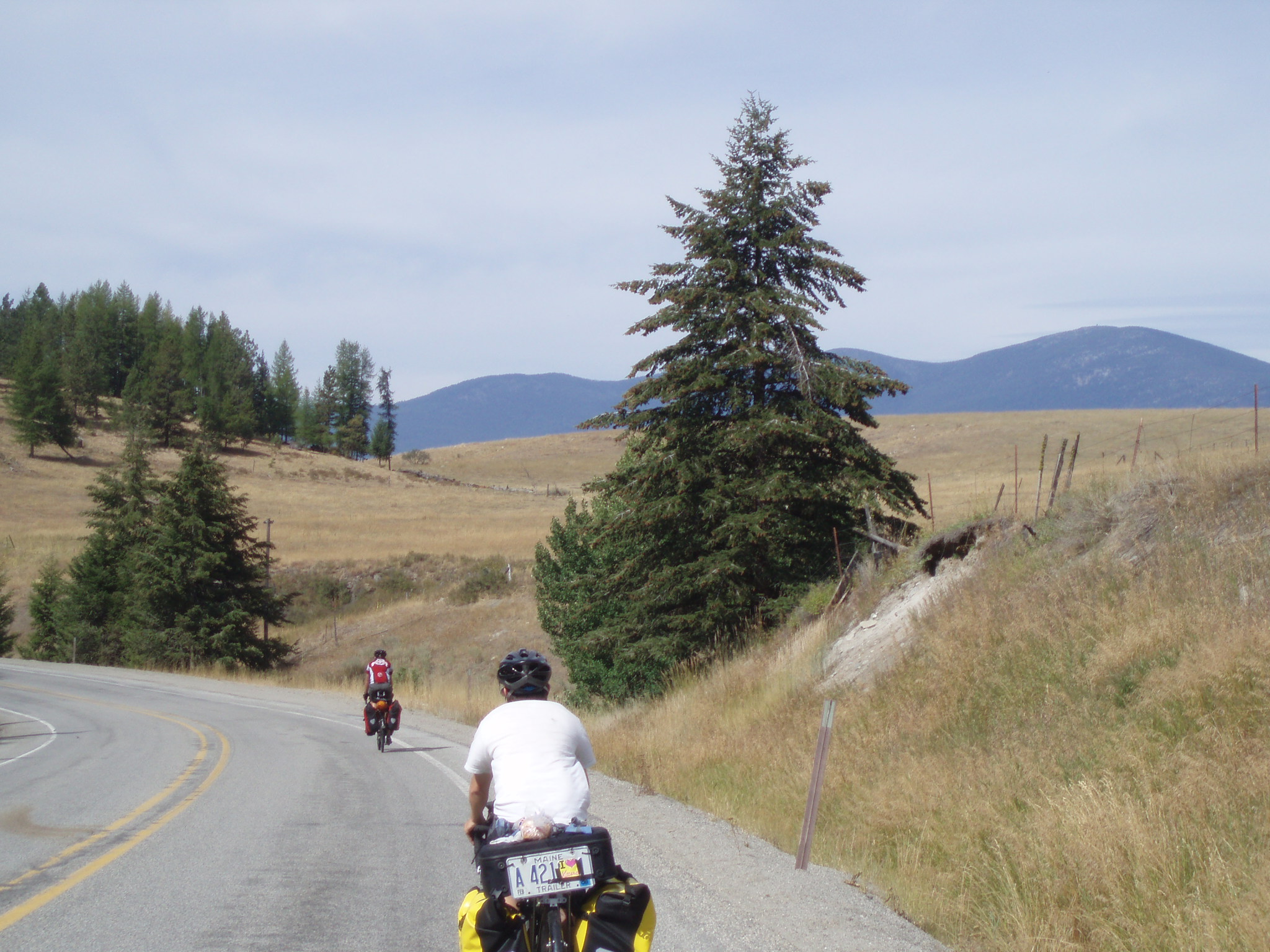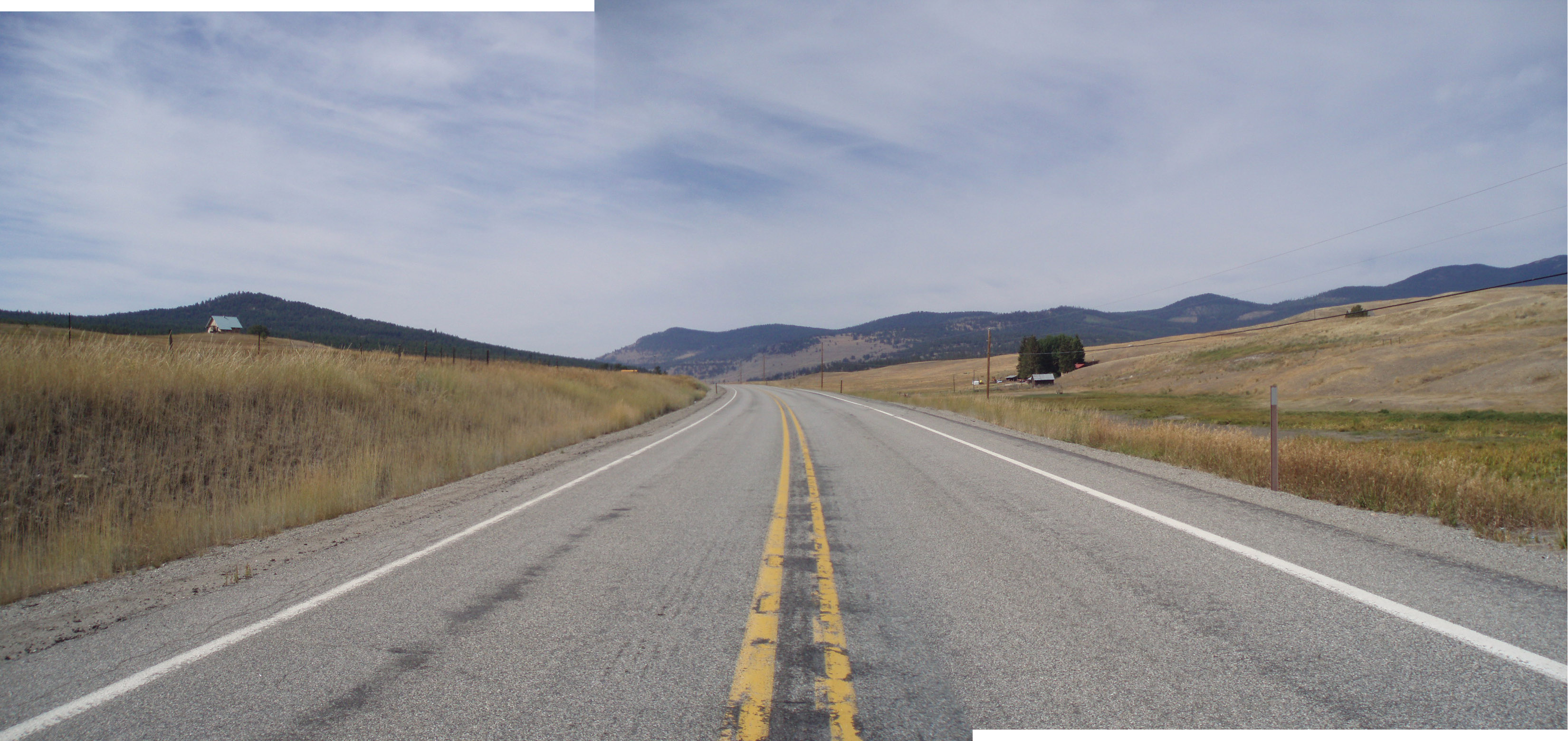 After we crossed lovely Wauconda pass the winds changed in a bad way. We came off the top off the mountain at a lovely 10 mph. it's so frustrating, when you work so hard to get to the top of these mountains and then you have to work your way down the mountain while riding into the wind.


All day I complained about how I'm really backed up on the journal so when we rode into Tonaskit the next town we decided to take a long break so I could bang out a lot of writing for the journal. Jamie got an Email from Ravi Jain, saying the 'Drive Time' episode from Day 0 of our trip is now available on the web.
http://drivetime.ravijain.org/2007/09/episode-threeone.html Jamie also found a Video Screening in Seattle on September 10th. Where we could show a 10 minute video to a bunch of people. Jamie's going to start working on throwing something together using the footage from our trip.
A few days ago when we were in Sandpoint, Bob Potter http://www.crazyguyonabike.com/doc/BP3 called me and said he was flying out to Seattle, renting a car and is going to spend the last few days with us while we finish our trip. We were all really excited to meet up with Bob. Bobs flight came in today, so I called him to see where he was. He said he was visiting a friend and he'll catch us on the road tomorrow.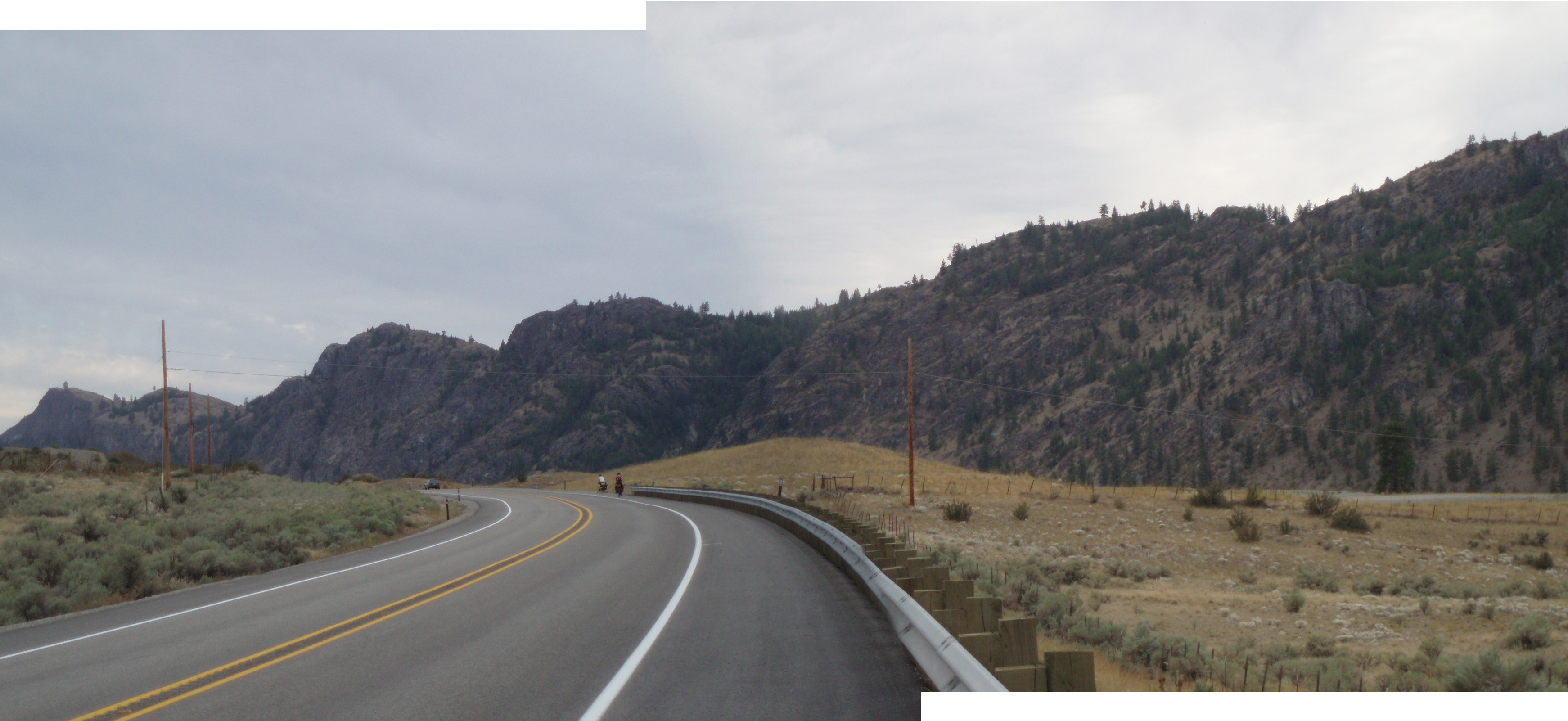 Riding outta Tonaskit both Chuck and Jamie didn't feel well. We all ate at subway. It was just as gross as every other subway we ate at all the way across the country. We're all so sick of eating, it's disgusting.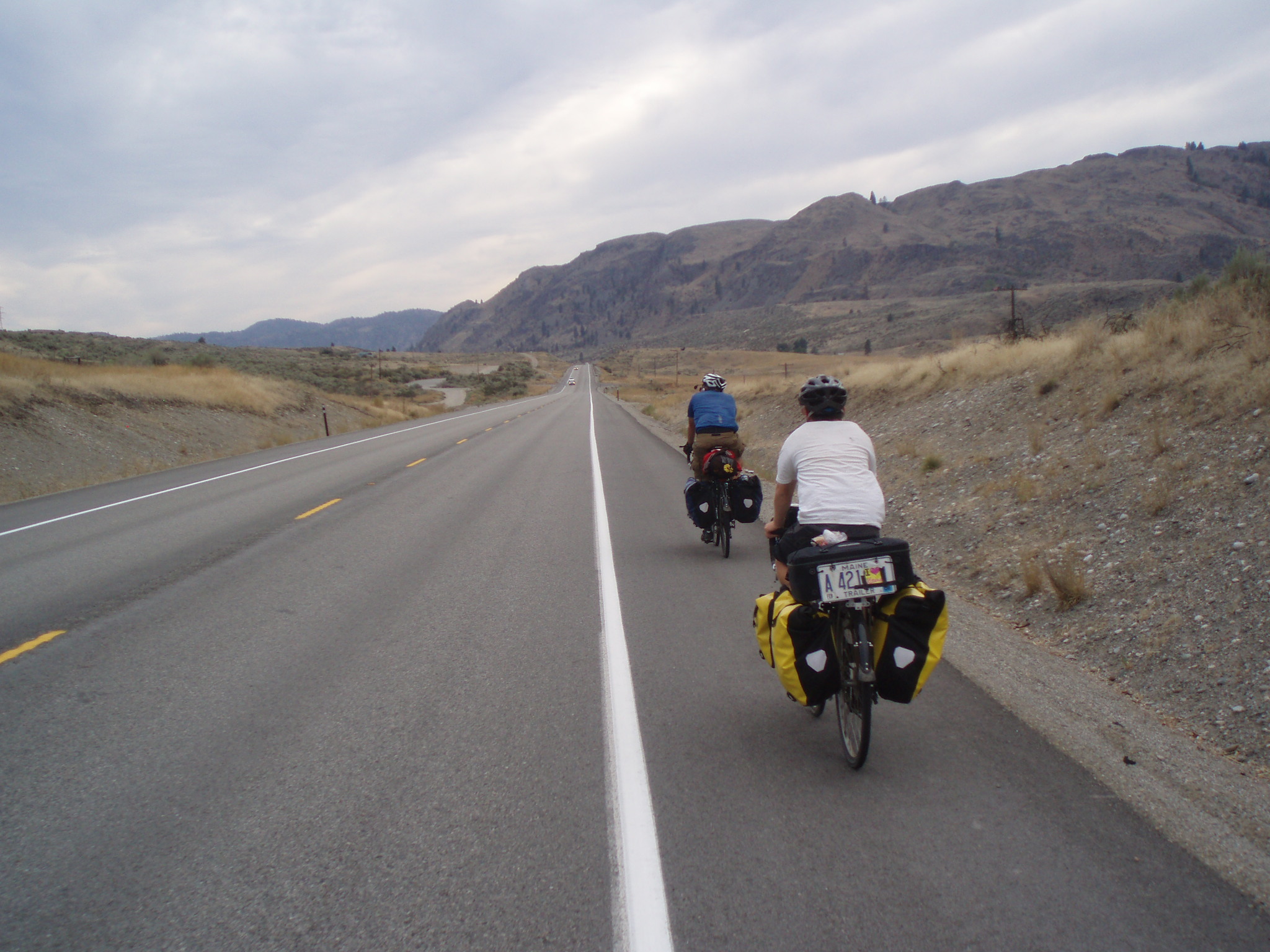 5 miles outta Tonasket my rear derailers was doing really bad, my chain was jumping all over the place. The barrel adjuster was maxed out so I had to pull in some cable tension. Jamie held up my bike while I got it running like new.
A few more miles out we had to stop and take a break because chuck wasn't feeling well at all and needed some sugar or something.
We rode into Riverside and debated staying there. I'm glad we didn't because it didn't look like anything great. The next town was a 10 mile push called Omak. It's a huge town with no real legit camping situation. The next camp spot was a little town after called Okanogan that's another 3 miles.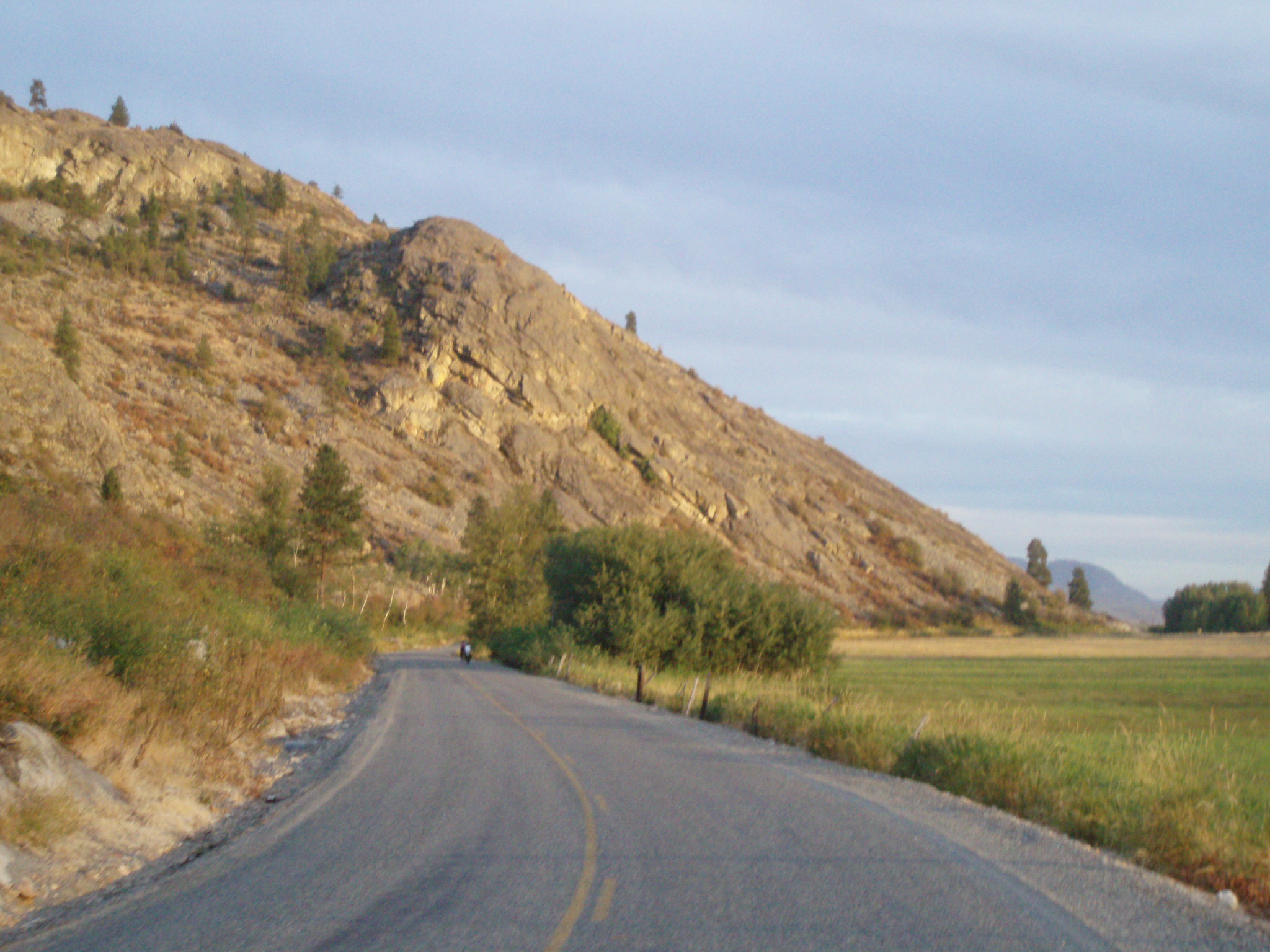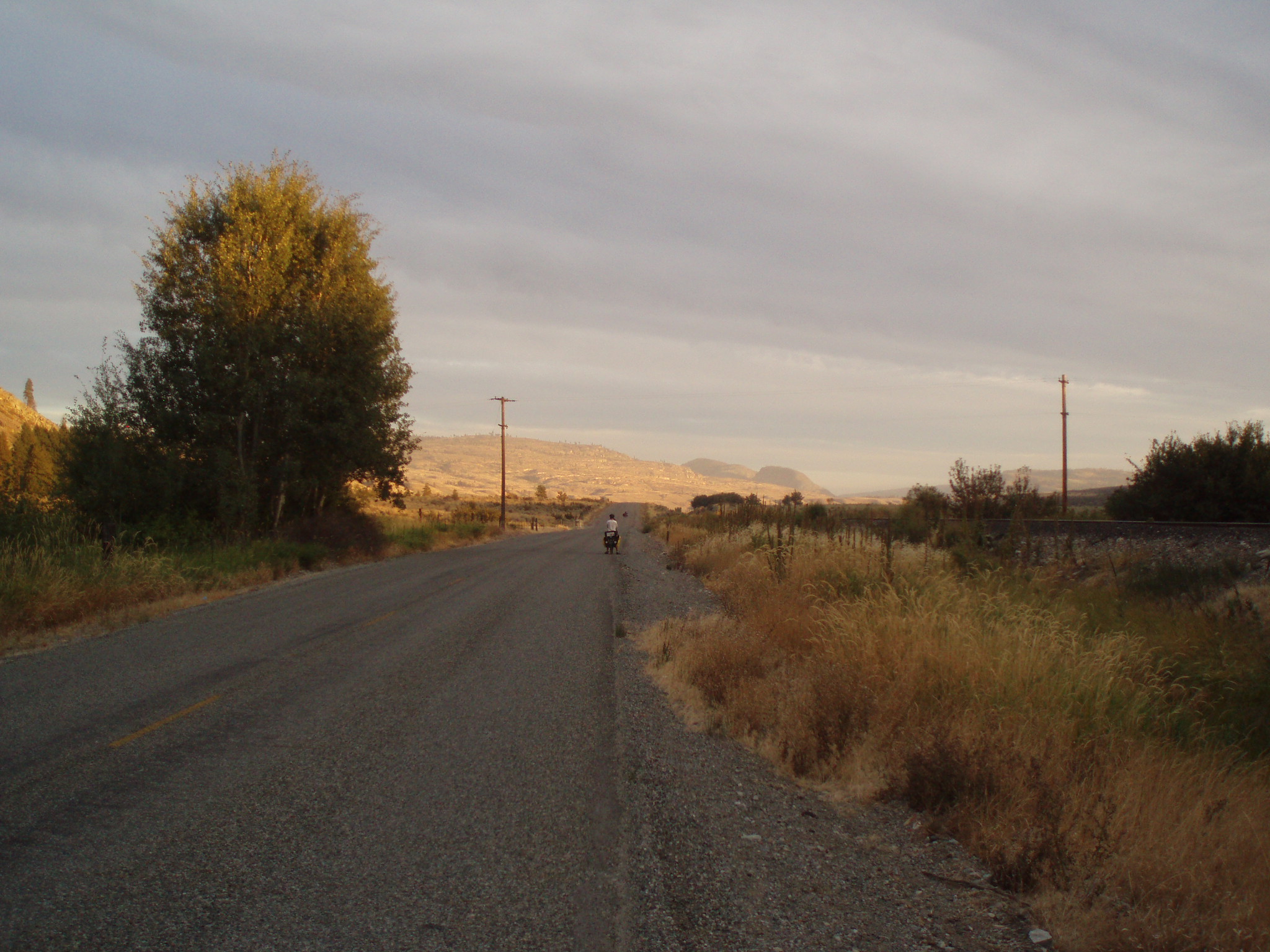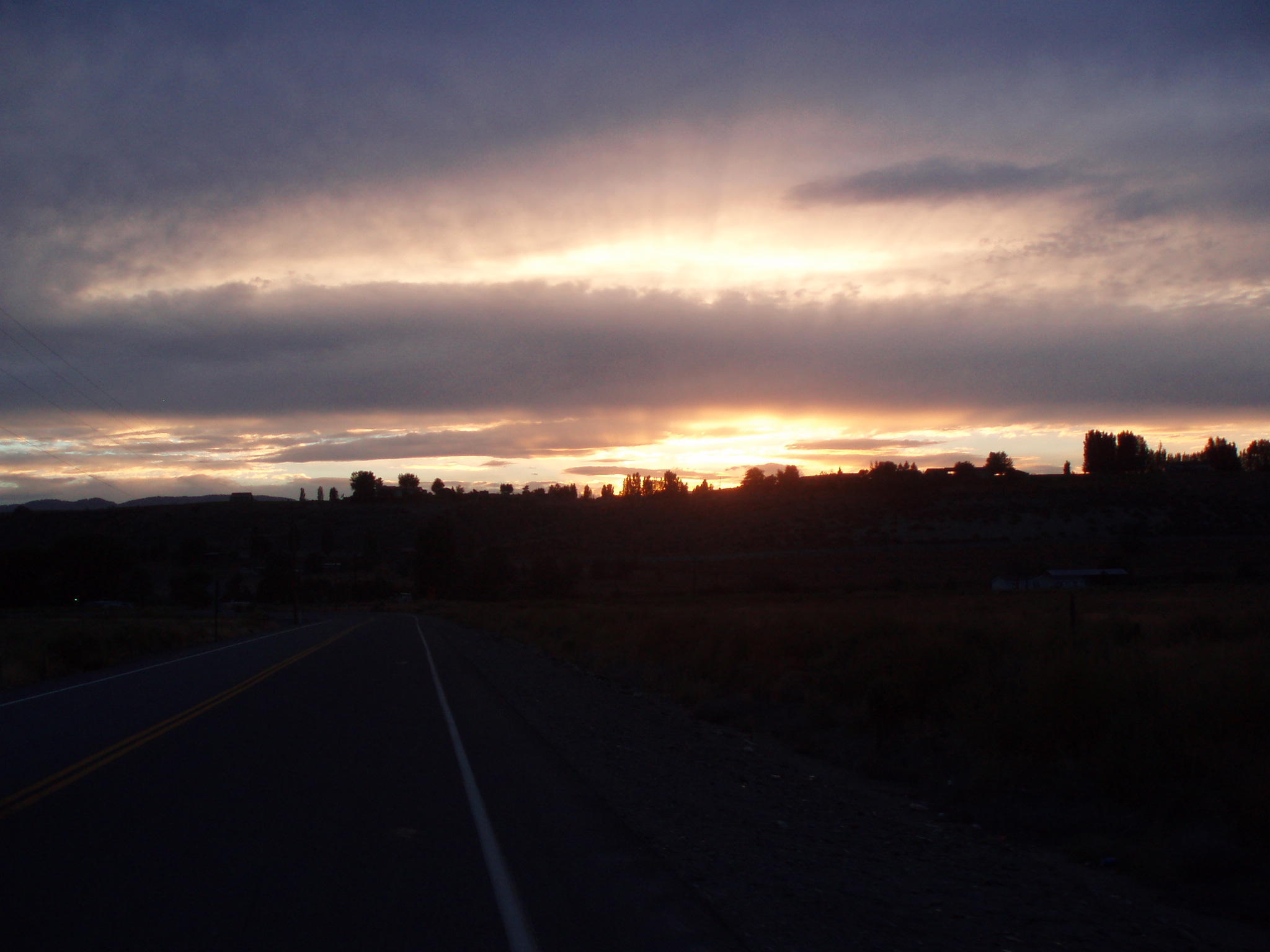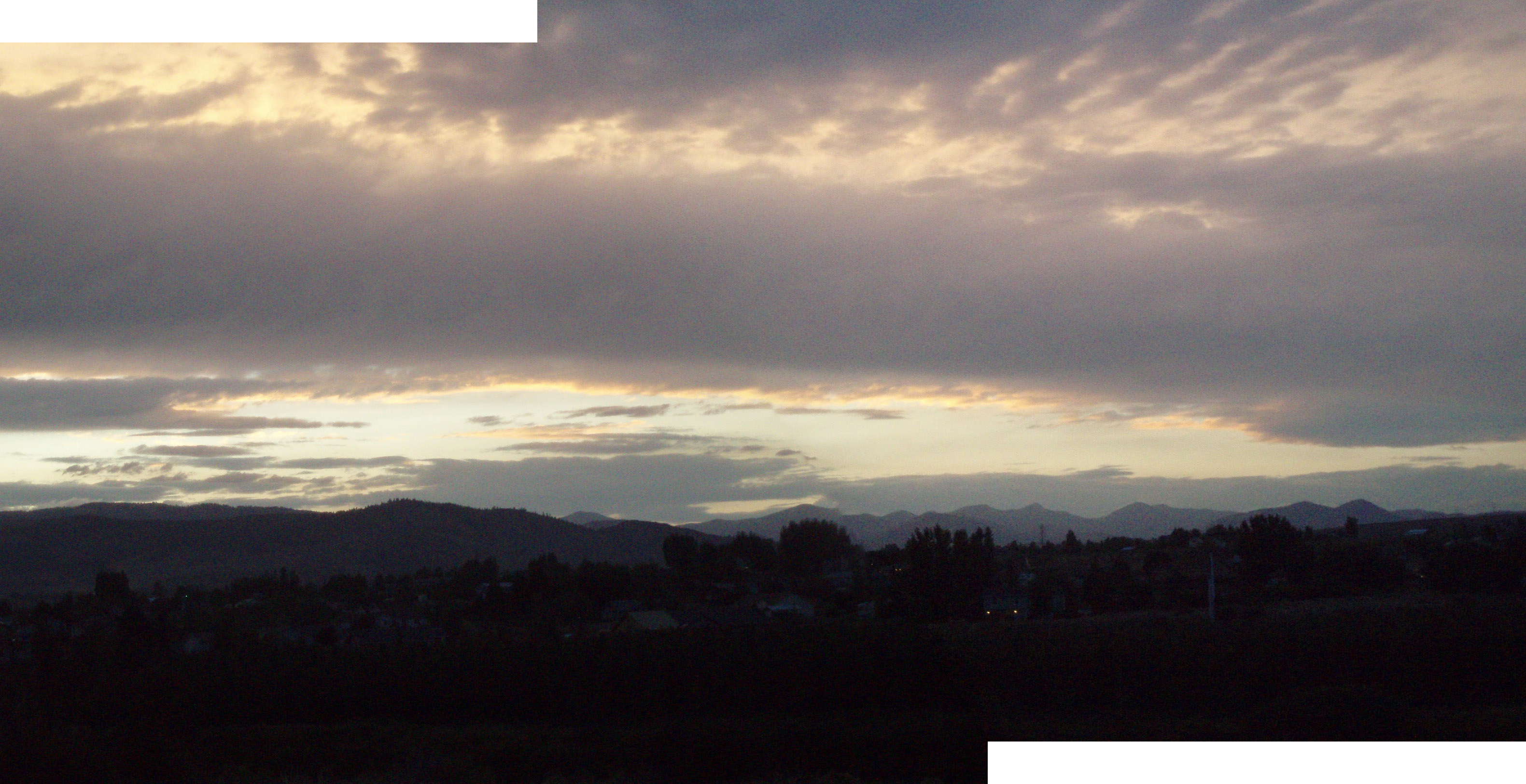 After riverside we raced against the sun to get into Omak before it was dark. The ride was really fantastic, off crazy route 20 away from the trucks and all the chaos. The ride between Riverside and Omak was really beautiful. The sun was setting behind the mountains and the quality of light was really majestic. The landscape had this beautiful smell; I don't know what it was or where it was coming from. But it was something I never smelled before.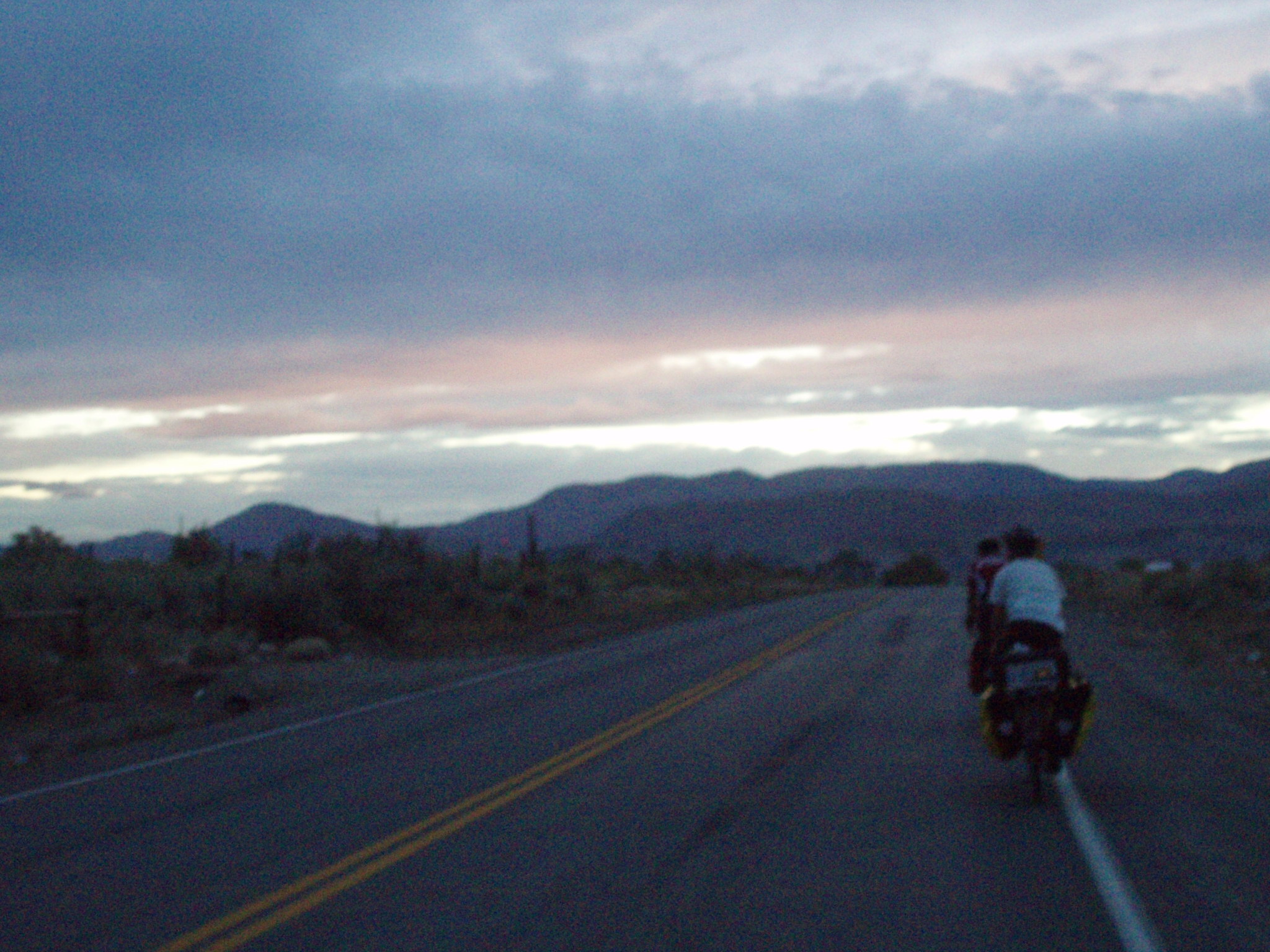 The closer we got to Omak we got into this sketchy Indian Reservation. Chuck said he still wasn't feeling well so let's just stay in this town. We found the camping spot and it was packed with people. The firefighters were using the campground as a home base while they fought a nearby forest fire.
We found a nice spot far away from the firefighters to camp. At the end of the night this nice guy came over to ask about our bike trip. He worked for the food service and said if we want we were more than welcome to have a firefighter breakfast.  He said there's always an excess of food that just goes to waste.
Late at night Jamie was walking around talking to Lela on his cell phone. She told him a dirty joke that made him laugh so hard that he woke up someone in their tent. He politely apologized and then told them the joke and they laughed really hard and went back to sleep.
     Click Here to Visit The Table of Contents
     Click Here to Visit Previous Page: Day 78: Kettle Falls, WA to Republic, WA
     Click Here to Visit The Next Page: Day 80: Omak, WA to Twisp, WA