Thursday September 6, 2007, 98 miles (157 km) – Total so far: 4,497 miles (7,238 km)
## 82map ## 97.55 miles 7:31 29.5 max 13 avg
     Click Here to Visit The Table of Contents
     Click Here to Visit Previous Page: Day 81: Twisp, WA to New Halem, WA
     Click Here to Visit The Next Page: Day 83: Anacortes, WA to Mukilteo, WA

Last night I slept great on the picnic table, Jamie pussied out in the middle of the night in fear or rain and setup his tent. New Halem had a very nice public restroom, so I took full advantage and shaved for the big day.
The General store opened at 7:30 so we all ate $2 biscuits and gravy for our first breakfast. The real breakfast place is 17 miles away. Biscuits and gravy was pretty gross but we didn't really have much else to eat besides power bars and it did the trick to get us into the next town.
We chatted with Dave and Chris from CT a little bit. Dave said yesterday was the best day of cycling they have had since they left Glacier. We can't help but agree with him. The Cascades really is a magical place. Bob Potter, the official sag, found us 5 miles out of town. He slept great last night at the motel; he was exhausted from watching us climb up mountains all day. Jamie called him Bob Sagit and then made us listen to his joke. Bob Sag-it. No one laughed.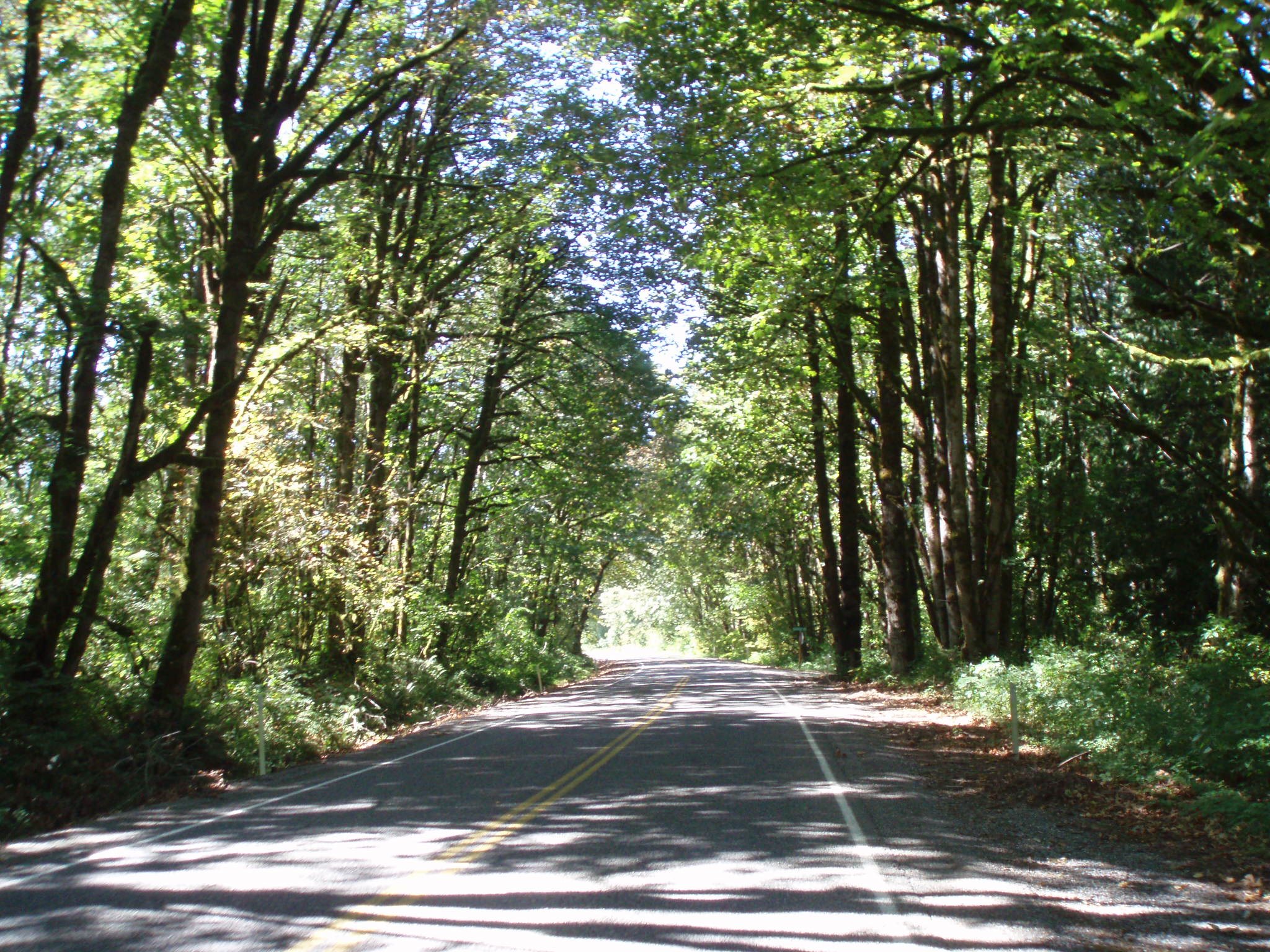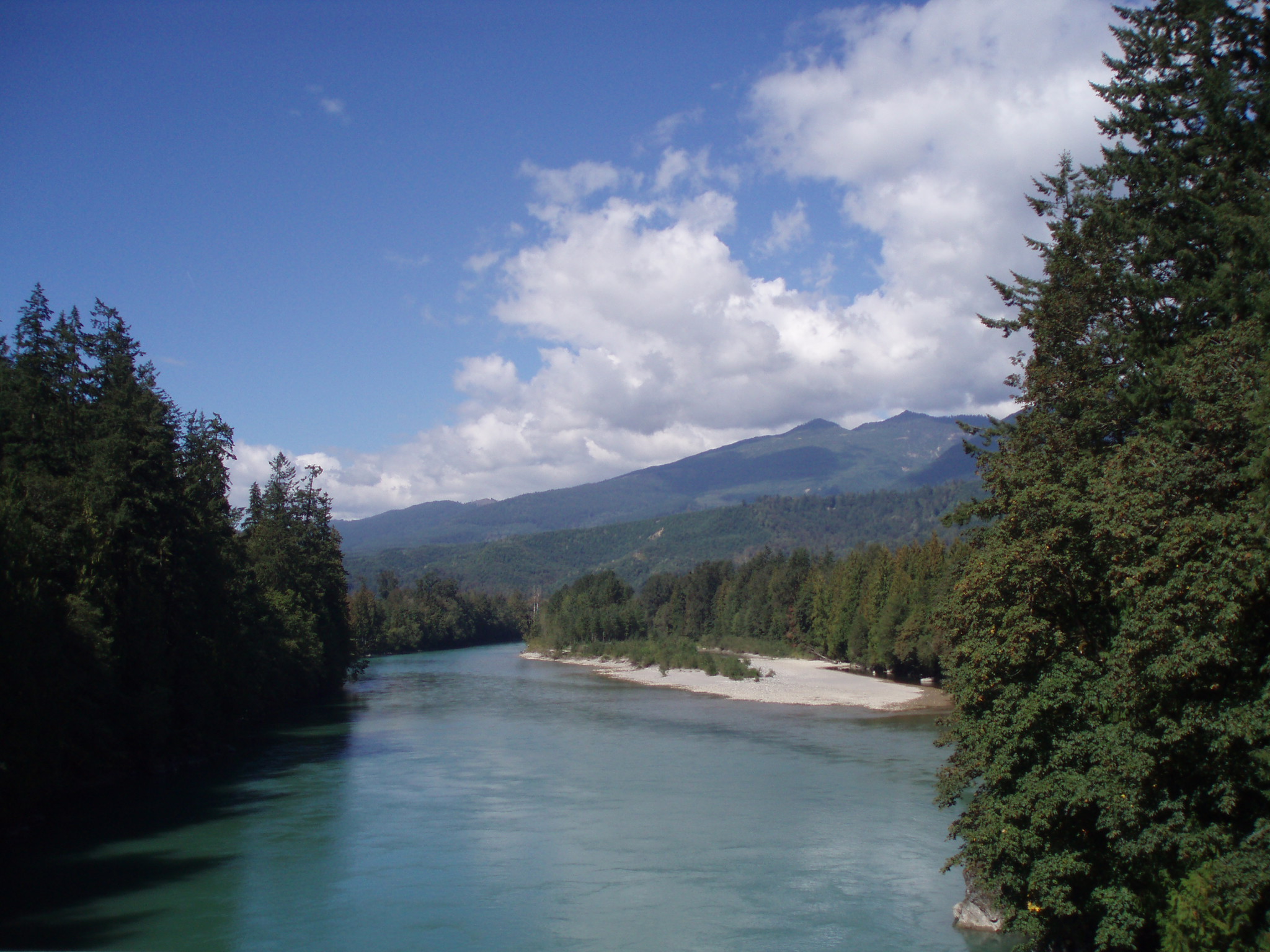 We rode like madmen for 17 miles to the breakfast place. It was still kind of downhill so we all flew. Breakfast was the usual.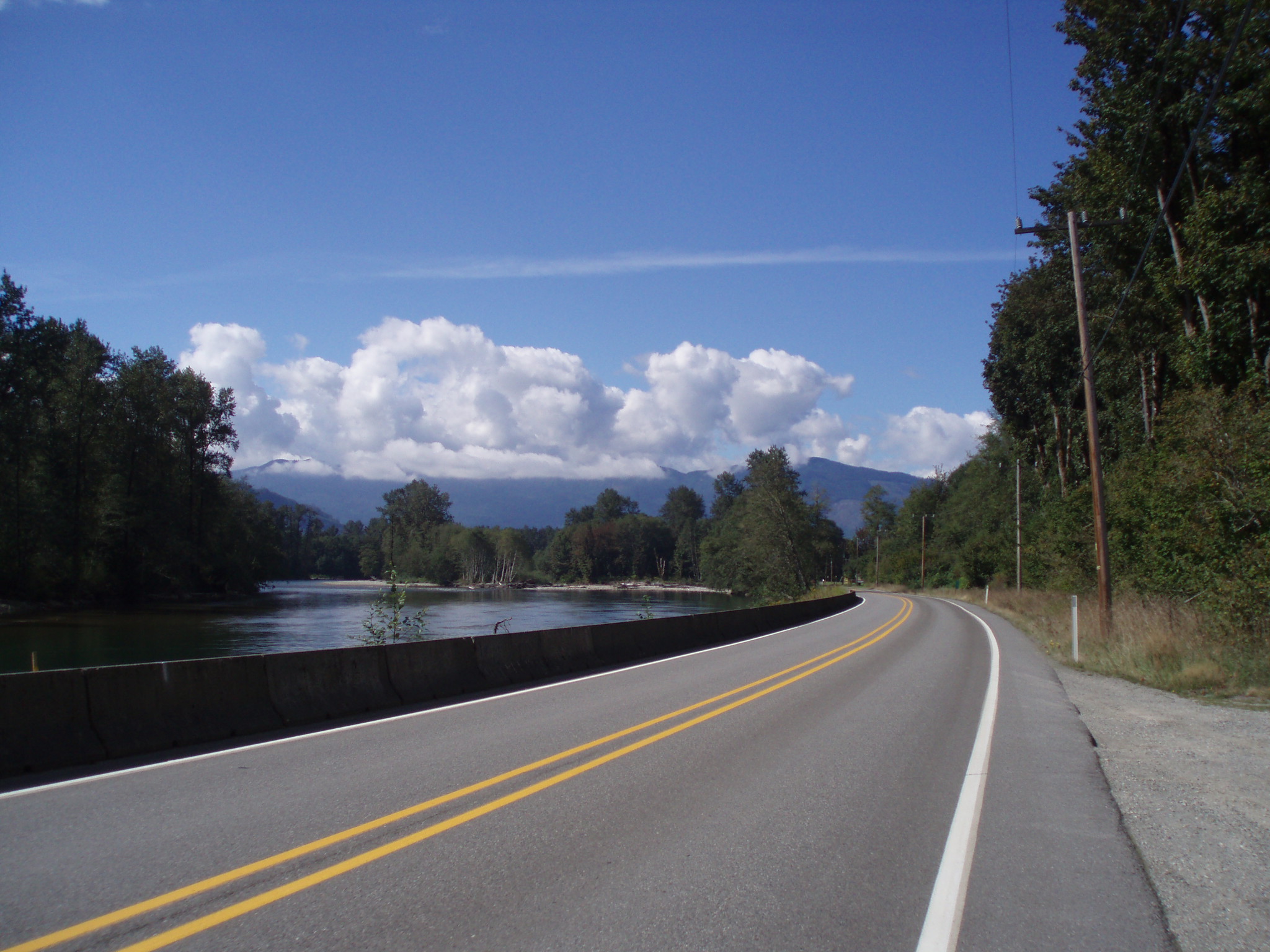 For the rest of the day we rode along the Skagit River. It was really nice being off route 20 for a while. We stopped in our last town Sedro-Wooley to get some food. On our way into town we met this guy who asked about our trip and we told him we just rode here from Maine and he flipped out in excitement for us. It felt really great.
As I was paying for my food I was talking to these people in the bar telling them how our trip is over after we get to Anacortes. Which is 30 miles from this point. Some jerk at the bar overheard our conversation and said 'I hope you're not riding to Anacortes today, it's really far!' and he was really serious. I said, 'C'mon dude, we've already ridden 60 miles today and we've been cycling for 3 months to get to this point!'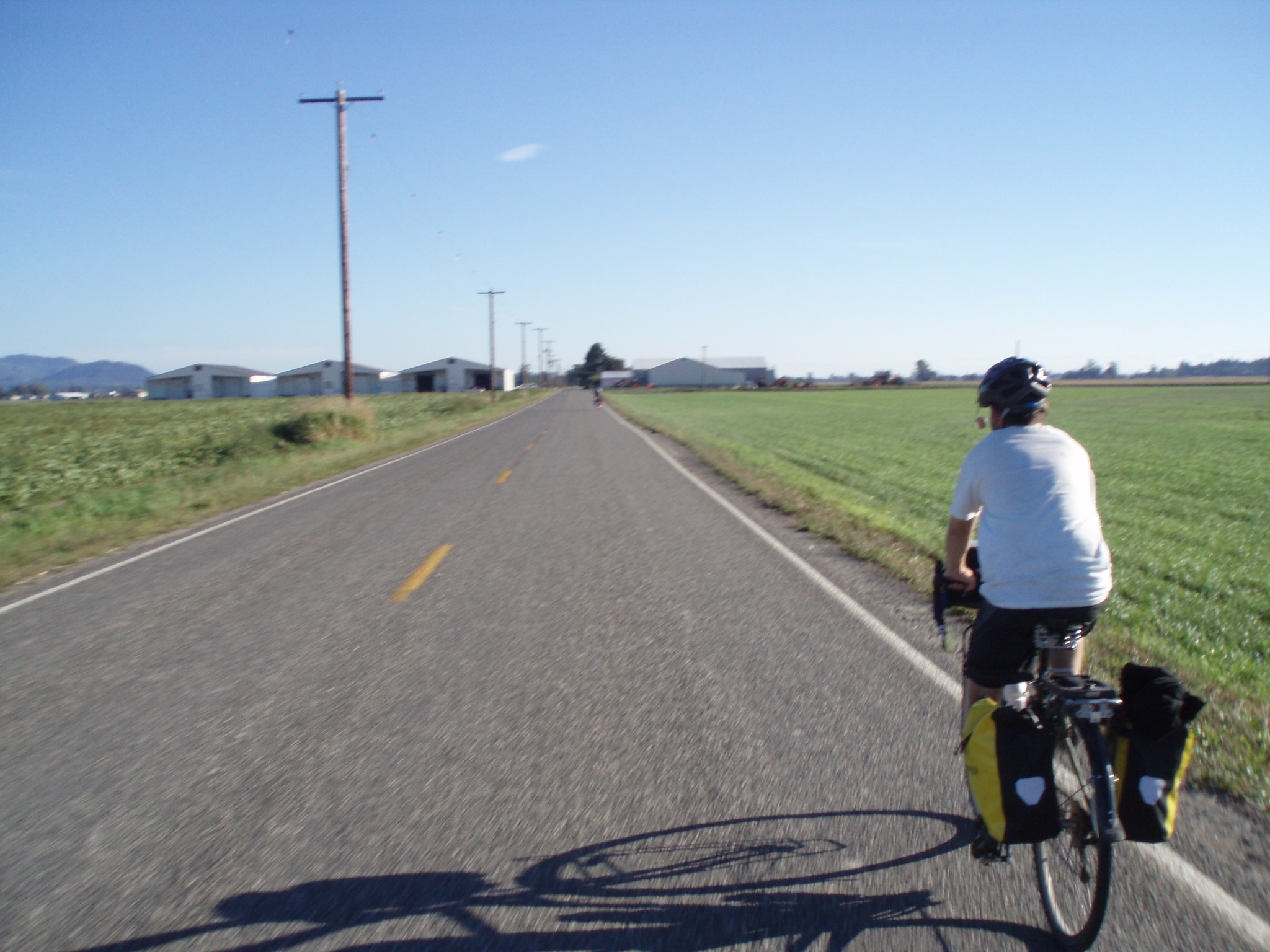 The last 30 miles were really great. We all rode really really hard into a headwind. The excitement of finally getting there pushed us right through, no problem. I listened to my 'Get the hell out of my way!' punkrock/heavy metal mix on the iPod.
All day I couldn't help but think a lot about the final moments of finishing my Transam ride. I finished my Transam ride 2 years, 1 month and 1 day ago. It's overwhelming to think about what's happened since then. My outlook, attitude and the rest of my life changed drastically because of that ride. It was the smartest thing I ever did. And here I am.
I also thought a lot about the end of my days in Architecture school. For years I worked so hard draining myself physically and mentally, but had the time of my life. Architecture School started a few days ago and I'm not there hearing about all the debauchery that went on all summer long. For many years I never thought about graduating and one day it slapped me in the face. I guess for me finishing a cross country bike ride and graduating architecture school feels very similar.
After today life's going to be a lot different. We're all really tired and to be honest, I'm sick of riding this fucking bike. Being stationary is something we are all craving. Since Sandpoint the trail has really given us our money worth. It's overwhelming thinking about the past 2 weeks of this trip.
The northern tier put us on some bike paths so Bob Potter said he would just meet us in town.  He also wanted to go scope out the motel situation.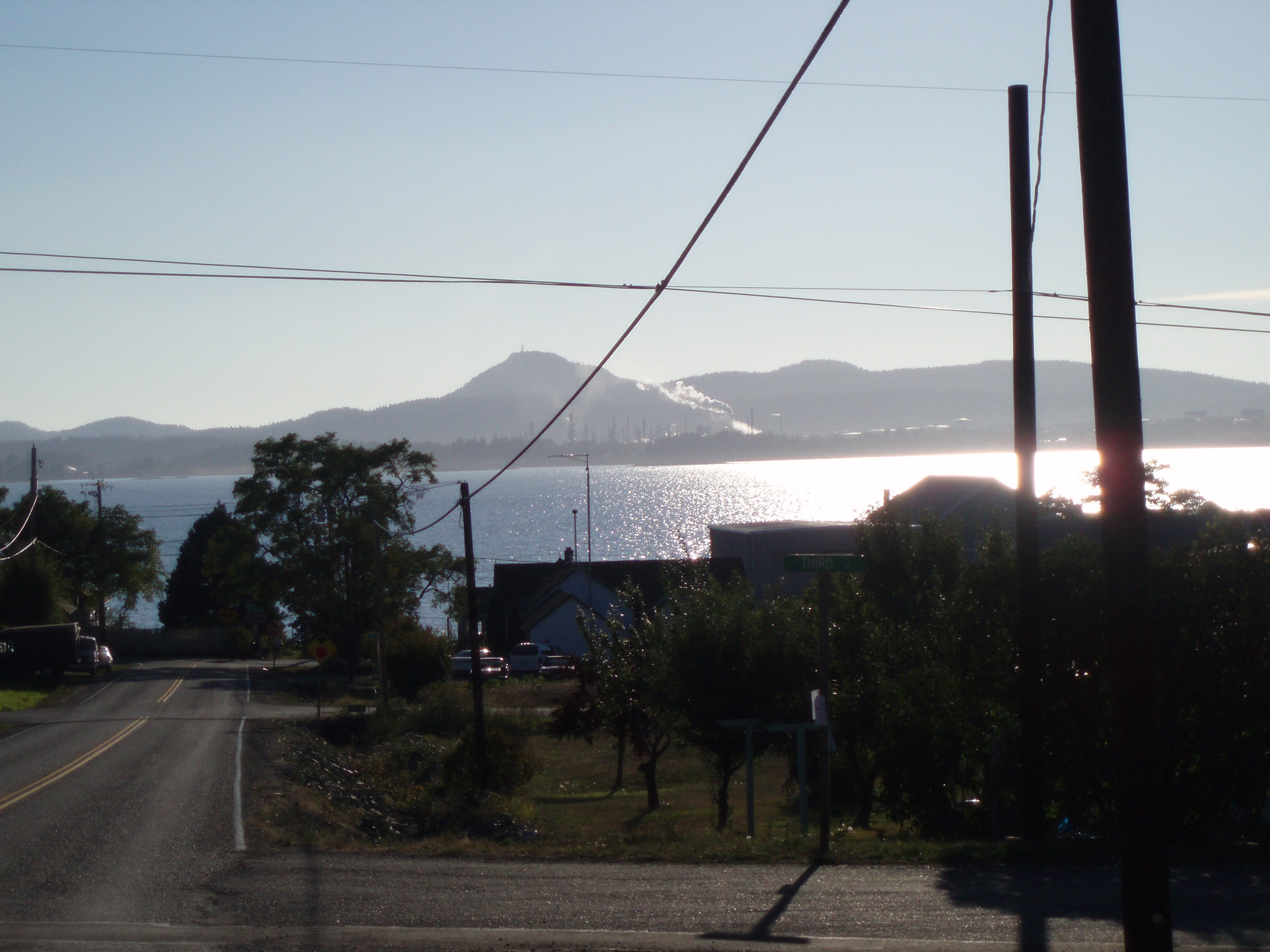 A few miles later we finally hit the large body of water we have been craving to see!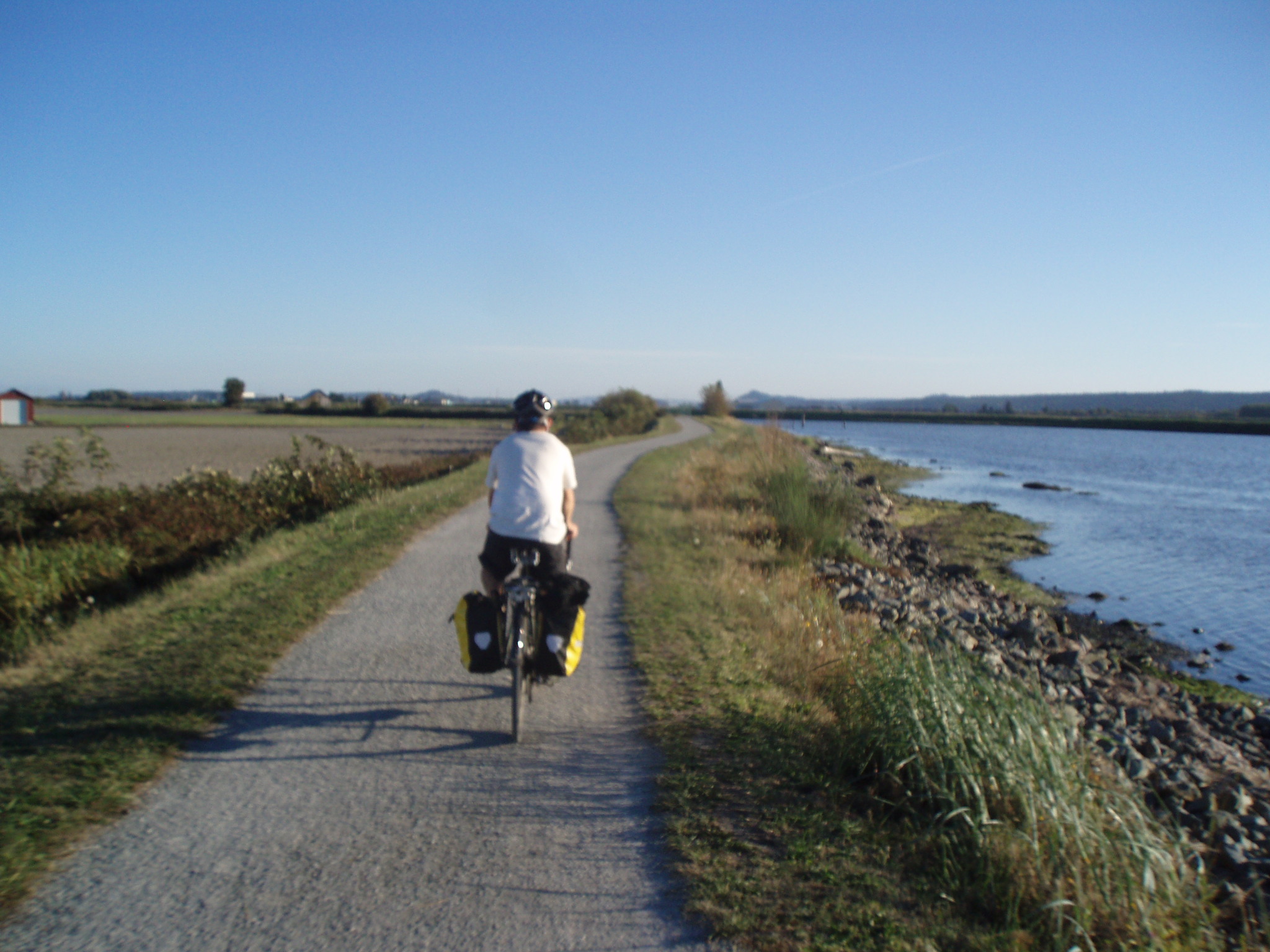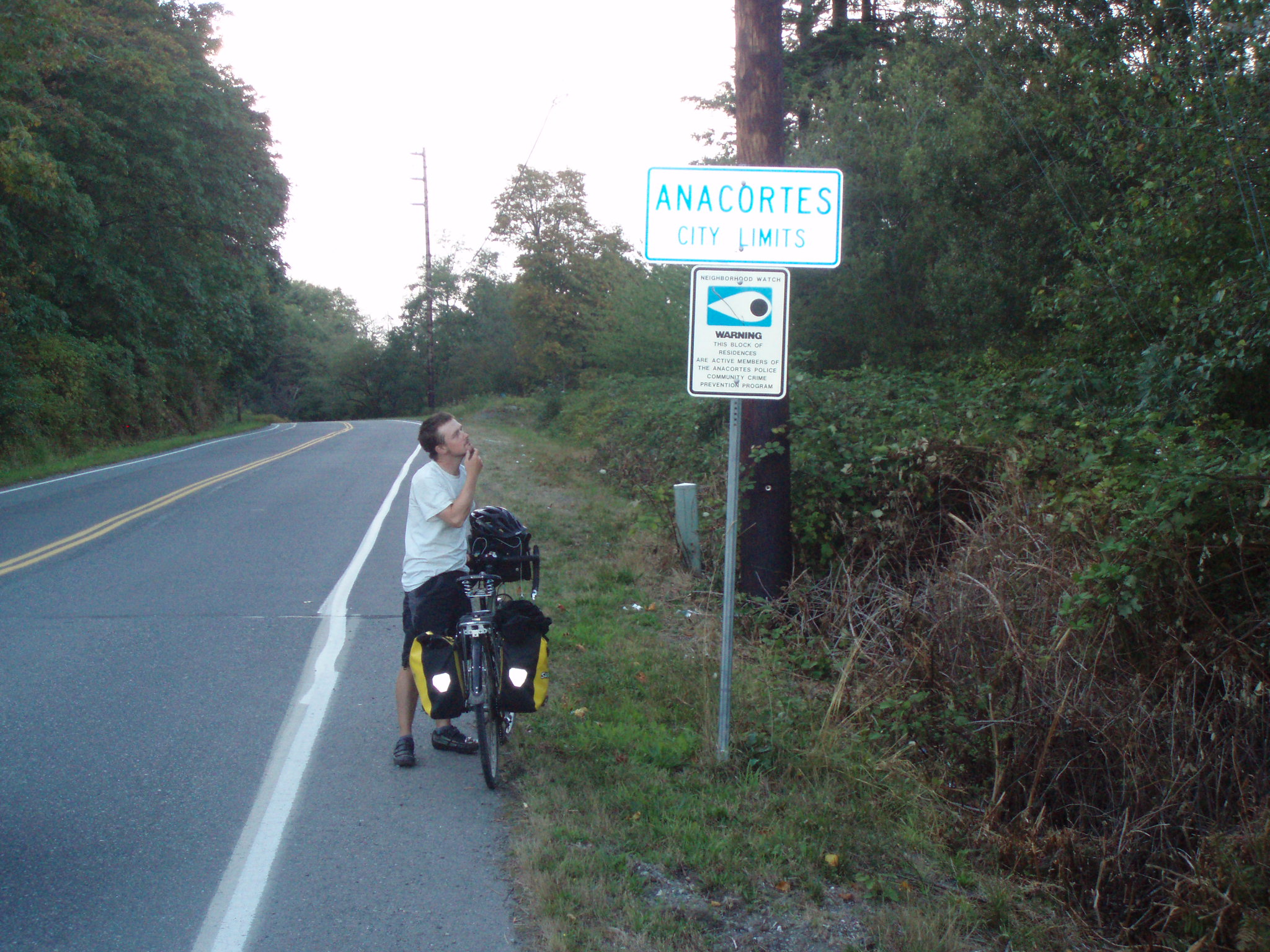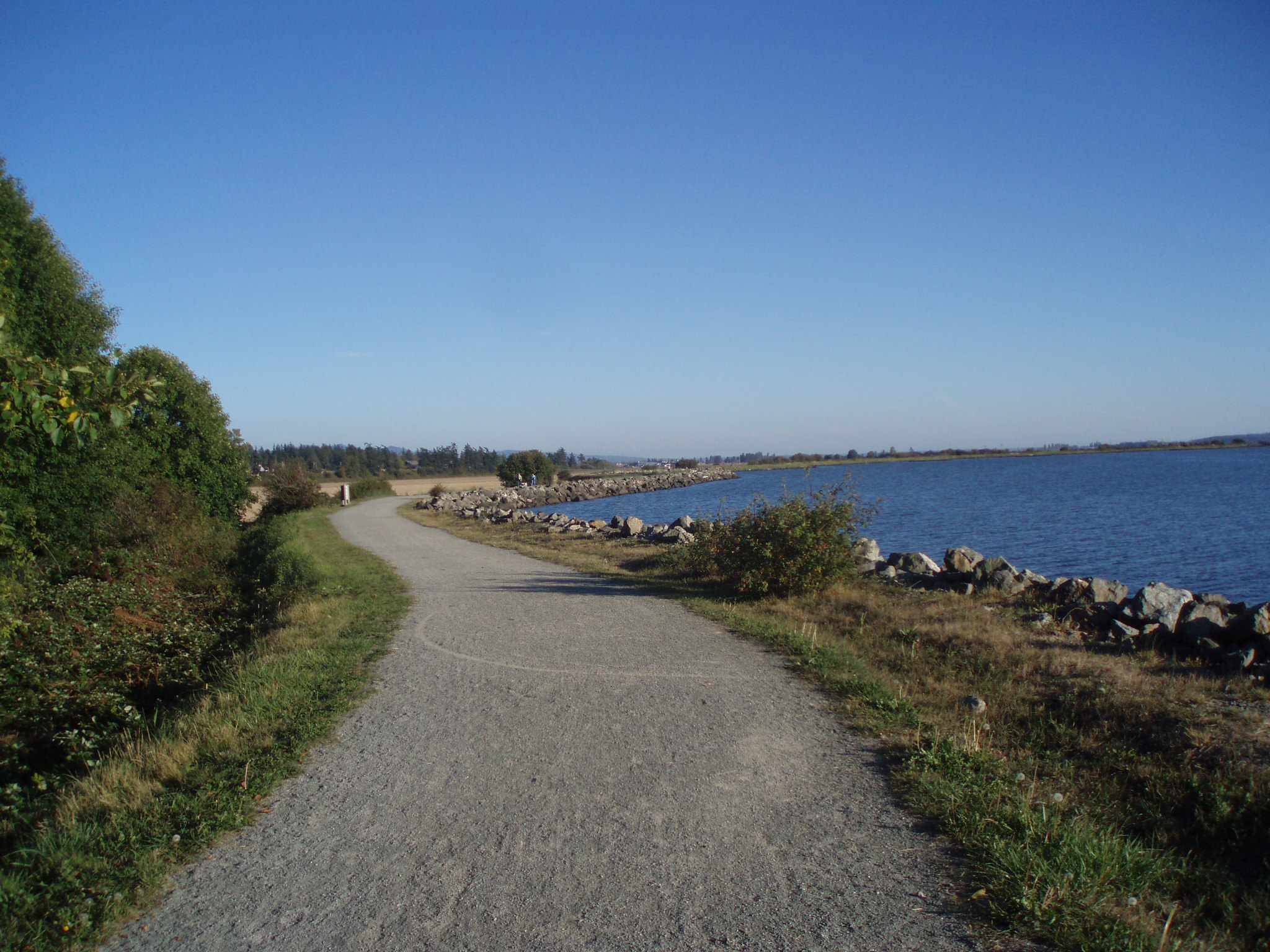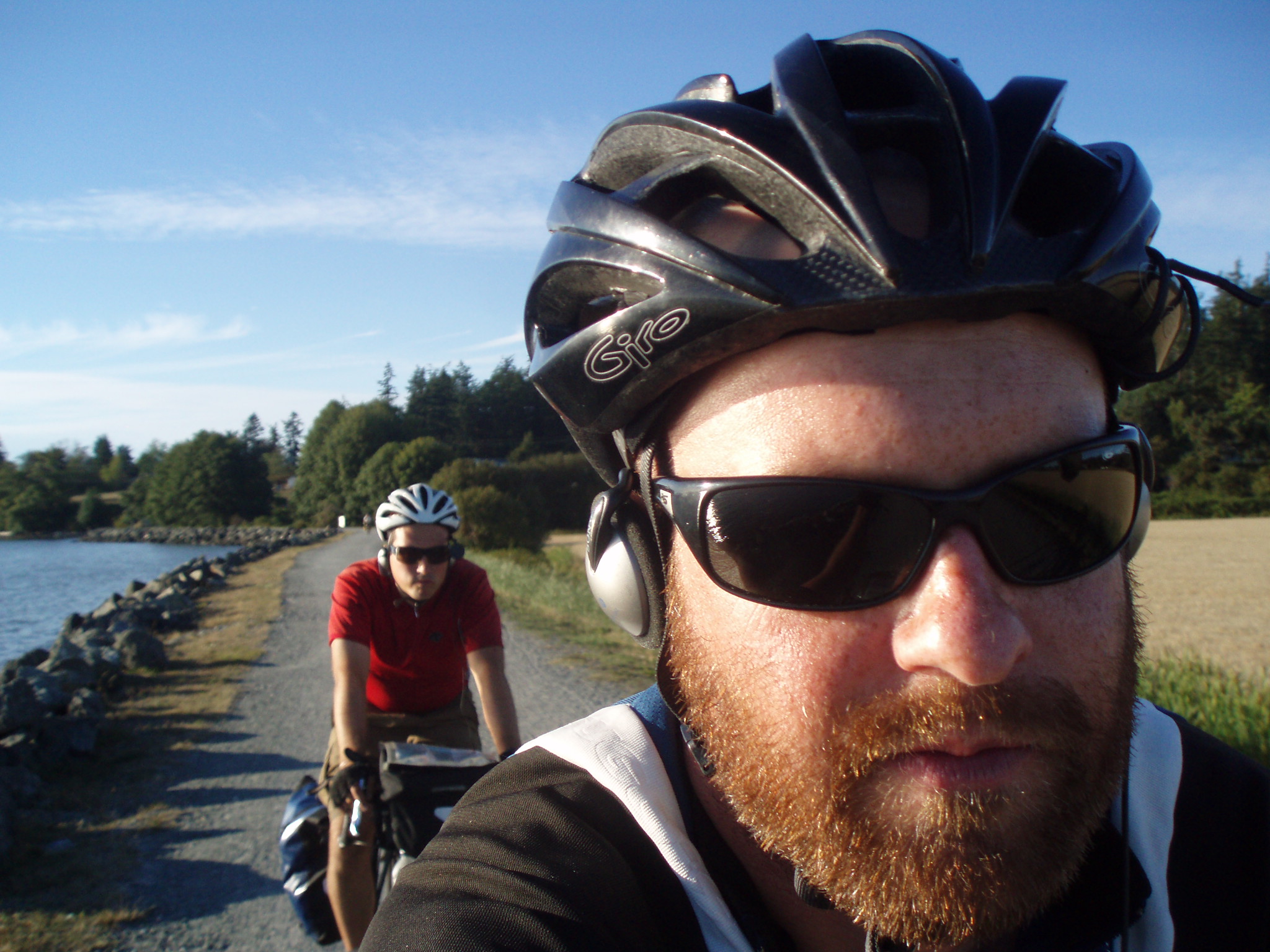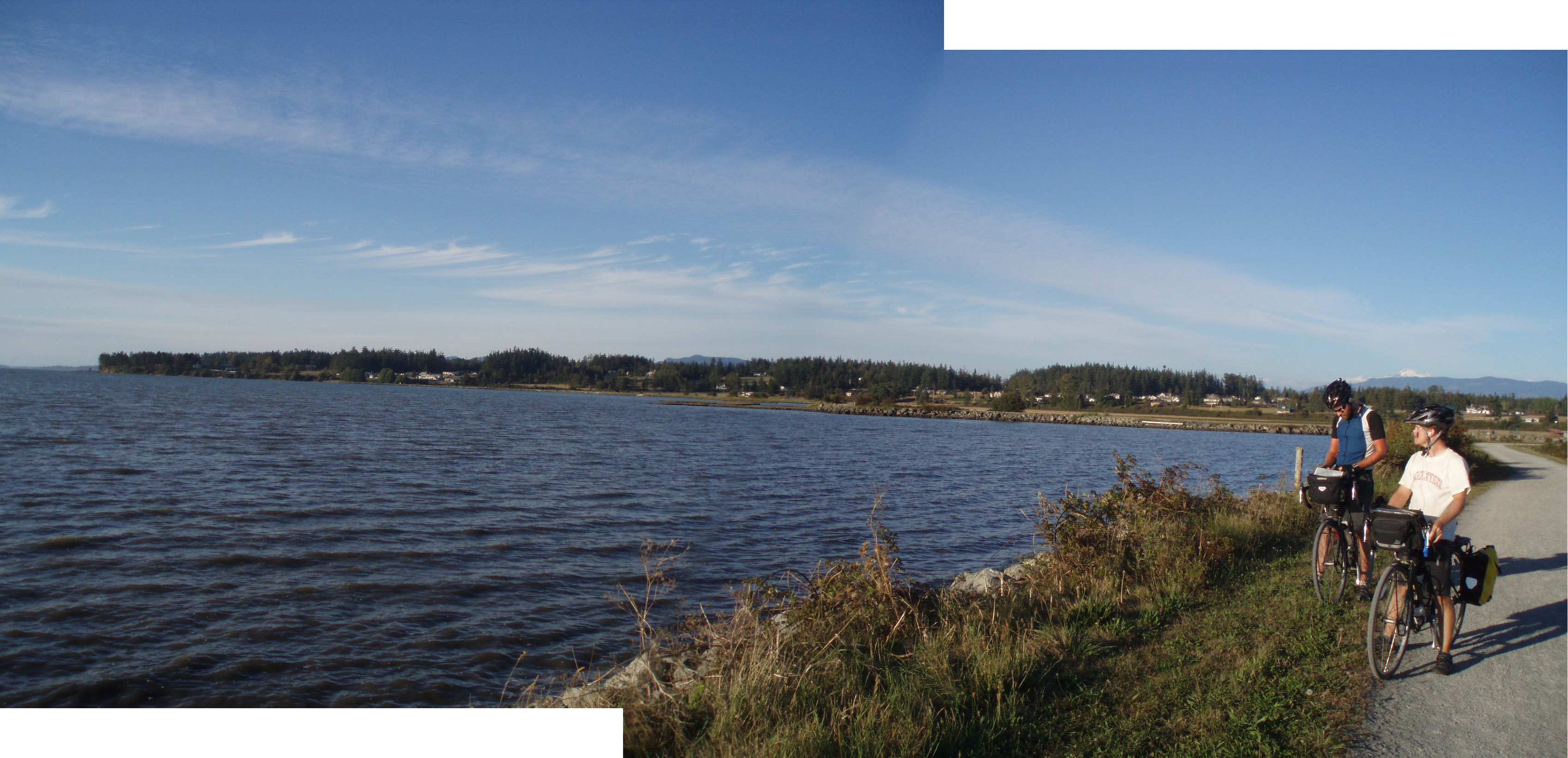 We crossed into Anacortes and stopped to take a picture in front of the sign and there was this giant syringe on the ground in front of the sign. We all groaned and said 'C'mon, What kind of town is this?!'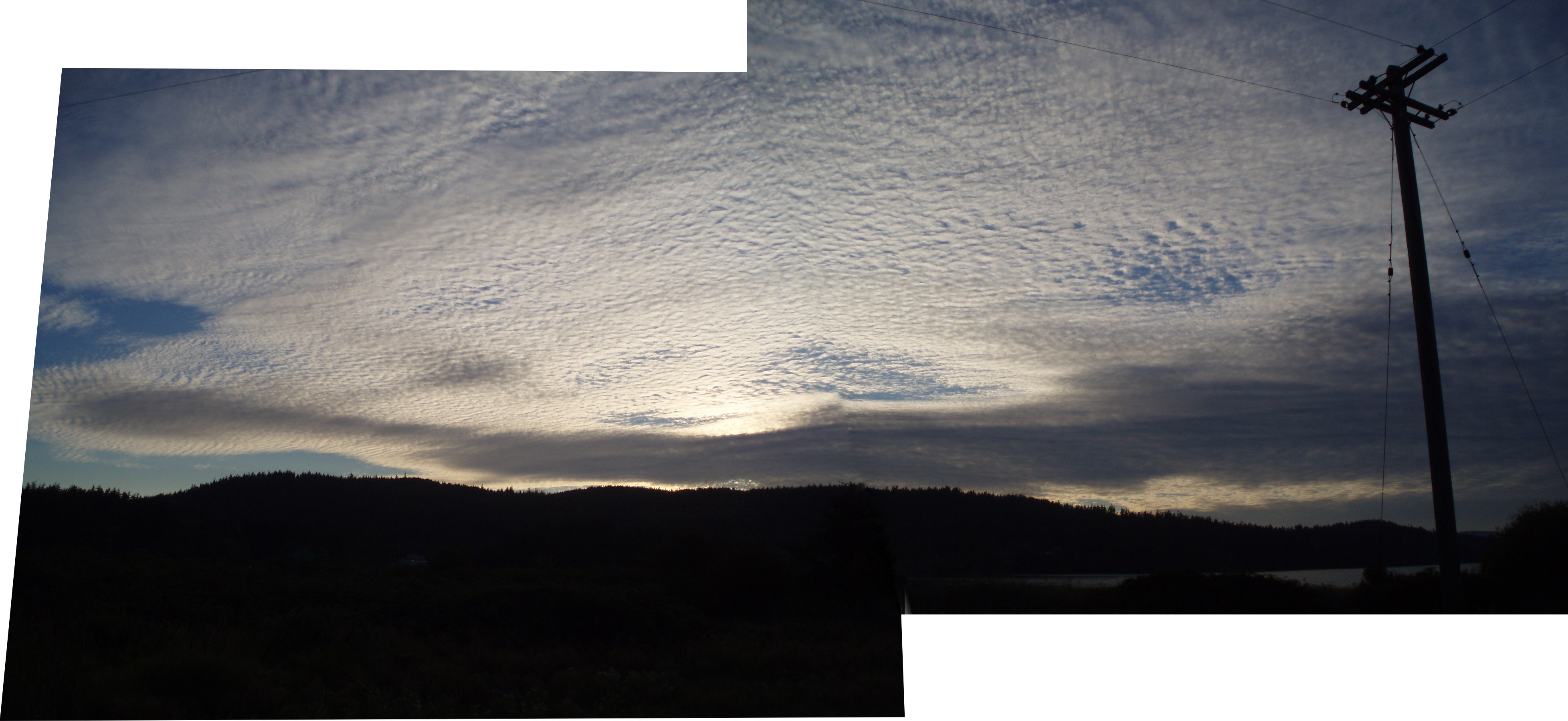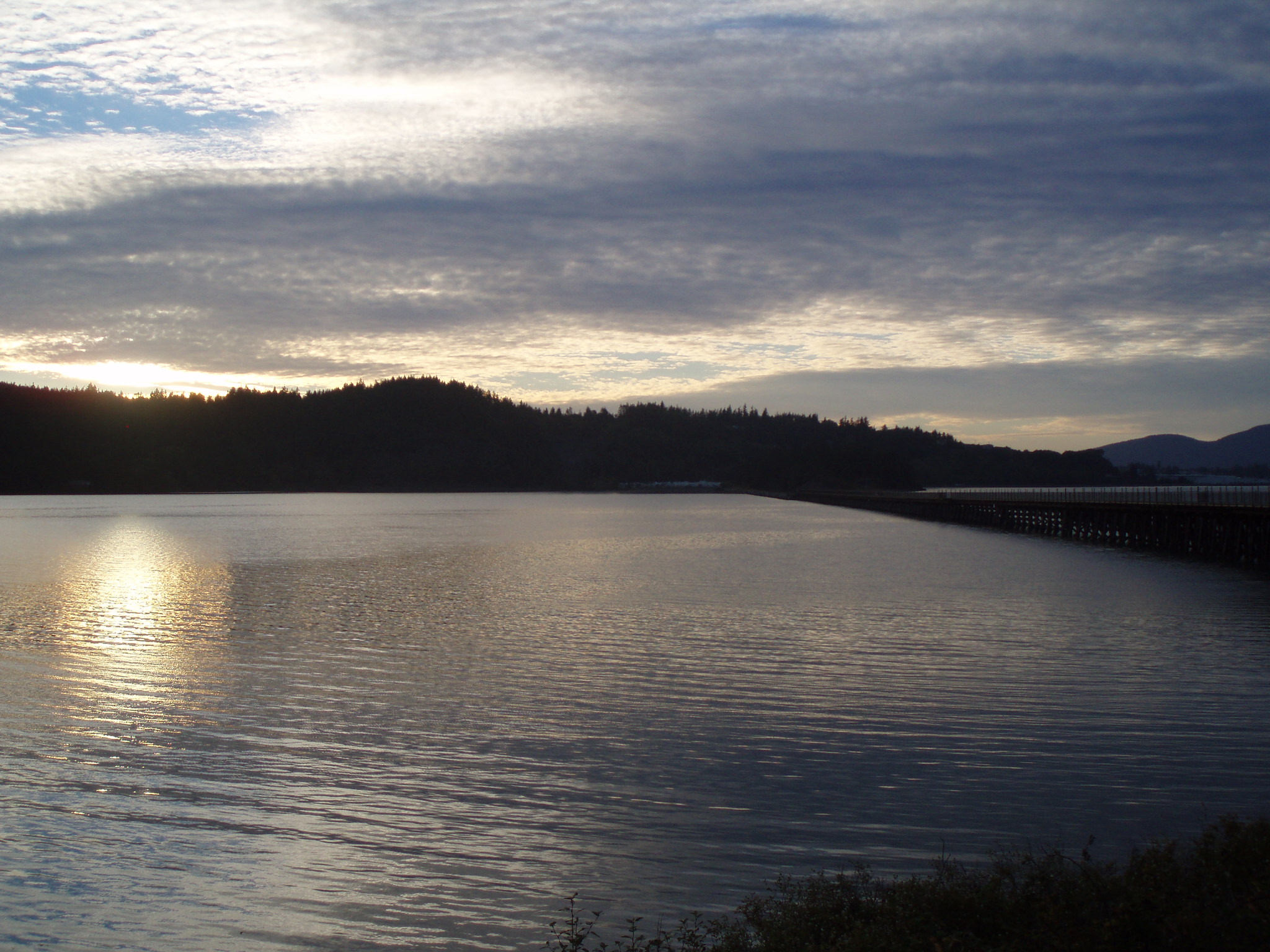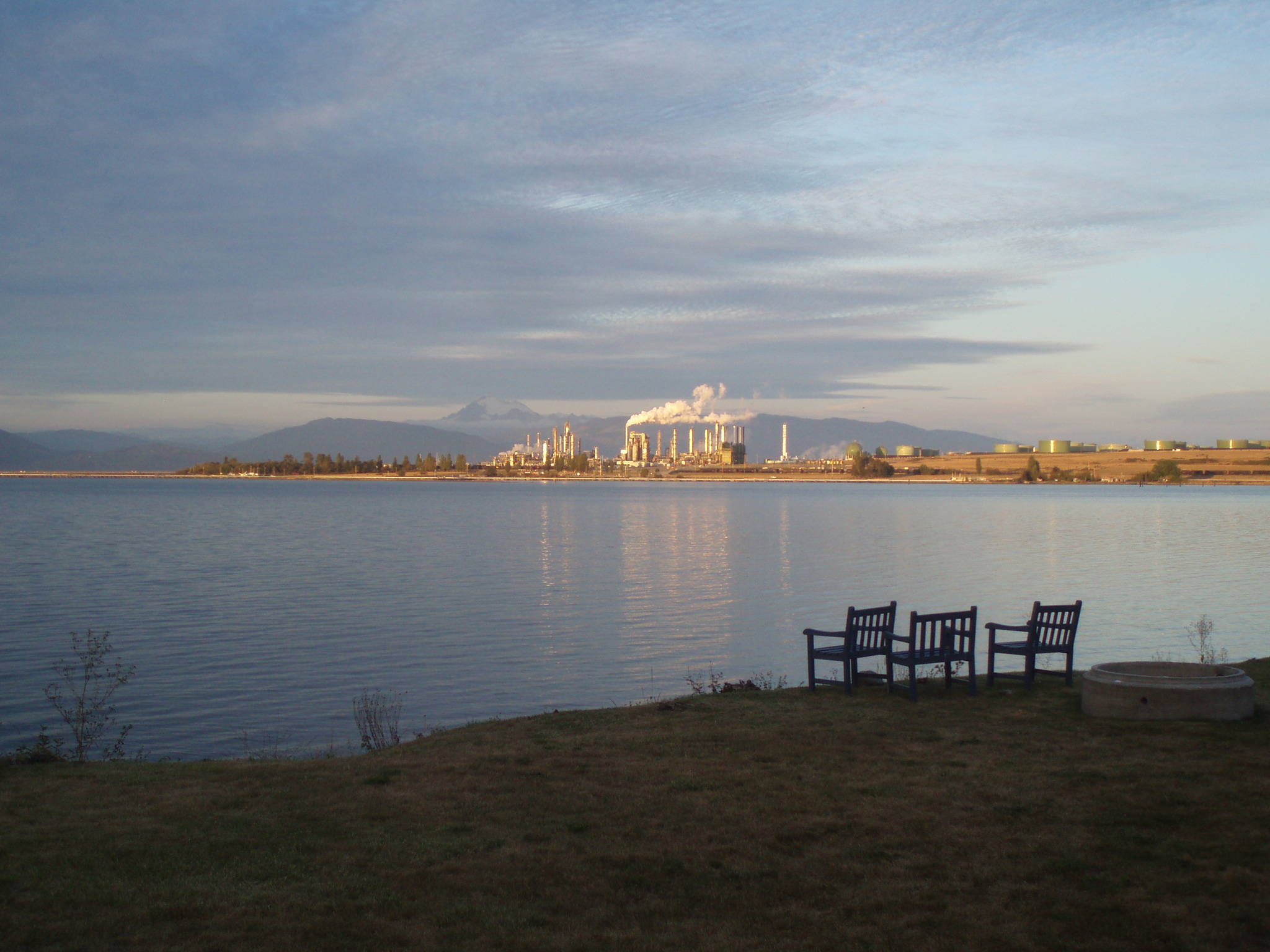 Shortly after arriving in Anacortes we started to realize we had to race against the sunset.  We all rode really hard, Bob called to say where he was, and I answered his call as I rode across this bridge that bisected a large body of water while riding damn fast. We found him and just hauled ass through town.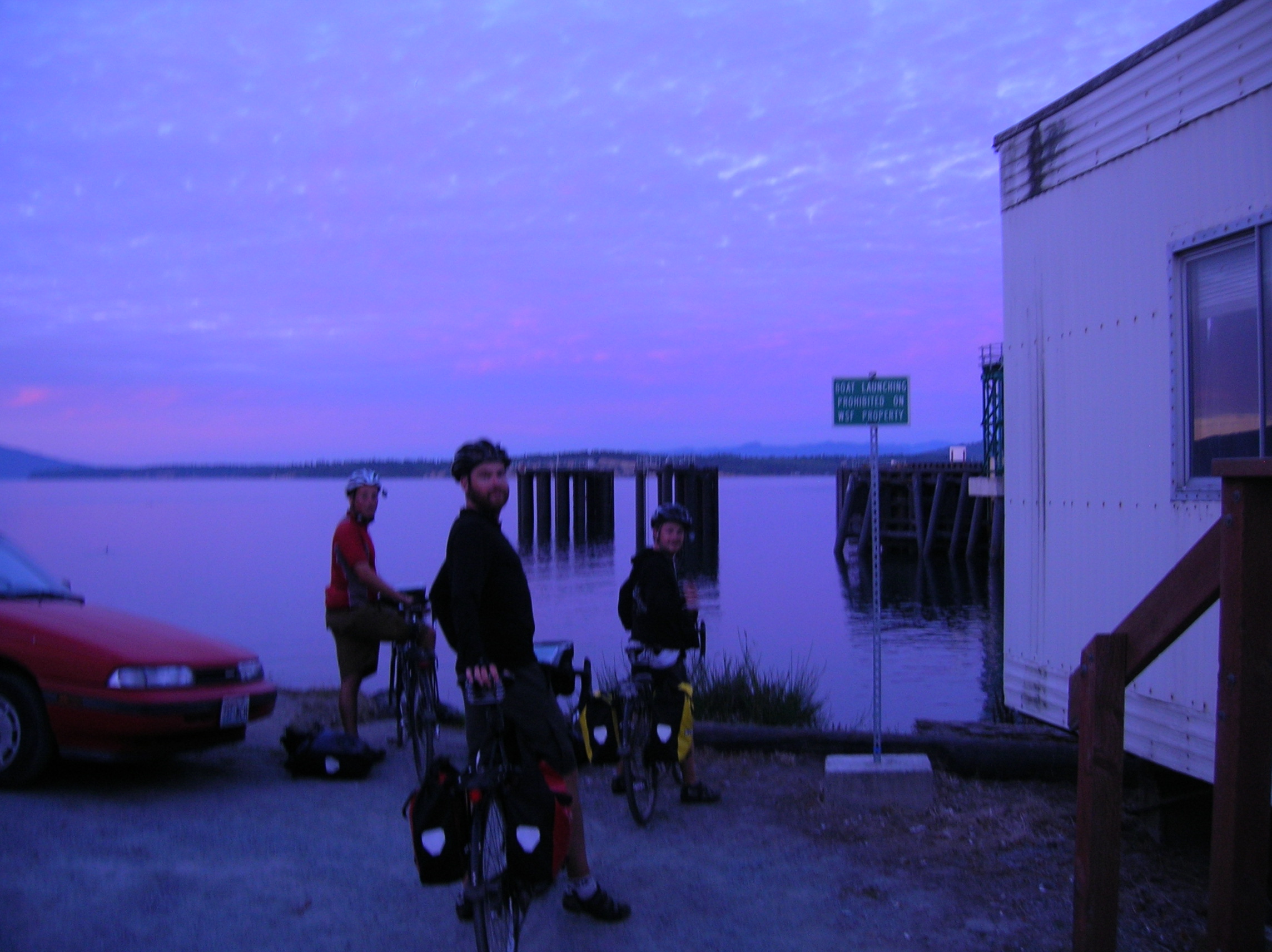 The northern tier ends at the ferry terminal across town. As we were approaching the ferry terminal I think I saw the most beautiful sunset I have ever seen in my life. We were racing so fast I couldn't even photograph it.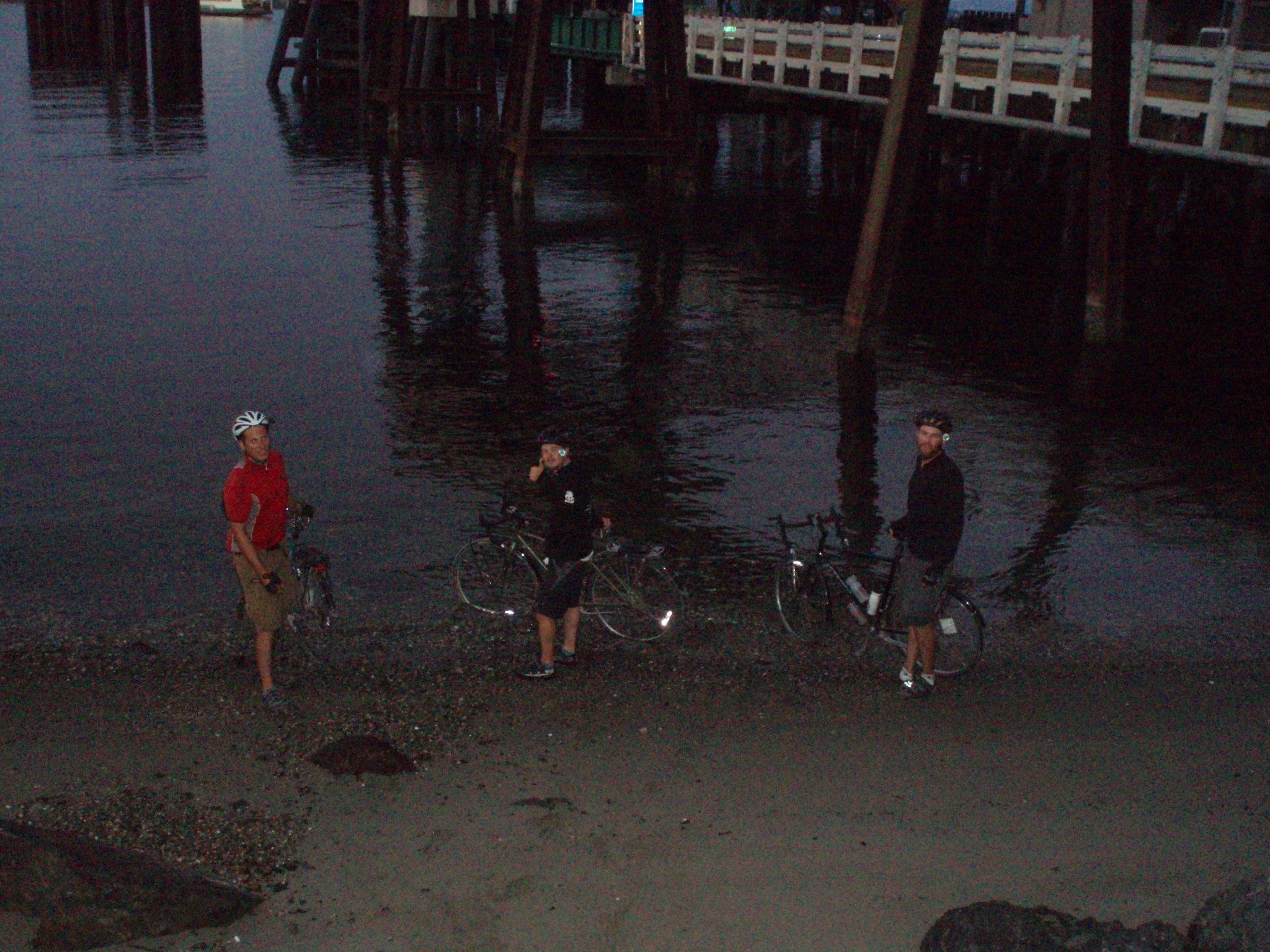 We rode through the ferry parking lot, ran behind the building and dipped our wheels in the Pacific Ocean! Here's the Video: http://www.teamnortherntier2007.blogspot.com/2007/09/done_07.html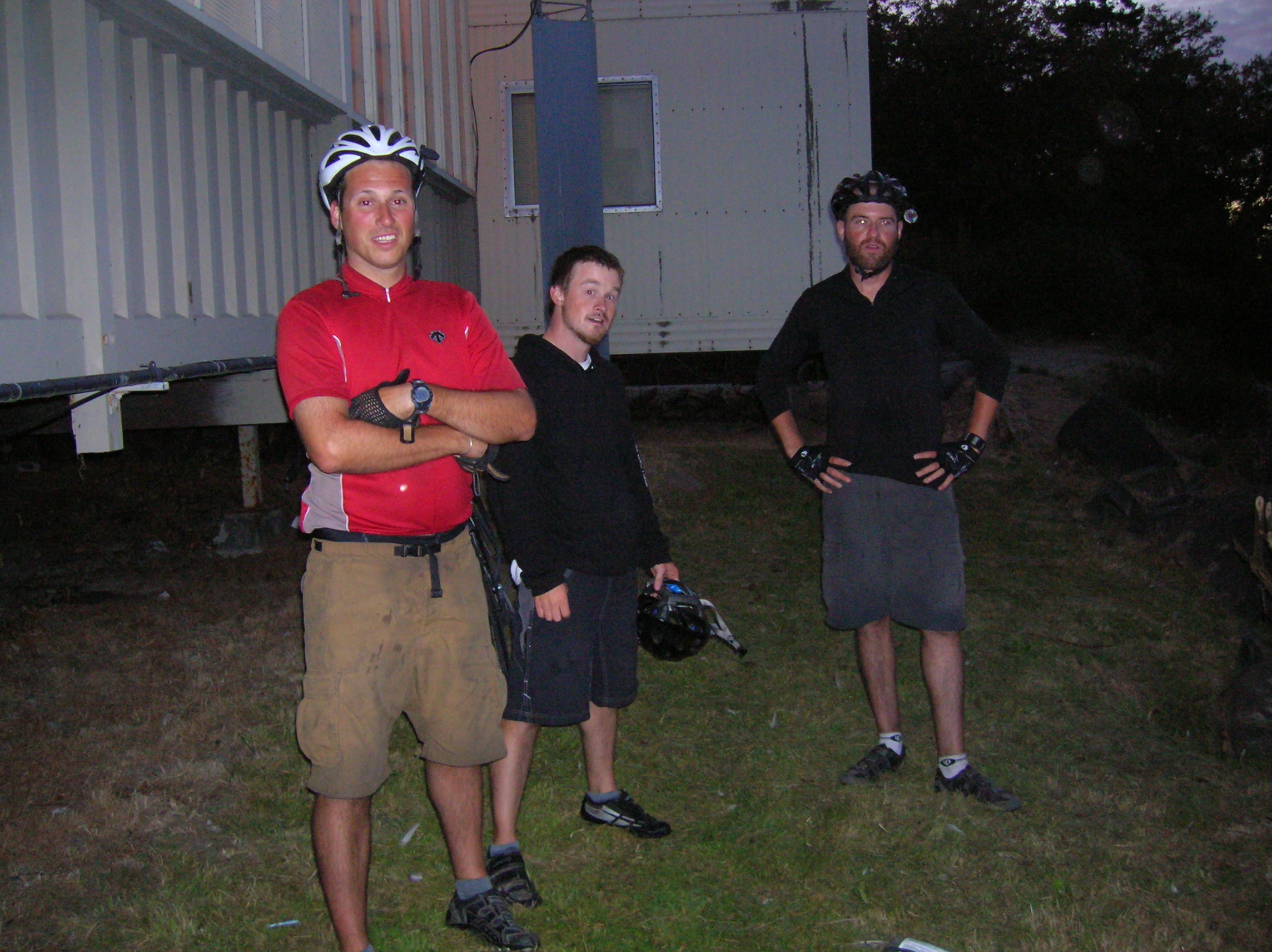 After we dipped our wheels we went up to the parking lot to celebrate. Bob said he would like to pay for us to have a motel room tonight. It felt so good hearing this knowing we don't have to worry about finding a place to sleep. We sat in the parking lot and drank a few beers. A police drove up to us, but Bob went over to talk to him, when he came back he said 'The cop said Congratulations and keep those beers outta sight.'  Jamie said, Bob Potter handled that situation like a Professional, a Champion and a Lawyer!
We sat there for a while, riding outta the ferry terminal we climbed over this really steep hill that kicked all our asses. Jamie said 'If I just started a cross country bike ride and I was going to Maine, I would just quit right here.'
On the way to the motel Jamie had a smart ass comment about every single business we went past. It was pretty funny, he was on a roll.  When we got to the motel we made a huge announcement that we just rode our bikes across the country to anyone who would listen to us. We chatted up the nice young ladies who worked at the front desk.
It was getting late and our window to get food was quickly diminishing, so we skipped the showers.  Bob drove us to the brewpub and we all got beers and giant burgers. It was open mic night, Jamie signed up to get on the open mic. Unfortunately he never got his chance.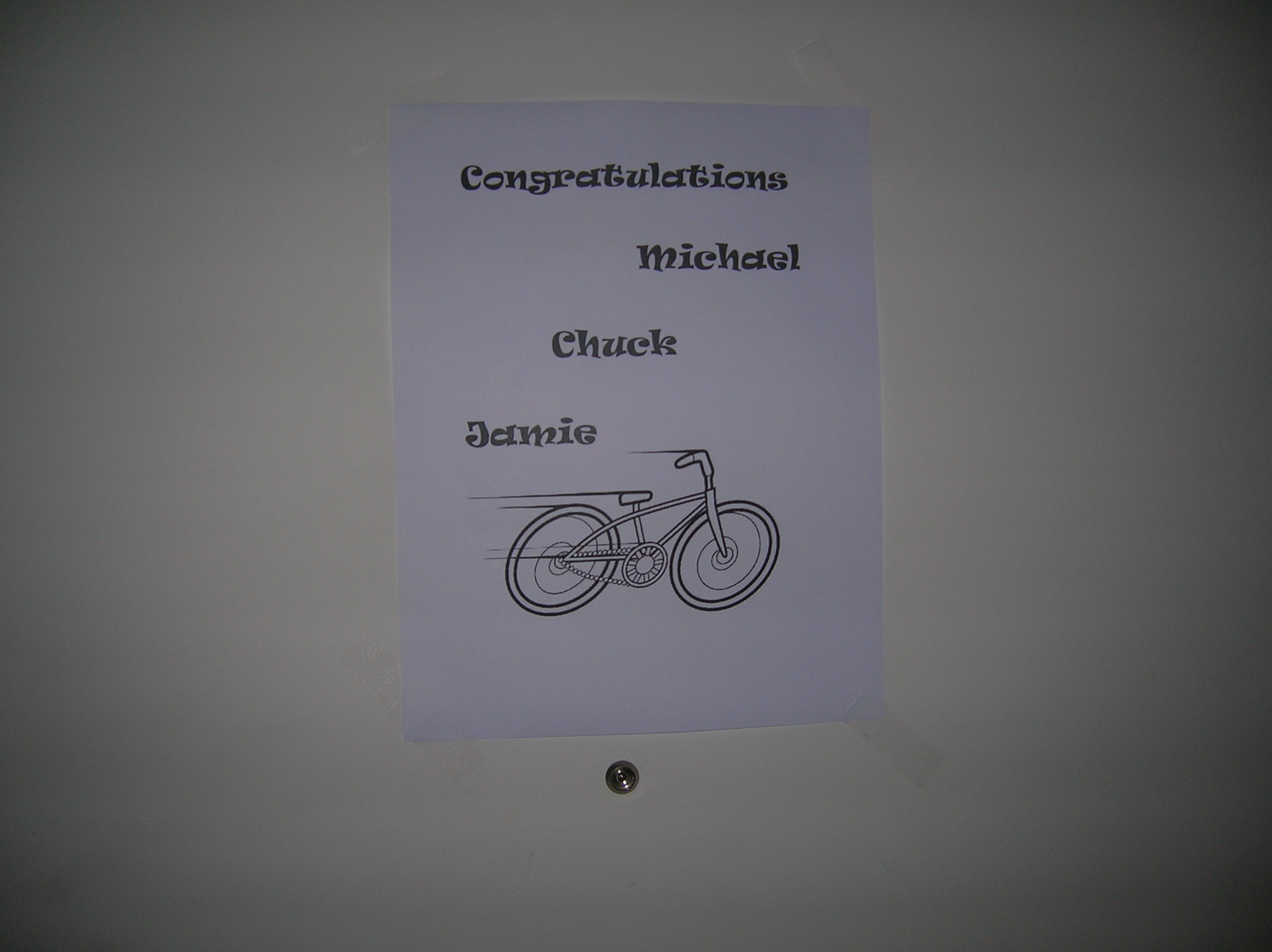 When we got back to the motel the nice girls at the front desk were gone but they left this sign on the door of our room!
15 minutes after arriving back at the motel our room smelled horrendous, had to open up all the windows. We all showered and went to sleep.
Tomorrow we're riding into Seattle.
     Click Here to Visit The Table of Contents
     Click Here to Visit Previous Page: Day 81: Twisp, WA to New Halem, WA
     Click Here to Visit The Next Page: Day 83: Anacortes, WA to Mukilteo, WA