Friday September 7, 2007, 68 miles (109 km) – Total so far: 4,565 miles (7,346 km)
## map83 ## 67.55 5:30 12.2 avg
     Click Here to Visit The Table of Contents
     Click Here to Visit Previous Page: Day 82: New Halem, WA to Anacortes, WA
     Done. Video
     Click Here to Visit The Next Page: Day 84: Mukilteo, WA to Seattle, WA

We all slept great last night, it was a little cold because we had to sleep with our window wide open.  Mike Riscica was up at 6:30am and went running for the continental breakfast. It was pretty good; I ate at least 1 of everything.
Our motel room looked like a tornado just went through and smelled like a dumpster.
All morning we moved really slow and took our time. Jamie yelled about we have been 'Grab assin' around' and from now on we're no longer Team Northern Tier, our new name is Team Grab Assin' Around.
We did some couchsurfing.com and tentatively got a place to stay tonight and definitely have a place tomorrow night.
Bob Potter decided that today he's going to take a tour of the Boeing factory and go see where they make these beautiful planes. http://en.wikipedia.org/wiki/Boeing Bob's really into seeing factories and was pretty excited to get on the Boeing tour. The 3 of us were kind of jealous. The plan for us today was to ride into Seattle. We don't have any maps but we figured we would just pick some up along the way.
Jamie and Chuck rode into town because they had to pick up some mail drops. While I was stretching my legs my bike fell over and all the food that I stole from the breakfast fell out of my handlebar bag onto the parking lot. The girl who was in charge at the breakfast, opened the window and asked if I alright and needed any help.   I told her I was fine as I quickly put her food back into my bag.
I found a bike shop in Anacortes and got some maps of the island. I told them I just rode my bike across the country and they didn't care. They must get this crap all the time.
After Chuck and Jamie took care of their post office stuff, we ate lunch at Gere-a-deli. Adam Schaffer left us a guestbook entry a few days ago saying that's the place to eat in Anacortes and he was right! Our guestbook has really helped us out tremendously with pointing us in the right direction. At lunch Jamie sat next to a guy that looked like Bob Potter.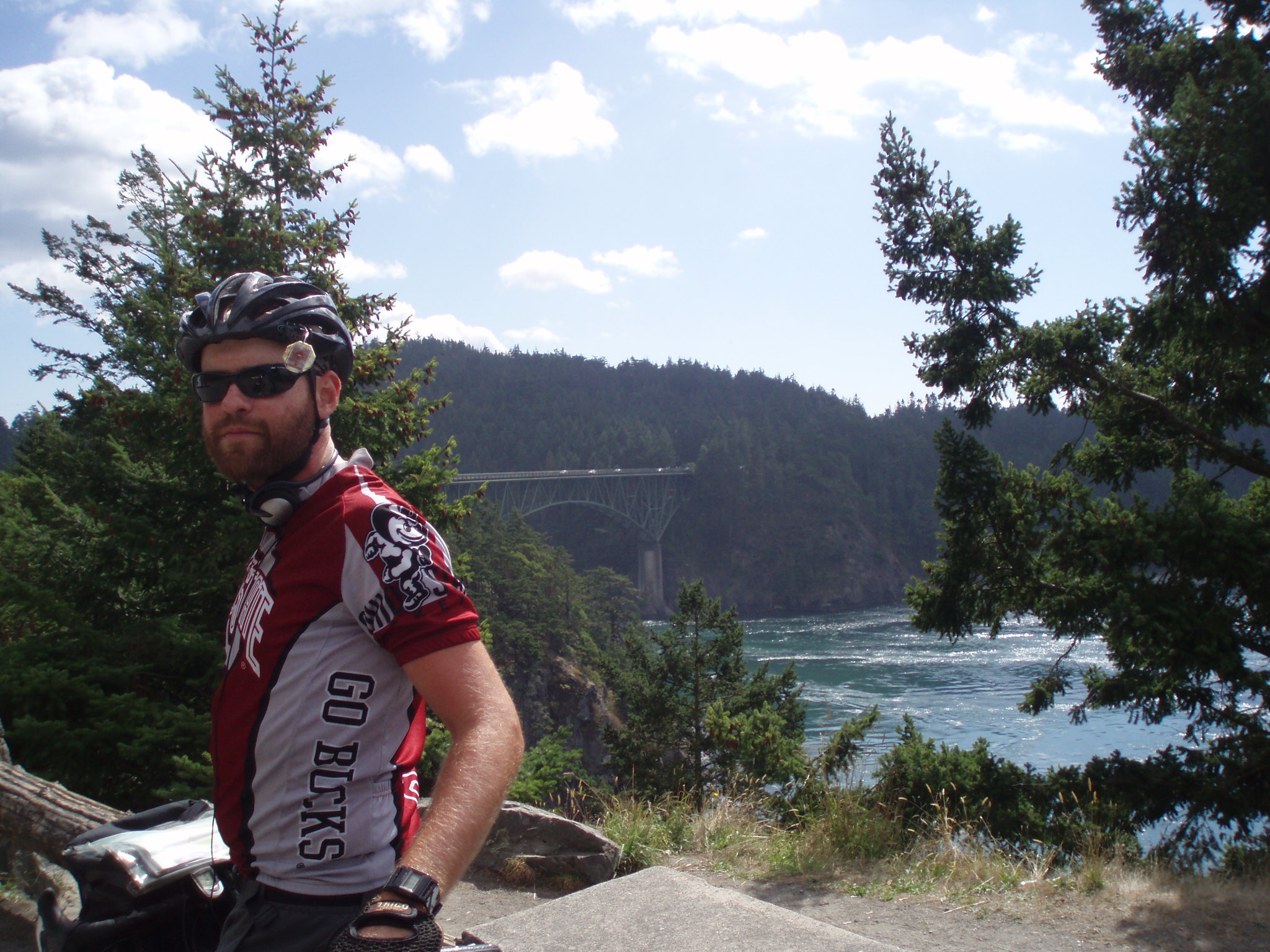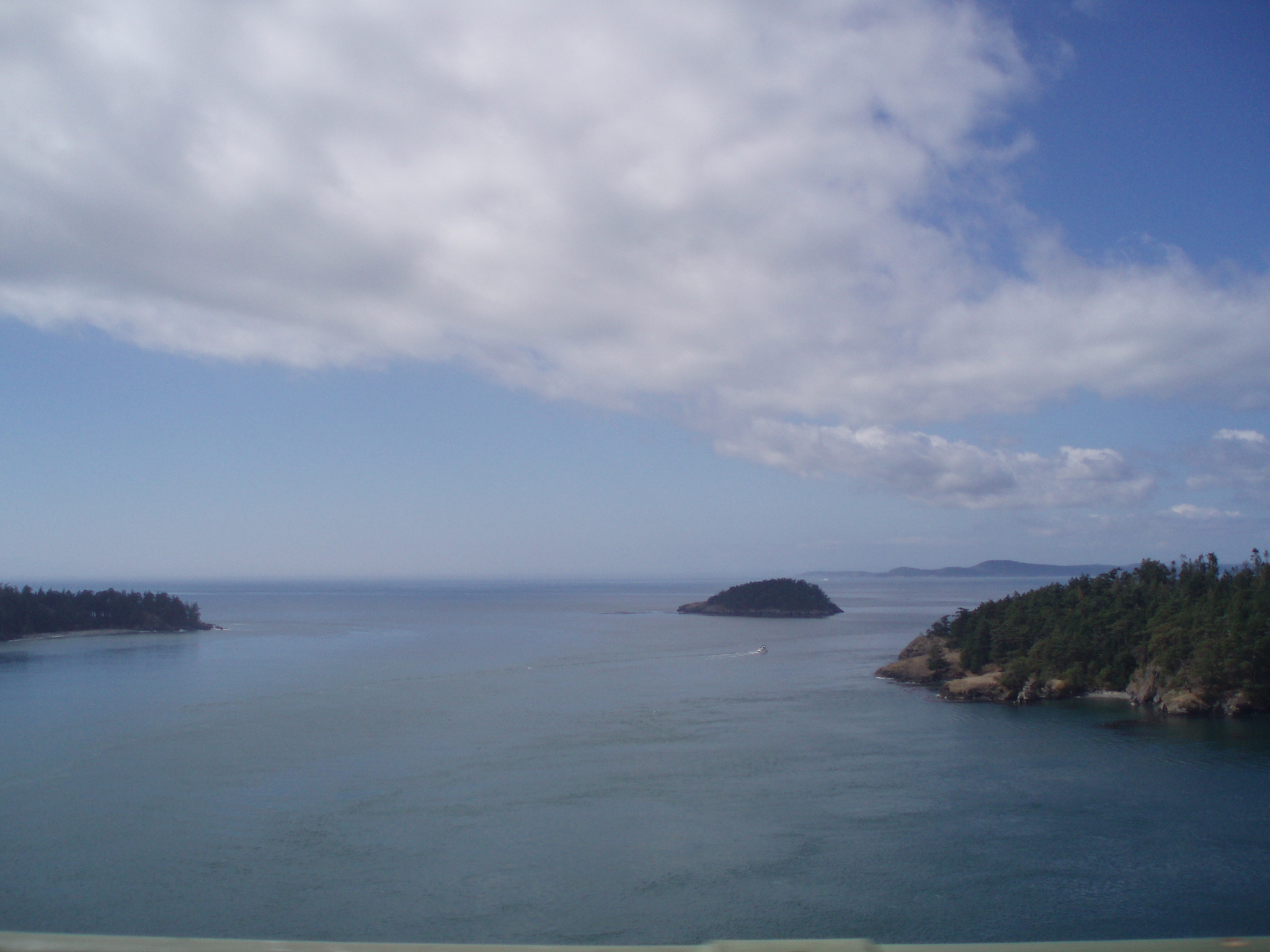 We didn't hit the road until about 12:30. Riding outta Anacortes was really stressful, route 20 had tons of traffic, no shoulder and I felt like I was going to get destroyed any minute by an 18 wheeler. Eventually we said this is ridiculous and had to get off route 20, our nerves were shot. It felt great on the quiet back roads. We met a carload full of cyclists who were marking the route for a MS ride that is going to come through here tomorrow. They gave us some advice and a map to help get us into Seattle.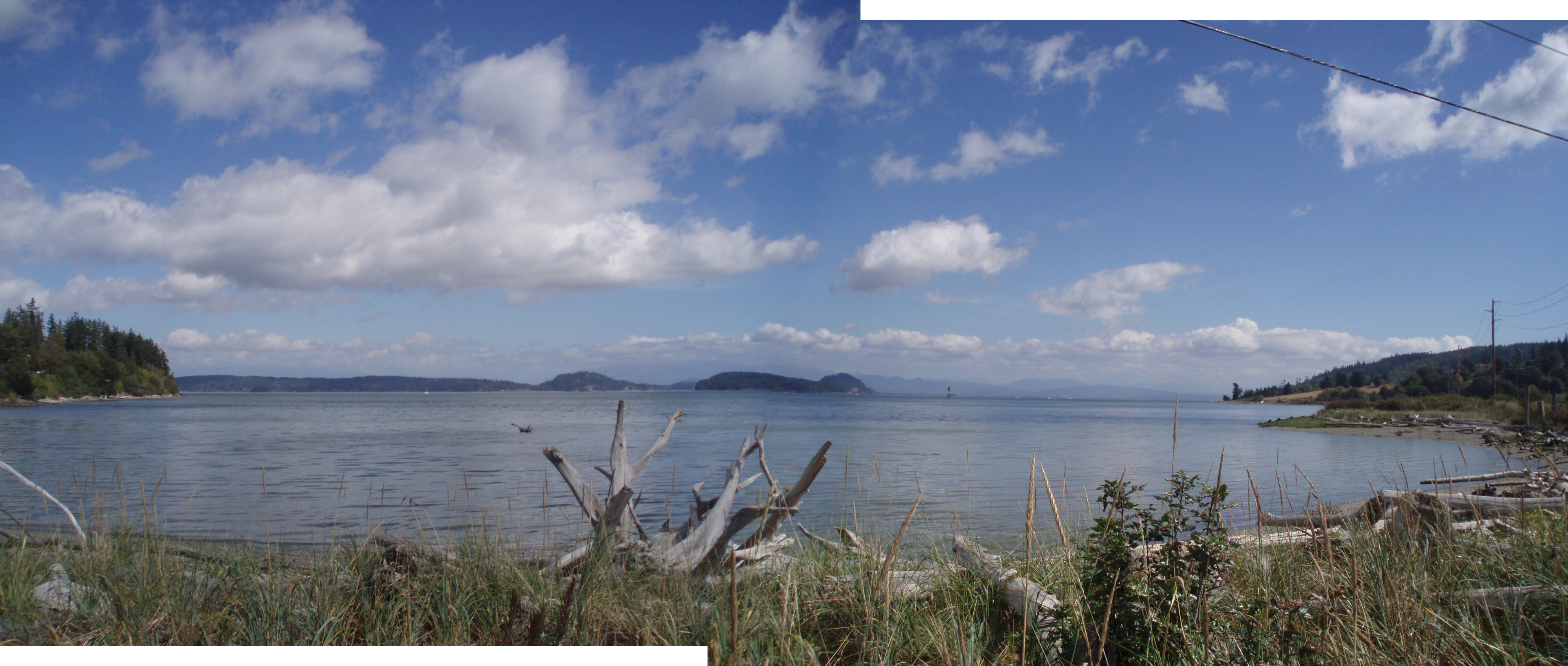 On the back road we kept seeing this low-flying jumbo jet that kept flying circles around us. It was kind of weird and I wondered if Bob Potter had something to do with it.  The day was dragging, we were all tired and just wanted to get to Seattle so we decided to stop 'Grab assin' around' and get back on route 20. The road was still miserable and we ended up having to walk our bikes uphill through some construction. But after the first 30 miles the road got a lot better. We took a tea break and we felt better and we had a decent shoulder for the rest of the day.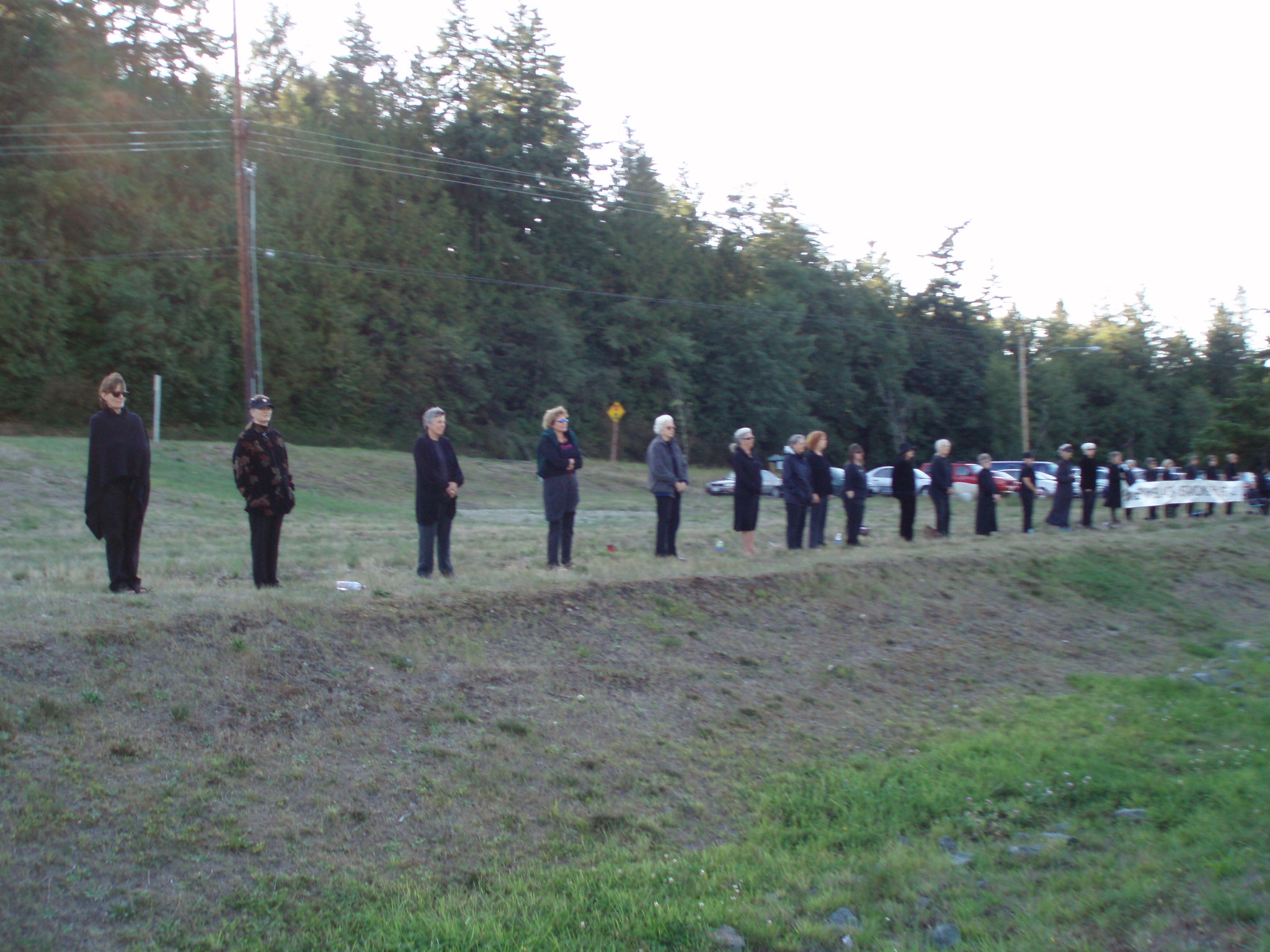 While we were flying down this busy road we went past all these women standing in a line. It was kind of creepy. There were a lot of them and they actually scared the crap outta me when I realized they were human beings. In the middle of their long line they held a huge banner that said 'Women in Black, Standing for Peace!'  I found their website http://www.wib-oly.org/index.htm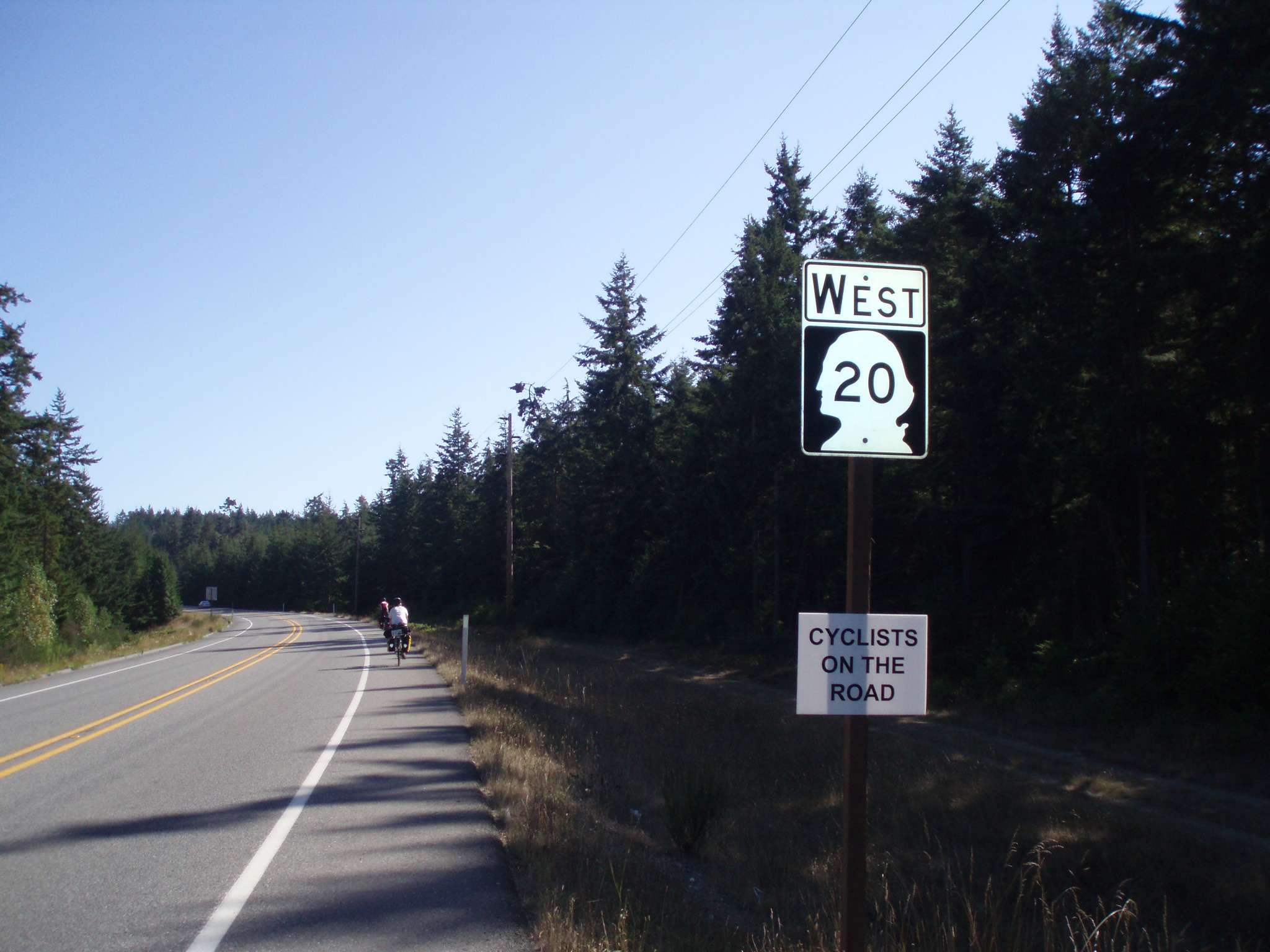 Eventually we got to the ferry.  From the ferry Seattle is about 30 miles away. We talked to bob before we got on the boat and decided that we weren't going to make it into Seattle today. Chuck is flying home tomorrow so he decided to split a motel room with bob and tomorrow bob would give chuck a ride into Seattle where he would get his bike sent home, go to REI and do what he's got to do before he flies back to NYC.
We met Bob in Mukilteo at the top of the hill. Conveniently there was a Mexican place right there so we all grabbed dinner. Bob told us all about the Boeing Factory and all the cool people the he met during the day.  While we were leaving the Mexican place and after we loaded chucks bike into the car, these 2 pretty girls walked by Jamie and I and said 'You guys have a lot of ambition, riding your bikes to the Mexican Restaurant!' then the smiled and drove away.
Jamie was really confused and I had to explain to him how they think we loaded up bikes with all this gear and rode down the street from our homes to go have Mexican.
The rest of the night Jamie and I decided to sit at the convenience store, with the Maine license plate pointed at the front door with sad looks on our faces, hoping someone would offer us a yard to camp in. At the first convenience store we met this awesome guy who works for Boeing. We had a lot of fun talking with him, but he was staying in a motel or something and couldn't really help us.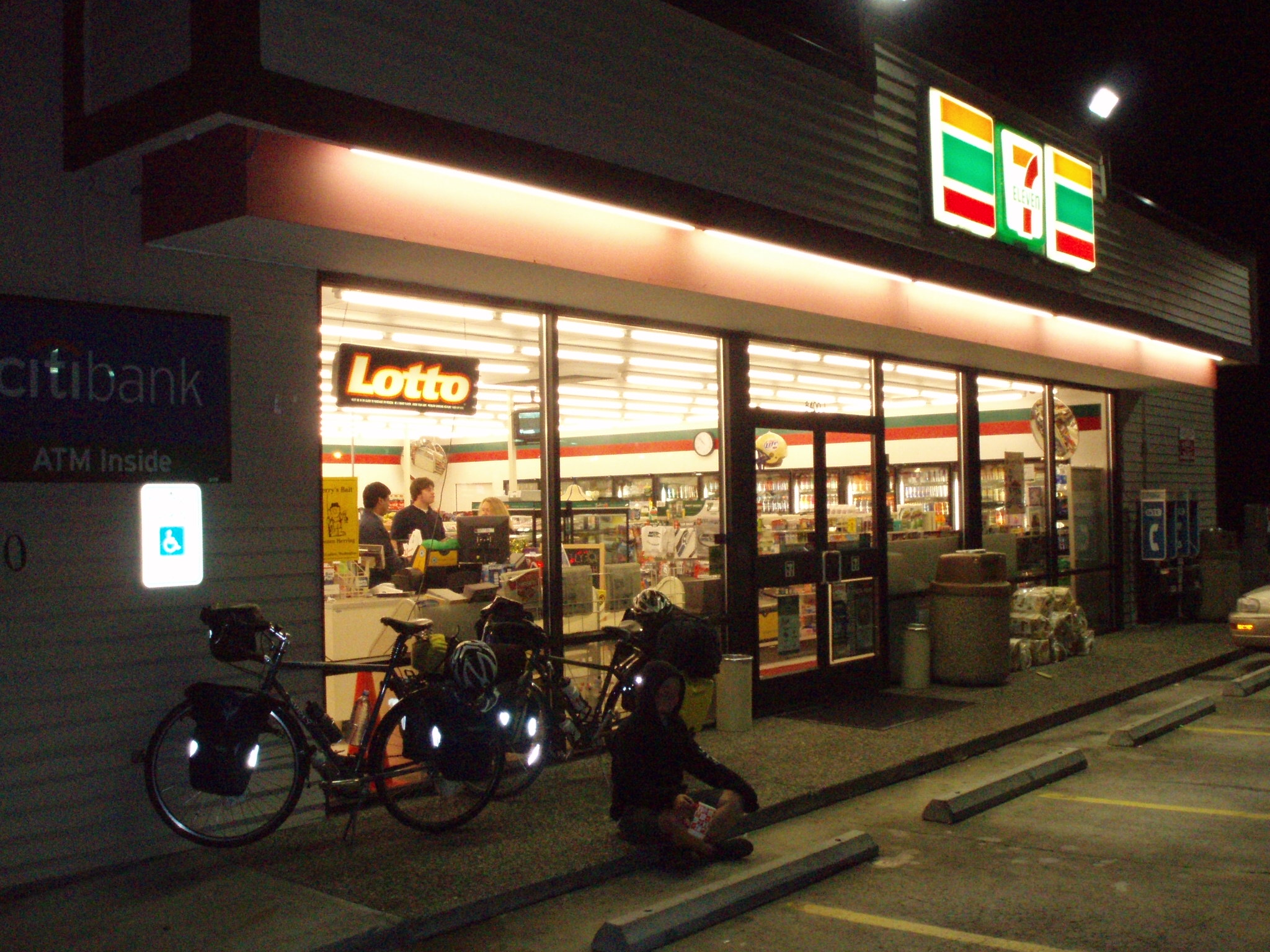 Eventually we decided to move our operation across the street to 7-11. We met a ton of people there, mostly high school kids. In the middle of the night this big fight almost broke out between these 2 lesbians and this guy who was with his wife and kid. The lesbians called the heterosexual man a Faggot as they drove away really fast. Jamie and laughed about this for the rest of the night. He had a lot of fun hanging out all night drinking beers out of our tea cups, but eventually it got late and we just decided to crash at the park that was down the street.
I slept in the kiddie playhouse and Jamie slept on the concrete next to the bathrooms. Living large.
     Click Here to Visit The Table of Contents
     Click Here to Visit Previous Page: Day 82: New Halem, WA to Anacortes, WA
     Done. Video
     Click Here to Visit The Next Page: Day 84: Mukilteo, WA to Seattle, WA