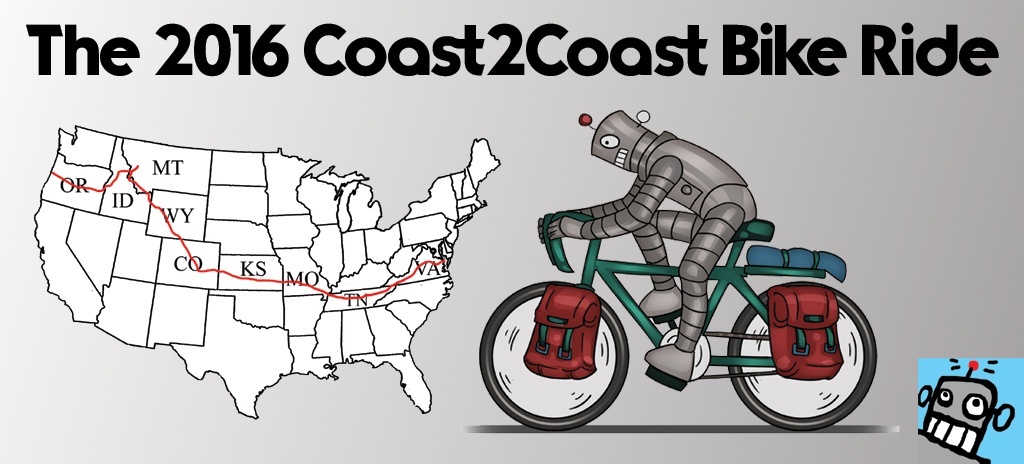 Click Here to Visit The Table of Contents
Click Here to Visit Previous Page: Bicycle Journal – The Triple Tiered Approach
Click Here to Visit The Next Page: Coast2Coast Bike Ride 2016 Gear List
I have successfully left for the summer without fully disclosing the route I will be riding.
…And the people are asking!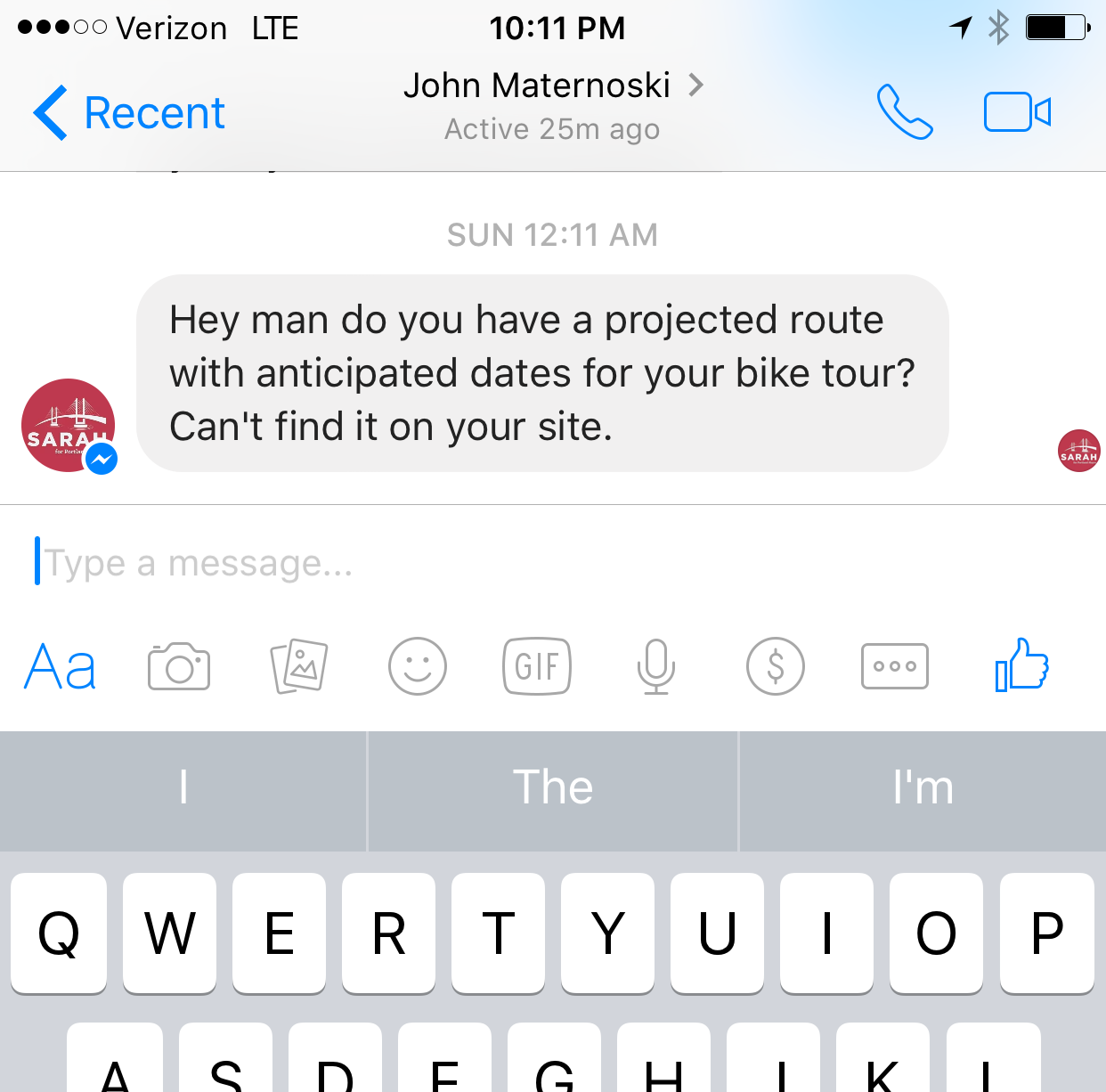 Ok let's talk about bike routes; everyone wants to know what's going on with my bike route.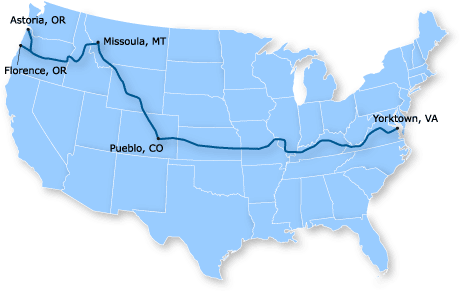 What is the Transamerica Bicycle Route?
The TransAmerica trail, or "Bikecentennial '76" was first conceived by Greg Siple in California in 1972. He, his wife June, and their friends Dan and Lys Burden were riding the Pan-American route from Anchorage, Alaska to Tierra Del Fuego, Argentina when they decided to find a trail across america. It took four years before the route was actually ridden, in 1976 by 4,100 people – as a commemoration of American independence.
The bicycle trail crosses through ten states and one hundred and twelve counties, and is 4250 miles long (6840KM). It takes in all that America has to offer, in every sense. From passing through historical landmark towns and cities, long stretches of road in the great plains, to awe-inspiring vistas in Colorado and great national parks like Grand Tetons and Yellowstone National Parks. It's simply an amazing bicycle ride. According to Adventure Cycling, the route takes roughly three months to complete.
Before I break down the details of my Transam ride, the Architect in me needs to give a disclaimer. Architects are notorious for their wacky disclaimers.
My Cross Country Bike Route Disclaimer
The route information I am about to disclose could be a bunch of crap. My route could and will change on a moment's notice. While Yes, I am following the TransAmerica Bicycle Route, I always improvise and make changes as necessary for whatever reason I choose. On all these trips I constantly find reasons to get on and off the bicycle route.
I also have no idea when I'll be in any of these places. I have been asked when I'll finish this trip and I just don't know. I need to ride the miles before I'll have any information. The last time I rode the Transam in 2005 I rode it in 77 days and barely took any time off. I have no plans to ride that fast and besides I have to work while taking this trip. I'd like to drag this out to the end of August. But we'll see.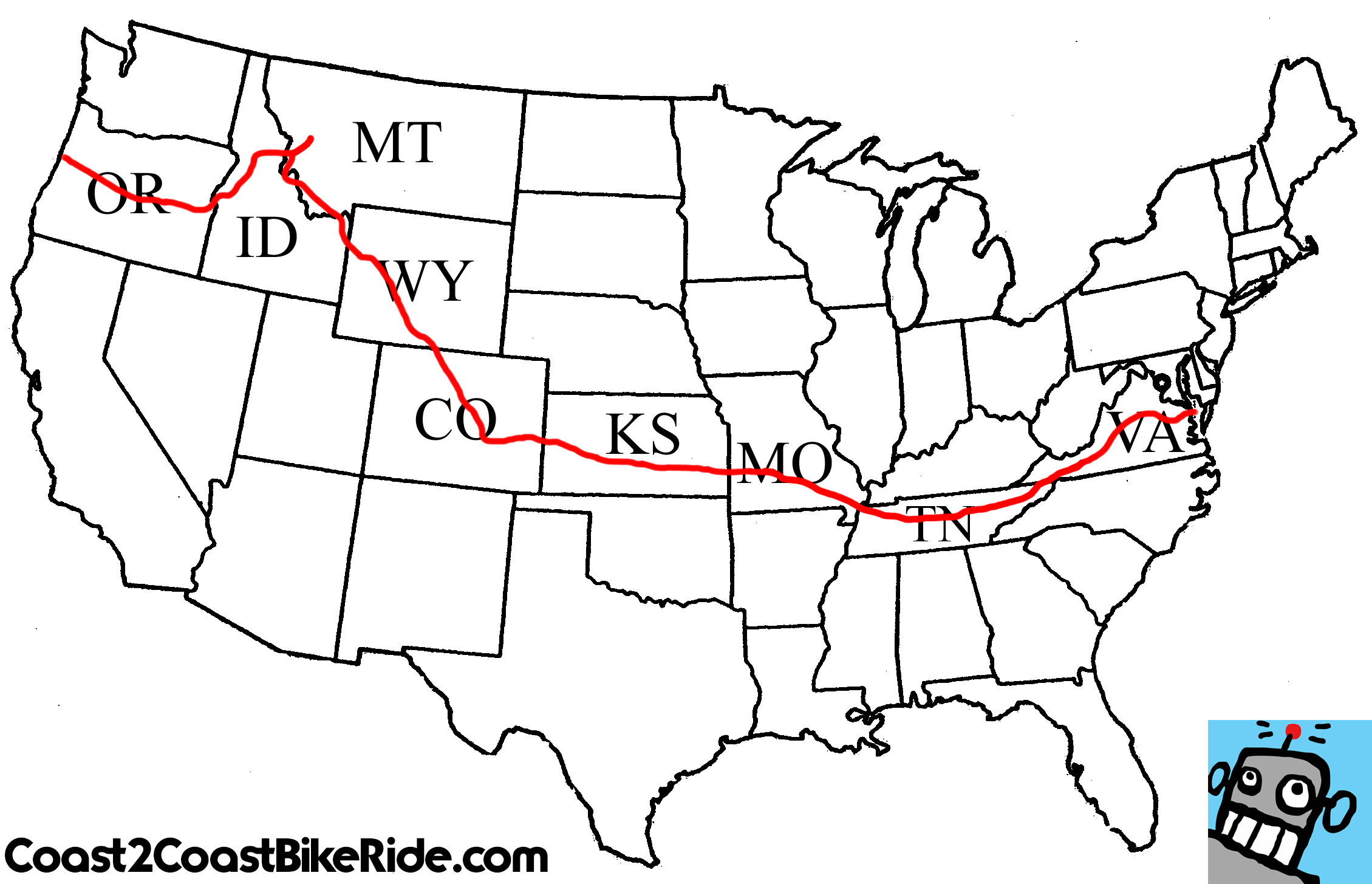 Overview of my route.
OK Get ready.
I'll start at the Obelisk in Yorktown Virginia, pretty much ride clear straight west across the Shenandoah's. Then I'll drop into Tennessee to visit the smoky mountains. Head into Missouri to hang out in the Ozarks, race across great plains in Kansas and Colorado. I'll turn northwest at Pueblo Colorado, ride into Wyoming, drop into the Tetons, head into Yellowstone, ride through the Bitterroot Valley in Montana, so I can get drunk in Missoula. Then I'll ride across Idaho and the desert that is Eastern Oregon. I'll climb over Mckenzie pass and then race to the Coast in Florence Oregon.
I know right. It's a mouthful.
Let's break this route down in more detail.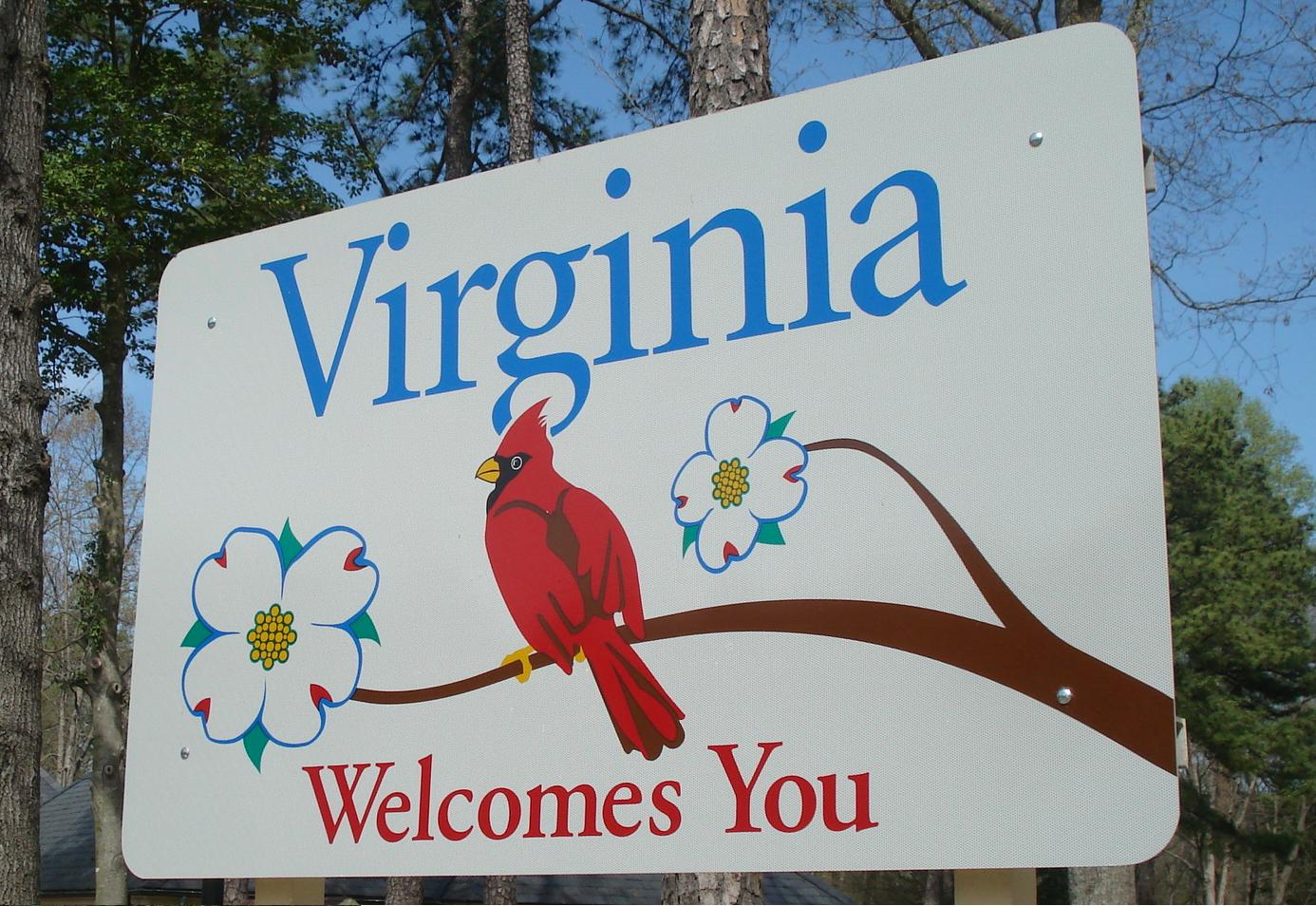 Virginia
Virginia is going to be hilarious.
After my architecture conference, I'll meet up with my 2 friends Laura and Sam are riding with me for the first few hundred miles. They will ride with me to Charlottesville.
The route begins in Virginia, on the Chesapeake Bay, in Yorktown, which – along with much of this first stretch is like riding right through an American history book before plunging front-wheel-first into the rolling mountainous hills of the Appalachians and a segment of the Blue Ridge Parkway.
I'll ride across the Shenandoah's, party with the Appalachian Trail Thru-Hikers in Damascus.
I think Virginia is one of the most difficult states to ride on this whole trail. I'll be out of shape, still learning how to ride my loaded bike, and the hills are super steep. Nevertheless, I'm really looking forward to Virginia.

Tennessee
What about Kentucky?!?!??
No, Kentucky this time. I'm not doing Kentucky. I'll go around it. I hated Kentucky the last time I rode the Transam. It was super dangerous. there are wild dogs everywhere, the coal mining trucks drive like maniacs, the road was terrible and the locals made sure I knew I wasn't welcome in Kentucky. I bet all the people that live in Louisville with the big hats are really nice, but Kentucky is too dangerous for bicycle touring. The Adventure Cycling Association should take Kentucky off the Transamerica Bicycle Trail.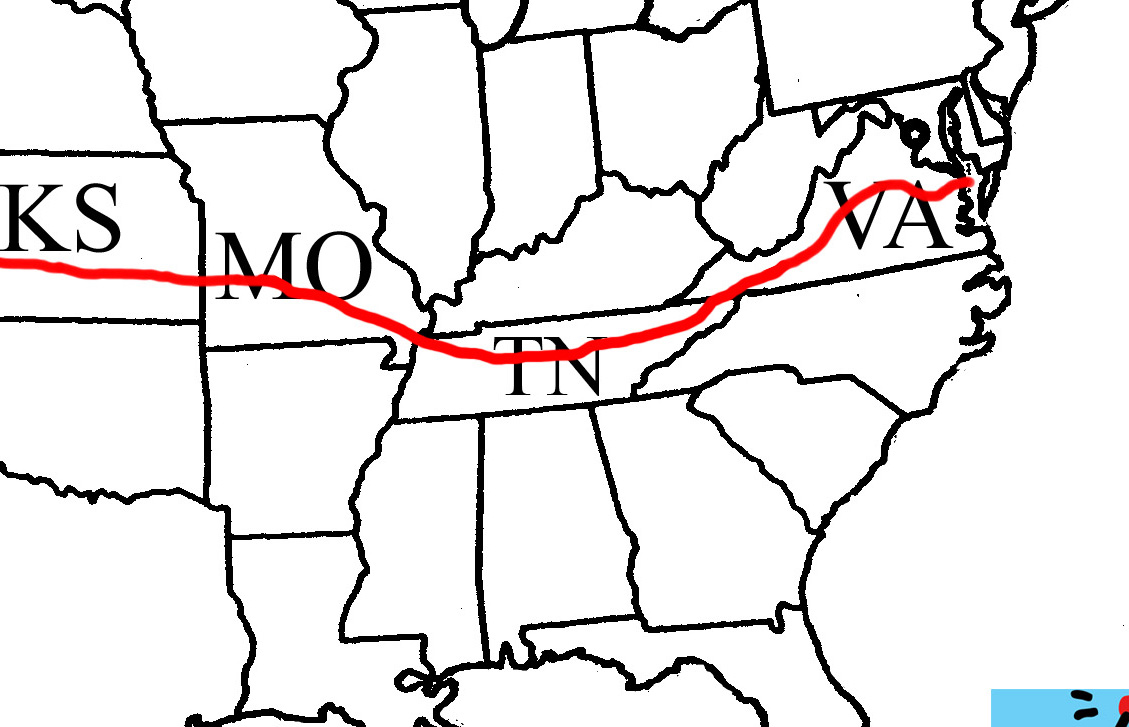 Instead I'll be visiting Tennessee!
I want to ride across The Great Smoky Mountains and visit Nashville and Knoxville. I have a friend whom I'm going to try to connect with. I've never spent any time in Tennessee. I am super excited about Tennessee. No idea what roads I'll take. Feel free to comment with any Tennessee Bike Touring Insights.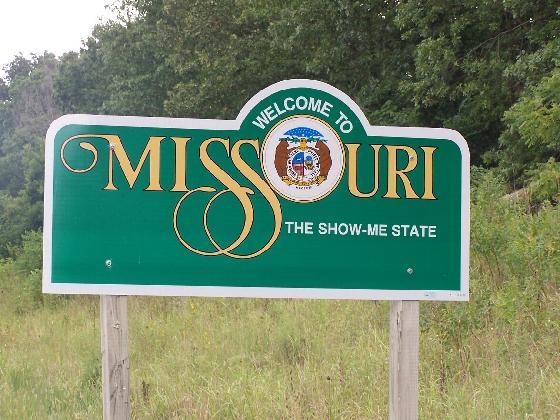 Missouri
I love Missouri.
The Ozark Mountains are a ton of fun to ride. They aren't very high but they are super steep rolling hills. The trail goes through some super fun river towns, where everyone is canoeing, camping and partying. I'm excited to go swimming at Johnsons Shut Inn and hang out in the woods with a can of cheap beer.
After the Ozarks, I'll cross into the Great Plains.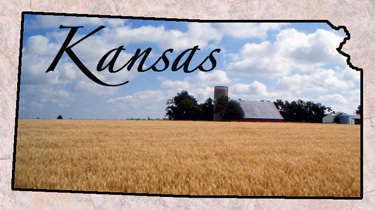 Kansas
Oh Kansas.
I might pop into Wichita this year. Last time I rode as fast as I could across Kansas. Kansas is nice, but its kind of boring, the riding is flat and the same every day.. Kansas was a good opportunity to get really serious and ride big mile days back to back. I'll probably do the same if I can. I need to be in the mountains.
Your also at the mercy of the wind in Kansas. If you have a headwind, you might as well not ride. There were also freak tornados the last time I rode Kansas.
…Come out, come out, where ever you and meet the young lady who fell from a star!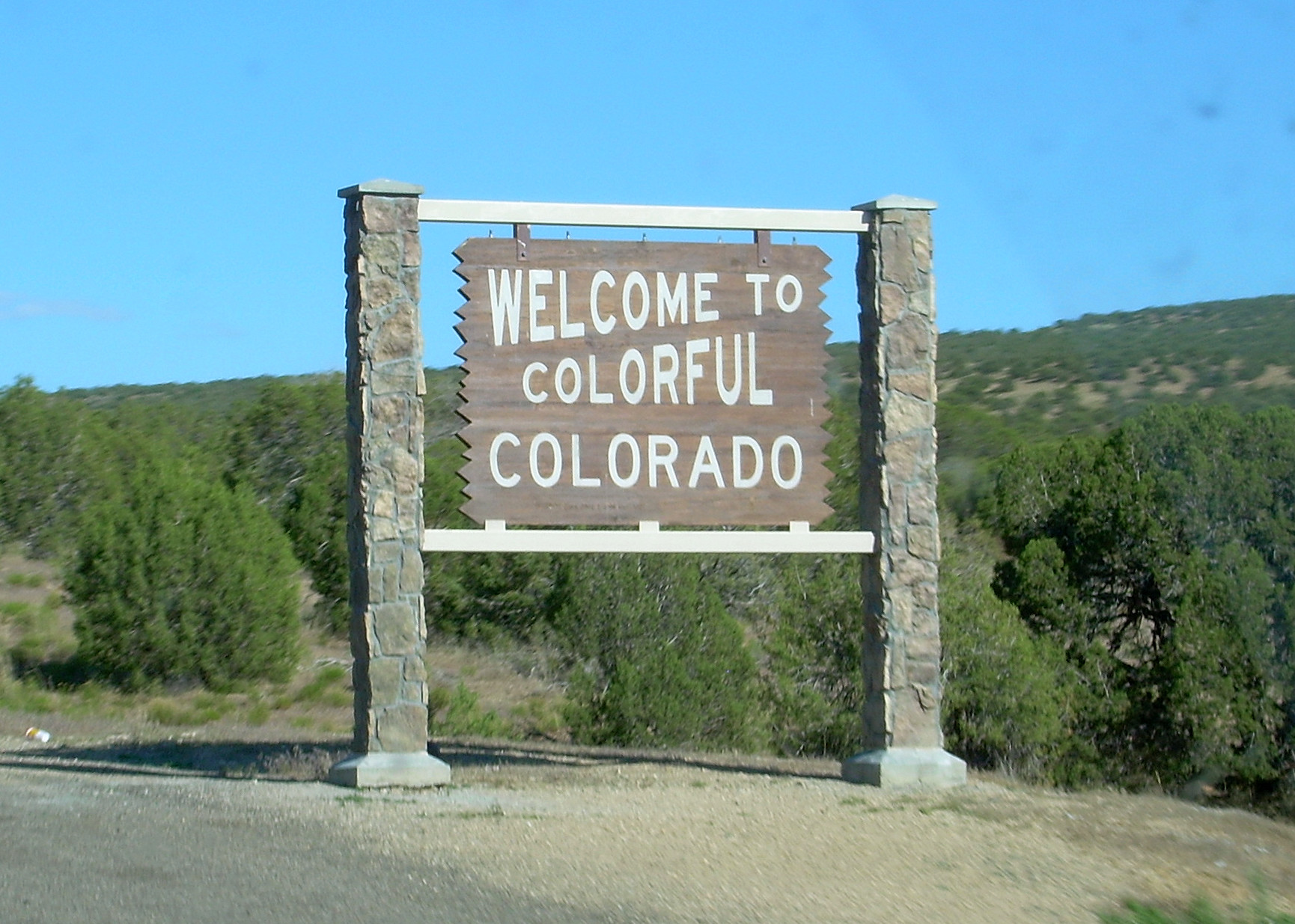 Colorado
Eastern Colorado is a continuation of Kansas. There is a lot of small ghost towns which I'll pass through.
Pueblo is the last stop until before leaving the great plains and moving into the Rocky Mountains. Pueblo's elevation is at 4,700' from here, I'll start climbing the very long uphill up to Hoosier Pass at 11,500'.
Hoosier Pass is definitely a huge Trans-am Milestone. I truly believe it is one of the most beautiful places in America.  I'll go through Brekenridge and all those cute little towns and head up north towards Wyoming.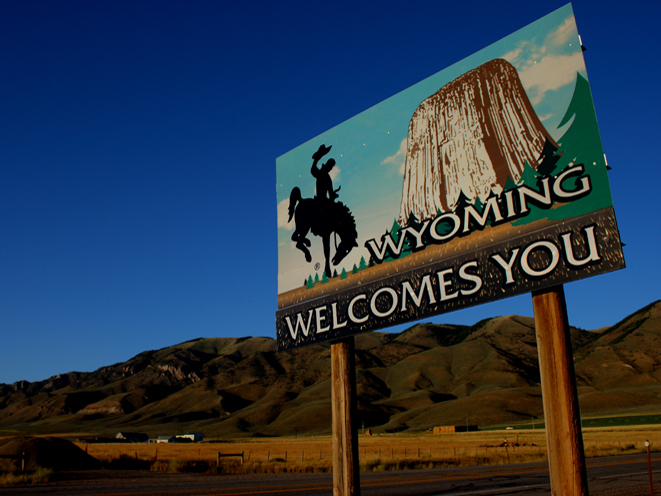 Wyoming
Wyoming is great! Its so beautiful. I'll stay in a bunch of cool towns and then drop into the Grand Tetons. Riding along the Grand Tetons is pretty cathartic. I can't wait to see those mountains.
After I hang out in the Tetons for a little while, I'll ride across Yellowstone visiting Old Faithful and my favorite building the Old Faithful Inn.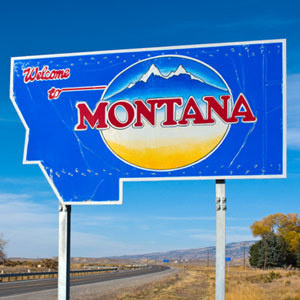 Montana
I love Montana. I'll exit Yellowstone in the earthquake lake area, I'll swim at some hot springs, stay in some gold mining towns and then move through the Bitterroot Valley on my way towards Missoula.
Hopefully the fires aren't bad this summer, if they are I may have to take a different route.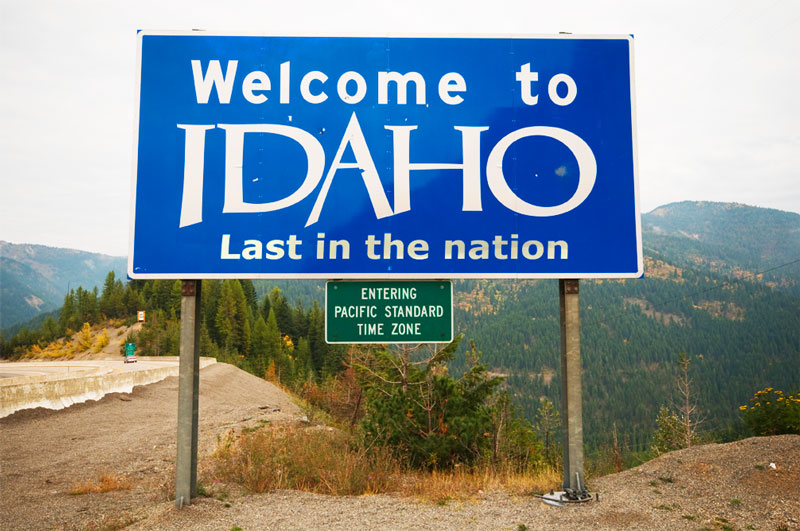 Idaho
After Missoula, I'll head into Idaho and climb up to Lolo pass. At the top of Lolo Pass the trail follows the Lochsa River. Which is basically a subtle downhill for 100 miles. Idaho is gorgeous. Literally ha!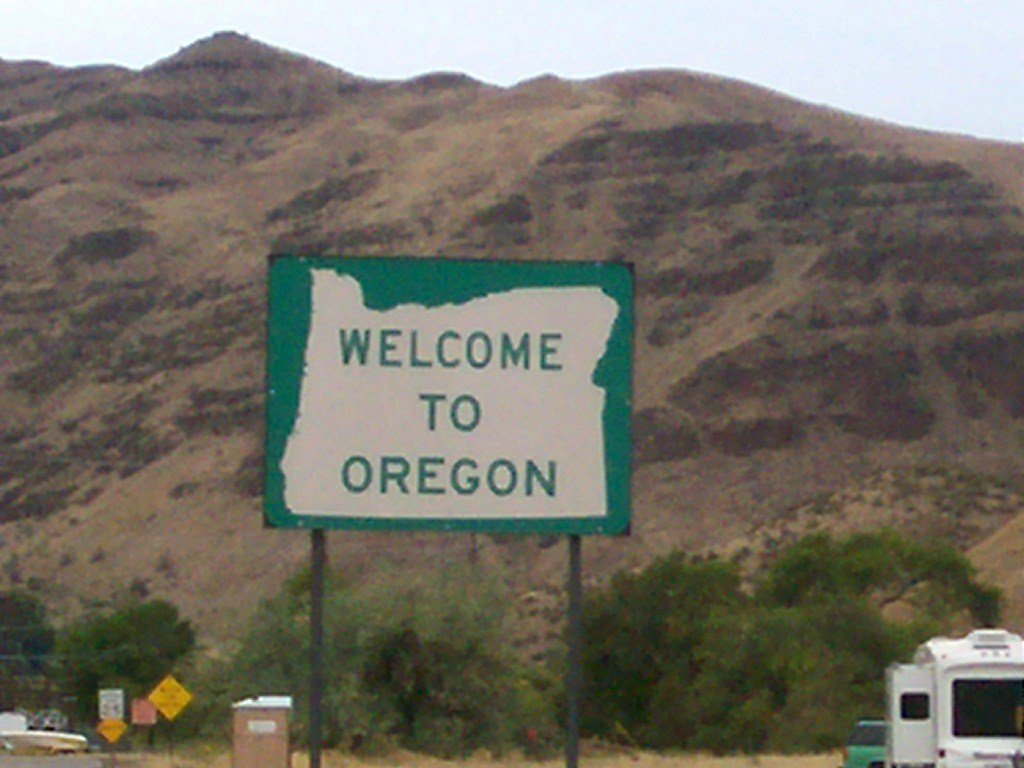 Oregon
Oregon is another huge milestone. The trail brings me into the Hells Canyon area of Oregon. Which is pretty much a desert. I'll ride through the John Day Fossil beds, I'll get really close to Bend Oregon and then I'll cross the Cascades at Mackenzie Pass. Mackenzie Pass is a surreal volcanic
After Mackenzie Pass, I'll pass through Eugene giving high fives to all the architecture students as I ride through and then it's a mad dash out to the coast. It's about 100 miles from Eugene to the coast at Florence.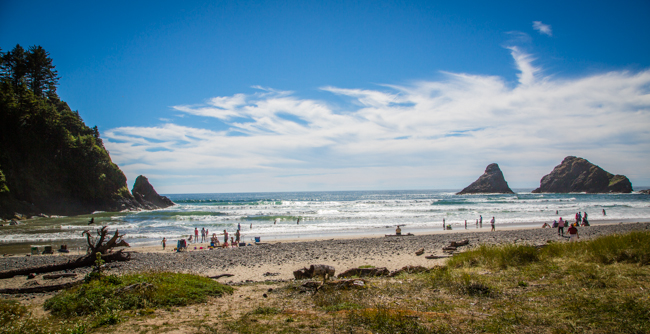 The Oregon Coast.
When I arrive at the coast, have this fantasy that all my friends, my dog and all the amazing people I met across the country will all be there waiting for me on the beach in Florence with a BBQ full of cheeseburgers and lots of cold beer.
That's my fantasy. Please don't ruin it.
OK, that's all I got.
A Better Job (A Better Route Description)
In my 2005 journal I share the official route description of the Transam from Adventure Cycling. You can read that by clicking here.
What about the Logistics?
Before I wrap up this blog posts let me answer a few questions. On a bike tour answering questions is really my #1 job and riding the bike is #2.
Will I ride on interstates?
No. I have bicycle maps that put me on the most scenic roads in America and they also tell me where the bike shops, grocery stores and secret places to camp are.
Where will I stay?
I'll camp! Sleeping outside and breathing real fresh air is better then drugs.
What will I eat?
Same thing I eat at home. Meat and Veggies.
What if the bike breaks?
It will. I'm a Licensed Architect. I can fix anything. Fixing a bike is no problem.
How will I carry my gear?
I have bags on the front and rear wheels.
Is anyone following me for support?
No, I write a blog for support. The people reading leave me comments telling me how handsome and awesome I am.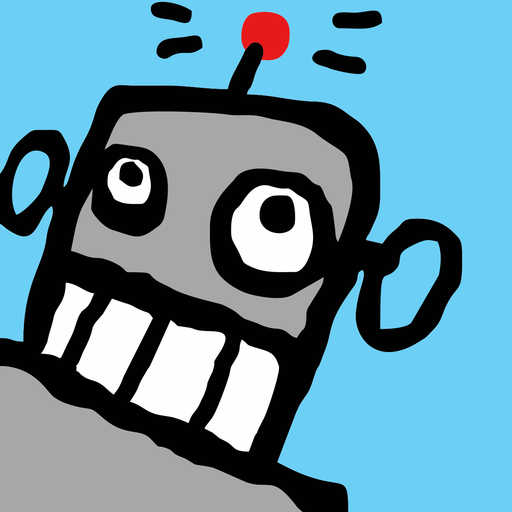 OK that's all for now.
"I hope you have a wonderful day!"
That's what we say in Portland, Oregon!
Please check out my other blogposts about this bike tour by clicking here. 
Click Here to Visit The Table of Contents
Click Here to Visit Previous Page: Bicycle Journal – The Triple Tiered Approach
Click Here to Visit The Next Page: Coast2Coast Bike Ride 2016 Gear List