Friday July 6, 2007, 57 miles (92 km) – Total so far: 961 miles (1,547 km) 56.91 miles 21.5 max 
5hr 31 minutes 10.3 avg
Click Here to Visit The Table of Contents
Click Here to Visit Previous Page: Day 19: Holley, NY to Lockport, NY, Driving to Buffalo Video
Click Here to Visit The Next Page: Day 21: Buffalo, NY to Buffalo, NY
We were all up at 6:30 Jamie was the first to leave he had to have the rental car dropped off at 8am. And had his appointment at SUNY Buffalo at 11am. Chuck and I put on a lot suntan lotion before we left. SPF 30 just isn't cutting it these days; we're going to jump up to 50. For breakfast we ate crappy breakfast sandwiches from a gas station.
It was a 20 mile ride out to the bridge to go into Canada in the wind but it wasn't that bad, we felt strong and rode like kings.
As we were leaving the Indian Reservation (where cigarettes were $2.40 a pack) chuck got stung by a bee. He said the bee flew into his neck while he was riding, bounced off and then stung him. He took it like a man. I had some bee sting juice in the first aid kit and he said it immediately made it feel better.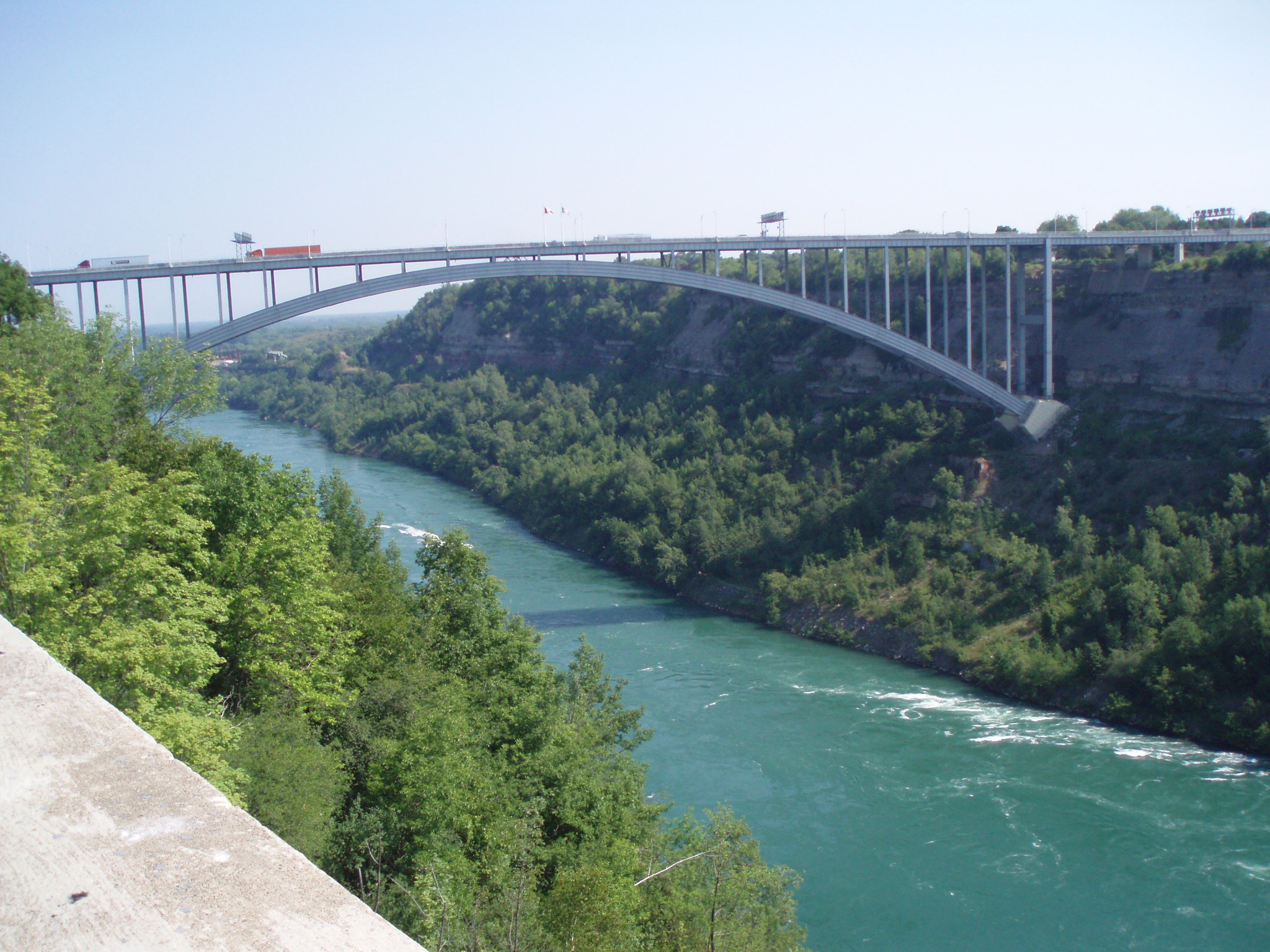 At Mile 20 we rode over the Lewiston Bridge into Canada. The toll for cyclists was $0.50 and the toll collector was gorgeous, Chuck asked her if we needed passports cause we don't have them and she said 'No, don't worry about it just give me $0.50' with a big smile.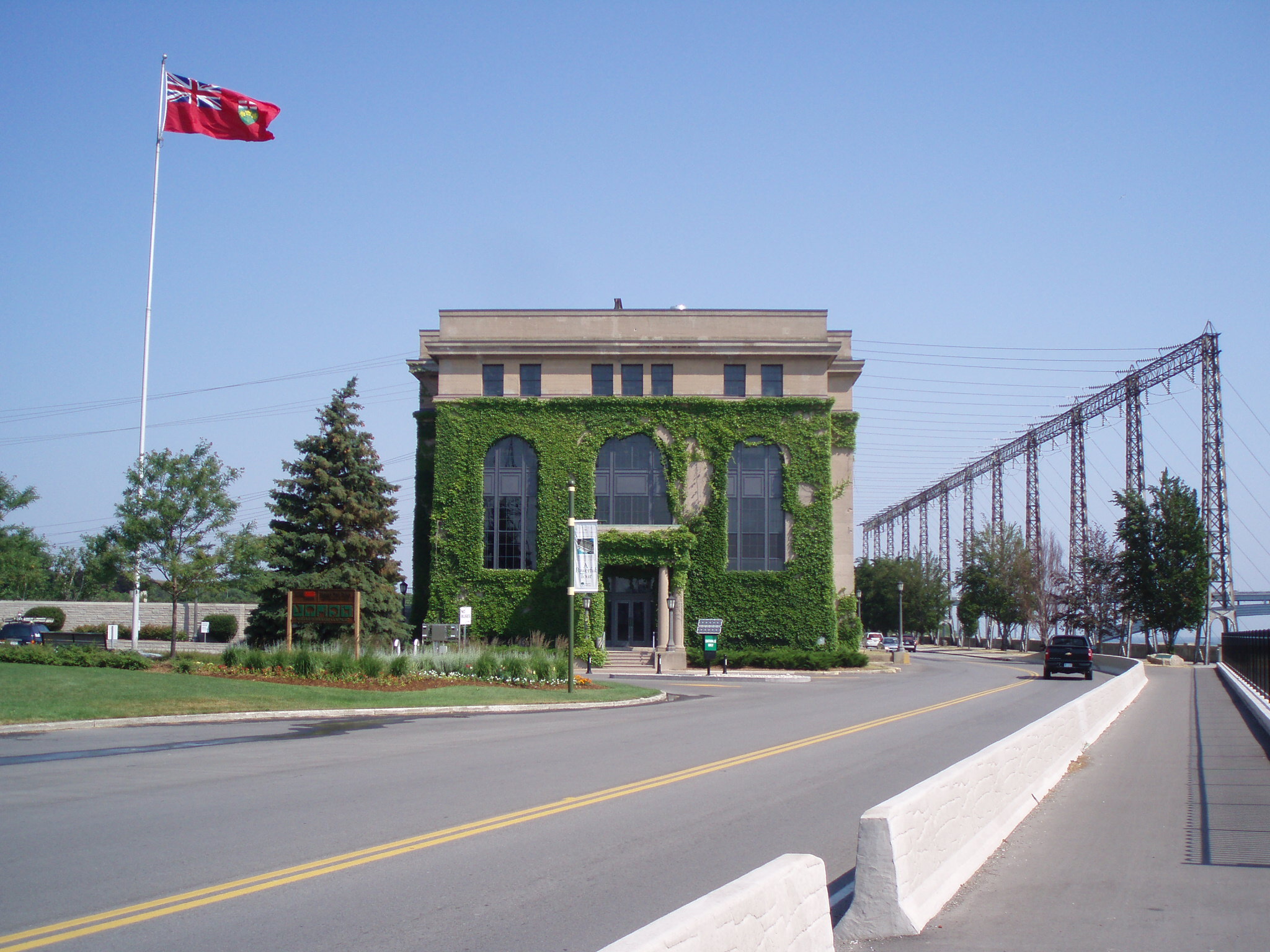 We found the Niagara recreation trail bike path that is supposed to take us to the falls. Along the way we got caught up checking out the great looking power plant buildings. Eventually the nice off road bike path disappeared and we arrived at the masses of people at the beautiful view of Niagara Falls.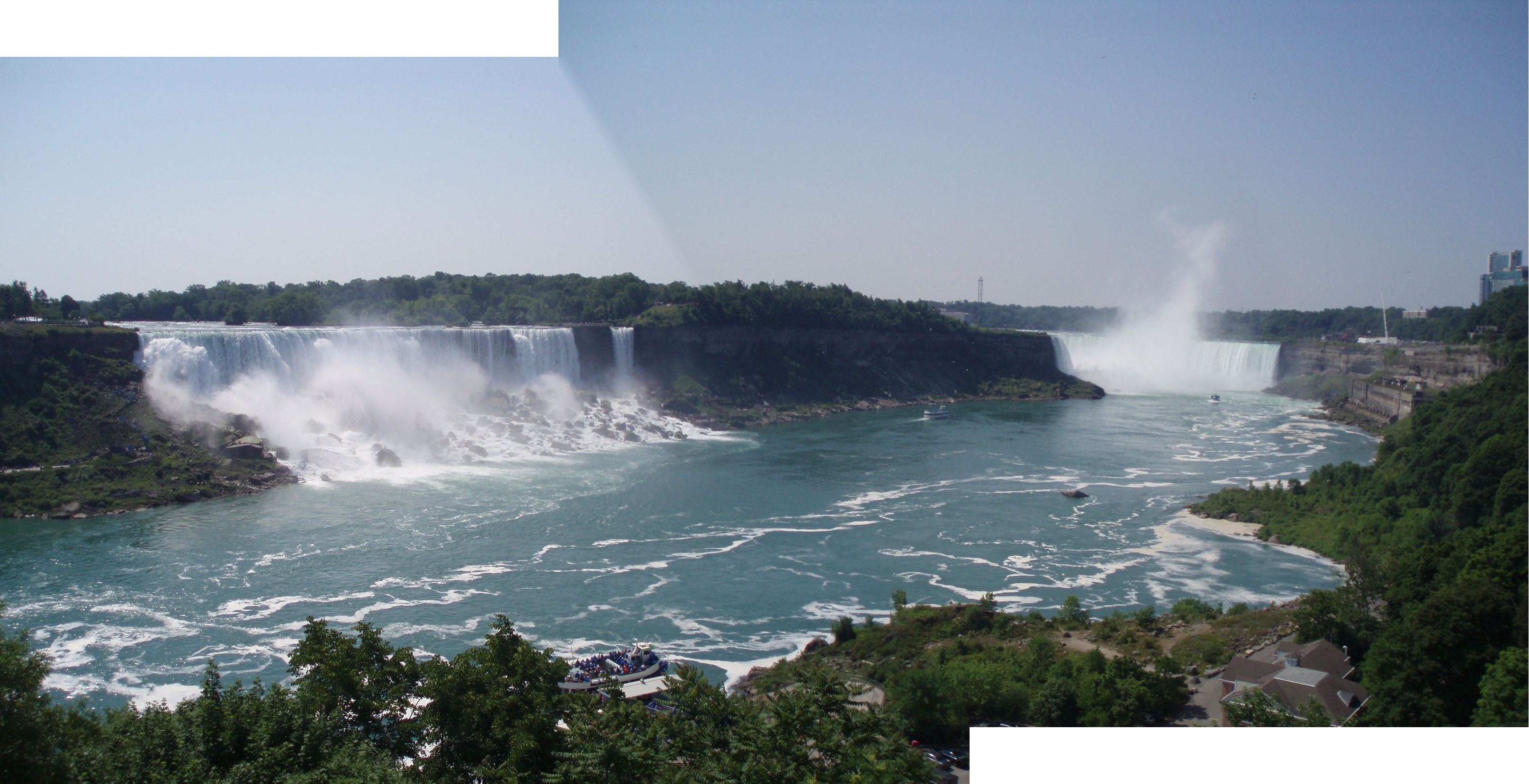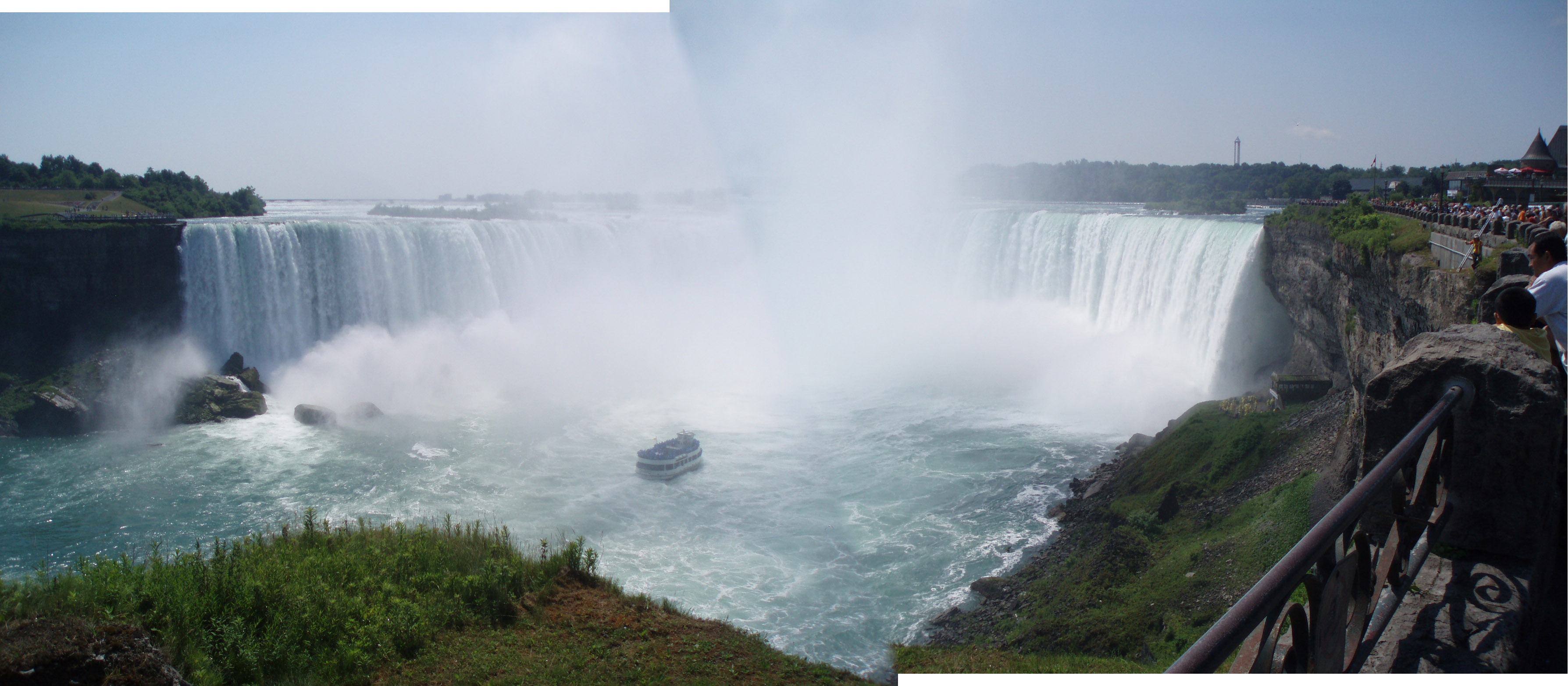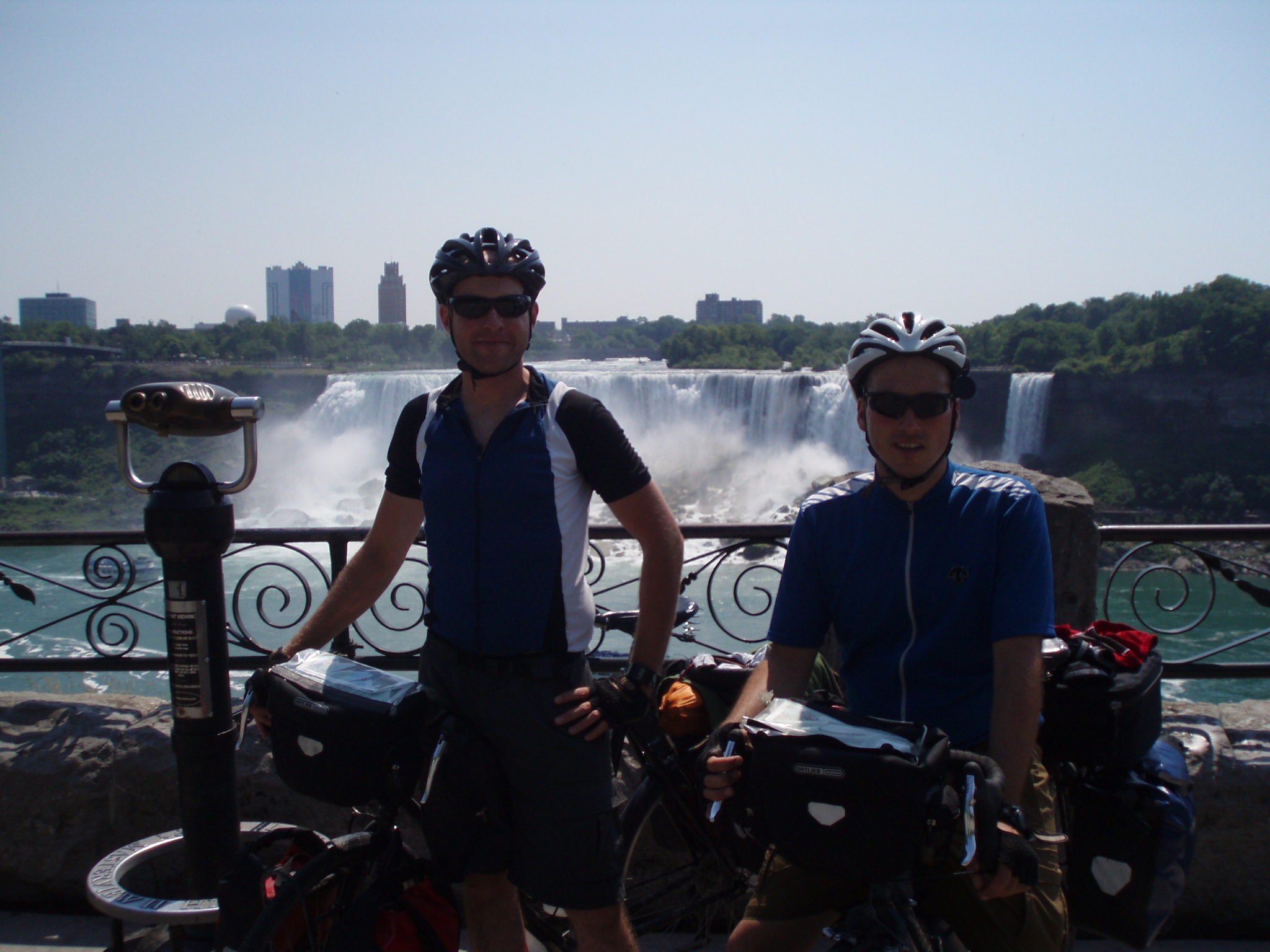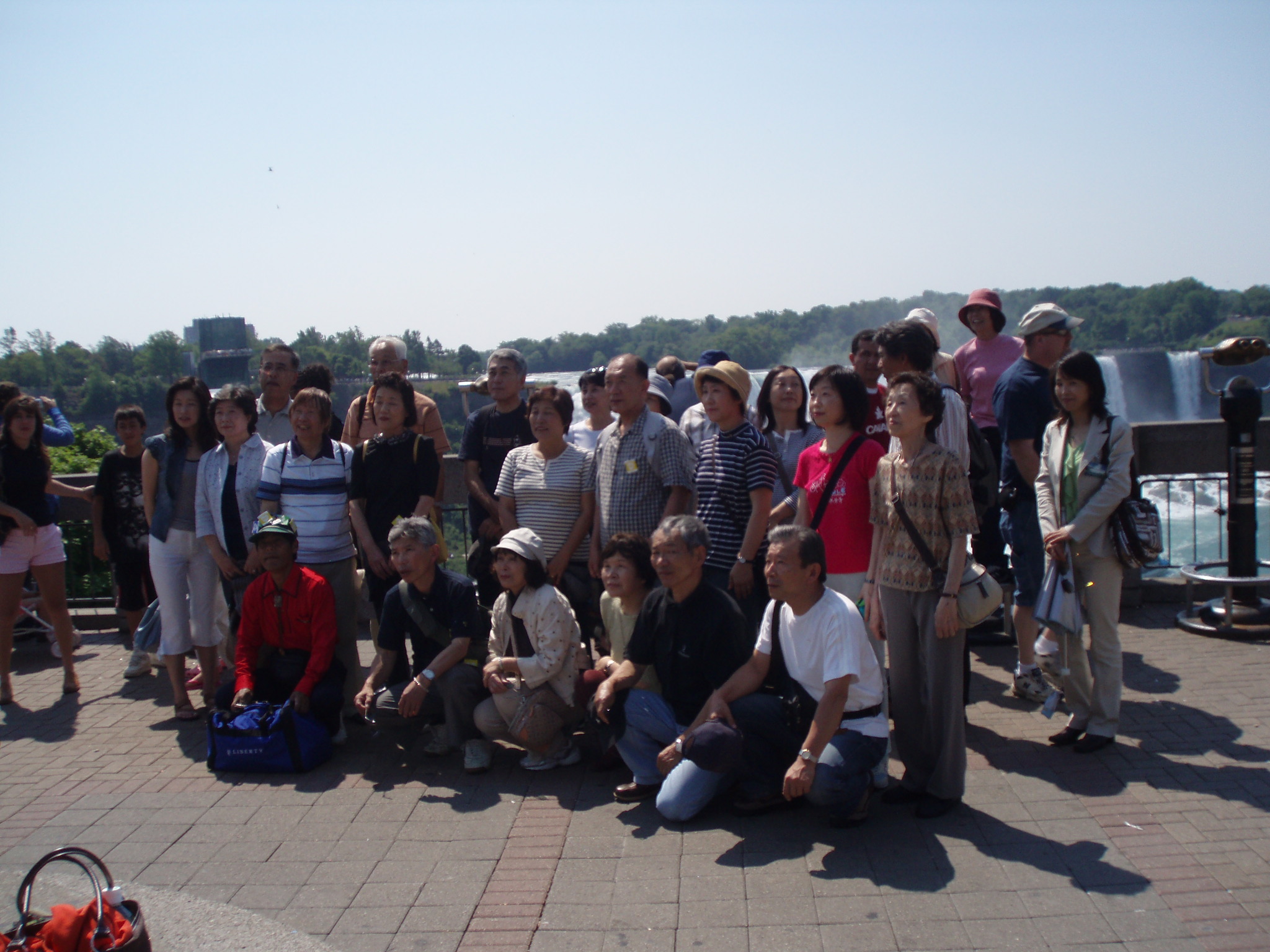 The Canadians really got the better half of this Niagara Falls deal. The falls are beautiful, but after standing around for 10 minutes we both wanted to just get the hell outta there. The crowds of people were too much, I felt like I was in Wal-Mart.
We quickly rode away from the chaos and found a nice park on the other side of the waterfall to take a break. We sat on a grassy knoll 100 yards away from all the chaos watching the raging water before it went over the falls.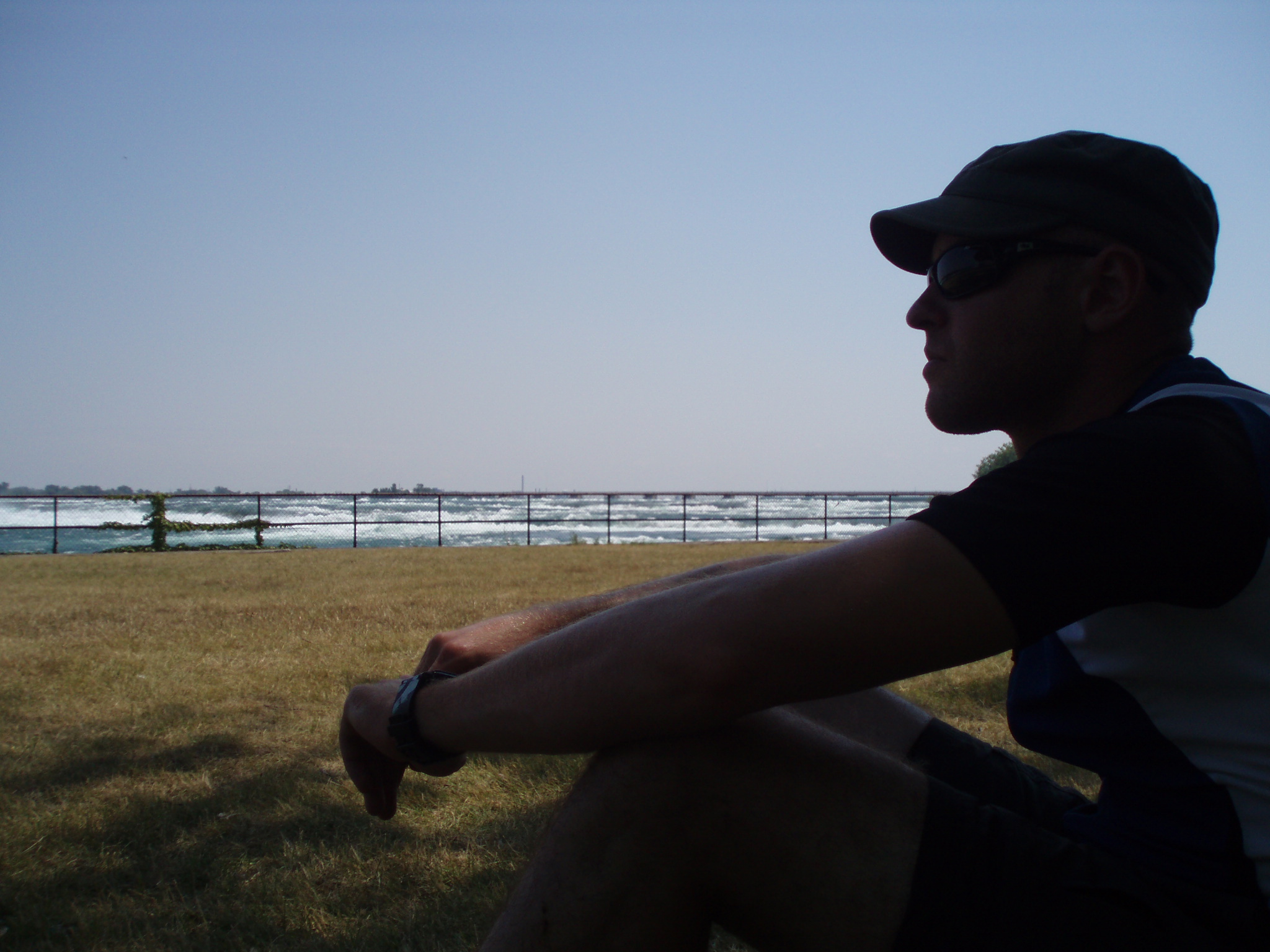 It was getting late and we needed lunch and we had to ride like 10 miles to find food.  When we got to the café there were 5 bikes in the bike rack. One rider was outside and she asked about our trip and when we told her we were westbound cross-country riders. She got real serious and broke the news to us that we're riding the wrong way and no one should ever ride a bicycle to the west. We said 'Yeah we know.' After we got inside each one of the 4 cyclists individually told us that we are riding the wrong way, one after another. After the second person gave me the same news report about riding the wrong way, I got annoyed and just let chuck talk to them, while I studied the menu. Chucks always a lot friendlier at dealing with annoying people then I am.
The last cyclist and most overweight stuck around and even told us that we are riding the wrong way along the Niagara River. After they all left, chuck and I wondered what the hell he was talking about riding upstream. It's been as flat a pancake for the last 15 miles along the Niagara River. It doesn't get any easier than this. All those cyclists were overweight, riding carbon bikes and had all their gear shuttled from place to place on their 7-day trip around Canada.   I just don't want to hear it.
We rode another 10 miles and crossed back into America on the Peace Bridge. When we went into customs we both walked in together. Chucks custom officer was really nice and asked him all about our bike trip and where in Long Island he was from. The lady I spoke with was mean and nasty and didn't want to let me back in to the states because I didn't have my passport. She said me driver's license wasn't good enough ID; all it means is that I can pass a driving test.  I didn't really care.  After she yelled at me for traveling without proper identification, she gave me the paper to give the guard in the parking lot.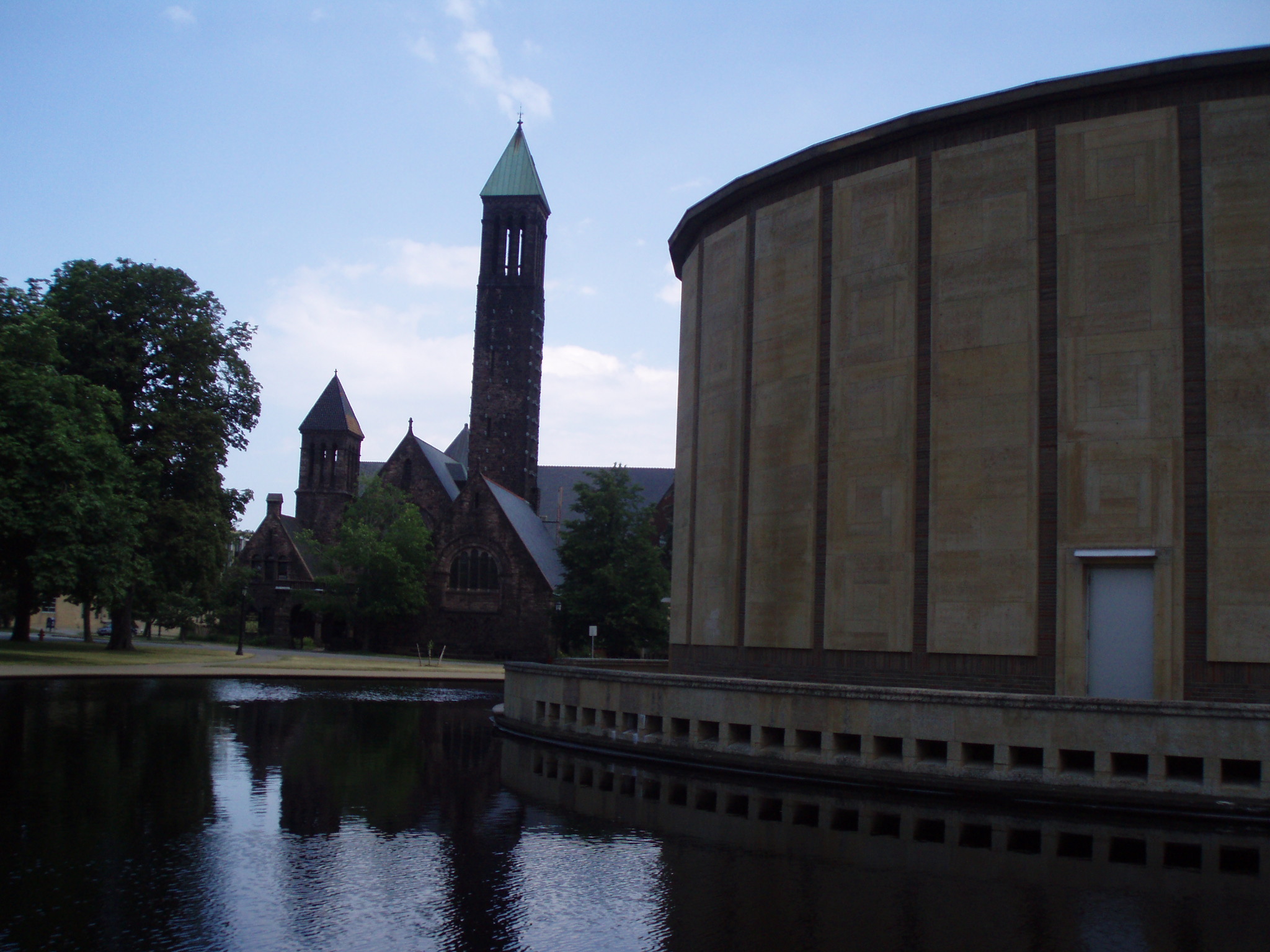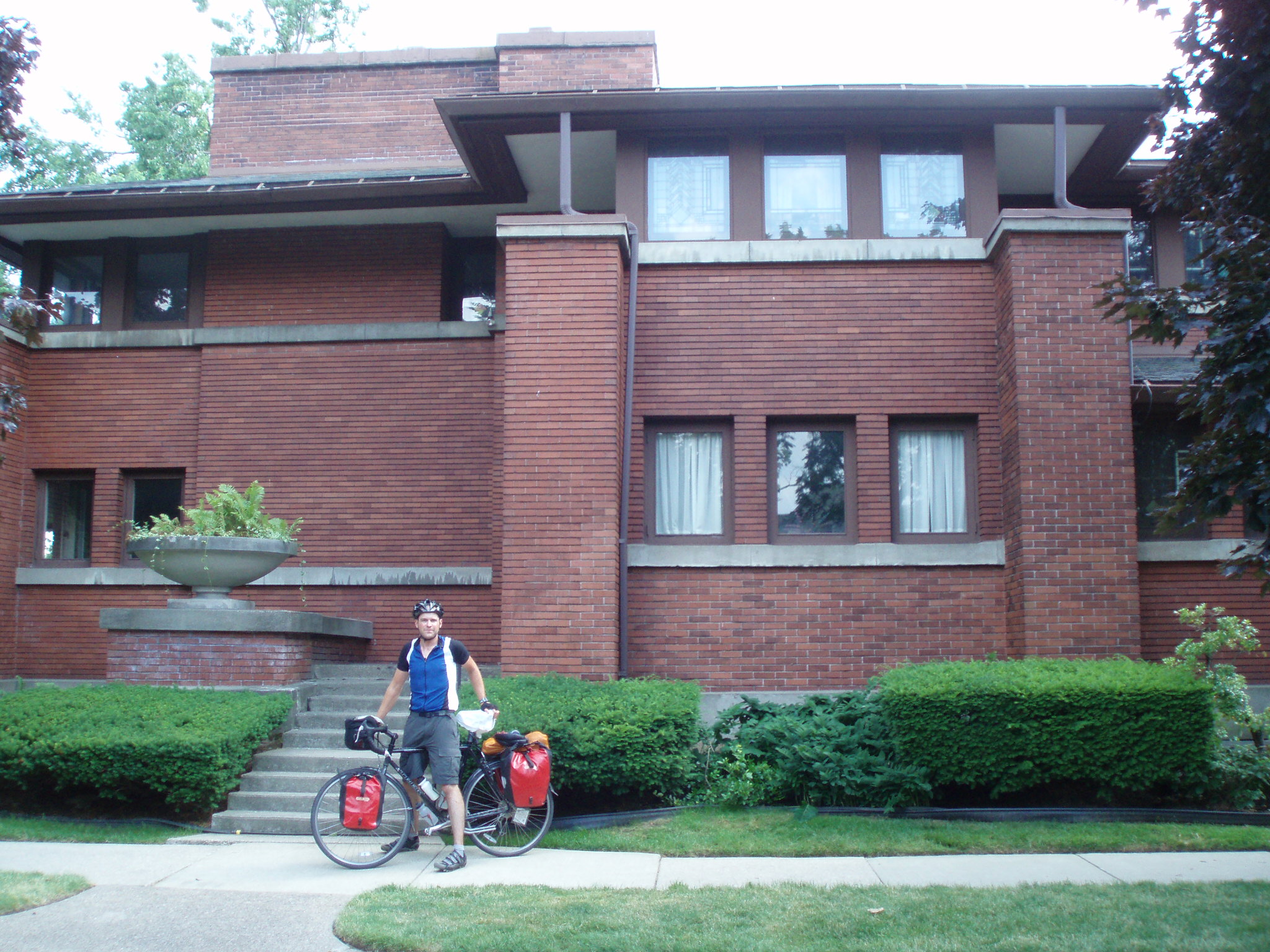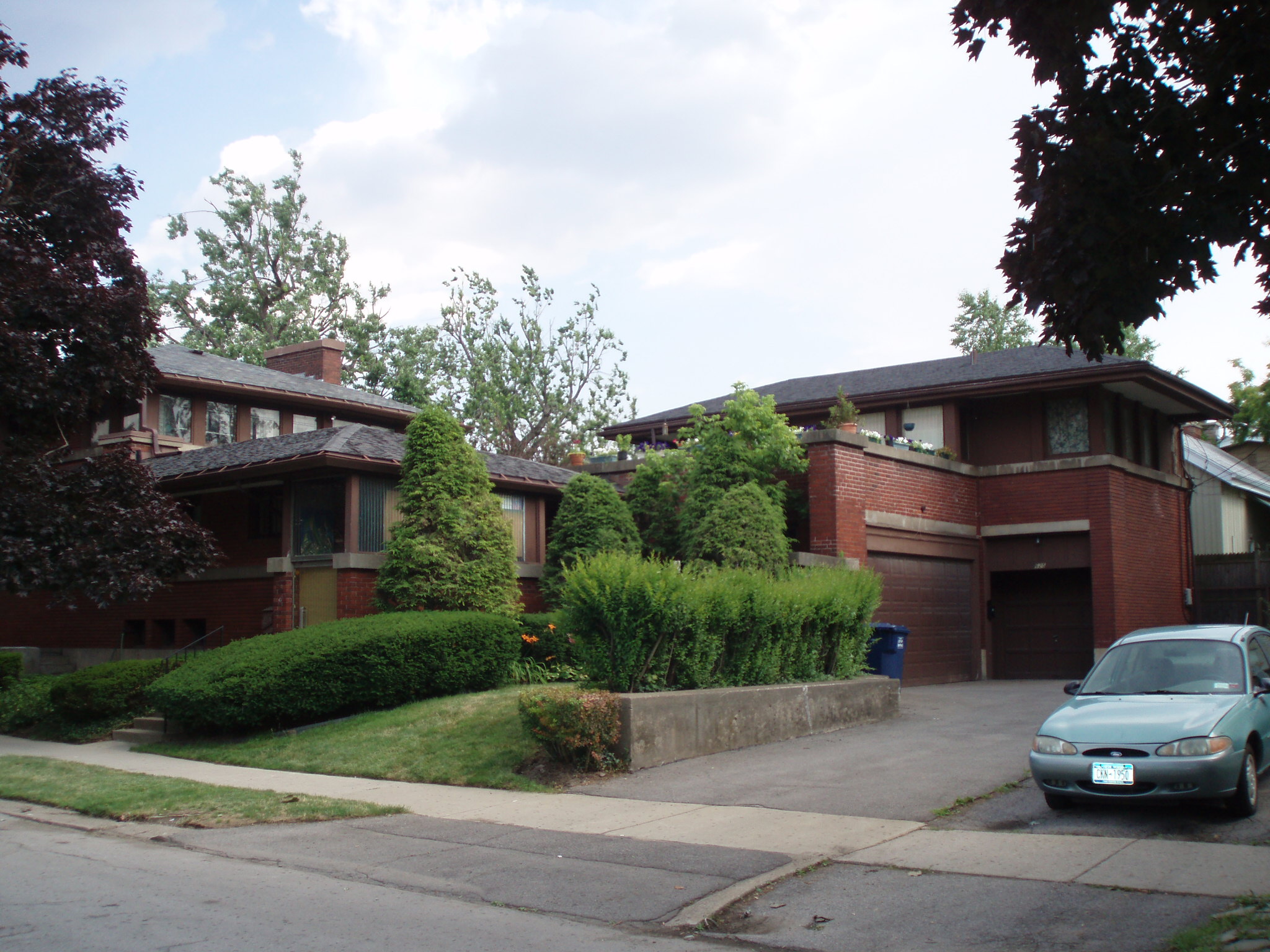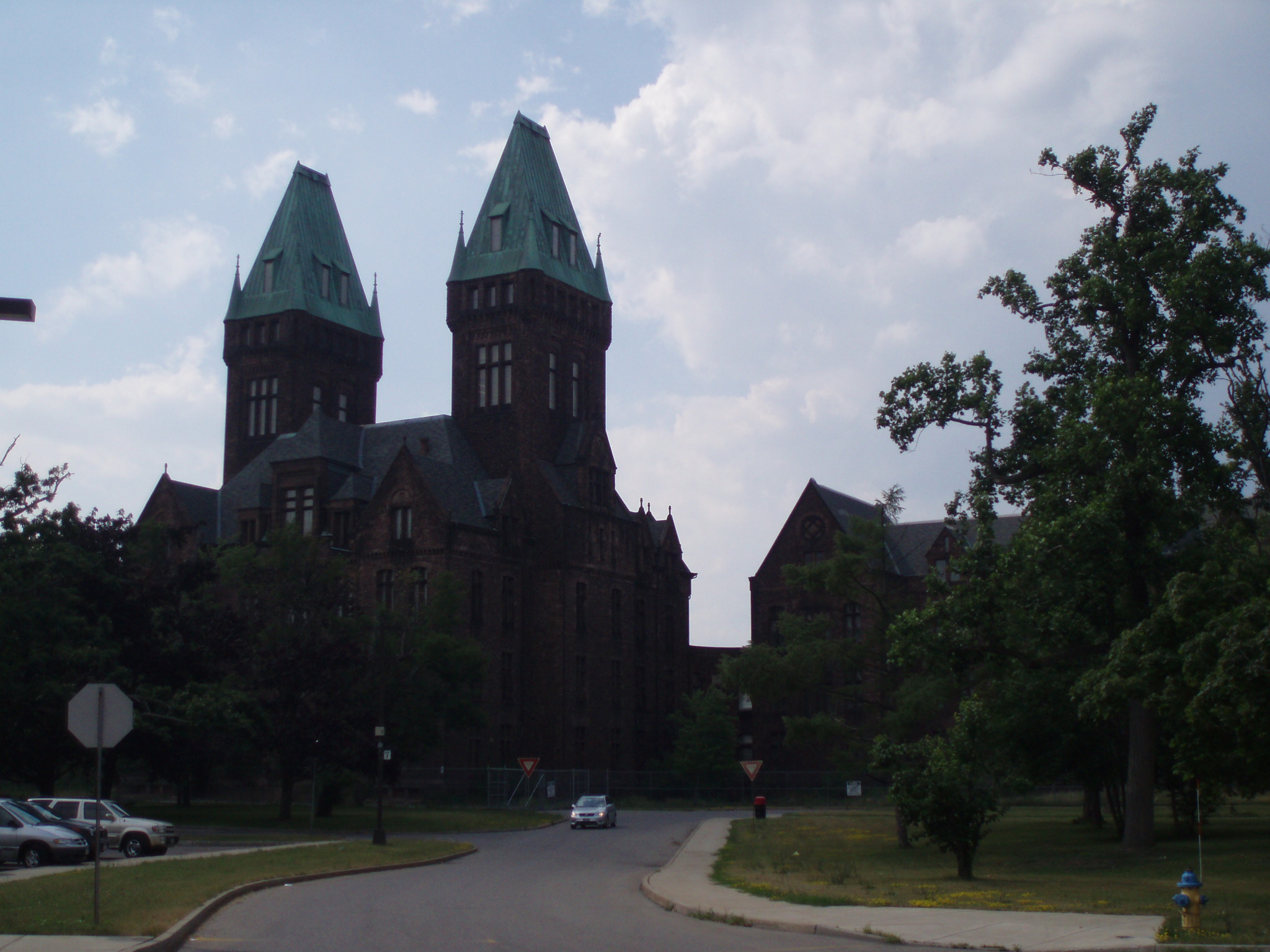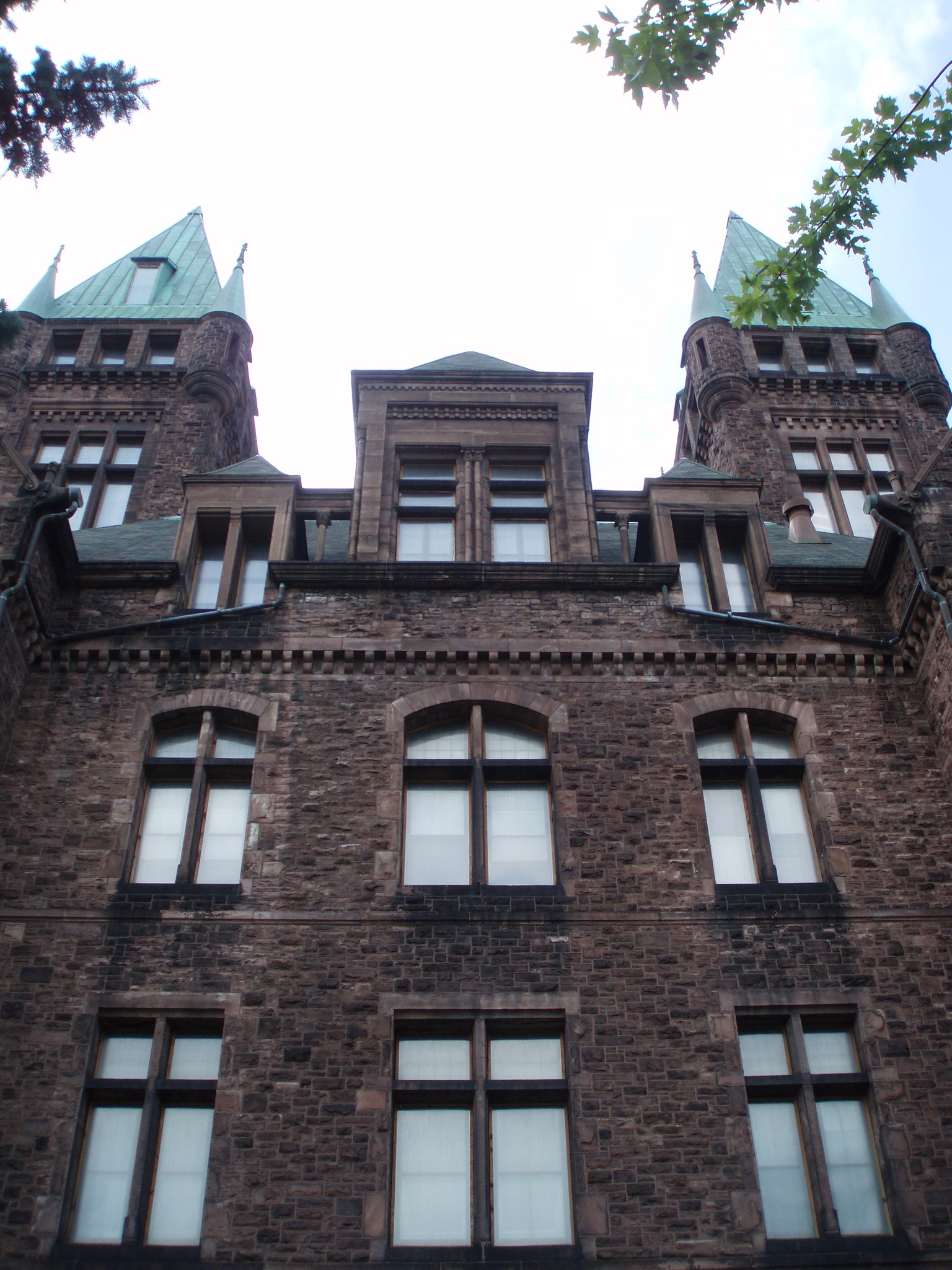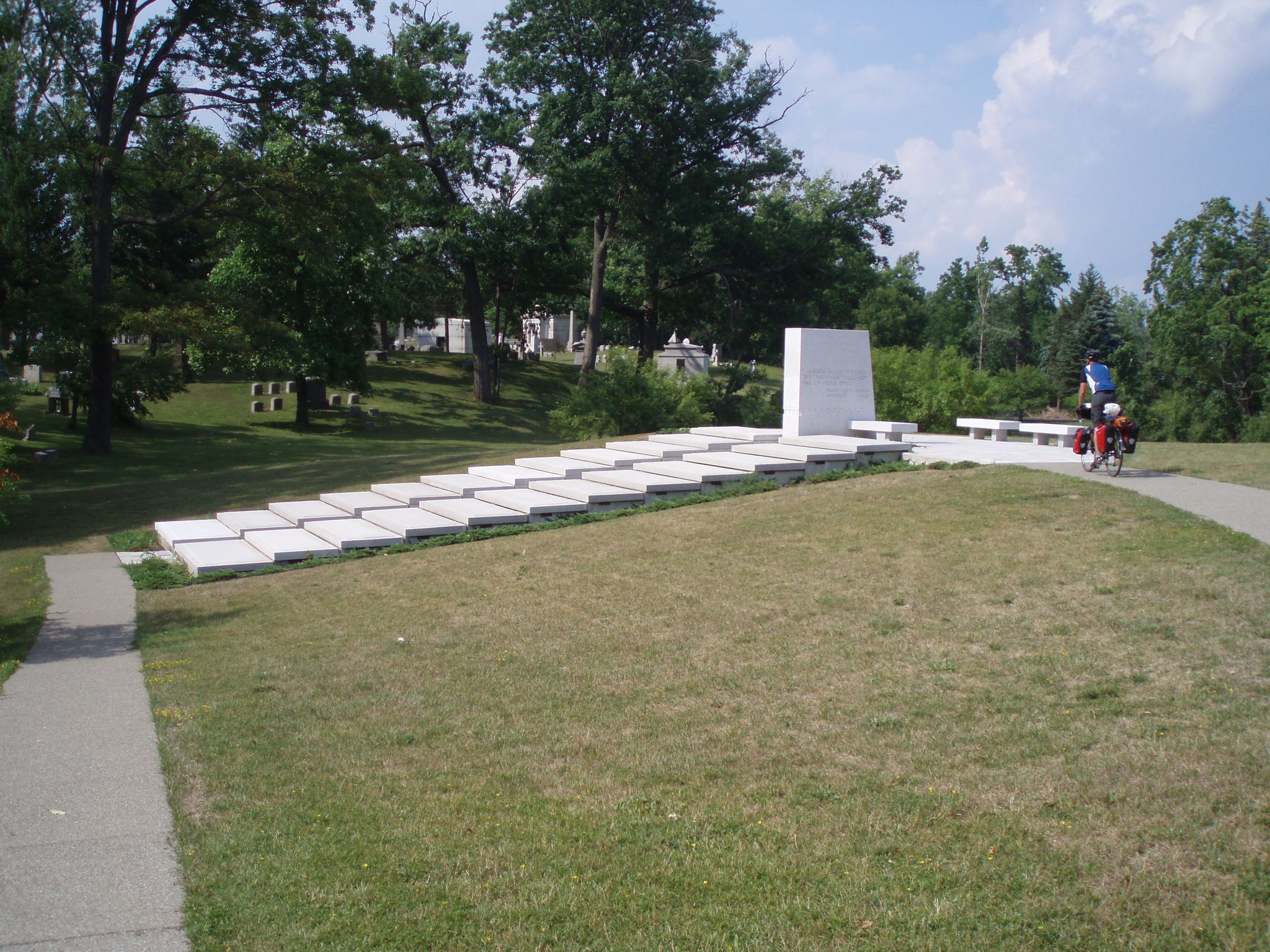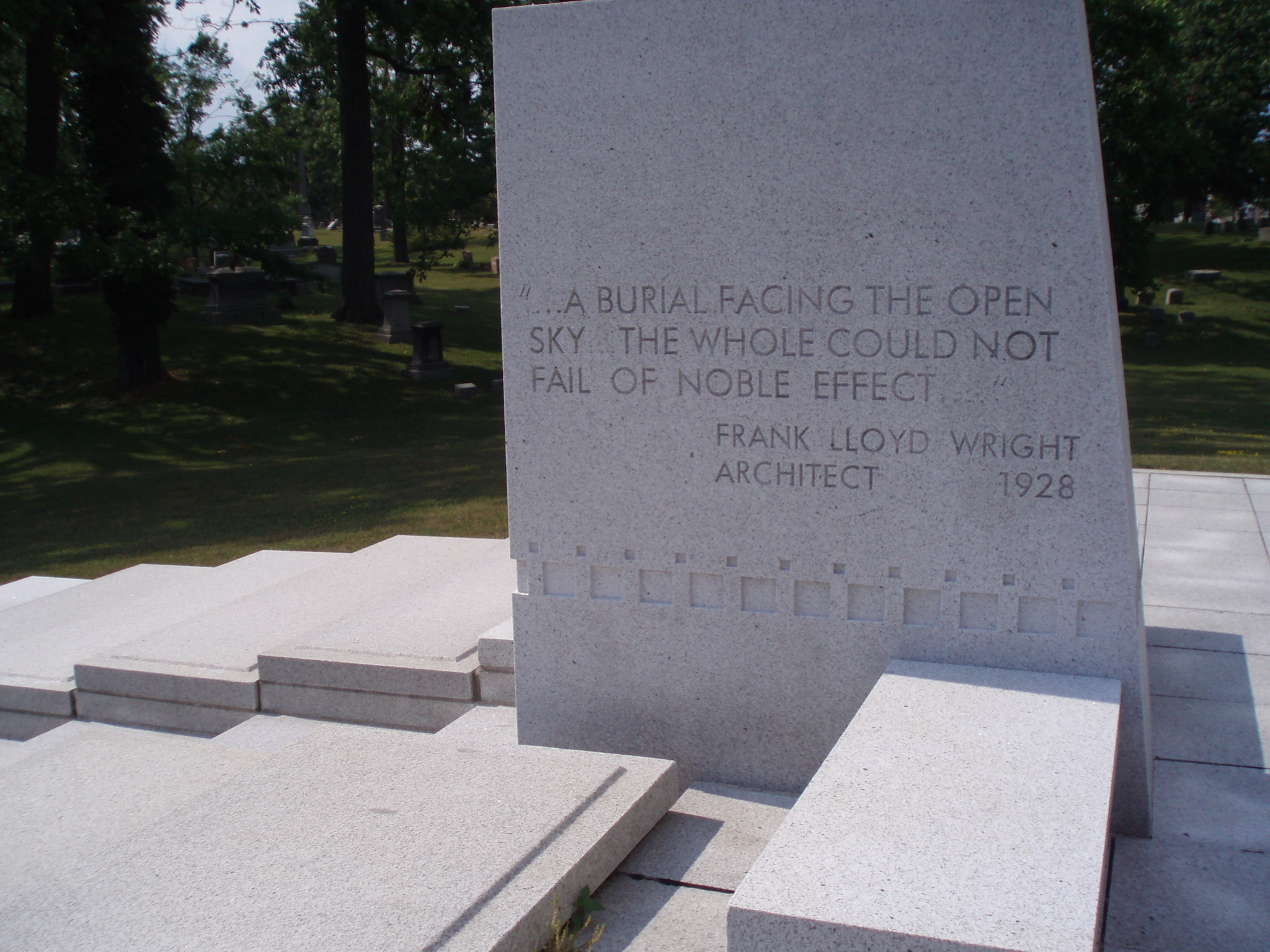 Riding into Buffalo it started to rain for a little bit, so we stopped for a cup of tea and wondered where Jamie is. Chuck and I rode around for a little bit visiting a lot of great buildings by our favorite architects. Chuck did some great research before we got to buffalo.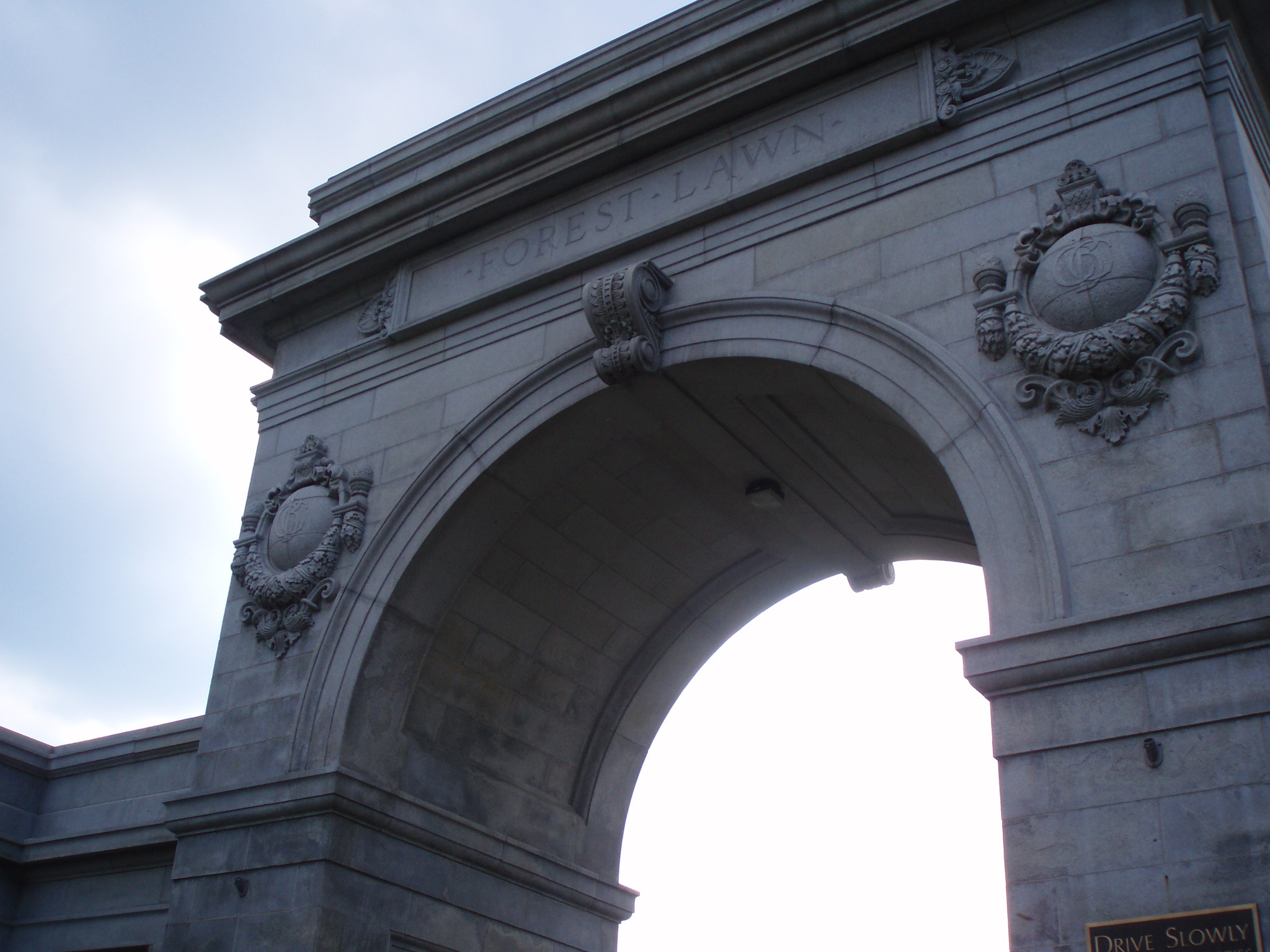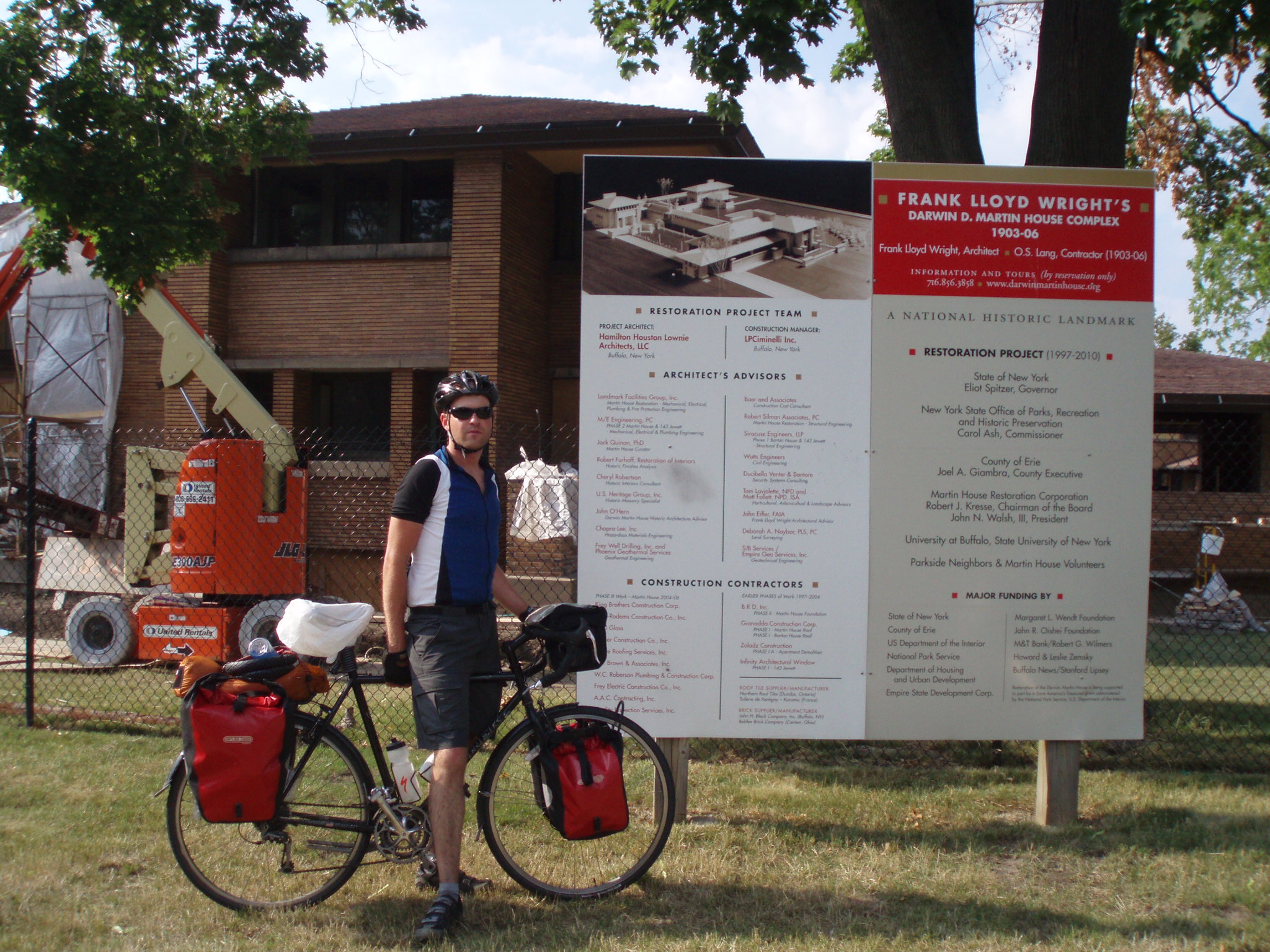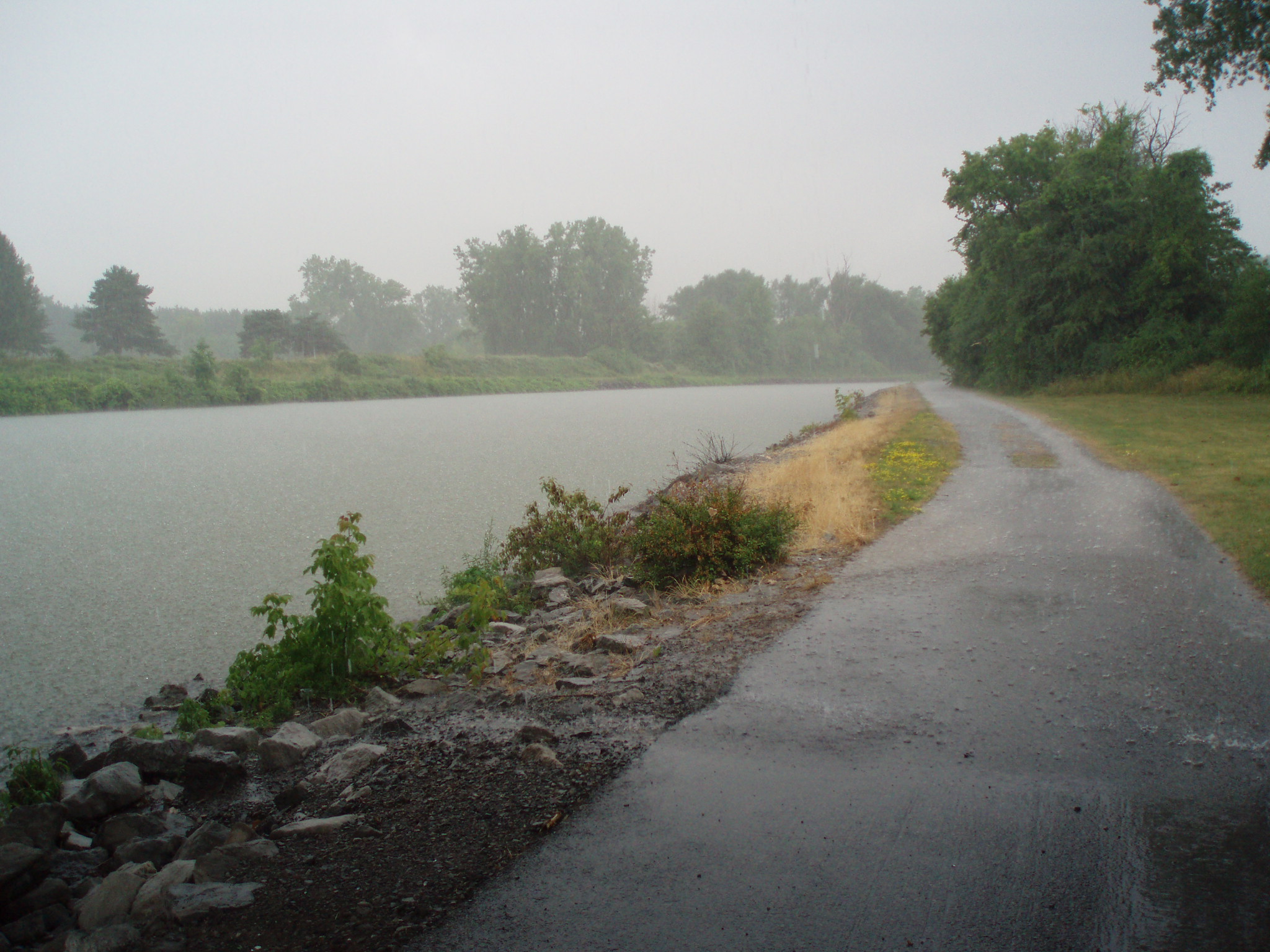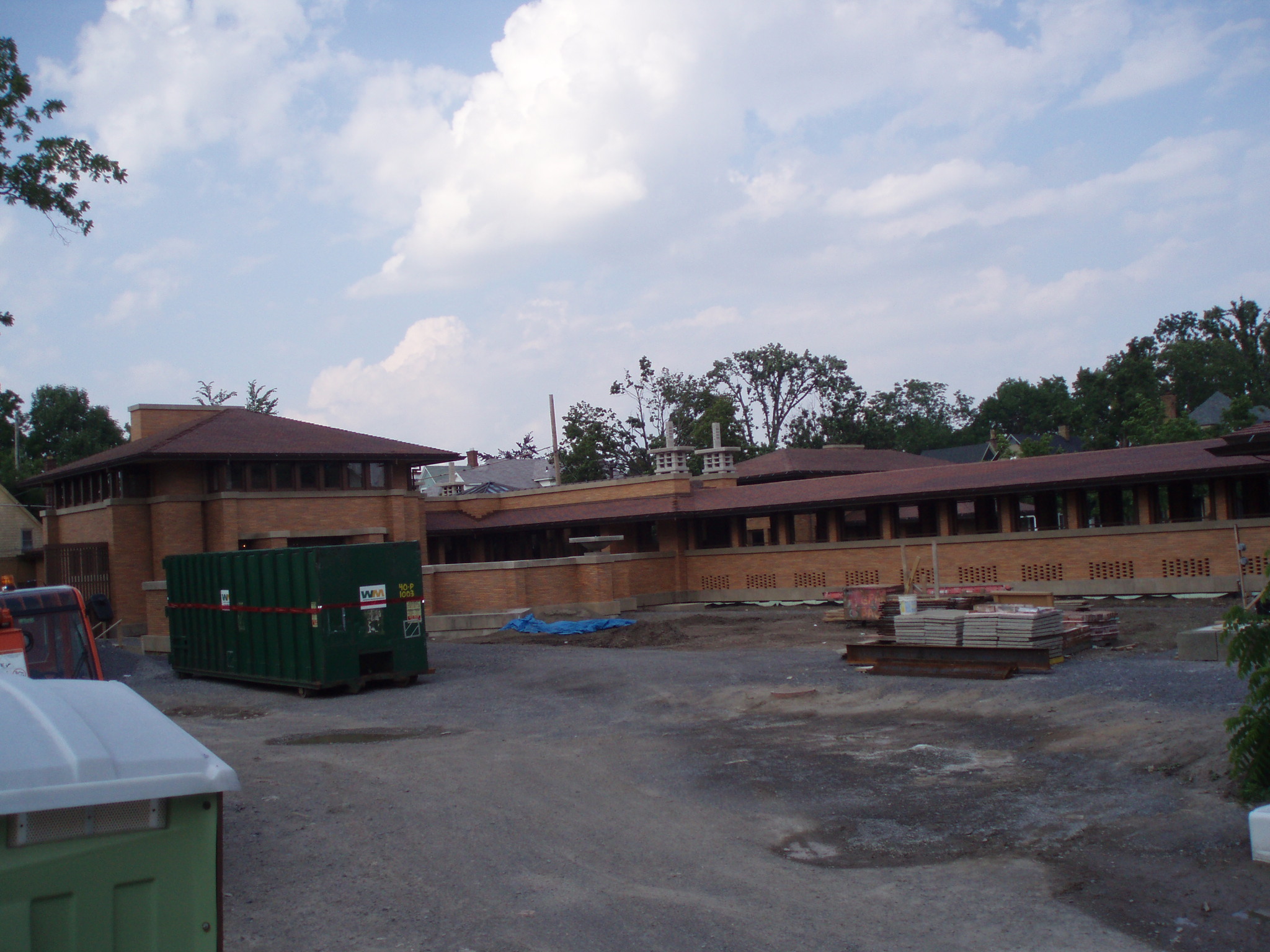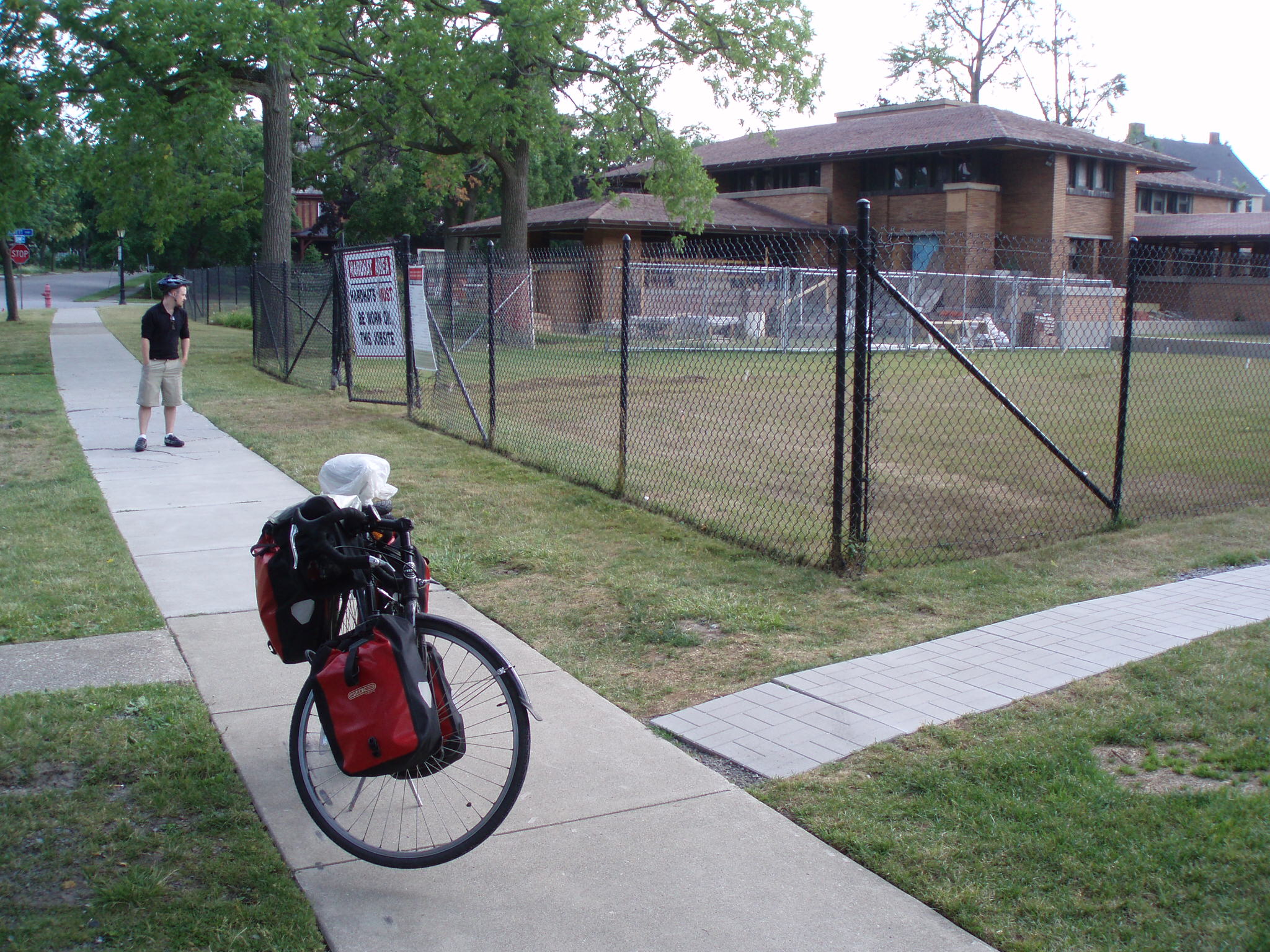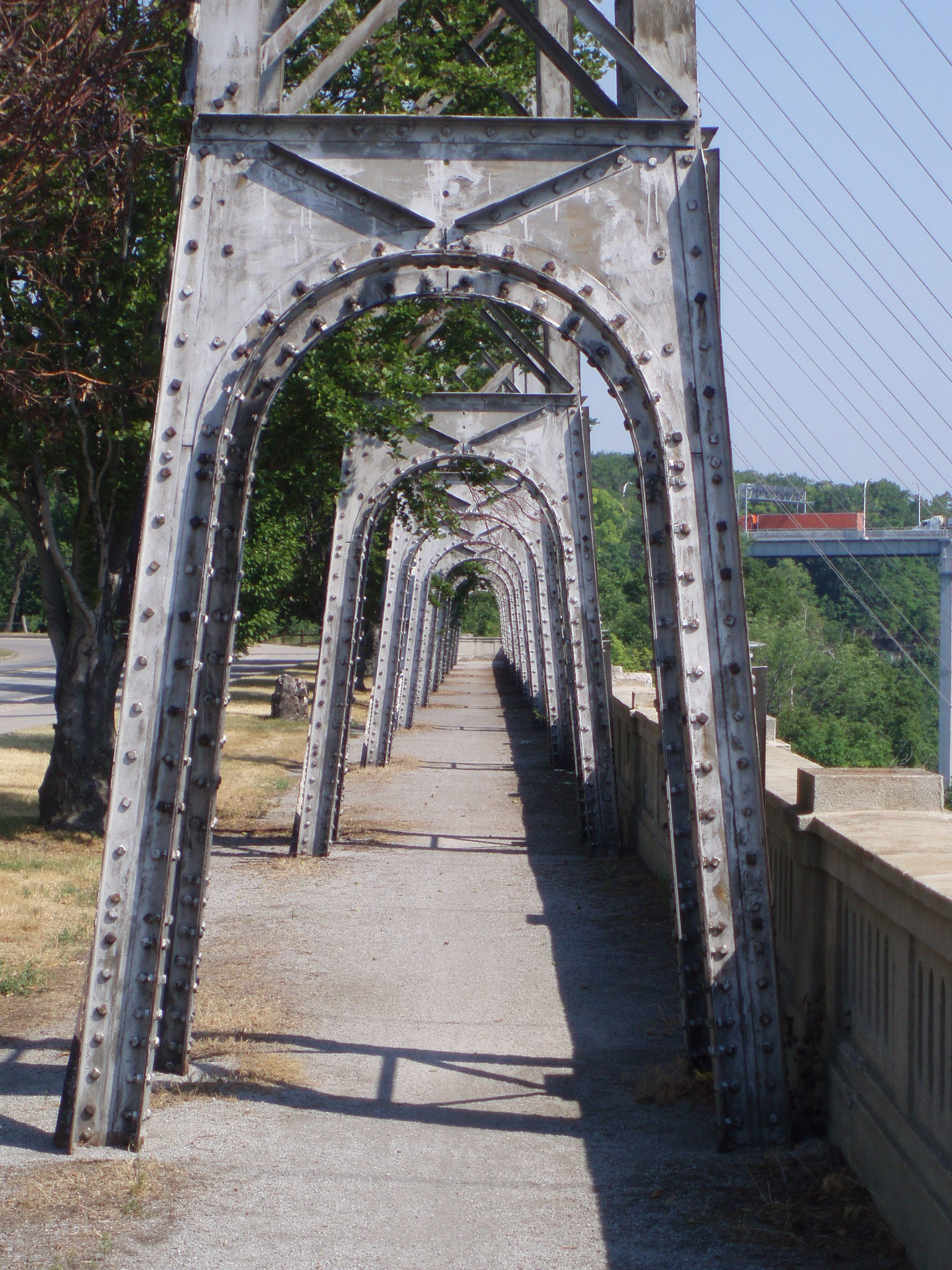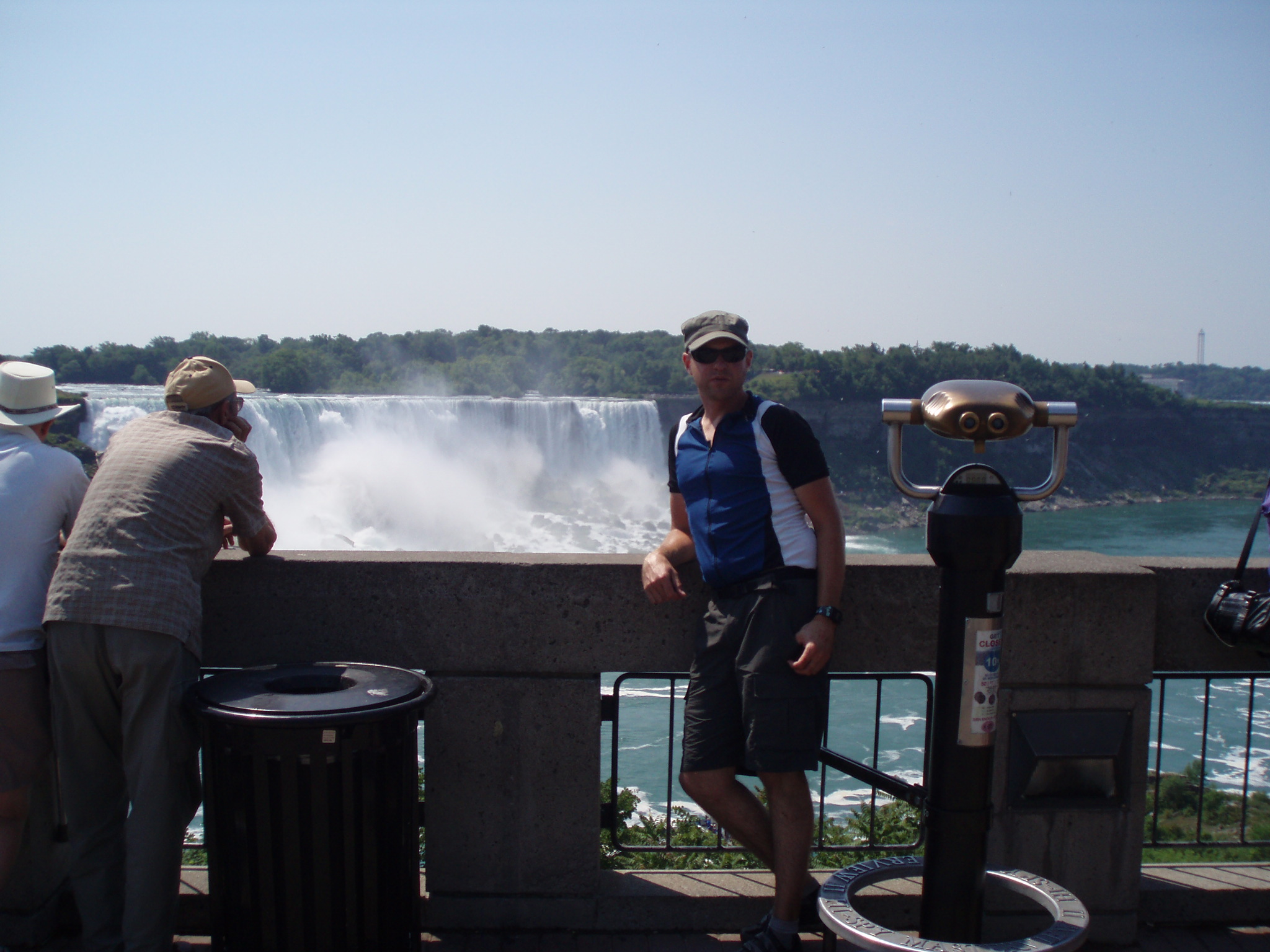 Jamie finally got in touch with us and met us at the cemetery when he arrived we sat around and talked about his day for a while. Then we rode over to the Frank Lloyd Wright's, Darwin Martin house. 3 years ago in architecture school chuck and I both spent a semester designing a visitor center for the Darwin Martin house. It was really great to finally get to see it in real life, after we looked at it all semester long.
After the Darwin Martin house we tried to find some food and failed miserably. We were all starving and cranky. Chuck decided he just wanted to lay low and take it easy so he went over to the hostel. Jamie and I hung out and met up with Justin the cyclist we were staying with for the evening.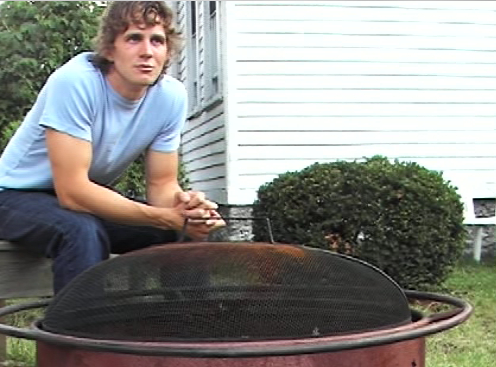 Justin was real cool. We all went out for falafel and he showed us around Buffalo. He told us about his past bike tours and the tour he's planning this winter to New Zealand. It was real cool meeting up with Justin. Outside the coffee shop we met touring cyclists who was traveling from city to city playing rock and roll.  It was a busy day; Jamie and I were both pooped so we ended up crashing fairly early.
At the hostel chuck met Todd (from Portland Oregon) who is cycling in the big Erie Canal ride this week and then riding the northern Tier to Portland, Maine. Chuck and Todd sat around all night and talked about cycling, history and the Erie Canal. Todd is just as excited about the Erie Canal as Chuck is.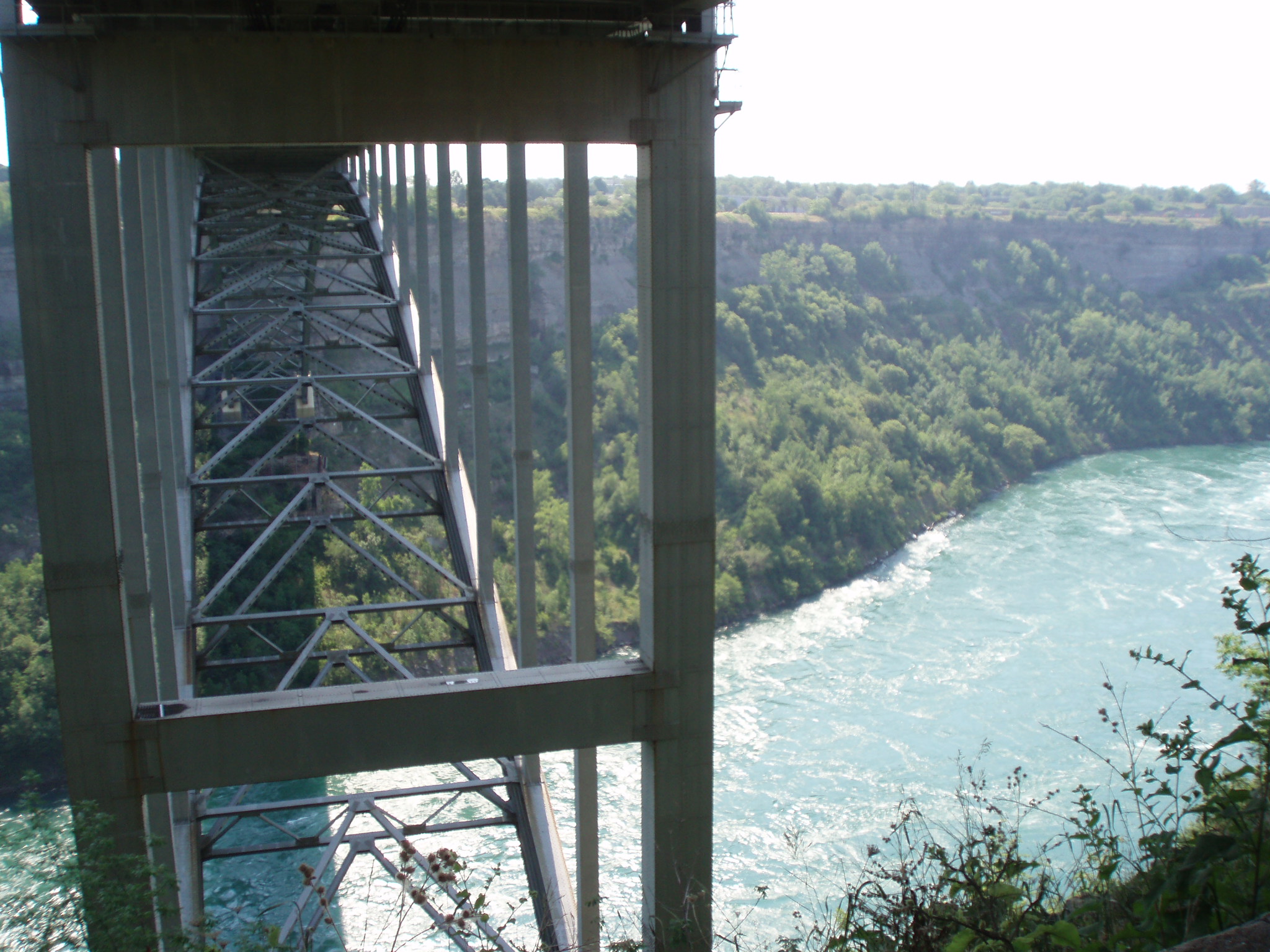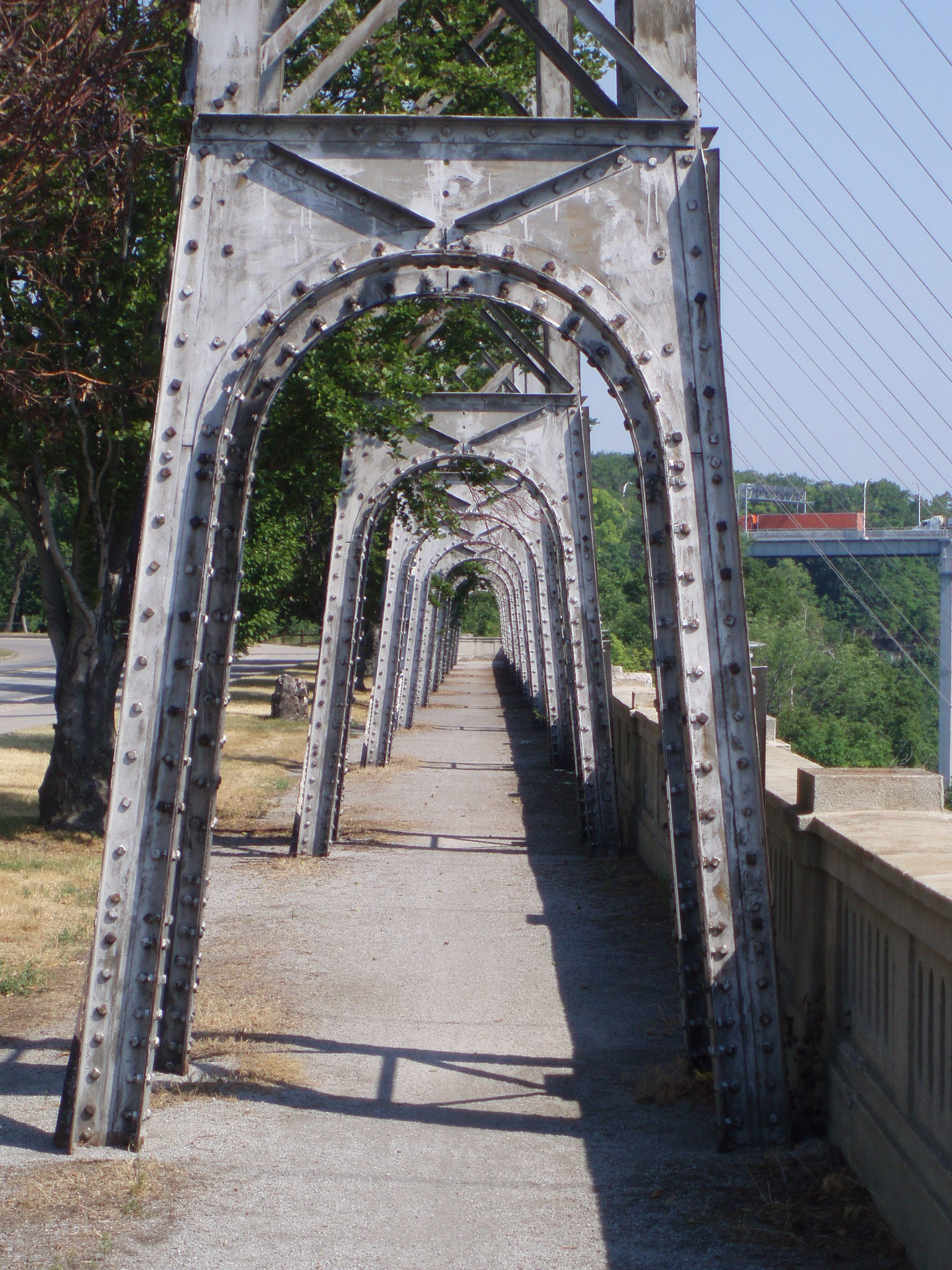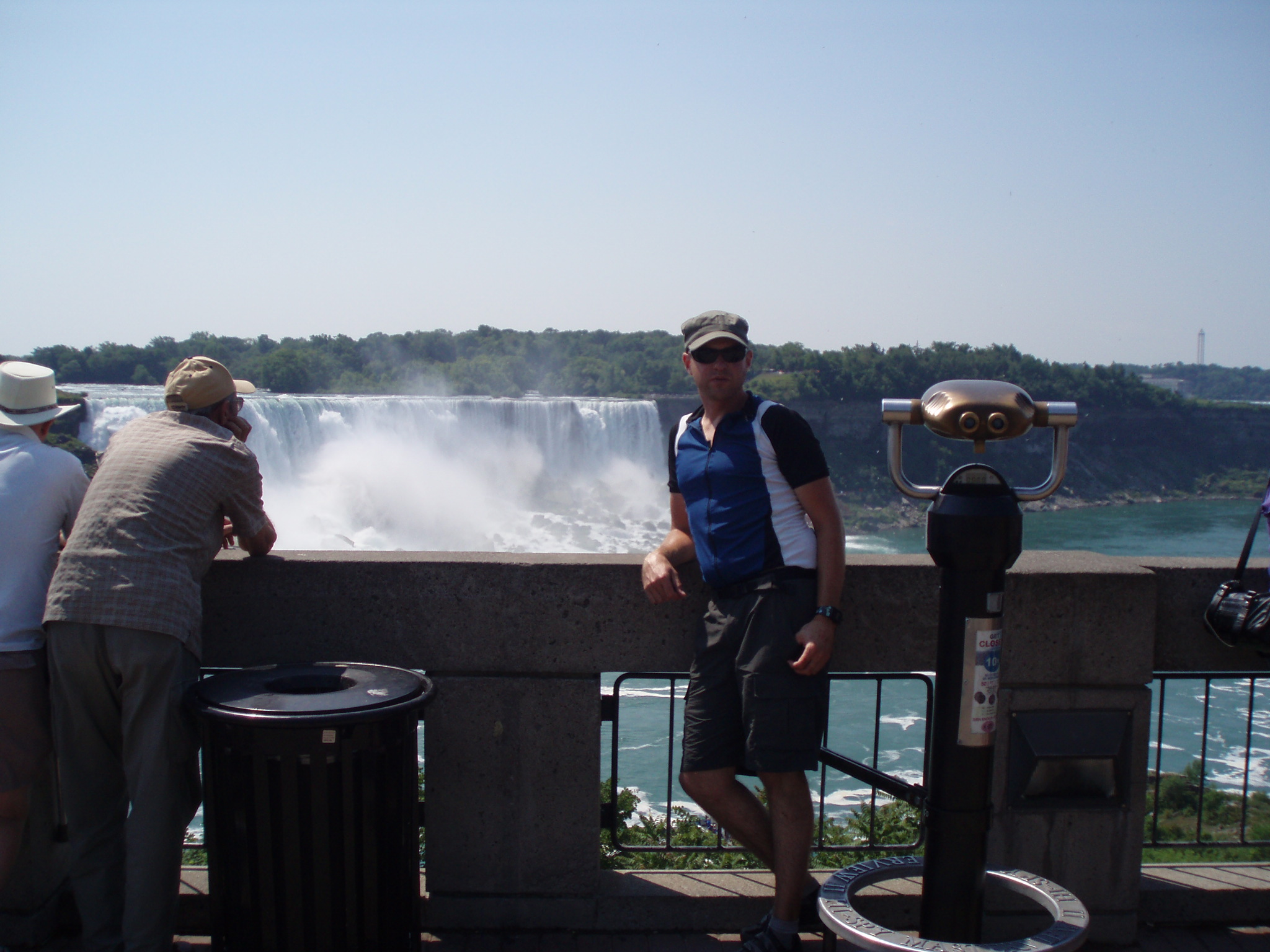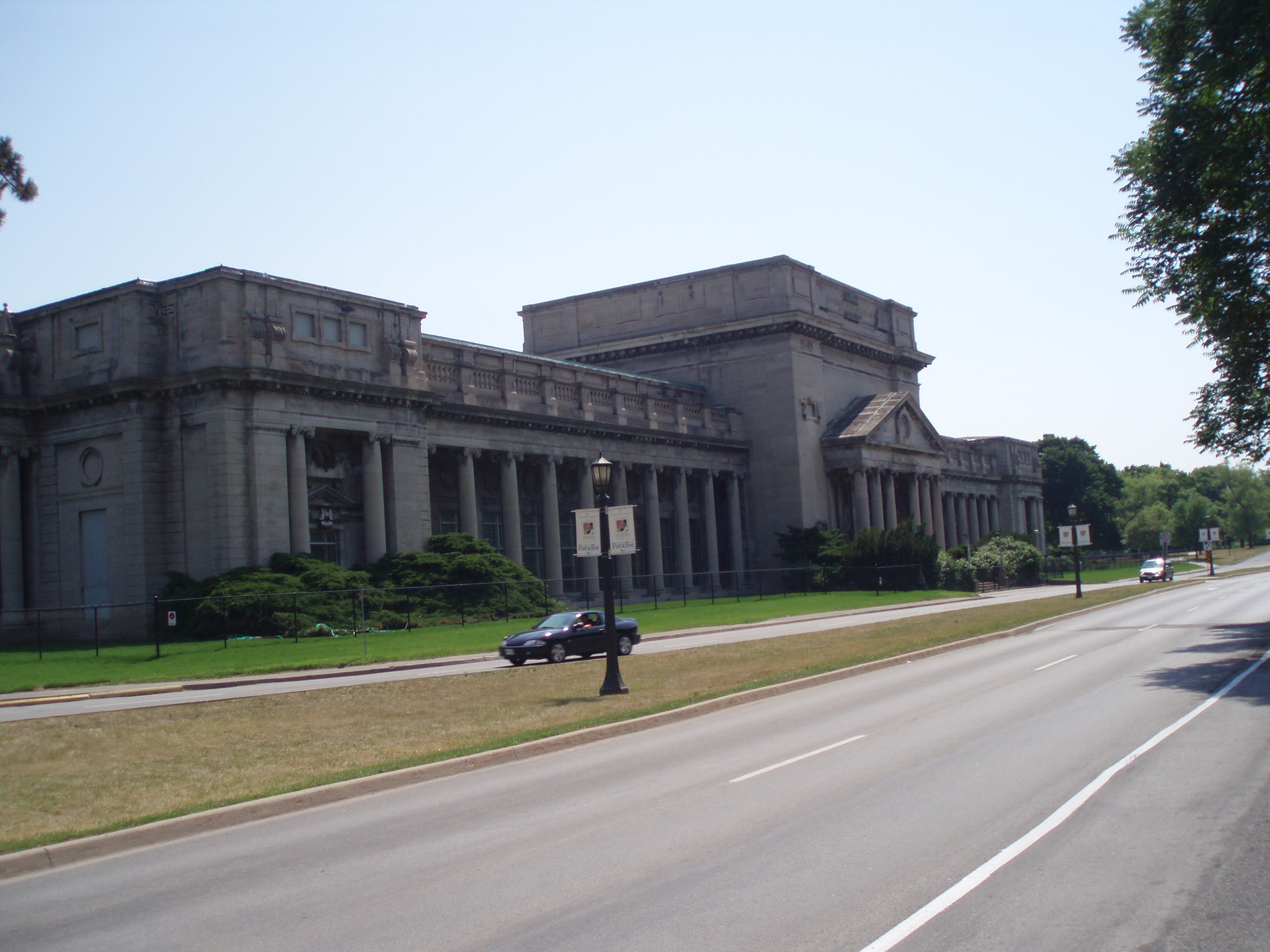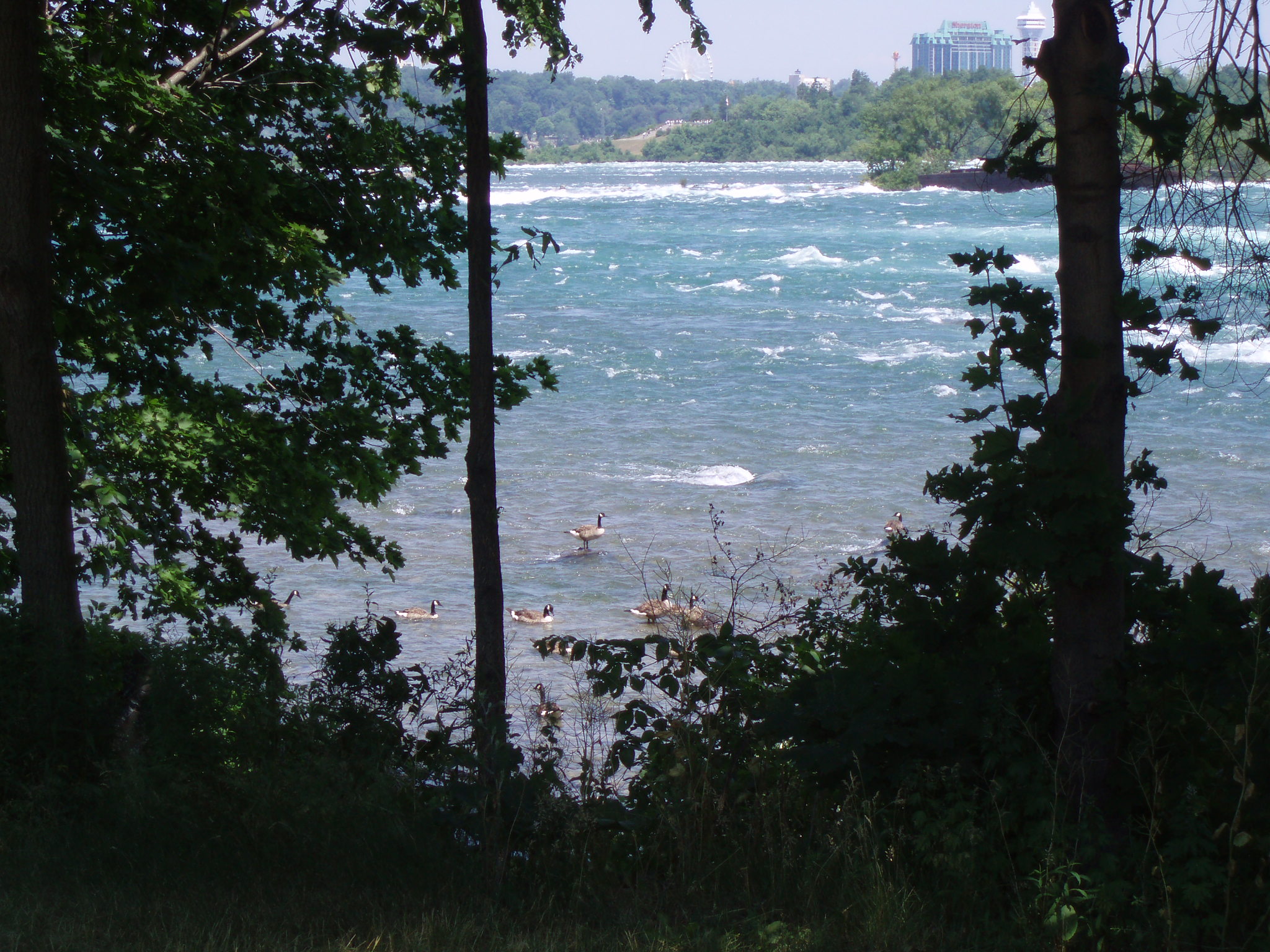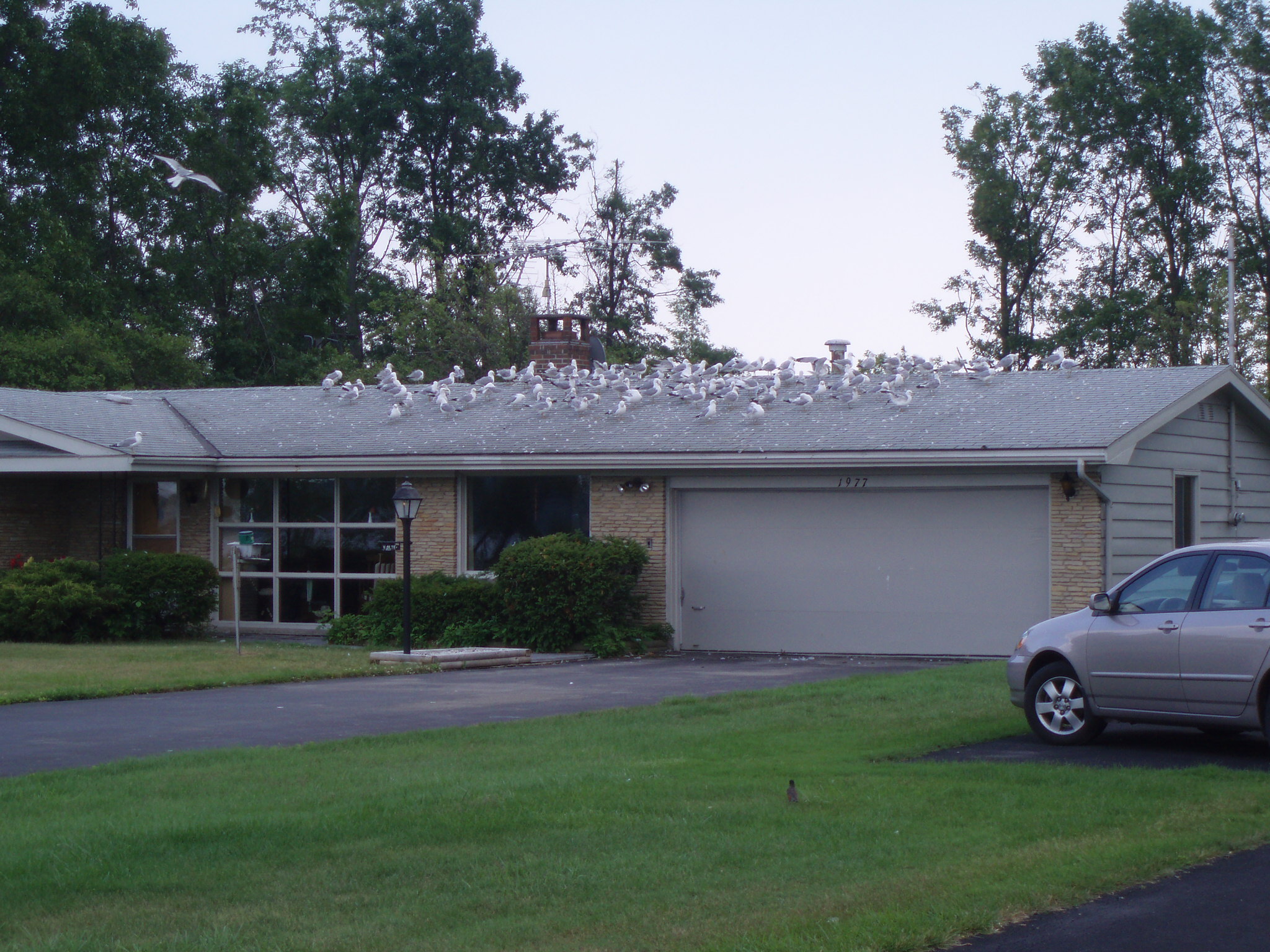 Click Here to Visit The Table of Contents
Click Here to Visit Previous Page: Day 19: Holley, NY to Lockport, NY, Driving to Buffalo Video
Click Here to Visit The Next Page: Day 21: Buffalo, NY to Buffalo, NY