Wednesday July 18, 2007, 42 miles (68 km) – Total so far: 1,518 miles (2,443 km)  41.96 Miles 3:30 Min 11.9 Average speed

Click Here to Visit The Table of Contents
Click Here to Visit Previous Page: Day 31: Monroeville, IN to Largo, IN, Larry from Project Pedal Video
Click Here to Visit The Next Page: Day 33: Fletcher, IN to Medaryville, IN

It rained in the middle of the night. It's always tough getting outta the tent knowing the ground and everything is soaked. We packed up fast and as we were leaving Jamie flipped out cause he couldn't find the $50 that he withdrew from his bank account yesterday. Jamie was having a moment so he told us he'll meet us at breakfast. We went to the café and got breakfast. Jamie eventually showed up and never found his money. He's really mad at himself for being careless.
The plan was to haul ass all day long, ride 70 miles meet up with Joy and hang out with her for the night.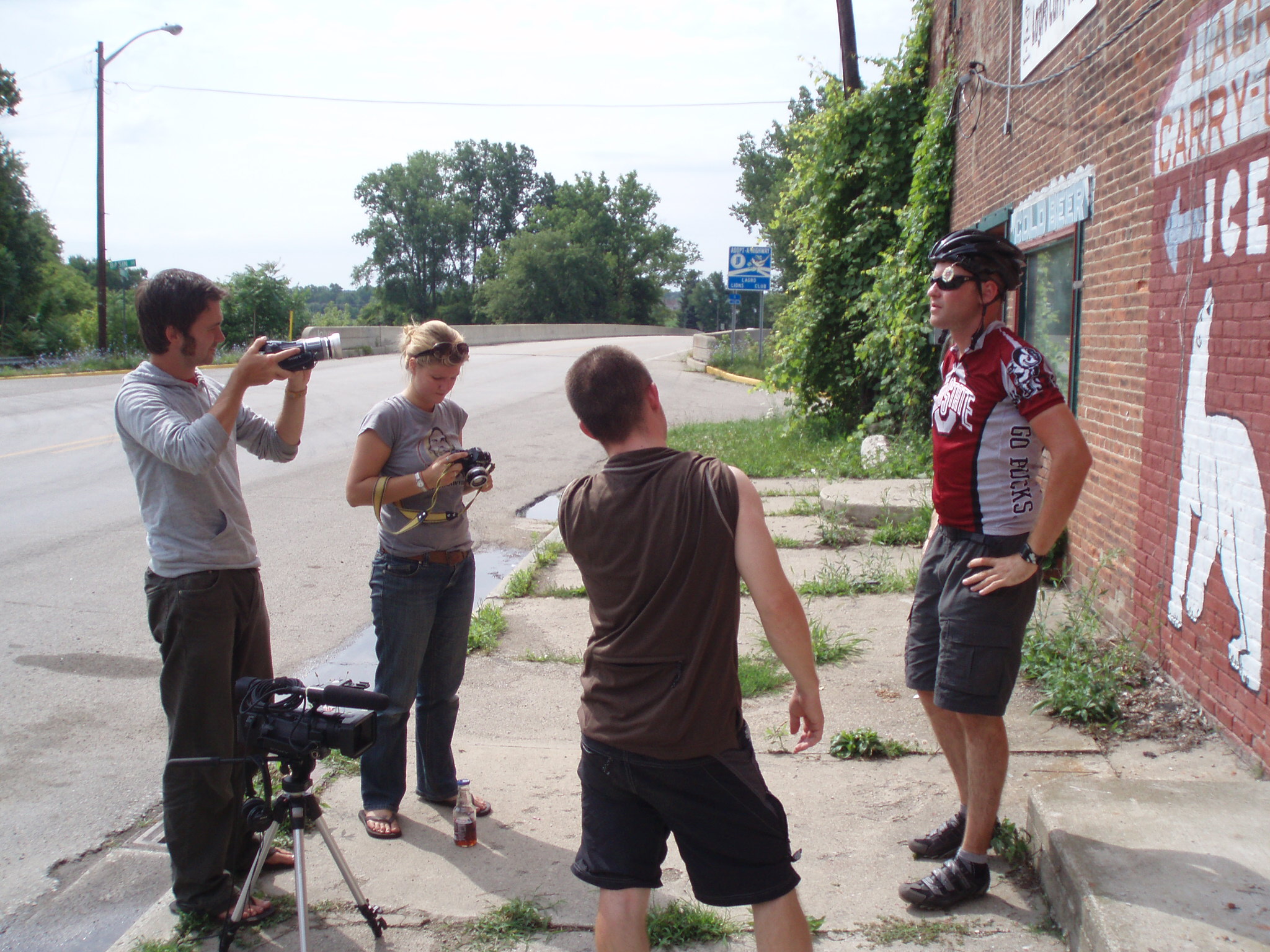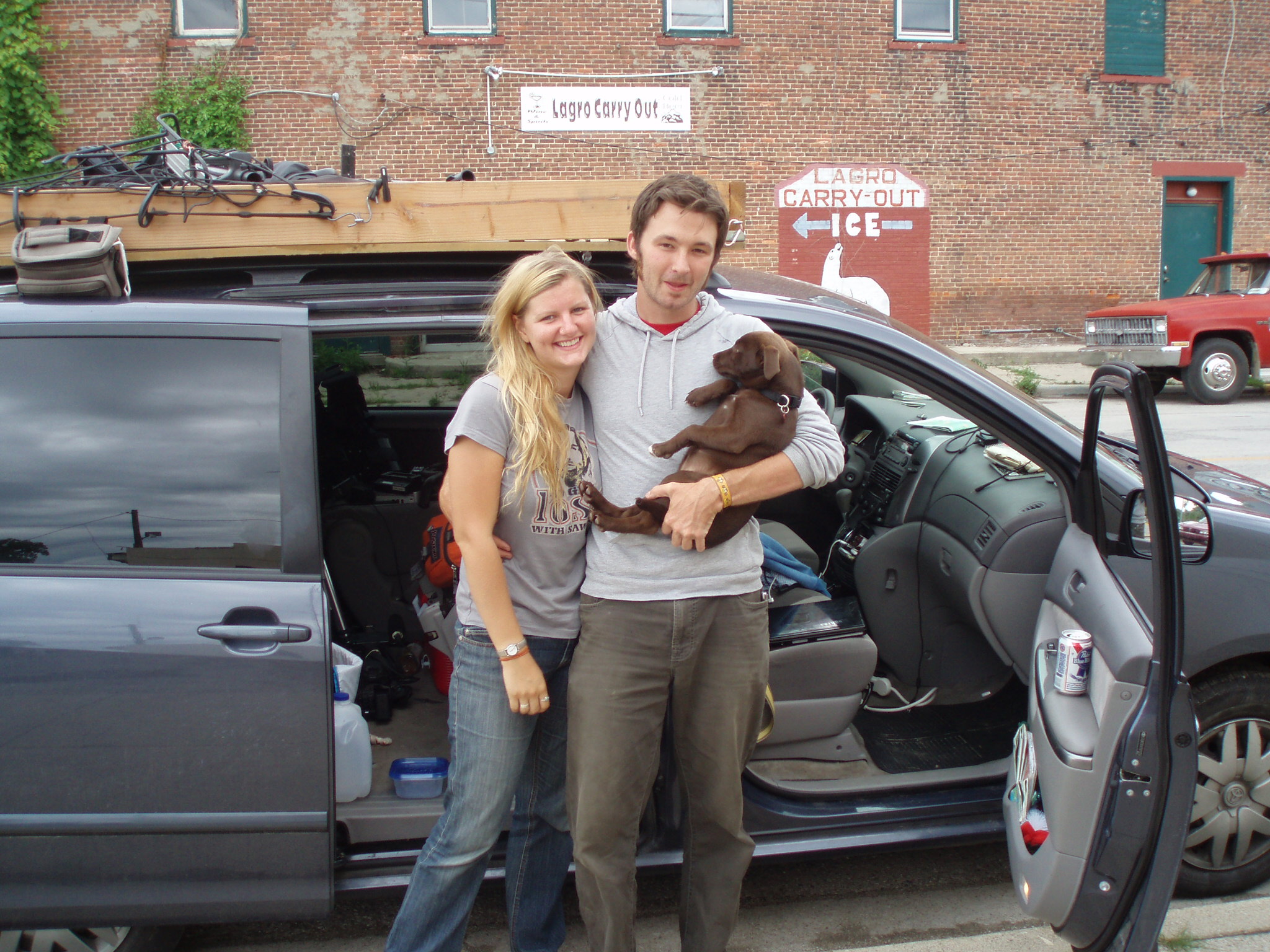 As we were leaving the waitress warned us that severe thunderstorms were rolling in. but that didn't scare us. The second I jumped on my bike mike and Amanda came up.  We decided to sit and talk for a half hour on camera with Project Pedal, but that turned into an hour and half. http://projectpedal.com they asked us a lot of great questions about our trip and why we're riding. They told us a lot about their past bike tours. We had a great time chatting with them.
Before we left mike showed us some of the footage he has for his movie and everything he showed us looked really beautiful and professional. It got us all really excited to see the Project Pedal's final product. Mike Riscica gave Mike Ambs some files that he NEEDED to have. We all shook hands and then we finally head out.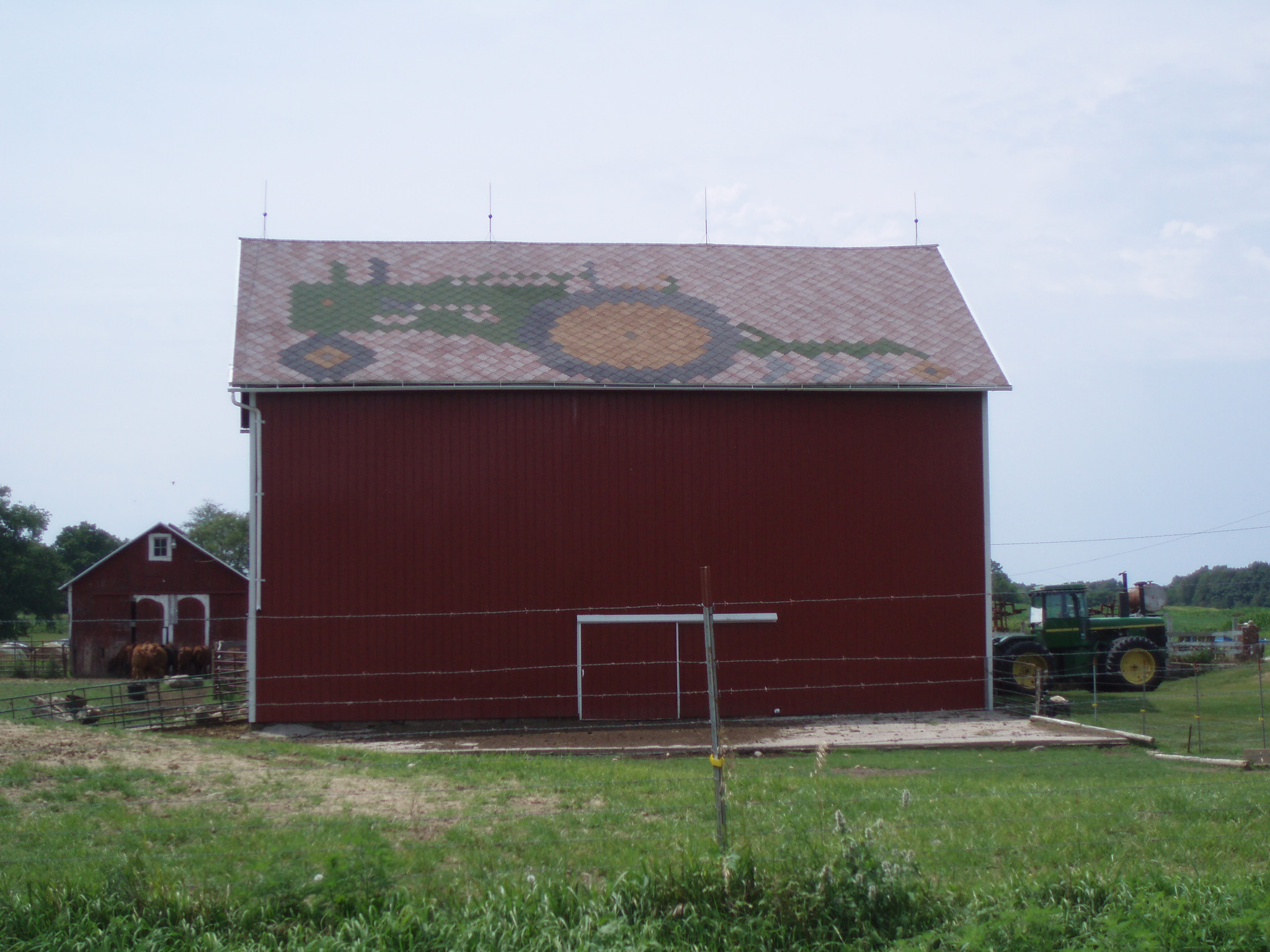 As soon as we left Mike and Amanda it started to rain.  The clouds were moving fast, we ducked into the lobby of an elementary school for about 20 minutes then the sky and wind cleared right up.   All day riding there were some really nice rolling hills. It felt great to finally change gears and fly over these hills.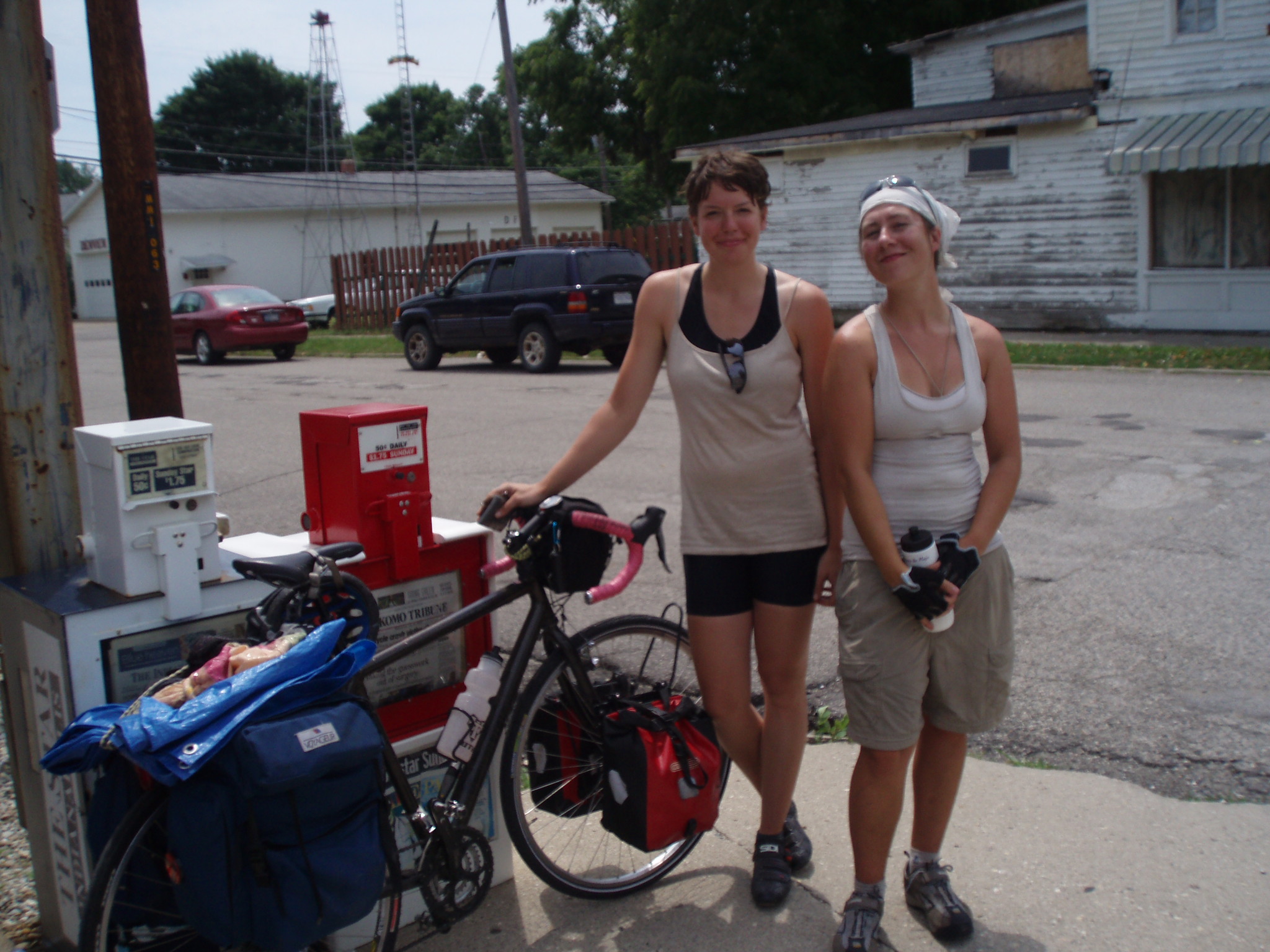 Joy got in touch with us. She was very close, so she met up with us in Denver.  It was great to see Joy again. She made us some brownies so we sat outside and talked for a bit. Joy cycled the Transam http://www.crazyguyonabike.com/doc/circumtrektion    last year and she's been having a lot of fun watching us ride the Northern Tier.
While we were talking with Joy these 2 girls on touring bikes rode up. They were riding eastbound on the northern Tier. Their names are Bonnie and Jessie and they are from Alaska.  The 6 of us had a great time talking and cracking jokes outside the store in Denver.  Bonnie and Jessie left the west coast 2 months ago and they told us a lot about how their trip is going. They were awesome.
Before we left Denver we decided to make it a 40 mile day instead of a 70 mile day, Joy was here and we lost a lot of time today. Joy Proposed going to Indiana Beach to go ride the rollercoasters (she can also get us in half price) we all freaked out and said that's a great idea.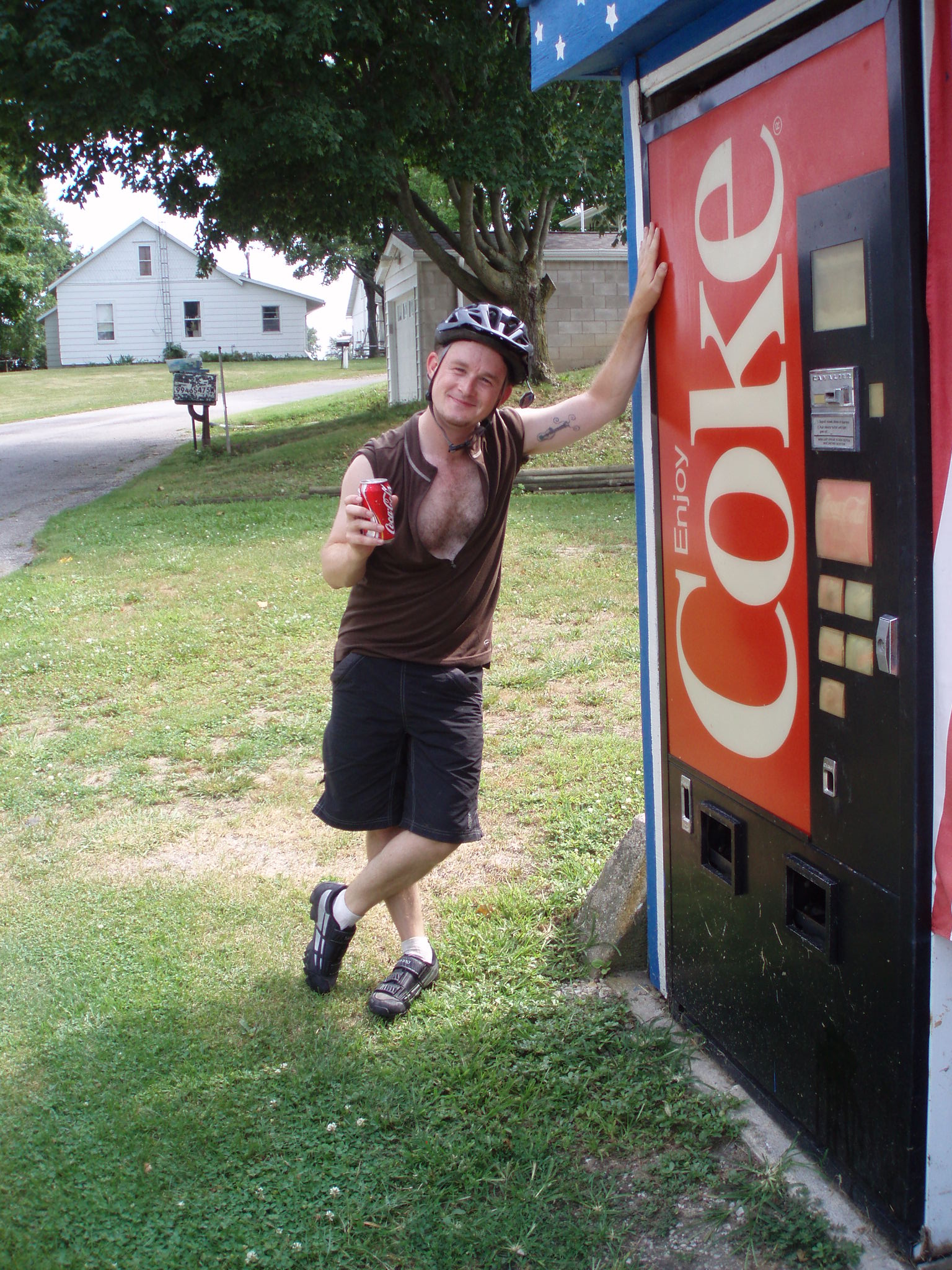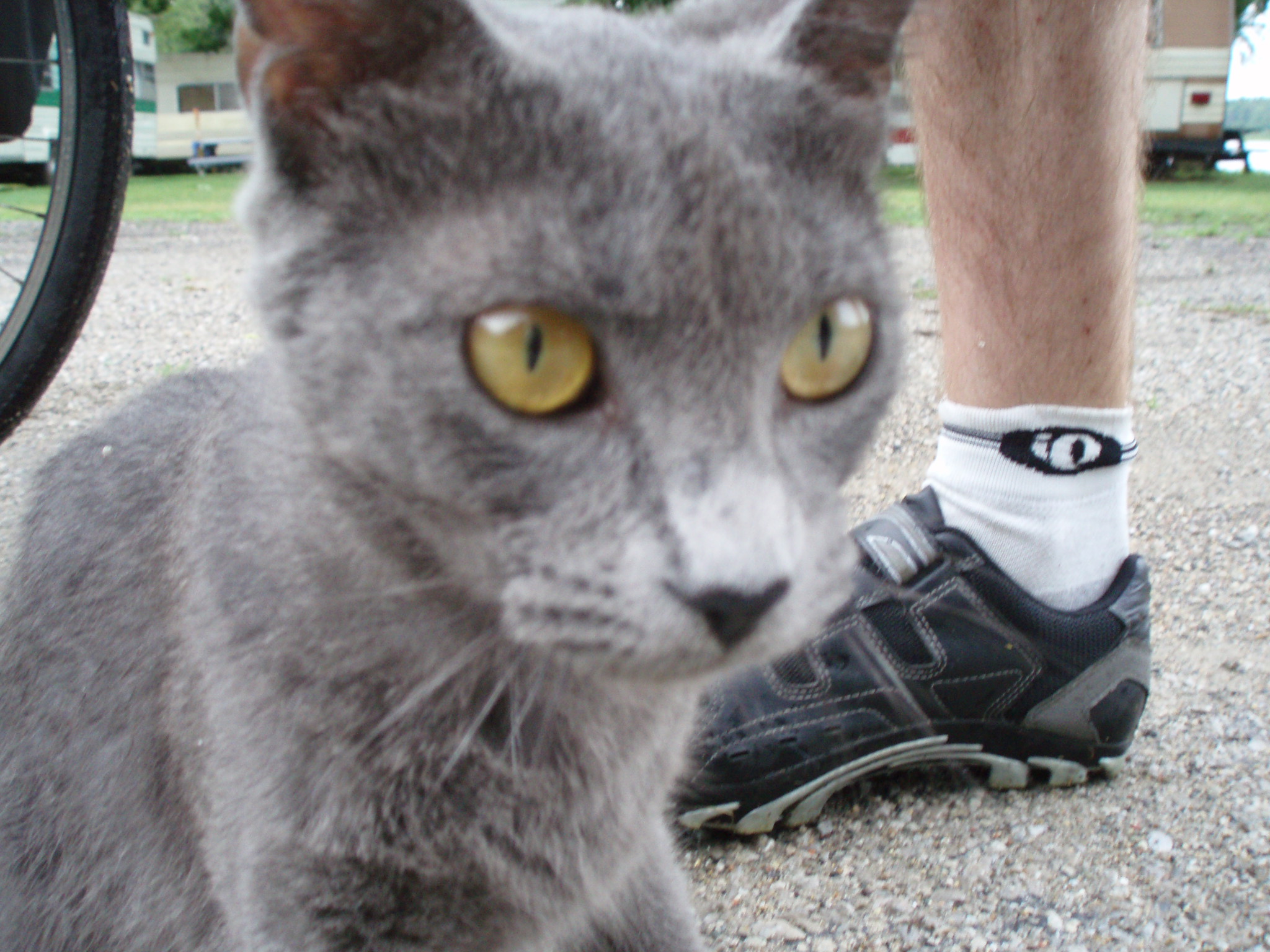 Joy met us at the campsite 16 miles away.   We drank a few beers and hung out with the groundskeeper Wolf-Face for a bit. I took a shower but the water smelled so bad I think I smelled worse after my shower. Then we all hopped in Joy's car and drove to Indiana Beach.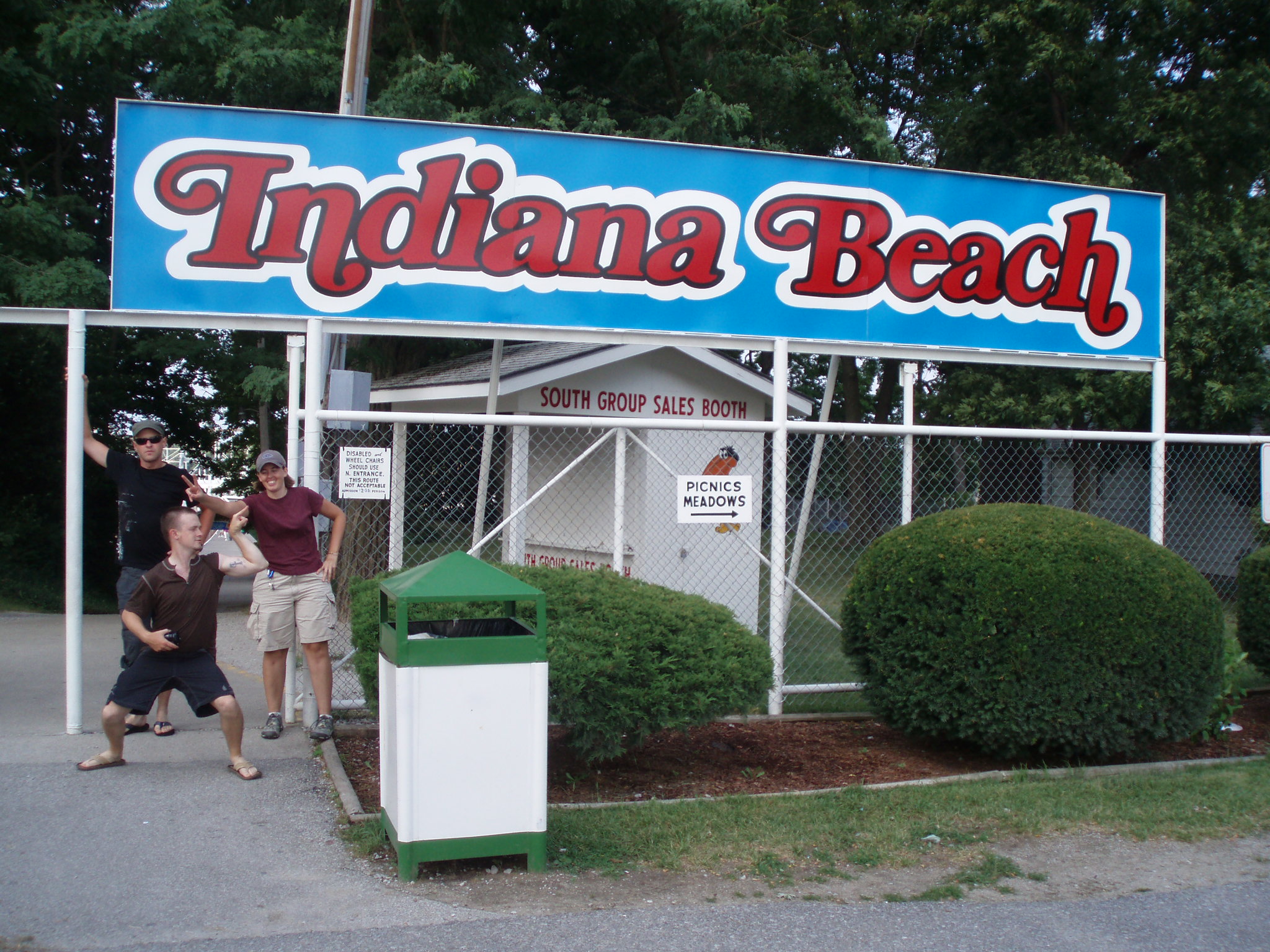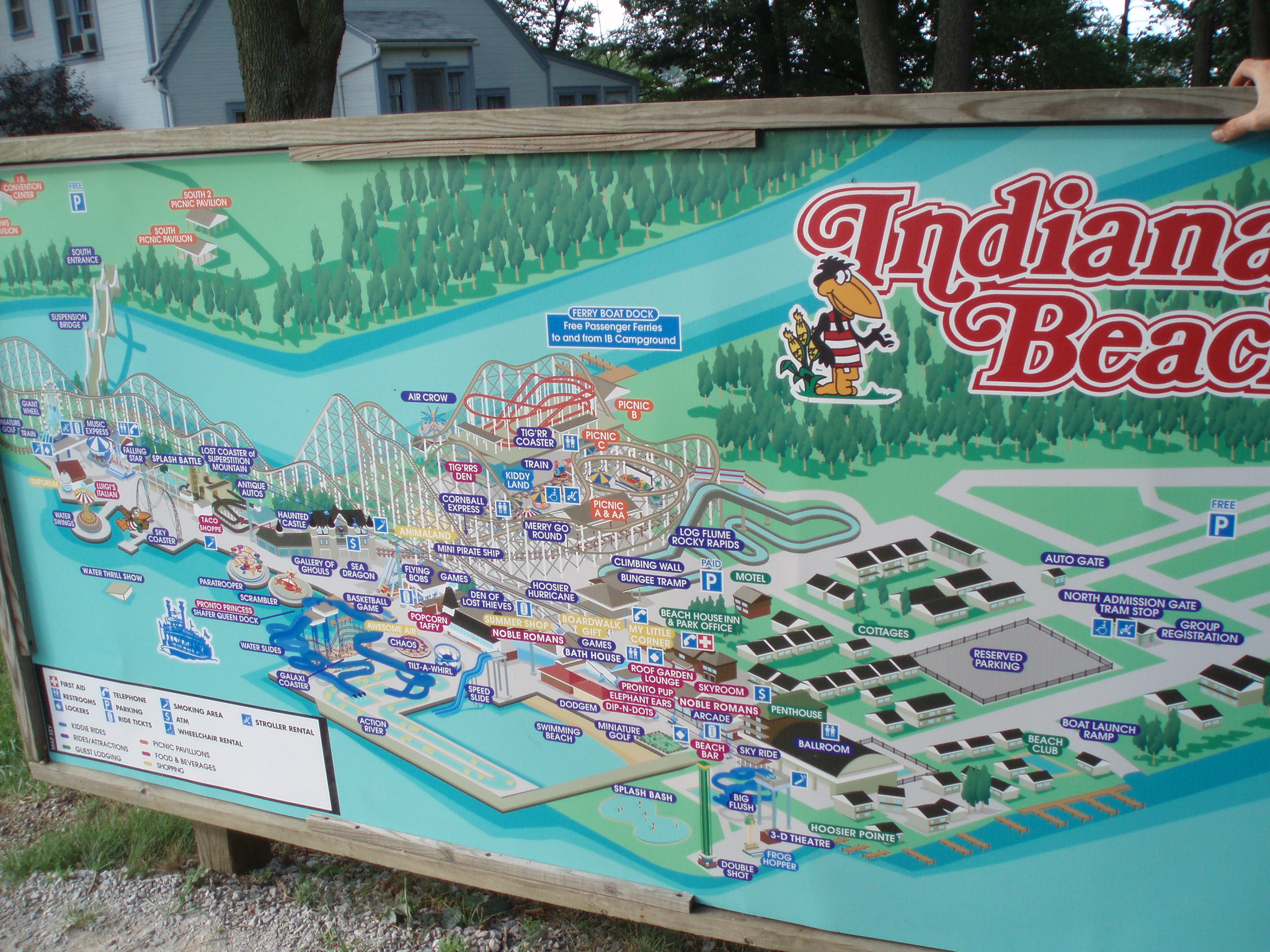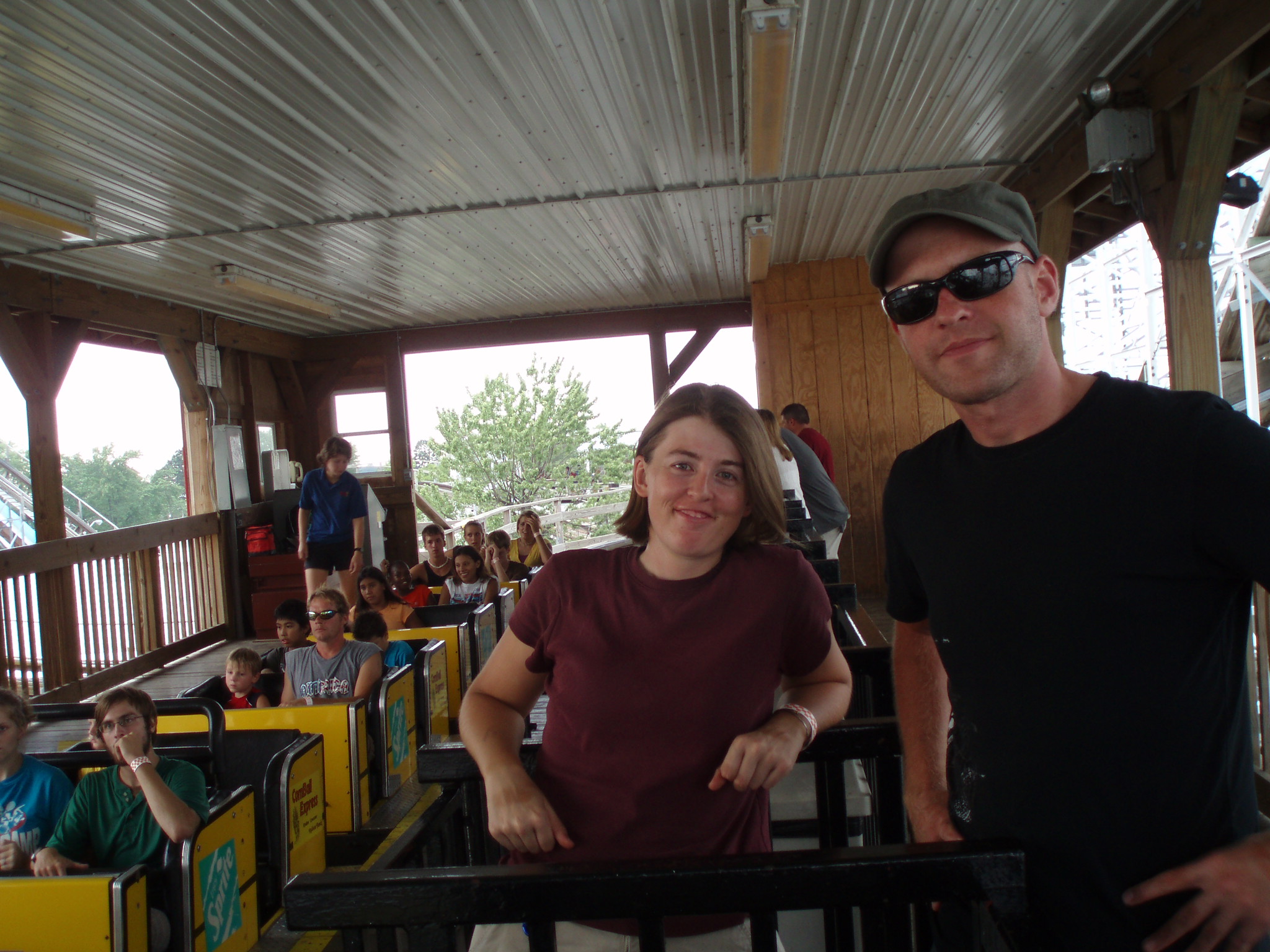 When we got there first thing we did was find the tacos. We all ate a disgusting amount of tacos just so we had some ammunition for riding the rollercoaster's.
We rode every rollercoaster twice. Each time we got on a ride I would ask the ride attendant if Jamie was tall enough for this ride and then ask if we really had to wear the seatbelts. By the end of the night we knew most of the teenager's in the park, we laughed all night and were really happy to be at Indiana Beach. Jamie posted a video from our visit to Indiana Beach: http://www.teamnortherntier2007.blogspot.com/2007/07/indiana-beach.html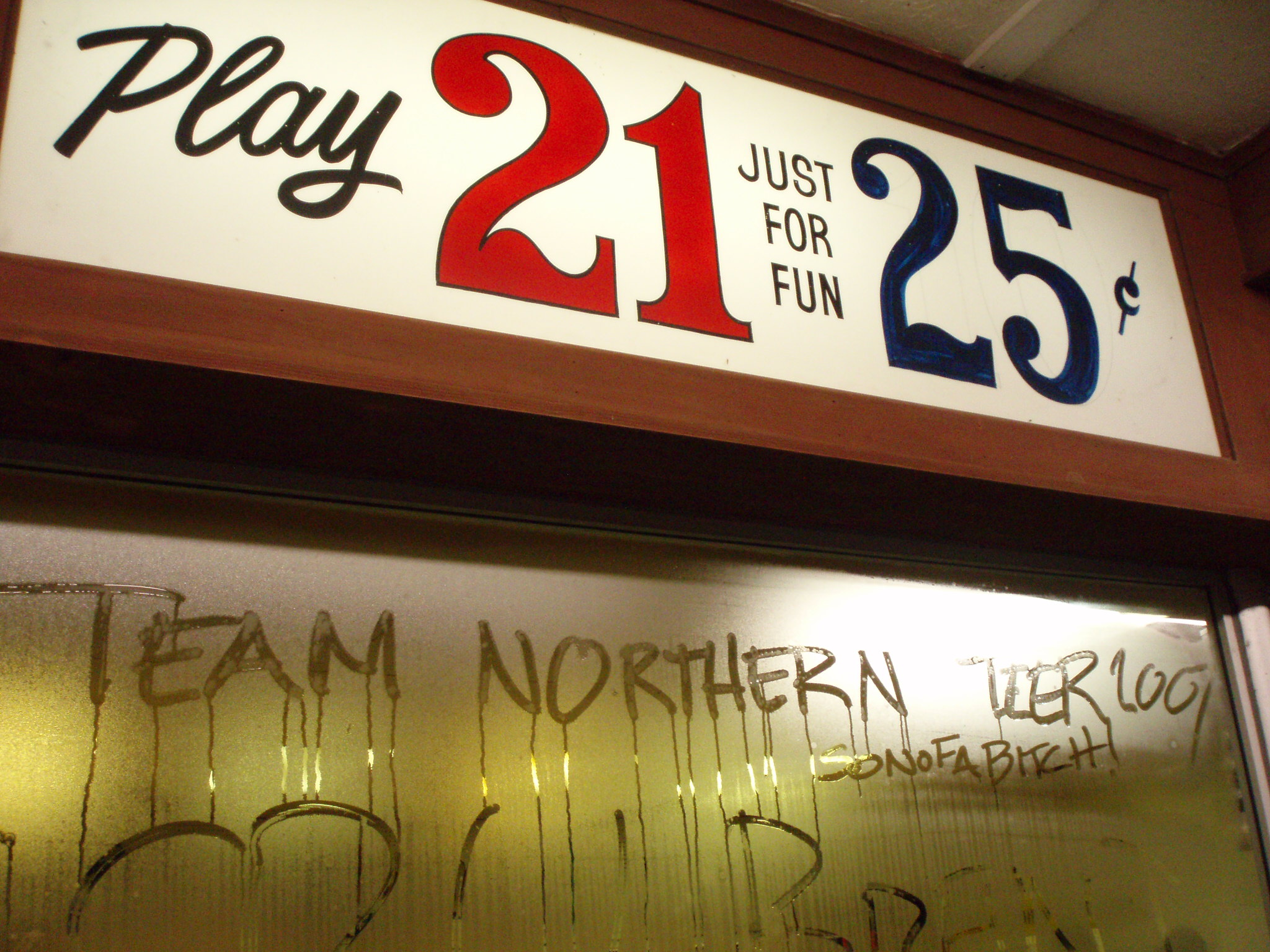 On the way home we took a side trip to super Walmart. Walmart was a fiasco; we spent all the money that the Damman's gave us on food and supplies. We were out of a lot of things. I couldn't find a decent pair of sunglasses so I settled for a cheesy pair of $5 sunglasses.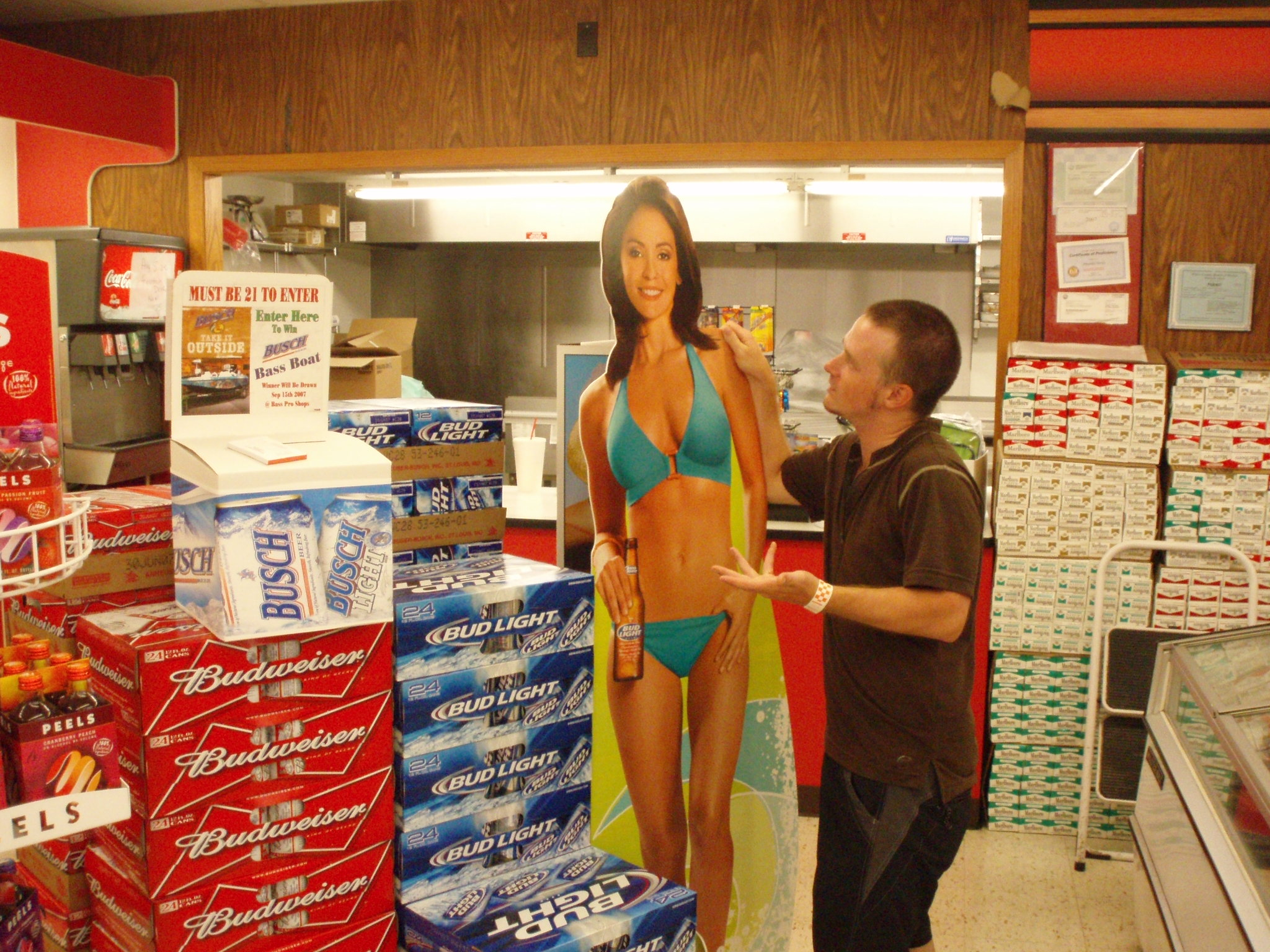 On the way home it started to rain, Joy said she was going to sleep a few hours in her car then drive back to her house which is an hour and half away. She has to be at work early. I gave her a big hug and we said farewell. I climbed into my tent and 20 minutes later the sky opened up, the thunder and lightning went crazy all night long. The wind was also insane it shook our tents like crazy. Luckily we were all safe, warm and dry inside our fancy little tents.
Click Here to Visit The Table of Contents
Click Here to Visit Previous Page: Day 31: Monroeville, IN to Largo, IN, Larry from Project Pedal Video
Click Here to Visit The Next Page: Day 33: Fletcher, IN to Medaryville, IN