Thursday July 19, 2007, 55 miles (89 km) – Total so far: 1,573 miles (2,532 km) 
55.24 miles 4:35 riding 12 avg
Click Here to Visit The Table of Contents
Click Here to Visit Previous Page: Day 32: Lagro, IN to Fletcher, IN: Indiana Beach video
Click Here to Visit The Next Page: Day 34: Medaryville, IN to Chicago, IL: Chicago Video

Last night might have been our toughest storm; I woke up in the middle of the night and felt pretty good that everything was dry inside my tent. Buying these expensive MSR hubba tents was a great investment. I think in the long run it pays off because it makes sleeping outside very quick and convenient.  When we camp with other cyclists they are always impressed with how fast we setup our tents.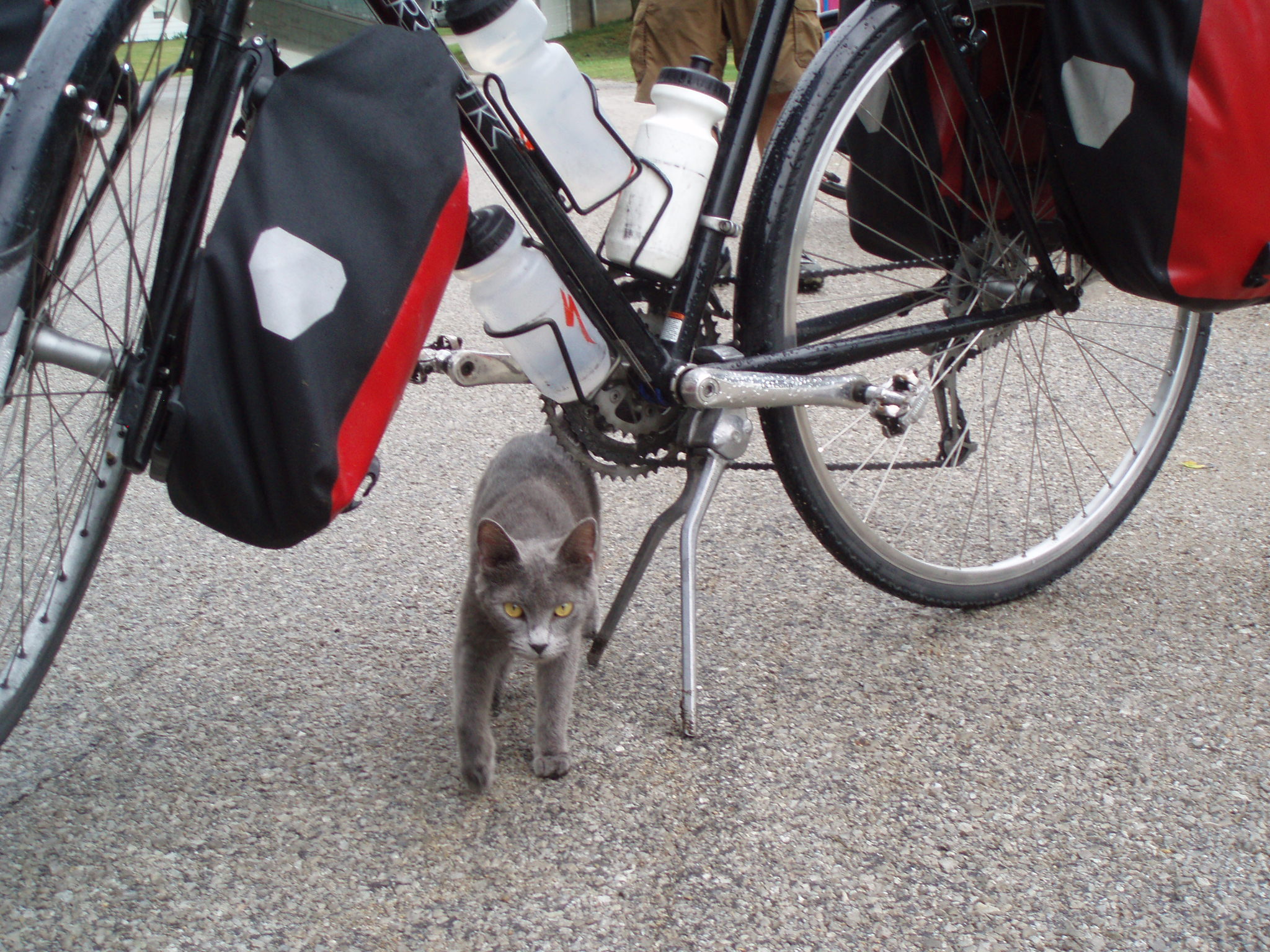 When we got out the tents everything outside was soaked. Joy was gone she left early in the morning cause she had to be at her 9-5 (Whatever that is)  It took us awhile to get on the road, we had to sort out everything we bought at Wal-Mart last night. Wolf Face kept us company while we got organized.
All day the map gave us no real towns. Chuck NEEDED to print out some google maps so we could figure out our way to Chicago. The closest library was off route about 2 miles in a town called Royal Center. So we decided to just haul ass to that library to figure out the day.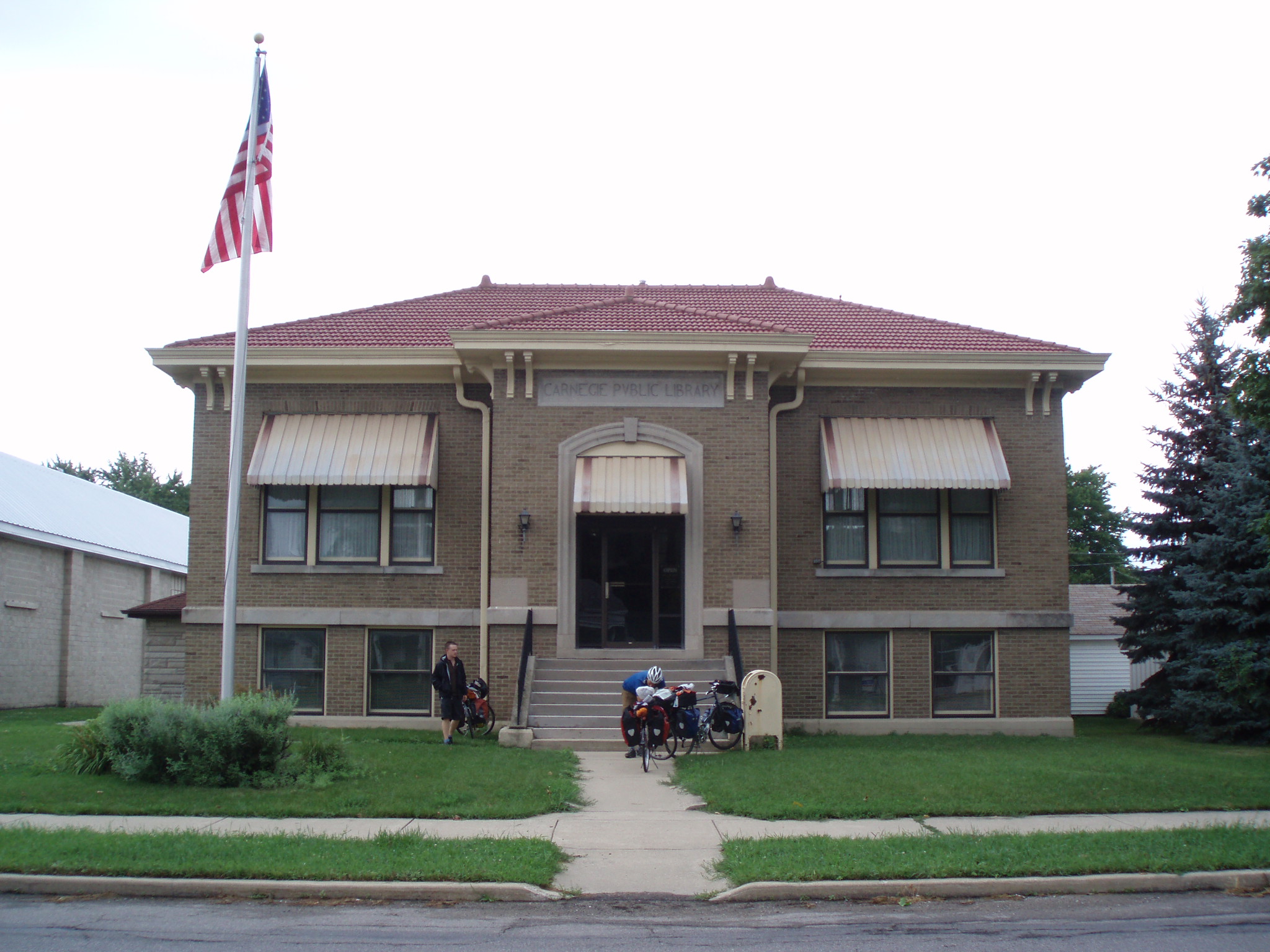 When we got to the library in Royal Center the library was another beautiful Andrew Carnegie Library. http://en.wikipedia.org/wiki/Carnegie_library unfortunately it didn't up for 45 minutes, so we drank tea in the diner patiently waiting for the library to open the door.
When we got inside the librarians told us that the library did not have any internet. The ACA maps are only supposed to tell us about libraries that have internet and here we are 2 miles off route waiting around for nothing.
So we rode 17 more miles to the next town where there was another library. The whole way there we bitched about how Andrew Carnegie would be furious that the library doesn't have internet.  Chuck printed his maps, while Jamie and I worked on journal stuff. A serious thunderstorm rolled through while we were in the library. Luckily all everything was packed in our Genius Ortlieb bags and nothing got wet. The library closed early so we only spent about an hour and half there. But we got everything done.
We sat at the gas station and talked about our options. We had 30 miles done for the day. We could stay here and ride 110 miles North tomorrow into Chicago or we could keep going. However if we went farther we had no information about sleeping arrangements in any of these upcoming towns.
Getting to Chicago is taking too long and we're tired of talking about it so we just decided to push farther. As we rode north, the wind was now in our face. Mr. Wind changed direction after that storm.  I don't even care anymore about riding into the wind. We have headwinds in every direction.
While we were riding I got a burst of energy and just felt like riding hard. Chuck and Jamie drafted very close behind me while I rode as hard as I could into 15mph headwind. It felt great burning up all this excess energy I have. We rode that way for about 15 miles then we hit the town of Medaryville.
Medaryville seemed pretty lively. We chatted with the people who were running the bible school for a little while. The church had a nice piece of property so we asked if it would be alright if we camped there for the evening. They told us to come back in 30 minutes and talk to the preacher.
To kill 30 minutes we grabbed a quick beer at the local bar. The bar was dark and all the characters looked pretty shady. Being on the bike all day I couldn't deal with the darkness so I sat by the window. The locals all gave us that look, so we quickly drank our beers and went back to the church.
We met a lot of the people in the Parish. Everyone was really friendly and excited to hear about where we've been and are going. They said it would be no problem if we camped on their property. While chuck took a shower in the sink, Jamie and I got a tour of the church. The bible school is putting on a big play in the next few days with a country western theme. So the whole church was dressed up to look like a barn. It really looked great.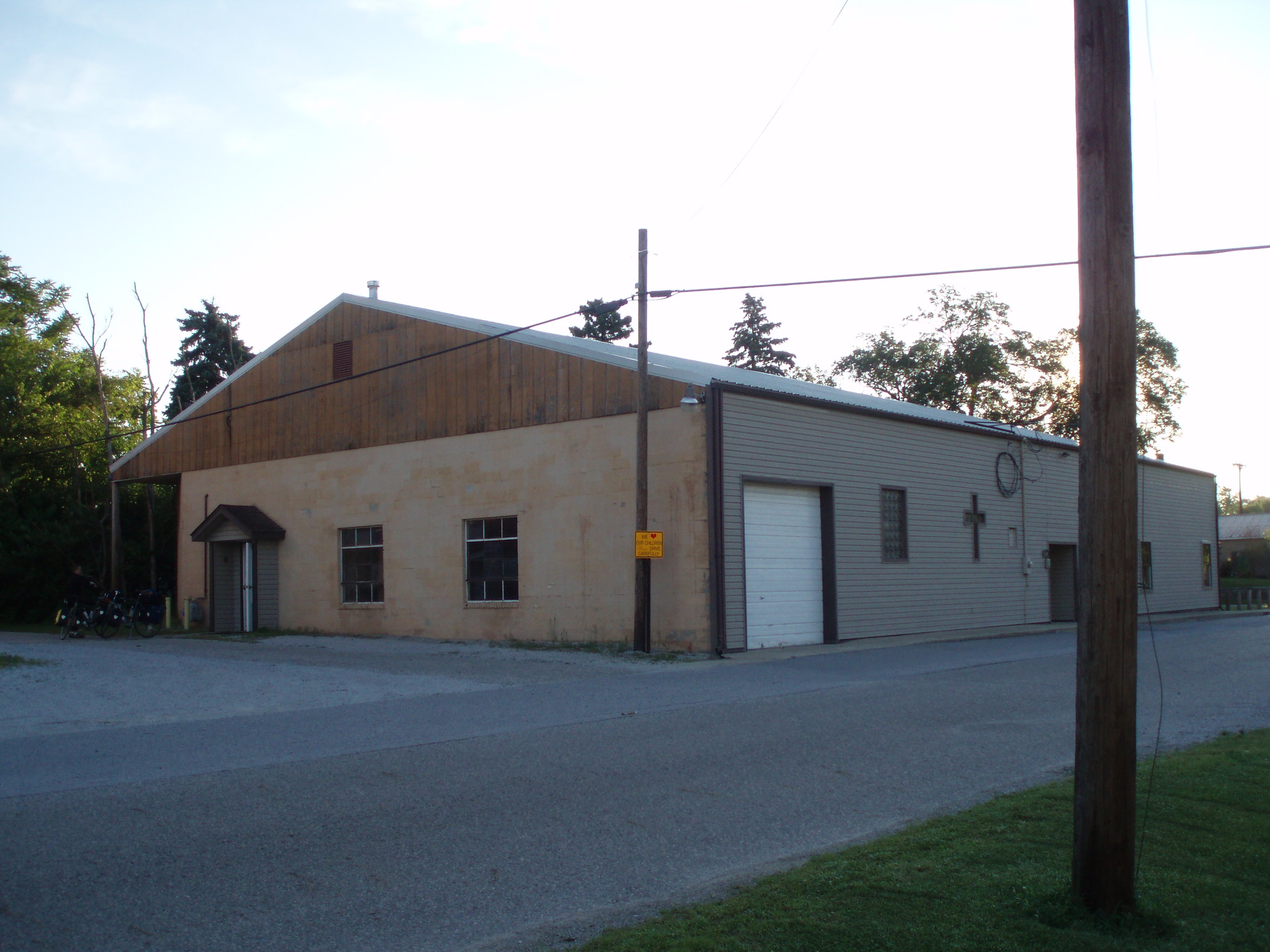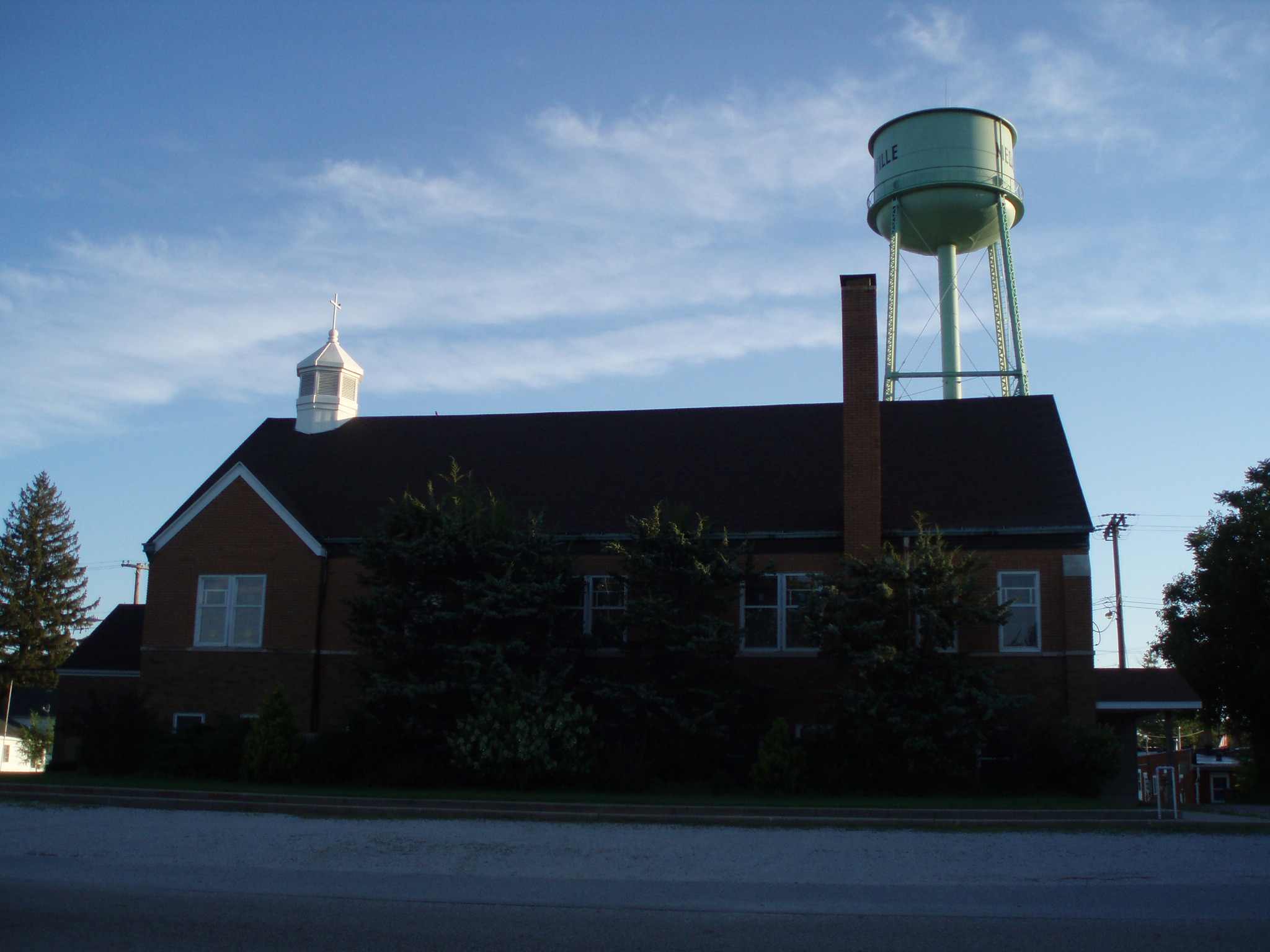 While we were setting up the tents and after everyone left, Don the Preacher came by. He asked about our trip and told us about some of the Missionary work he did in Afghanistan. Then he said if we want we could sleep inside the church building where they do the bible school. Don brought us in, showed us where we could sleep and cook. Then he took us into the Pantry and said we could eat whatever we want. He made sure we were comfortable and said if we needed anything, his house was across the street. We were really happy being able to sleep inside tonight because the temperature was quickly dropping.
Jamie cooked the church's pasta and we all quickly crashed. Tonight could have been a disaster without having a place to stay, but I don't think it could have worked out any better.
Tomorrow we're pushing really hard to get into Chicago, Which will probably make it a 90+ mile day. Luckily the time change is on our side.
Click Here to Visit The Table of Contents
Click Here to Visit Previous Page: Day 32: Lagro, IN to Fletcher, IN: Indiana Beach video
Click Here to Visit The Next Page: Day 34: Medaryville, IN to Chicago, IL: Chicago Video