Friday July 20, 2007, 103 miles (166 km) – Total so far: 1,676 miles (2,698 km) 103.19 miles
Click Here to Visit The Table of Contents
Click Here to Visit Previous Page: Day 33: Fletcher, IN to Medaryville, IN
Click Here to Visit The Next Page: Day 35: Chicago, IL to Chicago, IL: Discreetly in Chicago Video

The alarm went off at 6:30am and we all jumped off our couches and quickly started getting ready. At 7:15 we walked into the breakfast place. While we were eating breakfast Don the Preacher showed up to make sure everything was good for us last night and we were welcome to take showers at his house. We thanked him again but said we had to get a move on our big day. Don was really great to us, He left a great impression and unfortunately we spent very little time with him.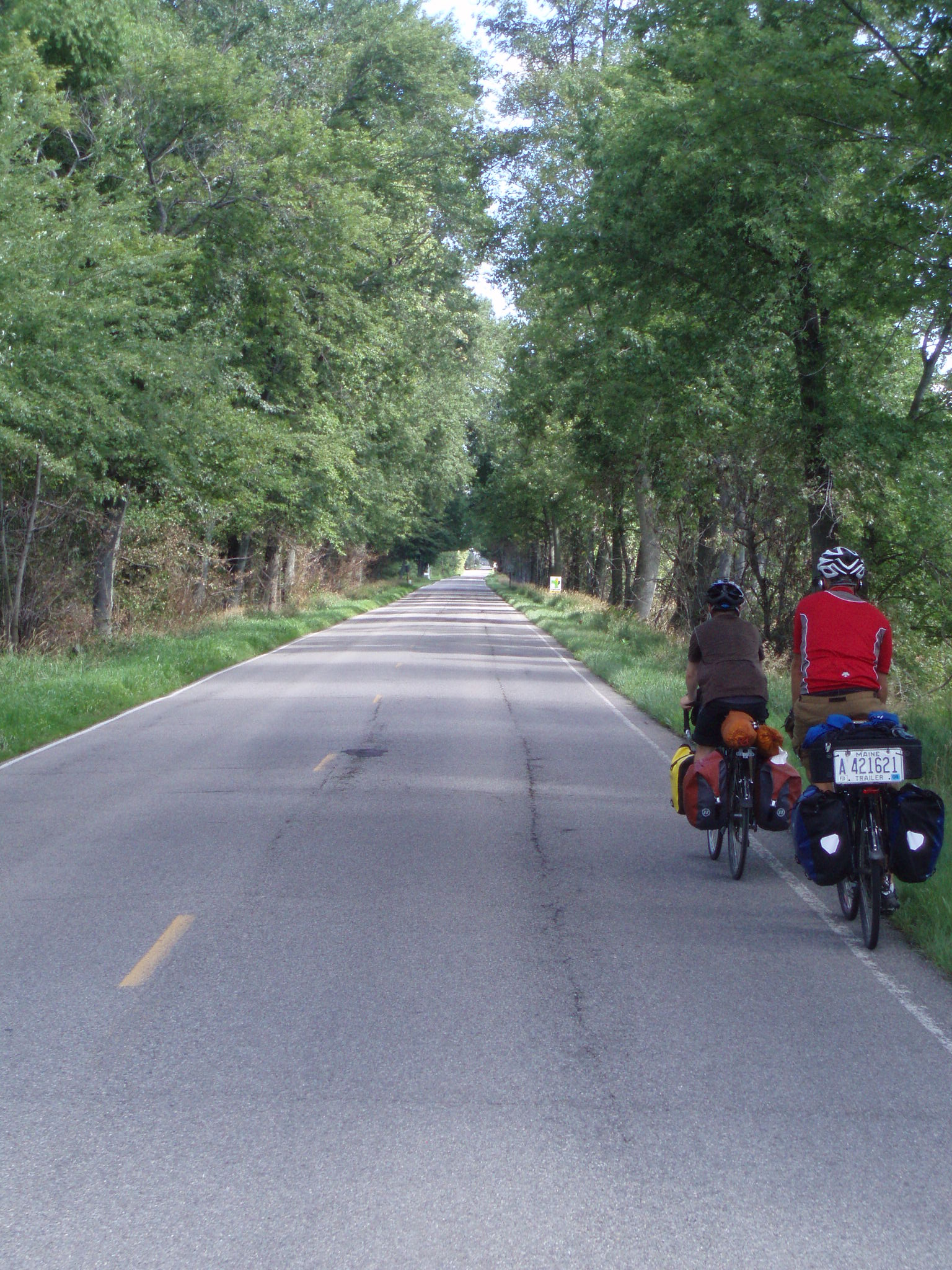 After breakfast we got on our bikes and rode across the first time zone of the trip. We needed the extra hour today. Mr. Wind was sleeping until about 10:30am so we really cranked. We banged out 20 miles in an hour and half.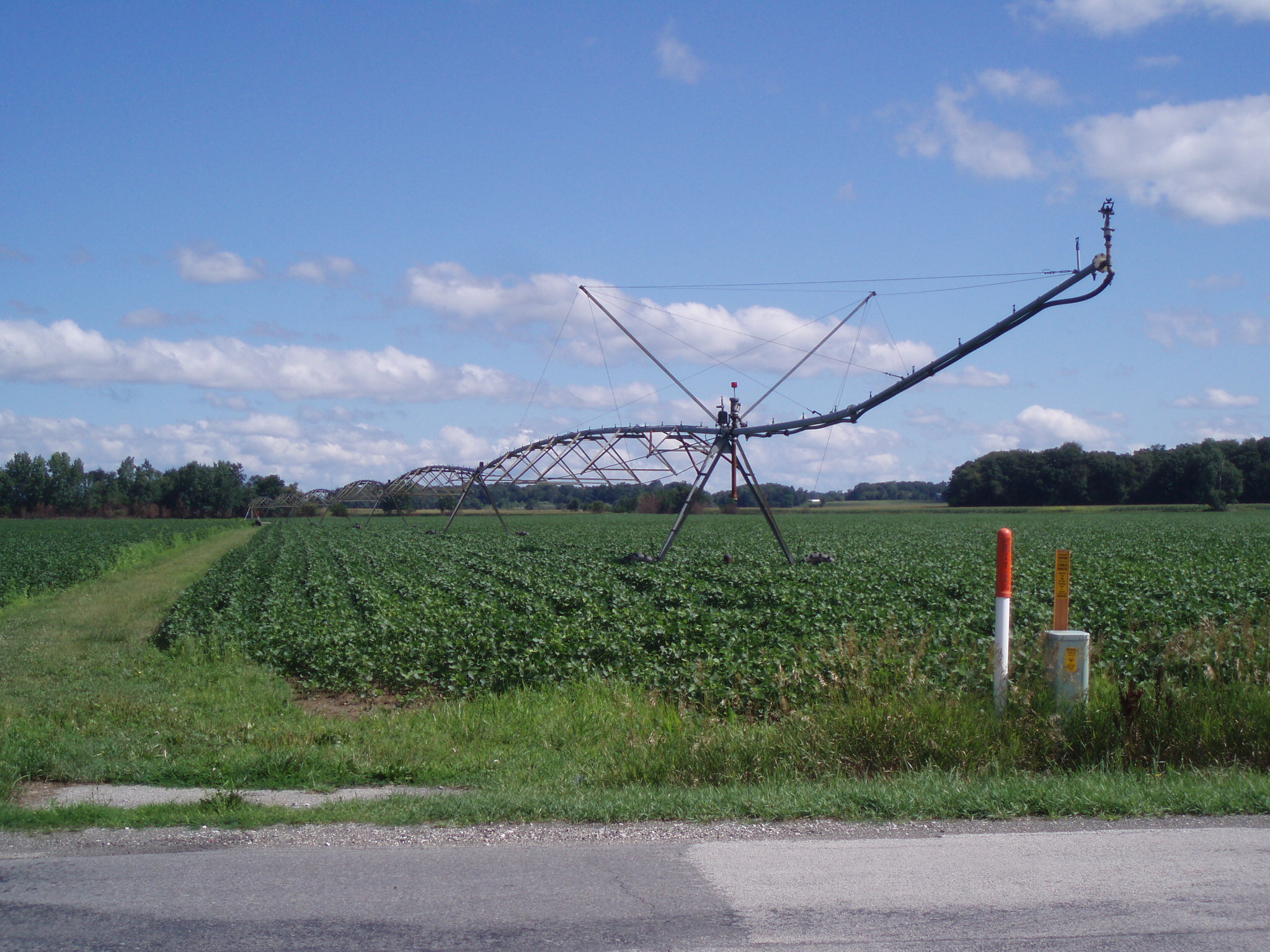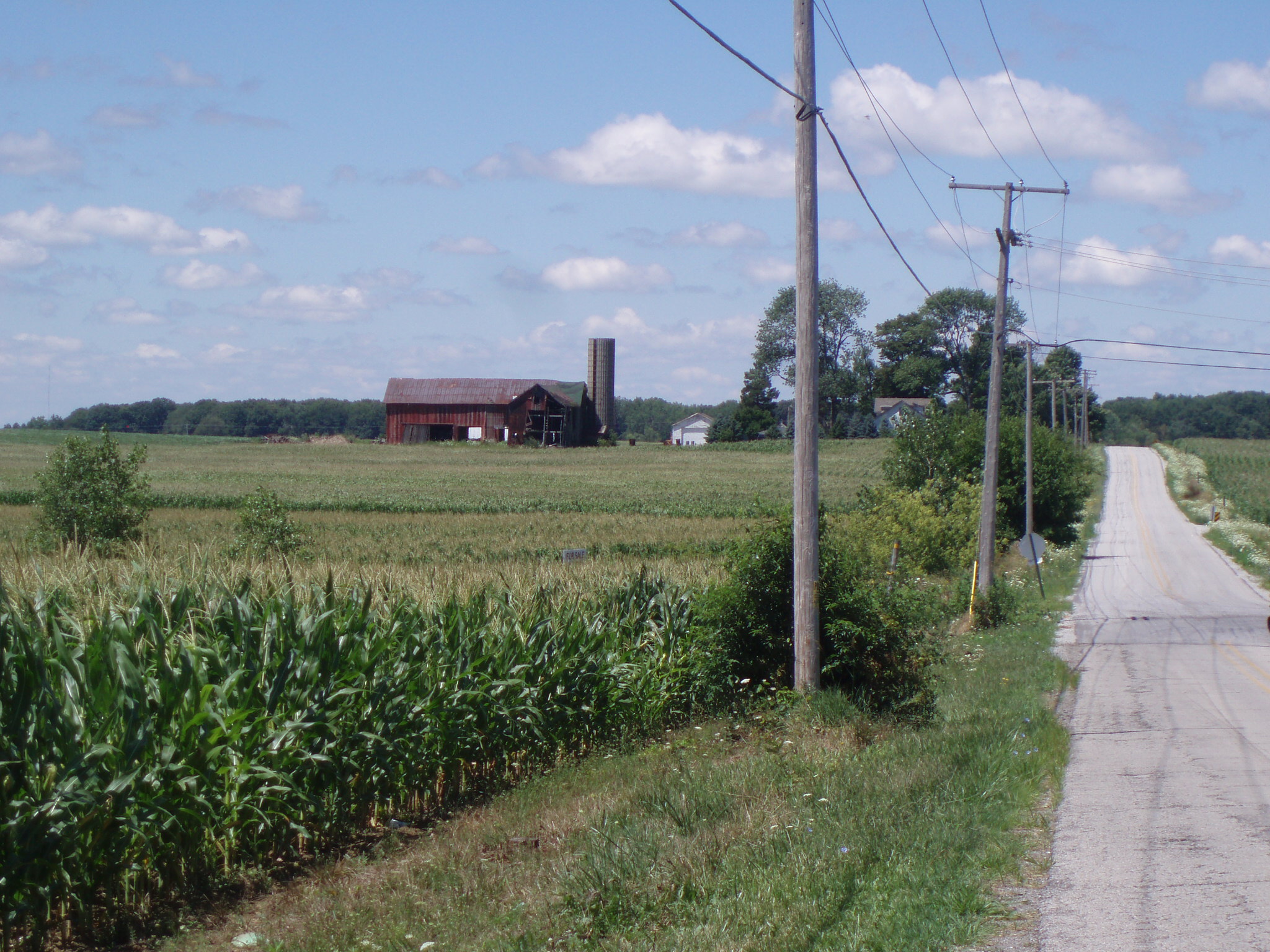 Chuck did a really fantastic job of navigating us through the cornfields towards Chicago. He picked all the right roads and we were flying. We all felt great. We all sang songs aloud to our iPod. It was a great day to be on a bike.
We saw 2 girls on the side of the road. Jamie and I thought it was a lemonade stand but they turned out to only be selling cucumbers and peppers. Jamie told them he's only in the market for Lemonade; however chuck bought a cucumber from them. He said when he told those girls he was riding cross country they freaked out and got overly excited.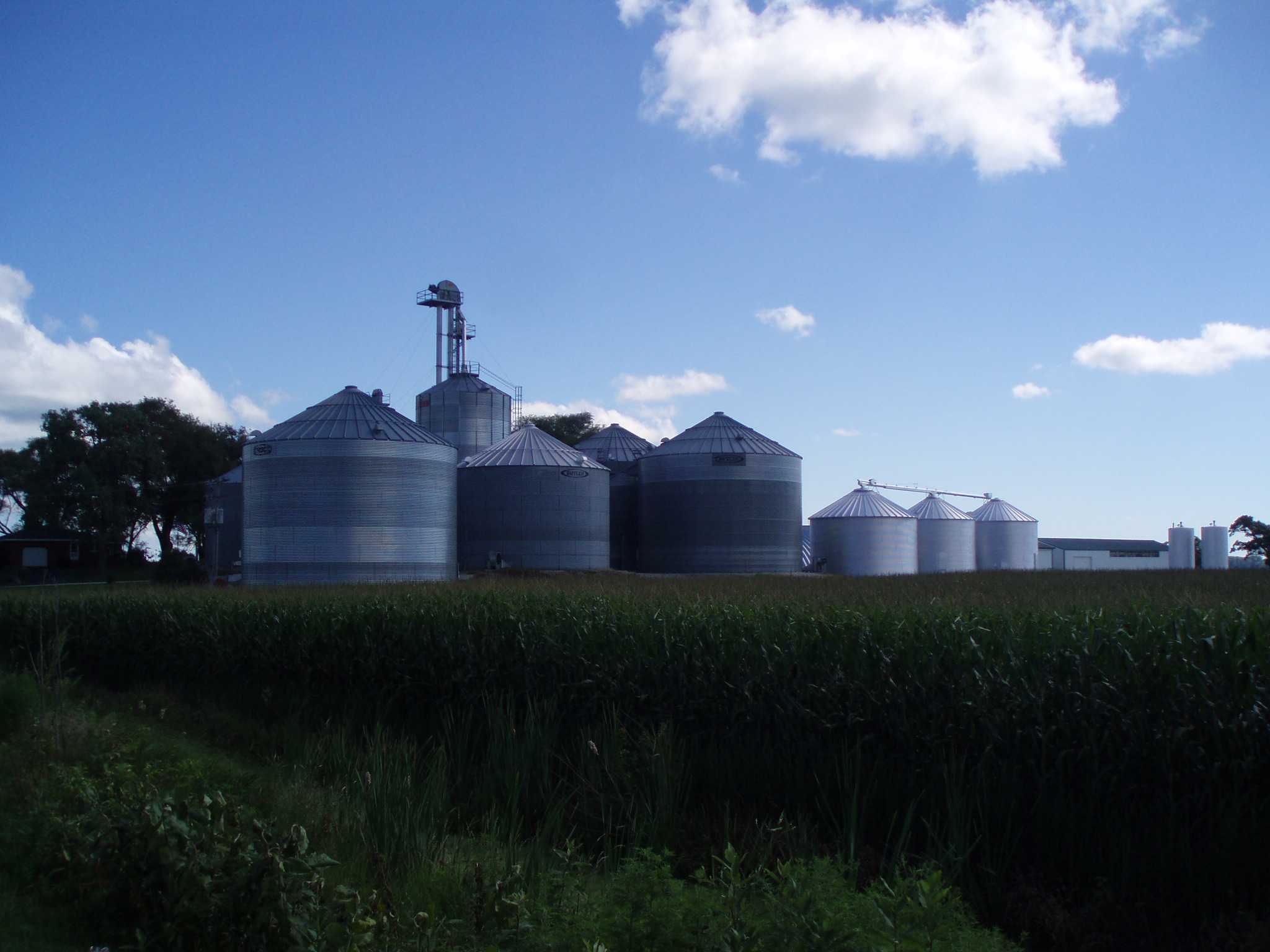 We stopped for food in Hebron, chuck went to the diner and Jamie and I went to the grocery. We needed snacks and crap. On the way to the grocery store we rode through this giant construction site, all the construction workers stopped working to ask us where we were going. When we told them we're on our way to Seattle they all took off their hard hats because they were so impressed.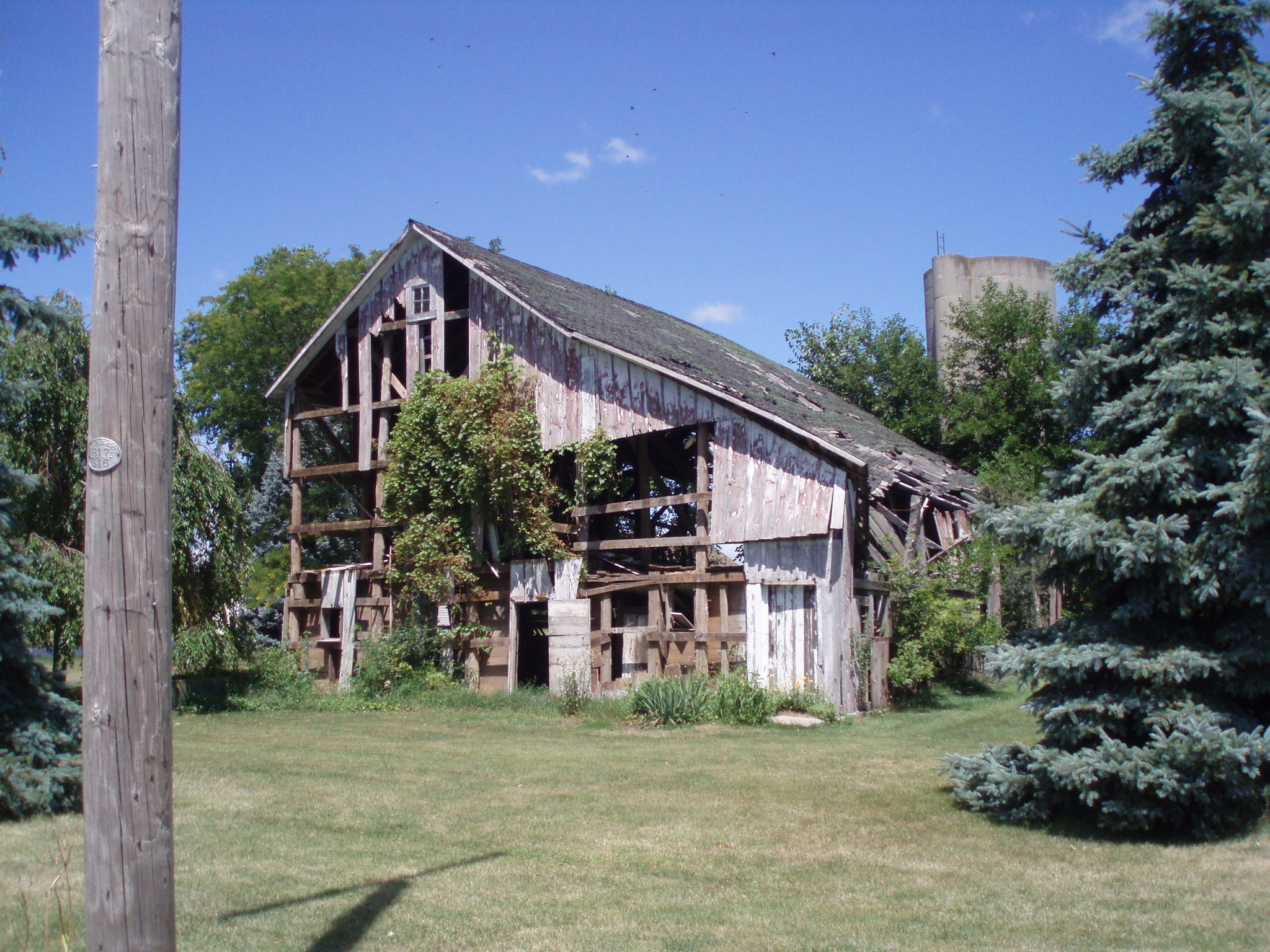 We sat in front of the grocery store for a while reorganizing ourselves and fraternizing with the locals. From Hebron to Crown Point was tough riding. Lots of bad traffic bad roads and a few tough neighborhoods. We stopped at a gas station for a break I was stressed out and overheated. They had Slurpee's and I wanted one, but as I was testing all the flavors the lady at the gas station started yelling at me so I just settled for some more homemade Gatorade.
Eventually we finally caught the Crown Point bike trail that ironically is called the Erie/Lackawanna Rail Trail. It felt great finally being off the road, the rest of the day was more or less on bike paths. On the rail trail I saw a dude with a floor pump so I turned around and asked to use it. He was the trails bike mechanic. I talked with him and a bunch of people for a while. Then raced ahead to catch up with Jamie and chuck.  We took a break on the bike path and chuck ate the cucumber while Jamie and I made fun of him.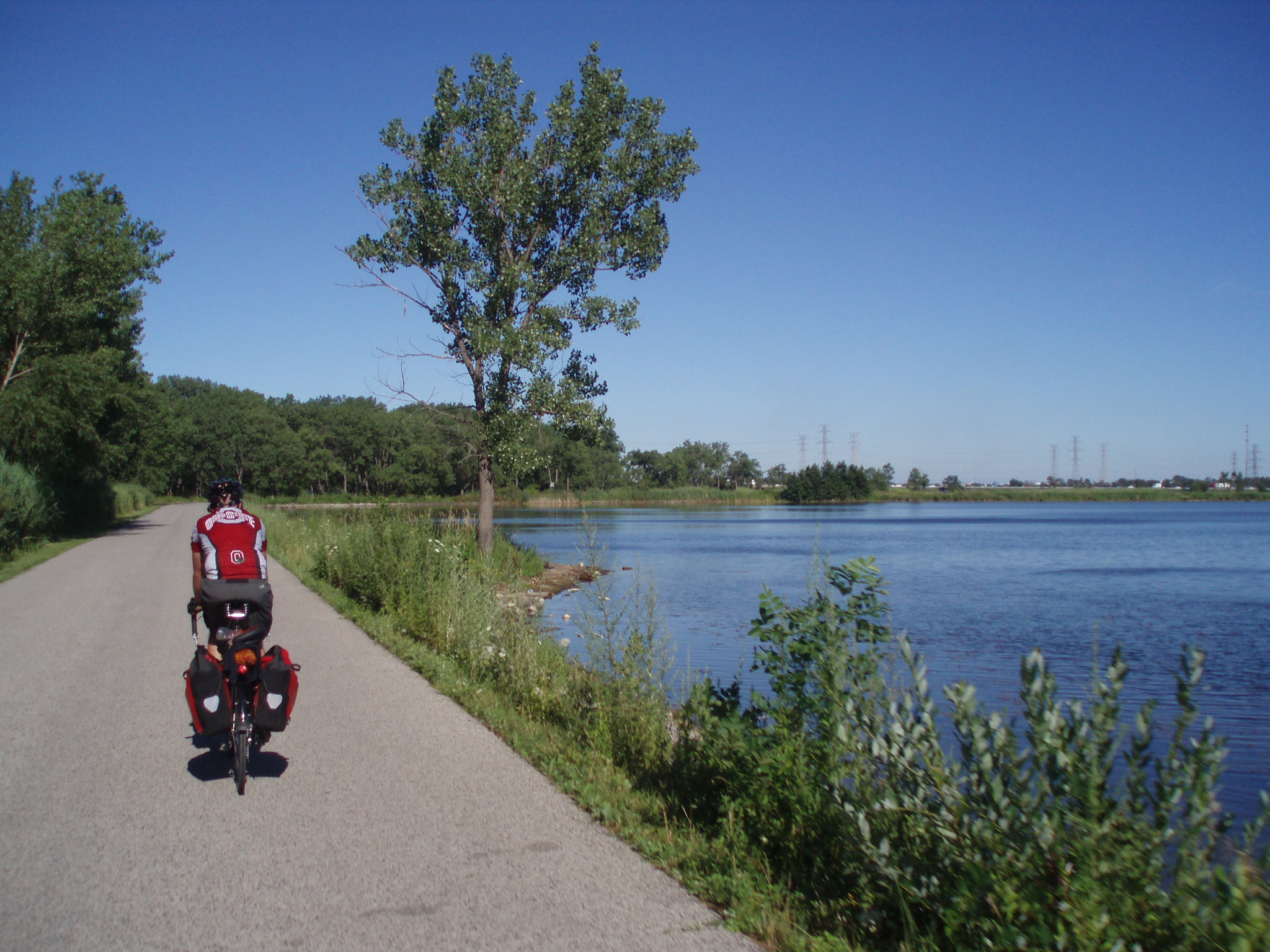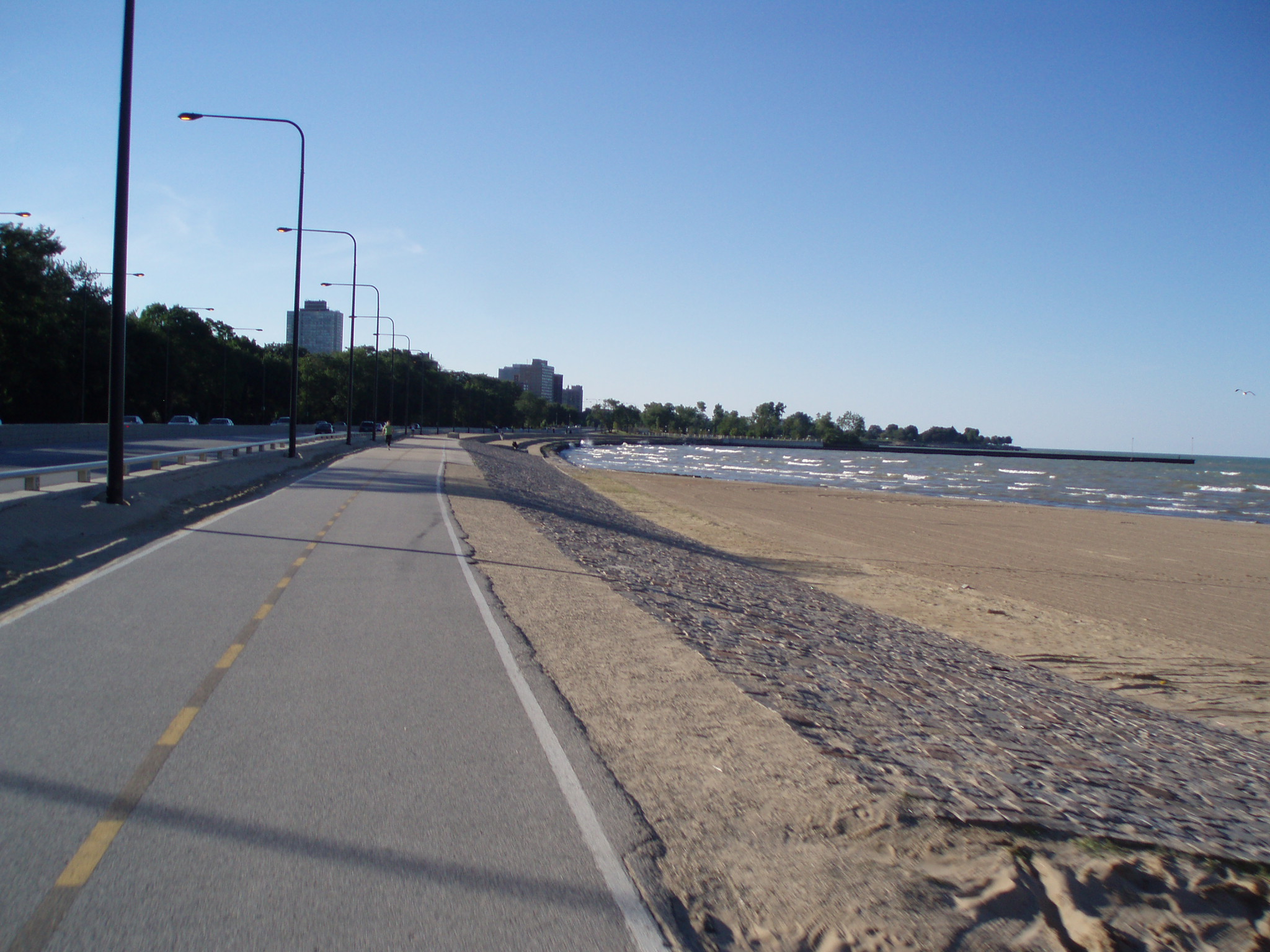 The rail trail abruptly ended at a big construction site, so we had to haul across some high traffic roads to catch the next bike path. Chuck was a little bent outta shape about this busy road, but we've ridden on crazier roads before. Then we caught the Burnham bike path which took us into Chicago. It felt great to finally see another Great Lake. I was starting to miss those guys. The Burnham trail took us to the Lake Michigan bike trail into Chicago.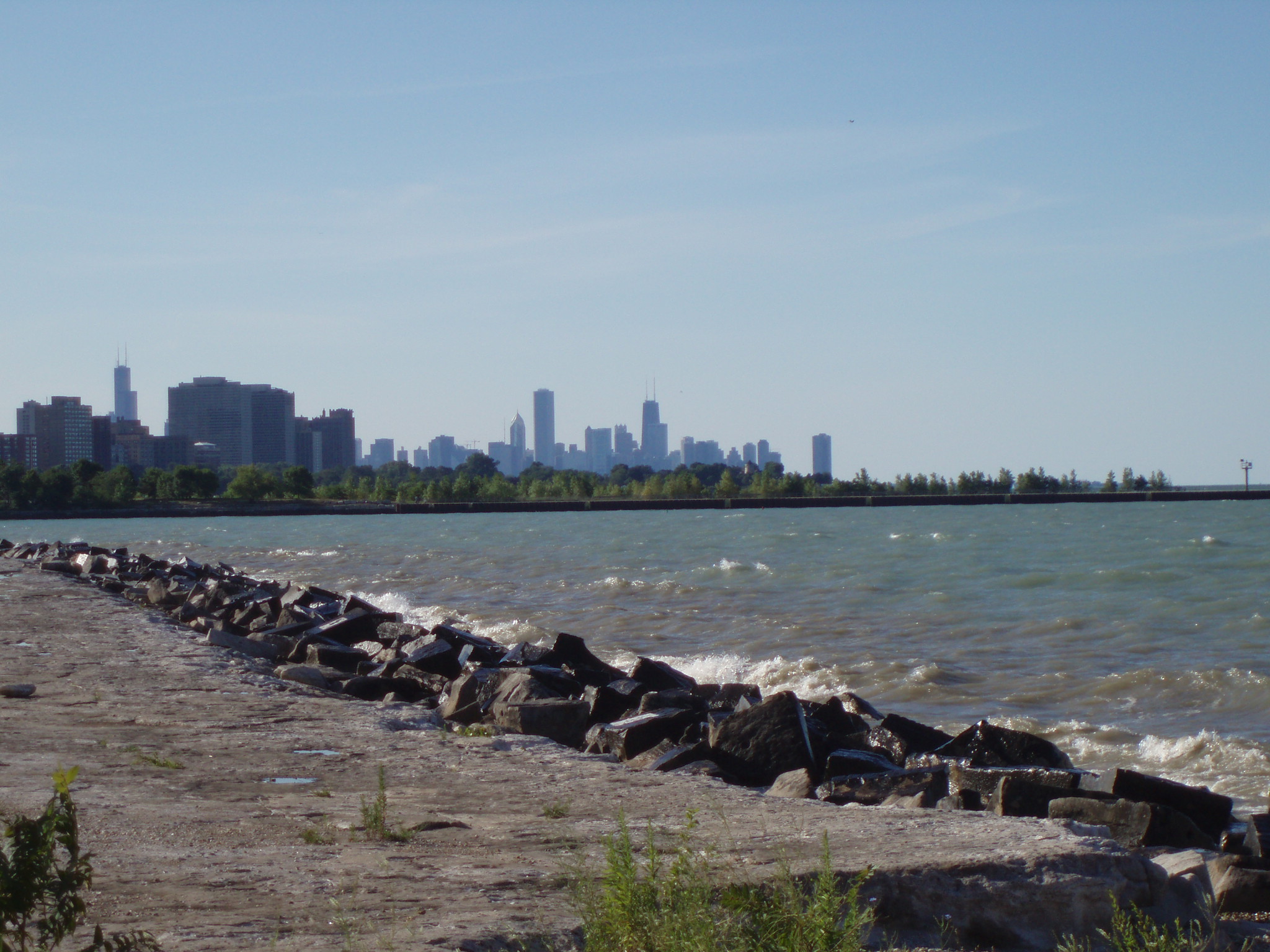 The Lake Michigan bike path was a great ride. Unfortunately we had some headwind but it wasn't that bad. As we rode into the city we checked out all the pretty girls riding bikes. Tons of people saw the Maine license plate and asked us if we just rode in from Maine. In the middle of the bike path Mike Riscica choked on some trail mix and had to take a long break. Chuck felt great so he rode fast along the bike path but Jamie and I were shot so we just took our time. Jamie posted this video from our break when we first hit the Chicago skyline http://www.teamnortherntier2007.blogspot.com/2007/07/chicago.html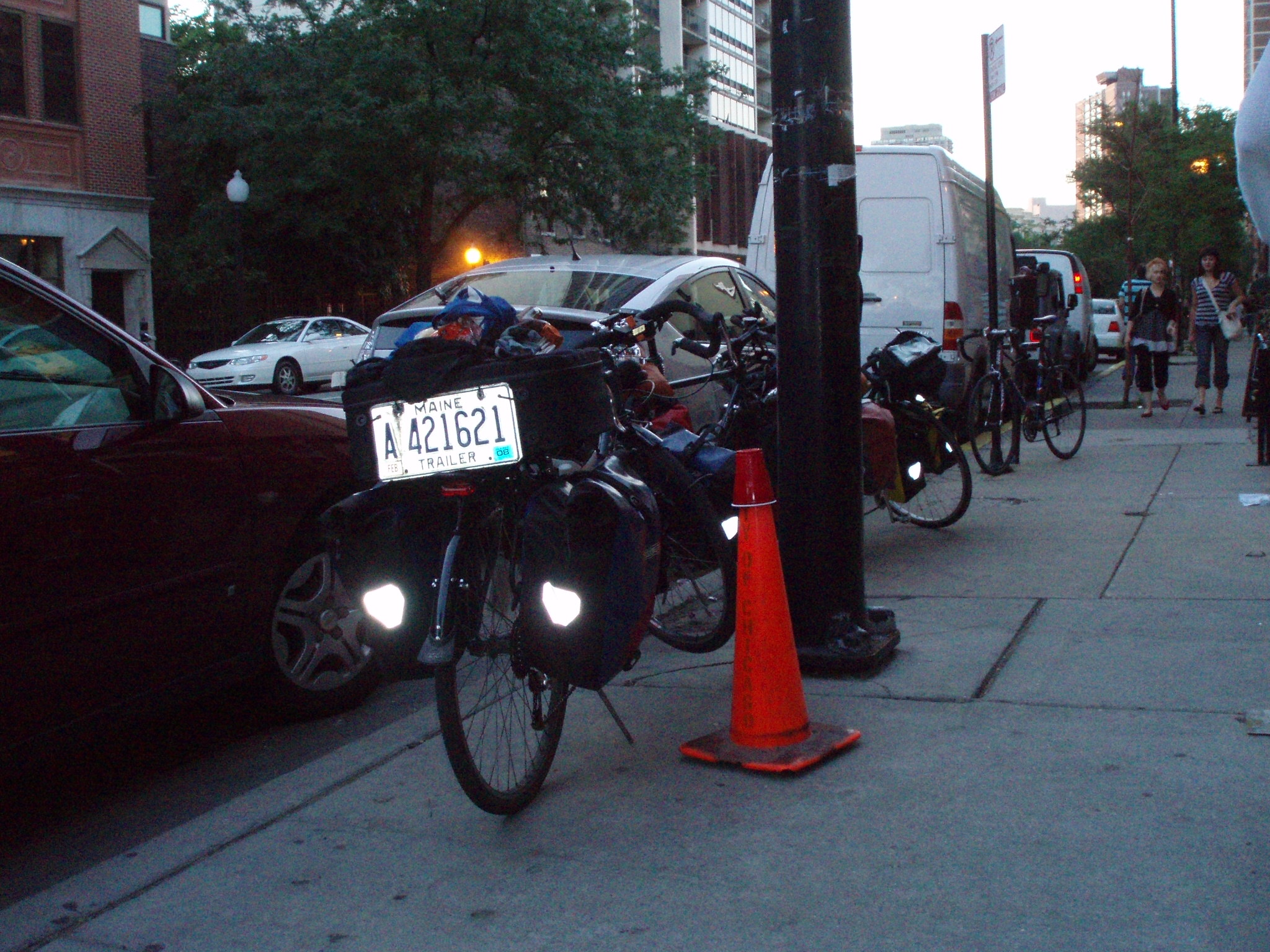 The plan for Chicago was to meet up with Melanie from Couch surfing. She said she would give us directions and keys to her house. We found Melanie's work and waited around for a while, she said she needed a few more minutes so we went across the street to grab a beer. While we were parking the bikes. The people eating outside asked us questions about our trip. As they were leaving and while we were sitting down the bartender came over and said that lady who we were just talking to bought us our first round of drinks. That put us all in a great mood. Unfortunately that nice lady was long gone, so we never got to thank her or give her our card.
We had clocked 97 and were all shot so we just got burgers at the bar. The food was delicious we talked with a ton of people while we ate dinner. The guy checking ID's at the door kept telling everyone we were riding across the country. It was great, we love the attention. Melanie came by and gave us all the info then we rode out to her house.
On the way to Melanie's a cyclist on the street stopped us to ask about our trip and said if we needed a place to go for the night  we could go back to his house. But we were cool. At Melanie's we all quickly setup for the night and just crashed. It was a long long day. Today felt like a week. So much happened.
It feels great being in Chicago, tomorrow and the day after we're going to sightsee and try to relax.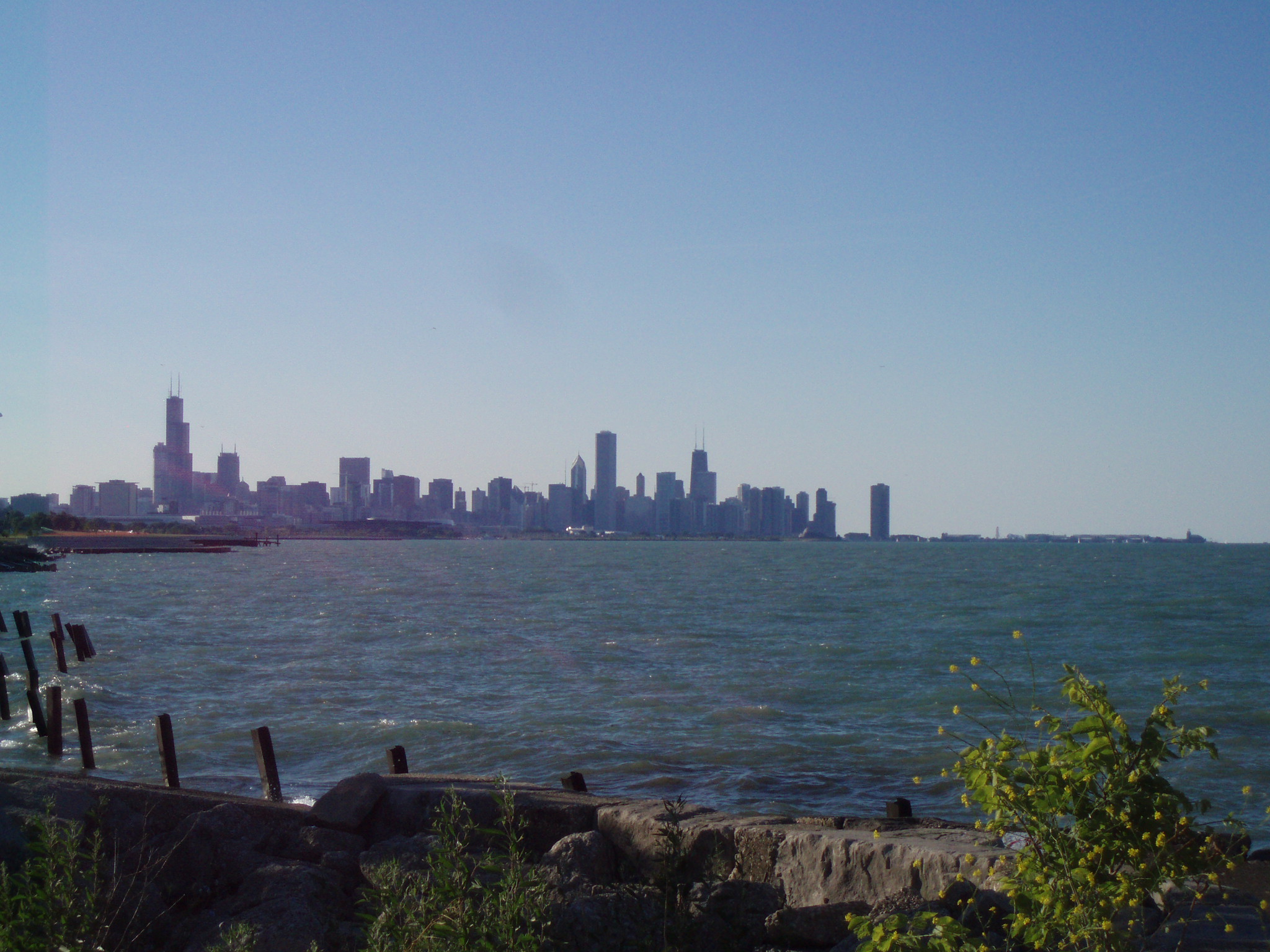 Click Here to Visit The Table of Contents
Click Here to Visit Previous Page: Day 33: Fletcher, IN to Medaryville, IN
Click Here to Visit The Next Page: Day 35: Chicago, IL to Chicago, IL: Discreetly in Chicago Video